If you are planning a Granada weekend and don´t have long to spend in this magical city.
You´ll want to know the ´must see´ spots around the city. With this in mind I have written this plan for 48h in Granada, helping you to make the most out of your Granada city break.
Perfect Plan 48h – Granada weekend
Friday
Arrive Friday afternoon. Check in to accomodation.
If you have free time in the afternoon, walk to Bib Rambla square. See the streets around the Alcaiceria and Cathedral.
If you have time pop into the Madraza. This was the Koranic school founded in 1349. It costs a few euros to go in and the visit is around 40 mins or so. Inside this has some beautiful architectural features (entrance opposite the Capilla Real)
8.30pm Head out for tapas. The are hundreds of places to choose from. Keep it simple and select places from my recent blog post: 10 Granada Tapas bars by Style If you are looking for a less busy area, walk to the end of Calle Navas onto Calle Rosario. You could also try tapas places in Plaza Trinidad or Plaza Romanilla. Good options are Bar Soria, Botanico (vegetarians) or Reca for a view of the square.
Choose a Tapas Tour if you prefer to be lead by a local foodie expert.
Mojito anyone? Try the Hotel Alhambra Palace for a selection of Mocktails and good G&T´s too. The view is pretty epic from their terrace bar. Another good place for a Mojito is the rooftop terrace of the Eurostars Gran Via

Saturday morning
If breakfast is not included in your accommodation, head to a café that looks popular with the locals. Baraka gets busy but is a good option for eggs. Minuit also do them. Both are a short walk from Plaza Nueva.
Ask for fresh orange juice and café con leche. If you want the coffee more milky, ask for Leche manchada.
Usually most places will have Croissants and other pastries available. One of my favourites is suizo, they serve this hot with butter and jam. Ask for Suizo mixto. Mollete is a local style of bread. This makes your toast a little more interesting. Standard toast comes with Spanish ham, cheese, boiled ham, jam or butter. Some people even ask for it with just olive oil.
Visit the Alhambra
The Alhambra palace. As you will know you will need to buy Alhambra tickets ahead of time. During certain times of the year, you may need to book months ahead (particularly in April, May, Easter week, Early Summertime June/July) In hot months choose morning visits (rather than afternoon ones)
To get to the entrance you can take a bus from Isabel La Catolica statue on Gran Via. A taxi will cost around 6 euros from Plaza Nueva. (ask the driver for Taquilla Alhambra) You may also find this useful Get Alhambra tickets – Visiting the Palace in Granada Spain + Insider tips
Saturday Afternoon
Shopping along Calle Recogidas, Calle Mesones and Calle Zacatin. Most shops are open on Saturday afternoons from 5.30pm until 9.00pm. In Summertime hours can differ. (July & August) See this post for more ideas of souvenirs + local gifts
Stop off for Coffee and Cake in La Isla on Acerca del Darro. (Its opposite El Corte Ingles) Ask for a local pionono or if it´s Eastertime ask for a Torrija. Torrijas are a little bit like French toast.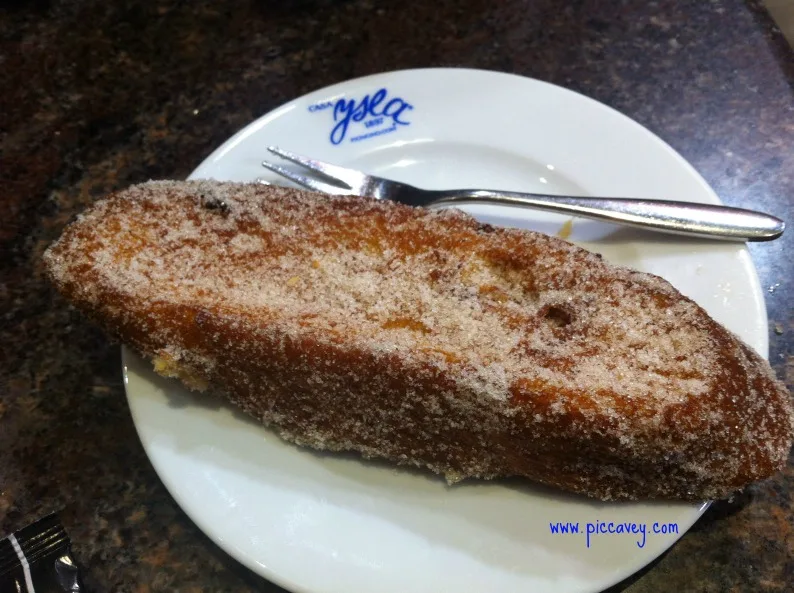 Chill out at the Baños Arabes Hammam Al Andalus or the Aljibes de San miguel followed by a mint tea at at typical teahouse.
For Saturday evening have dinner at the Mirador de Morayma Restaurant set in a beautiful Carmen in the Albayzin neighbourhood. For foodies you may like to head to Alvaro Arriaga´s modern restaurant for contemporary cuisine with views of the mountains. Restaurante Arriaga Walk through Andalucia costs around 80 euros per person and is impeccably presented.
Sunday in Granada
Breakfast: Try chocolate and churros on the square at Bib Rambla or at the Café futbol at Mariana Pineda square.
Walk up to the Mirador de San Nicolas. Start at Plaza Nueva, walk along Caldereria Nueva, up past the San Gregorio church and keep heading up. When you get to the viewpoint at the top, enjoy the view. After stop of for a tapa at the nearby Kiki San Nicolas. If you prefer to take the bus up (the walk is steep and along some cobbles) the red microbuses leave from Plaza Nueva. Route C32. Ask the driver for Plaza San Nicolas and he will shout when at the stop. Lunch in the Albaicin at Casa Torcuato on Calle Agua or Tapas at La Entraiya Casa Rafa on Calle Pagés.
You can also take a guided tour of Albaicin Sacromonte + Madraza if you prefer to be shown around by a local guide.
Inside of heading to the Albaicin. Plan B is to wander along to Corrala del Carbon, just off Reyes Catolicos. Then head to the Royal Chapel and the Cathedral. For lunch try Cous Cous at Restaurante Arrayanes for an authentic Moroccan experience. If you go there you must try Mustafa´s zingy lemonade. Find this at Cuesta Marañas, just up from the teterías on Caldereria Nueva. Or more traditional fare at the popular Taberna Salinas on Calle Elvira.
Free time in the afternoon. Walk along the River Genil and Paseo del Salon. Stop off at Kiosko Las Titas for a cool drink or coffee by the river.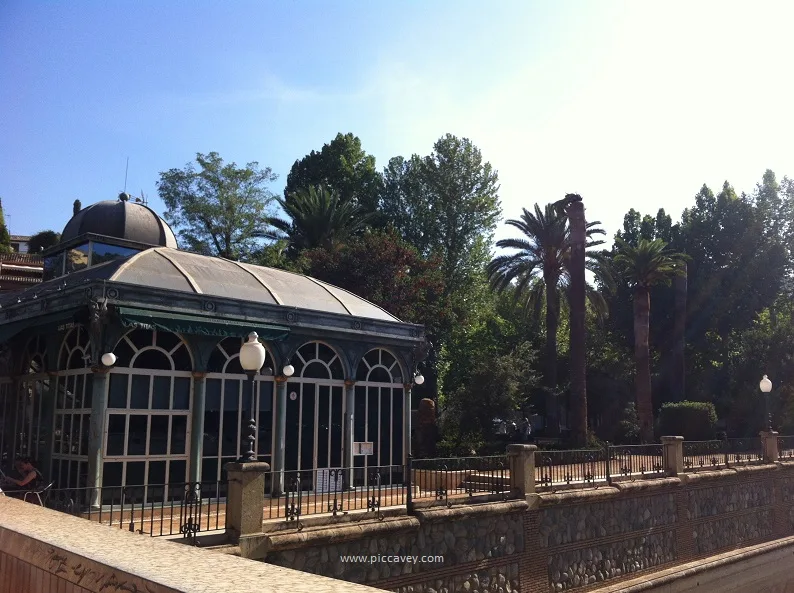 Best time to visit Granada
If you are wondering when is the best time of the year for your Granada weekend ? See this Granada Calendar of what happens throughout the year.
If you have more than just a weekend in Granada, why not head out into Granada province and discover the fabulous landscapes of the Alpujarra or Sierra Nevada?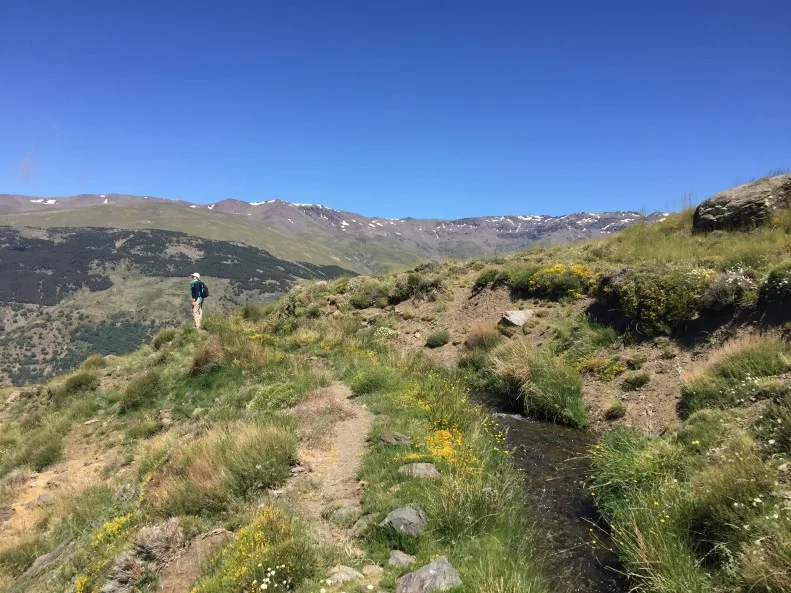 Granada weekend Plan
Did you already enjoy a Granada weekend or holiday?
What would you add to this plan?
Please Note: This post contains affiliate links, which means that if you click through and make a purchase, I will receive a small commission. All thoughts, feelings and opinions shared on this blog and in this post are my own.