Sometime ago I wrote about Spanish Shoe Brands. Now its the turn of Leather Bags in Spain. Since moving to Spain in 1998, I quickly converted to Spanish leather goods. Shoes, belts and handbags. Often made to a higher quality and prices are competitive compared to some other popular brands.
So here are Ten Spanish Leather Brands that you may or not know.
All of these brands are Made in Spain and highly recommendable.
Artisan Bags in Spain
Loewe
Probably the most well known Spanish leather brand Internationally is Loewe. Their store on Paseo de Gracia in Barcelona is always busy. Pronounced in Spanish as ¨Low – evv – Ay¨ this heritage brand is still going strong after 170 years.
The brand was founded in Madrid in 1846. Ten years later a German craftsman associated himself with the business. The rest is history. In 1905 they were appointed by the Spanish Royal Family (Alfonso XIII) to supply them with their luxury leather goods.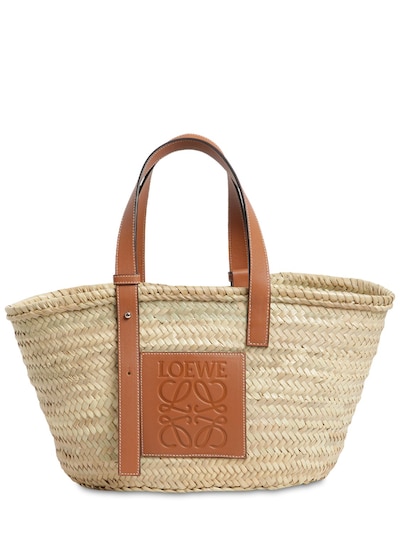 Based in Madrid
Over the last few years their animal shaped designs have been popular. The Rabbit or elephant bags spring to mind. This summer season they have expanded this animal shaped collection. Summer 2020 includes a Blue Whale and an Octopus. Other popular designs are the Puzzle bag or the Loewe Basket Bag.
With Johnathan Anderson as Loewe´s current creative director and 1300 employees. The company is a powerhouse in the Spanish world of designer fashion. They also have Ready to Wear clothing ranges and perfume collections too.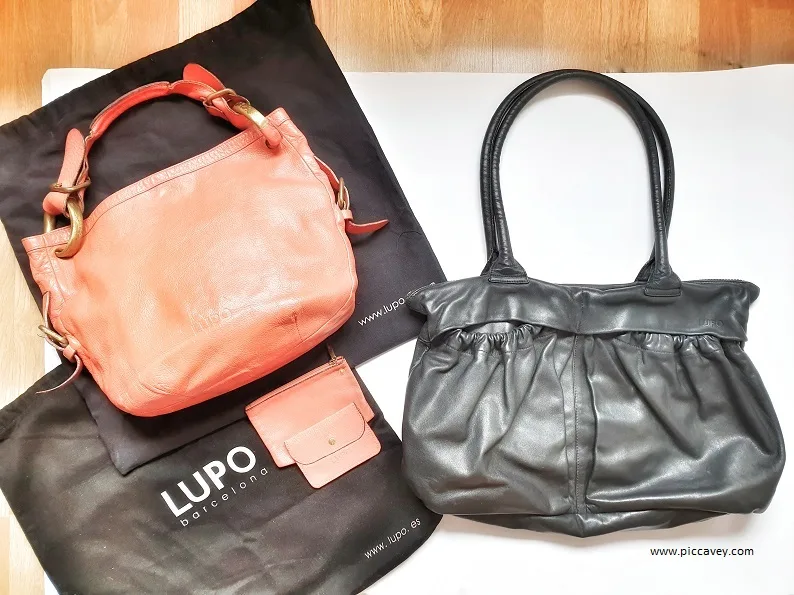 Lupo
From Madrid we head to Barcelona. Lupo has to be my personal favourite. Their bags are understated, practical and very good quality. At the moment I own two of them. The orange shoulder bag below and the Black leather carryall. What I like most about them is that inside they have a zippable pocket, pen hooks and a leather clip to put your keys on. They also come with a small leather purse inside each one, which I find super useful.
Spanish Bags from Barcelona
Lupo Barcelona bags retail from 400 to 800 euros approximately. Actually worth it due to their longevity and quality. I think that I have had owned one of mine for at least 15 years and it used regulary.
Fan Shaped Bags in Spain
Their most iconic design is the Fan bag or Abanico. More recently they have designs (like the blue on above) inspired on the architecture of Gaudi. This one has the shape of the Pedrera building on Paseo de Gracia for example. They also have a mens range too.
You can visit their Atelier in Barcelona (mornings by request on their website.)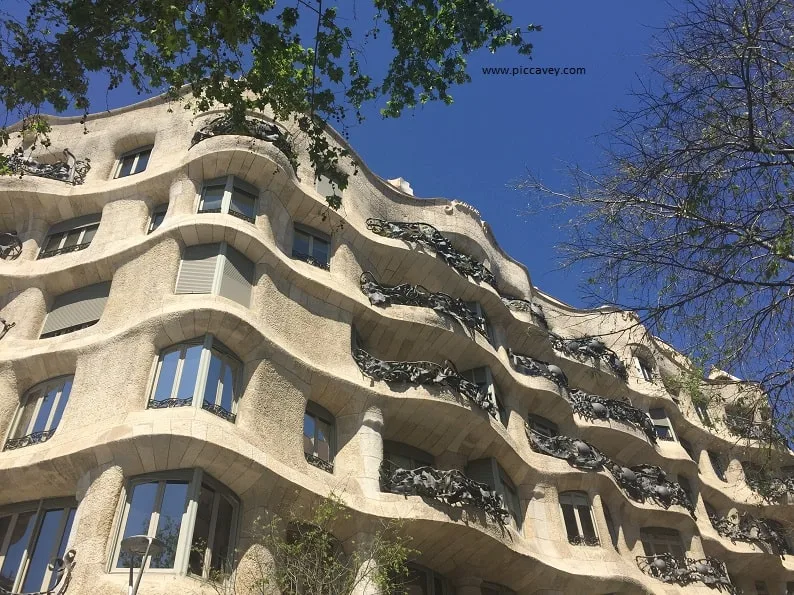 El Potro
This brandname El Potro means The Foal and its been in business over 50 years already in Southern Spain. Located in a sleepy mountain town in the Cadiz countryside. This leather producer specialises in wallets, handbags and shoes.
Find their products in Spanish department stores like El Corté Inglés and specialist leather shops.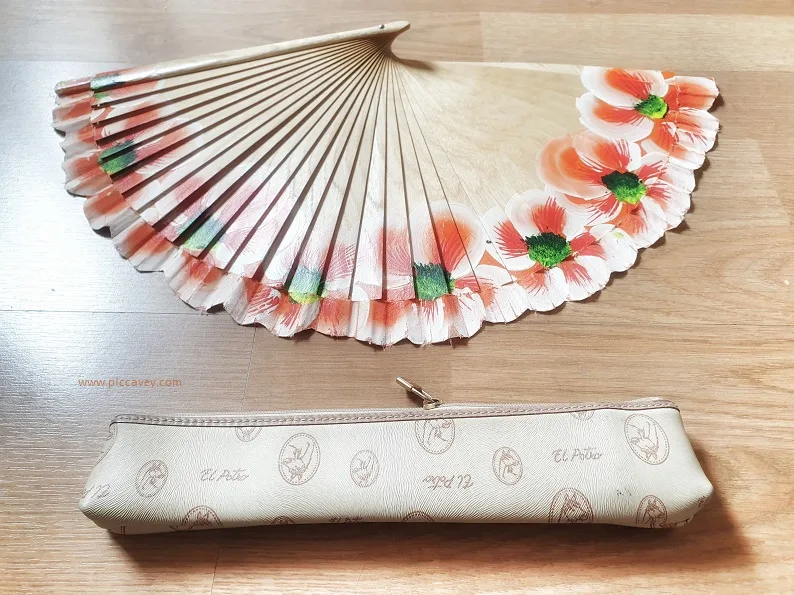 Made in Spain
Over the years I have had a few different El Potro items. Right now I own this cover for my Spanish fan. This protects the fan from being scratched or damaged when it is away in my handbag.
El Potro are in Ubrique, Cadiz province. The heart of leather craftmanship in Spain. Doesn´t it look charming?
Ubrique, Cadiz
The sleepy white village of Ubrique is one of Europe´s main producer of luxury leather goods. In fact leather skills have been honed here right back since Roman times. Located 75 kilometres from Seville. The town of Ubrique is nestled amongst mountains in an out of the way place.
There is some tourism along with the other White Villages of Cadiz. Can you believe that there are over 5000 employees dedicated to leather production? (around 25% of the population)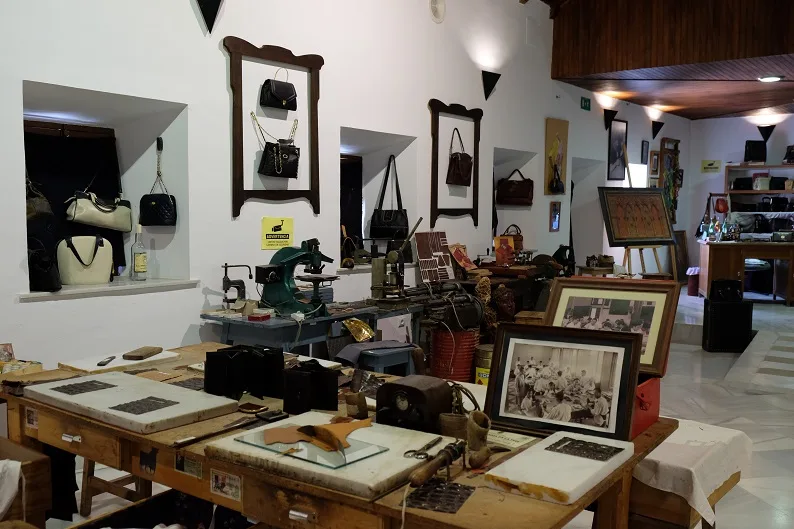 Designer Bags in Spain
Over the years these workshops in Ubrique have made items for prestigious fashion houses. Brands such as Dior, Louis Vuitton, Gucci, Hermes, Chanel, Chloe, Loewe or Carolina Herrera. Making SLG´s Belts and handbags to exact specifications and high quality standards.
In fact half of the production of goods in Ubrique are luxury or high end handbags. Ubrique alone produces 45% of leather goods in Spain. Places in Spain such as Lorca (Murcia) Valencia and Cataluña are centres for the raw material itself. (rather than the end product).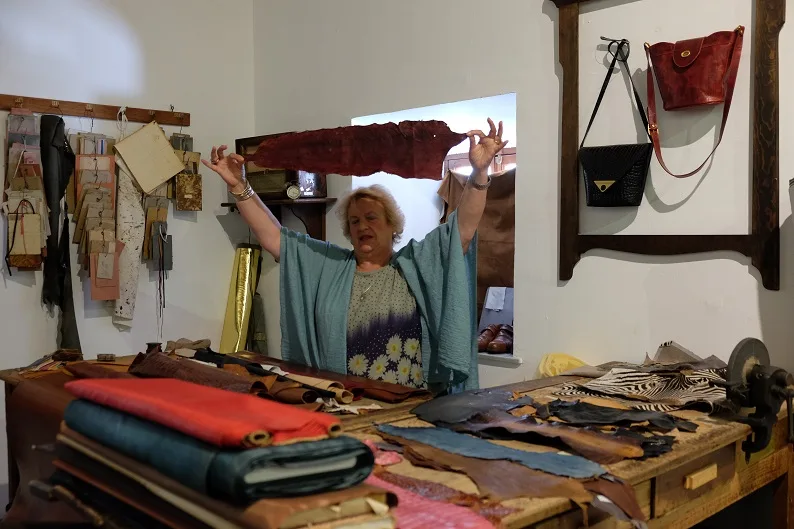 Leather Museum, Ubrique
Unsurprisingly the town of Ubrique has it´s own leather museum. You can visit Tuesday to Saturdays from 10am to 2pm all year round. Here they show visitors the different stages of leather production and leather crafts.
There is also information about the history of leather in the region and how they used to make leather goods years ago. With such history in this corner of Cadiz I´m sure you are wanting to know what brands are actually made here… Well as well as El Potro there are some others that you may not expect.
La Portegna
La Portegna has a store in Madrid and in London. However the production is in Ubrique. Local artisans carefully craft each item for La Portegna. Not only do they have bags, but they also produce a large range of small leather goods, luggage and footwear.
The leather used is dyed in a unique way. La Portegna use a blend of natural colours from Spanish flowers and tree bark. All of their leather is treated with Spanish Olive Oil to soften it up and also strengthen it.
They also have a personalisation service for some articles. Making it an ideal gift idea. The leather totes are just fabulous.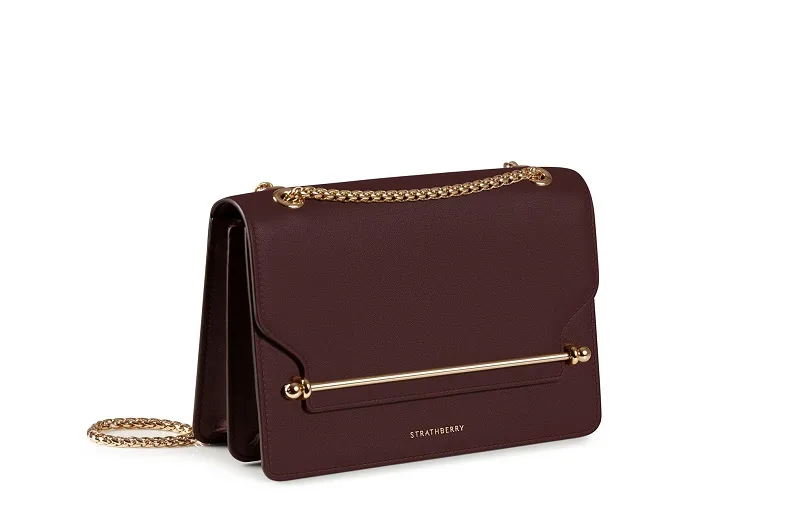 Strathberry
Pushed into the limelight by Megan Markle, Strathberry is a Scottish brand. The label began in Edinburgh however the handbags are made by Spanish craftsmen in Ubrique. Although the company began in 2011 the minimalist lineal designs are coveted by many celebrities. (Margot Robbie, Lady Gaga, Heidi Klum…)
They currently have stores in London, Edinburgh and Shanghai. With each bag taking over 20 hours to produce, they are high quality items. As their designs are timeless they will last for seasons. The most iconic feature of Strathberry´s designs is the strathberry bar closure.
Everlane
Sustainable US brand Everlane have some of their leather goods produced in Ubrique. Wallets and Card holders. On their website there are details of where each item is made. They put a lot of focus on transparency in their brand. Selling online to an International audience.
This is a great way to be able to access Spanish leather goods from whereever you are in the world.
Maison Etnad
Barcelona label Maison Etnad also produce their leather creations in Ubrique. My personal favourite is their iphone bag Eloine. They love to design ultra modern shapes in their handbags yet tap into to the years of experience of the skilled leather crafters in Ubrique.
The best of both worlds.

Mint and Rose
A new brand created in 2012 with the idea of respecting traditional production methods and quality leather. They redesigned the traditional alpargata shoe and also have some fabulous bags in their collections. Timeless pieces that mix with classic tailoring and casual looks too.
Their store is located in Madrid but their online store ships Internationally. You can also have most pieces monogrammed to personalise with your initials
Mediterranean Lifestyle
Reinventing the alpargata to bring it right up to date, was the boost that this young brand needed to get them known. Mint & Rose leather bags and accessories are Made in Spain in Ubrique. The Cress and Cassis bags are those understated classic pieces that go with everything. Look good for officewear or with jeans at the weekend.
Canussa
Vegan Leather – Made in Spain
This brand is Ethical and Vegan. Canussa makes all of its products from non animal materials. Using organic matter and plants to create this resistant material which is made in Spain. They also plant a tree for every Canussa item sold.
The photo above shows the Laptop backpack. You can also find reversible belts, soft handbags and leather look shoes in their online store. If you subscribe to their newsletter, you get 10% off your first order. With 9 shops in Spain and several other European locations (Paris, London) Canussa is clearly a becoming a strong player in the ethical fashion sector.
The Code
The Code is a Madrid based label, owned by Galicians. Trading since 2012 they are a fashion forward company, looking to create designs with a responsible use of materials. All their items are Made in Spain.
They have lots of designs at affordable prices ideal for Weddings and Special Occasions. They have beachwear range too. Bargain hunters will love their online outlet.
Leather & Designer Bags in Spain
I hope that this post has included your favourite Spanish brands and helped you to discover a few new ones. The Spanish Leather industry is based on a heritage craft spanning generations. It is still going strong today and hopefully will for many years to come.