The 200 kms of the Almeria Coast made a great route for a Summer road trip. Driving from Adra right up to San Juan de los Terreros we saw some great scenery along the way. Stretching between the provinces of Granada and Murcia, this corner of Spain has plentiful sunshine most of the year. There are lots of beaches and quaint villages along the Costa de Almeria.
This region of Andalusia is not as well known as the other western provinces but for me that is the charm. Of course Almeria province has been the set for many movies and TV shows over the last 50 years.
Let me tell you more..
Almeria Coast Route
Our route began at the edge of Granada province and as we drove we decided where to stop off and where to drive through. After a quick stop at Almerimar for drinks, we decided to continue on to Roquetas de Mar.

Roquetas de Mar
Roquetas de Mar is one of the busier resorts along the Almeria Coast. We spent a morning at the Aquarium at Roquetas de Mar. Gaze at the piranas and other tropical fish such as ´Nemo´ or clownfish, which will thrill Disney fans. Once a day the divers drop down into the large pool to feeding the sharks in the aquarium.
A more hands on section of the visit is towards then end where visitors can gently touch the manta rays and even hold starfish and hermit crabs. This is an interesting activity for children of all ages and will take no longer than 2 hours to visit.
Address: Av. Reino de España, 04740 Roquetas de Mar, Almería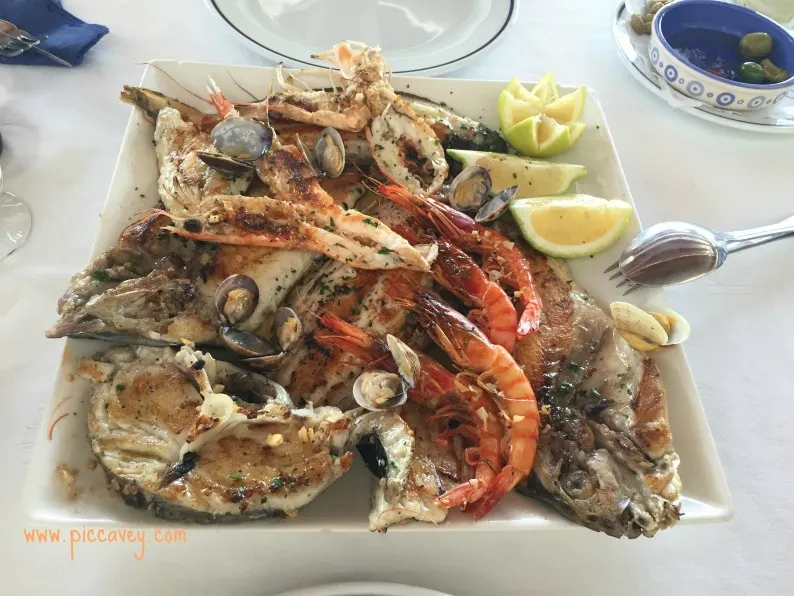 Beach Hut for lunch
After the visit to the aquarium we headed to the seafront at Roquetas de Mar for lunch. La Barraca had been recommended to me by a friend and it didn´t dissapoint. Delicious fresh fish and a huge selection too. (Paseo del Mar 15, Roquetas de Mar)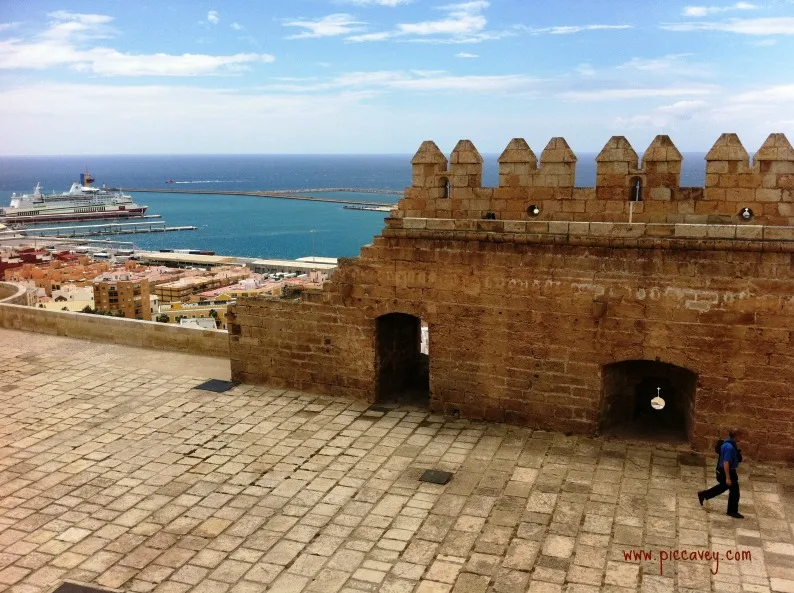 Almeria town
The Capital city of the province, Almeria is always a place I like to visit. It has good shopping streets and tree-lined avenues. There are also plenty of great places to eat out too. Our acommodation was on the main street. This was a much cheaper option than coastal resorts in summer and more practical especially for eating out in the evenings.
In Almeria the grand Alcazaba Fortress overlooks the city and is a must see monument. It´s free to go in and has great views over the port and city. It´s so spectacular it´s even being featured in Game of thrones Series 6.
Another interesting monument is the structure that lies at the foot of the Paseo de Almeria. This loading platform moved minerals onto cargo ships in the 19th century, from local mines in the region. Built by Gustave Eiffel this interesting monument is lit up at night, reminding us of the industrial past of the region. Known as el Cargadero Mineral in Spanish.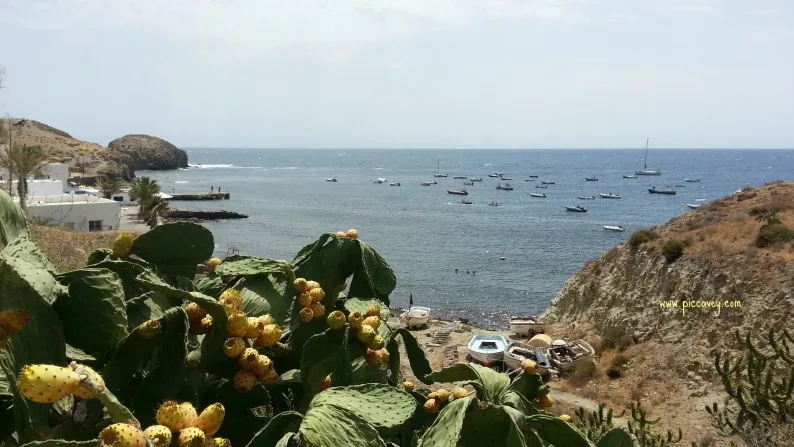 Discover Cabo de Gata
Driving around Cabo de Gata Natural Park takes you back in time. The route includes old Windmills, water cisterns and Arab waterwheels made from wood. You´ll also see several fishing villages such as Isleta del Moro or Las Negras where you can taste fresh seafood. Some viewpoints along the Almeria coast are breath taking. Mirador de la Amatista or Mirador de las Sirenas are a few highlights.
It is a great place for watersports like kayaking and snorkelling as you can see from the video above. There are also Fortresses and defense towers along the coastline, these would have helped to ward off pirate attacks, which threatened this area in the past.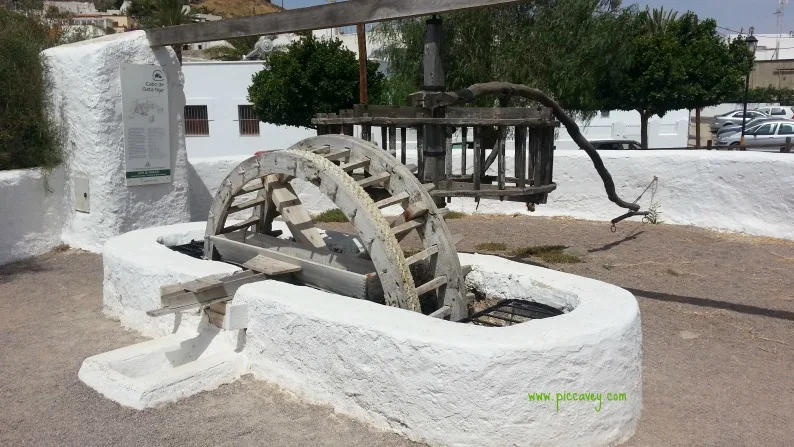 Las Negras
Some say that Las Negras (the black ones) takes it name from the black rocks along the shoreline, however it seems that the name Las Negras refers to widows from years gone by who waited for fishermen to return, who were lost at sea. They would have worn black clothes for a long time after their deaths.
This small fishing town is busy in summertime and one of the most popular spots is La Bodeguiya. A small bar just off the seafront. Its been named the best chirinutio in Spain by some.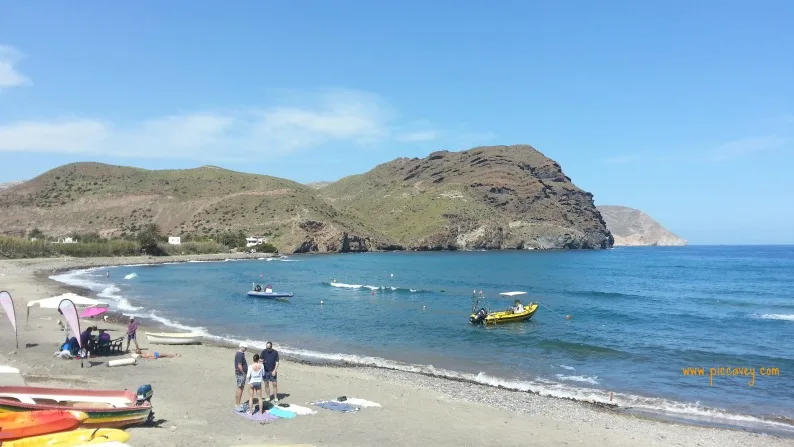 Los Albaricoques
Enjoy a Wild West experience in the small village of Los Albaricoques. This village was used to film several western films in the 60´s. The Alba restaurant at the entrance of Los Albaricoques serves a great daily menu. The interior is covered with photos, and props used in those films.
This is a great location for photo opportunities. You seem to be in the middle of an arid desert and yet the sea is just a stone´s throw away.
Carboneras
On the edge of the Natural park of Cabo de Gata this fishing village is one of the main towns along this coastline (along with San José). Carboneras has small family run hotels and apartments to rent rather than large hotel complexes.
The beach is huge and very wide so never really gets full. There are also lots of swings, slides and parks for children along the stretch of sand. Pedalos and Kayaks can be hired for the day from here.
Playa de los Muertos is one of the most beautiful beaches in Andalucia and it´s located a short drive from Carboneras. (seen above) However if you want to spend time there you need to hike down the hill (and back up again)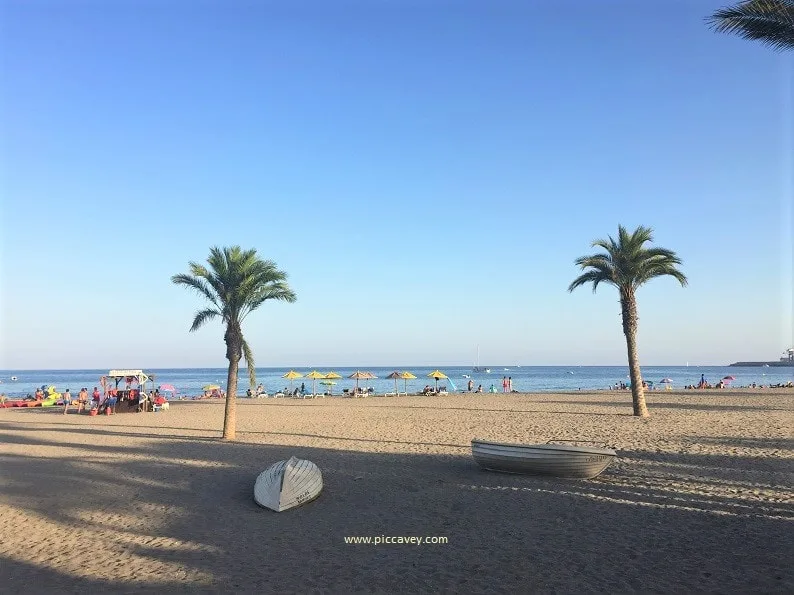 Sail Away
You can also take the Catamaran from Carboneras port. This visits la Cala del Plomo or Cala San Pedro. These trips are 2 – 3 hours depending on which route you choose. On windy days the trips may be cancelled to avoid choppy waters. (More details from Ola 21 in Carboneras port)
Carboneras is neatly located between Mojacar (a very busy resort town) and the Cabo de Gata Natural park. So its a good location if you have a car to discover this area.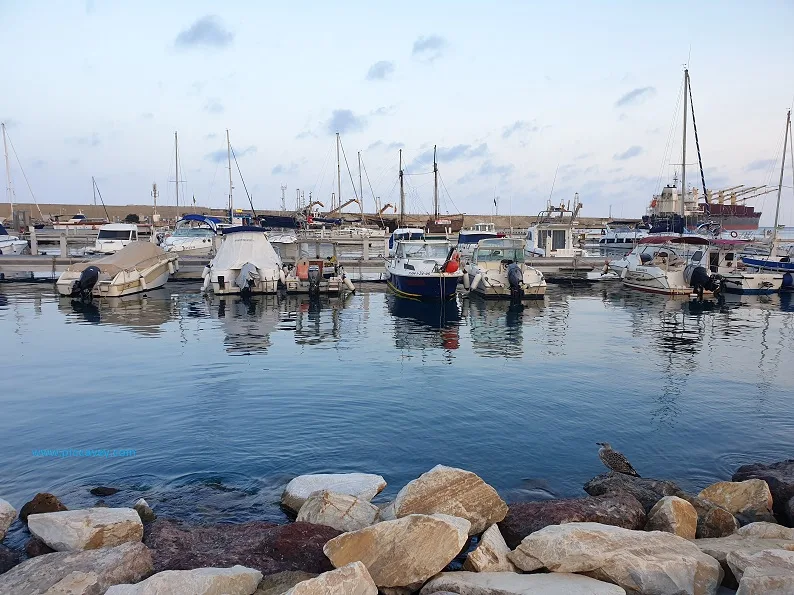 Garrucha
Garrucha is just past Carboneras and Mojacar. This important fishing port is famous for its red prawns. The town has a long walkway made from local Macael marble. The Paseo del Malecon is around 1 kilometre long and offers views over the beach and seaport.
At the entrance to the town is the Castle, Castillo de las Escobetas dating from 1769. This defense building was to protect Garrucha from berber pirates. Active on the Andalucian coast especially from 1500´s to 1800´s.
The building in Garrucha havev a colonial influence, so take a look at them as you wander along the promenade.
Mojacar Old Town
As we drove along through Cabo de Gata, we headed up to Mojacar. A white village perched high above the coast. A quaint location with squares and viewpoints over the coast. Looking out over Mojacar beach and the surrounding countryside is impressive from up there.
Some of the typical streets are cobbled and have historic arab style gates. The Plaza Parterre is quiet spot to have a drink and contemplate the historic setting and colourful plants. It´s worth visiting and has also been listed as one of the prettiest villages in Spain.
Mojacar beach is the resort on the coast below, this is a party destination with lots of nightclubs and chill out bars along the seafront. One of the best places I ate out in Mojacar was the The Roof Garden, casual dining and amazing desserts.
Mandala is the busiest nightlife destination in Mojacar.
Typical Almeria souvenirs
You will see lots of souvenirs with the Indalo figure on (also known as the Mojacar man). This prehistoric symbol is now the region´s logo. Said to protect you from evil this is seen painted on the front of houses. Originally discovered in a cave in the village of Cuevas de Almazora, just North of Mojacar. (you can visit the cave)
You´ll also see brightly coloured rugs called Jarapas, Nijar has a tradition for this craft. Gourmet fans will love the local olive oil and locally made pastries.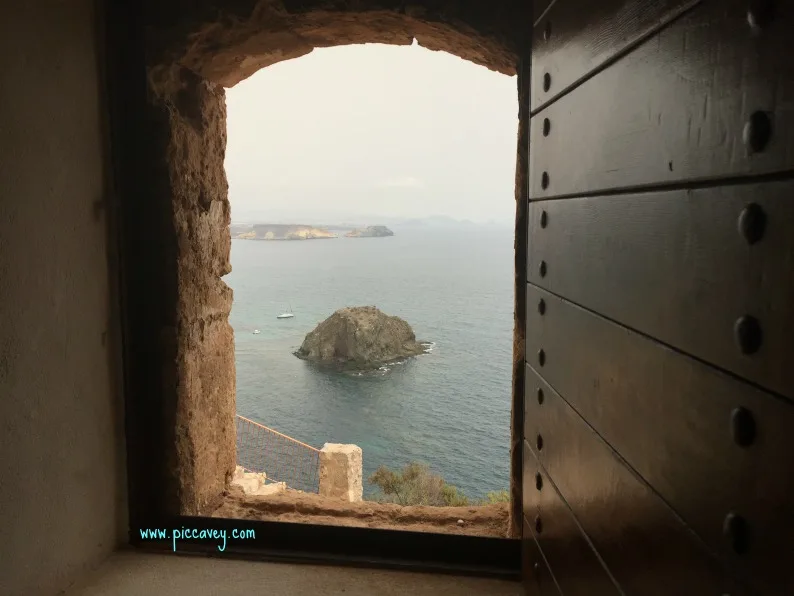 San Juan de los Terreros
As we reach the edge of the province, we drive from Mojacar up to San Juan de los Terreros. This quaint fishing village has a castle above it with beautiful views. Some of the beaches in this smaller resort are lovely. It´s not as built up as Vera or Mojacar beach but a lovely place to enjoy a few days in the sunshine.
Inside the castle was an installation with 3D glasses to visit the Geoda of El Pulpi, a giant gypsum crystal which was interesting to see. The mine opened for public visits in Summer 2019. Inside the world class Gran Pulpi Geoda can be seen, but you have to be fit as you walk down into the mine. More about my visit here: Going Underground in Spain.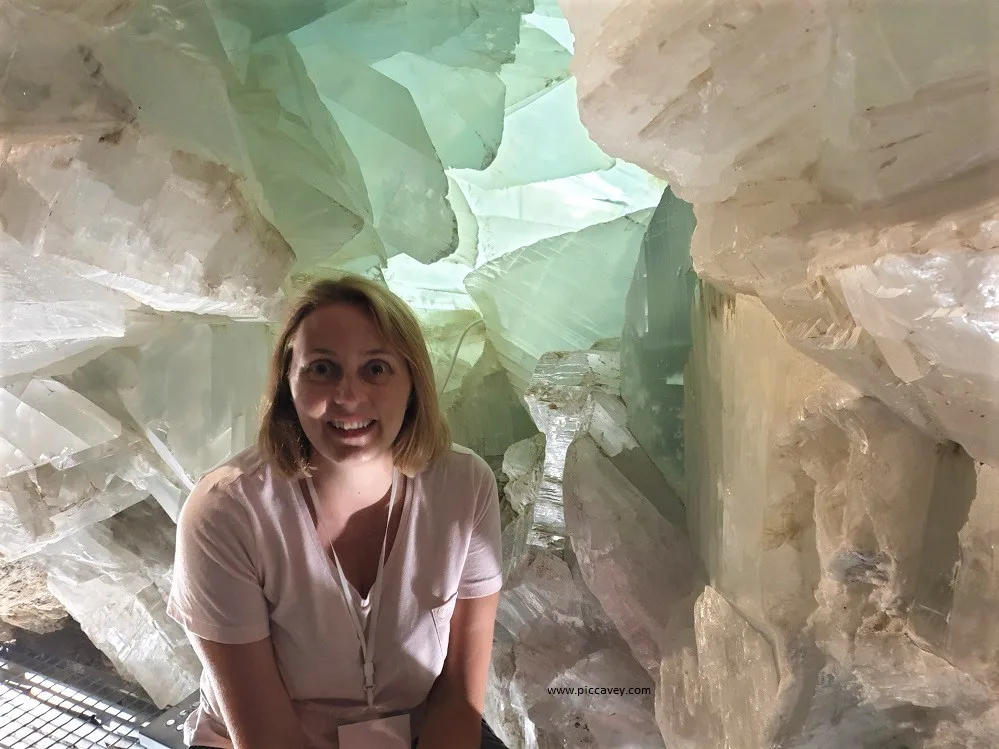 Travel Resources to Plan Your Visit
Here are some resources to help you plan your own Almeria Road Trip:

Please Note: This post contains affiliate links, which means that if you click through and make a purchase, I will receive a small commission. All thoughts, feelings and opinions shared on this blog and in this post are my own.