Spain shoe brands are one of the countries main exports. (As well as Spanish food & wine). Spanish shoes are made with soft leather, they are comfortable and usually long lasting.
As a confessed shoe addict I thought I´d share some of my latest finds with you. For travelling shoes are especially important and an uncomfortable might even ruin your trip.
Marble streets
One particular trip that I had the wrong shoes one was a 5 day press trip. These gorgeous suede sandals by Bimba & Lola (seen below) took me climbing up hills above Montefrio. I didn´t realise that we were going hiking. This poor shoe choice was so bad it even made local press. Even if you are not hiking hills, in the office all day it´s the same story.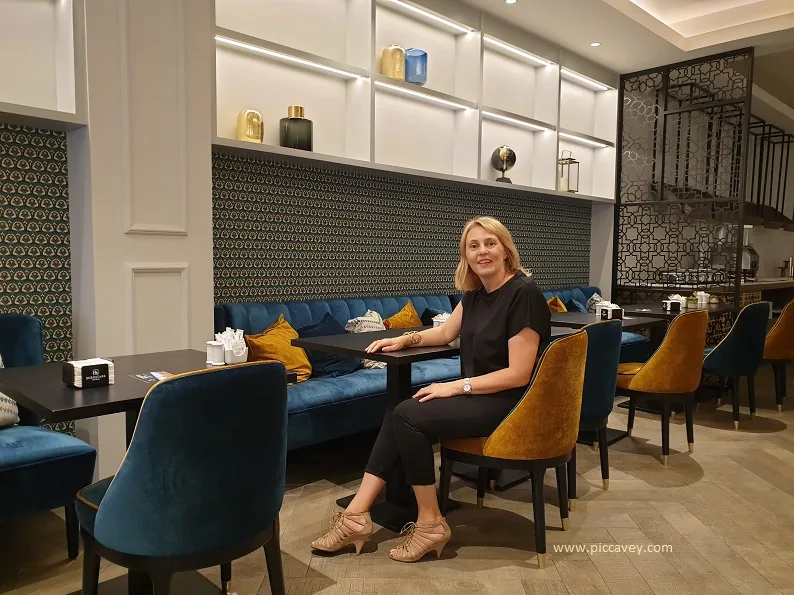 I remember moving from Barcelona to Granada and realising that my footwear was wrong. Barcelona is a busy city with smooth walkways and flat city streets. Granada has slippery marble pavements, cobbled streets and even some streets that are stepped. Leaving Barcelona behind, in Granada I would now be negotiating uneven streets daily. That certainly couldn´t be done in heels.
Spain Shoe Brands
The furnace hot summers are also hard on your feet. It´s amazing what a difference your shoes can make. So initially in Granada I had a few scrapes and blisters to deal with. I now know the kinds of shoes that I need to wear around here.
I have stuck to the same Spain shoe brands over and over again.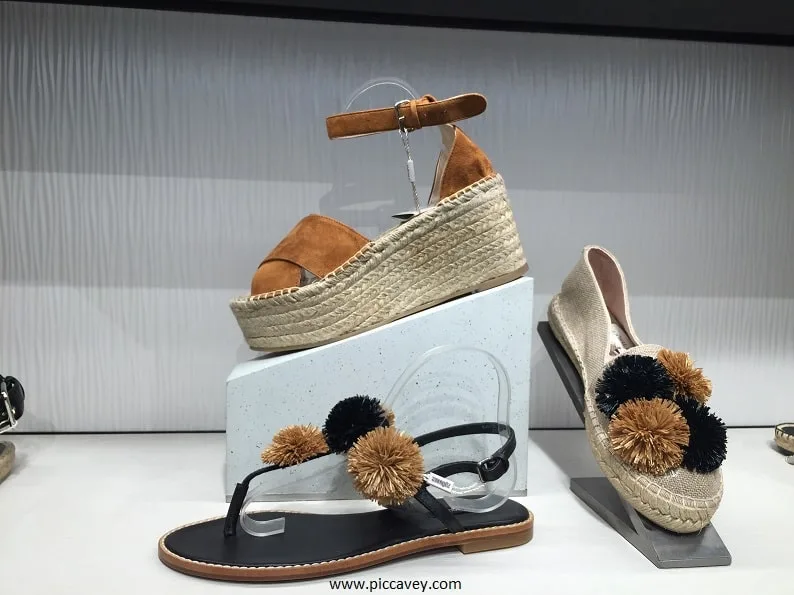 Spanish Shoes I love
Here are twelve shoe brands that I have bought over and over again. Many have online stores where they ship internationally. Others have stockists in many different locations.
There are also factory shops and outlets that have these brands. In Madrid Las Rozas Outlet is one of the biggest ones. I´ve been to the Designer Outlet ´la Roca´ near to Barcelona a few times too. They are both good options for both Spanish and International labels.
Or of course when you travel to Spain you can make the most of your trip and buy real leather shoes when you are here. I have even taken an old pair of shoes with me on my travels so I can leave them behind and come back with new ones. (keeping weight to a minimum)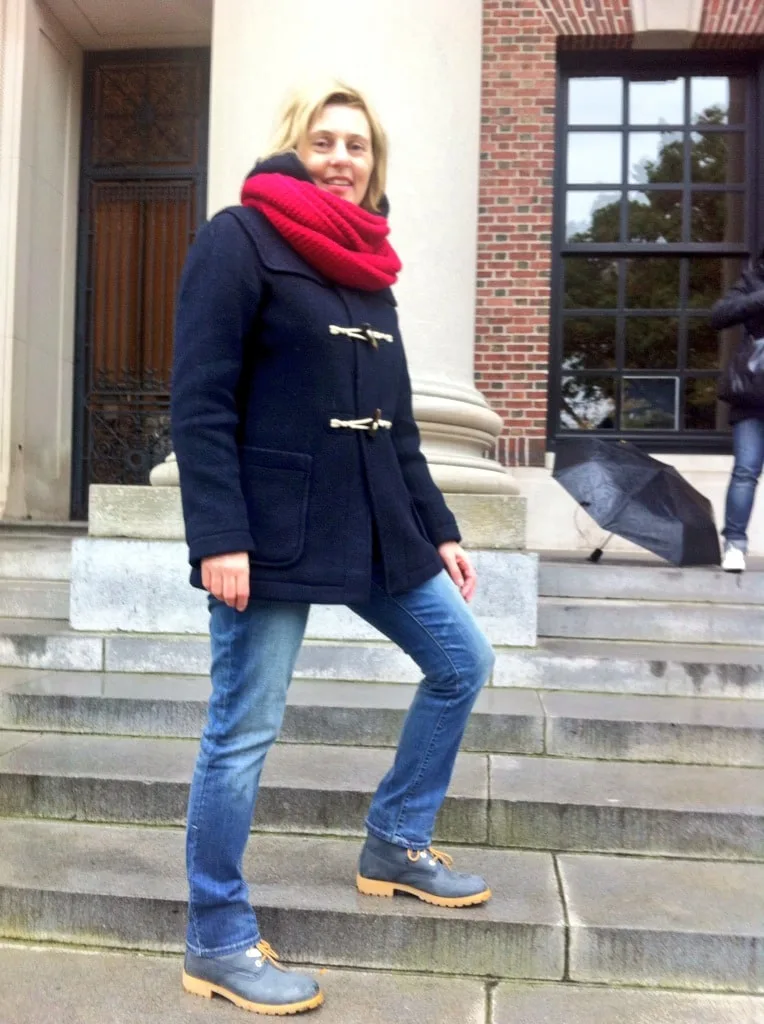 Panama Jack Boots – Made in Spain
Good for Hiking, Walking long distances and cold weather
These practical blue boots are very handy for winter travel. I travelled to USA this Autumn on holiday and knew the walking each day was going to require good footwear. The Panama Jack boots were comfortable to be on the go all day. They kept my feet warm and dry. Even with the blustery Boston weather.
Now I am back in Spain I will use these boots for my days in the Alpujarra and Lecrin Valley. Also for cold Winter weekends in Granada with my jeans.
Panama Jack now have an extensive range of footwear for all year. Light sandals for summertime and lots of great boots in colourful designs for winter. Based in Alicante they have been running since 1989. Their online store delivers to many different countries and they have good social media channels too.

UNISA – Made in Spain
Good for looking smart in hot or cold weather
I have UNISA winter boots and sandals too. The summer sandals I have are long lasting and great value. I do have quite a few pairs now. (UNISA summer sandals seen in photo below)
Why not shop my Amazon store with a selection of Spanish Shoe Brands?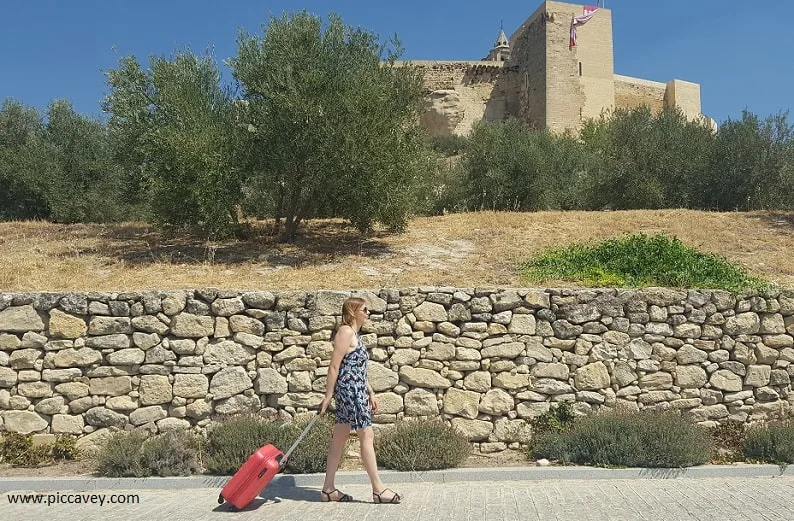 Spanish Leather
My Black winter boots have a black fur cuff (like a leg warmer) around the top, you can fold this down over the calf or leave up. The boot can be an ankle boot with fur trim or a tall plain leather boot with the fur on the inside for extra warmth.
The mid heel height makes them a good looking design but comfortable too. The non slip soles are also great for winter days.
I remember wearing them walking around Camden Lock in cold December day. A good test for these boots. The soles are quite rugged good even in icy conditions.
I got these 2 years ago and get a lot of wear out of them still.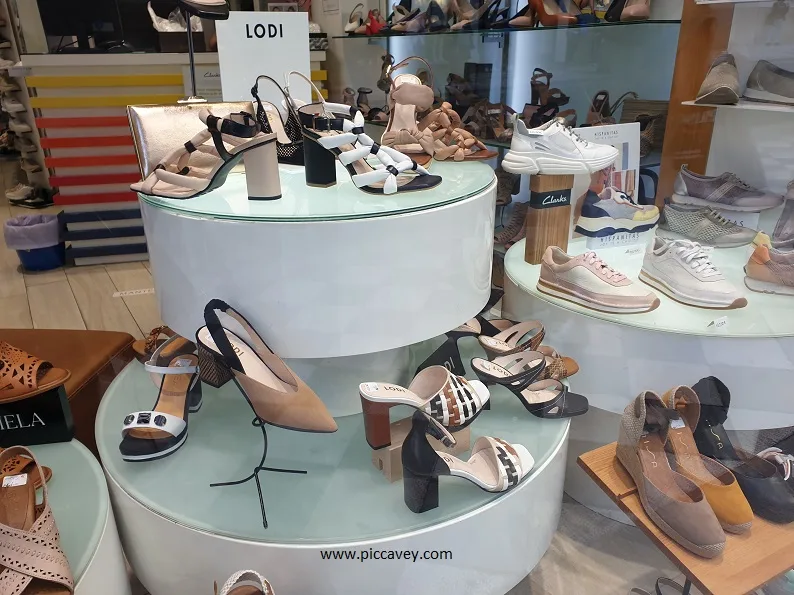 Lodi Shoes – Made in Spain
Good for medium heel height, comfort yet elegant.
Whenever I am invited to a Spanish wedding I know that I need a shoe strategy. Spanish weddings usually are 24 hour affairs. The last one I went to I left my house around 11.30am and didn't get home until 5am the next day. Of my group I was the first to leave…
Occasion Footwear
So I always go to weddings, special events or parties in Lodi shoes. I like them as they have sparkly dressy shoes with medium heel heights and sometimes with a hidden platform. They look elegant but don´t hurt at all. I also have some plain black ones for work too. Lodi is one of the more popular Spain shoe brands they are made in Alicante. Find them in specialist shoe shops and in the corte ingles.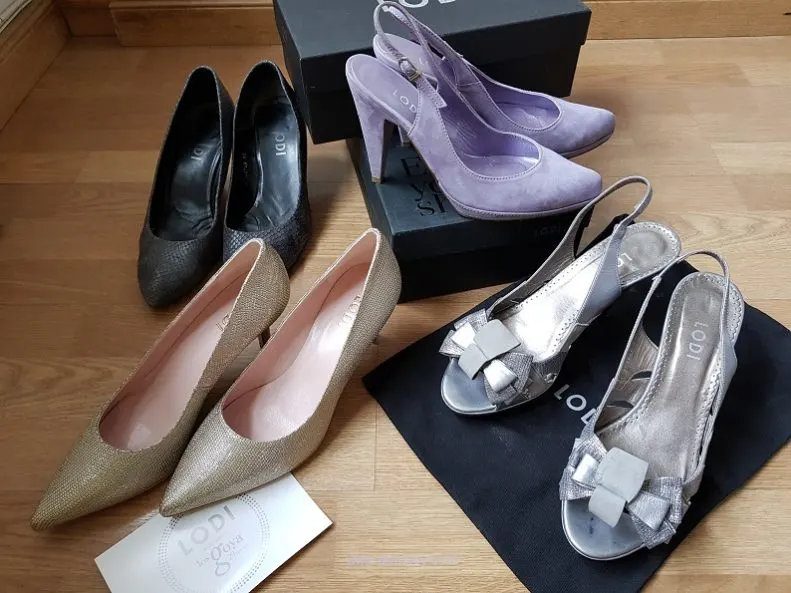 Chie Mihara
Good for anything and everything.
Chie Mihara, this Japanese-Brasilian designer has her factory is based Alicante, Spain. Her shoes remind me of little girls shoes decades ago. They have a vintage feel to them and her designs are clearly distinctive.
Many of her shoes are Mary Jane style but I also have court shoes and ankle boots too.
In Elda, Alicante they have a small factory shop. You can find her stock there with generous reductions, if you are ever around that area. There are also some Chie Mihara shoes on Amazon online
When I visited Elda in Alicante it was like a child in a sweet shop. Basically a whole town dedicated to producing fabulous Spanish shoes. I currently have 5 or 6 pairs of Chie Mihara shoes. They are so comfortable and I love that you don't see too many people in them.
This is one of my favourite Spain shoe makers as they are ergonomically designed to be comfortable yet also use good quality leather and have great designs.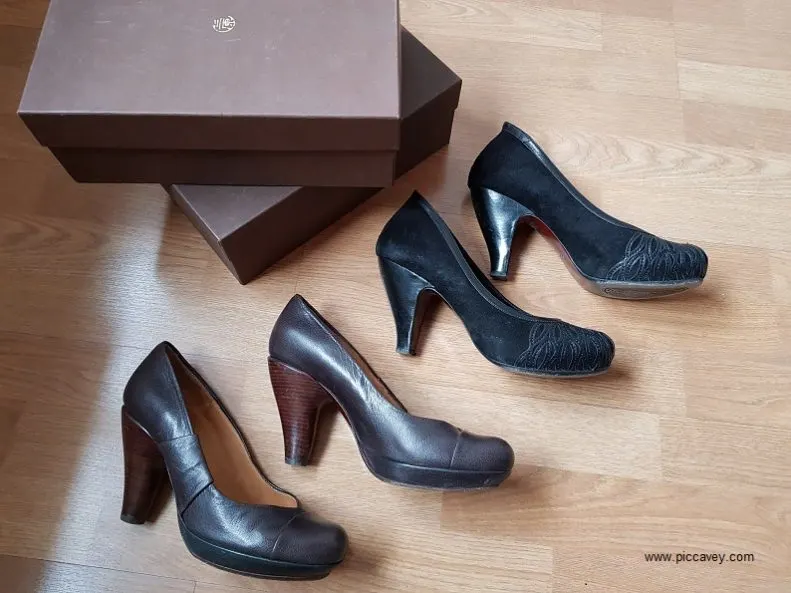 Spain Shoe Brands in Alicante
This is one of the most innovative Spain shoe brands, a new line has just been introduced called ChiE which are high heels with incorporated padding for extra comfort.
Not too long ago I had endless boxes of shoes and boots. I have now changed slightly. I prefer to have less pairs of shoes but better quality. They tend to last longer too. I also look after them with regular trips to the cobbler.
In Granada with the cobbled streets the cobblers have a healthy business. (The heel caps are often damaged between the cobbles) I usually take all my shoes at the beginning of each season to get anti slip soles put on and the heel tips renewed.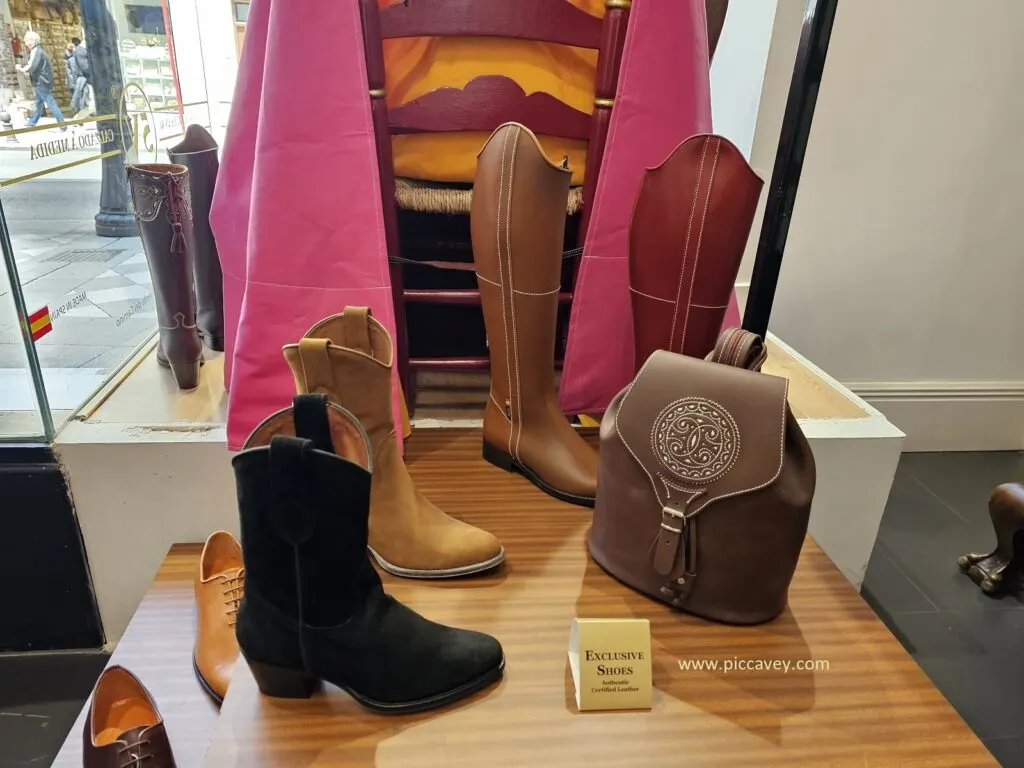 Valverde del Camino
Known for their equestrian connections, Valverde del Camino is based in Huelva, Spain. Worn by Kate Middleton, the high quality leather boots are classic country styles and long lasting.
Toni Pons – Alpargatas
Alpargatas are synonimous with Mediterranean Style. Toni Pons has stores across Spain and as well as the traditional slip on shoe in all colours and sizes. There are now other styles of sandals and wedges in their collections.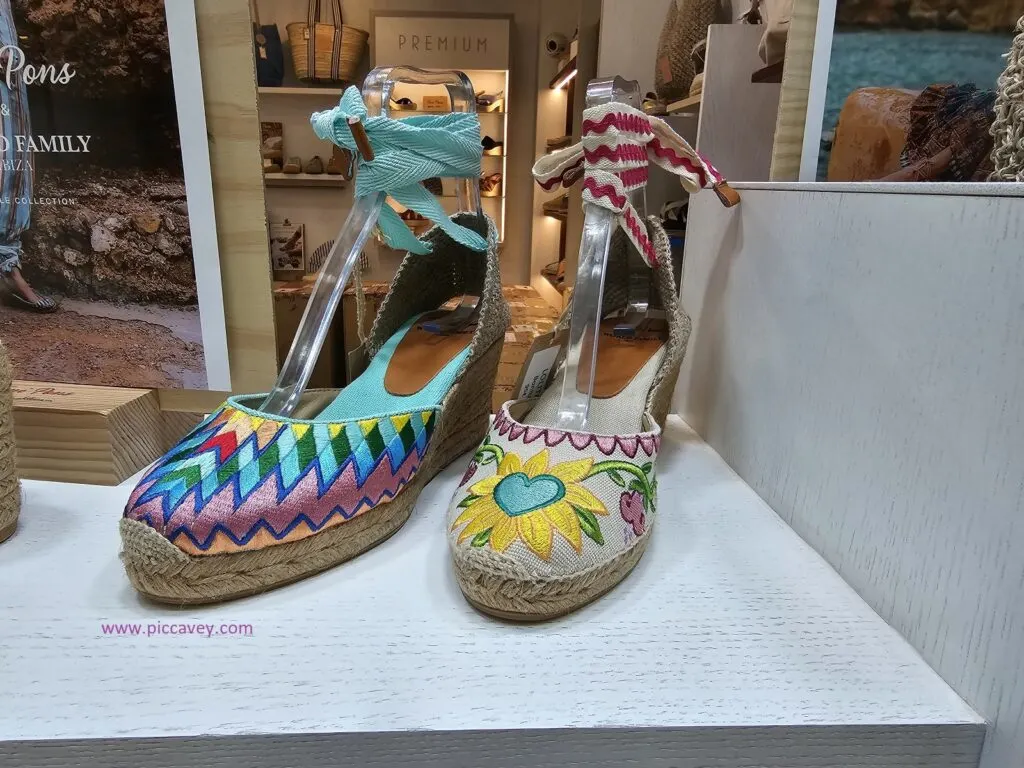 Pikolinos
Since 1984 this Spanish brand have been designing great shoes and can be easily found on the Spanish high street. My most recent purchase has been a pair of Leather Blue Lisbon Ankle Boots they are really lightweight, like trainers but are much warmer.
I also have some Pikolinos Mary Janes (seen above) are great for wearing with dresses yet have a solid heel than doesn´t get caught in cobbles. Another brand in the Pikolinos family is Martinelli. I have a beautiful pair of Burgandy ankle boots by this brand.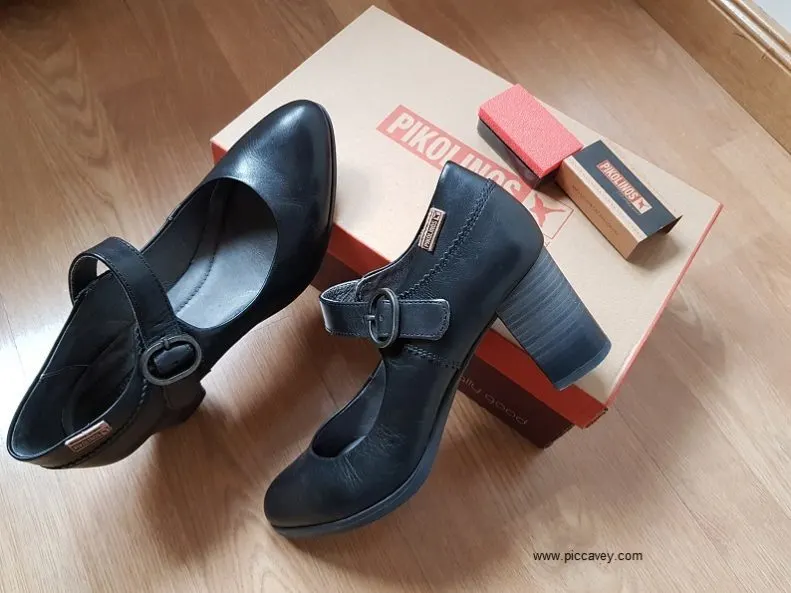 Yokono
Summer sandals that I bought this year were super comfortable. As I got them in a neutral blush colour they also matched everything. I bought them online from Yokono Shoes
. Delivered direct to me from Alicante.
They do stock them in the Corte Inglés but they didn´t have my size. Buying online was actually the same price. Love the logo, it a bright red ladybird. This company have been going since 1981.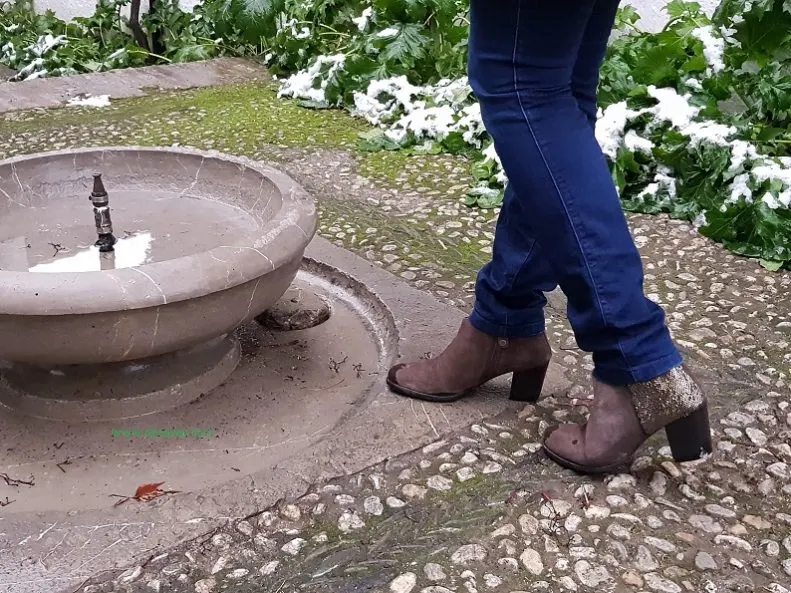 Gioseppo
My Gioseppo suede boots are really comfortable and I love the sparkle detail on the heel. I found these in the Gioseppo store in Madrid in January 2017. On Calle Claudio Coello 38.
With a good price vs quality these are only Gioseppo shoes I have so but I will look at their summer collection this season. In business since 1991, this is now an international brand even though it begin in Spain.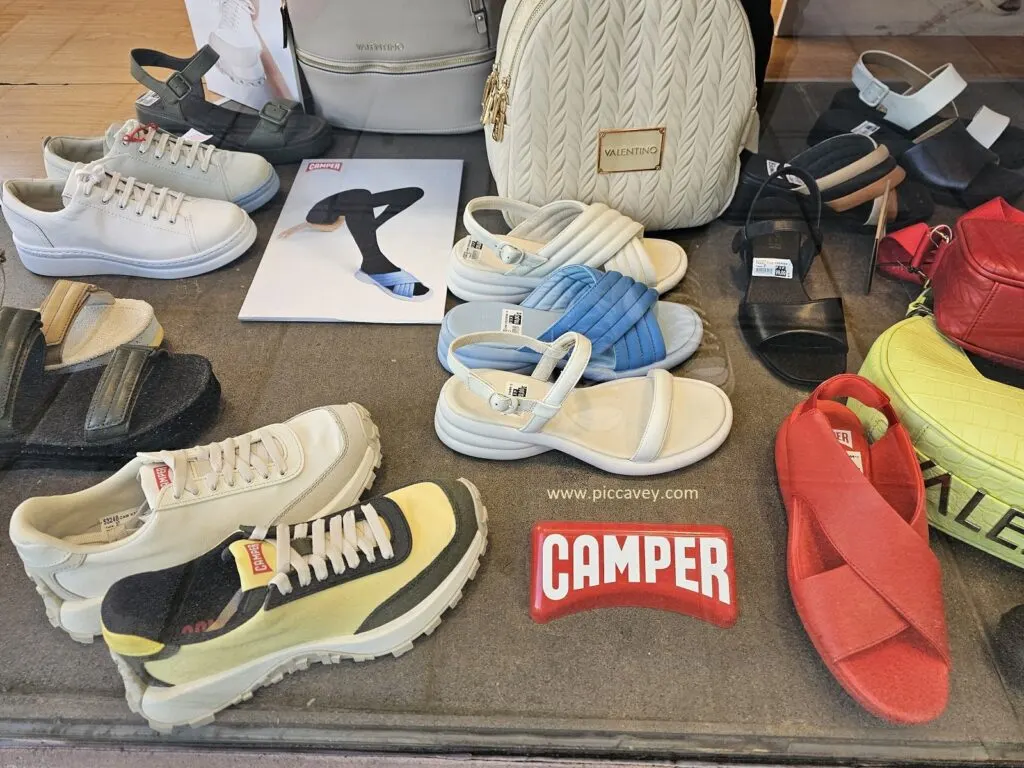 Camper
Spanish brand Camper is well known both in Spain and Internationally. Created in Inca, Mallorca in 1975 this traditional brand has a modern line in its designs.
I have at least three pairs of their summer sandals. See above is a pair of black leather heeled sandals which I wore all summer. Find Camper in most Spanish high street stores. I bought these for a great price at La Roca Village (a short drive from Barcelona)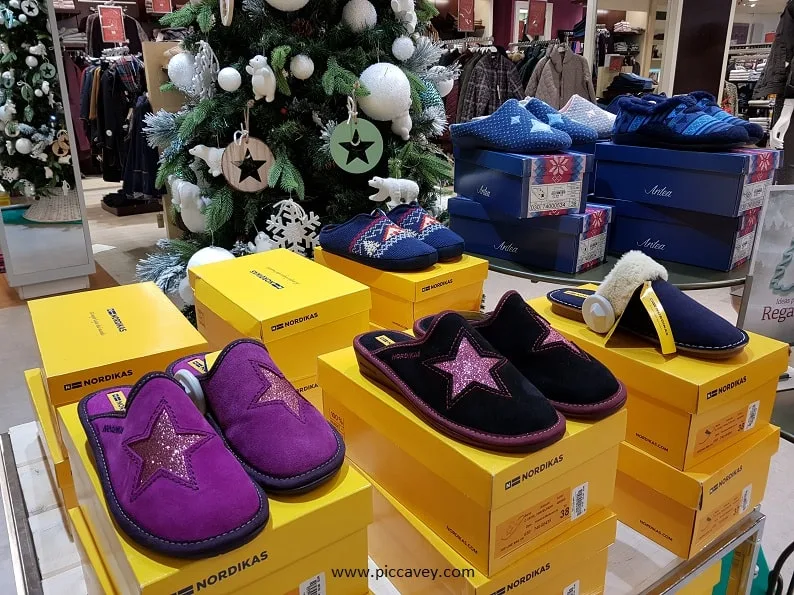 Nordikas
Long lasting slippers. I have lost count of how many pairs of these I have bought over the years. Nordikas have been a great Christmas and birthday present for many of my family and friends. I usually by the leather ones for men as they are smart and hard wearing. They last for several years.
For warmer climates they also have summer versions of their slippers which are worth looking out for. I have bought them at El Corte Ingles or independent shoe shops in Spain, but you can also find them online too.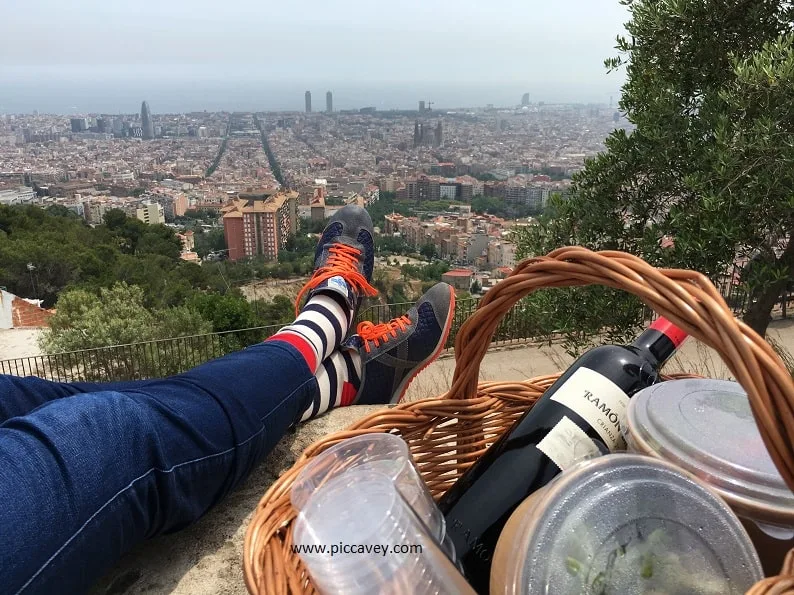 Munich Trainers
Munich Barcelona trainers are colourful yet understated. Love them for casual wear and wandering around Barcelona too. Mine are navy blue and bright orange. I´ve had them for a few years now but they are still going strong.
They have an outlet store at La Roca but I purchased my trainers in a small store in Almeria. As they are light and thin, these are perfect for spring and summer weather. Spain shoe brands tend to specialise in Weddings and everyday wear but this is the only trainer brand I know of so far.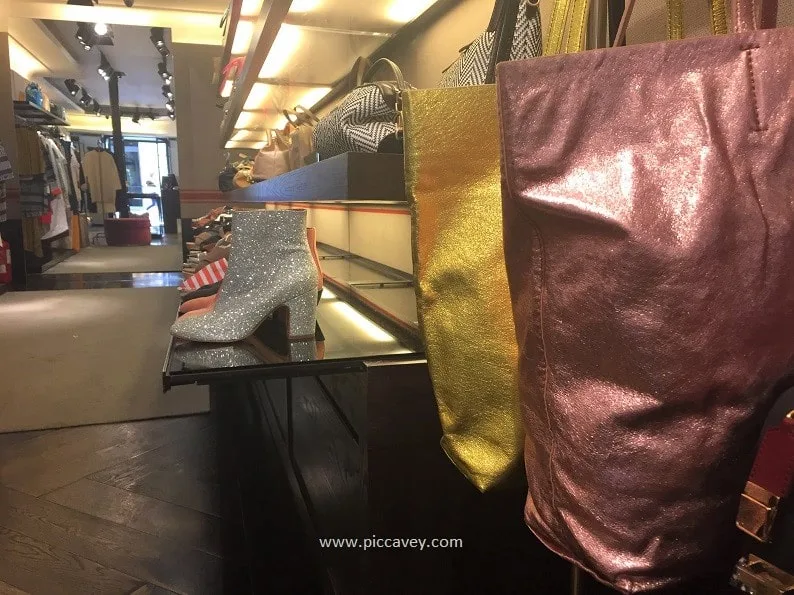 Bimba & Lola
A known name now on many high streets Bimba & Lola can be found in most Spanish cities and some international ones too. Although they are mainly stocking clothes, their footwear lines can bring up some goodies too. They also have lots of Leather Bags too.
I have bought sandals from their stores a few summers. It´s worth checking out their sales for good deals. Shown in the photo below are my beige sandals that were so good I bought two exact same pairs. I have worn them until they are completely worn out. So comfortable and easy to match with summer colours.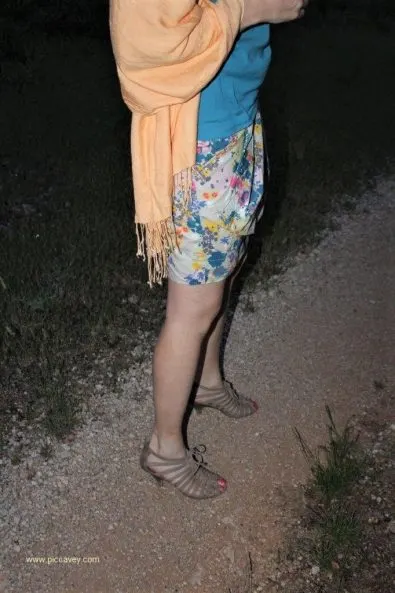 Manolo Blahnik
Its impossible to write about Spain shoe brands without mentioning Manolo Blahnik. Although I havent got a pair of these myself yet. They are on my wish list.
These Spanish designer shoes are stocked at Harrods, Nordstrom and many other prestigious locations around the world.
The Art of Shoes
Becoming more well known as they were used in Sex and the City these beautiful shoes have been crafted since the 1970s. Born in Santa Cruz de la Palma, the Spanish designer is now a UK resident. The flagship store of this iconic Spain shoemaker is in London.
There is also a store in Barcelona on Paseo de Gracia 38-40. The Art of Shoes exhibit has been on in different places around the world and there is also a book too.
This is my own personal experience in shoes and travel. Shoes.. One of my passions. I could write for days..
Why not Pin this to save for later?
Spain Shoe Brands to Seek Out – Infographic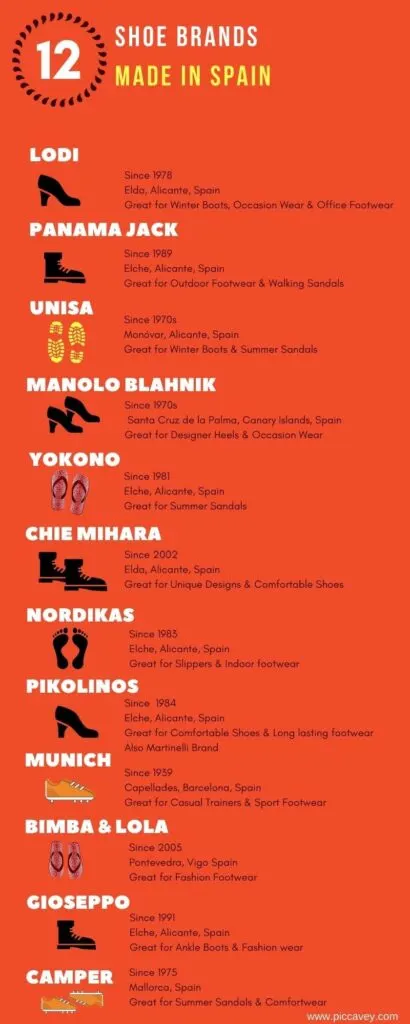 Please Note:
This post contains affiliate links, which means that if you click through and make a purchase, I will receive a small commission. All thoughts, feelings and opinions shared on this blog and in this post are my own.