At Christmas in Spain , celebrations vary slightly from the festivities in the UK or USA. Celebrations in Spain generally begin around the first weekend in December and continue right through to the end of 6th January.
If you want to know specifically about Christmas in Granada, here is my guide Granada at Christmas. If you are visiting another area of Spain then this outline will give you an idea what to expect. Prepare yourself because Spanish Christmas starts early December and lasts almost to Mid January.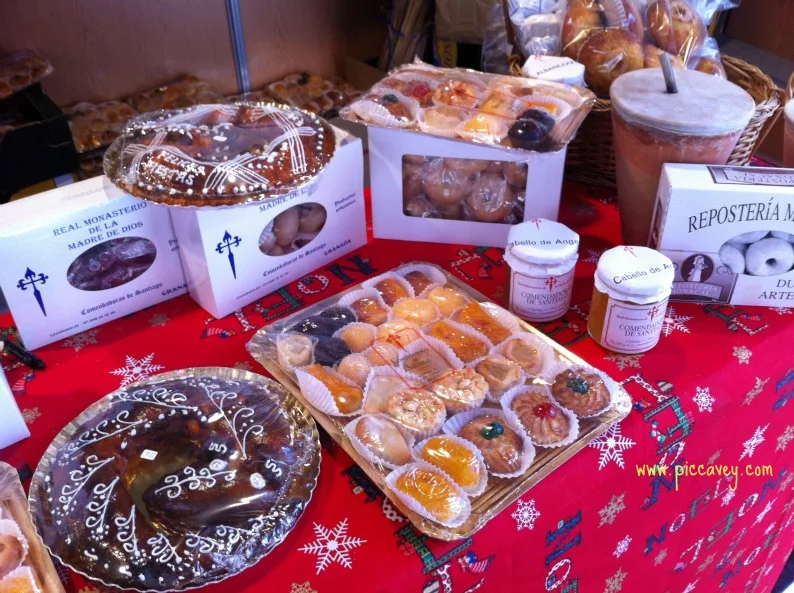 Traditional Christmas in Spain
Usually on the last few days of November Christmas lights and decorations are switched on. In large cities such as Madrid, Barcelona or Sevilla there is a specific switch on event. Usually in the early evening in one of the main squares of the city.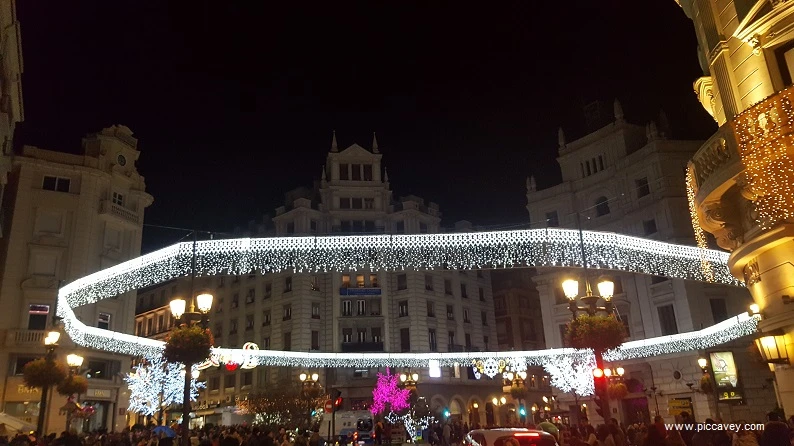 Holidays at Christmas in Spain
From the first weekend in December expect to find Christmas and Craft markets in central squares. They sell traditional Christmas sweets, nativity scenes, local crafts and jewellery. Some may sell Christmas trees or decorations too.
Throughout December – Nativity Scenes are a major traditional across Spain. So in most cities and towns there are many set up. Some places even have their own routes with a trail of scenes around the main city centre. Some have events where there are recreations of the nativity too. This is called Belen Vivente (we call it a nativity play). One of the most well known ones in Spain is in Buitrago del Lozoya. Where they recreate the Christmas story with hundreds of actors.
Christmas Eve
22nd December Lottery Throughout the morning of the 22nd December most people are listening or watching the Spanish Christmas Lottery Draw. This takes most of the morning to pull out all of the winning numbers. A lot of money is played on this annual lottery. Most Spanish citizens play one or more tickets. In 2020, the big prize came to this adminstration see above in Granada city centre. 183,000 euros in prize money will be claimed by locals this Christmas. Easy to see why it´s such a big thing! More about the intricacies of the Loteria de Navidad
24th December Christmas Eve Spanish families have a special dinner together at home. It is a quite time and many restaurants are closed from 5pm. They only open for lunchtime service.
25th December Christmas Day Some families have a special lunch on Christmas Day while others have a normal meal as they celebrated in the evening before. Again restaurants and bars are not open for Christmas lunch. Some may be open in the evening of the 25th.
26th December San Esteban – In the UK its boxing day however in Spain San Esteban is not marked as a special day in most regions. It not a holiday in most of Spain.
28th December Day of the Innocents – The 28th December in some parts of Spain is a date similar to April fools day. A day for jokes and tricks. In Ibi Alicante, there is a Flour festival called Día dels Enfarinats. Recreating a battle scene in military dress locals they throw flour at each other. Fireworks are also part of this curious celebration.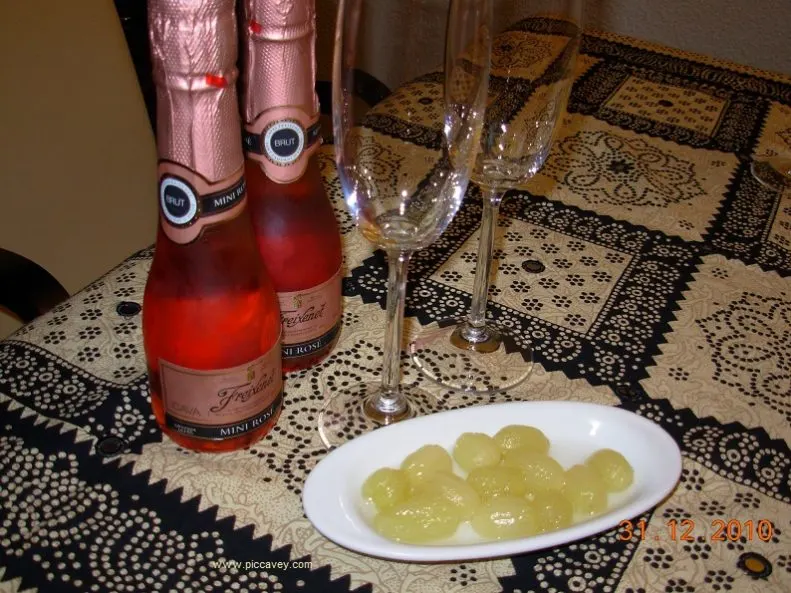 Spanish New Year
31st December New Years Eve It is typical to eat 12 grapes at midnight for luck. To welcome in the new year, each grape symbolizes a month in the coming year.
Locals eat with their family and celebrates the chimes at midnight. Usually at home. Afterwards they meet their friends to have a drink or party through the night. If you want to eat out on 31st December book ahead. At Christmas in Spain some menus are quite extravagant on the final day of the year. Look around at what´s on offer a ahead of time and book something you are happy with.
Read more about New Years in Granada
1st January is a national holiday in Spain. Take note if you need to get bread, milk etc. Also hardly any restaurants are open on that day. You may find a few open in the evening.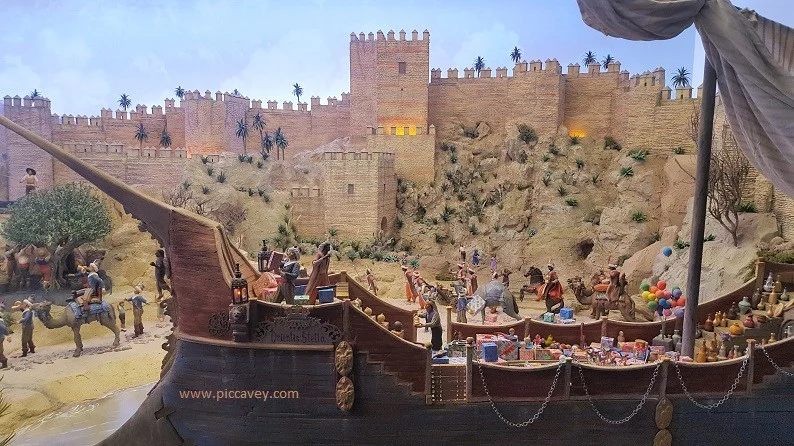 Epiphany in Spain
5th January The 3 Kings arrive and parade through the streets. The Cabalgata of course is popular with Children and adults alike. As the parade goes by they throw sweets (last year over 10,000kgs of them) out to the crowds. If you intend to fill your pockets with sweets, beware of people next to you with umbrellas and stepladders ; ) as they may have the upper hand.
Shops are open until midnight on 5th January for last minute purchases. This adds to the hustle and bustle. I love the atmosphere and often buy a Roscón de Reyes after seeing the parade so I can have cake for breakfast on the 6th January.
6th January As soon as you wake up open your pressies. The three Kings will have left you gifts during the night of course. Although you may have been left sweet black coal if you were naughty this year.
At lunchtime have food fit for a King followed by the typical dessert, Roscón de Reyes. This is one of my favourite festival foods of the whole of the Spanish calendar.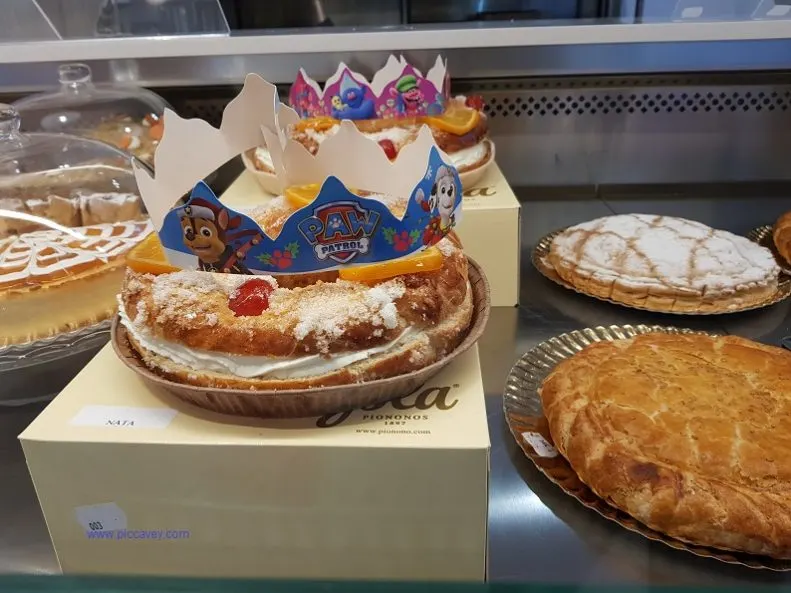 Roscón de Reyes
A light brioche style mix baked into a ring shape. Covered with candied fruit and sugar. It can be white cream (nata) or yellow cream. Creme pat. (crema). Other variations are truffle or chocolate flavoured fillings. What you need to watch out for is the Spanish answer to the sixpence or threepenny bit traditional we have in the UK. Here they have La haba.
A dried broad bean carefully hidden inside the Roscón. If you get this in your portion you´ll have to pay for the whole cake. So there is a King inside the cake too. Whoever gets the King in their slice of cake wears the Gold Crown. Some families request more than one King in the cake. This way they avoid squabbles at the table..
¨Si es el haba lo encontrado este postre pagarás más si ello es la figura coronado y Rey serás¨
7th January Things get back to normal again. The January sales begin on the 7th January in stores. Find out more about Shopping in Spain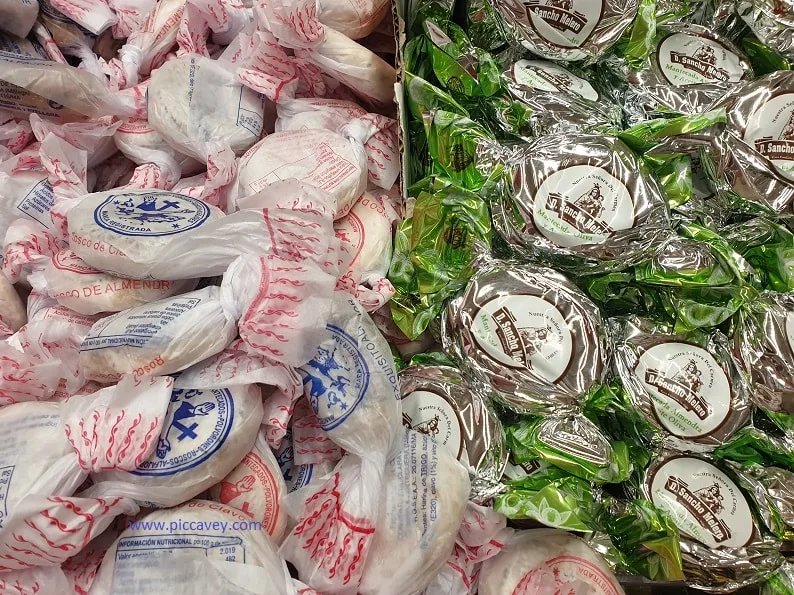 Traditions: Christmas in Spain
Other typical things during christmas in Spain are:
Villancicos
Spanish Christmas carols and Concerts sung in Rociero style. These traditional songs are often accompanied with tambourines and zambombas. The zambomba is a typical instrument made from a flower pot and skin. You only ever see them around Christmas.
Muérdago
Mistletoe is used in Spain as a lucky charm. Often referred to as planta de la suerte. You often see it on sale at Christmas markets. Some people have it at home to bring good luck. Others give it as small gifts to friends and co workers. Actually in Roman times mistletoe was hung above doorways to bring luck and protect the household.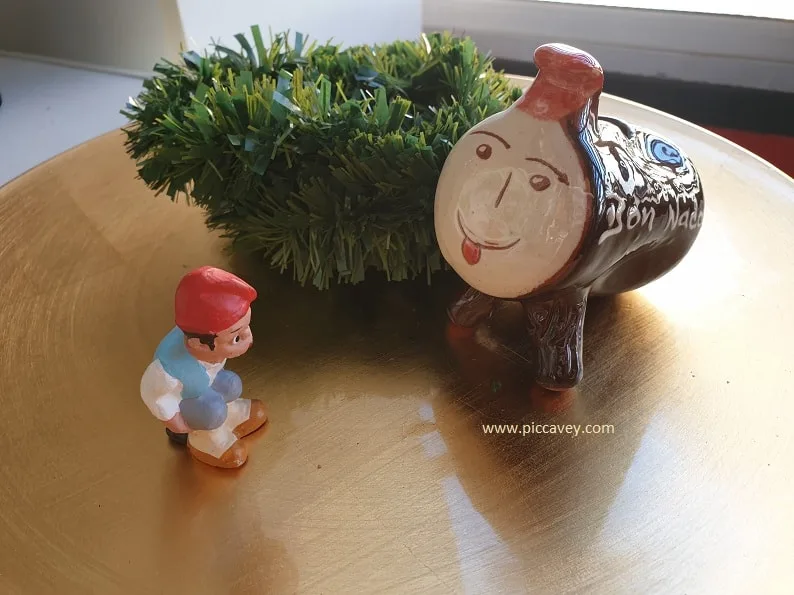 Caganer
Perhaps one of the most commented traditions in Catalonia is the Caganer. (seen on the left of photo above) Although it has been used in Portugal, Naples Italy and some other areas of Spain. It is part of the Nativity scene tradition. Thought to originate in the late 17th century, the Cagner represents a boy at the back of the shed who defecates. Each year the artisans make different figures based on the people in the public eye. Celebrities, politicians, footballers, no one is safe. If you go to a Christmas Market in Barcelona or Catalonia you will see a huge selection of them.
Cagatio
Also in Catalonia, they have another traditional figure. Particularly for children. The cagatio is a ´magical´ wooden log. With little legs at the front it wears the traditional catalan hat, the barretina. This magical trunk is kept at home during December. Children feed the log their leftovers or fruit peel. They keep it covered with a blanket so its warm. This keeps him happy. Then on 25th December the log poops out lots of gifts.
Children sing a song to the cagatio, then hit it a little. Then the gifts appear.
Caga tió
ametlles i torró
si no cagues bé
et fotré un cop de bastó
tió, tió, tió
Translated this means;
Caga Tio
almonds and nougat
if you don't poop well
I'll hit you with the cane
tió, tió, tió
Is there something typical or unusual happening in your area at Christmastime or New year?
Do you have questions about Christmas in Spain? Let me know in the comments below.