Andalusia is a beautiful region of Spain. Although in the summer months the heat can be a little too much for some.
After many years when I spend the entire summer in Andalusia, I thought I would share some of my tips which help me to cope with the heat. This are especially useful in July and August.
Granada temperatures are extreme. The lowest recorded minimum in 1987 was -14 ºC (7ºF )
Then the highest temperature was recorded in 1995. A blisteringly high 43ºC (this is around 110ºF) That was until last Summer. On 7th July 2015 this high was beaten, when the mercury reached 43.1C at Granada airport. Topping the previous record.
In Granada there is an interesting contrast of snow and red hot temperatures. From November to April you can ski in the Sierra Nevada Mountains. In the hot Summer months evening temperatures don´t fall below 25ºC on some balmy nights. Even buying bread becomes a chore on a fierce summer day.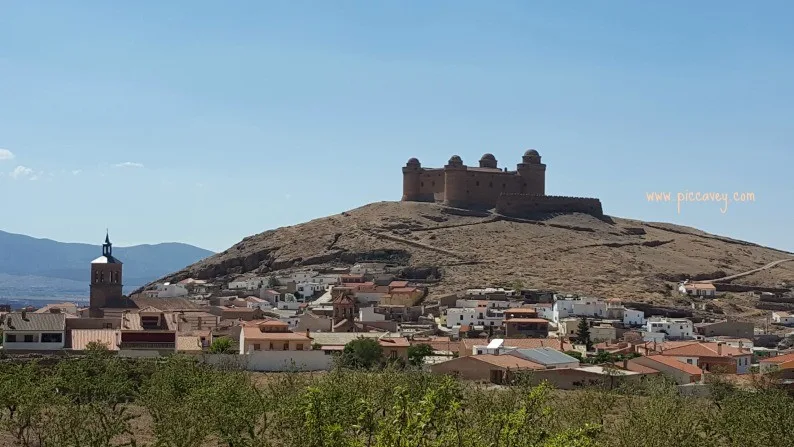 How to survive the Spanish heat
Best clothes for hot weather
Natural fibres such as Silk, Linen, Cottonor Ramie. Any combination or mix of these fibres is also good. Very important to steer clear from polyester, acrylic lycra, elastane and nylon. These fabrics don´t allow the skin to breath and will keep the heat close to your skin.
Choose pale coloured clothes to wear. White, beige and pastel colours. They are more comfortable than wearing darker colours which absorb heat.
Wear a Hat. It protects you from overheating and can help prevent sunstroke. If you have a wide brimmed hat it will prevent you getting a sunburnt neck too (painful) Your hair will also be more protected and stay in good condition too. Especially if you have coloured hair or highlights, a the hat or headscarf will stop your lovely locks from discoloration and drying out. Your hairdresser will be pleased ; ) Again choose pale colours for your headwear. Dark coloured hats will attract heat and may cause you overheat.
Parasols are becoming more popular. Colourful paper parasols are eyecatching but practical. You may also have an umbrella in a white or pale shade to protect yourself from the strong sunshine. Some even protect from UV radiation.
Sunglasses. Well in Spain you need them all year rounds and wear them for most of the day. Make sure they have UV protection of course and better to choose a style that covers a large area of the face if possible. Remember to avoid looking directly at the sun as this may hurt your eyes without your glasses on.
Travel Scarf. When I travel I always have a thin scarf with me. In summertime for car journeys it can be handy if the sun is on your legs or arms as a cover up. See more uses for a travel scarf…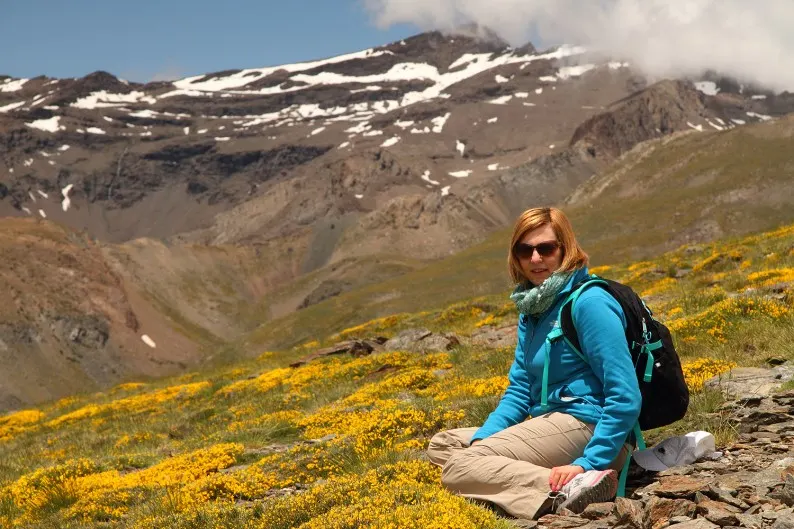 Skincare in Summer Heat
My favourite tip is to keep a bottle of Aloe Vera gel in the fridge. This works brilliantly on heat rashes, for cooling down sun burn and to calm prickly heat. Best to get 99% or 100% Aloe Vera as this is more natural and works better on sensitive skins.
Water sprays. When I travel or go to the beach I take a water spray with me to spray my face. This has a cooling effect and is also good to hydrate your skin too. There are lots and lots of brands to choose from. You can also create your own with an inexpensive spray bottle from the drugstore or discount shop.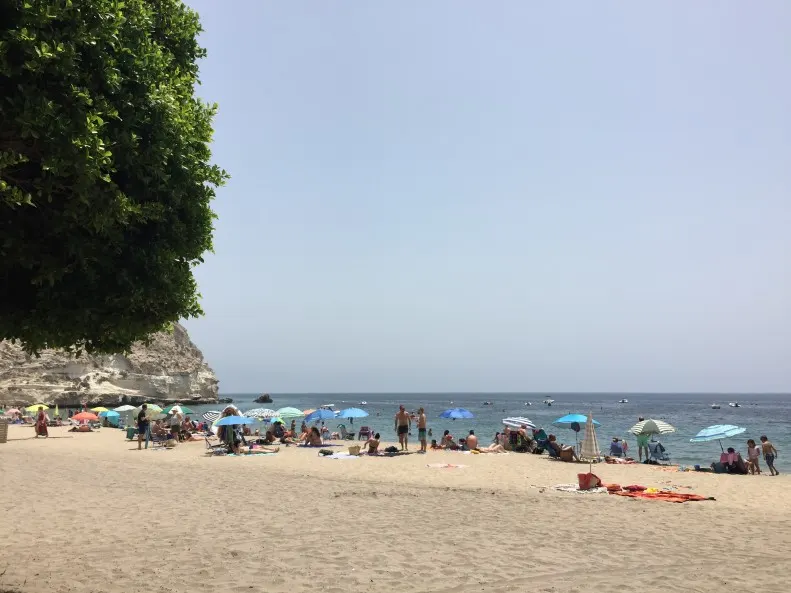 SunCream. To prevent getting sunburn I usually apply suncream at home before I go outside. As I have a mirror I can make sure that I dont miss any bits and get a good coverage of my back. Remember to put sun cream on the tops of your feet and around your hairline. Applying the cream some time before exposure, it makes sure that it is well absorbed. Then you need to take care with topping up every now and then. In Spain you must use a high factor SPF 40 – 50 The sun is strong here! I apply sun cream during all months of the year not just August.
Take care to put some suncream on if you are travelling by car for long periods of time.
A fan is a great accesory to have with you. It can make quite a difference when you are travelling in Spain. I find it useful on buses or long queues in the Summertime. As well as creating a gentle breeze you can also use it to block the sunshine if you need too. They are inexpensive and colourful as well as very useful. They even have versions for men too which tend to be slightly smaller and in dark colours.
If you are outdoors working or doing physical activity on hot days, a good tip is to wet a cotton neck scarf and tie it onto your neck. This cools you down quickly. (You can dampen in the sea, river or in a fountain it doesn't have to be drinking water) Try to do things first thing in the morning when its cooler if possible, between 8am and noon.
Enjoy time in the pool. Take care to use water proof sun cream and apply before swimming. Remember to top up throughout the day. Water parks are a fun way to enjoy hot sunny days with children too.
Take cool showers rather than warm ones. If you have trouble getting to sleep taking a cool shower just before going to bed can help cool down.
Stay inside Air Conditioned places or in the shade. Especially in the hottest parts of the day. In Spain this is around 1pm to 5pm more or less. You can plan activities first thing in the morning or in the early evening when it is cooler. In Spain locals tend to make the most of 10-12h to run errands and do their shopping. Then again in the early evening from 7pm-9pm. You will notice that there is no one in the street at 3pm. Roads and public transport will be empty!
Best Food for a Heatwave
When the heat rises you need to drink more than usual. It is better to sip steadily through the day to rather than working up a thirst. Little and often. This way you will be hydrated all day. I have a flask which keeps water ice cold all day. This is really useful and I take it everywhere with me even though it´s a little heavy, it´s worth it.
It´s best to avoid alcoholic drinks and coffee. They have a dehydrating effect. In the evening I choose fruit juice cocktails such as San Francisco or Mojitos made without alcohol. Alot of places in Spain offer Mocktails now. Iced tea is also a great idea (pictured below)
Eat loads of Seasonal Fruit Foods with high water content work well. Choose fresh green salads, melon, tomatoes and peaches. Cold soups such as gazpacho are delicious and can be found in most supermarkets and restaurants in Spain if you prefer not to make your own.
In Summer avoid eating hot or heavy meals. This will slow your body down and may make you feel uncomfortable. Roasted meats, heavy pasta dishes should be swapped for lighter meals and snacks.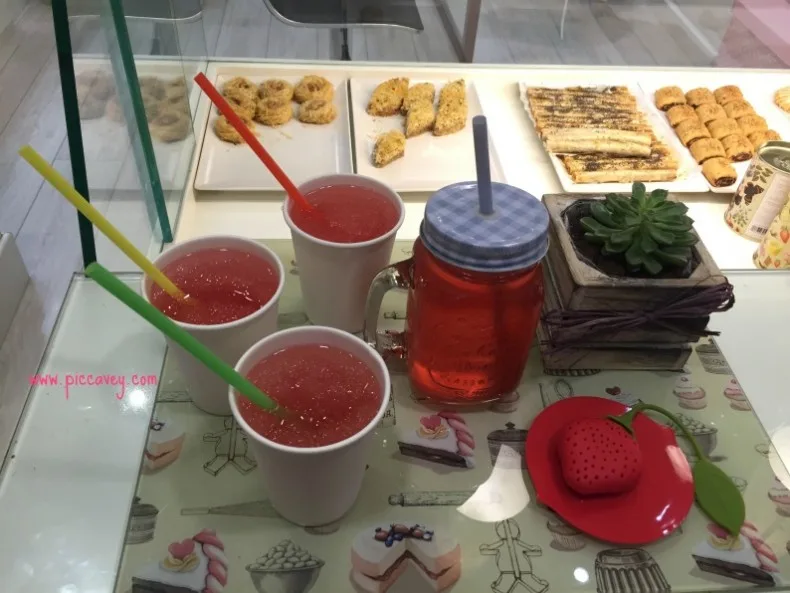 I hope some of these tips are useful to help you to enjoy your Summer
How do you cope with the heat ?
Maybe you have a tip for me…..
Please Note: This post contains affiliate links, which means that if you click through and make a purchase, I will receive a small commission. All thoughts, feelings and opinions shared on this blog and in this post are my own.