When most people head off to the beaches and the Costas around Andalusia. I like to explore lesser known towns and villages. So this month I am heading inland to the unspoilt Jaen town of Alcala la Real.
Este post esta disponible en Español> Visitar Alcala La Real
Alcala la Real, Jaen
You may be wondering why I have such a keen interest in this sleepy town in the Andalusian countryside.
Here are five attractions I visited on my weekend there: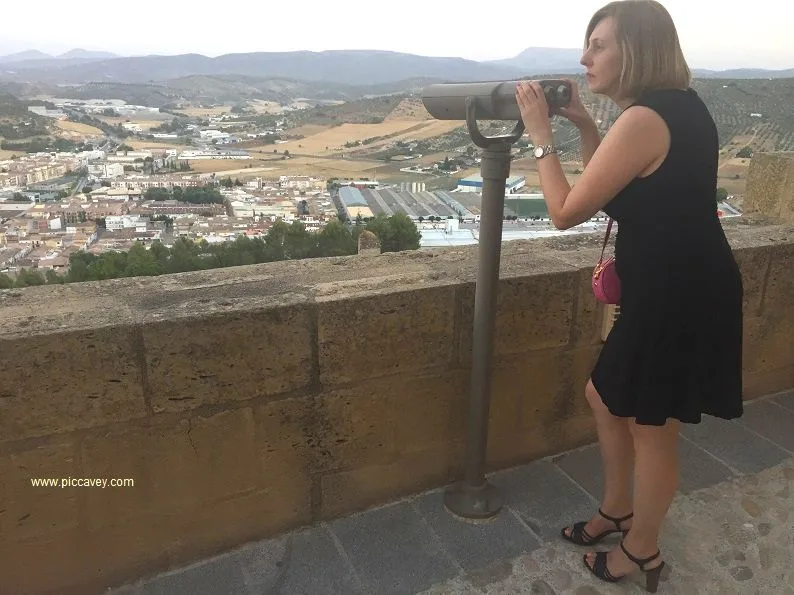 Mota Fortress
The Fortaleza de la Mota is a grand fortress which you can see for miles around. Perched on a hill and dating back to the 13th century. This important site marked the boundary between Castille and the Kingdom of Granada. You can visit the castle and its dungeons as it has been carefully restored. The visit takes a few hours.
Also inside the complex is the main Abbey church with towers, known as La Iglesia Mayor Abacial, built in 1530 this is a must see part of the visit. I got to visit one summer evening and had a special hostess to show me around.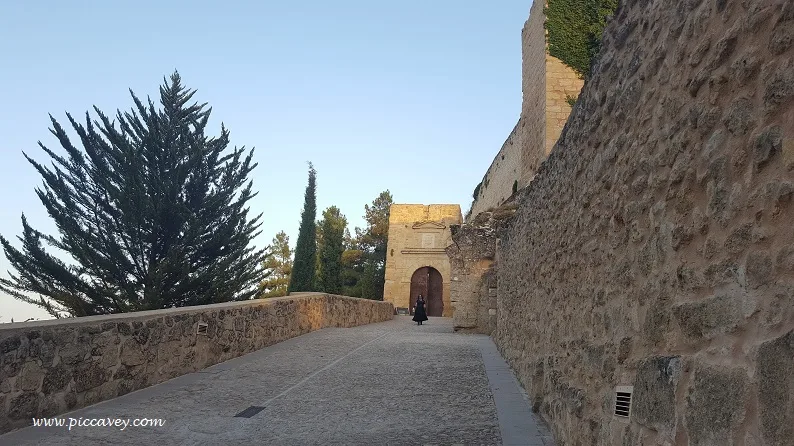 Opening Hours
Open daily from 10.30am to 7.30pm – 1st April until 14th October
Open daily from 10am to 5.30pm – 15th October to 31st March
Contact telephone number (+34) 953 102717
Free Visitor Parking in the castle car park
Estimated time for the visit – Around 2 hours.

Etnosur Festival
This colourful festival is on every Summer in July. A three day festival open to all who want to attend. It´s free entrance too. In 2022 this will be celebrated from 14th to 17th July.
The programme includes activities such as Concerts, Circus performances, Workshops, Storytellers, Competitions and Street animations.
There are lots of musical performances and artists attending this year. There are also Food stalls and a Craft market on for the three days.
This Ethnic Festival is quite a special date the Andalusian calendar and has being successful since it began back in 1997. More information> Etnosur – Alcala La Real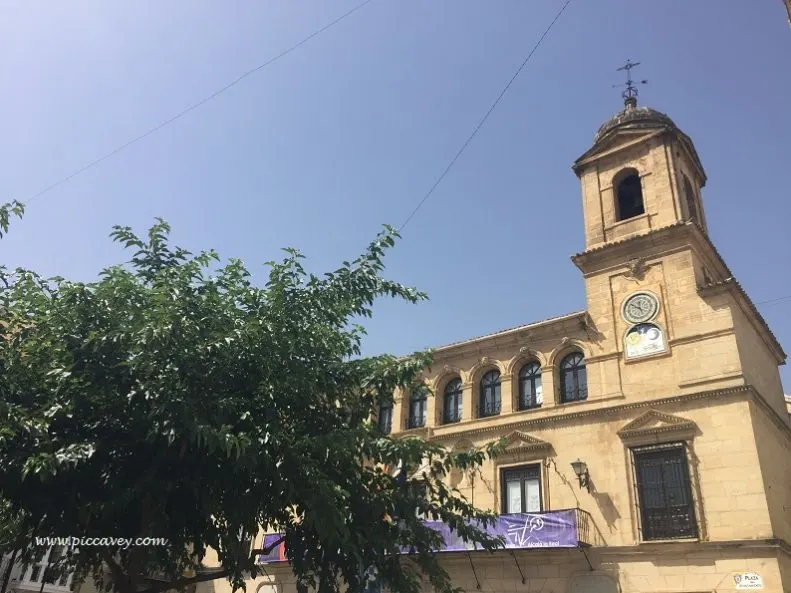 Go Slow
Alcala la Real is a little way off the beaten track. Although it´s a short drive from Granada and Jaen you have to go there on purpose. This is a good thing as its a quiet town. Perfect for a rural break. Lots of little bars and outdoor cafés to while away the time and people watch.
You can also take a few day trips in the area. A Day in Jaen is worthwhile to visit its grand Cathedral and the Medieval Arab Baths
Slow Tourism is ever more attractive as our pace of life speed up. I´m enjoy the endless views of green olive groves, blue skies and taking in a few historic buildings. With a book and a cold beer. It´s the perfect place to unwind and of course a location where no-one finds me.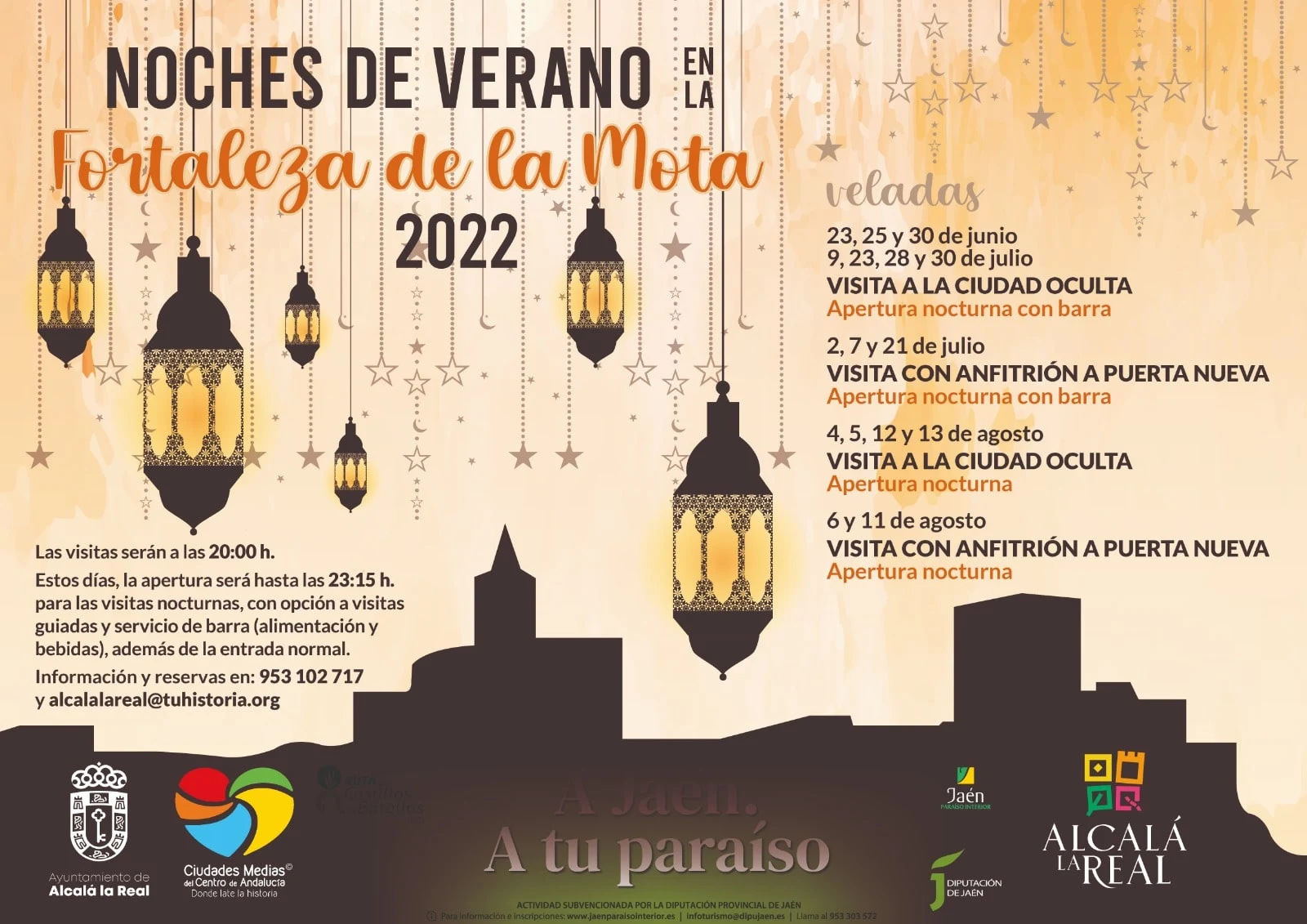 Veladas de la Frontera
Throughout Summer in Alcala la Real there special activities known as ´Noches de Verano´. These special events includes tours of the Castle at nighttime, murder mystery evenings and other visits.
Bookings by email alcalalareal@tuhistoria.org or phone to 953 102717
Here is the full programme of Summer events:
July 2022
Visit to the Hidden City
Saturday 9th July 8pm
Saturday 23rd July 8pm
Thursday 28th July 8pm
Saturday 30th July 8pm
Thursday 4th August 8pm
Friday 5th August 8pm
Friday 12th August 8pm
Saturday 13th August 8pm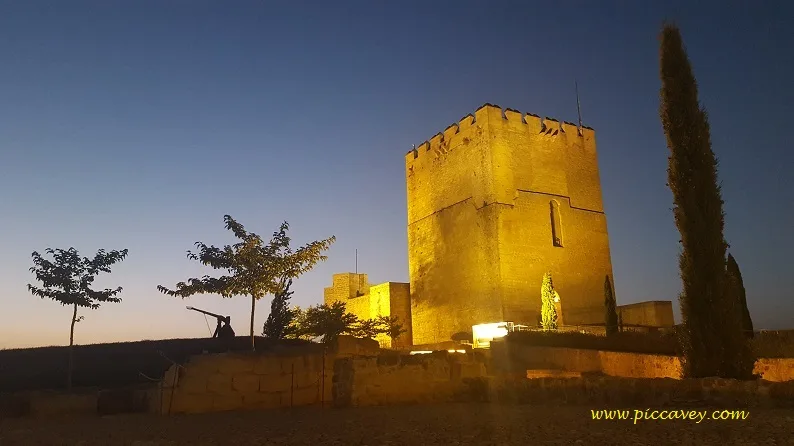 Nighttime at La Mota
Mota Fortress Nighttime visit
8.00pm Guided tour around the castle with a few surprises along the way.
Thursday 7th July 8pm
Thursday 21st July 8pm
Saturday 6th August 8pm
Thursday 11th August 8pm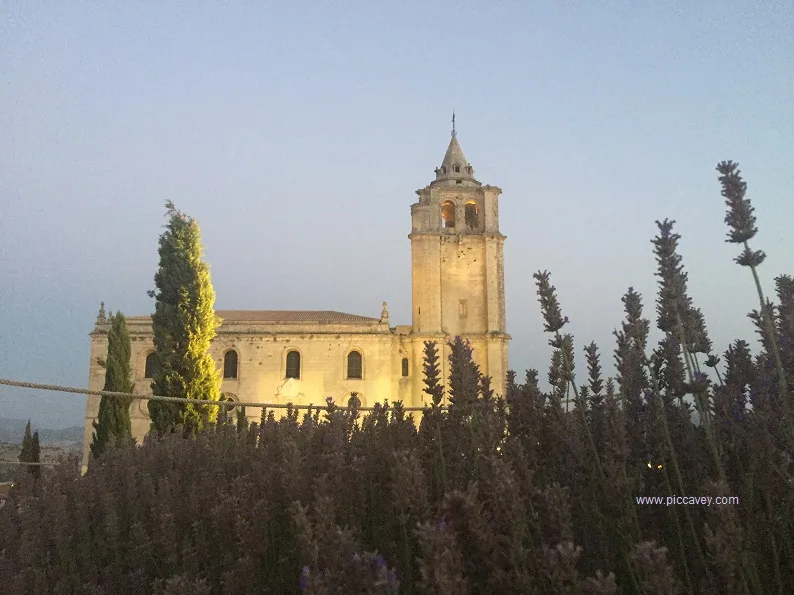 Booking the Fortress Visit
For bookings & availabilty contact by email alcalalareal@tuhistoria.org or Call Tu Historia + 34 953 10 27 17
Children under 12 years old are free.
All activites begin at the Information point at Fortaleza de la Mota Castle. This is a coloured building just up a few steps from the castle car park.
More information> Tu Historia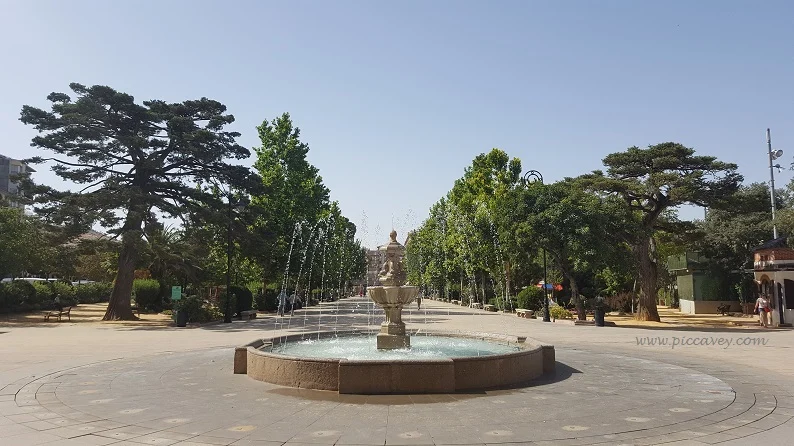 What to see in Alcala la Real
As this border town has such an historical importance in Andalusia. There are lots of monuments and historic buildings to see as you wander around the main town.
Fortaleza de la Mota, Alcazaba & Iglesia Mayor Abacialare the main monument in Alcala La Real all set up on the hill. Other sights are located in the old town itself.
Things to See in Alcalá la Real
Palacio Abacial is the Abbots Palace. This building now holds the Museum of Alcalà la Real. Head here for Tourist Information and see the archaelogical museum on the 1st floor.

Open daily from 10am to 5.30pm
Closed 25th Dec, 1st and 6th Jan. Open mornings only 10am to 2pm on 24th 31st Dec and 5th Jan.

Monumental Fountains in Alcala la Real. Pilar on Calle Oteros dates from 1746, the Pilar de la Mora and the Pilar de los Álamos date back to 1552.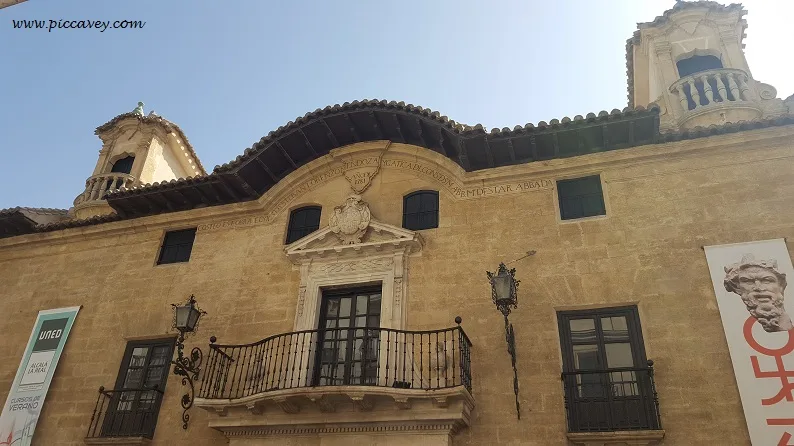 Convent of San José de los Capuchinos (17th century), now houses municipal offices + library. This is close to Paseo de los Alamos, a wide tree lined avenue.
Church of San Domingo de Silos, in Gothic-mudéjar style (1341), with a 16th-century tower
Iglesia de las Angustias from 1747.
Church of San Juan (15th-18th centuries)
Iglesia de Consolación (16th-17th centuries)
Baroque Style Convent of the Encarnación (1630)
Iglesia de San Antonio (1753)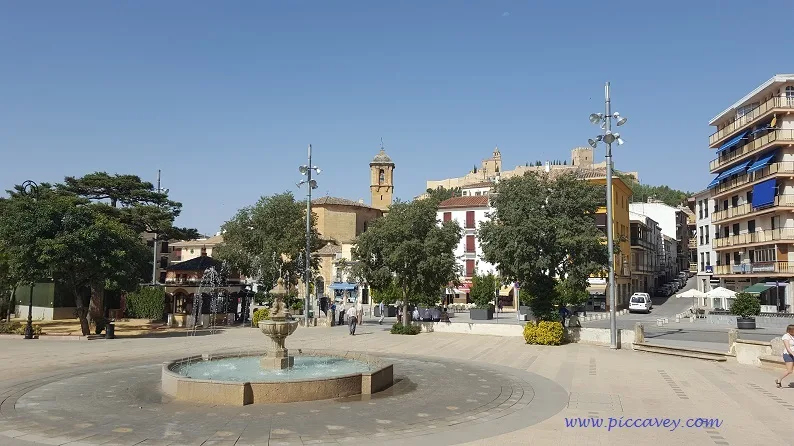 Where to Stay
On the different visits I have made to Alcala La Real I have stayed at a few different places. My favourite is the Hotel Boutique Palacio de Veracruz
I stayed at the Hotel Torrepalma, in the centre of town. This practical 3 star is very comfortable and has good air conditioning.
Breakfast is in the cafe downstairs which is also open all day for food and drinks. Its popular with locals so it makes a pleasant atmosphere.
Where to Eat in Alcala La Real
Bar El Olivo – This Spanish style bar has lots of outdoor seating in a small park off the main street in Alcala La Real. Portions are generous and it gets busy.
One of the popular local dishes is called Carne a la Secretaria which is a meat stew made with vegetables. I didn´t have this as it was so hot on the day I visited.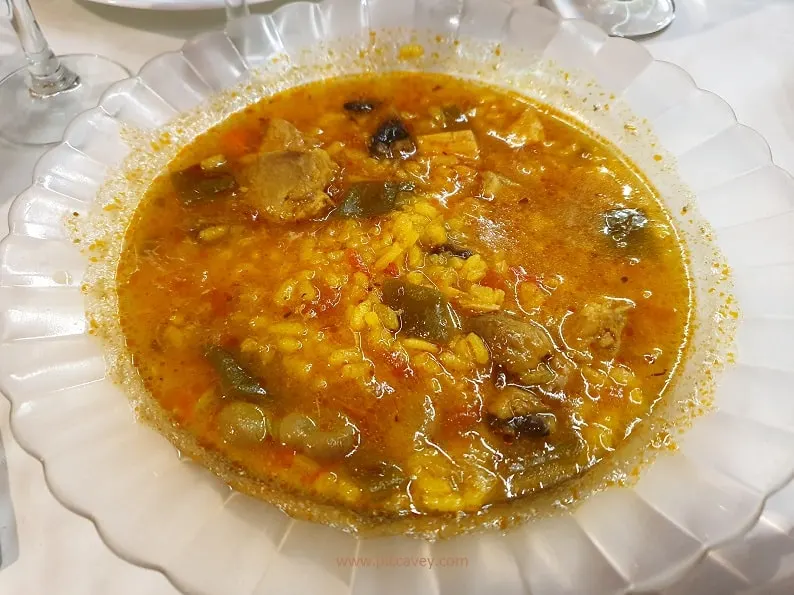 The Tortas de Nata y nueces (cream cakes with walnuts) are the local delicacy, sold at La Purisima cake shop and others in the town I didn´t try these either. But it´s on my list.
Useful information
71 kilometres (44 mi) from Jaén
53 kilometres (33 mi) from Granada
Nearest Airport. Granada GRX (Routes with Easyjet, Vueling, Iberia, B.A)
Please Note:
This post contains affiliate links, which means that if you click through and make a purchase, I will receive a small commission. All thoughts, feelings and opinions shared on this blog and in this post are my own.