ow a Spanish Tapas night at home? Spanish Tapas aren´t that complicated to actually make yourself. (No matter where you live in the world)
It´s not going to be ambitious. I promise there will be no hard to find complicated ingredients either. Whether you are reminiscing about that trip you made to Andalusia last year or planning travel to Spain.
Here is something you can do right now to get a taste of Spain.
Make your own Spanish Tapas Night
The culture of tapas is based on simple food. Each bar offers a snack to its customers to welcome them. (In Andalusia they are often free of charge) Spanish Tapas can be as simple as a piece of ham or cheese on crusty baguette bread. Traditionally thats how tapas began. Nowadays they have become more and more elaborate.
Here are my suggestions of how to recreate an authentic Spanish bar in your own kitchen.
Spanish Tapas Shopping list
Crusty White Bread loaves (baguette, chapata)
Spanish Omelette (made with Olive Oil, white potatoes + onion)
Quince paste (or Quince Jam)
Prawns
Padron Peppers – Green peppers from a specific area of Spain called Padron. (just pop in the frying pan with olive oil + maldon salt)
Meatballs in tomato sauce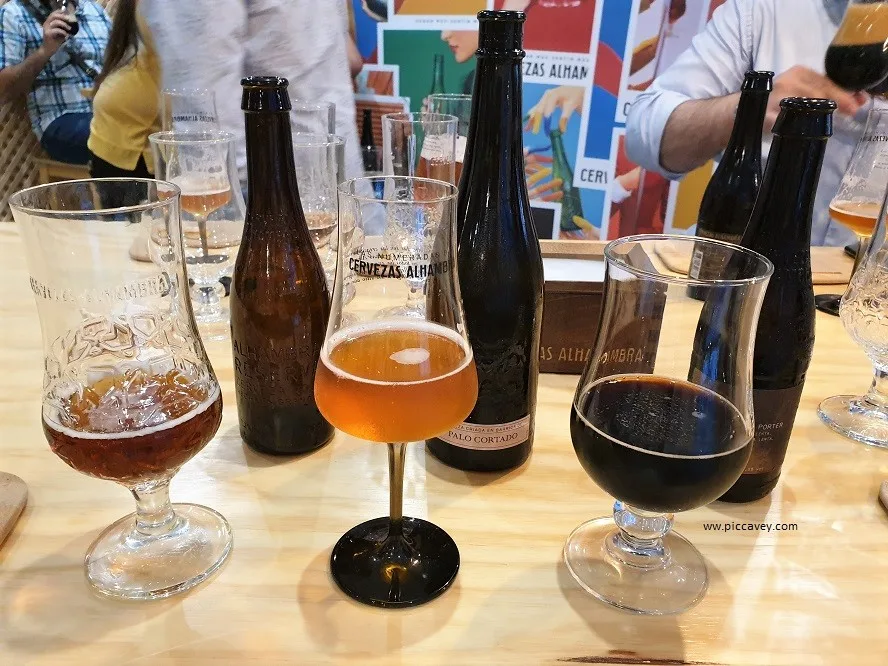 Spanish Drinks
While you may think that Sangria is the most typical thing to drink, its not actually popular amongst locals. They tend to choose red wine or an ice cold lager. Another option is the Tinto de verano which is a third red wine to two thirds of lemon fanta or casera.
• Spanish Beer: Try brands such as San Miguel or Alhambra Red Beer. Or get a local craft beer.
• Spanish Wine Reds: Try a classic Ribero del Duero or a local wine from Malaga
White: I love Rueda Verdejo or a glass of delicious Calvente
Most of these ingredients can be found at good supermarkets and online stores. Here are more about Spanish Drinks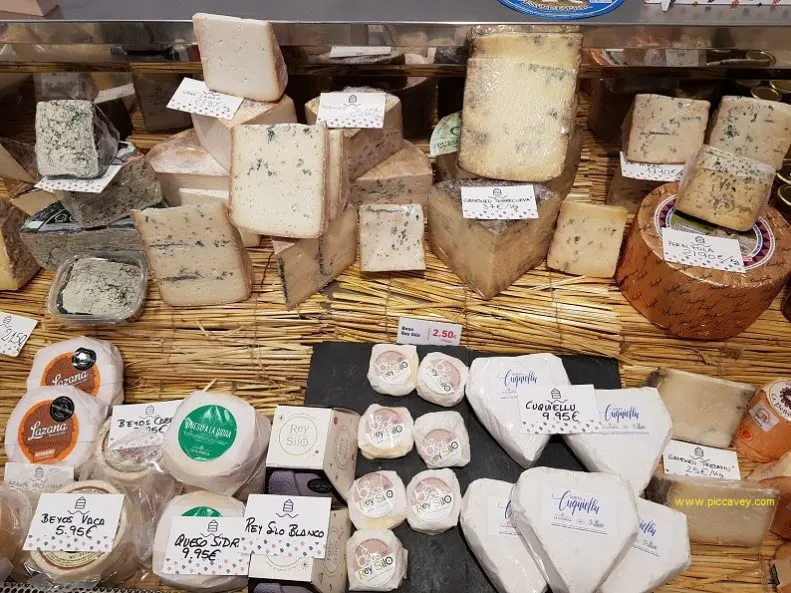 Spanish Cheese & Ham
When you travel to Spain you can buy more specialist items take back with you. Manchego Cheese or vacuum packed ham are OK to put in your case. Sauces such as Mojo from the Canary Islands or Pimenton de Vera are good options too.
So now you have all the ingredients, here´s how to prepare it all.
Lay out all the tapas on individual plates on the table. Put the wine or beer to chill.
Simple Spanish Tapas
With the Quince paste and manchego cheese you can make open sandwiches. Known in Spain as montaditos. Cut a wedge of cheese and put some quince on top. Put this onto a diagonally slice of bread. You could also put the cheese and quince onto a cocktail stick too.
An alternative to quince paste or jam is caramelised onion. There are also some Olive Oil products like caviar and jam that make a good pairing too.
You may like a Recipe book on Spanish Tapas if you are a real foodie.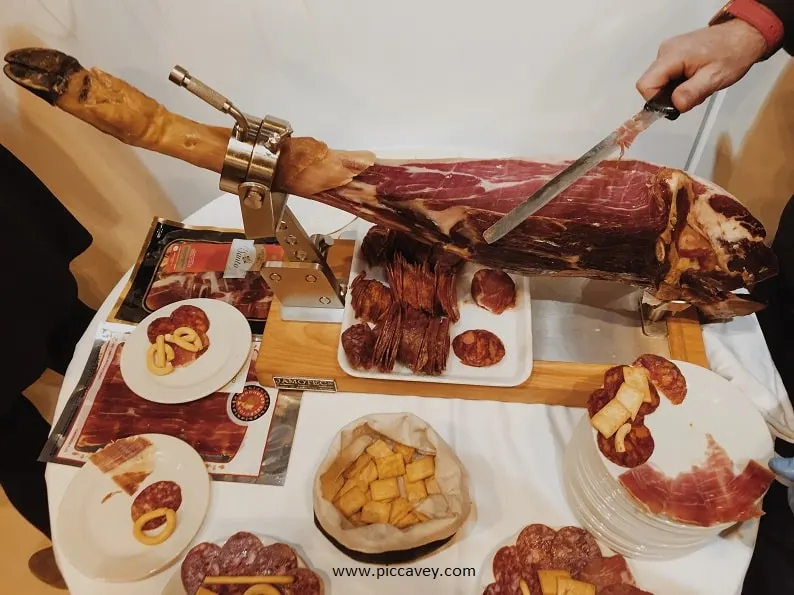 Spanish Ham
Jamon Serrano can be served alone or accompanied with bread, as you prefer. In Spain it is often seen served with honeydew melon, this is a great combination especially in summer. It comes with a wedge of juicy melon with the ham slices laid on the top.
Serrano Ham is from the Mountains of Sierra Nevada and tends to be from Granada. The premium ham is called Jamon Iberico and comes from Huelva province but also has other producers in Extremadura and Salamanca.
The premium version is a specfic breed called Iberian pig, that has a black hoof and genetic traits that makes its ham so delicious. They are often fed with acorn and free to graze the countryside around Huelva. So it the label says Acorn fed or Bellota… you have the best of the best.
Spanish Desserts
If you want have dessert option for your tapas party, here are a few suggestions.
Fresh Fruit – The most typical desserts are fresh fruit salad or fruit such as pineapple, strawberries or whatever is in season.
Flan is a traditional dessert similar to Crème caramel or Creme Brulee.
Ice cream based desserts are typical as well.
A note about Churros. They are not eaten as dessert. It´s eaten for breakfast or for a mid afternoon snack. Generally on cold or rainy days.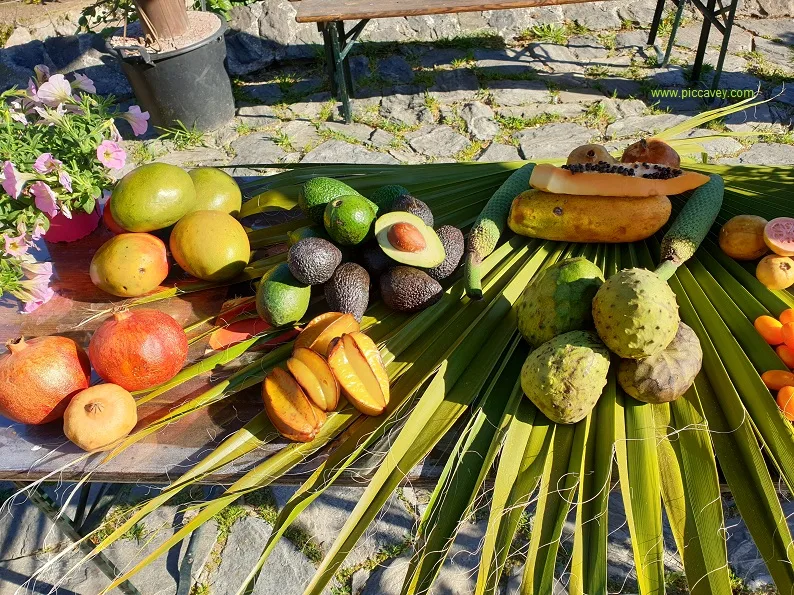 Tapas Party at Home
What is not Spanish:
• Mexican Sombrero hats – They are from Mexico. Nothing to do with Spain.
• Bruschetta – I was once served this at a Tapas bar in the UK. Grrr. The Spanish version is simply Pan con tomate. A piece of bread with a ripe tomato rubbed over the bread. A splash of olive oil and sprinkle of salt. Bruschetta is an Italian dish.

What would you add to the Spanish Tapas Party?