The Corinthia Palace is in Attard, a city at the heart of Malta. Inhabited since the Classical Period, (8th cent BCE – 5th cent CE). It is also home to the Maltese President. This central district, San Anton is an ideal place to take a pause for Maltese Afternoon Tea. One of the best is inside the The Corinthia Palace 5*.
As British sovereignty lasted 150 years in Malta. It´s unsurprising to still see British traditions here. Even though Malta has been independent since 1964. English is still an official language and there are signs of British influence in daily life. Afternoon tea being one of them.
Maltese Afternoon Tea
The Maltese Twist is a local interpretation of the traditional Afternoon Tea. Served daily from 3pm to 4:30pm in Villa Corinthia. Combining local ingredients and recipes with British staples such as sandwiches and scones. The setting, Villa Corinthia is a listed building. It was the first hotel to open under the Corinthia name back in 1964. Now the prestigious brand runs 9 hotels worldwide.
The Afternoon Tea selection begins with savoury treats. The first one is rabbit confit, with fig chutney & almonds served in a wholemeal tartlet.
Did you know that rabbit meat became popular in Maltese cusines in Roman times?
The Romans believed that this lean and healthy meat would make women more beautiful. Since then it has become a key ingredient in local cuisine. Appearing more on Maltese menus than in other Mediterranean countries.
Actually at the Michelin Starred Restaurant Bahia within in this same hotel. They serve an 8 course tasting menu curated from 8 key periods in Maltese history. One of the dishes is slow cooked rabbit. Rabbit meat would have only been available to high society at that time. Over the period of the Knights Hospitallers (1530 – 1798). Rabbit hunting was only possible for landowners and nobles. Locals stuck to eating bread, fish and vegetables.
The Maltese Twist – Corinthia Palace
Other bite sized bites are Pumpkin hummus on sour dough with honeycomb bee pollen. This was one of my favourites in the savoury selection. Another savoury offering is a Mini Ftira with fava beans and sweet tomato paste. Ftira is a traditional flatbread. They serve them in Malta and were a welcome addition to this meal.
This afternoon tea service includes a selection of teas and herbal infusions to choose from. I chose a delicate white tea with rosebuds and raspberry. I must point out that although I had the Maltese Twist afternoon tea. There are other menu options. If you have dietary requirements they can adjust the afternoon tea for you. (dairy free, vegetarian etc).
Fruit Scones & Tea
The highlight of the afternoon tea experience were the scones. If you are a regular reader of my blog. You will already know that I have been collecting afternoon teas for some time. So I do know a thing or two about scones. I also bake my own fruit scones at home once in a while. The sign of a good scone is that they are served as soon as they are ready. So that as you open then with your thumbs, they fall apart with ease.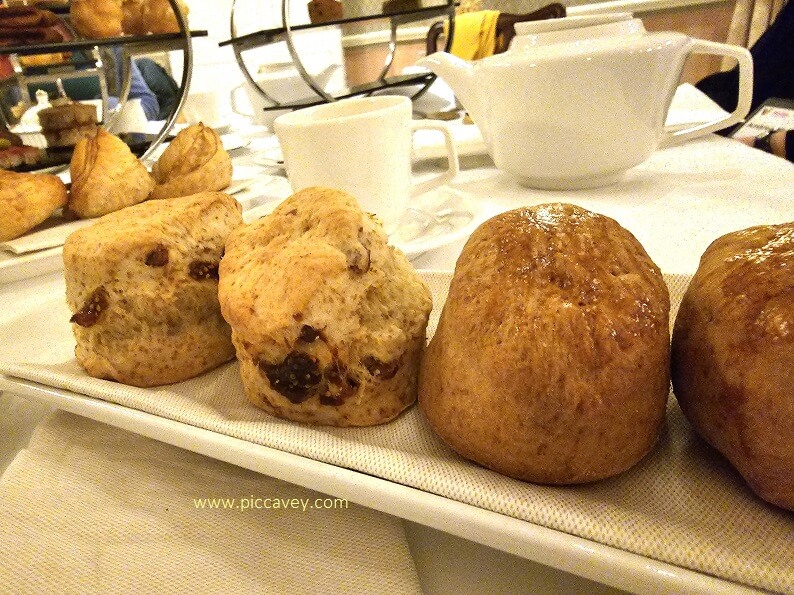 Dried Fig & Fennel Seed Scones
Orange Blossom & Cumin Scones
The scones served here were two different versions. Accompanied with Whipped Ricotta Cream and two types of homemade fruit jam. They were a little taller than normal. Served warm, absolutely delicious. Rather than having raisins/sultanas in them, the fruit scones were made with dried fig. Making them more decadent and flavourful. Serving them with ricotta (rather than clotted cream) was an excellent choice too. I´d never tried that before.
After the scones comes the sweet patisserie cakes. Featuring pistachio & orange kannoli, date fritters with honey liquor, choux buns with lemon curd and Macarons made from local Wardija strawberries. All exquisitely presented and delicious.
Corinthia Hotels in Malta
If you travel to the Corinthia Palace, not that you don´t get it confused with The Corinthia in St Pauls Bay. There are actually three Corinthia properties in Malta. The most recent one being the Villa Oasis by Corinthia which is also in Attard, in Central Malta.
Plan your time in Malta
Please Note: For this visit I was hosted by VisitMalta for the purpose of creating this review, however all opinions remain my own. My website contains affiliate links, which means that if you click through and make a purchase, I will receive a small commission. As an Amazon Associate I earn from qualifying purchases. All thoughts, feelings and opinions shared on this blog and in this post are my own.