What to See In Barcelona
Barcelona, the cosmopolitan capital of Catalonia, is known for its stunning architecture, rich cultural heritage, and beautiful beaches. Beyond its famous landmarks, the city has some of Europe's most picturesque streets to see in Barcelona. From bustling boulevards to narrow alleys, these pedestrian-friendly streets offer a glimpse into the city's vibrant life. Where locals and tourists can wander, shop, and soak up the city's unique atmosphere.
Whether you're looking to explore the city's historic landmarks, indulge in some retail therapy, or simply take a stroll, Barcelona's walking streets have something to offer for everyone. In this article, we'll take a closer look at some of the best streets for free walking tour Barcelona and what makes them so special.
The Most Walkable Area In Barcelona?
Barcelona has many walkable areas, but the most walkable area is undoubtedly the historic city center, Ciutat Vella. Its narrow streets, beautiful architecture characterizes this area, and vibrant atmosphere, make it a popular destination for tourists and locals alike.
Ciutat Vella is divided into four distinct neighborhoods: the Gothic Quarter, El Raval, La Ribera, and El Born. Each district has its unique charm and offers plenty of opportunities for walking, shopping, dining, and sightseeing opportunities.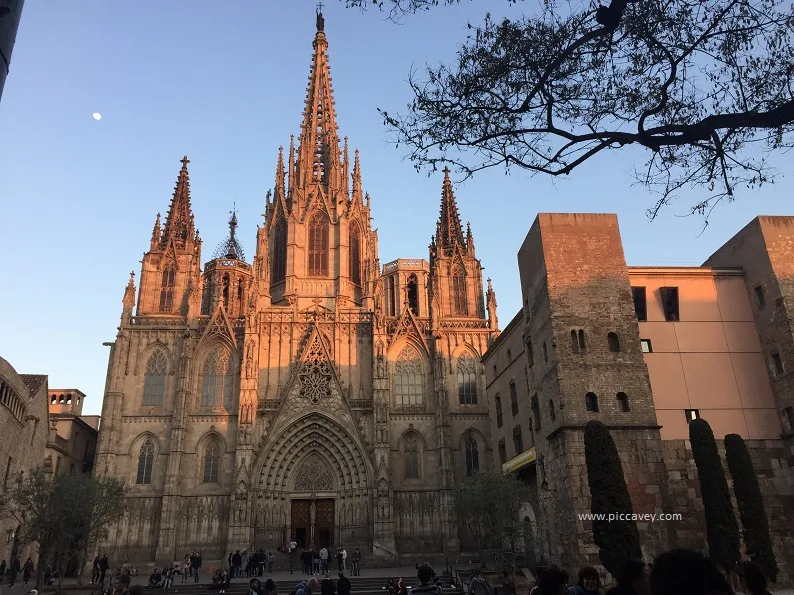 The Gothic Quarter, in particular, is a maze of narrow streets and alleys that date back to the medieval period. Visitors can stroll past centuries-old buildings and landmarks like the Cathedral of Barcelona, the Gothic Quarter's main square, and the old Jewish Quarter.
El Born, on the other hand, is filled with trendy shops, bars, and restaurants, as well as its impressive cultural attractions like the Picasso Museum and the Born Cultural Center.
It doesn't matter if you're interested in history, culture, or simply exploring the city on foot, the walkable areas of Ciutat Vella offer an unforgettable experience for visitors to Barcelona.
Best 4 Walking Streets In Barcelona
The top 4 walking streets in Barcelona, each with its distinct character and charm, and what makes them so special. Whether you're a first-time visitor or a seasoned traveler, these streets are a must-see on your Barcelona itinerary.
Paseo de Gracia
Paseo de Gracia is one of the most elegant and exclusive streets in Barcelona. Located in the heart of the city, it stretches 1.5 kilometers from Plaça Catalunya to the district of Gracia. The street is famous for its high-end fashion boutiques, luxury hotels, and some of the city's most iconic modernist buildings.
One of the main attractions of Paseo de Gracia is Casa Batllo, a masterpiece of the famous architect Antoni Gaudi. This building has a unique facade and organic shapes. It has become one of the most visited landmarks in the city. Another iconic building on Paseo de Gracia is La Pedrera. Also designed by Antoni Gaudi and characterized by its undulating stone facade and rooftop chimneys.
Apart from its modernist architecture, Paseo de Gracia is also home to some of the most exclusive fashion brands, including Chanel, Louis Vuitton, and Gucci, as well as high-end restaurants and cafes. The street is often buzzing with locals and tourists alike, especially during the weekends and holidays, making it a great place to people watch and soak up the city's lively atmosphere.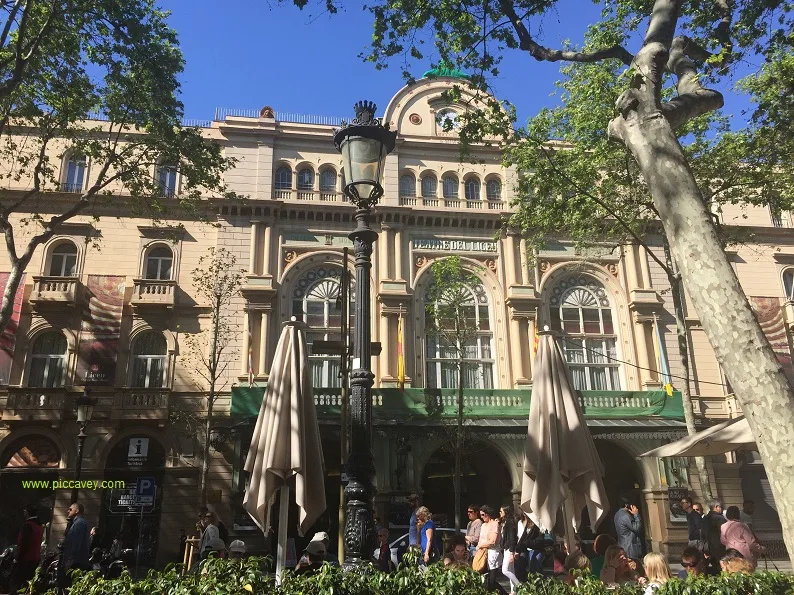 La Rambla
La Rambla is another walking street in Barcelona. It stretches from Plaça Catalunya to the Christopher Columbus Monument at the Port Vell harbor. The street is lined with cafes, restaurants, souvenir shops, and street performers. Making it a hub of activity at any time of the day.
One of the main attractions of La Rambla is the Mercat de la Boqueria. A colourful food market that dates back to the 13th century. Here, visitors can sample a variety of fresh fruits, vegetables, meats, and seafood, as well as local specialties like jamón ibérico and manchego cheese.
Another landmark on La Rambla is the Gran Teatre del Liceu, one of Europe's most prestigious opera houses. The building has a rich history dating back to the mid-19th century and has hosted some of the most famous opera singers in the world.
Despite its popularity among tourists, La Rambla is also a part of the city's everyday life. Many locals come here to stroll, relax on one of the many benches, or simply enjoy a cup of coffee at one of the cafes.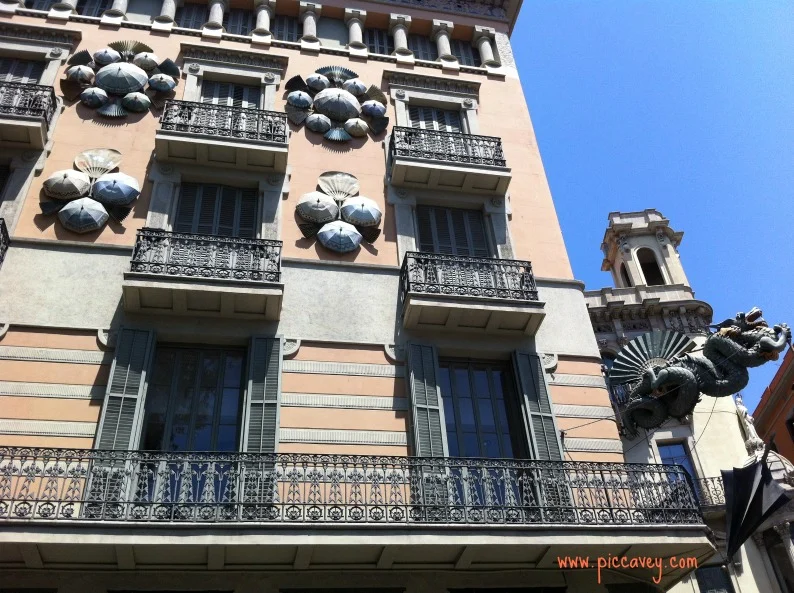 Avinguda Diagonal
Avinguda Diagonal is one of the broadest and longest avenues in Barcelona. It stretches for about 11 kilometers cutting through the city diagonally. The avenue is a major transportation hub and a commercial center, lined with numerous shops, restaurants, and business centers.
One of the main attractions of Avinguda Diagonal is the iconic Torre Agbar, a 38-story skyscraper, one of Barcelona's tallest buildings. The tower is characterized by its unique shape and colorful lighting, making it a stunning sight both day and night.
Another landmark in Avinguda Diagonal is the Casa de les Punxes, a neo-Gothic building that dates back to the early 20th century. The building features intricate sculptures and carvings and is a testament to Barcelona's rich architectural heritage. This grand Avenue actually ends on the coastline close the shopping centre Diagonal Mar.
Carrer dels Tallers
Carrer dels Tallers is a bustling street located in the Raval neighborhood of Barcelona. The street takes its name from the artisans and craftsmen who used to work here, creating handmade goods and repairing items.
Today, Carrer dels Tallers has a vibrant atmosphere, ecclectic shops, and trendy cafes. The street is a popular destination for vintage shopping, with numerous stores selling second-hand clothing, records, and retro accessories. Visitors can also find unique handmade goods, such as ceramics, jewellery, and leather, at some artisan shops on the street.
What to See in Barcelona
Barcelona is a city that offers plenty of walking opportunities, and numerous streets are worth exploring on foot. From the high-end fashion boutiques of Paseo de Gracia to the vibrant atmosphere of La Rambla. There's something for everyone in Barcelona's walking streets.
No matter which street you choose to explore, you're sure to encounter Barcelona's rich history and cultural heritage. As well as lively atmosphere that makes the city so beloved by locals and tourists alike.