While Las Vegas is synonymous with casinos, nightlife and large company events. You may be surprised at the amount of things on offer in bustling city in the middle of the desert.
When I visited Las Vegas some years back I chose this location due to the great hotel facilities and good mid week deals. I wasn´t visiting for the casinos but to explore the National Parks surrounding the area. Las Vegas proved to be a good base for that part of the 3 week USA road trip. As the USA is such a huge country you can enjoy busy resorts, vibrants cities or even find the most remote places in the US if you tire of the crowds.
So here are my tips on making the most of 48h in Sin City.
Las Vegas Hotels + Casinos
The main street in Las Vegas, Las Vegas Boulevard is dominated by the large hotel and casino complexes. In fact you can walk through one of them and it leads you directly into another without setting a foot outside.
The most famous ones are Caesars Palace, Bellagio and the MGM Grand.
These hotels have much more to offer than their glitzy casinos. These mega complexes equipped with Spas, Restaurants, Shops and other attractions. In fact the Bacchanal Buffet at Caesars Palace is one of the best buffets in Las Vegas. They offer 500 dishes daily and have 9 show cooking kitchens.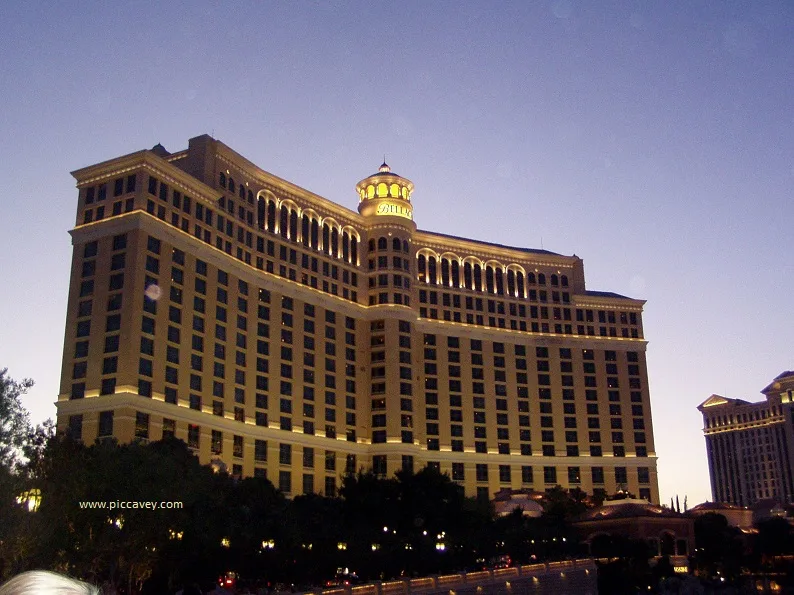 Hoover Dam
One of the most popular Las Vegas attractions is Hoover Dam. Featured in many music videos, films and TV programmes, this colossal dam is almosy 400 metres high. It´s located on the Nevada – Arizona border.
This construction is not without controversy. Built in the 1930´s to provide irrigation water and power, it altered the causeway of the Colorado river. In fact many died during the construction (over 100 construction workers)
With the Las Vegas vacation pass the trip to Hoover Dam is included. This digital pass can be valid for 2, 3 or 5 days and includes 60 attractions. Some of the main ones are the Hop-On Hop-Off Bus Tour, Cirque du Soleil Shows and the Grand Canyon Full-Day Tour. Its a good option to get deals on Las Vegas attractions and also to get an idea of what is on offer.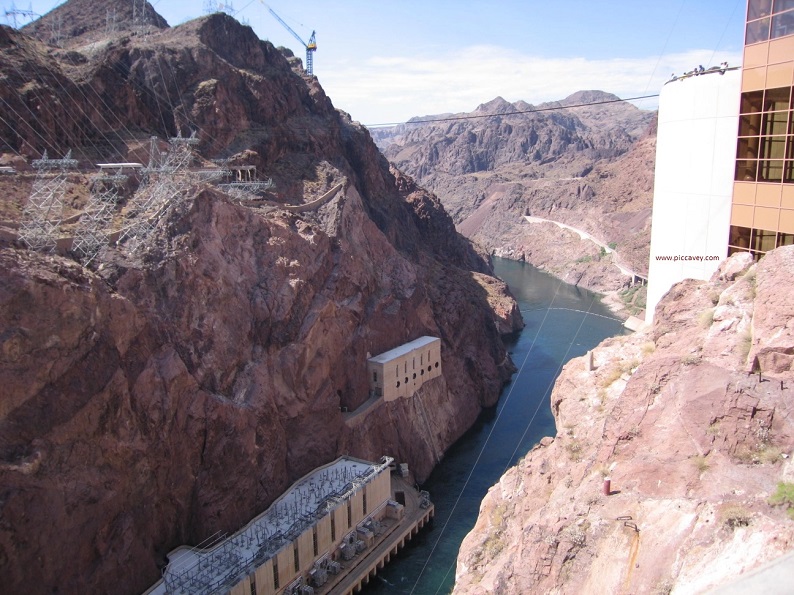 Getting to Las Vegas
If you don´t have a rental car, there is another option to get from Los Angeles to Las Vegas. The Los Angeles-Las Vegas Bus Route takes around 6 hours and costs from 35 usd. So it´s a great option for travellers on a budget.
New York New York Hotel + Casino
When I stayed in las Vegas, my accommodation was the New York New York. A hotel themed on the Big Apple itself complete with Rollercoaster (included in the Las Vegas pass) that loops around the hotel. One thing I particularly remember about staying in a hotel/casino was that in the lobby area there were no clocks.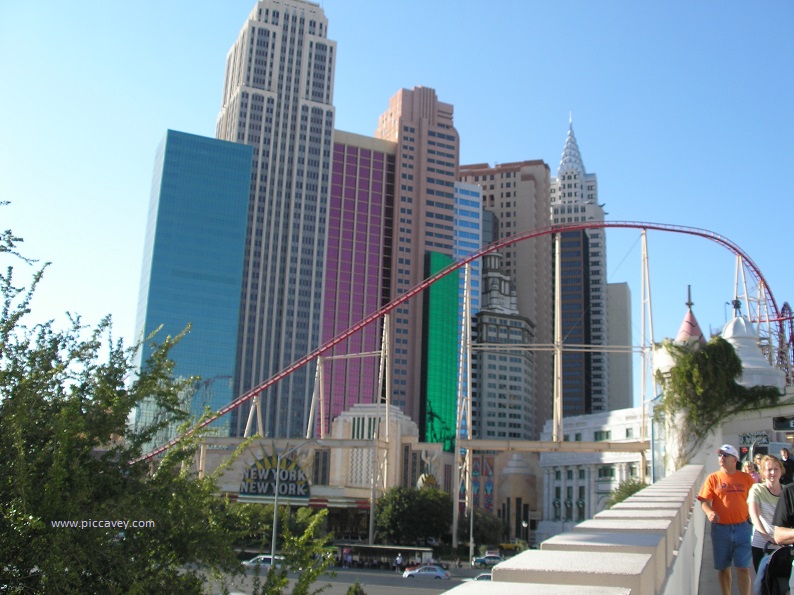 No matter what time you headed down to the main lobby and casino entrance it felt like night time. Great if you are looking to party all weekend. At this hotel they have several restaurants on site, a spa, a pool, the rollercoaster, the casino and a Cirque du Soleil show too.
Las Vegas Lights
Even night all the neon lights brighten up the Las Vegas skyline. Don´t miss the fountains outside the Bellagio. Their show is on regularly throughout the day but is more impressive at night. Fremont Street in downtown Las Vegas is well known for its bright lights after dark.
In fact whether you are inside the hotels or outside there is always something to get your attention. Below is the inside of the Venetian complete with gondalas and gondoliers in their striped tops and boaters.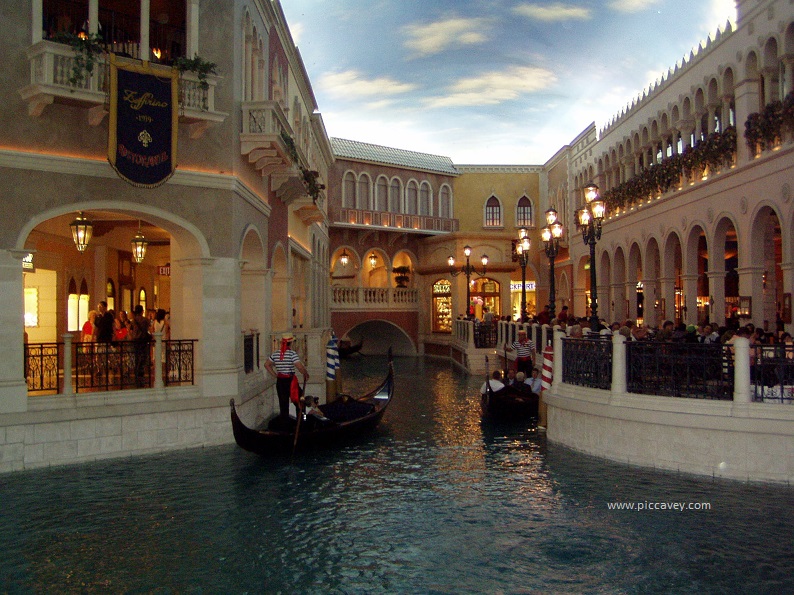 Shopping Outlets in Las Vegas
Each time I travel to USA a big part of my holiday is spent at shopping outlets. So far I´ve been to Boston, New York, Miami, San Francisco as well as Las Vegas and also track down the best shopping districts and outlets.
In Las Vegas there are two shopping outlets. Both have 140-150 stores and are 2 miles from the main strip.
Premium Outlet North – Outdoor – More high end upscale labels.
Premium Outlet South – Indoor – More high street affordable brands.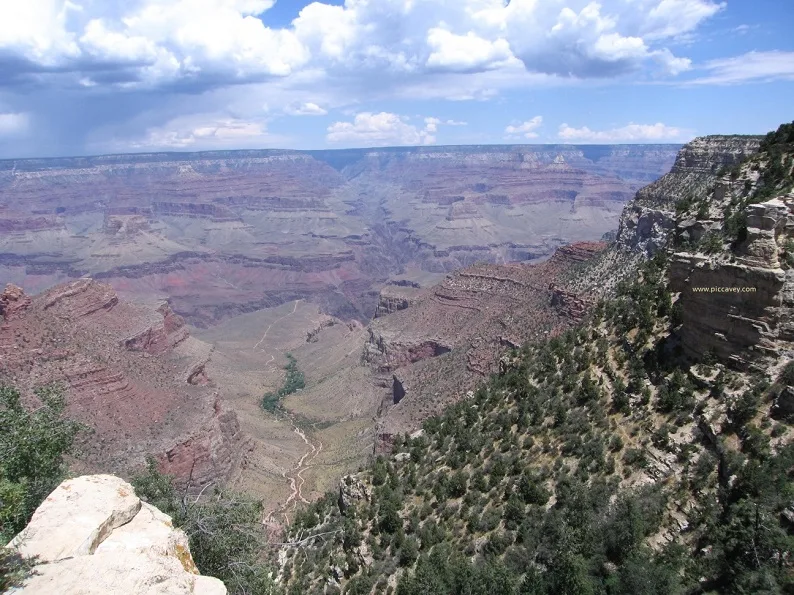 Grand Canyon
There are many ways to visit the Grand Canyon. To get the best feel for the size of this natural space, Day Hikes in the Grand Canyon are epic adventures for active travellers. You can also take a helicopter ride to see the canyon from above.
When I was there I took the tour bus along the West rim and gazed over the edge. Afterwards we went over to the IMAX cinema to see the 34 minute documentary Grand Canyon: the Hidden Secrets. Perfect if you don´t want to get in the helicopter : )
The 60-foot-high by 82-foot-wide screen giving you an enveloping experience and it actually feels like you are above the canyon.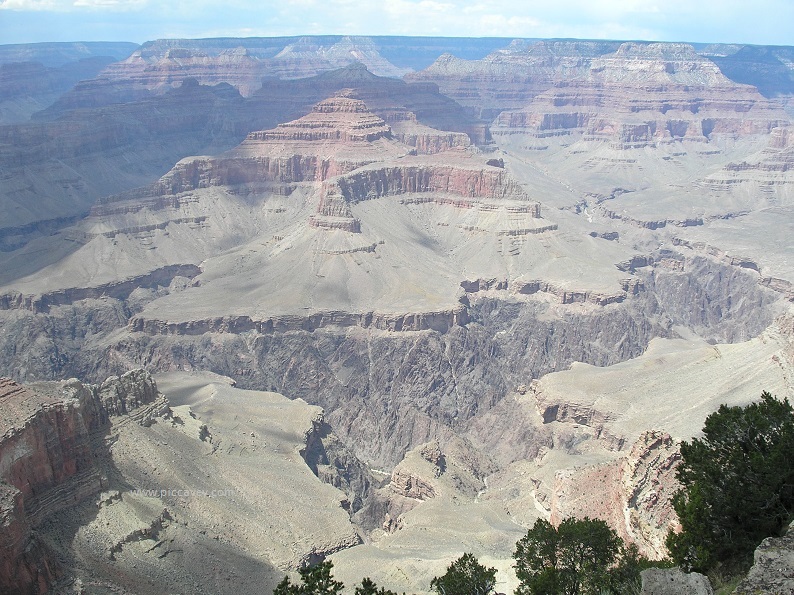 Red Rock Canyon + Valley of Fire
Other places to visit in the area are the Red Rock Canyon or Valley of Fire.
Red Rock Canyon is about 30 minutes from Vegas whereas Valley of Fire is just over an hour away. Valley of Fire is worth the extra journey time. The Valley of Fire is named this way as the rocks seem to be on fire when sunlight hits them. These impressive rock formations have even appeared in Star Wars movies. (burial site of James Kirk's)
Red rock canyon is good for scenic views as you drive out of Las Vegas and to get away from the noise. However the formations aren´t as impressive as the Valley of Fire.
If you plan to hike at either of these parks, make sure you have plenty of water, sunscreen and correct footwear.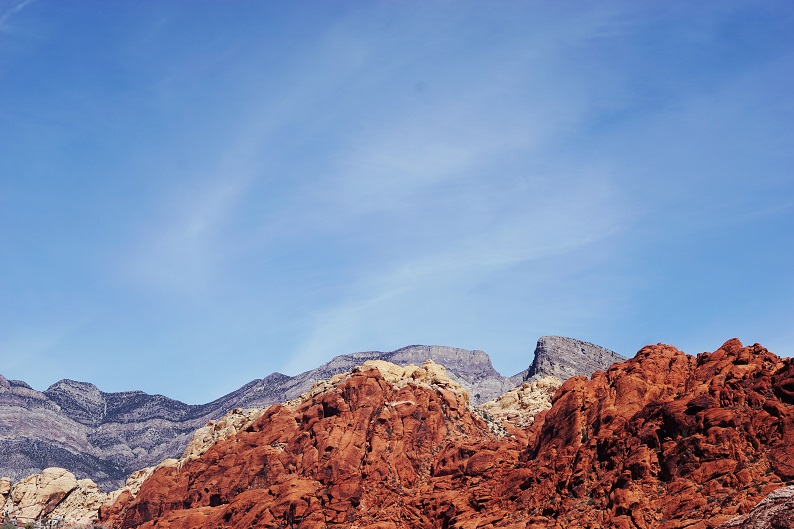 Seven Magic Mountains
One of the most instagrammable spots out of town are the Seven Magic Mountains. An artistic creation by Ugo Rondinone, this is situated 10 miles south of the city. Formed of seven towers of coloured boulders. This art installation has been recently repainted as the colours had faded since it was placed here in 2016.
This is planned to be on the current site until the end of 2021. It is free to visit and there is a car park for visitors on the site.