Spanish Omelette or Tortilla de Patatas is easily my favourite food. When I first moved to Spain I liked to eat it piping hot. But as I have gotten used to life in Andalusia I am happy to eat it cold in summer months.
It is not only a great dish for sharing. If I ever have to eat a bocadillo on the run, my pick will be Spanish omelette. They often serve it in a crunchy bread roll with fried green peppers. Delicious!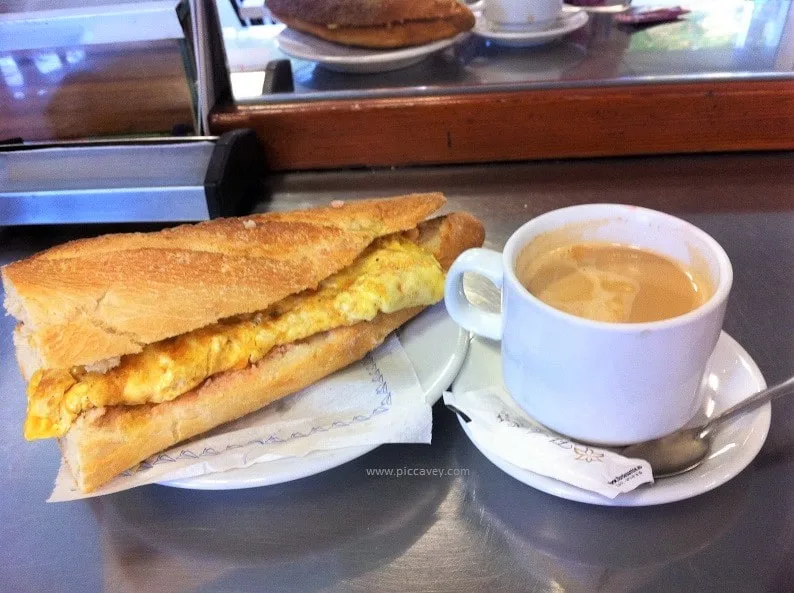 Spanish Omelette Recipe
So after perfecting my own Spanish Omelette skills over the years. (I´ve been in Spain since 1998) I thought it was time to share my insights with you. So you can make an authentic Spanish Tortilla de Patatas too.
If you are having a Tapas Night it´s a must. You also have the advantage of being able to prepare it ahead of time too.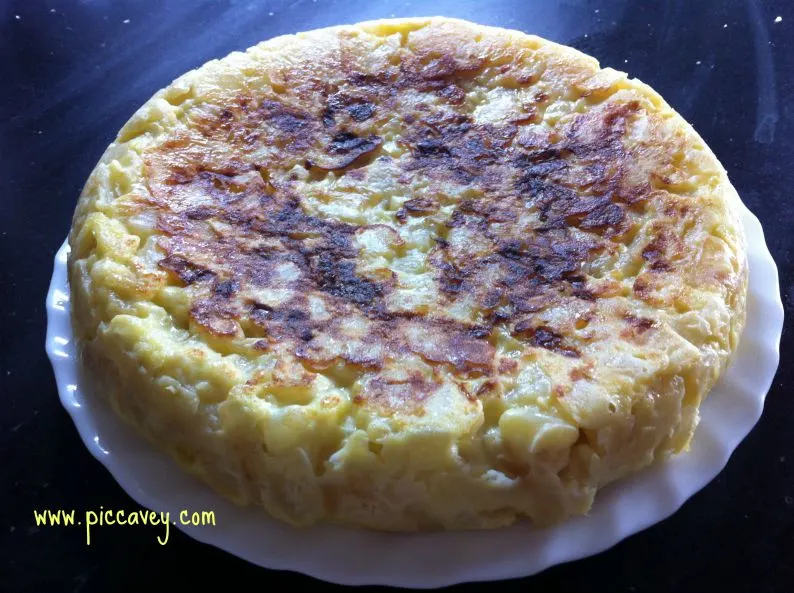 Origin of the Spanish Omelette
Although there are different theories on the beginnings of this Spanish dish. The Spanish Omelette seems to have its origins in Navarra. The first time it was documented was in Extremadura. In the year 1798, in Vilanueva de la Serena (Province of Badajoz). At a time when hunger was a huge problem for many. This recipe was a good way to use simple ingredients to create a hearty meal.
Potatoes arrived to Europe in the early 15th century but weren´t popular even in the 17th century. They were still relatively unused in most dishes even though they were available. The simple combination of potatoes, eggs and onions done in the frying pan was popularised in the early 1800´s. When Spanish troops at the time of the Carlist Wars needed something portable. These flat tortillas could be made easily and given to the soldiers.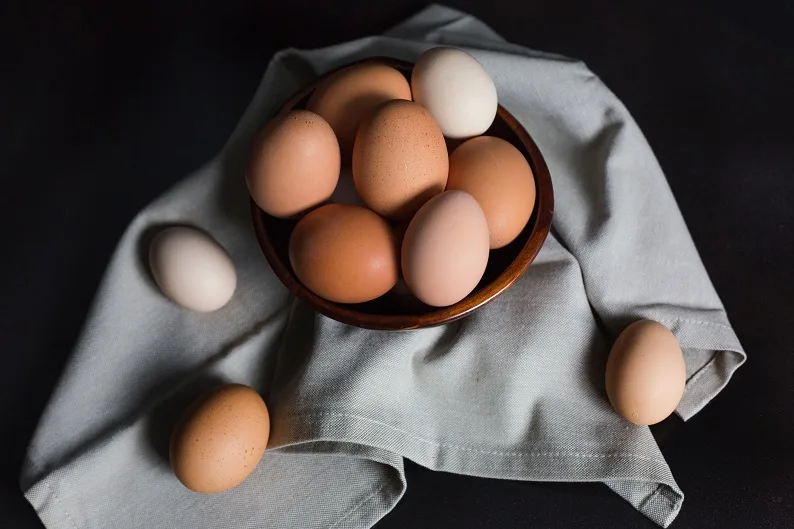 How to Make a Spanish Omelette
Expect it to take around an hour to make. Of course, it depends on your experience in the kitchen too. Making a Spanish Omelette can´t be rushed. The most important part is making sure that the potatoes are done just right. The final part is the easiest part.
As well as the ingredients, you will need a large non stick frying pan that isn´t too heavy to lift. If you don´t have a special omelette pan. And a flat plate or lid that covers your frying pan to be able to flip the omelette over safely.

I use a special omelette pan which is like a double frying pan. So that you can flip over the omelette without any spillage. Also this pan is only used to make omelette so I am sure that it doesnt have any scratches or problems with it. Making sure that the omelette doesn´t stick or burn.
To make the Tortilla de Patatas you will need the following ingredients:
Spanish Omelette Ingredients
Serves 4 for main meal, 8 for a tapa
500 gr of Potatoes (Waxy Varieties are best for frying) (e.g Kennebec Mona Lisa or Red Pontiac) Don´t choose New potatoes.
1 large Spring Onion (alternatively Common Onion. I prefer Spring Onions as they bring sweetness to the omelette)
150 ml Olive Oil
5 Free Range Eggs
Salt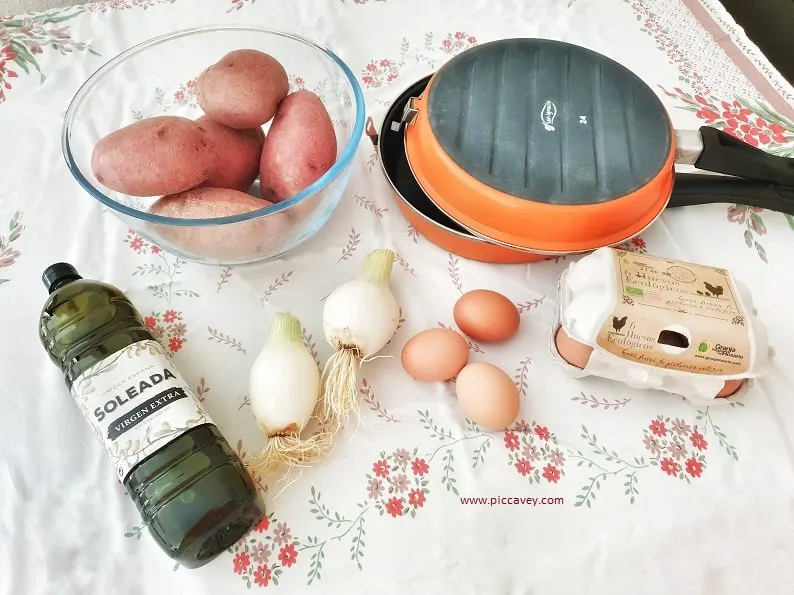 Tortilla de Patatas Recipe
Peel the potatoes. Cut the potatoes in thirds, then into thin slices. Cut the spring onion finely.
Put all the olive oil into the frying pan and warm gradually. One the oil is hot add the potatoes and onion. Cook for 25-30 minutes on a high heat. The oil should cover the potatoes and onions. Move them to ensure they dont stick and are done evenly.
Once the potatoes and onions are softened but cooked through. (not brown) Empty into a colander to drain off the olive oil. Be careful with the hot oil and keep the olive oil for later. Let the potatoes and onion strain off excess oil for a few minutes.
In a bowl, mix the 6 eggs lightly. Add salt to the eggs. Then add the potatoes and onions into the bowl with the eggs. Leave 3-4 minutes so that the eggs, potatoes and onion mix well together and blend properly.
Put some olive oil in the frying pan. 1 tablespoon. Then add the potato, egg, onion mix into the pan. Cook on Medium heat.
Runny or compact?
Shape the mix to have a uniform shaped flat top. Let it cook until it is totally set on the bottom. Around 3 minutes on each side. Once you can see that it has been cooked on the bottom, it is time to flip it over.
If you prefer the omelette to be runny in the centre. The cooking time should be just over 1 minute on each side. Be careful to ensure that there is no raw egg if you do this.
If you use a tortilla pan, you just put the lid on and flip it. (I usually warm it a little before from the heat of the lower pan). If you have a standard frying pan, you will need a large flat plate or saucepan lid to use to be able to flip it over. (Take care that hot oil doesnt seep out as you flip the pan) Slide back carefully into the pan to cook the other side.
Flip once more to check that the omelette is cooked well. Serve.
How to Serve Spanish Omlette
Usually I serve it with tomato bread or Pan con Tomate. Crusty white bread topped with tomato and olive oil. Something I adopted when I lived in Catalonia for many years. This is a simple thing to prepare. Just take a ripe tomato and peel the skin. Then mash it until it becomes liquid. Drizzle Olive Oil onto the top of the bread and the the tomato. Top with a pinch of salt.
Usually a quarter of the omelette would be a serving for a main meal. An eighth of the tortilla would be enough for a pintxo or tapa.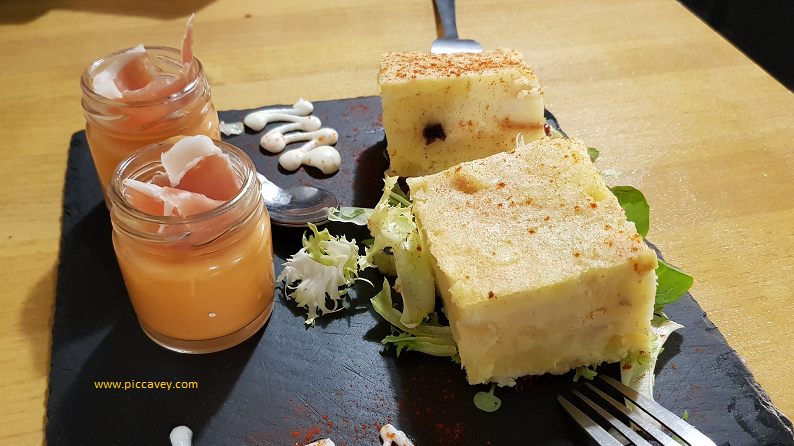 Other Omelettes
In Spain they also serve Tortilla Francesa (French Omelette). That´s a plain omelette made with eggs. You may see different vegetable omelettes such as Spinach omelette or Mushroom Omelette. Tortilla Paisana is a vegetable omelette served in some regions of Spain. It may have peas, carrots, peppers or even meat inside such as ham or chorizo. Chorizo Omelette is typical in Valladolid region but can be quite a heavy dish. It´s certainly not as popular as the ubiquitous Spanish Omelette.
In Granada the Tortilla de Sacromonte is a local recipe. Traditional in the Sacromonte quarter. Made with Sheeps brains and testicles. You can try it in restaurants such as Bar Leon, Restaurante Chikito or Los Manueles.
I like this simple recipe by Mary Berry which is an adaptation of the Spanish omelette. Including red pepper and parsley. It is a healthier option as less oil is used than in the traditional Spanish Omelette.

Difference between Frittata and Tortilla
Frittata is an italian dish and the method is different as it maybe grilled or oven baked. The texture tends to be more fluffy too. Tortilla is a fried omelette typical in Spanish cuisine and not usually grilled or baked.
Cooking Classes in Andalusia
You might like to know about Cooking Class activities in Southern Spain. At these small group experiences you get to see how Spanish tapas are made. Spain Food Sherpas offer classes in Malaga. They also offer private experiences in other Andalusian locations too. Why not let a local show you the insider tips into Spanish cooking when you next travel to Spain?
With Onion or Without?
This life long controversy comes up in most Spanish households. Some favor the Potato omelette without onion. (I can´t understand that myself : ) So some families actually make two omelettes. One with onion and one without.
The good thing is that when you make your own you can get the flavour and texture just right. Why not tweak the recipe to your families taste?
So how do you like yours?