Huelva, Spain is one of the lesser known parts of Andalucia. Rather than heading to Huelva city, most visitors to this region head to the beaches of El Rompido, Matalascañas or Isla Cristina. Nature lovers may choose to visit the Park of Doñana for its birdlife.
The City of Huelva Spain
The city of Huelva is not always the most obvious place to visit in Andalucia. I went to see what was there. With a population of 143,000 it is one of the smaller Andalucian cities. (a little bigger than Cadiz or Jaen)

Muelle de Riotinto
Perhaps the most iconic structure in Huelva city is the Muelle de Riotinto (Riotinto Pier). This industrial pier was used to load minerals from the mines. In use until 1975, over 150 million tons of ore passed through here over the 100 years.
Nowdays you can walk along it to enjoy seaviews. Mainly used by local fishermen now, it is a particularly good place to enjoy sunsets too.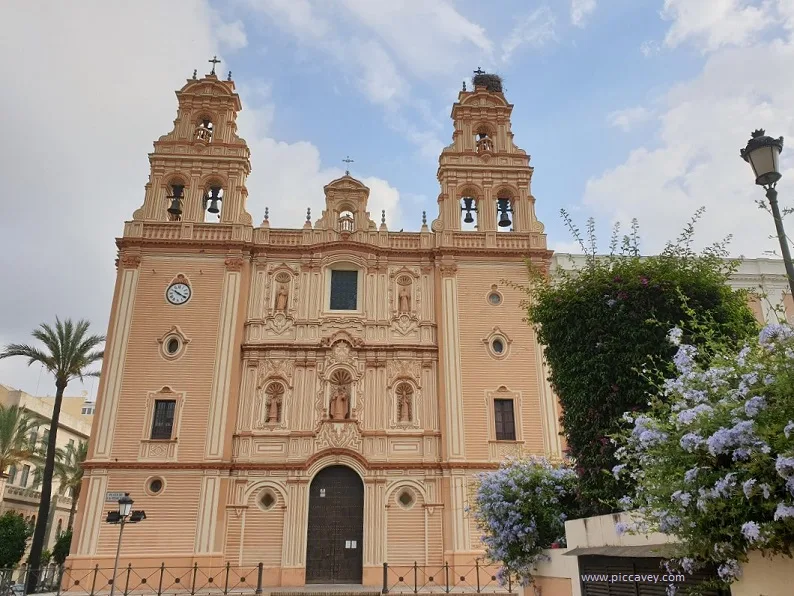 Huelva Cathedral
Located on Plaza de la Merced in the city centre. Founded in 1605 it has been modified over time. The façade is clearly more recent than the original 17th building. In 1755 it was damaged in the Lisbon earthquake and shook again in 1765. Restorations took place several times. The most recent at the beginning of 19th century.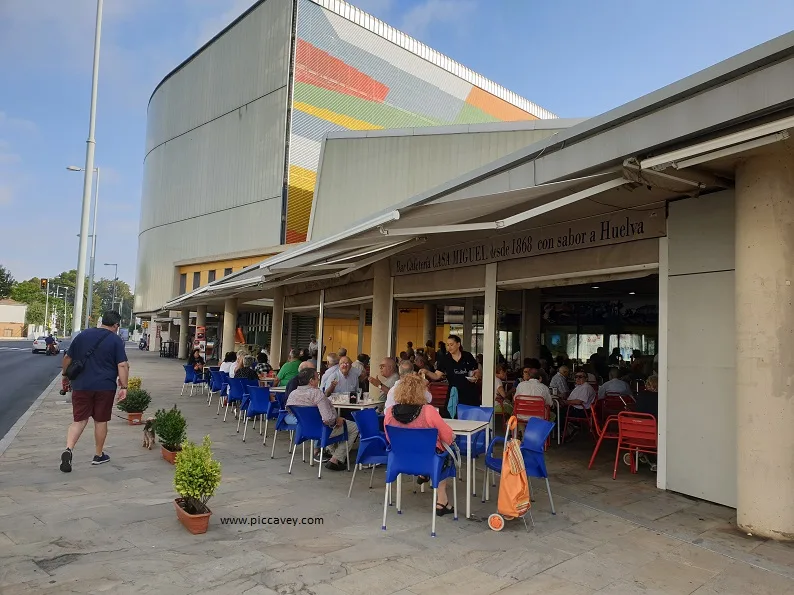 Mercado del Carmen
Huelva city market is called Mercado del Carmen. As you would expect with any food market in a coastal location. The seafood offer here is impressive. There are also lots of local produce such as Iberian ham, strawberries and raspberries too.
Casa Miguel on the outside of the market has been trading since 1868 and does churros. It´s a popular stop for the locals before they head into the market to buy their groceries.
Find the market on Avenida Italia. Opens daily from 8.30am (Sundays closed)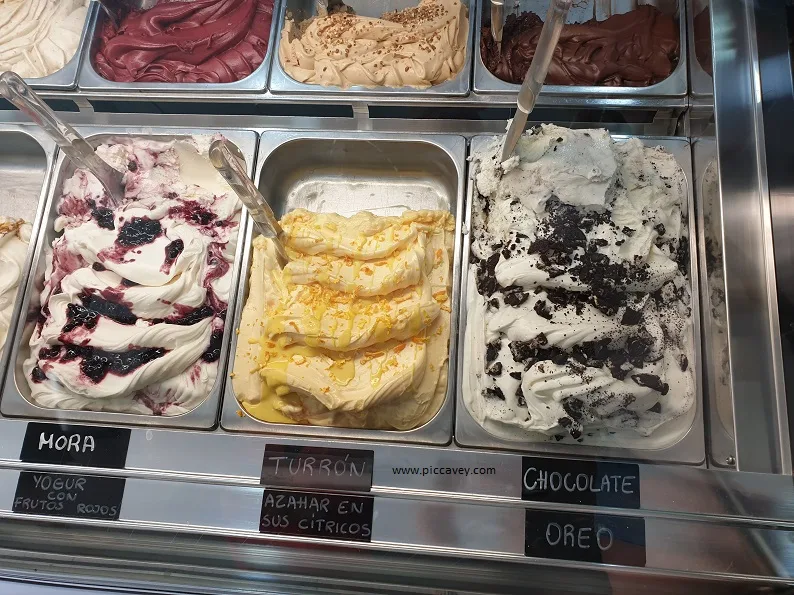 Ice Cream in Huelva Spain
Pura Vida is a special Ice cream maker. Producing artisan ice cream with 40% fruit, they also have plenty of vegan options. Find them on Calle Berdigón, 35 in Huelva city. Named one of the best heladerias in Spain by Trip Advisor users.
When I was there I tried two different flavours. They were very good as their ice cream taste natural and are not over sweetened.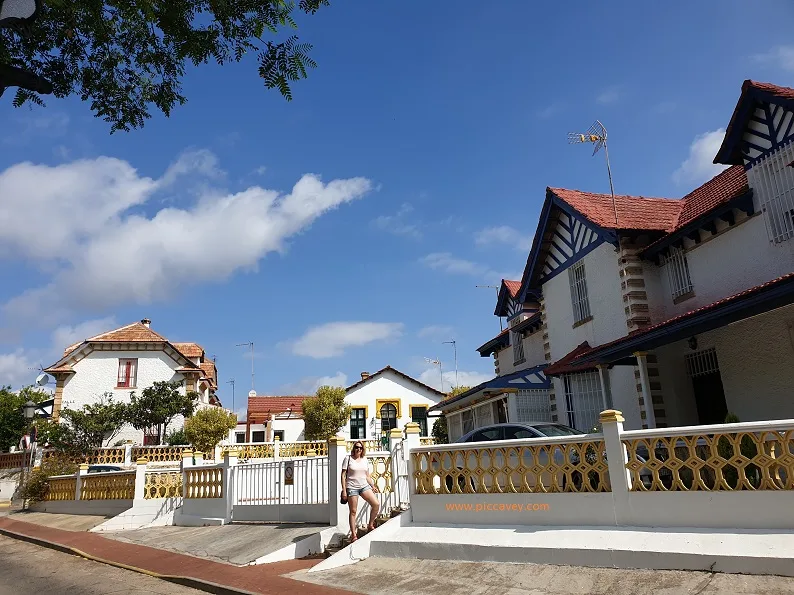 Barrio Reina Victoria
This neighbourhood was built in 1920´s. It´s close to Huelva city centre and provided housing for the miners at the Riotinto mining company. The arquitectural style was based on the Garden City´s built in England at the time. There are 274 homes in this district today.
There is also a similar neighbourhood in Minas de Riotinto. Riotinto company employees lived here.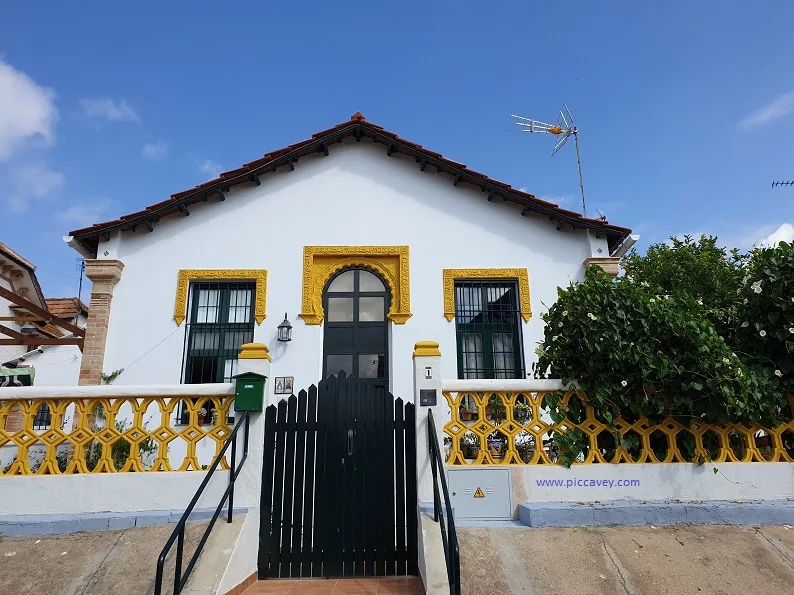 Miners homes in Huelva Spain
With a clearly british style of archicture there are also some neo mudejar and colonial details in the buildings. Situated in 9 different street with two squares, this area is another reminder of the important of mining history in this part of Andalucia. The Riotinto mining company made a huge difference to this region over the last century.
You can visit the mines of Riotinto on a tourist train and see the mars like landscapes of red rock.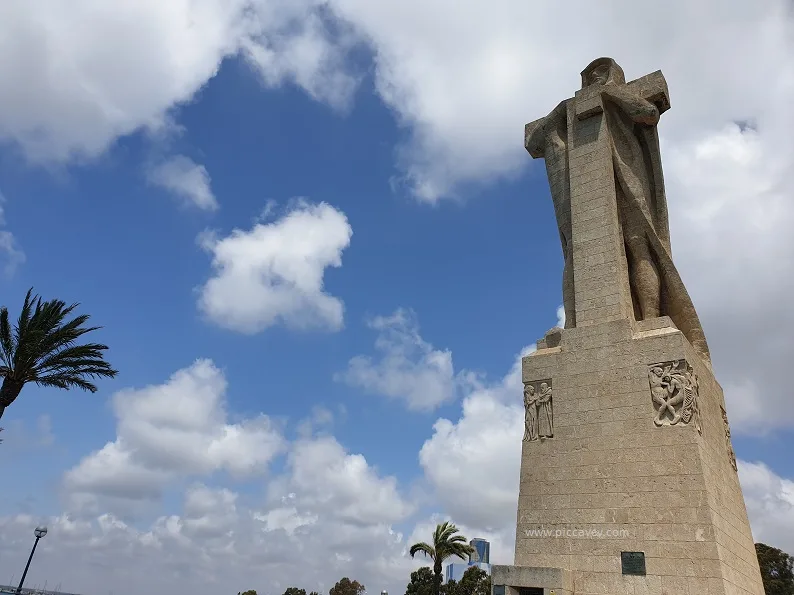 Columbus Monument
Donated by USA to Spain in 1929. Known as the Monument to Columbus or Monument to Faith of Discovery it was an expression of friendship from USA to Spain. Towering 37 metres high.
Created by sculptor Gertrude V. Whitney and inaugurated in 1956 by US Embassador John Davis Lodge. It is on the edge of Huelva city, next to a small beach on Avenida Francisco Montenegro looking out to sea.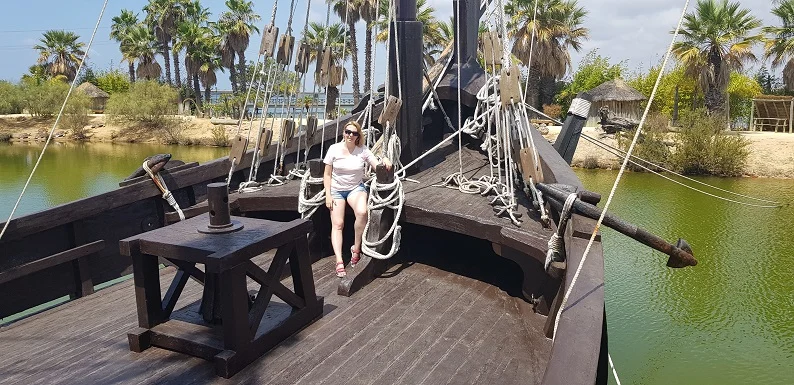 Palos de la Frontera
Leaving the city of Huelva behind, visit Palos de la Frontera which is just 16 kilometres by car. Here you can see replicas of Colombus´s ships used to discover America in 1492. Flagship of Christopher Columbus on his voyage to the New World, Santa Maria and the other two ships La Niña and La Pinta.
The visitors centre Muelle de las Carabelas gives you the opportunity to jump aboard the three replica ships. There is also a small medieval market and exhibition about Coloumbus voyage inside.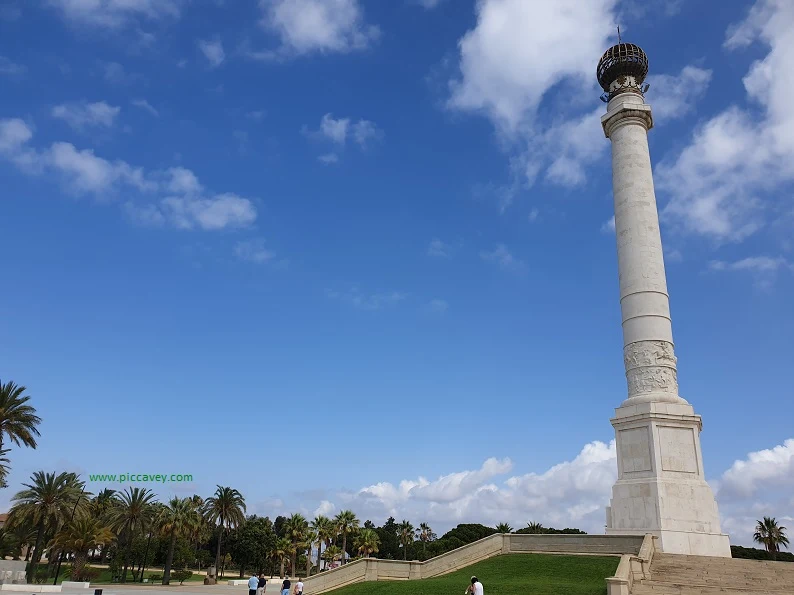 Rabita Monastery
13 kilometres (8 miles) from Huelva city is the Rabita Monastery. Since 1856 it has been a Spanish National Monument. This Franciscan friary began in the 13th century and has lots of history inside the building. Christopher Columbus stayed here 2 years before leaving to discover America.
The Monasterio de la Rabida is open to visitors. Once inside you can see the church, the cloister and rooms holding documents linked to the discovery of America. The photo below is of the Column of the Discoverers which stands in the grounds and gardens of the monastery.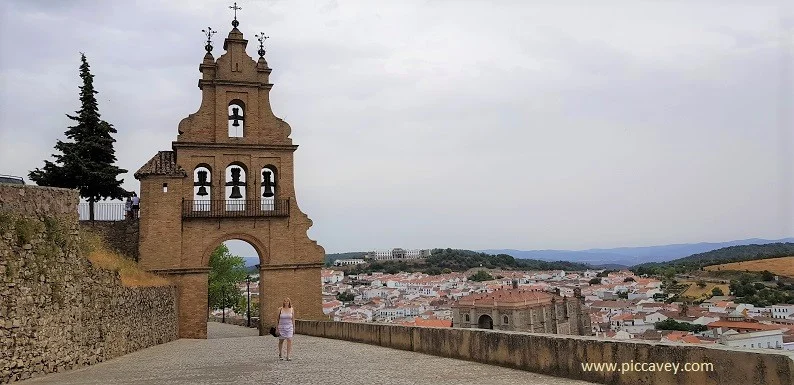 Province of Huelva Spain
In Huelva province there are many other places to visit. As well as the rustic beaches I mentioned at the beginning of the article the Doñana Park and El Rocio are well known points of interest in the province.
I also really enjoyed staying in Aracena which is known for its Iberian Ham and inland charm in the Sierra of Aracena. Almonaster La Real is also worth visiting as it is one of the Pueblos Mas Bonitos de España.
Travel Resources to Plan Your Visit
Here are a few resources to help you plan your trip to Huelva:
Please Note: This post contains affiliate links, which means that if you click through and make a purchase, I will receive a small commission.
All thoughts, feelings and opinions shared on this blog and in this post are my own.