Acai Bowl Recipe & Ingredients
An Acai bowl is made with acai berries. These small, circular blackish-purple fruits grown on a palm trees. Native to the Brazilian rainforests. They grow in Peru, Suriname, Trinidad and Tobago. You wont easily find fresh acai berries on sale. Instead you can buy acai in a frozen puree or freeze-dried powder. It is considered a superfood because they are dense in nutrients, packed with antioxidants and fibre.
Whats the flavor of Acai like?
As they look similar you may think that they taste like blueberries or grapes, but they have their own specific flavour. More like pomegranates or raspberry.
Acai Bowl is the perfect way to enjoy the berries. This breakfast bowl comprises of puree from Brazilian Acai, frozen bananas, blueberries and sweet juice. Topped with fresh fruit, granola, and honey. These bowls of acai berry are especially good in hot climates like the one in Southern Spain. A chilled breakfast or a delicious afternoon snack packed with nutrients and vitamins. They are amazingly satisfying.
Acai bowls are filled with antioxidants. Acai is thought to improve cholesterol rates. It also is believed to have an anti-cancer impact, and is linked with improved brain activity. Of course, the benefits of the Acai bowl depend on what you have added to your bowl, and what you have topped it with. This one I had below has pineapple, banana and apple.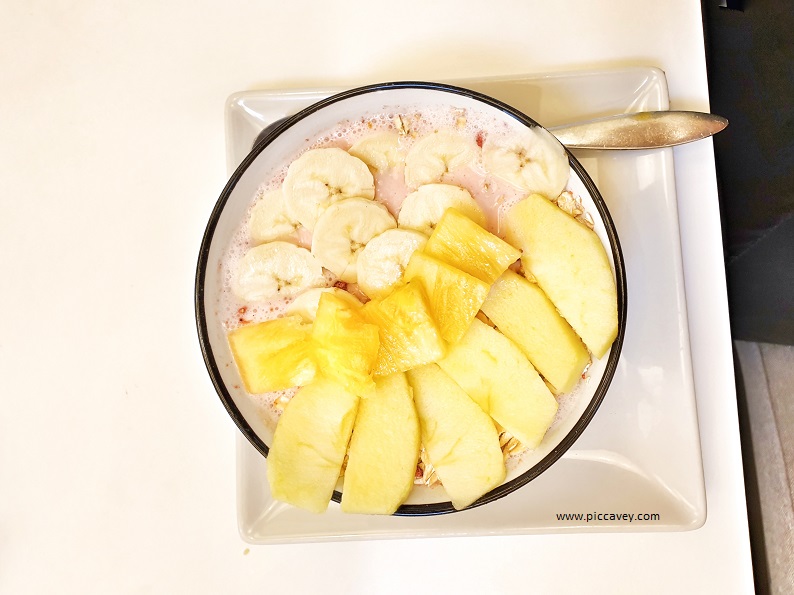 Ingredients for Acai Bowl
The only special ingredient required for making a homemade acai bowl is the acai itself. Otherwise, you can whip up a healthy acai bowl recipe using the ingredients you have in your fruit bowl or even your garden!
Frozen acai puree.
Frozen bananas.
Fruit juice (such as apple or grape).
Toppings – on a standard acai bowl you'll tend to find blueberries, strawberries, bananas, pomegranate seeds, granola and honey.
Tips for making Acai Bowls
For a thicker mixture, use frozen bananas and blueberries. Use chilled fruit juice. The entire idea is to use very cold materials for the maximum thickness and freshness.
To make your homemade acai bowl thicker, start with less juice and then add more steadily as needed.
The amount and style of toppings is up to you. A real acai bowl should have a minimum of three ingredients including acai bananas and granola.
If you already make smoothies at home then you can certainly make an acai bowl. There are two ways of making acai bowls — a method that uses a blender, and a food processor. But first of all, some prep needs to be done. Get the acai puree packs and fresh fruit ready!
The one fruit which should be prepared ahead of time is the banana. Your banana should already be frozen. So you need to prepare this beforehand.
To freeze bananas: begin with slightly overripe spotty bananas. A good way to use them up and you will get a lot of sugar and flavour too. Peel them. Break the bananas into 1-inch pieces and place them on a parchment-lined sheet pan in a single layer. Place in the fridge. Transfer to freezer-safe bags once frozen.
How to make Acai Bowl in a blender:
Add partly thawed acai puree, along with frozen banana bits, blueberries, and juice. Pop them into a high-powered blender.
Blend until smooth on moderately low speed (lower speed works better for that thickness). If its too thick to mix, you can add a little more juice if desired.
Pour into frozen cups.
Add toppings as desired Granola, fruit, and sprinkle with honey.
Making acai bowls in a food processor:
Add bananas to the processor, cover with a lid, and hold down the processor, then pulse the bursts to break into small bits.
Now add the blueberries, pulse to break into bits in bursts. Add the acai and juice to blend into a smooth purée and pulse.
Pour mixture into refrigerated bowls.
Add toppings as desired Granola, fruit, and sprinkle with honey.