Did you know that Lisbon is one of the oldest Capital cities in Europe. The Portuguese city is a charming destination to enjoy a short break and taste amazing food and wine. Check out my Lisbon foodie guide and this article on what to see when you visit.
Located on the Iberian Peninsula, on the Atlantic Ocean and the River Tagus. With a population of 544,000 the local airport is Humberto Delgado Airport, (LIS). Just 7kms from the city centre. For more details on how to get to Lisbon see Rome2rio for connections and transfers.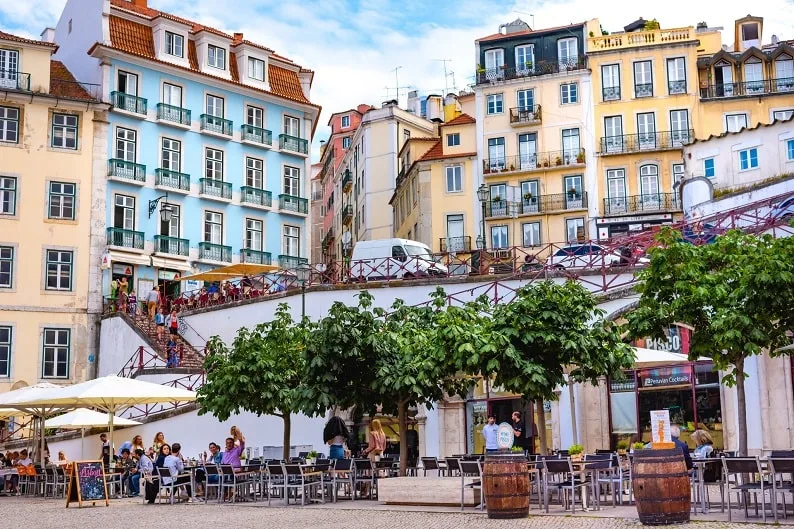 How many days for Lisbon?
You may wonder how many days you need to spend in Lisbon. With two UNESCO World Heritage Sites (Tower of Belem + Jeronimos Monastery). A wealth of charming squares and streets, delicious food to try and stunning sea views. The city it has a lot to offer.
I would suggest at least two nights and three days at least to see the main attractions in Lisbon.
What to See in Lisbon
Here´s my quick overview of the main sights in the Portuguese capital:
The Tower of Belem built on the Tagus Riverbank in the 16th century. Over the years it has been a prison, customs building, telegraph office and even a light house.
Jerónimos or Hieronymites Monastery. Located very close to the place that Vasco da Gama left on his first journey. Built in the 15th century in the Portuguese Gothic Manueline style. A large historic building and UNESCO World Heritage site.
Castelo de São Jorge Above the city, this castle has wonderful views across the bay as well as the city. Don´t wear heels! (I did and the walk up was horrendous). With such a powerful vantage point it has been a royal palace, military barracks and the national Archive over the centuries. Another more modern place to enjoy the view is Pollux. This Lisbon Homeware store has a café on the 8th Floor with impressive views from its windows.
Santa Justa Lift Although the Santa Justa lift is the most iconic, there are other lifts in Lisbon. The Santa Justa lift operates at a height of 45 metres making it the most well known. These engineering marvels transport people from Lisbon´s lower up to the Bairro Alto. Also of note are the Elevador da Glória and the picturesque route on the Ascensor da Bica.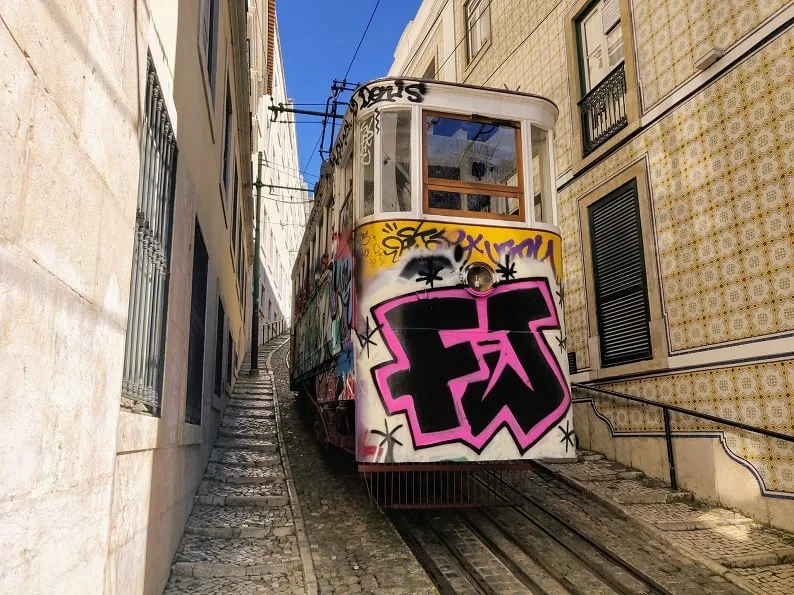 Yellow Trams – In Lisbon there are 6 tram lines in the southern + western part of the capital. Make sure you get to ride one during your stay. Its part of the city´s living history.
Fado A unique music style listed as UNESCO Intangible Cultural Heritage of Humanity. Lisbon is the birthplace of Fado and has venues where you can listen today. Head to Tasca do Chico or Casa de Linhares for some of the more traditional locations.
Convento do Carmo Many travellers may have heard of the tragic earthquake in 1755 which destroyed part of the city. The Carmo Convent is a ´witness´to that event and still stands without its roof. A unique place to visit.
Botanical Garden of Lisbon – With over 10,000 plants its a lush space to get away from the city hustle and bustle. Costing 3 euros to go in, its worth a visit.
Museu Nacional do Azulejo –

You will see tiles on stunning façades around Lisbon or inside Metro stations on the underground

.

If you want to see more tiles and learn more about Portuguese ceramic arts. Head to the National Tile Museum. One of the largest ceramic collections in the world.
Oceanário de Lisboa – Recognised by Tripadvisor 3 times as the Best in the World. The Oceanário de Lisboa is home to over 8,000 marine creatures. good pick for travellers with children.
Lisbon Foodie Guide
Lisbon as well as being an attractive city for tourist. It is also one of the Best Expat Cities for quality of life. So it´s no surprise that the food scene in the city is exciting too. Here´s a quick look at the most popular and traditional foods to try in Lisbon:
Bifana: These tasty sandwiches are filled with pork marinated in white wine.
Prego: Another type of sandwich made with steak. Try them at Ramiro or Rui dos Pregos.
Ginjinha: This sweet liquer is made from Sour cherries known as Ginja berries. A very typical drink in Lisbon.
Salt Cod: Cod dishes abound in Portugal wherever you go. One of the most popular ways to serve Cod in Lisbon is Bacalhau a Bras. This is a hearty comfort food made with cod, potatoes, onions and mixed in scrambled egg.
Frango piri-piri – Spicy Chicken that originates from Africa. Portuguese navigators introduced this dish into Portugal in the 1400´s. Now popular in Portugal, it is usually served with a side of chips and the sauce to you can serve yourself. Taste this dish at local favourite Bonjardim.
Petiscos – Typical Portuguese dishes in small portions. This way you get to try a wider variety of specialities. Why not try Pataniscas which are like fishcakes or Salada de polvo, Octupus Salad.
Excellent Portuguese Wines – Whether they are from Douro valley famous for making Port Wine, or the Alentejo region. There are endless varieties to try. With 14 wine regions in Portugal you will be spoilt for choice during your stay.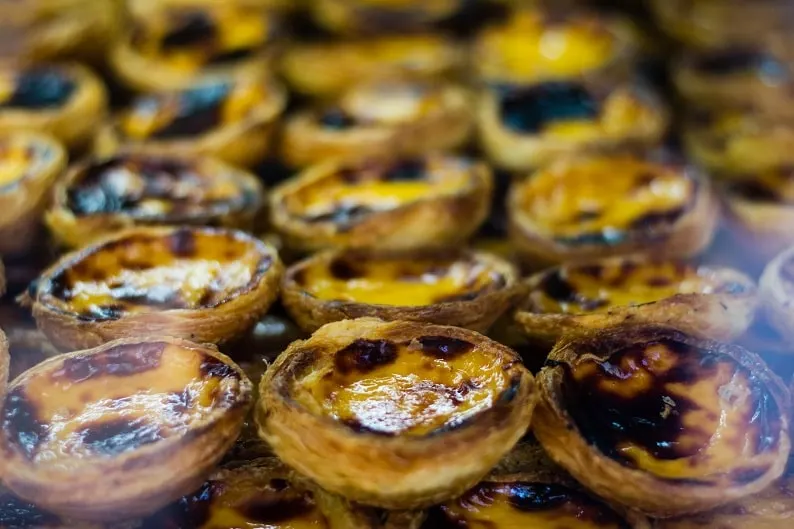 Pastéis de Belem Made in Lisbon since 1837. These delicious little cakes were originated in the ovens of the Monasteiro dos Jerónimos. You have to try them from at Rua de Belém nº 84. Freshly made ones outstanding.
Mercado da Ribeira The oldest food market in Lisbon has been trading since 1882. Find it on Avenida 24 de Julho 49 and don´t miss the stunning flower market on the same site.
Does Lisbon have Michelin Starred Restaurants?
This year, 2022, Lisbon has 10 Michelin star restaurants to choose from. Two of them have 2 stars. Here´s a quick overview:
Belcanto ** – The first restaurant in Lisbon to ever receive 2 Michelin stars
Alma ** Set in an 18th century book storehouse. Costa to Costa is a 5 fish dish menu.
Eleven – Choose this Michelin starred restaurant for the great views.
Fifty Seconds – Headed up by Basque Chef Martin Berastegui, Currently one of the top 30 chefs in the world.
100 Maneiras – Love the interiors at Rua do Teixeira, 39! Expect industrial walls and luxurious fabrics inside 100 Maneiras. Choose from 6 different tasting menus (with optional pairings)


Pin to save this Lisbon Foodie Guide

Cura – Portuguese chef Pedro Pena Bastos elevates lsocal seasonal ingredients in exquisitely presented dishes.
EPUR – Make the most of the midweek lunch service for 45 euros.
Loco – Best for an exclusive feel as this is a small venue for only 22 guests.
Eneko Lisbos – Run by a Spanish chef Eneko Atxa in the characterful setting of the Old Alcantara Café
Feitoria – A great pick if one of your party is Vegetarian
A Corner of Lisbon in London
If the idea of Portuguese food entices you but you arent planning a trip.Fitzrovia could be closer for you. Nuno Mendes´ London based restaurant opened in March 2022. The Lisboeta Restaurant on Charlotte Street is a great option. Described as ´A Love letter to Lisbon´ they bring Portuguese dishes closer to home. Expect to pay around 80 gbp per person.
Interior: Lisboeta Restaurant in London