Barcelona, a popular destination for cruise ships and tourists from all over the world. Yet Barcelona province and the region around the Catalan Capital is not as well known. In October 2021 I spent a week exploring the landscapes of Barcelona´s counties.
Osona, Bages Noya and Moyanés are areas that I hadn´t visited before despite living in Catalonia for 9 years.
On this map of Barcelona province below, the orange colour area is the region that I cover in this article.
The blue area along the coast (Garraf and Maresme) and the metropolitan area is the most visited parts.
Time to put that right. Let´s explore inland Barcelona.​
Barcelona Province
Vic, Osona
First stop is Vic, the Capital of Osona. This city is most known for its Mercadal. A busy outdoor marketplace on Tuesdays and Saturdays. This trading post has been in use since the 9th century (yes that´s 1146 years ago!) The medieval square gets your attention as soon as you arrive. Rather than being paved, its got a sandy surface. Over the years,this space has held livestock auctions, markets and even
Over time Vic has had different names. Called Auso by the Romans and Ausona by the Visigoths. Then in the 1700´s the city was named Vique and then Vich. Finally in 1913 Vic was agreed and is the name today. The meaning stems from the Roman word Vicus meaning Neighbourhood. You may notice the other city names on historic documents when you visit the city. Nowadays the population of Vic is around 41,000.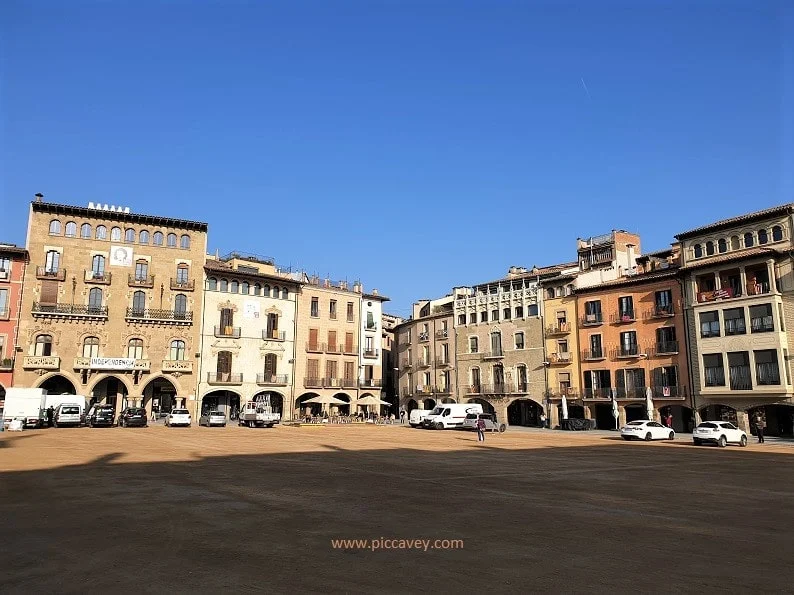 Queralt Bridge
I stayed at the Seminari de Vic just a short walk from the city centre. This multipurpose centre is part hotel, part Seminary (School for Priests). The Seminari Accommodation is comfortable, practical and modern. The onsite canteen was fabulous. Lots of local recipes and delicious food to choose from. Good value and plenty of selection. (They serve wine and beer too.)
Walking through Vic on a crisp Autumn morning was a delight. Seeing the old city wall and the Queralt bridge. (Photo below) This bridge was built in the 11th Century and was an important point on the road from Barcelona. Crossing the Meder River, it´s just off the Calle de San Francisco on the edge of the old town.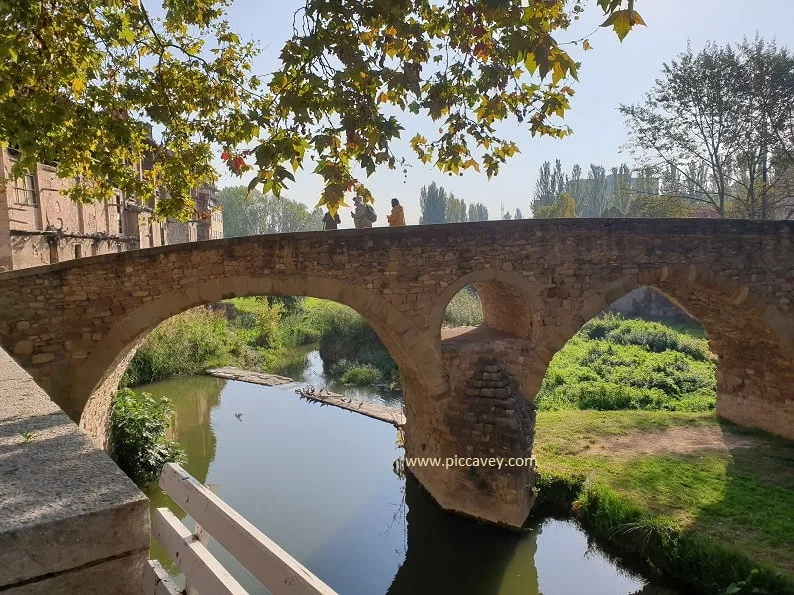 Historic Vic
Vic Cathedral has a stunning Romanesque bell tower built in 1038. (see in the picture below). The Cathedral square and area alongside the Museu Episcopal Vic reminded me of Northern Italy. The architectural style is clearly inspired on Italian cities. The Episcopal Museum is home to the large collection of Catalan Romanesque Art. The large museum is home to many Religious Sculptures, antique paintings and textiles.
The oldest monument in Vic is the magnificent Roman Temple built in the 1st century. It is open for public visits and often has temporary exhibitions. There are only three of these in Spain left today.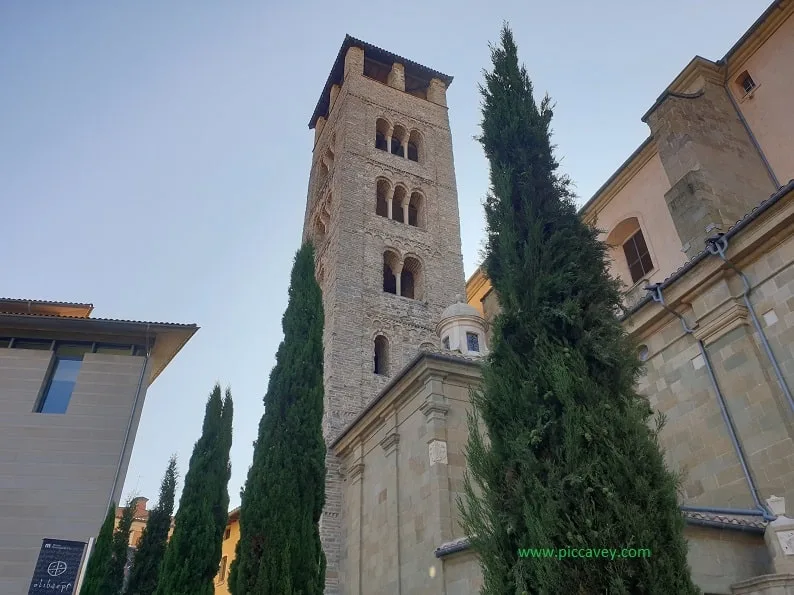 Vic is a Foodie Hotspot
Vic´s deli products are very popular across Spain, especially fuet and butifarra. (pork sausages). In fact it´s local knowledge that their are more pigs than people in Osona, as pork is a main industry in this area. One of the most traditional places is Ca la Teresona trading since 1837. This family business spans six generations. They even have their own on site restaurant where you can enjoy their gastronomic offerings.
I was lucky enough to be able to make my own butifarra. Then get it cooked in the restaurant kitchen so I could eat it for lunch. Their gourmet store has lots of delicious food beyond cold meats. A selection of local cheese, sauces, homemade local dishes and even artisan pizzas.
In fact its worth wandering along the Carrer dels Argenters to see the different bakeries and food stores. It really is foodie heaven.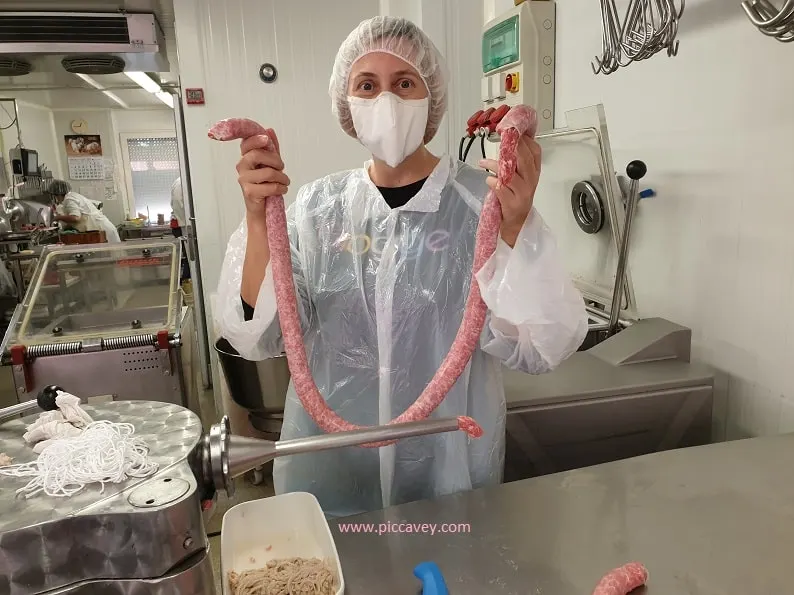 Sant Pere de Casserres
A short drive from Vic (20kms) takes us to the 11th Century Monastery of Sant Pere de Casserres. Located on the edge of the Sau Reservoir, it has beautiful views of the landscape. It´s a quiet location, enjoy a gentle walk from the car park to the monastery, on a path amongst oak trees overlooking the water. Also on site there is a small restaurant if you want to stay longer. You can visit inside the monastery and understand this history of the gorgeous location. (Photo below)

Moianès
After visiting Osona, the next region is Moianés. This unspoilt natural expanse, most known for the picturesque town of Castellterçol. This part of inland Catalonia is a good location for rural tourism to getaway from it all. Large country houses for rent such as Mas Torigues make a great spot to spend a weekend with friends and family.
D.O Pla de Bagés
In Santa Maria d'Oló we visited the Celler de Sant Miquel a relatively new vineyard that has been working since 2013. On the site of a Romanesque Hermitage, the land had previously grown grapevines until 1913. The production now follows the D.O Pla de Bagés guidelines, producing with local grape varieties such as Picapoll. While the first harvests were limited, the winery are now scaling up and producing more bottles as they become more established.
Currently in the D.O Pla de Bagés wine region, there are 15 associated producers. Authorised grape varieties in the region are:
Chardonnay
Sauvignon Blanco
Gewürztraminer
Picapoll
Macabeu
Tempranillo.
Merlot
Cabernet Franc.
Cabernet Sauvignon
Syrah.
Garnatxa negra.
Sumoll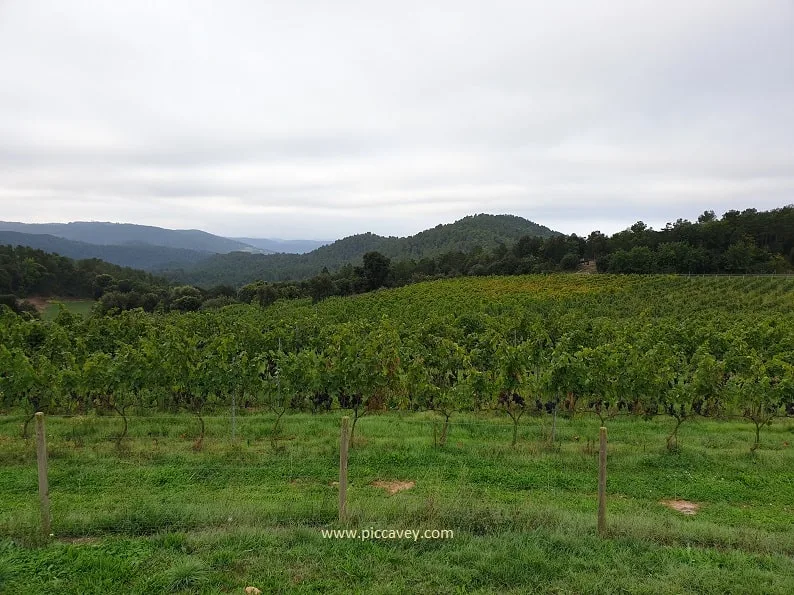 The Toll Caves (les Coves del Toll)
One of the main attraction in the area are the prehistoric caves of Toll. Located close to Moiá. It is one of the best sites in Europe with animal fossils from the Quaternary period. The guided visit is 158 metres although the actual size of the caves is 1148 metres. It´s open daily from 10.30am to 2pm. Check ahead of your visit the availability as it is popular with schools.
Restaurante Les Voltes de Sant Sebastiá, Moía
Also in Moía we had a fabulous lunch at Restaurante Les Voltes de Sant Sebastiá. This cosy smart restaurant has its own wine cellar (inside an historic stone water cistern). They pride themselves on creating dishes with local produce and traditional recipes. I had the best cannellonis I´ve ever eaten. Too delicious for me to even stop to get a photo. Les Voltes in Moía have been in business for over 20 years and have a loyal local clientele.
If you intend to go there book ahead and make sure you have time in your schedule for a long leisurely meal. Thank me later.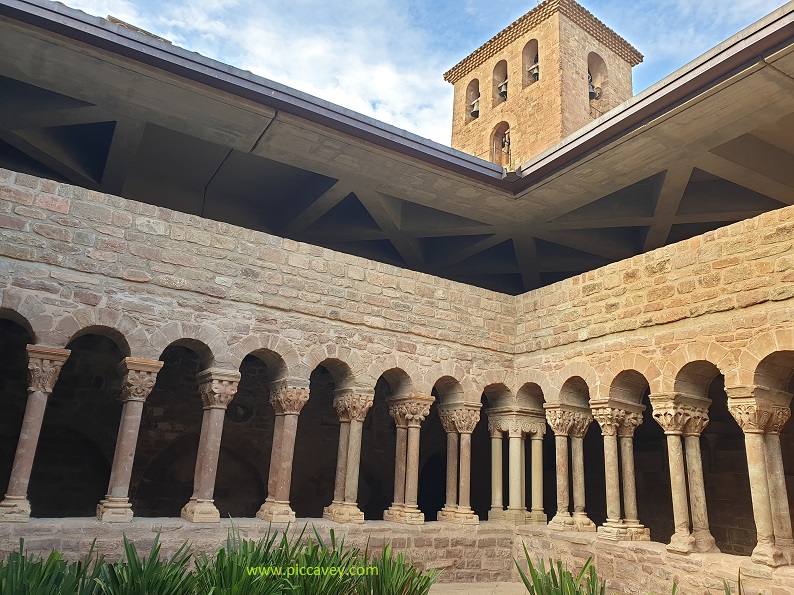 L'Estany
After lunch we visited the village of L´Estany to see its ancient Monastery. With a population of around 400 it´s a tranquil setting at the heart of the Moianés. The Monastery of Saint Mary of Estany dates back as far back as 990. However over the centuries the building has suffered modifications. The current building is from 12th-13th centuries and is the main monument in the town.
Another interesting visit is the Water Mine. This tunnel like construction a little outside the historic centre dates back to 1737. Built to move water from one location and to create more agricultural land. It is built with dry stone and is 425 metres long. The guided visit can be arranged at the Monastery Visitors Centre.
Mas de la Sala
That evening dinner and accommodation was a Mas de la Sala in Sallent. This large complex has well cared for grounds and spacious bedrooms. Its location close to Moiá and Manresa, so civilization isn´t too far away from this idyllic rural setting.
It´s also right in the geography of the Wine D.O Pla de Bagés. It was good to see that they had grapevines of each variety planted in their grounds. Breakfast there was abundant and varied. I can say I really enjoy my stay here. Practical, comfortable and cosy.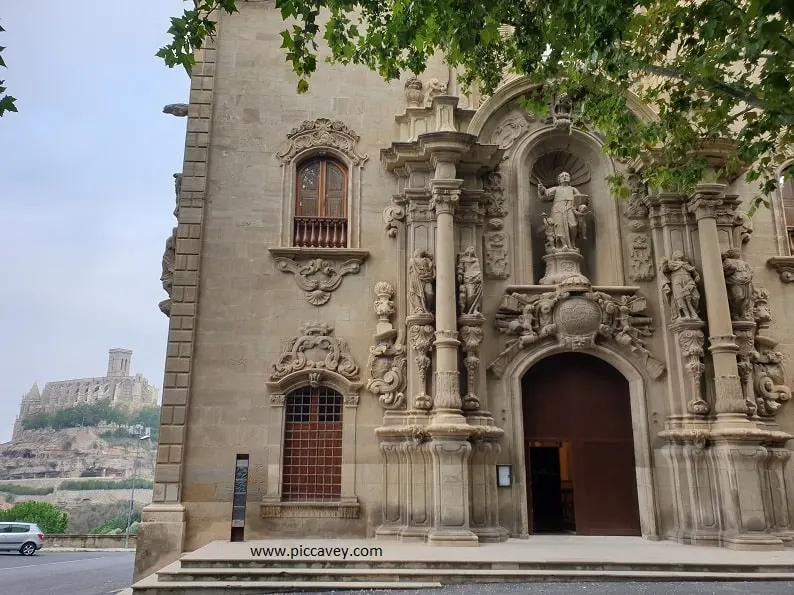 Bages
Next up on the itinerary is Bages region with it´s Capital Manresa. (A 55 min drive from Barcelona) Topped with magnificent La Seu, you can see the Collegiate Basilica on the hill (Left of the photo above)
My highlight of visiting Manresa was seeing the Cova de Sant Ignasi. (photo above) This monument is a baroque church with one side set into a natural cave. This cave has particular significance, it´s part of the story of Saint Ignatius of Loyola (Spanish Catholic priest b.1491- d.1556). In the early 1900´s the church nave was decorated by stunning and intricate mosaic tiles.
Marko Ivan Rupnik, an artist and Catholic priest from Slovenia also has works of mosaic art in the Vatican or the Almudena Cathedral in Madrid. Other notable works in Lourdes, France or Fatima in Portugal are just a few others to mention.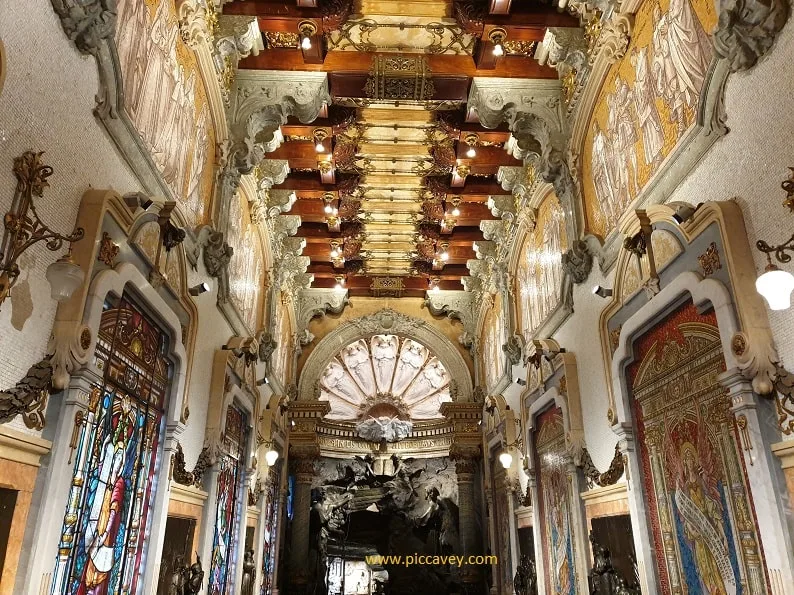 Dining at the Ateneu in Manresa
Another gastronomic highlight of this trip was a delicious tasting menu at the Cau de l'Ateneu. This restaurant is set in an old theatre. In the decoration there are clues to the buildings past. The interiors include reused lamps and upcycled door frames from the original theatre building.
The kitchen is open plan so you can see them carefully plating up the dishes.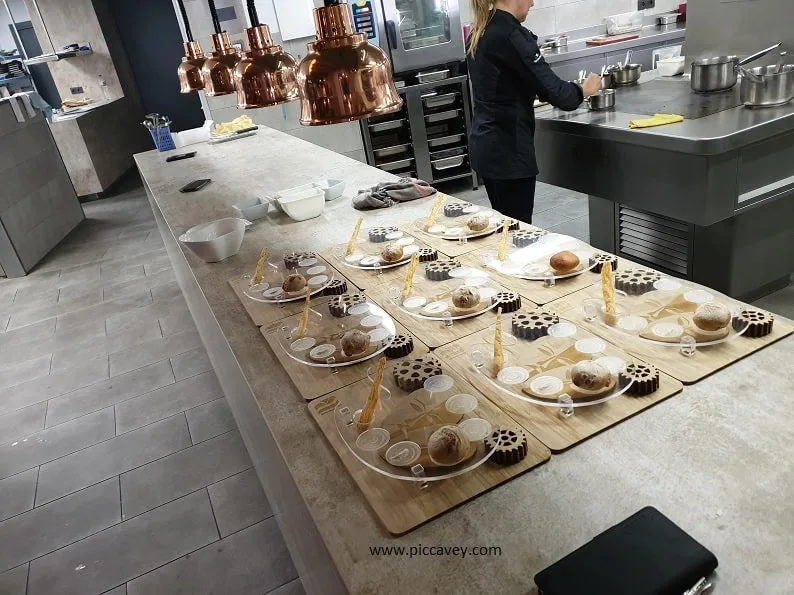 Vineyard of Oller del Mas
We´ve already mentioned the wine region of Pla de Bagés. After lunch we headed over to one of the more established wineries in the region. Oller del Mas. This vineyard has 50 hectares of grapevines and grows five autochthonous grape varieties. The site also has it´s own medieval castle. So it makes it an ideal location for weddings and events. Or just an elegant lunch.
In Manresa, we are just 35 minutes away from Barcelona but as you can see from the view I feels like much further away from the busy city streets.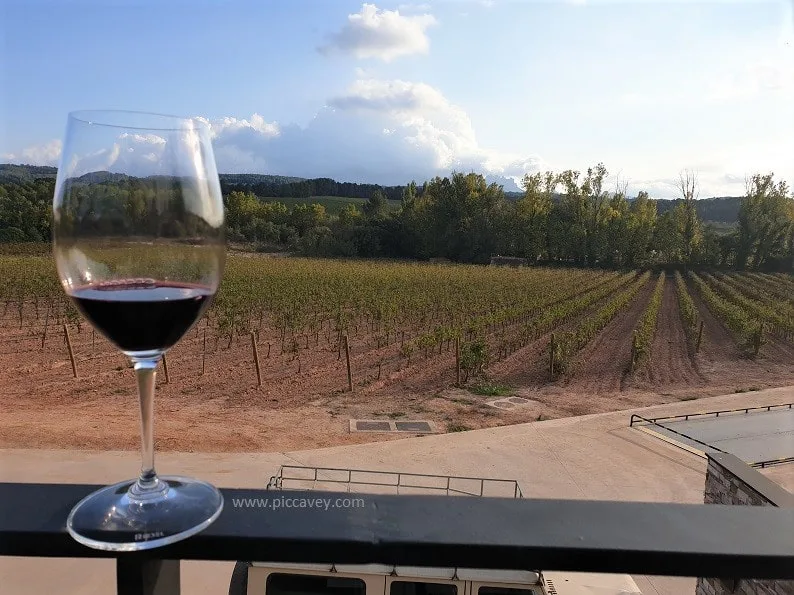 Montserrat Abbey
Also known as the Montserrat Monastery. It is a very special place for me to revisit. We have history. As a 12 year old I was taken on a school trip here but I wasn´t very interested in historic sites at that time : ) Many years later I revisited Montserrat to attend a friends Autumn wedding. (October 2000?)
Despite being in Barcelona and Olesa de Montserrat for years I never got the chance to visit this emblematic site properly. So I was thrilled to visit Santa Maria de Montserrat after all these years feeling I hadn´t done it justice.
Visiting Montserrat
The Benedictine Monastery is home to the Moreneta. The Virgin of Montserrat and the patron of Cataluña. This wooden statue was found in the year 880 and can be seen on a visit to Montserrat. What makes the site special is the views across the landscapes and the uniquely shaped backdrop of the ´Serrated Mountains´.
If you plan on visiting the site yourself there are several ways to go there. It is one of the most popular day trips from Barcelona and can get very busy.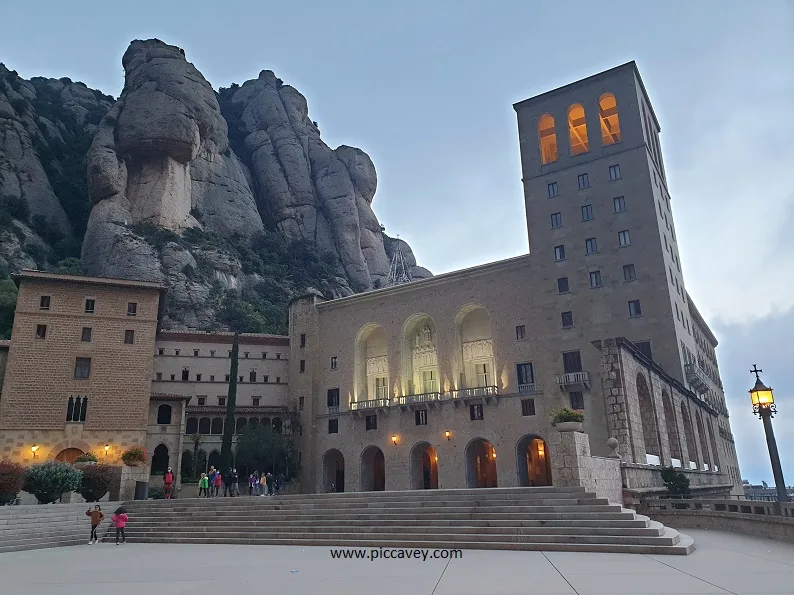 Anoia
The final region on our Paisatges de Barcelona route is Anoia. Igualada is known for its ´Rec´ neighbourhood. This industrial area was an important textile hub. Historically this part of town had a mixture of flour mills, tanneries and textile factories.
Now there are still some Clothing and shoe companies trading here, some buildings have been converted to residential use. One has even been revamped as is now a Coworking space called La Maca. Not only for office space but also for creative too who need workshop space.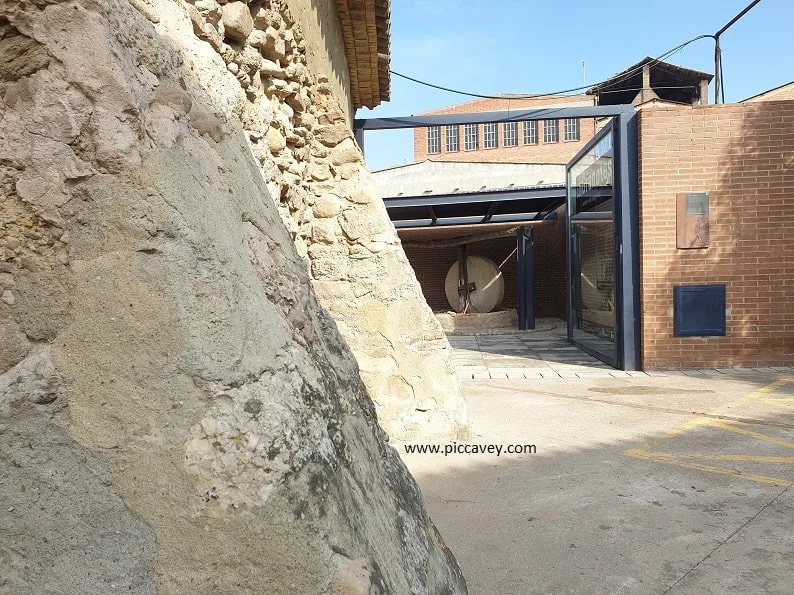 Rec District
More recently this is home to an important Fashion Festival. Rec.0 attracted 120,000 visitors in the last edition over 4 days of its street festival. Spanish fashion labels populate the old textile warehouses with stocks. There are food trucks and other pop up stores too. The next edition is confirmed for May 2022.
I enjoyed visiting the Leather Museum in Igualada. Cal Granotes is the only one of its kind in Cataluña. Even though leather has been produced in this area since 1345 and still continues today.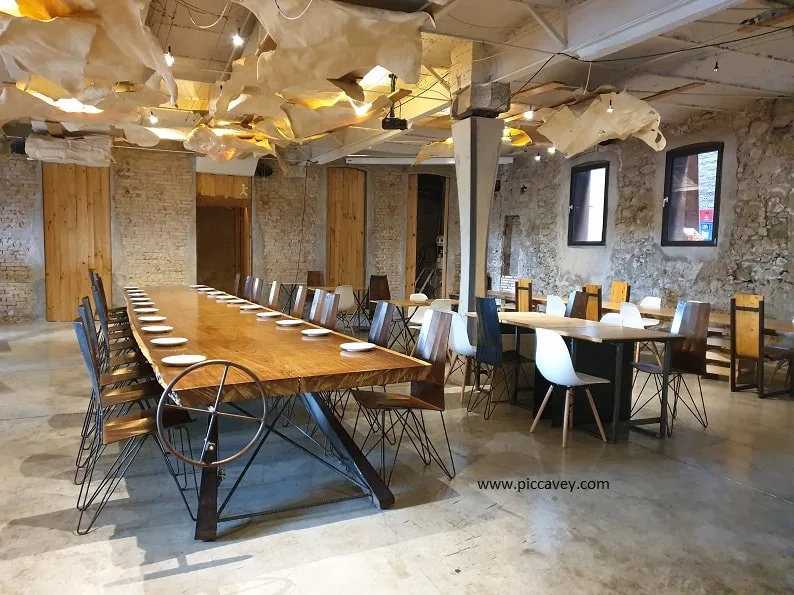 Somiatruites, Igualada
Another highlight was getting to stay at Somiatruites in Igualada. This unique modern hotel + restaurant is the brain child of brothers Xavier y David Andrés. A Michelin star chef and an sustainable architect teamed up to create this unique space.
In fact I would go as far to say as this place is a destination in itself. Getting to spend a night here, enjoying their excellent food and wine. Then exploring the surrounding area, Montserrat or head out for a countryside hike… the ideal weekend.
They are extremely focused on sustainability and even have chickens on the roof. The rooftop terrace is like an urban garden where they grow their own tomatoes too.
Our final stop was for a hearty lunch in the countryside. Outdoor dining at the Cubs de Odena. This was a busy location and not surprisingly so. The food here was epic. A selection of rice dishes to share. Endless starters to choose from. The desserts were also interesting. I had coconut foam with pineapple flambé.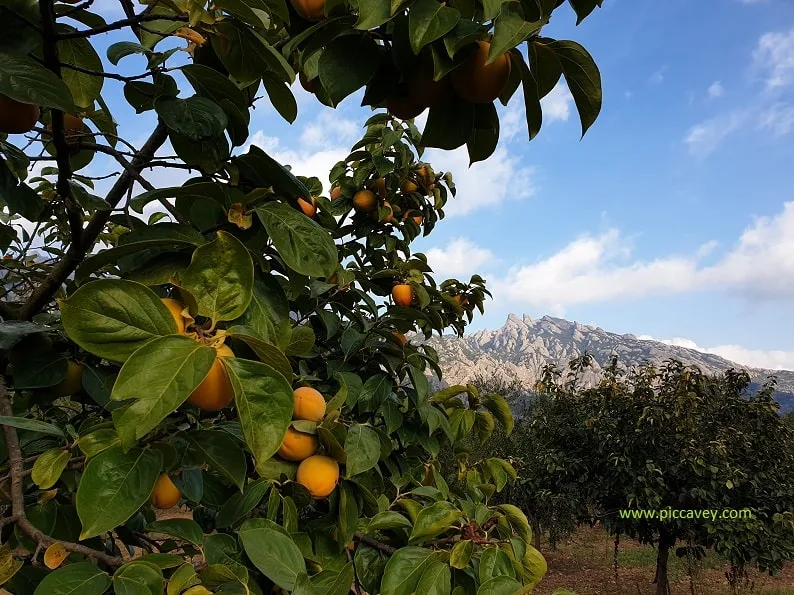 Barcelona Province Landscapes – What lies beyond the Catalan Capital?
Disclaimer: Please note that I have visited Paisatges Barcelona on a promotional trip. I have experienced all the activities I wrote about in this post complimentary. However, all the opinions in this article are my own. I would not recommend anything that I wouldn't have enjoyed myself doing or think it was a great place to visit.
This post contains affiliate links, which means that if you click through and make a purchase, I will receive a small commission. All thoughts, feelings and opinions shared on this blog and in this post are my own.