Where is Castellon?
On the Eastern Coast of Spain, Castellón is between Tarragona and Valencia. It´s coastline is called the Costa Azahar and the region has an important ceramic and tile industry. Perhaps its most well known attractions are Marina d´Or, a huge wellness complex in Oropesa del Mar or the town of Benicasim, for its annual Music festival FIB Benicassim.
Yet there is more to this province in the Valencian Community than that. I went to explore the region:
Castellon Airport
Getting to this part of Spain is relatively easy. Flights into Castellon Airport are direct from Bucharest, Vienna, London Stansted and London Luton. They even have a direct flight from Seville, connecting Andalucía as well as other national flights.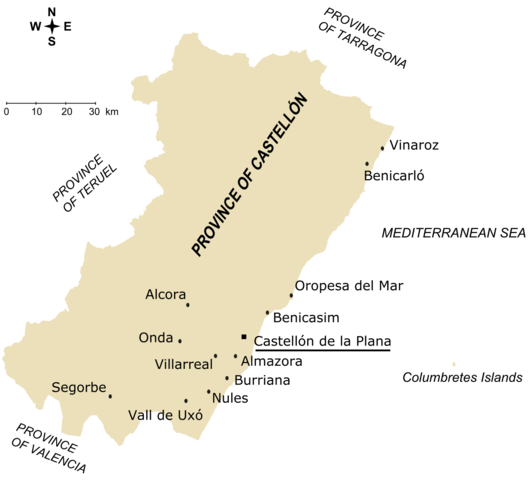 By road, the motorway AP-7 connecting Barcelona and Valencia makes it easy to access Castellon. By train there are good connections with cercanias to the main cities and towns in the province. The Euromed train route connects Barcelona and Alicante with this region too.
Castellon de la Plana
The provincial capital Castellon de la Plana is the 4th largest city in the Valencian Community. It´s the main commercial centre for the province too. The Cathedral and Old Market on the Plaza Mayor are the heart of the historic town centre. Yet the city is sprawled out as far as the coastline, known as El Grao. This part of the capital is over 5kms from the main centre.
Peñíscola
Topped by an impressive castle dominating the coastline. Peñíscola has more than 50% of the accommodation in Castellón. It´s the 3rd biggest tourist destination in the Valencian Community after Benidorm and Valencia. It is also part of the network of the Pueblos Mas Bonitos de España (Prettiest Villages in Spain). Known as the city in the sea, it´s name is derived from Peninsula as it is only connected to the mainland by a thin strip of land.
Papa Luna Castle
The main sight is the Castle, built in 1294. It´s actually worth booking a Guided Tour of Peñíscola Castle. The lighthouse is alongside the Castle, topping the historic part of town. Please note that the old part of town is quite steep and uneven. You need good shoes to navigate the stepped and cobbled streets. Even in Summertime. The views across the coastline and sea make the climb up worth it. The water has an intense turquoise-jade colour, even when I visited in early winter.
There are plenty of cafés, bars and cute little shops in the winding streets around the old quarter. Making it a great spot to spend time after visiting the main attractions.
Benicassim
Although Benicasim is most known for its International music festival in July. It also has 6kms of sandy blue flag beaches and is home to Palms Desert Natural Park. A natural space spanning over 3000 hectares and reaching into other municipalities. A great place for hikers, birdwatchers and mountain bikers.
Thalasso Hotel El Palasiet also in Benicassim is worth mentioning. More than an accommodation, this retreat centre offers detox treatments over days or weeks. Using seawater´s beneficial effects upon the skin. A specialised centre which offers beauty treatments and different seawater pools for you to unwind in. The team there design your therapy personalised for your needs. People check in here to start to lose weight, quit smoking or adapt healthier eating habits. It has also been the place where sporting celebrities recover after injuries as they have an onsite gym room.
With views of the coastline from the rooms and plenty of gardens on site it really is a great place to reboot relax or just pamper yourself.
Morella
Leaving behind the Costa Azahar. When you venture inland the terrain is hugely different and rises steeply. You maybe surprised to learn that Castellon province has mountains. In fact it´s highest peak is Penyagolosa at 1814 metres. Although I didn´t quite get that far up the mountain, I did get to see a pretty town in the mountains called Morella.
At almost 1000 metres above sea level. (that´s 3228ft) it is also on the Pueblos Mas Bonitos de España list too. Staying overnight at the Boutique Hotel Cardenal Ram was a treat. Set in a 16th century palatial building this cosy hotel is right on the main street in Morella.
Morella Castle
Morella tends to be busier on the weekends as its a popular destination for a daytrip from Castellon, Valencia or the Coast. There are some great places to eat out in Morella and also small shops selling local cheese, crafts and typical bakes made to traditional recipes from centuries ago.
The three main sights in Morella are:
Morella Castle built 13th + 14th centuries. Other constructions were added in 1800´s. Panoramic views from the castle that sits atop Morella.
Santa Lluca Aquaduct built in 1338 brings water to Morella from Vinatxos spring to the historic town centre.
Iglesia de Santa María built in 1343 in Gothic style.
Food in Castellon
As with all Spanish destinations, the local cuisine is delicious and seasonal. This part of the Valencian community shares recipes such as Coca (flatbread) Rice dishes and locally grown vegetables such as artichokes.
I got to taste two different local wines from Castellón too. Bottled under the IGP Castelló certification. They are produced from vines planted in three areas of the province: Alto Palancia-Alto Mijares, Sant Mateu y Les Useres-Vilafamés.
What I didn´t expect to find were Millennial Olive Trees in this part of the world. Currently there are over 500 hundred Olive trees which are thousands of years old. The oldest one in Traiguera actually dates back to 971 A. D. It´s a the Farga variety.
Typical Dishes in Castellón
Another delicacy in Castellón province is Black Truffles. The Alt Maestrat area of Castellón has ideal geographical conditions for truffles. The season is from January to March. In February Morella celebrates its truffle festival, Morella Negra to showcase dishes prepared with this local delicacy. In 2022 the Truffle Fair is online due to current situation with the pandemic. I got to taste some local truffle at Casa Roque in Morella. (photo below)
Flaons
In Morella they have a typical pastry called Flaons. Made to a very old traditional recipe, the dough is not fermented and made into a half moon shape. It has aniseed liquor and is filled with almonds, cinnamon and sugar. They are quite delicious, you can also find other versions filled with chocolate although the most traditional filling is almond.
Where to Eat in Castellon
While I ate well in all the different locations on the 4 day jaunt. I must recommend these two places in particular. Excellent presentation, quality of ingredients and exceptional service.
Restaurant Casa del Capellans is located on the site of the Reial Santuari Font de la Salut in Traiguera. This location has an hermitage dating back to 1542. Its water fountain was believed to have curing properties. The restaurant specialises in grilled meat but offers varied tasting menus according to the season/time of year. Book ahead as I can get busy.
Address: Diseminado la Fuente, 11, Traiguera. 12330 Traiguera
Bookings: + 34 964 76 54 90 or + 34 665 51 05 61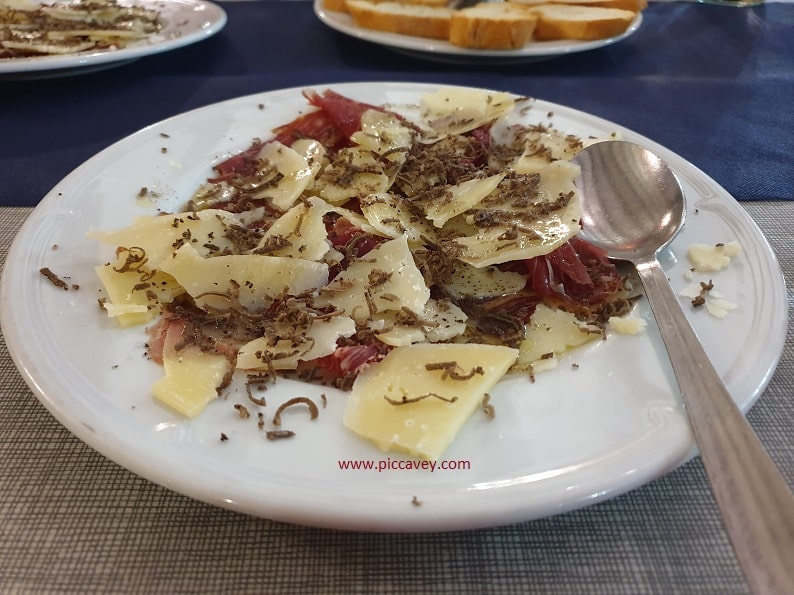 Casa Roque is a fabulous restaurant at the heart of the historic part of Morella. In business since 1980 they offer excellent local ingredients carefully prepared into delicious dishes. When I visited I tasted their house croquettes which actually looked like samosas. The Curds and Whey dessert was also incredible. Seen above the starter which came with shaved local black truffle.
Address: Costa de Sant Joan, 1, 12300 Morella
Bookings: + 34 964 16 03 36
Please Note: I was hosted by Castellón Airport for the purpose of creating this review, however all opinions remain my own. My website contains affiliate links, which means that if you click through and make a purchase, I will receive a small commission. As an Amazon Associate I earn from qualifying purchases. All thoughts, feelings and opinions shared on this blog and in this post are my own.