Choosing a destination to explore in Spain isn´t simple with so many places to see. Andalucia and Catalonia are popular choices whereas Trujillo Extremadura isn´t the most obvious choice. Yet this region is an ideal destination for those looking to see historic sites, real Spanish towns and eat tasty local food. I spent a week in Extremadura visiting the main towns and villages. So I´m sharing my guide to this authentic and unspoilt region.
Where is Extremadura?
Situated between Madrid and Portugal, Extremadura´s name means land of extremes. Extremely hot in summer months, the region is a paradise for birdwatchers. Extremadura has huge expanses of agricultural land, producing tomatoes, cherries, table olives, olive oil, endless cheese varieties and stone fruit (peaches, plums etc). It is also Spain´s second largest wine producing area. Extremadura boasts 6 Unesco World Heritage Sites too. So let´s take a look at what this destination has to offer .
Trujillo Extremadura
For my Extremeñan Escape I chose to stay in Trujillo. Perfectly located between Caceres and Guadalupe, locations high up on my travel plan. Trujillo is a charming town, just 2 and a half hours drive from Madrid or from Salamanca. With a population of under 9000, there are enough restaurants and services to be practical, but yet it is small enough to be easily walkable and maintain it´s appeal.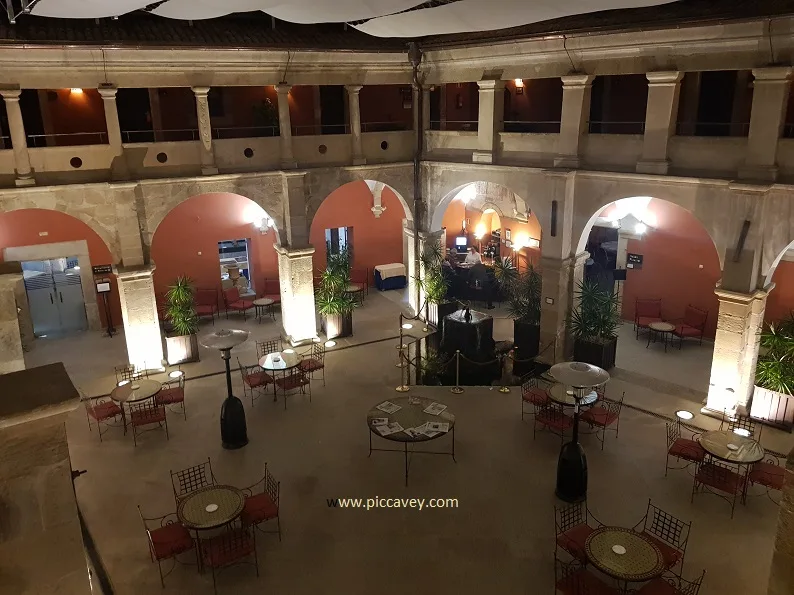 Sleeping in an Old Convent
When I travel around Spain, I look for historic buildings or hotels with a unique story. For this trip I stayed at Hotel Izan (240 euros for a 3 night stay) Located in an old convent built in 1573, it´s official name is Convento de San Antonio de Padua de Trujillo. It was a working convent until 1836. Today you can still see original architectural features such as the cloister (seen above) and 16th century wall paintings inside the hotel.
Hotel Izan is well located as the main square is a short walk away. The hotel has a small pool and peaceful atmosphere, although the installations are slightly tired, it was a comfortable, practical stay.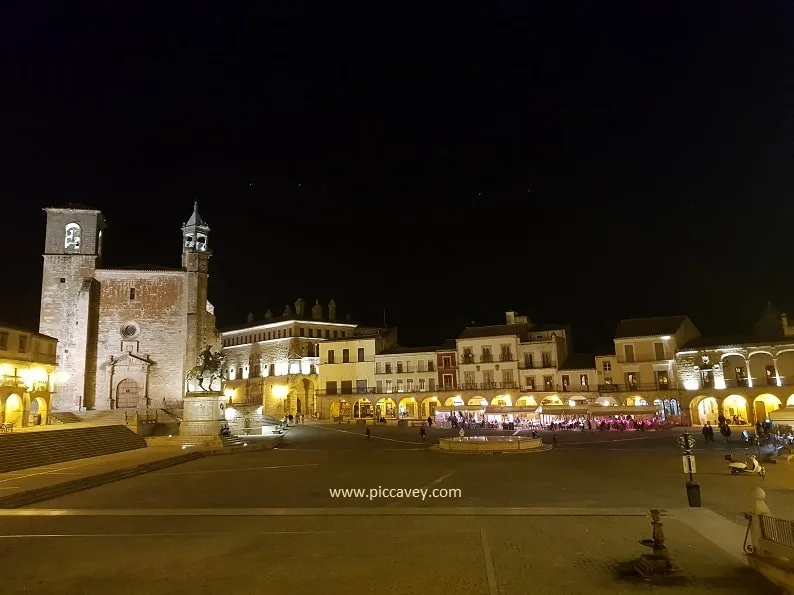 Plaza Mayor Trujillo Extremadura
The Main Square is the centre point of Trujillo. Lined with medieval buildings, this plaza built in 1562 hosts an impressive statue of Francisco Pizarro and St Martin´s church. (14-16th century) Most of the restaurants are on the square. Taking the steps on one side of the Plaza Mayor you can walk up to the castle or explore the oldest quarter of Trujillo.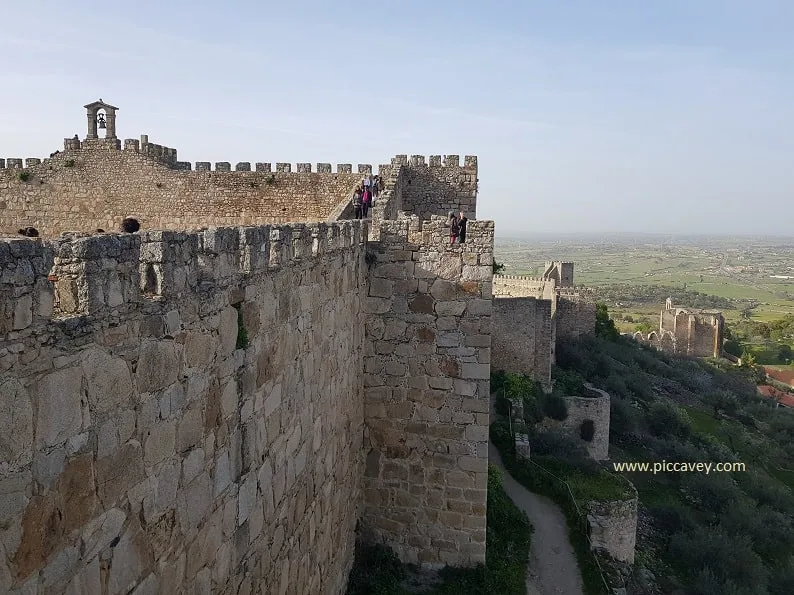 Trujillo Castle
Built as an Arab military fortress in the 10th-11th centuries. This imposing granite fortification is at the highest point of the city. Unsurprisingly Game of Thrones producers selected this monument as a location in the 7th season. The building was called Casterly Rock in the series. Find out more on this specific GOT Castle Tour if you are a fan.
It costs a few euros to into the castle, just pay on the door. Be very careful as you walk around the towers and steps. There are some uneven stones and not all the high walls have barriers. Open from 10am to 2pm and 4pm to 7pm (Summer months JJAS 5pm to 8pm)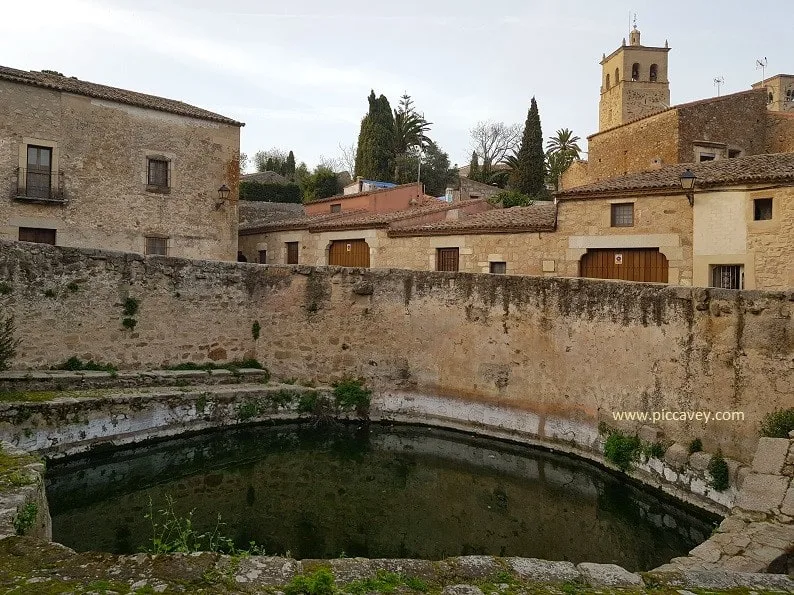 Alberca de Trujillo
Trujillo´s oldest streets have a storybook charm to them. With historic details and unusual gates around each corner. I came across this old pond, known as the Alberca. It has a curious history, as it is built with roman stone bricks, however it is probably an arab construction. It´s 14 metres deep and has collected water for agricultural use over the centuries.
Nearby the Restaurante Alberca on Calle Victoria 8 is listed in the Michelin Guide and headed up by Chef Mario Clemente. Trading since 1997 this is probably the best eatery in town. Combining local dishes in a historic setting, its ideal for a romantic lunch or dinner. Don´t miss the Extremeño Wine Habla del Silencio when you dine here.
Wandering through the old streets of Trujillo was one of my personal highlights of my visit. Trujillo is so photogenic. I have over 1500 photos from a short break to this part of Spain.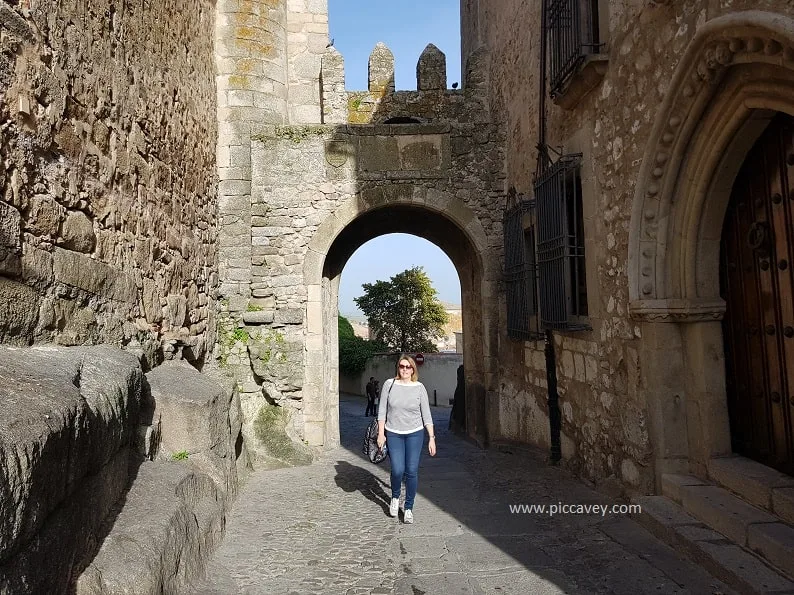 Trujillo Cheese Festival
Cheese is a big deal in Extremadura. They have some excellent local producers and a long tradition of cheese making. The best local one to try is the Torta de Trujillo. Winner in the World Cheese Awards, this creamy sheeps cheese is almost liquid. You can use it to dip crudites or breadsticks in, or to spread on top of warm toast.
In April/May 2023 the 36th Annual Cheese Festival takes place in Trujillo. This National Event celebrated on the Plaza Mayor hosts stalls, workshops and competitions. Each year over 100,000 people visit this delicious exhibition.
Beyond Trujillo
So I as mentioned at the beginning of this post, Trujillo was ideally located for my trip as I wanted to visit some of the UNESCO World Heritage sites in the area. My route was actually partially retracing the historic Ruta de la Plata. A ancient road from Andalucia in the South up to Northern Spain. Linking Seville to Astorga. Passing through Merida, Caceres and Salamanca. Places I would visit on this journey.
Extremadura has 6 UNESCO recognised points of interest in the region:
Archaeological Ensemble of Mérida
Cáceres Medieval city centre
Royal Monastery of Guadalupe
2 Biosphere Reserves: Monfragüe + Tajo National Park
Geopark: Villuercas-Ibores-Jara.
Day trips from Trujillo Extremadura
While I spent most of my stay in Trujillo as my accommodation was there. I got to visit other areas of Extremadura over the 4 day trip. Here are the highlights of those excursions. Although each location actually merits a dedicated article to cover the places in detail.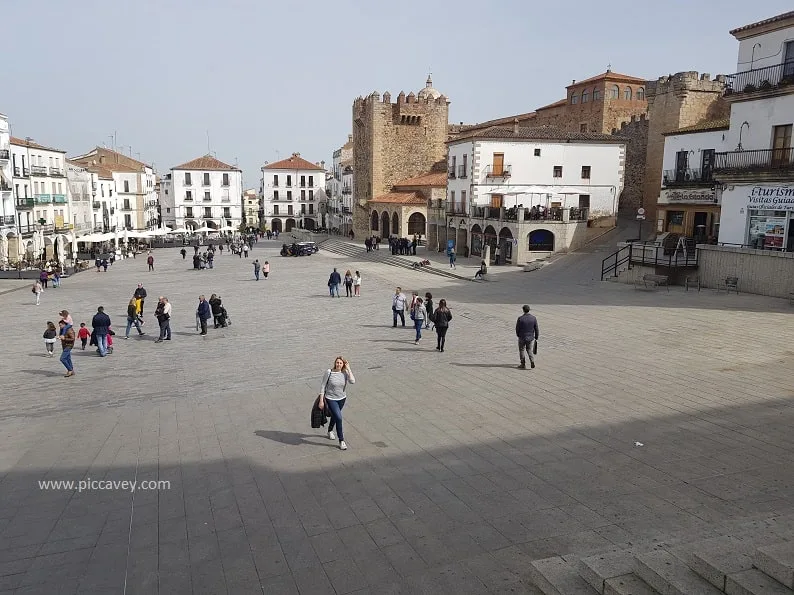 Caceres
If you are a regular reader of my blog, you´ll know that I collect UNESCO World Heritage Sites in Spain. So far I have seen more than half the ones in Spain. Not only is it the largest city in Extremadura with a population of 96000, the Historic centre of Caceres is also a UNESCO Site. So it was a must on my trip. In fact Caceres medieval streets were featured in Game of Thrones 7th season filmed as the location for King's Landing.
With 41 palaces, two jewish quarters, 30 BIC historic buildings and 1238 Heraldic shields Caceres has so much to offer those interested in history. The city has a similar layout to Trujillo. The 15th century Plaza Mayor is the central hub of Caceres. The departure point for official guided tours, home to the tourist office and also a prime location for restaurants and boutique hotels.
From Caceres you can head out to visit one of the local wineries. Extremadura actually has 250 bodegas and the region can grow 30 different grape varieties. Although it´s still relatively discreet on an international level. Extremeñan Wine is very good and known across Spain. So whny not book a Wine tasting in Caceres when you are in town?
Did you know that Extremadura is one of the best locations for Birdwatching in Spain? See Griffins, Eagles, Vultures or Cranes in this unspoilt region.
Merida
Although Mérida is the Capital of Extremadura, the population is modest at just under 60,000. It is home to the Temple of Diana built in the 1st century as well as other important Roman buildings. On arrival to Merida, the first impressive monument I visited was this temple. Afterwards I headed next door for lunch at De Tripas Corazon (Calle Romero Leal 15). A gastrobar with interesting propositions for lunch and a mid range price. I´d happily recommend it.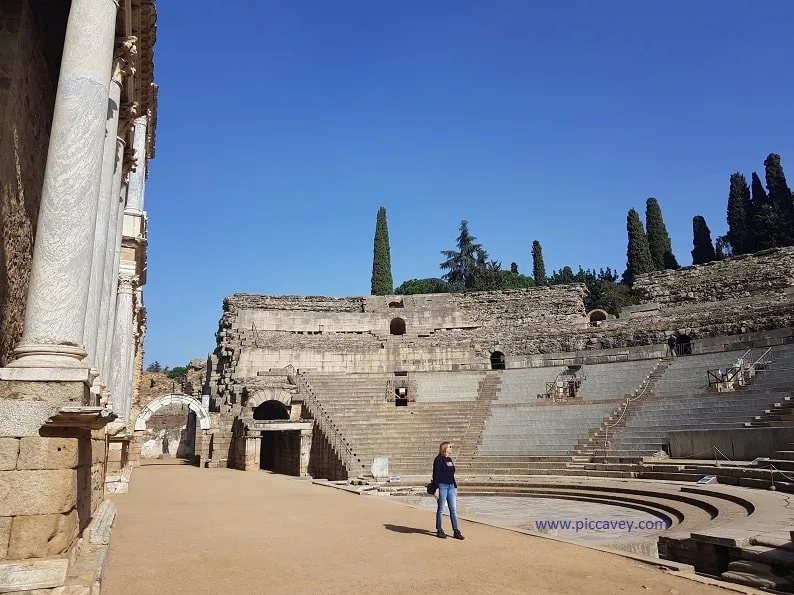 Merida´s Roman Theatre
After lunch I walked to The Roman Theatre of Merida. Built 2037 years ago. The theatre opened in 16-15 B.C. It hosts the annual Festival of Classic Theatre held every summer. The monument is huge and extremely well conserved considering its age. On site is a Roman theatre and a Roman Amphitheatre.
If you plan to visit in summer months, please take care as most of the visit is outdoors. You will need suncream, a hat and water. Try to visit as early as possible. My visit was in February, just look at that sky!
Also worth visiting is the National Museum of Roman Art which contains one of the best collections of Roman sculptures and mosaics in Spain. They are open from 10am daily and it costs 3 euros to go inside.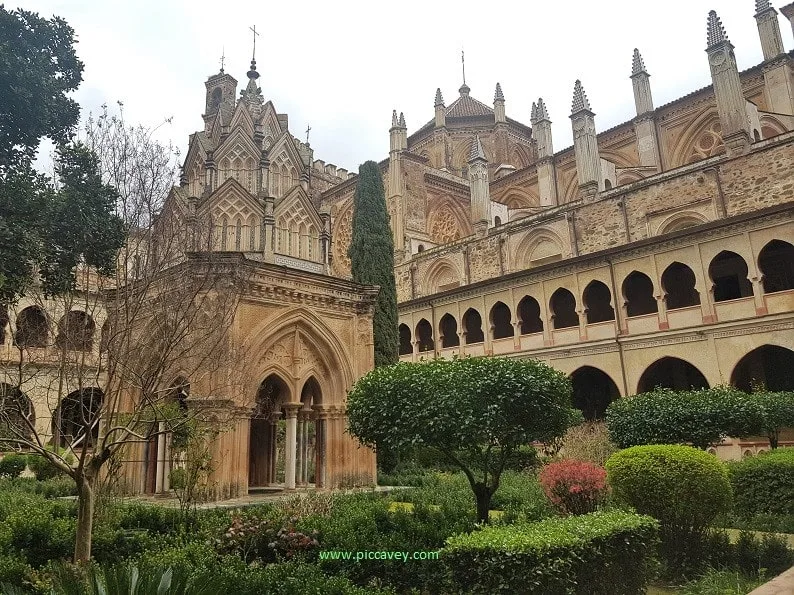 Guadalupe
The Royal Monastery of Santa María de Guadalupe is a UNESCO World Heritage site, but it is literally in the middle of nowhere. Set in the Extremeñan countryside, it takes 80 minute drive from Trujillo or 2 hours from Caceres. Make sure you have petrol (and water) for the journey as there are few services and villages in this part of the region.
The Monastery is a popular daytrip and can be busy on weekends. It was even visited by Isabel La Catolica (20 times in fact). Set in the a charming village of Guadalupe, the white washed houses and stone streets make you feel like you have travelled in time. (photo below) It is one of the Pueblos Mas Bonitos de España.
To visit the monastery, you can pay the entrance fee on the door and you are allocated a space in small tour groups around the building. They are in Spanish language. It takes just over an hour to visit inside. The main part of the visit is to see the Virgen of Guadalupe, but I really liked to see the 15th religious books in the last part of the tour.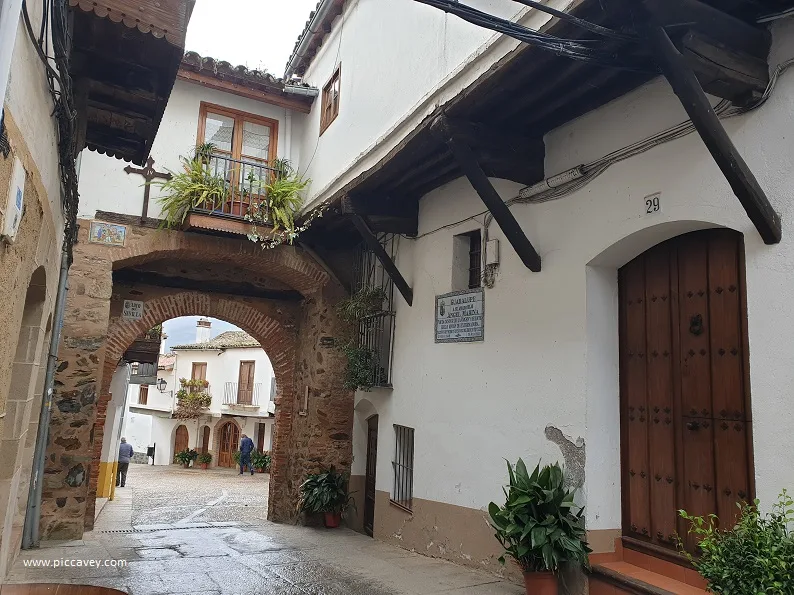 Parador de Guadalupe
If the remote location and quiet setting suits you stay over at the Parador de Guadalupe set in a 15th century building. This historically was the St John the Baptist Hospital and has a beautiful atmosphere to it.
Zafra
Another stop on my Extremadura trip was in Zafra, a city in Badajoz province with a population of 17,000. Often referred to a Little Seville, as the architecture looks like Andalusian style, due to it´s Muslim legacy. Founded in 1030, Zafra is chocolate box pretty with geranium filled plantpots, quaint squares and a fabulous Parador set inside a 15th century Palace.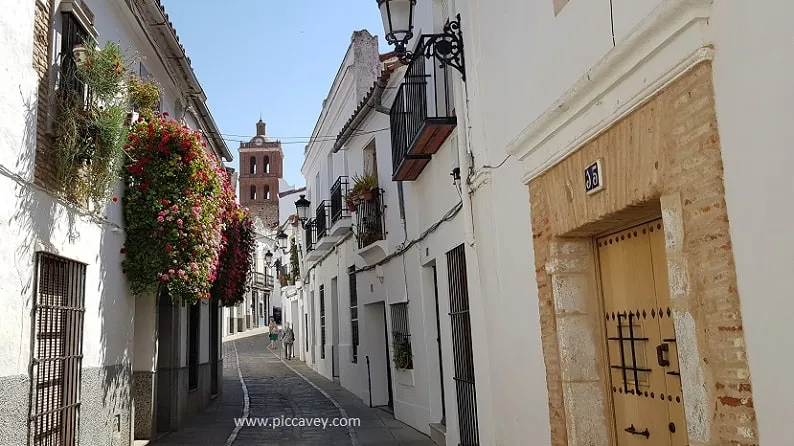 Exploring Trujillo Extremadura + Beyond
This trip was organised as a self drive route over 4 days with my base in Trujillo, due to its central location. You can also pre book this type of holiday Self Drive Extremadura Vacation or choose a tour where you don´t need to worry about the driving such as this one: 8 Days Tour Bright Extremadura
I have left many things in Extremadura to see for a future trip. Olivenza, Jerez de los Caballeros, the ham producers in Monesterio, Fregenal de la Sierra…..
Please Note: This post has been created as a partnership with Spanish
Tourist

Office + #slowtravelspain. All views are my own.
My website contains affiliate links, which means that if you click through and make a purchase, I will receive a small commission. As an Amazon Associate I earn from qualifying purchases. All thoughts, feelings and opinions shared on this blog and in this post are my own.