Travelling off the Beaten path in Spain. Here are 8 Destinations ideas to inspire your holiday planning in 2022.
As tourist destinations try to contain overtourism and people look for alternatives. There are so many #slowtravelspain destinations that are relatively unknown to international visitors. However they still have plenty of monuments, gastronomic delights and cultural attractions to explore. Often they are further away from the airport than other resorts. In Spain it may mean a 2 hour drive, but the roads are excellent and that extra effort will be well rewarded over your stay.

Off the Beaten Path in Spain
Here are eight locations in Southern & Western Spain that I have visited myself and can highly recommend: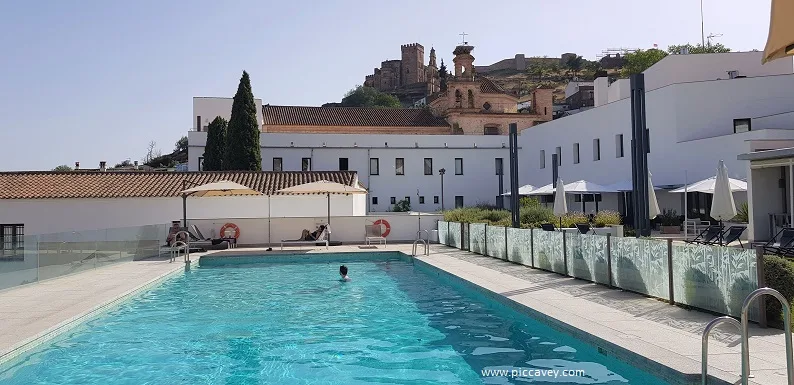 Aracena Huelva
Located between Seville Province and the Portuguese border. The province of Huelva is home to Strawberry and Iberian Ham producers. The capital of ham is around the Sierra de Aracena. In this area of Northern Huelva province the population density is low. 43 people to each km2 (compared with 4735 in Manchester UK)
With natural parks and lots of grazing land for the agricultural sector. There are also 173 species of birds in the area. Seeing the storks nests perched on high buildings always fascinates me in this area of Spain.
Aracena is a great location set in the Sierra de Aracena. I stayed at the Hotel Convento Aracena and loved every minute of it. This charming town is home to the Cueva de las Maravillas as well as many other architectural gems.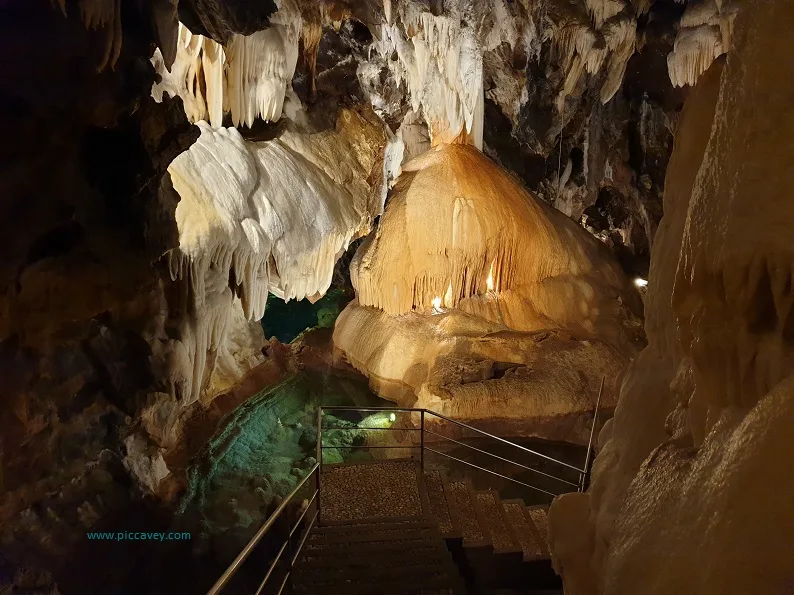 Trujillo Extremadura
Extremadura is next door to Andalucia but less known. The cities of Merida and Caceres are well worth visiting. But Trujillo is smaller and equally charming.
Trujillo´s population density is very low. 14 people to each km2 (compared with 4735 in Manchester UK). It is a walled town and has lots of historic sites. It is also listed one of the Prettiest Towns in Spain (Los Pueblos Mas Bonitos de España)
On a recent stay there I used Trujillo as a base to visit other monumental sites such as Salamanca, Caceres and Merida. We also saw lots and lots of storks everywhere too.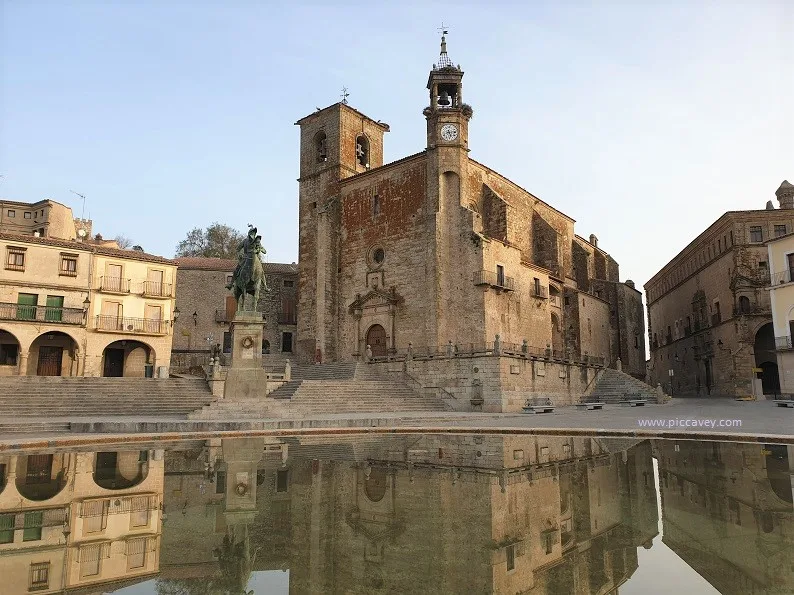 Guadalupe Monastery
The Plaza Mayor in Trujillo is a wonderful place to sit out in the evening with some local cheese and wine. Stay in the old town at the Parador de Trujillo . Wander up to the castle and enjoy the impressive views of endless Andalusian countryside.
Great places to eat in Trujillo are Restaurante Alberca or on the square at Medievo or Troya.
You can even take a car ride out to the increible town of Guadalupe. The Monastery here is a UNESCO World Heritage site. The village of Guadalupe is also charming with its streets with old archway entrances and whitewashed houses. (Photo at top of article)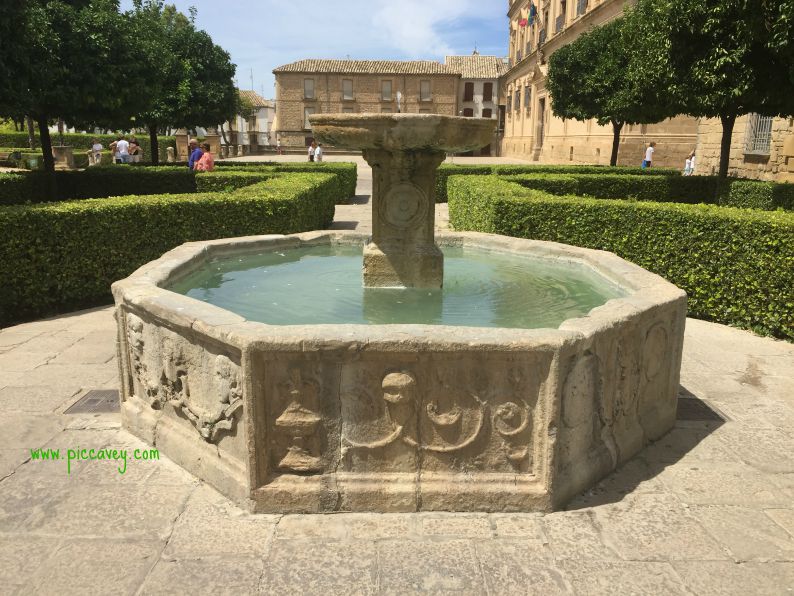 Ubeda, Jaen
The two inland towns of Úbeda and Baeza are both unspoilt and authentic. Completely surrounded by Olive groves. Úbeda´s population density is low just 86 people to each km2 (compared with 4735 in Manchester UK) The Olive tree density in Jaen s the highest anywhere in the world.
Úbeda is also the home to many examples of Renaissance Architecture, known as the Florence of Spain. Stay at the fabulous Hotel Palacio de Ubeda or the Parador of Úbeda. Both historic building with boutique style accomodation in the city itself.
Pottery in Ubeda
The Sinagoga del Agua is also a surprising find in this part of Andalucía. An ancient synagogue, now museum is a must see. Also in Ubeda dont miss the pottery workshop Alfareria Tito. Located on the Plaza del Ayuntamiento this local craft workshop is also highly recommended. In business since 1965 this ceramicist is one of Andalucia´s finest.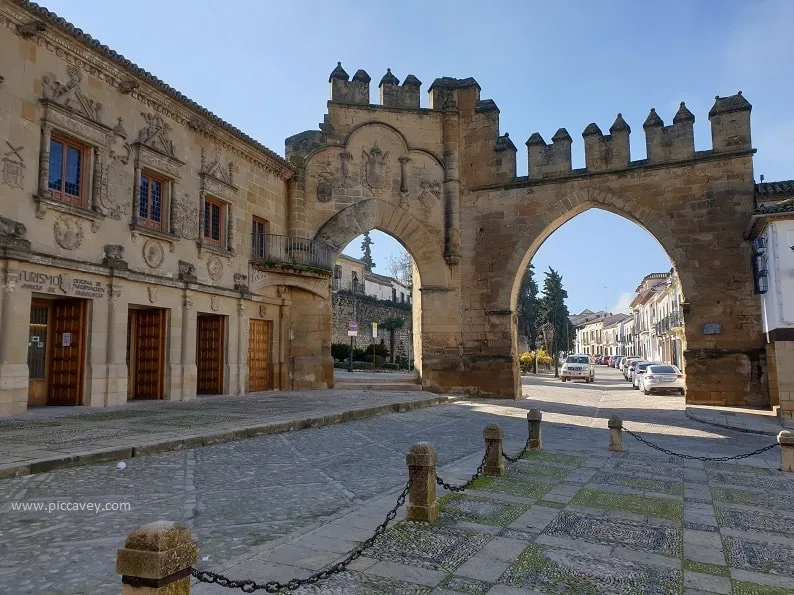 Baeza, Jaen
Baeza is a smaller town just a short drive away from Úbeda. It also has its own fair share of monuments to visit. Local gastronomy is great value and super fresh. As producers of Olive oil , this area also has great goats cheese and plenty of traditional bakes to try.
The photo above shows the Main Tourist Office in Baeza and the Puerta de Jaen, originally built in 1476. In both locations there is a tourist train which pulls in the main highlights of each town. But it´s best to walk around as they are not huge places and photo opportunities abound.
Best place to stay in Baeza is the charming Casona del Arco
Did you know that the province of Jaen alone is the places with the most Fortresses & Castles?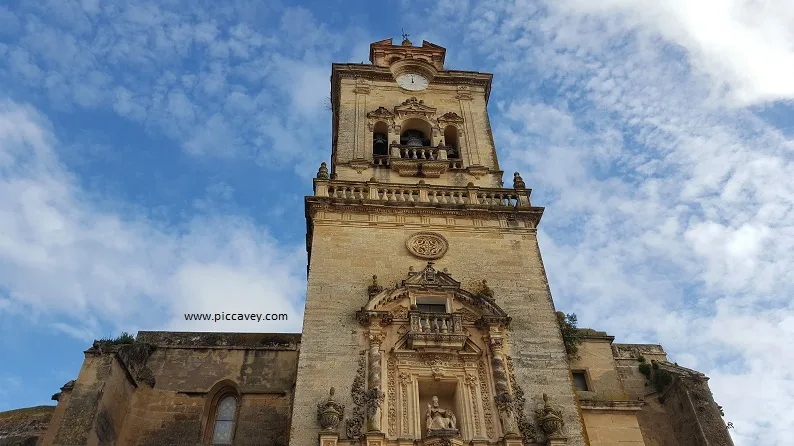 Arcos de la Frontera Cadiz
The sleepy hilltop town of Arcos de la Frontera is one of the white village of Cadiz Province. With a low population density of 59 people to each km2 (compared with 4735 in Manchester UK) you´ll feel like you have gone back in time here.
One of the most charming properties to stay in here is Hotel La Casa Grande. It fits in with the local architecture well. This town has lots of convents, churches as well as stunning views over the Cadiz countryside.
This town has lots of cobbled streets and its not great for cars. Park up somewhere and do the rest on foot. Its a great base to use to discover the other villages in Cadiz province too.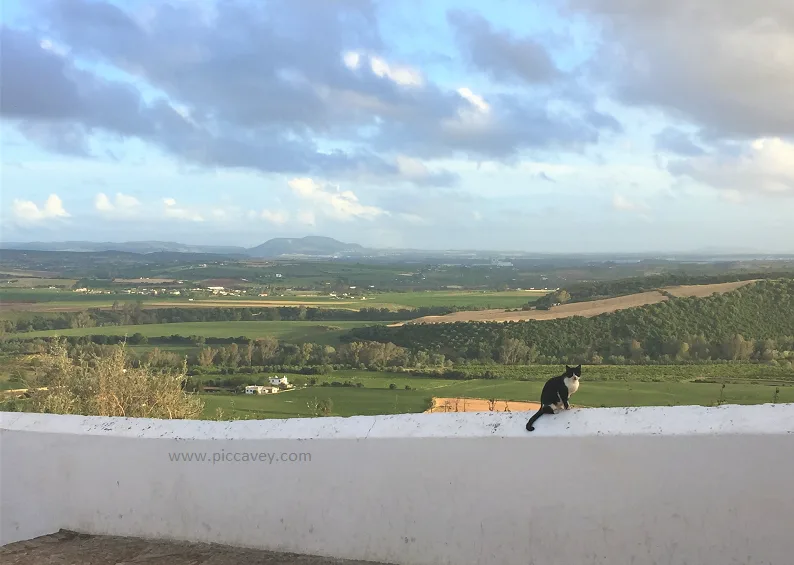 Antequera Malaga
Antequera has so much to offer. Recognised as a UNESCO World Heritage site, the old town has so many different monuments to see. There is also great gastronomy too. The Torcal is a fabulous place to enjoy hiking in a fabulous outdoor setting. But one of the main attractions are the Ancient Dolmenes of Menga Romeral and Tholos.
Again the population here is low with 55 people to each km2 (compared with 4735 in Manchester UK). There are plenty of Hotels in Antequera to choose from and locals are friendly.
This is well located in the centre of Andalucia on the main motorway so a good base if you want to discover outside the town itself.
Read more 48h in Antequera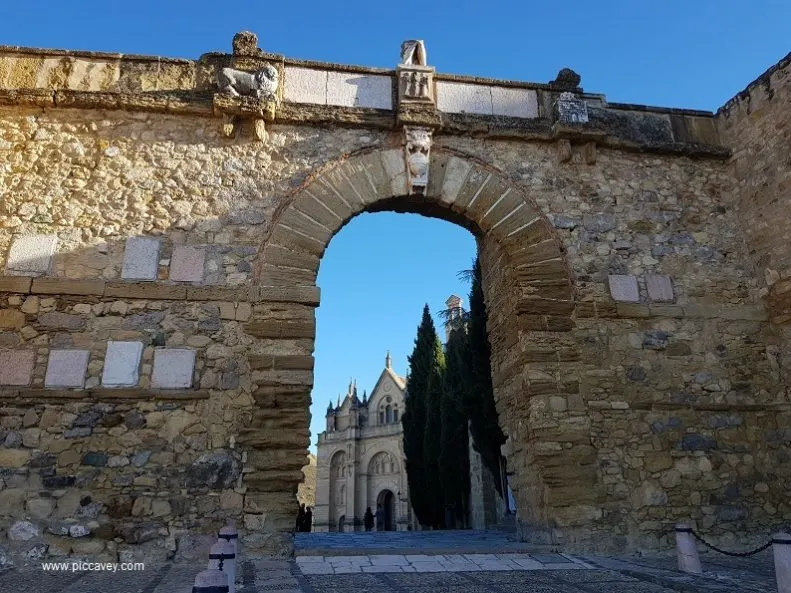 Ecija Sevilla
Known as the City of Towers, Ecija is a city between Seville and Cordoba. It's architecture is quite impressive with lots of convents and churches. Ecija is also home to lots of Roman ruins and relics.
The population density of Ecija is low with just 41 people to each km2 (compared with 4735 in Manchester UK). One of my favourite attractions in this Andalusian location the Palacio de Peñaflor. With its pastel façade and endless wrought iron balconies it reminds us of the grandeur of years gone by.
I stayed at Hotel Amphora which is a modern accomodation just off the main square. If you do manage to visit Ecija you must head over the to Convent to buy Bizcochos Marroquis, probably the best andalucian treat I have ever eaten.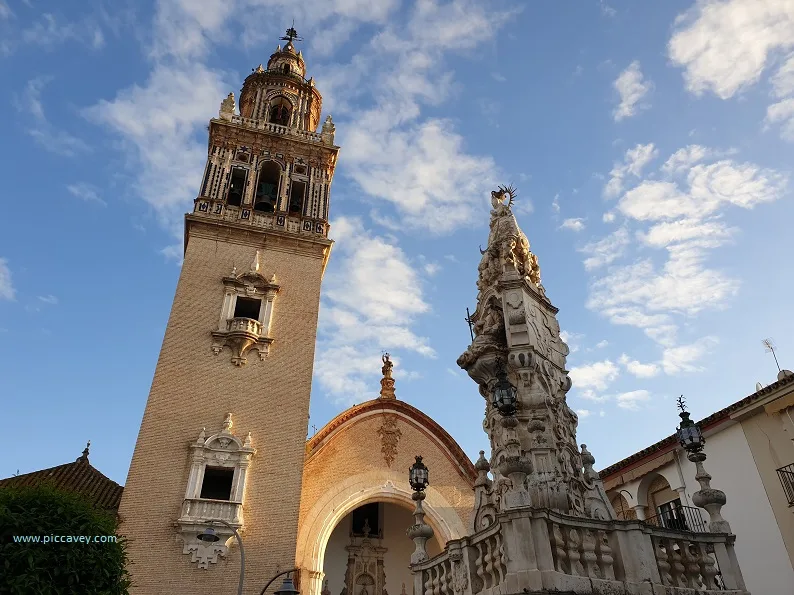 Priego de Córdoba
Somewhere between Granada and Cordoba lies the Olive growing town of Priego de Córdoba. One of the best times to visit is in Spring. They decorate some of the old town with colourful plantpots. Barrio de la Vila is the most authentic part of town.
Visit the 9th century castle and gaze out from the viewpoint-balcony called Balcon del Adarve.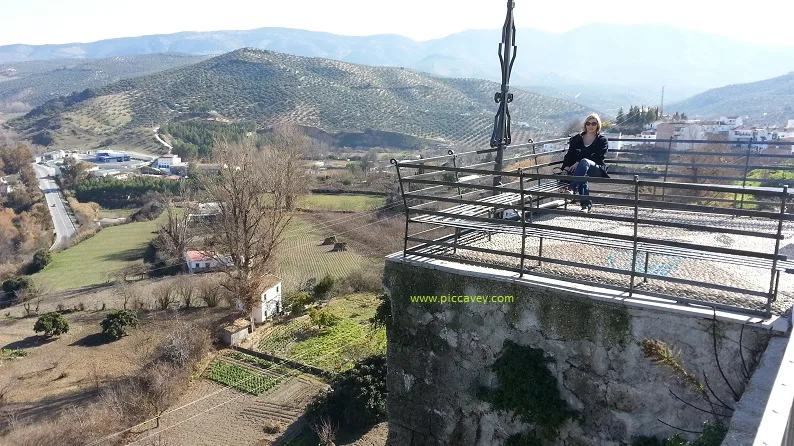 Subbetica Cordobesa
Priego while its a good size location the population density is still low with 78 people to each km2 (compared with 4735 in Manchester UK). There is an arab style bathhouse which is a perfect activity to soak away and unwind. Baños de la Villa.
Corpus Christi and Eastertime are important festivities in Priego de Cordoba as well as the Summer Feria in August. It´s is also a good base to explore the Subbetica Cordobesa and other charming villages of the region. Highlights are Zuheros, Cabra and Iznajar.
Great places to stay are the Villa de Priego de Cordoba or the cosy Casa Olea.
The Subbetica Cordobesa is a great area off in beaten path in Spain. Especially if you love hiking and great food.
Off the Beaten Track in Spain
Travel Resources to Plan Your Visit
Here are a few resources to help you plan your Spain itinerary: