Personalised City Map
At Mujumaps they print and customise poster maps for you. Choose your village, hometown or favourite travel destination. I have the city of Granada above my desk. But you could choose anywhere in the world.
They have different colours to choose from and ship worldwide. This is one of the best Expat Gifts. Being able to choose their birthplace and a new hometown to decorate their home office.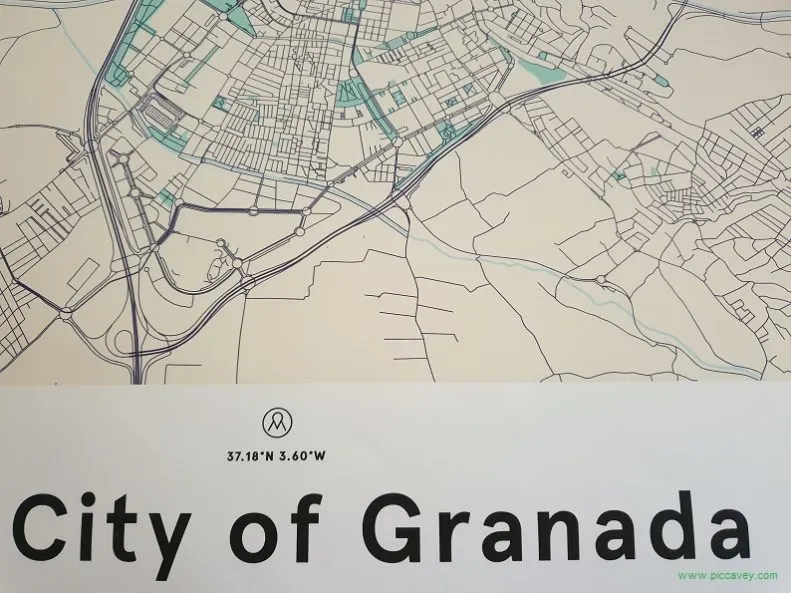 They have different colours to choose from and ship worldwide.Delivered in a roll shaped tube it makes an original gift for travellers and those missing their hometown.
Make the most of the promo code above that Mujumaps have shared with me this season.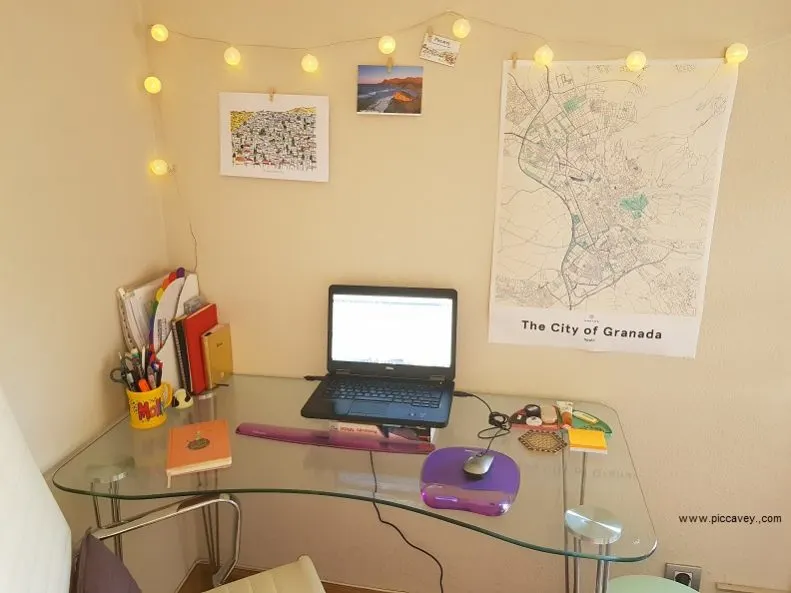 What is a vintage poster?
The posters that were created between 1880 and 1950. At this time the poster lived in a period of creative splendour and were very popular. This time was known as the Poster craze. A trend that rushed from France where it all began through to Europe and later on spread to the rest of the world. Thanks to the lithographic techniques that Jules Cheret introduced in 1870.
Rumorismo Travel have a selection of vintage posters (lithographs and Offset originals) The name is from the period from 1890 to 1950, although they also fit into the category of later posters, we really can consider them as vintage posters from the 60, 80 and 90´s. The word ¨Original¨ refers to the date of print. This date is the real date rather than a later reprinted version. Something that becomes more complicated with lithography as once the lithographic stone was worn down they couldn´t reuse it again.
Travel posters as a decorative element
Mireille Romand (from the International Vintage Dealers Association) says ¨Travel posters is the most desirable kind of poster¨ It is not unusual that the important publicity creations for classic airlines (PanAm, Air France, Bea y later on TWA) for tourist information offices, Cruise ships and hotels have always used the art of the poster to dress up the journey with exotic flair, glamour and exclusivity. The attraction of the undiscovered destination and the unusual cultures in a faraway place.
These important works were commissioned to illustrators such as Morell, Carlú, Guy Georget, Klein, or even by genius such as Dalí are perfect way to decorate in a unique way a tourist establishment. There is a variety of themes, destinations and holiday resorts, trains, planes, and ships… the best way to select the poster is to find the ones that are most associated to the hotel, or business. These pieces are currently within reach of most buyers but prices are rising as time goes by.
They specialise in this type of poster. The founder of the company is an expert in Tourism marketing and publicity. He was always attracted by any promotional images of tourism and travel posters vintage They are the best example of publicity as an art form.
How is the Price decided?
There are 6 things to take into account:
Print method: generally lithography from 1880 to 1950 uses this valued process that gives the poster a colour and texture incomparable, this make it usually increase in value. Posters from 1950´s to 1970´s use Offset photography techniques also can be extremely valuable due to their originality, of the name of the photographer, etc
Originality: to be valuable the poster must be original, meaning it must belong to the printing designed originally by the artist originally and for which they used lithographic stone faces.
Author: if the creator is a recognised artist (Cheret, Cappiello, Mucha, Morell, etc) the poster naturally becomes more valuable.
Theme: There are themes that traditionally are more valued than others. Travel posters (our area) and publicity, sport are generally more highly considered.
Rarity: Posters with a limited number (particularly during the World war) ; the rarer the poster then possibly the more it will cost.
Condition and conservation: Posters are graded from "A" to "D" according to their state (ranges from Optimum condition through to needing restoring).
Paper is a delicate material and it is important to conserve them well and if required protect them. Many posters are linen backed, which is done by adding a protective material behind the poster to hold it firm. I can be framed in this way too.
Let yourself be taken away by the power of these images. Defining the art of travel and the language of tourism. Images of places that remain today. Yet the ingenuity and power that these posters transmit vary hugely from today's publicity.
For bulk buy 10-20% discount can be negotiated on the final price.
Look through their catalogue and be inspired to decorate with a travellers theme.