I didn´t expect Tenerife food to be so different than the dishes we eat in Mainland Spain. Visiting Santa Cruz de Tenerife I was amazed by the food there. I have visited the Island several times now and the food never disappoints.
On a previous trip I got to visit Gastrocanarias. A gastronomic fair with Canary Islands produce in a large exhibition hall. Took a market tour in Santa Cruz, Tenerife´s capital. And on this recent trip in May 2022 I got even more insight into Canary Island food culture.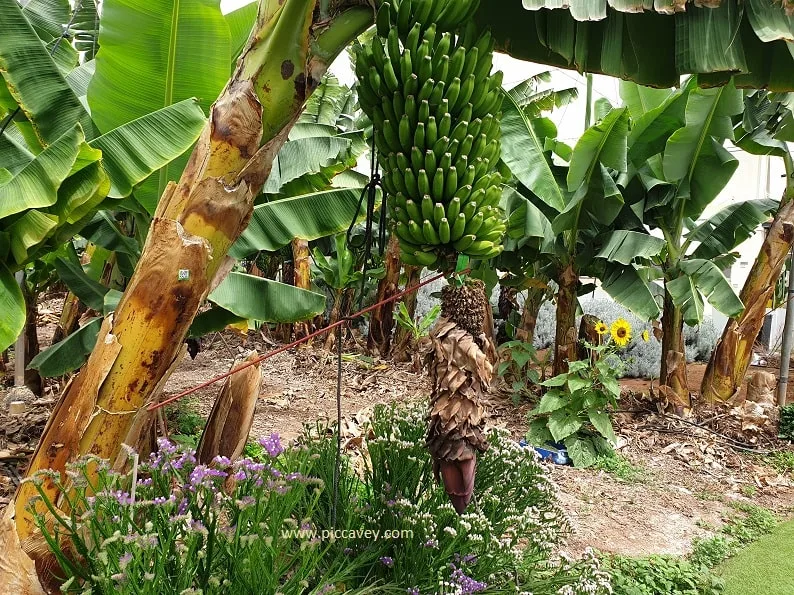 The Canary Islands are part of Spain. Located off the northwest coast of mainland Africa, in the Atlantic Ocean. It took 2 and a half hours to fly from Andalucia down to Tenerife. The plants and climate are quite different than Southern Spain. As soon as I arrived I noticed the lush vegetation and tropical plants everywhere. I noticed that on different areas of the island the weather altered quickly from one location to another.
So unsurprisingly the food is also different from food on the peninsula:
Typical Tenerife Food
On the Canary Islands the most typical foods are:
Bananas known as Platano Canario, smaller and sweeter than regular bananas.
Local Wine. Many grape varieties that are unique to this part of the world.
Honey, There are 13 different varieties on the Canary Islands. Avocado honey or honey from a local plant called Tajinase (Tenerife bugloss)
Cheese. Especially Queso Majorero made on Fuerteventura and Queso Palmero from Palma. Endless varieties of Sheep´s and Goats cheese made on the islands.
Mojo sauce.
Gofio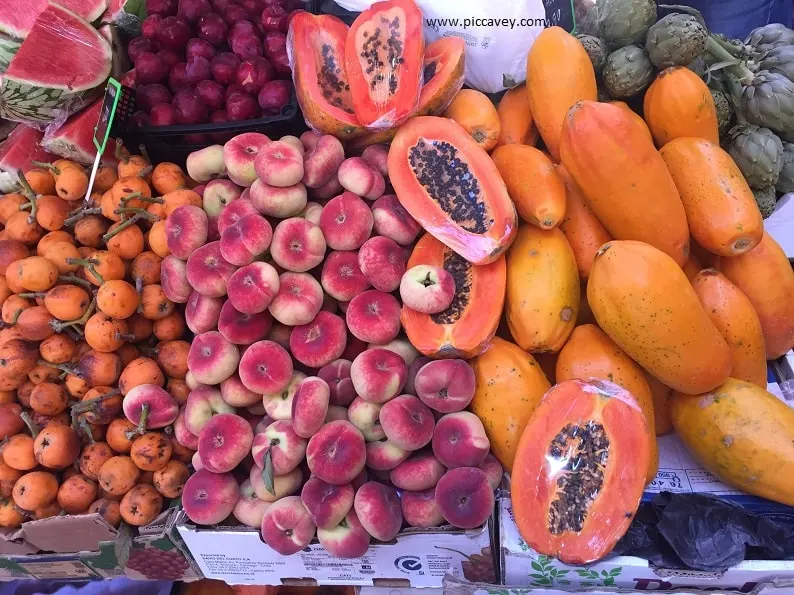 Potatoes.
Papaya and other tropical fruits.
Almogrote
Bienmesabe.
Dishes with lots of herbs and spices such as the Spiced Chicken: Pollo al salmorejo or Spiced Pork Adobo de Cerdo
Barraquito (a stripey coffee made with alcohol)
Almond based desserts such as Principe Alberto.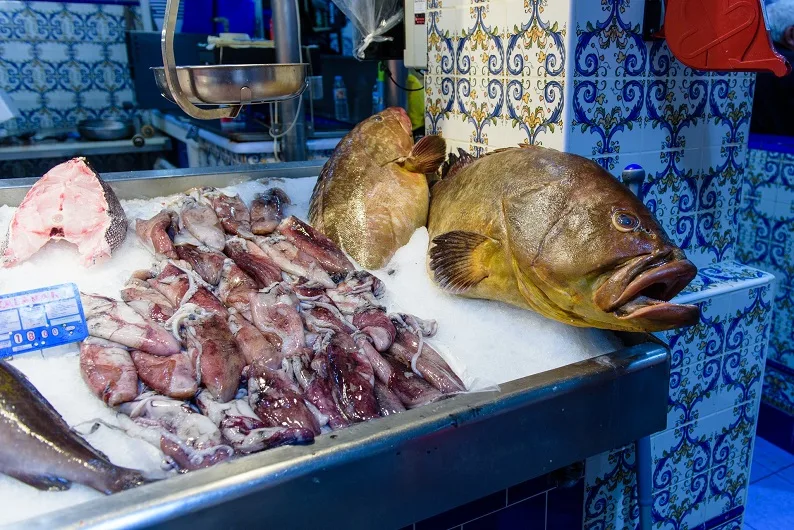 Canary Islands – Fish Varieties
Fish is a main ingredient in many dishes due to the coastal location of the islands. Local fish include
Mediterranean parrotfish (pez loro/ la vieja)
Grouper (mero)
Damselfish (damisela)
Sea bass (la lubina)
Sea Bream (el besugo)
Mackerel (caballa)
Boga (Megaleporinus obtusidens)
Parrotfish (pez loro)
Dentex (el dentón)
Atlantic Wreckfish / Stone Bass (cherme pez naufragio)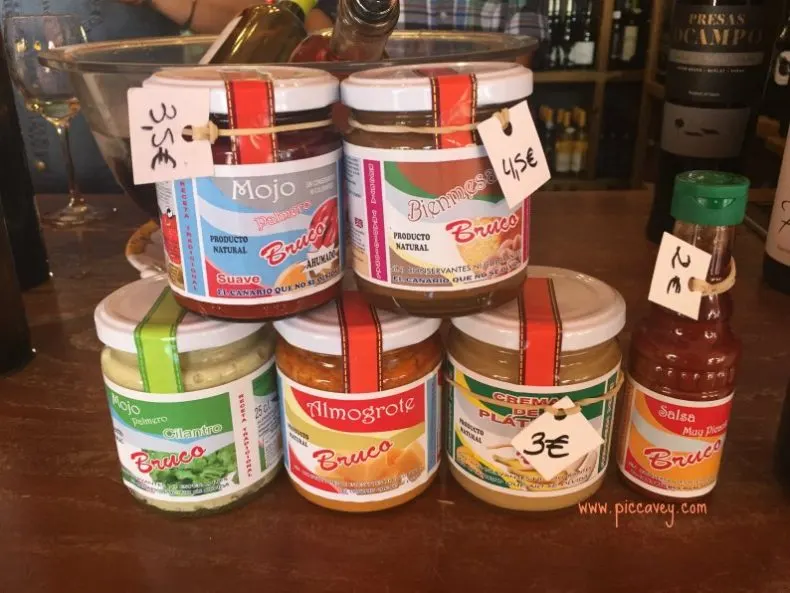 Local Dishes in Tenerife
The most typical local dishes come from the crops grown locally. For centuries they have grown on the islands crops such as potatoes, beans, tomatoes, bananas, avocado, papayas, corn and cocoa. Cheese Wine and Tobacco are traditional on the islands too.
Did you know that the Canary Islands are part of Macaronesia.
Macaronesia is a chain of Volacanic Islands in the Atlantic Ocean. Canary Island archipelago is part of this together with Azores, Madeira (PT) & Cape Verde.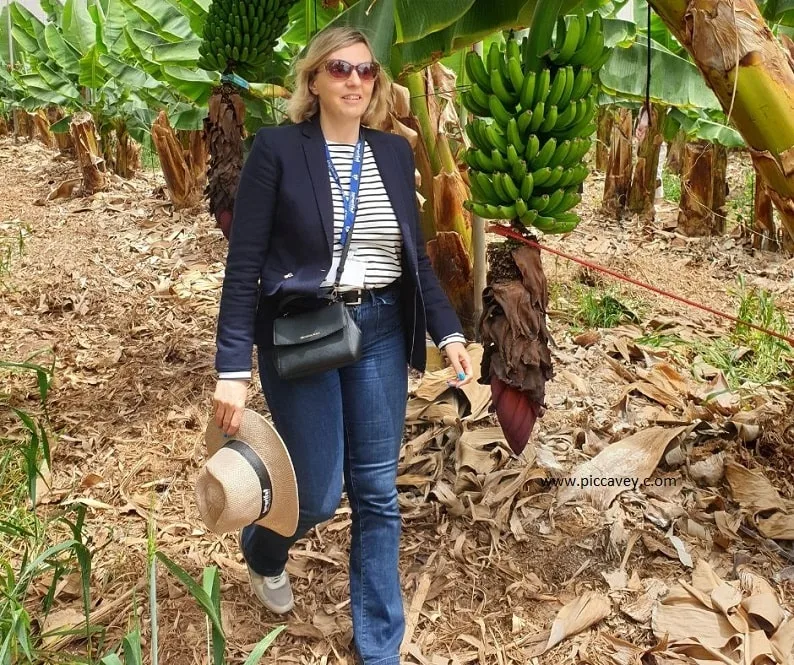 Platano Canario
Bananas also grow on Canarias. Known as Platano Canario they are sweeter and smaller that the South American banana. The Canary Island Banana accounts for 60% of European production. The fruit is of high quality when imported into Europe as there is less transit time than shipments from Caribbean countries. The specific vaierty is known to as Cavendish, Musa acuminata Colla.
Originally introduced to the Canary Islands from Equatorial Guinea by Portuguese Explorers. Canary Island platanos differ from bananas. As well as being slightly smaller, they have more minerals as they are grown in volcanic soil which improves the nutritional properties of the fruit.
Many Tenerife products are made from banana crops. They even have a Banana wine called Platé, Banana vinegar and jam too.
I visited Finca la Calabacera in Guia de Isora in the South of Tenerife. This impressive organic fruit producer cultivates 231.000 square metres of fruit and fresh produce. That´s as big as Grand Central Station in New York and three times as big as Buckingham Palace. As well as producing bananas (platano canario) they also grow papaya and other tropical fruit.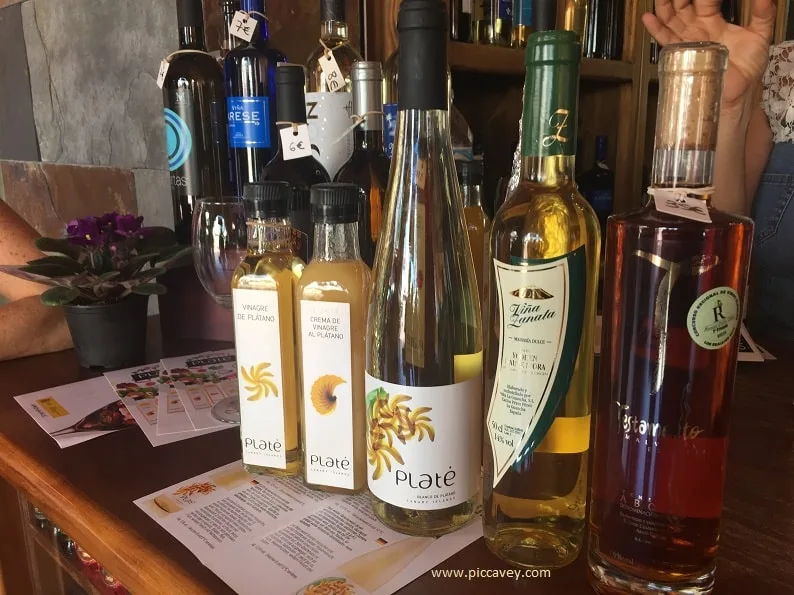 What is Mojo?
One of the most typical sauces is Mojo. This appears on most menus. It is also on sale in delicatessen shops and market stalls. Mojo comes in Red + Green varieties and is always served with the famous potatoes papas arrugadas.
This sauce is made from peppers, olive oil and garlic. It is not spicy and makes a tasty addition to cheese and potatoes. Another typical sauce is Almogrote. This red paste is a popular spread made of cheese and paprika. Often served with wine.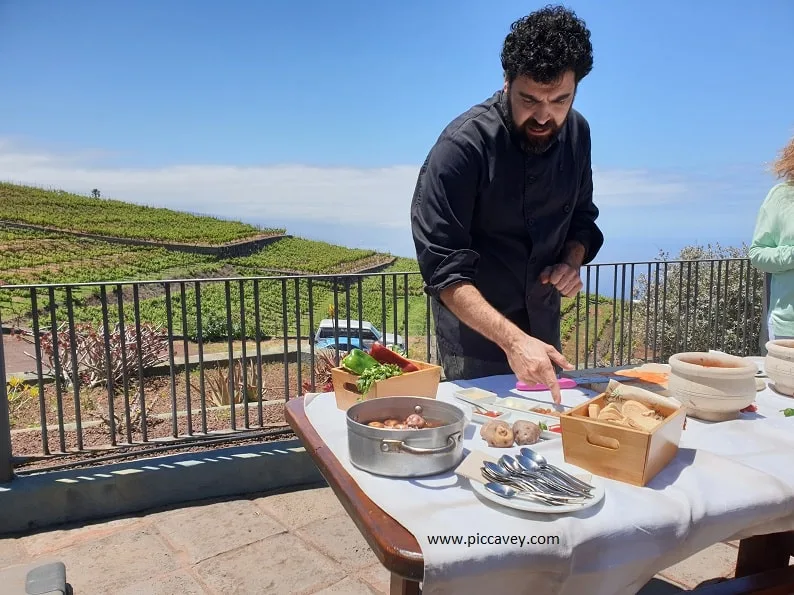 If you want to make Mojo sauce yourself when you visit Tenerife. Try Bodegas Monje: Lunch + Mojo Workshop as seen in the photo above. This traditional vineyard and restaurant is a perfect location to enjoy food with its sea views and delicious dishes. (Find out More about Bodegas Monje in the Wine section)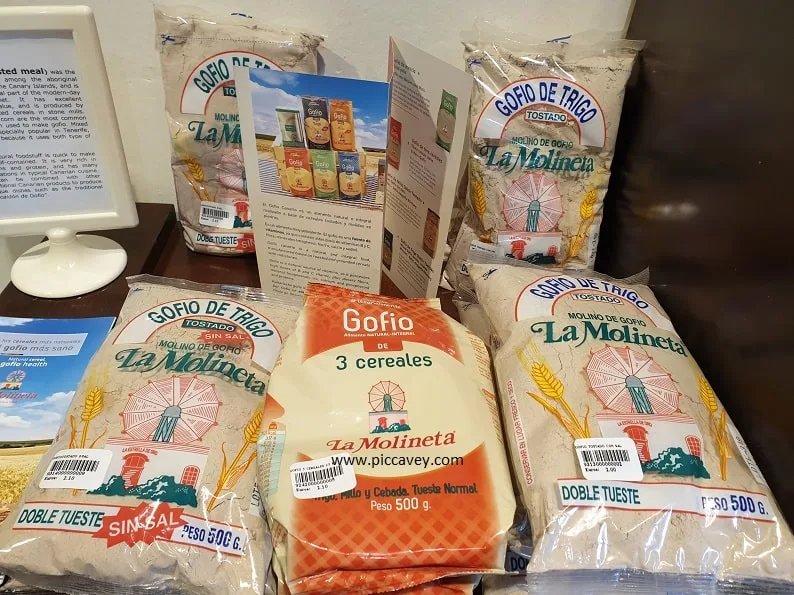 What is Gofio?
Gofio is a flour made from corn, wheat or other toasted cereals. This dish goes back a long way in history. The first settlers on Canary Islands used this as the main dish. Thought to come from the North of Morocco, these cereals have been grown for over 2000 years on the islands. Later in the 16th century new grains and cereals arrived to the Canaries. With the introduction of new food coming from overseas Gofio recipes were altered with new fusion and varieties.
Now you can get Gofio made with Millet, Wheat, Bran, Chickpeas, Corn, Blended, Spelt. To name a few, yet there is an endless list of varieties. It is used in dishes with meat and fish but can also be used in desserts. You also see it available for breakfast too.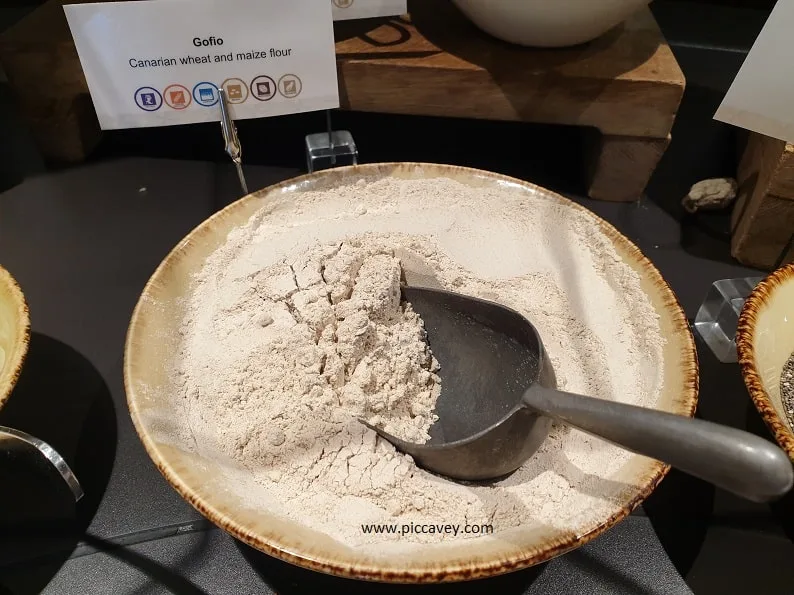 Sancocho canario
One of the most typical gofio dishes is a fish stew. It´s the islanders version of chicken broth. Appreciated as its thought to restore, as it´s packed with lots of protein and nutrients. The Sancocho canario is a fish dish where both gofio and mojo are served together. It´s even become popular in South America. In Latin American countries they call Gofio, harina tostada, (toasted flour) which is exactly what it is.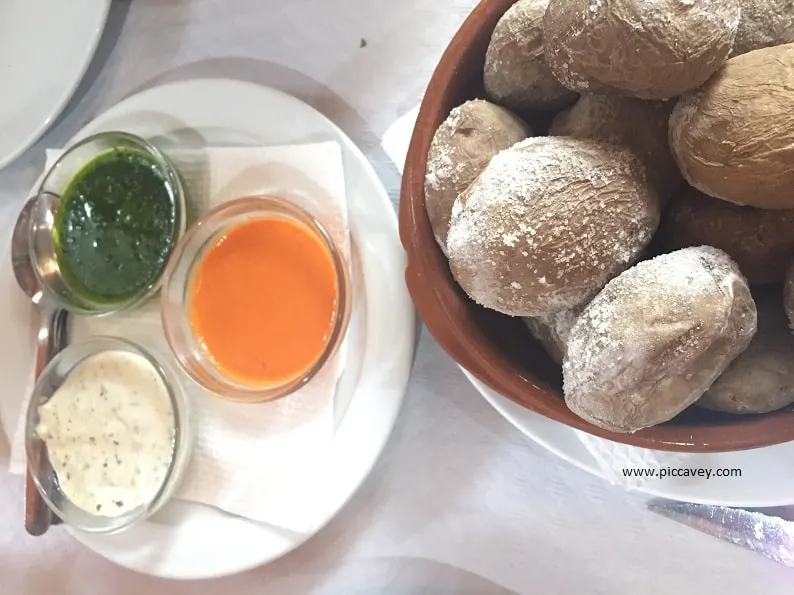 Papas arrugadas
Papas arrugadas are very typical and usually accompanied with Mojo sauce. The Canary Islands has different varieties of potatoes, it´s an important food for the Islanders. It was also an important crop as historically as it beat hunger centuries ago in harder times. Potatoes grown on the island are different from potatoes in other places due to the volcanic nature of the soil on Tenerife.
There are more than 40 varieties of potatoes produced on the Islands. Some have Denominación de Origen (recognition from Spanish government of high quality specific to a region). 29 of the potato varieties have been grown on the Canary Islands since 16th century. Most of the production is done on the Northern part of Tenerife.
Canary Islands Wine
The wine scene on Tenerife fascinates me as they have varieties that are centuries old and unique on the island. In Tenerife there are 5 recognized wine producing regions:
Tacoronte-Acentejo
Ycoden-Daute-Isora
Valle de la Orotava
Valle de Güímar
Abona
Tacoronte-Acentejon
The biggest wine producing area is Tacoronte-Acentejo in Tenerife. (Seen above) Not only exclusive to Tenerife, all the Canary Islands produce wine, in fact production has been going on for over 500 years. These vines are some of the oldest in European. Unaffected by the phylloxera blight in the 1800´s which devastated many European vineyards.
In Tacoronte I visited Bodegas monje where they produce three varieties:
Listán Negro (Red)
Listán Blanco (White)
Negramoll (Red)
Bodegas Monje is a family business producing wine since 1750. With an onsite restaurant, wine cellar, shop they also organize wine tastings and events too. As I mentioned earlier, they offer a Mojo workshop which is a fun way to learn about local cuisine when you visit.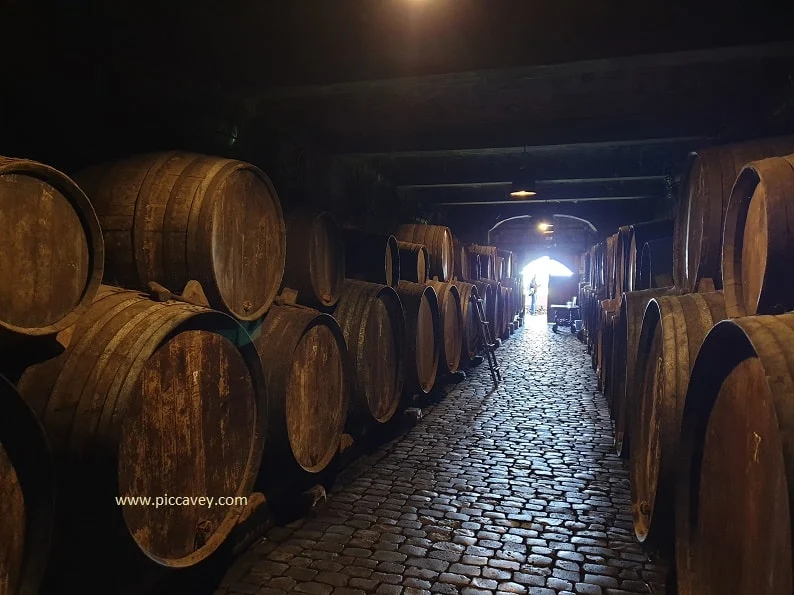 Arafo
Bodegas Ferrera are high above sea level in Arafo. Producing Listan Negro, Listan Blanco, Volcanic Malvasia and Aromatic Malvasia grape varieties. Most of their production is white wine, accounting for 80% of their bottles. Ferrera is an organic wine producer.
Situated at 1000 metres above sea level, this producer been in wine prodcution since the 1940´s. Founded by Tomás Ferrera, he initially walked up the steep inclines with his mule everyday. Tomas built dry stone walls in the fields perched high above the town, creating this unique vineyard in the Valle de Güímar.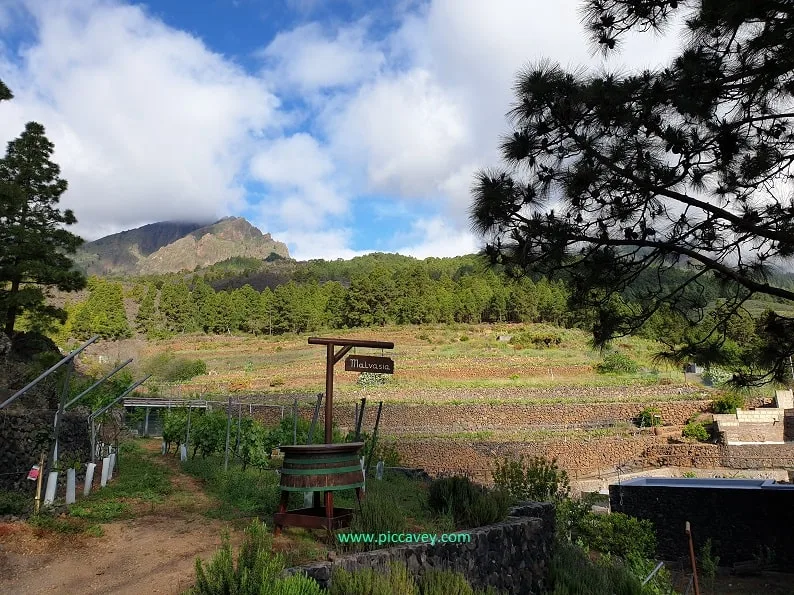 This area suffered a volcanic eruption during 2 months in 1705. So the land on this site is volcanic, making it an interesting place to visit with it´s usual landscapes.
The varieties in bold are autocthonous to the island. The varieties that they grow are:
Listán Blanco de Canarias, Malvasía Aromática, Albillo Criollo + Vijariego Blanco – Whites
Malvasía Rosada, Moscatel Negro + Listán Negro – Rosé
Vijariego Negro, Tempranillo + Syrah – Reds
Tenerife Food Tour
On my previous visit to Santa Cruz, I took a Market tour with Tenerife like a local
Santa Cruz market is El Mercado de Nuestra Señora de África. Built in a colonial style it´s a wonderful place to explore. Although I was completed in 1944, it´s not that old it is so charming. I got to taste different cheeses and wines on some of the stalls.
Other foods which are typical in Tenerife are Honey, fish, Cheese, papaya and other fruits, Barraquito (a stripey coffee with liquor 43) Bienmesabe and Almond based desserts such as Principe Alberto.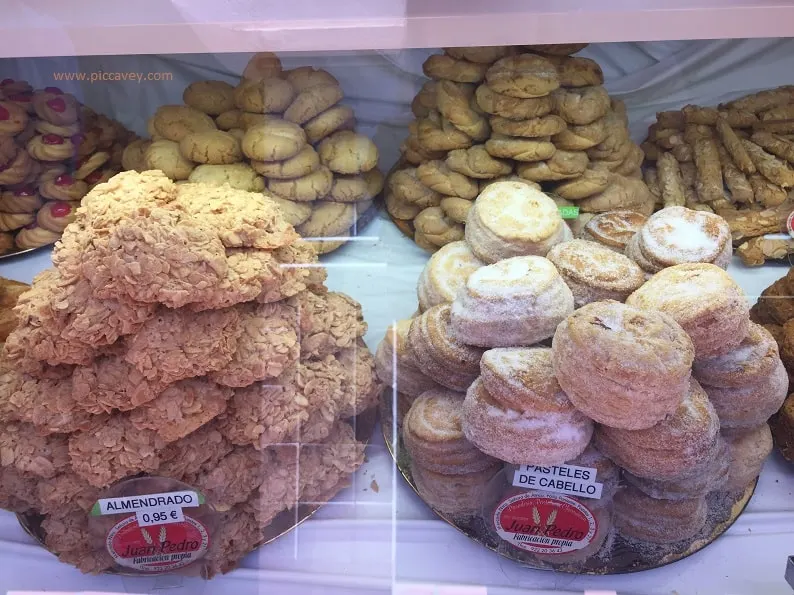 Santa Cruz Food Market
After seeing the different parts of the market we had a challenge to do. The idea was to go shopping and buy typical Tenerife food ingredients. In our teams we would cook the most traditional recipes ourselves later that morning.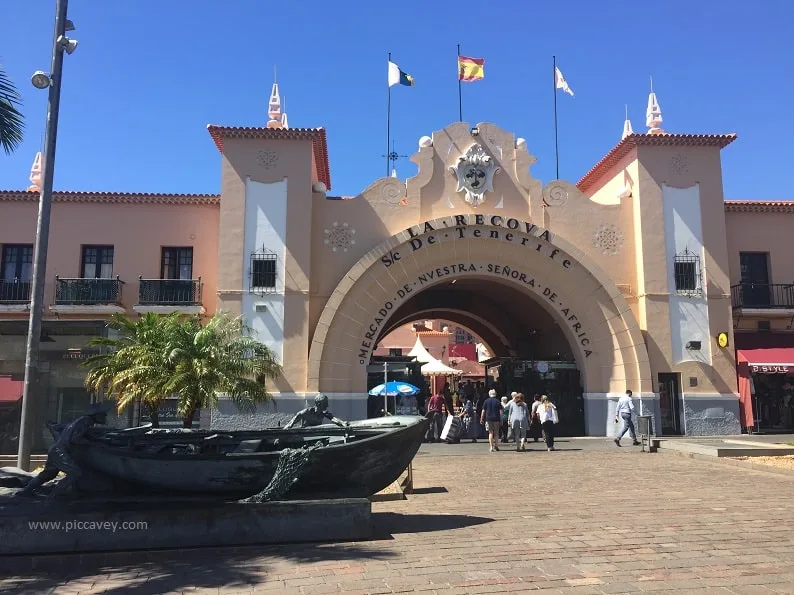 This was a fun activity and great for anyone whether you are into food or not. It´s good to enjoy an interactive experience rather than just observing. There are so many things to do in Tenerife, its not all about the beach.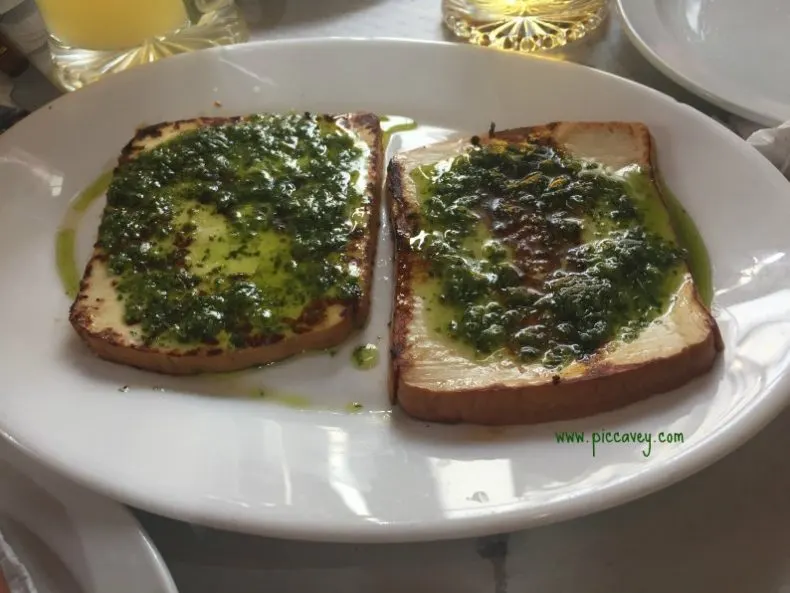 Where to eat in Tenerife
Bodegón Viana – A typical place to enjoy Tenerife food in La Laguna. Here I enjoyed baked cheese with green mojo, Carne fiesta, fried pork with herbs and papas arrugadas. Calle Viana, 35, San Cristóbal de La Laguna
La Huella Café-Bistro– A smart restaurant in the centre of Santa Cruz de Tenerife. The menu del dia (Midweek set menu) costs 11 euros. Calle Pérez Galdós 3, Santa Cruz de Tenerife.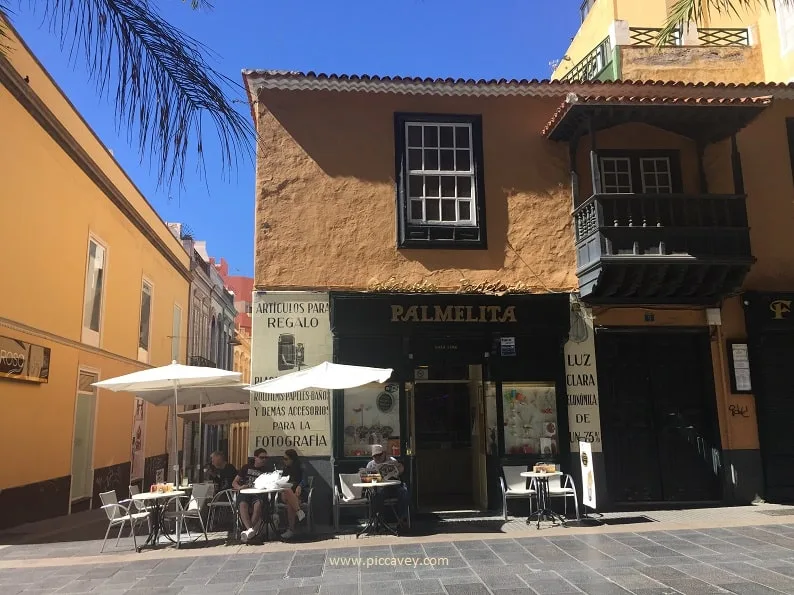 Palmelita – The sweetest café serving cakes, ice creams, coffee and more. Located in an old building with vintage tile adverts on the façade, it´s been operating since 1968. On the main street Calle Castillo in Santa Cruz de Tenerife.
Strasse Park – A smart chilled out place, located next to the municipal park in Santa Cruz. This new restaurant offers brunch, cocktails and great food. A smart stylish setting surrounded by lush vegatation, you certainly feel like you are in the tropics when you are here. Find them at Parque García Sanabria, Rambla de Santa Cruz.
Bar Concepción – This quaint little bar has outdoor seating and is next to the Concepcion Church tower in Santa Cruz. They offer a Midweek menu and is also a nice spot for wine and sharing plates in the evening. I enjoyed the honey drizzled aubergines topped with Manchego cheese. They are at Calle Antonio Dominguez Alfonso, 4, Santa Cruz de Tenerife
In La Orotava you can visit La Casa de los Balcones a historic Tenerife manor house with pretty wooden balconies. Enjoy your visit with Lunch with a glass of local wine included.
You may also like this Foodie tour in Malaga or to discover more on Street Food in Granada
Tenerife Resources
While you are visiting Tenerife don´t miss some of the best attractions and experiences.
Please Note: This post contains affiliate links, which means that if you click through and make a purchase, I will receive a small commission.
All thoughts, feelings and opinions shared on this blog and in this post are my own.