Small in size but packed with a plethora of cultural, political, historical and natural attractions. Belgium is a European country to put on your travel bucket list this year. Usually left aside as a tourist destination in favour of its larger neighbours such as Germany or France. Many tourists planning a trip to Europe limit their itinerary to the Belgian border with barely a passing glance through Brussels or Bruges.
However, many travellers don´t know what they are missing when it comes to Belgium. Divided between Dutch-speaking Flanders in the north and French-speaking Wallonia in the south. Each region has lots of interesting places to visit. It´s compact size makes Belgium an ideal country for a road trip. It's one of the best ways to explore it and see its hidden gem all at your own pace. Renting a car is super easy and most roads are in perfect driving condition. And you can always purchase an insurance policy for your rental car like this one to ensure that you can enjoy a super safety trip.
Are you ready to plan your trip to Belgium for 2022? Here are the unique places that you shouldn´t leave out:
Brussels: Charming Capital City of Belgium
Brussels is Belgium's capital city and a beautiful location to visit, explore and enjoy. It's also the political capital of Europe and home to some of the most important institutions of the European Union. Like the European Parliament or NATO headquarters. Thousands of tourists flock to the city every year to admire its gorgeous palaces and ancient architecture, beautiful sculptures and unique museums and art galleries. Belgium is famous for its delicious waffles, exquisite lace and tasty chocolate, its warm and welcoming atmosphere will make you fall in love with the city as soon as you arrive!
Le Grand Place
Located in the centre of the country, Brussels will probably be the starting point of your trip around Belgium. One of the best places to get to know Brussels is its central square or Grand Place. On the square is the exquisite City Hall, the King's House, and other historical buildings from the XVII century. It's a UNESCO World Heritage Site and you can easily spend lots of time admiring the views.
While in Brussels, look out for the city's most iconic landmark: the tiny statue of a boy urinating called The Manneken Pis. It's close to the Grand Place and you'll probably find lots of tourists snapping pictures of it! If interested, you can head to the City Hall to see a huge collection of traditional outfits that authorities from different countries gave to Brussels city as gifts throughout the years.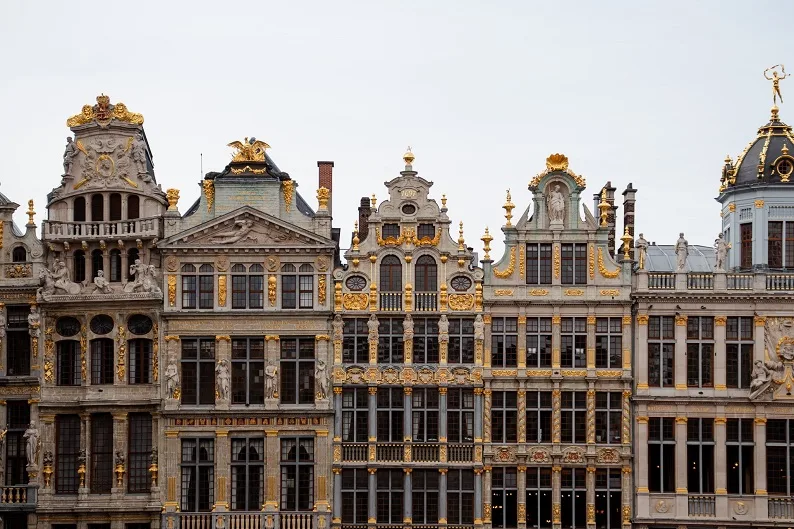 Museums in Brussels
Brussels is a city that won't disappoint you. Whether you want to sip on a coffee in one of the terraces in the Grand Place, stroll around the elegant shops in the glass-roofed Galeries St Hubert arcade or wander around the Royal Palace, there is something for everyone to enjoy. It's a city that stands out for its stunning architecture.
From the opulent baroque townhouses and guild houses in the Grand Place to the Gothic town hall and the impressive buildings in Art Nouveau style designed by Victor Horta. The city is also the birthplace of Georges Remi, the creator of Tintin. If you are a fan of its comic strips, don't miss the Brussels comic book mural tour. It's also home to the futuristic Atomium, an iconic landmark that you can climb up from the inside and admire great panoramic views from the top.
Brussels is also home to an interesting array of history and art museums. Amongst the ones that you shouldn't miss we can mention: the Royal Museums of Fine Arts, the
Musical Instruments Museum, Magritte Museum, the Military History Museum, the Museum of the City of Brussels, the Cinquantenaire Museum and the Horta Museum.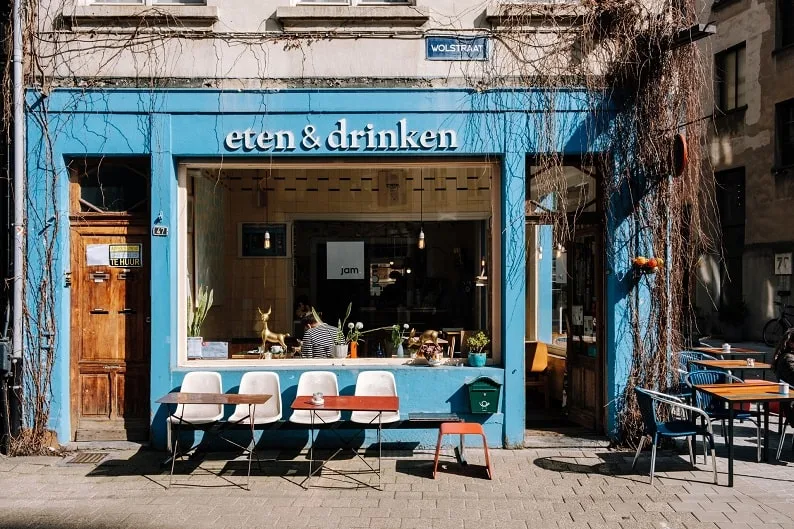 Antwerp: City of Diamonds
Antwerp is a small gem in the Flemish region but it's called the "diamond city" mainly because of the diamond industry that has developed here. It's a picturesque city that can be easily explored on foot; the alleys of the historic centre are lined with monuments of remarkable architecture.
It's the second in size and the largest Belgian seaside city. It is located on the banks of the river Scheldt and the North Sea and it's one of the largest seaports in the world. It seduces visitors with its interesting combination of high fashion, vibrant nightlife scene and picturesque mediaeval Old Town.
Dutch Golden Age
Antwerp is also known as Belgium's creative city as Rubens or Van Dyke created many of their masterpieces. So much so that today visitors can visit Rubens' home and studio at the Rubenshuis and view his works. You can admire works by Rubens and other Flemish artists at Antwerp Cathedral. The Plantin Moretus Museum is also worth a visit; it's the home of bookbinder and printer Christoffel Plantin and where the original King James Bible and world atlas were published. Needless to say, no trip to the city would be complete without exploring its famous Diamond District, where more than 70% of the world's rough diamonds are traded.
If you want to explore Antwerp, its Central Station is a great place to start as it's really beautiful. Then, go to Queen Astrid Square, which is famous for its galleria of jewellery stores. The Het Steen, City Hall, the Cathedral of Our Lady and the fantastic MAS Museum aan de Stroom, whose roof is an observation deck, are only a few fascinating places you can admire here. You can't miss the interesting central square in the Old Town. There, apart from the ornate Gothic cathedral there is the MoMu, Antwerp's dynamic Fashion Museum. The Royal Museum of Fine Art Antwerp is another interesting museum to visit, especially if you like art. If you have a sweet tooth, you can't miss the Chocolate Nation, where you can learn about Belgian chocolate and, of course, sample it!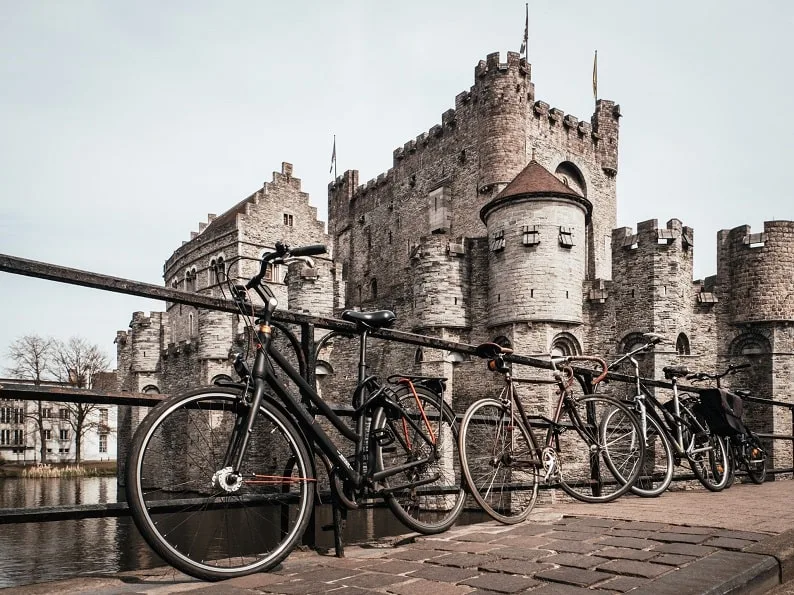 Ghent: Belgium's Hidden Gem
Ghent is a Flemish city that was a prominent city-state during the Middle Ages and an important hub in Western Europe. Although since then it has been eclipsed by other European and Belgian cities, this often overlooked gem should definitely be in your bucket list. It's now the fourth largest city in the country and has a flourishing flower export trade. Located only 50km away from Brussels, it is situated at the confluence of the Leie and Scheldt rivers.
This cosy town seduces visitors with a charming blend of scenic nature, architectural masterpieces and modern buildings. There are lanes, canals lined up with beautiful buildings, many of which are included in the UNESCO World Heritage list. It rivals Bruges for its concentration of beguinages, Gothic churches and cathedrals. It´s city centre is fully pedestrianised and bikes and trams course along its cobblestone alleys.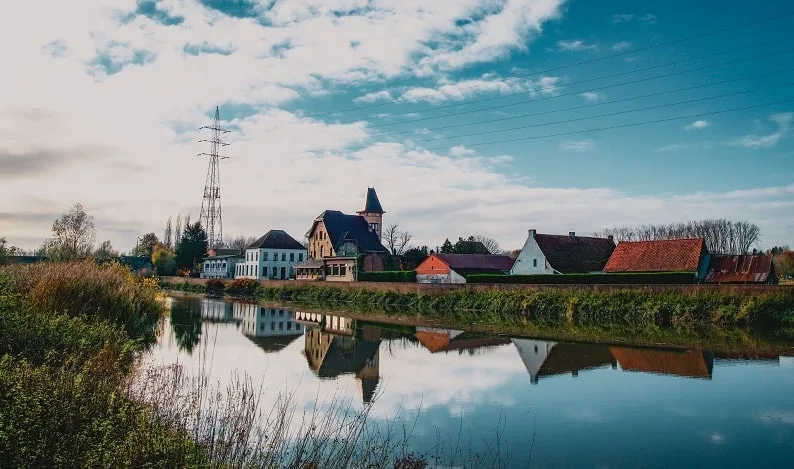 Gothic Architecture
Home to a large university campus that attracts thousands of students every year.After strolling through its medieval streets, head to Castle Gravensteen or Castle of thebCounts, a grim X-century castle that reminds us of the darker side of the Middle Ages and where you can see an exhibition of torture artefacts. Climb to the rooftop to admire great panoramic views. If you'd like to enjoy more stunning panoramic views of the city, head to the 15th century Ghent Belfry, next to St Nicholas Church in the main square.
Afterwards, a riverside walk will take you to STAM, the city museum where you can learn about Ghent's growth from a watery archipelago in Viking times to a modern trading hub. Visiting St Bavo's Cathedral is another highlight you can't miss. Take your time to admire The Adoration of the Mystic Lamb, the altarpiece which tells the story of Christ's sacrifice. Within its elaborate frame, an angelic choir sings, saints and sinners rather round the lamb with its half human face, and hills in the background are dotted with spires and towers.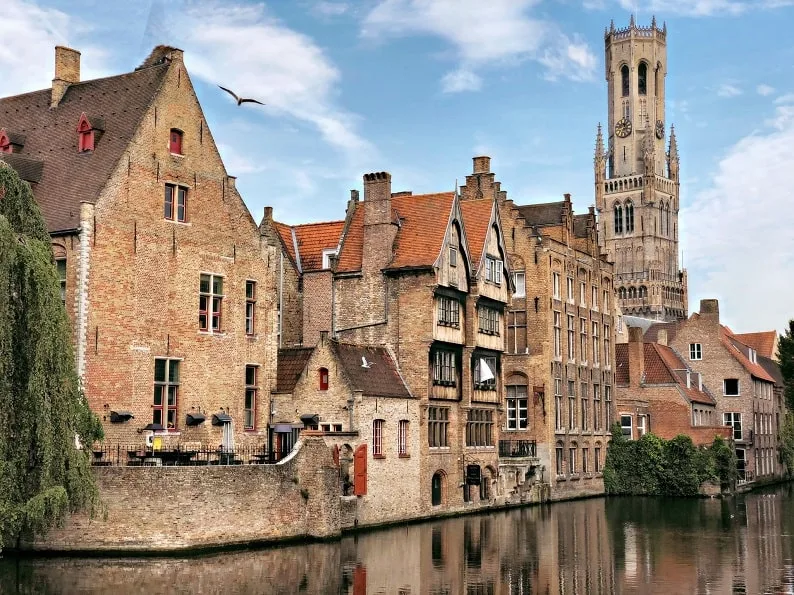 Bruges: Belgium's Charming Mediaeval Town
The charming mediaeval town of Bruges often ranks amongst the most beautiful cities in Europe. Thousands of tourists come to Bruges to stroll its cobblestone streets, its picturesque canals lined with Gothic churches, lace boutiques, charming flower markets and a lovely atmosphere. It's an ideal city to explore on foot or by boat, to get different perspectives of this beautiful town.
Anyone visiting Bruges can't help falling in love with it. Known as the Venice of the North, it's undeniably appealing with its distinguished canals, large squares and soaring towers. Located in the Flemish region, most tourists visit the district of Brugge Centrum. The Grote Markt square and Belfort van Brugge bell tower can be found here. You can climb this 83-metre-structure and enjoy wonderful panoramic views of the city and its surroundings.
Architectural Favourites in Bruges
Bruges is a haven for architecture lovers. The Church of Our Lady deserves a special mention. Inside, you can appreciate the worldwide known marble statue of "Madonna and Child" by Michelangelo. The tower of the church is 115 metres in height and it's a pleasure to see. Admire the elegant St Sebastian's Archers Guild building, St Anne's Church, the Provinciaal Hof and other city attractions. If you're interested, head to Kant Centrum to view the process of netting real lace. It's located near the Museum of Folk Life and you can stay for a workshop if you want.
Are you looking for a romantic spot get a memorable photo? Go to Bonifacius Bridge with the city lights reflecting in the water. The Burg, Bruges second main square, is another great spot for exploration. It's flanked by the city's most impressive architectural ensemble mainly represented by the Stadhuis and the Bloed Basiliek (Basilica of the Holy Blood, named after the holy relic which has been here since the Middle Ages).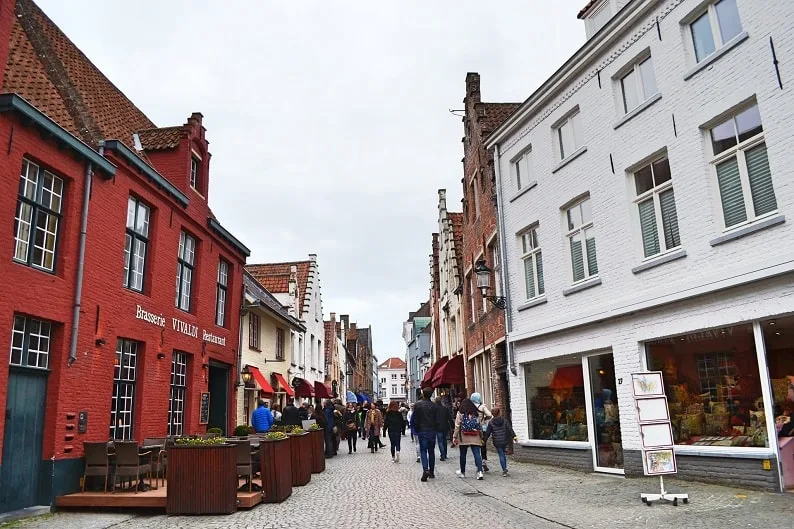 There are also quite a few interesting museums to discover here. The Groeninge Museum is home to one of the finest samples of early Flemish paintings from Jan van Eyck through to Hieronymus Bosch and Jan Provoost. There are also 20th century pieces by Paul Delvaux and Constant Permeke.
The Basilica of the Holy Blood is probably the most interesting monument to visit. Its mix of Romanesque and Gothic styles are impressive, as well as the relic kept inside the upper chapel. It's said to contain a drop of Jesus Christ's blood and was brought back to Belgium after the Second Crusade. The interior of the church is exquisitely decorated in gold. Another popular landmark in town is the Church of Our Lady, which is the second tallest brickwork building. It features Michelangelo's famous sculpture of Madonna and Child as its altarpiece.
Leuven, a Beautiful University Town
Leuven, or Lovaine, is another charming must-see Belgian city. Tempting visitors with an interesting range of historical and cultural attractions. For example the Grand Beguinage, the stunning Gothic Stadhuis and the Old Market Square. Located on the banks of the river Dyle, close to Brussels. It's a lively university town that can be easily explored in a day or two. It's home to the oldest catholic university in Belgium and home to the world famous Stella Artois beer.
Visitors can't miss the Stadhuis and the adjacent XV-century St Peter's Church, one of the country's best preserved examples of Brabant Gothic architecture. Its choir and
ambulatory are home to a museum devoted to religious art. In which some of the finest Flemish paintings illustrating biblical scenes can be admired. The Unesco-listed Groot Beginjhof was a beguinage from the Middle Ages, a convent-like community for widows and religious women, and its tight web of cobbled alleys, narrow bridges and red-brick gables is definitely worth exploring.
The Groot Begijnhof's residences now accommodate professors and international students and it's not strange to find lots of university students gravitating every evening around the Oude Markt, enjoying a coffee or a beer at any of the terraced bars or cafés there.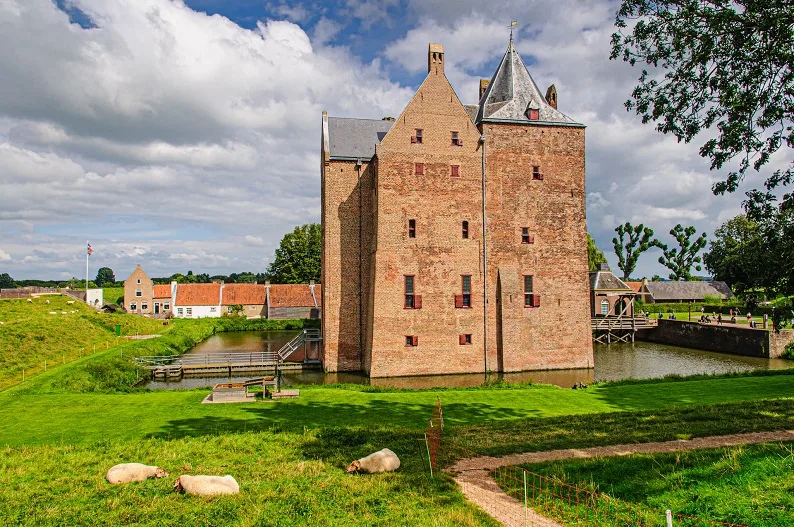 Stella Artois Brewery
Once you've wandered around the Old Town, visit the University Library for its stunning reading hall, informative museum and superb tower views. If you like beer, go on a taste test at the Stella Artois Brewery. Situated on the fringes of Leuven and now serving as a University campus, the magnificent Kasteel van Arenberg gives visitors an easy glimpse into the world of Belgian castles, chateaux and fortifications. It's easy to reach on foot as it's only a 20-minute walk away from Leuven's historic city centre. An excellent collection of local art and crafts is housed at the M-Museum Leuven. As well as exhibits that include art from around the world, dating from classical times to the present.
Liege: A Must-Visit Location
Liege sits along the banks of the Meuse river; it's the cultural capital of Wallonia and the birthplace of Emperor Charlemagne and writer Georges Simeon. There are plenty of historical and cultural attractions to see here. Built in the X century, the Palace of the Prince- Bishops is a must-see, housing both the provincial government and the law court. Other highlights include the oldest and largest Sunday market in the country and the mediaeval collegiate churches. The city is also home to various fine art museums and galleries.
Wallonia Region
Liege is the largest city in the region of Wallonia. Tourists flock to the city attracted by its delicious gastronomy and proximity to the Belgian countryside. As well as the Dutch city of Maastricht. Your visit to the city won't be complete without exploring the orchards of the Coteaux de la Citadelle. If you love car racing, take a trip to Spa-Francorchamps Formula 1 racetrack.
Saint Paul's Cathedral, built in the XV century, is a must-see for its Gothic architecture and collection of treasures. The Palace of the Prince-Bishops, mentioned before, is also worth visiting for its fantastic Gothic and Renaissance design. The impressive structure features a grand court enclosed by 60 columns with richly ornate details such as grotesque masks and fantasy human figures. Le Grand Curtuis museum is worth visiting for its archaeological treasures all housed in a XVII century mansion. Art lovers should spend some time at the Musée des Beaux-Arts.
Enjoy Namur and its Castles
Namur is the capital of Wallonia and it's only an hour away from Brussels by train. It's a charming city perfect for walking and people watching. Wherever you look you see lovely tea rooms, antique storefronts and cosy cafés. The must-sees include Felicien RopsMuseum, Namur Citadel, Museum of Ancient Namur Arts, the Museum of Groesbeeck deCroix and the Chateau d'Annevoie. The region of Namur boasts plenty of fairytale castles that everybody can visit.
The Castle of Veves is particularly striking. With its spooky dungeons and six needle-shaped towers that date back to the early 1400s. Perched on a hill overlooking the village of Celles, it looks like a fairy-tale castle! The Castle of Annevoie dates from the XVIII century and thousands of tourists visit it each year to wander its beautiful gardens filled with waterfalls
and fountains.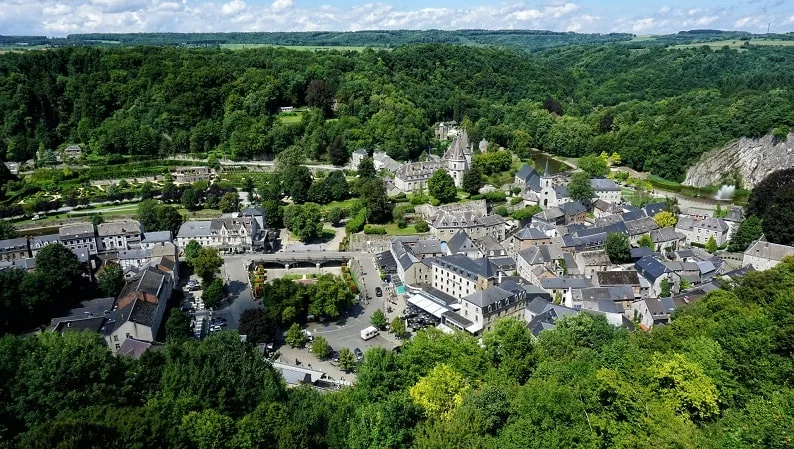 Castle of Lavaux-Sainte-Anne
The most famous castle, however, is the Castle of Lavaux-Saint-Anne, which consists of an eccentric moat encircled series of domes containing three separate museums and a collection of stuffed animals. The fortified city of Namur is famous for its sprawling mediaeval Citadelle that crowns the hillsides above the river Sambre. More than a thousand years old, it remains one of the largest fortresses in Europe and comes complete with oodles of escape tunnels and bulwarks. After exploring this complex, stroll Namur's Place du Vieux Marché with lots of cosy cafés and Belgian bars.
Unique Places to Visit in Belgium in 2022