Where is Priego de Cordoba?
This Andalusian city of 22,000 inhabitants is located in the Subbetica Cordobesa. South of Madrid yet in the Northern part of Andalusia, Priego de Cordoba is between Cordoba (90kms away) Jaen (70kms) and Granada. (85kms away).
Closest Airport: GRX Federico Garica Lorca Airport in Granada.
Well known for its World Class Extra Virgen Olive Oil, it is not so familiar to the international tourist. However there are many points of interest worth seeing in this corner of Cordoba province. An ideal location for Mountain biking, horse riding and walking as the surrounding countryside is perfect for it. Priego de Cordoba is one of the cities on the Caliphate Route. Named as a Major Cultural Route by the Council of Europe due to its historical importance to Spain.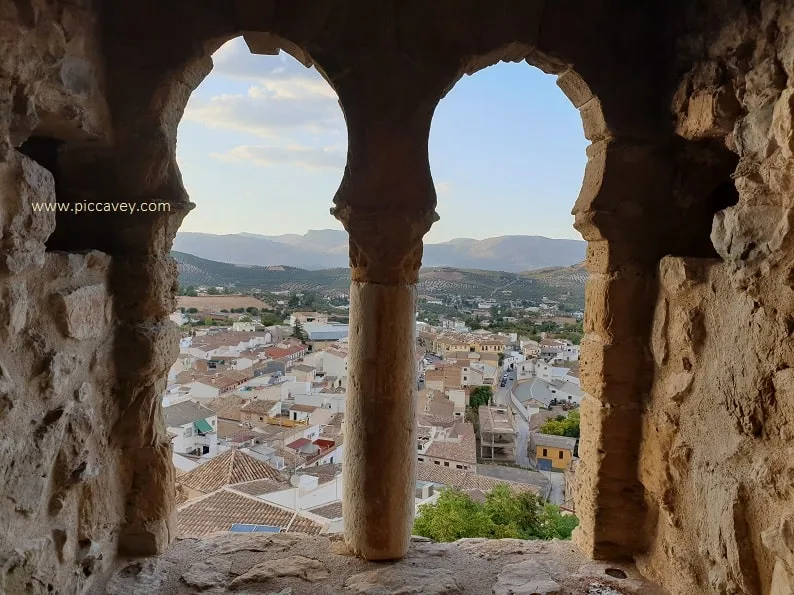 Main Sights in Priego de Cordoba
The most important monument in Priego de Cordoba is the Castle. Built in the 9th & 10th century, it has a square watchtower and solid surrounding walls. The castle is open to visitors. When you climb up the tower steps, you are rewarded with this view. (photo below) from the rooftop. From this vantage point you have a 360º perspective of Priego itself and the surrounding landscapes. There are a few different exhibitions inside showing you how Priego would have looked centuries ago.
Located at Plaza de la Constitucíon, you can visit in the morning from 10am to 2pm and afternoons from 4.30pm to 6.30pm. (it´s closed Monday afternoon)
If the city wall had still remained this would link the castle to the Balcon de Adarve. (Photo at top). This viewpoint is a balcony on the end of the main street looking out over the countryside. The impressive views reach high above the gorge below. Historically this has been a strategic advantage for the town as invaders or attacks could be see from far away.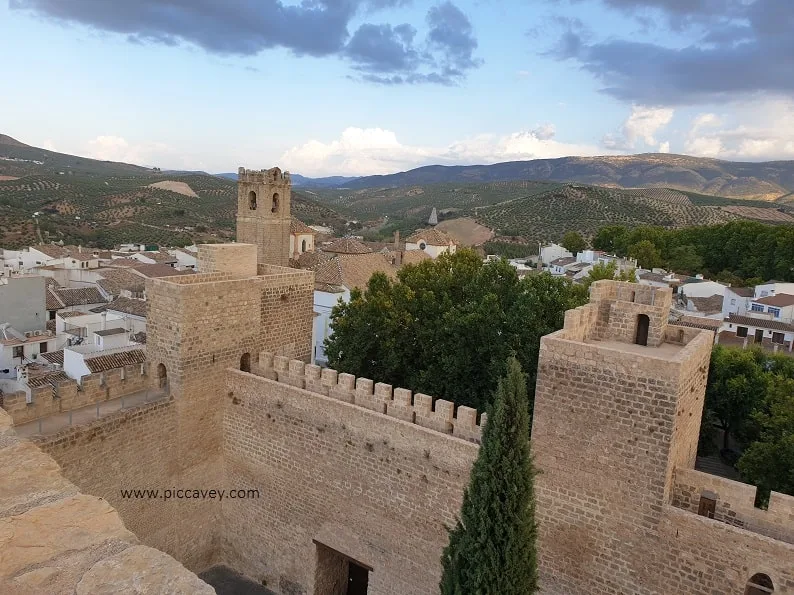 Barrio de la Villa
Although the castle is impressive, my personal favourite are the quaint streets of the Barrio de la Villa. This quarter has winding streets and tiny squares. All decorated with pink and pink geraniums, religious figures and ceramics on white washed walls.
Stock up on local treats and souvenirs at La Casa de Tomas store tucked into a little nook on Calle Jazmines. They sell the sweet treat Turrolatte which is typical in Priego. Made with almond nougat and a coffee flavour, these little treats are small but calorific. (They even make a sugar free version)
Also worth visiting is the Arab Baths in Barrio de la Villa. The Casa Baños de la Villa is a small Hammam style baths with three pools. Your booking includes a 15 minute massage included in the price (27 euros per person). The session lasts 90 minutes. The contrasting temperatures between pools and relaxing atmosphere are a welcome tonic. Especially after lots of walking around. Find them on Calle Real, Priego de Cordoba.
They are also a hotel that you can stay in to be at the heart of the Barrio de La Villa: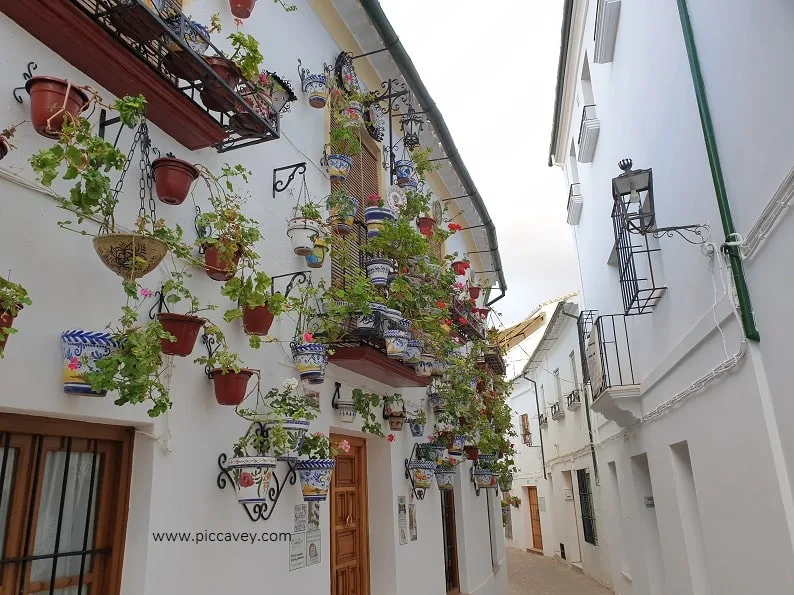 Best Olive Oil in the World
Olive oil is of huge importance in this region of Spain. Priego has actually been given its own denominational label or DO. The Extra Virgin olive Oil uses the best olives and has a characteristic strong flavour. Each year the Olive Oil´s produced in this part of Andalucia win and rank in the top 10 Olive Oils in the World. The local varieties grown in Priego de Cordoba are Picudo and Hojiblanca.
Don´t miss the Potato Chips/Crisps Patatas Nicasio which are made with this excellent local Olive Oil. Find them in local shops in their pretty lilac bags. You can even get them online if you want to buy them from abroad: San Nicasio Crisps with Pink Salt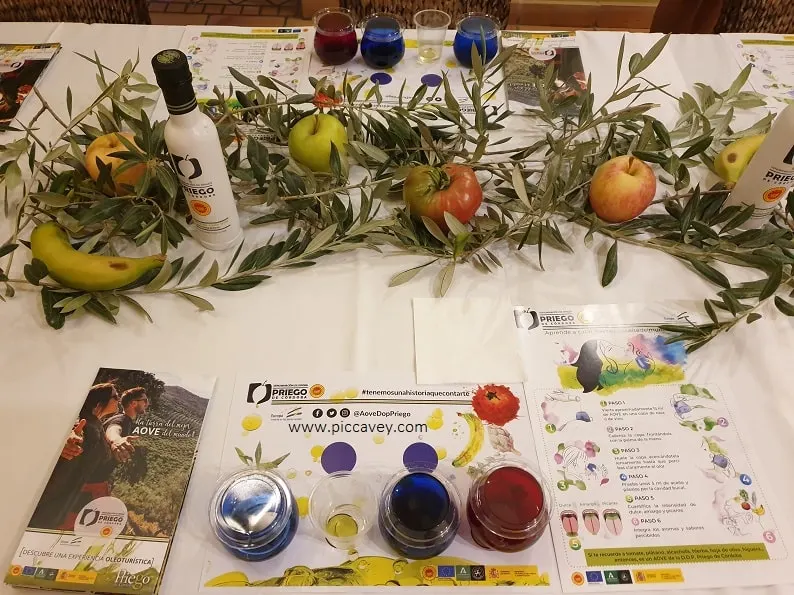 D.O.P Priego de Cordoba
In the area there are a few Olive Mills that you can actually visit if you want to learn more about the Olive Oil Production in Andalusia.
Elia Oil Company and Aceites Vizcantar both offer Olive Oil Tastings and Mill Visits. This activity is of particular interest from October until January as this is when Olive season is at its peak. Summertime is not such a good time as the Olives are collected in Autumn for pressing the new batches of oil.
If you are interested in visiting, for English or French language it´s best to book ahead to make sure the person offering the tour in that language is available on the date you want to visit.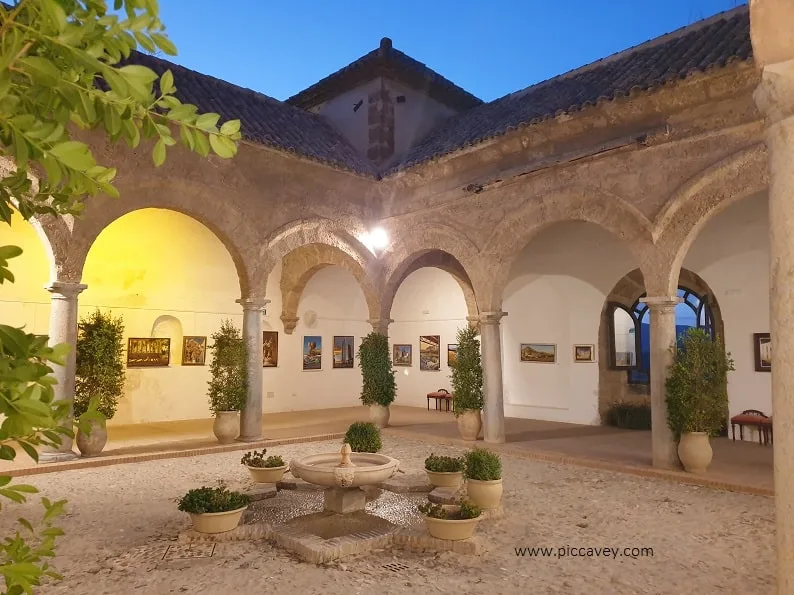 Carnicerias Reales
The 16th century meat market and slaughterhouse on Calle Santiago is such a tranquil place. Delightful architecture in a space that is now used as an exhibition hall or for events once in a while. (photo above)
Priego also has several museums:
Niceto Alcalá Zamora Museum – Home to a Republican Politician.
Adolfo Lozano Sidro Museum – Illustrations by 19th century Spanish artists.
Museo de la Almendra de Zamoranos – Agricultural Museum linked to Almond Production.
Municipal Historic Museum – Paleolitic, Neolithic and Bronze Age relics discovered in the surrounding region.
Historic Churches
In Priego there are six churches, mainly built in Baroque style. Above is the Church of San Pedro Apostol. Built in the 17th Century on the site of a former mosque. Its one of the youngest in the city. The Iglesia de Nuestra Señora de la Asunción dates back to 1525 and has a spectacular baroque dome inside. This is a must see when you visit Priego de Cordoba.
Iglesia de Nuestra Señora de la Asunción (b.1525)
La Iglesia de Nuestra Señora de las Angustias
Iglesia de San Pedro Apostol (17th century)
La Iglesia de las Mercedes (b. 1773)
Iglesia del Carmen (b.1790)
Ermita de Belen (17th century)
La Iglesia de San Juan de Dios (b.1637)
Fuente del Rey
Priego de Cordoba has two important monumental fountains. La Fuente del Rey (built in 1803) and La Fuente de la Salud which dates back to the 16th century. The King´s Fountain has one hundred and thirty nine spouts and a large statue of King Neptune. That´s how it got the name the King´s fountain. Set inside a park area, its an agreeable spot to people watch and stay cool by the water.
Festivals in Priego de Cordoba
Well known for its Easter processions. Priego also has local fiestas for Corpus Christi in June each year. Every Summer there is a Dance & Music festival with Live concerts and Flamenco performances. Due to Priego´s central location in Andalusia, it´s popular with visitors from all over the autonomous community.
The fair is celebrated in the last week of August and first week of September in Priego de Cordoba. It´s been traditional since 1842 when it started as a cattle market.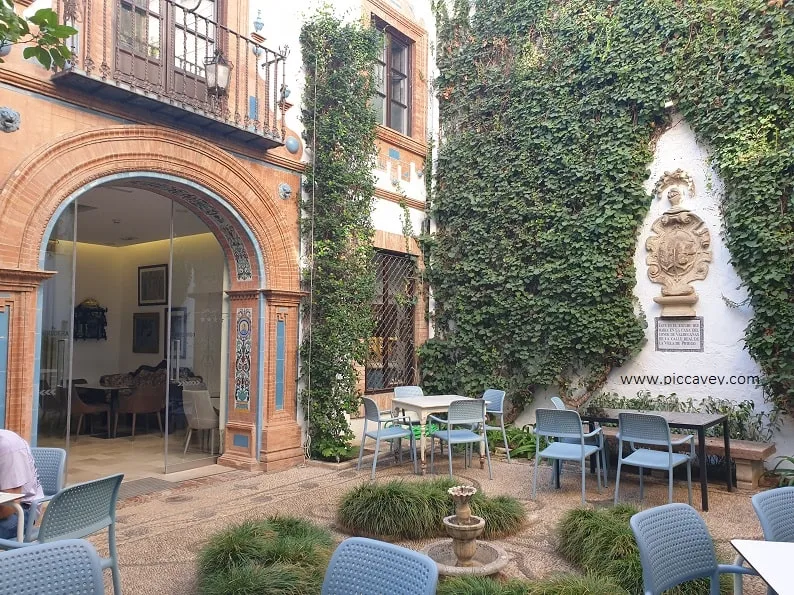 Where to Stay – Hotels in Priego de Cordoba
Hotel Museum Patria Chica
I have stayed in a lot of hotels over the years I´ve been travelling. I can genuinely say that the two nights I spent in Hotel Museo Patria Chica were idyllic. A room that was extremely quiet. It had 14 plug sockets. The modern facilities inside a historic building are stunningly designed.
Views out of the window look onto the garden and courtyard below.
Breakfast was not a huge selection yet it had everything that I needed. Fruit, toast, coffee and fresh juice. I can´t wait to go back here sometime, this hotel is such a perfect little bolthole. On one of the main streets in Priego de Cordoba when you are inside you barely notice the traffic or people going by just metres away.
The hotel has an excellent restaurant too, so even if you dont stay there, I can certain recommend you dining there. For summer evenings they have a sweet garden at the back. Inside there are tables in the Patio. Either setting is atmospheric and charming.
Check prices to stay at Hotel Museum Patria Chica on Booking.com
Check current pricing at Hotel Museo Patria Chica on Trip Advisor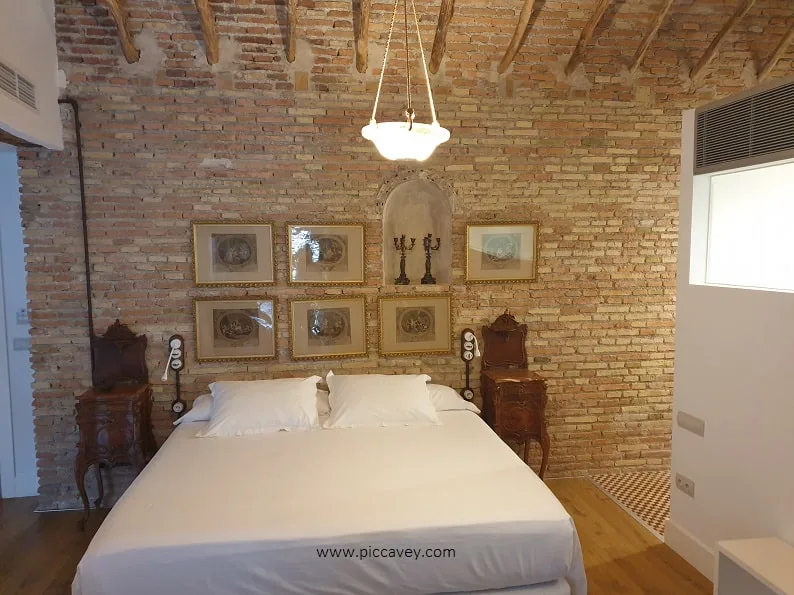 Hotel Huerta de las Palomas
See current prices on Booking.com for Huerta de las Palomas
Check pricing on Trip Advisor for Huerta de las Palomas, Priego de Cordoba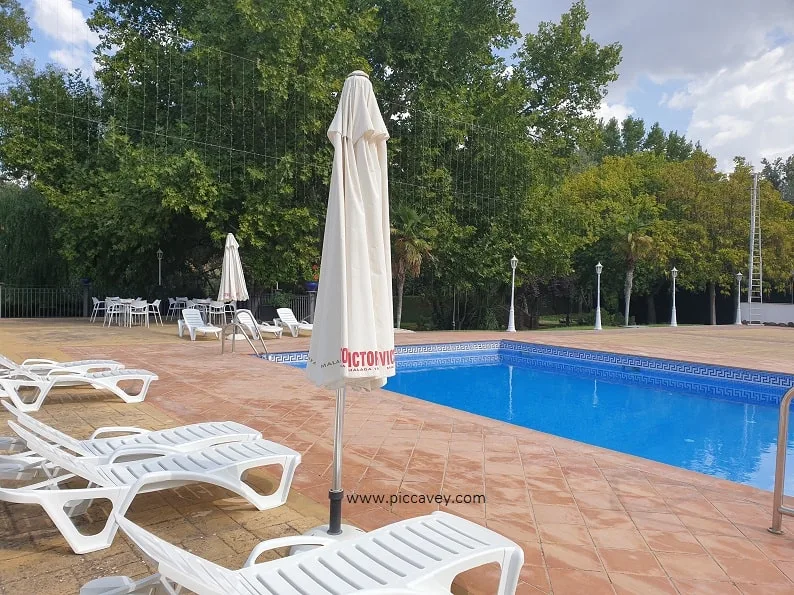 Restaurants in Priego de Cordoba
With regards to where to eat in Preigo de Cordoba, you will spoilt for choice. I have eaten well in all the following locations but there are others I didnt get to try in the city.
Casa Pepe – La Pianola – A Tapas bar with an outdoor seating area. Popular with the locals. Calle Obispo Caballero 6
Restaurante Zyrah – The cuisine is modern and innovative. That doesnt mean small portions though ; ) I tried three or four different dishes here and enjoyed them all. However I have to highlight the cheesecake. It was light and fluffy. Creamy and exquisite. Not only do they have a restaurant on the main street in Priego, Calle del Rio. They recently opened another branch in Granada with the same name. (It´s off Plaza Trinidad on Calle Duquesa)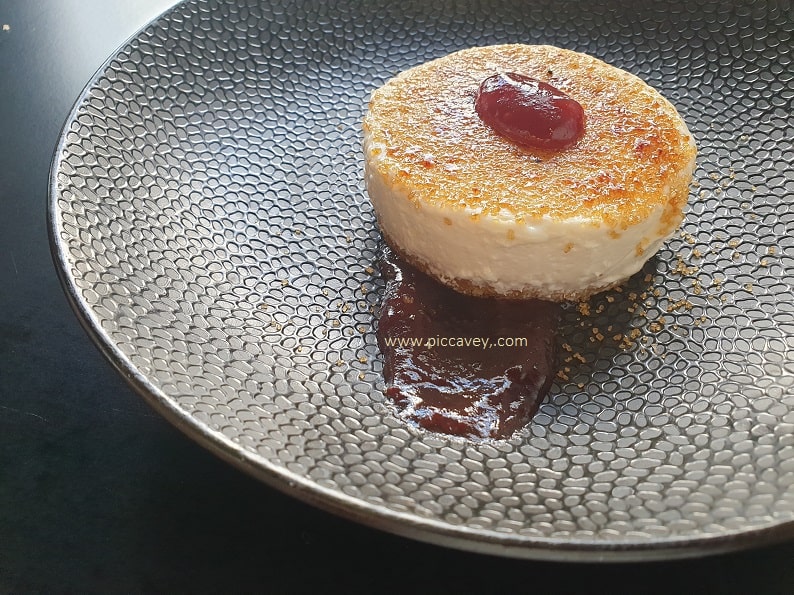 Restaurante Ribera
This restaurant has an excellent selection of wines and dishes. The interior is modern and ecclectic with these eyecatching chandeliers. Food here is local ingredients presented in modern dishes. Salmorejo was made from just a few ingredients but was delicious. Basically the cusine here is about getting the best result from seasonal and traditional produce.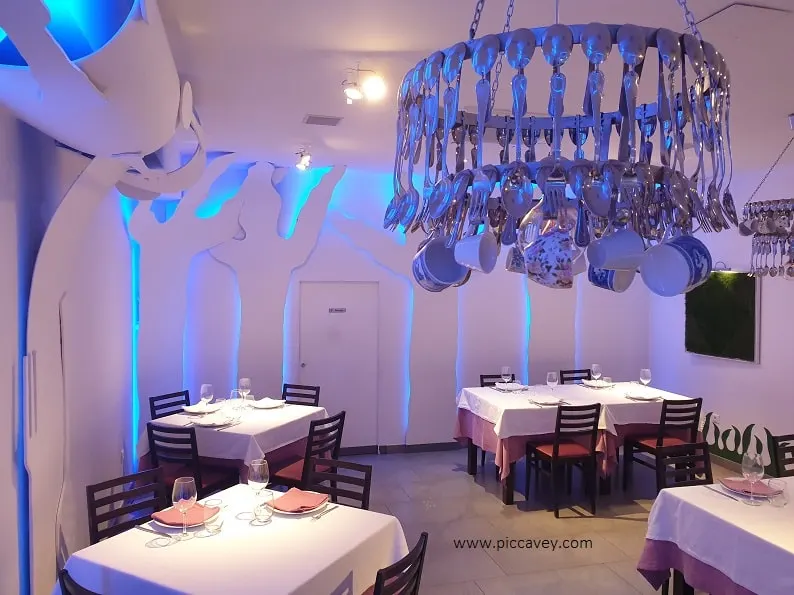 The tourism office in Priego de Cordoba is inside the Casa Consistorial. (photo below)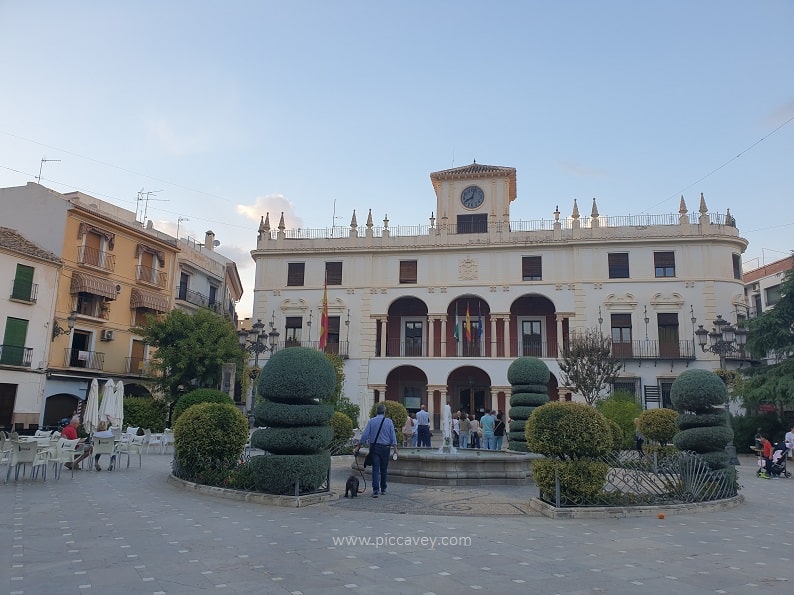 Exploring the Subbetica Cordobesa + Beyond
If you chose to stay in Priego de Cordoba for longer than a few days, there are many places of interest to visit in the surrounding area. The Subbetica Cordobesa has fabulous gastronomy, quite a few castles dotted around the countryside and is the perfect rural location to unwind in.
Some of the places I know myself and would spend time in would be:
Zuheros (cheese, castle and bat cave) Photo below.
Cabra (whitewashed village)
Alcala La Real and Fortaleza de la Mota. I have spent quite a few weekends in this city of Jaen province.
Almodovar del Rio. The Castle is incredible. Worth spending a day here to see the town too.
Day trips to Cordoba or Granada.
Please Note: Thanks to Turismo de Priego for their hospitality. I was hosted for the purpose of creating this review, however all opinions remain my own. My website contains affiliate links, which means that if you click through and make a purchase, I will receive a small commission. As an Amazon Associate I earn from qualifying purchases. All thoughts, feelings and opinions shared on this blog and in this post are my own.