Acre is a coastal town in Northern Israel. Looking out across Haifa Bay, the Mediterranean´s only natural harbour. Acre became a settlement as far back as the Bronze age. City of Crusaders and later part of the Ottoman Empire. Unsurprisingly The Old City of Acre was declared a UNESCO World Heritage Site in 2001 due to its rich history and ancient monuments. The explorer Marco Polo sailed from here on his epic voyage to the Orient in 1271.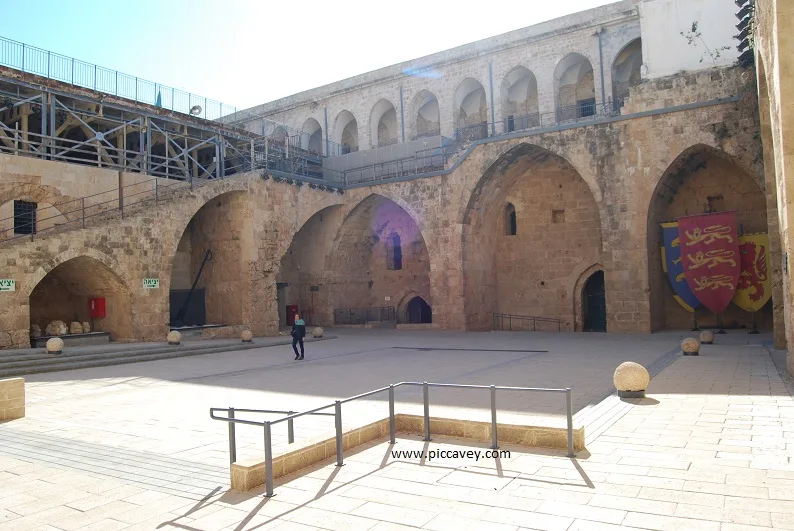 What to See in Acre Israel
Called Acre in English and Akka in Arabic, locals call the city Akko. Once a thriving port, I travelled to Acre, Israel one November to visit the main sights and take in the atmosphere of this lesser known destination.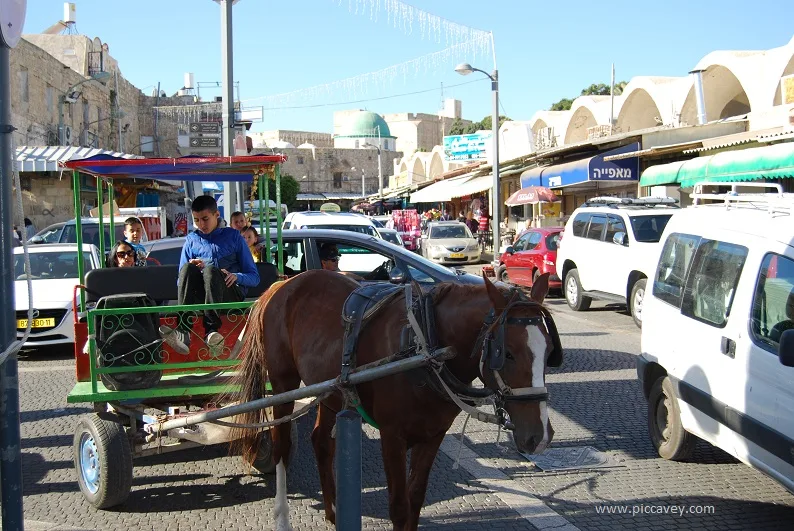 Acre – A UNESCO World Heritage Site
Acre Israel is actually one of the oldest continuously inhabited settlements in the world with initial settlements dating back to around 3000 BC. More recently from 1191 to 1291 Acre was the capital of the Crusader Kingdom. There are still some structures from this medieval period which have not yet been uncovered. The most impressive sights from the Crusader period are the Templar Tunnels and the Knights Hall. Which are both in excellent states of conservation.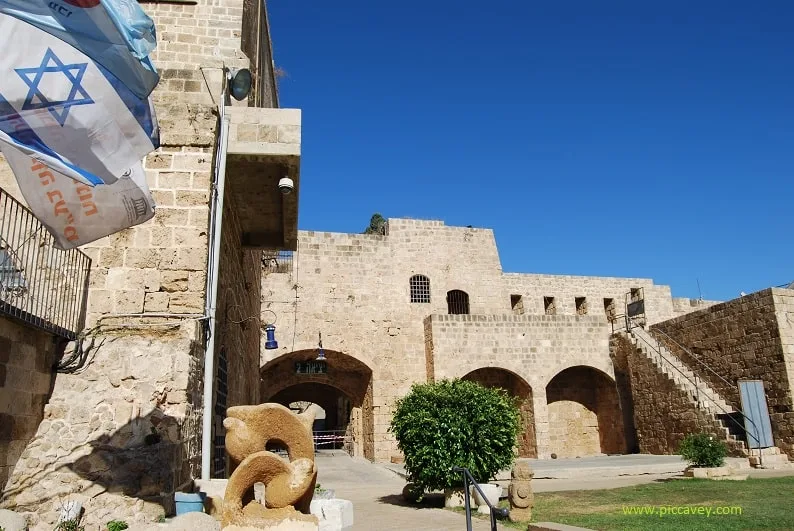 The Old City of Akko
Templars Tunnels
The Templars were a religious monastic order to help Christian pilgrims arrive safely to Jerusalem. The Templar tunnels below the old city of Acre allowed them to move from the port to their halls safely. These were turbulent times between Christian and Muslims. Many pilgrims suffered attacks on their journey to the Holy Land.
The tunnels were built in the 12th century and are 350 metres long. With a special system to keep water levels constant, they were opened to visitors in 1999. Find the port side entrance on Haganah Street. It´s actually next to the popular Uri Buri restaurant.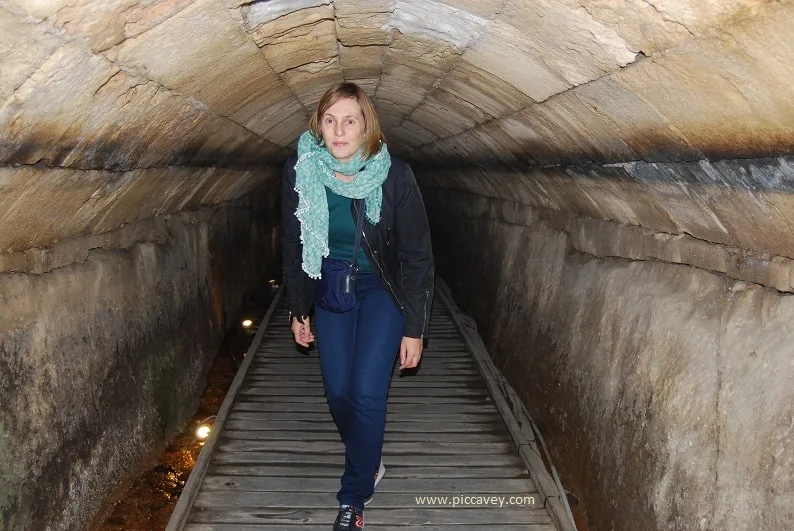 The Knights Halls
The Order of Knights of the Hospital of Saint John of Jerusalem was mainly known as the Hospitallers. The Citadel of Acre became the Hospitalier Fortress and their Headquarters in 1187. They wanted to provide for sick, poor or injured pilgrims on their way to Jerusalem. Later the order became an important military strength and was known for it´s secrecy.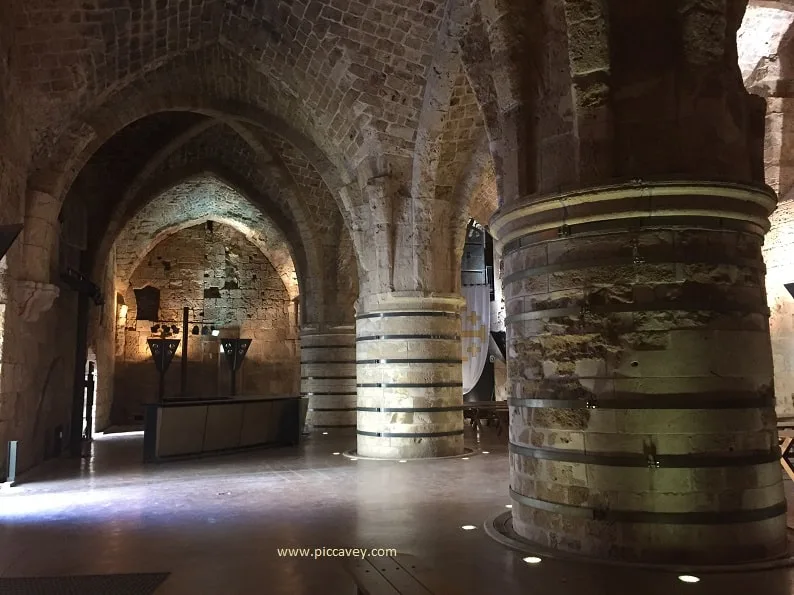 Hospitallers Fortress
The building is mainly in the Romanesque style, with some Gothic influence. It is one of the oldest Gothic structures in the world. The restoration project has been very successful and the state of the monument considering it´s age is impressive. To visit the Citadel, you are given an audio guide to follow around the grounds. This is available in different languages.
Cats in Israel
On another note I noticed lots and lots of cats on my trip to Israel. In Acre and also in Jerusalem. It is estimated that there are more than 2 million cats in Israel. That´s a lot when the population of humans is just 9 million.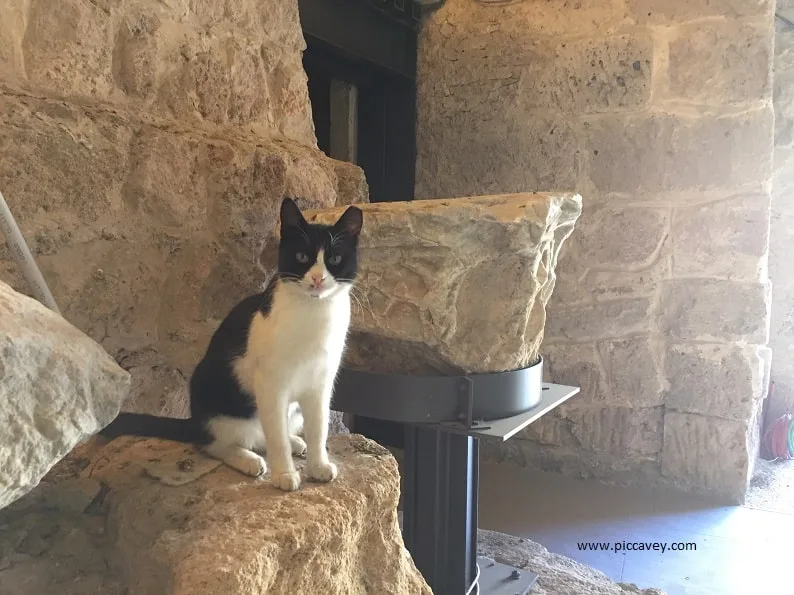 Pasha´s Bathhouse
Another building named after El Jazzar, this Turkish bathhouse was built in 1786. It is now a museum with an insight into social life at the time of Ottoman Empire in Acre. The visit shares the story of the last Bathhouse attendant in an engaging way. Actually this bathhouse was in use until 1947. Outside there is a charming patio garden as you leave.
Hammam Experience
If you are looking to actually have a hammam experience yourself. The Ghattas Bath in Acre on Hagana Street is a family run business by the husband and wife team. They provide a good experience with good levels of hygiene and cleanliness.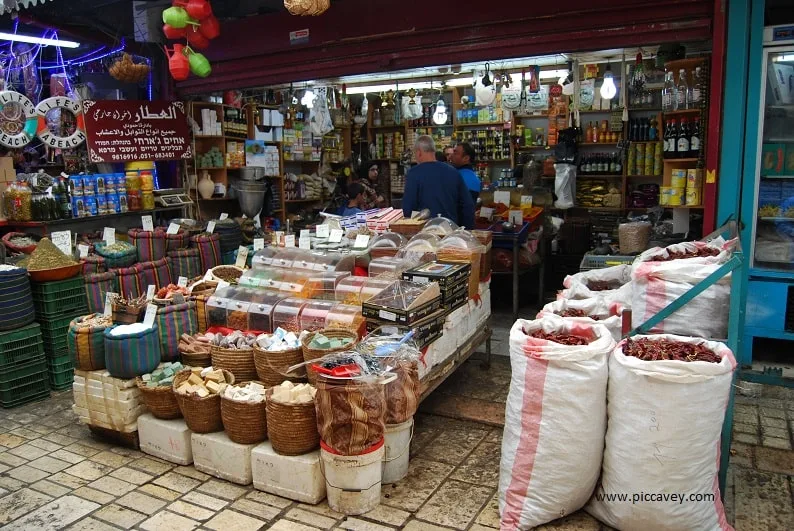 Acre Market
In Acre there is a busy street market selling food household and clothing items. It´s not really a touristy place, it´s for locals buying their everyday items. As well as fresh fruit, vegetables and fish caught locally. You´ll find places to eat pastries, juice stands as well as lots of spice stalls too. It´s centrally located and easy to find, for reference point, Marco Polo street.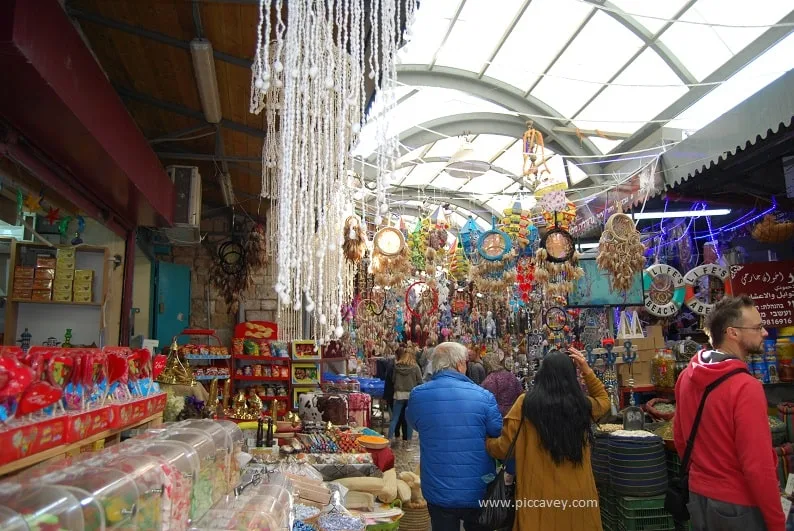 Turkish Bazaar
Rather than a market, the Turkish Bazaar is a covered alley with crafts, clothes and accessories. There are also some great places to eat street food too. Built in the 18th century as the main market it is now an atmospheric arcade with around 50 traders. Ideal for picking up a few decorative items to take home with you. (address Weizman Street, Acre)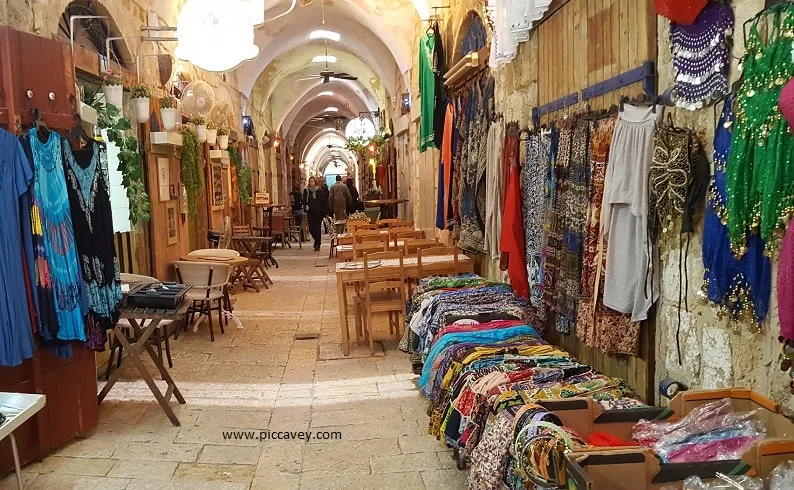 Al-Jazzar Mosque
The Mosque in Acre takes it´s name from El-Jazzar. This building dominates the Acre skyline. Green and white it´s structure stands out against the intense blue sky. Ahmad Pasha al-Jazzar was a Turkish governor most known for fortifying the city of Acre. Nicknamed the butcher, for his merciless nature.
A key figure in the history of the city between 1775–1804. In 1799 he even helped the British Navy defend Acre against Napoleons attacks. El Jazzar also achieved growth in Cotton and Grain trade for Acre and prosperity to the city. The Mosque was built at the beginning of his rule and is right at the heart of the old town.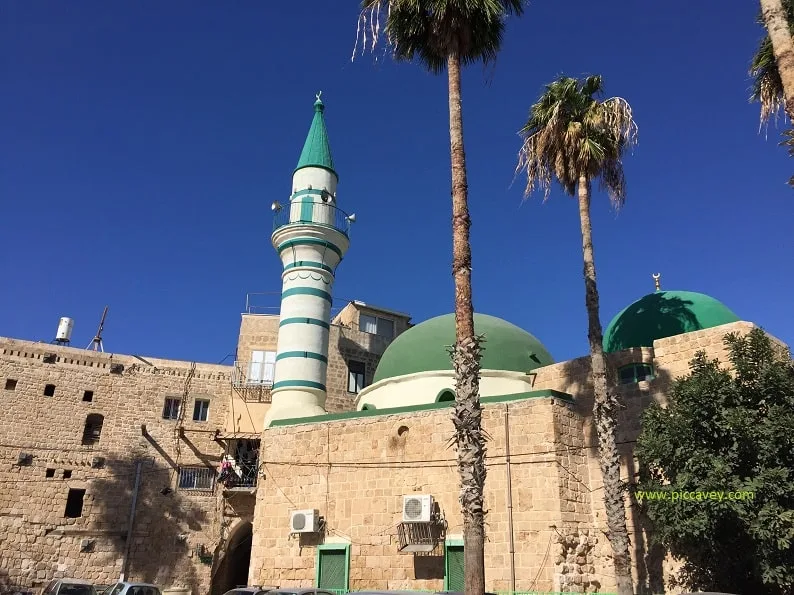 Built in 1781, it has Byzantine and Persian details. With a stunning courtyard, it´s the biggest mosque outside of Jerusalem. It costs NIS 10 to visit, but you must wear the correct attire. (Covered shoulders and legs.)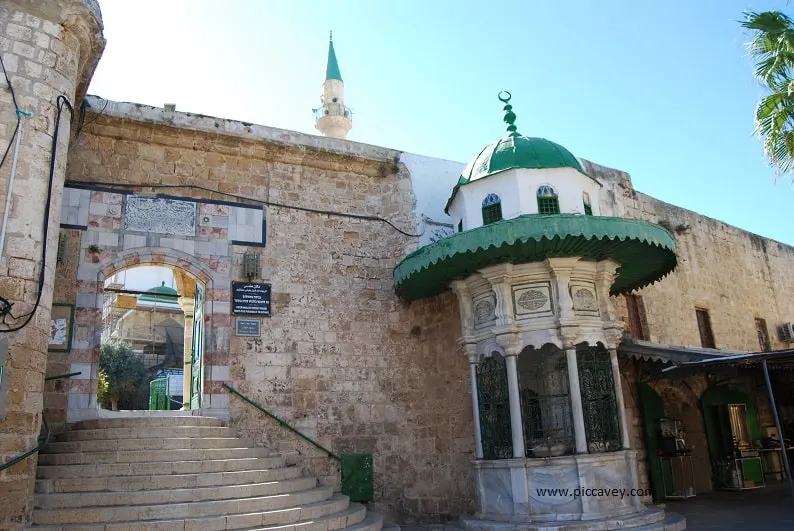 Hotels in Acre Israel
The best boutique options in Acre are the Efendi Hotel and Akotika. There are not a lot of Hotels in Akko Israel but I would recommend staying in the old town.
When I stayed in November, the accommodation was at the Palm Beach Rimonim hotel on the edge of Acre. If you want a beach resort then it may be a good option as it is right on the sand and has it´s own pool. It actually has a private beach. I was looking for a more historic location so old town is a better option. Also there are more options for restaurants nearby if you stay in historic area.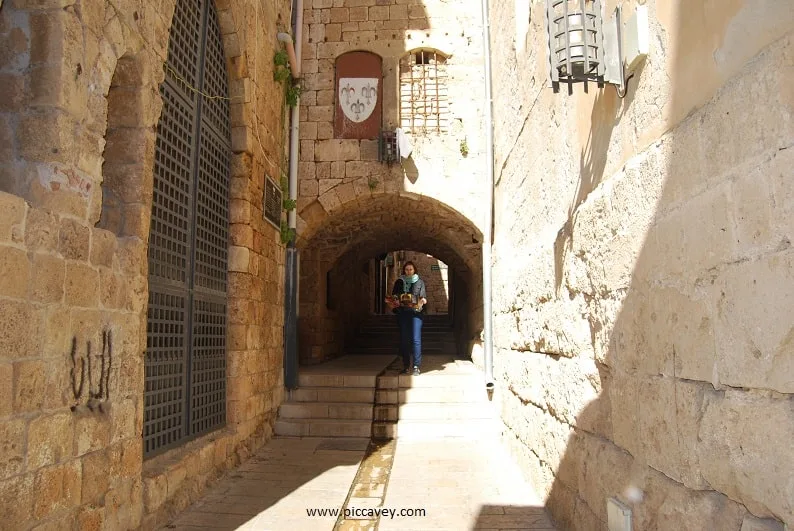 Getting to Acre Israel
Connections by train from Haifa, Tel Aviv and Jerusalem. You could also rent a car or use a Sherut (shared taxi van). We travelled to Tel Aviv airport and took the sherut to Akko (changing in Haifa).
Best option is by train but we arrived on Friday afternoon after sunset (Shabbat) so trains had stopped for the day.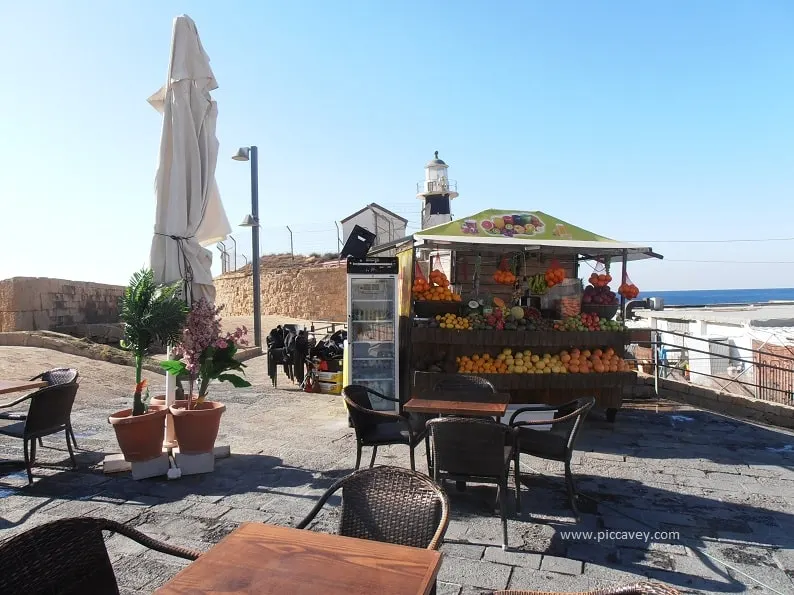 Where to Eat in Acre
There are lots of kebab places and street food stalls around the main centre of Acre. If you are looking for something a bit more relaxed then try one of the options below.
Turkish Bazaar – Inside the Turkish Bazaar are several sit down food stalls. I wished I had found this before I ate.
Uri Buri Seafood – Probably the most well known restaurant in Acre due to its charismatic owner. Located close to the lighthouse, it most famous for its fresh seafood but they do offer a variety of dishes too.
El Marsa – This restaurant is another popular one with locals. With views to Akko´s harbour it has a good choice of local seafood and other Mediterranean dishes.
Pastries – When you are in Acre dont miss the chance to eat the typical handmade pastries or halvah (made with almonds). Find them in the market or in the main square.
Pomegranate Juice – Another typical street stall you´ll see in Acre are juice sellers. They usually have Pomegranate juice but also have other natural juices like orange too.
More Sights in Acre
When I travelled to Acre I only had about 36 hours in the city. So I didn´t quite managed to see all the sights on that trip. We travelled to Jerusalem from Akko by train after a two night stay.
Here are some of the other points of interest in Acre that may be of interest to plan your trip.
The Underground Prisoners Museum – This building served as the main prison in the region during British military rule. Acre was captured in 1918 by British troops. Visits 8.30am to 4.30pm (Hahagana St)
Ohr Torah Synagogue – Known as the Tunisian Synagogue. Visit by request, call in advance
Khan Al Umdan – This 18th century merchants exchange near to the port is an impressive building filled with 32 granite columns. It´s not open to visit at the moment. (tower seen in photo below)
Treasures in the Walls Museum and the City Walls – Although I walked along part of the old wall. But misse the museum on the Eastern wall. (address 2 Weizmann St)
Shrine of Bahá'u'lláh and The Bahia Gardens are 1.5 kilometres from the Old City of Acre and are free to visit. Burial site of the Baha´i religion founder.
Rosh Hanikra is further up the coast. This attraction is a 210 ft cliff with a cable car down to the sea.
This trip to Acre Israel was arranged by Visit Israel as part of my FITUR Travel Blogger award. Many thanks to the Israel Tourist Board in Madrid.
Please Note: This post contains affiliate links, which means that if you click through and make a purchase, I will receive a small commission. All thoughts, feelings and opinions shared on this blog and in this post are my own.