Northern Spain is truly a great place for foodies. To Eat in Gijon , enjoying typical Asturian Food was pure delight.
You will be spolit for choice when you visit.
My 4 day city break in Gijon surprised me, it was my first time in the region and I had no idea what to expect.
Food in Gijon
Typical Asturian Food are dishes such as Cachopo (a meat dish) Fabada Asturiana (a hearty dish made with beans) and Cabrales cheese.
It is also well known for its production of Natural Cider too. This was more or less all I knew about local food before visiting the region.
Since then I have learnt much more. Here is my Gijon Food Guide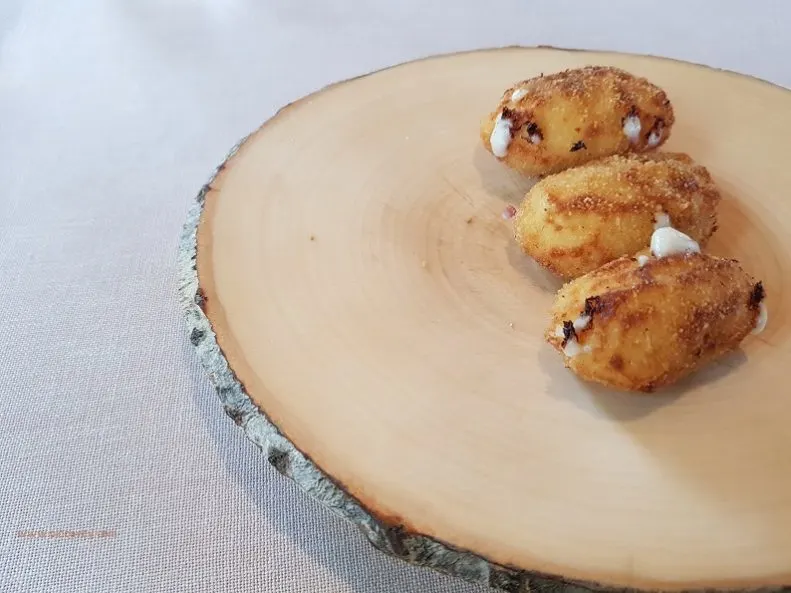 Gijon Restaurants
My first stop on arrival in the city was Lunch at La Galana. This busy Sidrería on the Plaza Mayor serves food at lunchtime and in the evenings. La Galana was busy yet welcoming. It has a warm traditional atmosphere and is popular with the locals.
Located close to the church and on the Main Square of Gijon it is easy to find.
Whether you choose to have some food at the bar or dine in the restaurant, service is friendly and efficient. I got the chance to do both.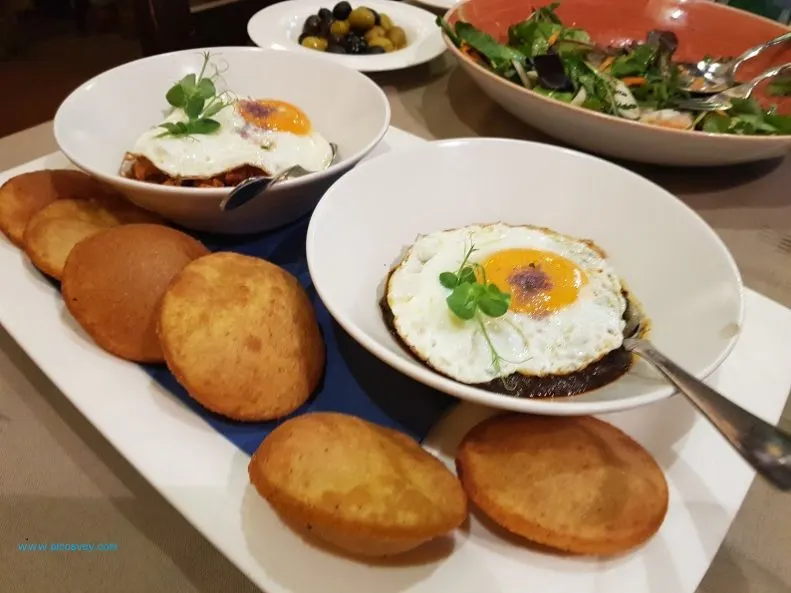 La Galana
Lunch was chosen from the menu. I sampled the Fried Cornbreads (seen above) called Tortos. They are served with chorizo eggs and black pudding. We also chose Grilled Octopus and a House Salad. (which was huge)
Dessert was a Mango Panna Cotta which was delicious.
They do serve a Daily Menu with a fixed price. Three courses including a drink. The portions are generous.
Of course on both occasions we drank cider. Asturias is known for it´s Natural Cider and is the most popular drink in the bars of Gijon.
This is served by the waiter. They pour the cider from a height, escanciar in Spanish . Then the cider should be drank when poured, not left to stand. This way you get the best taste of the drink.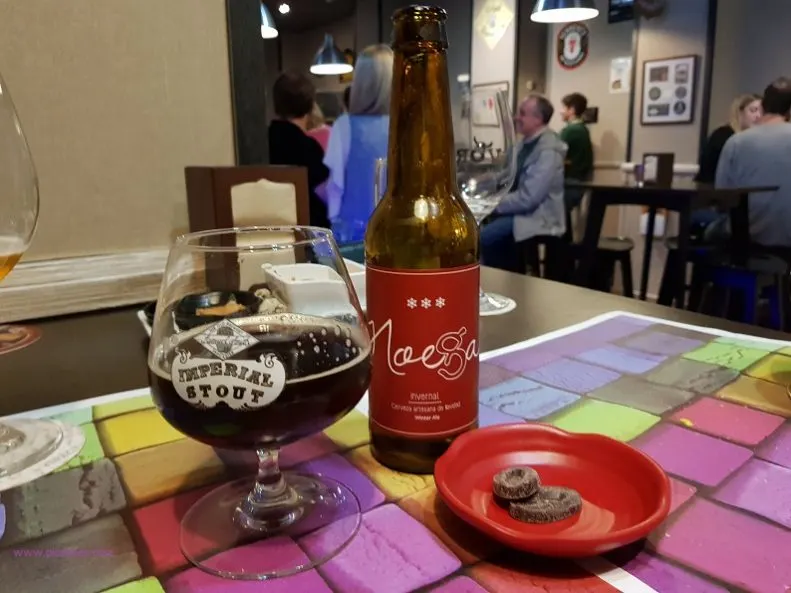 Craft Beer from Asturias
Despite all the tasty Cider available in Asturias, I am a Beer drinker. At Cerveceria Vor there is a huge selection of Asturian, Spanish and International Beers to choose from. Among the selection from the U.K they had Samuel Smith Stout, Newcastle Brown Ale and Bombardier.
A microbrewery since 2002, Avorigen IPA is one of Vor´s most popular ales. I also tried their Christmas brew which was infused with Licorice and Chocolate. This was perfect for dessert with some dark chocolate.
Cerveceria Vor, Gijon
I was surpried at how many Craft Beers I came across in Gijon. They have quite a large selection of local artisan brewers in the area now.
Inside the bar was lively, the night I was there they had live music.
Vor also serves food too. We enjoyed Pizzas (10 euros) and huge hamburgers. (around 8 euros) Good to see that they have Gluten free, Vegetarian and Vegan friendly choices on their menu.
Vor has two locations in Gijon
Calle Decano Prendes Pando, 29
Calle Instituto, 21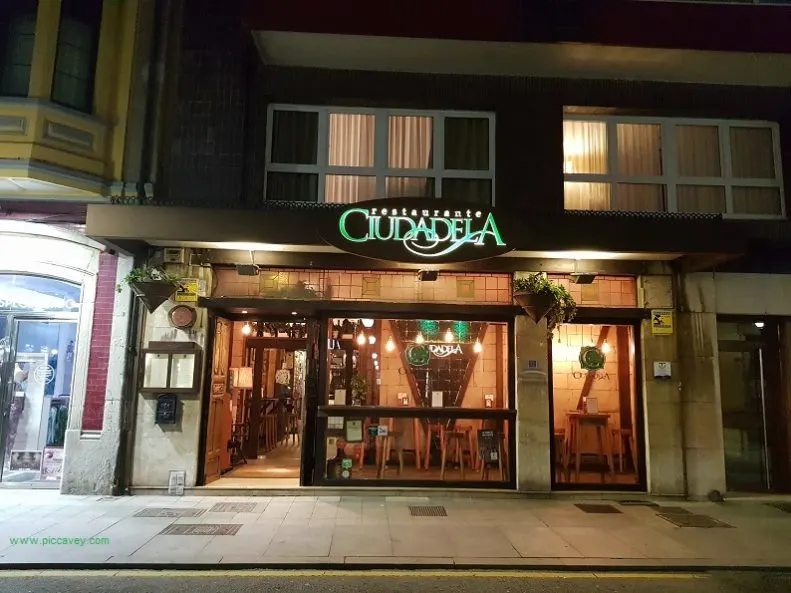 Eating out in Gijon
On the first evening we enjoyed dinner at Restaurante Ciudadela . Located off the seafront on Calle Capua 7, this welcoming venue has a selection of seafood and local recipes.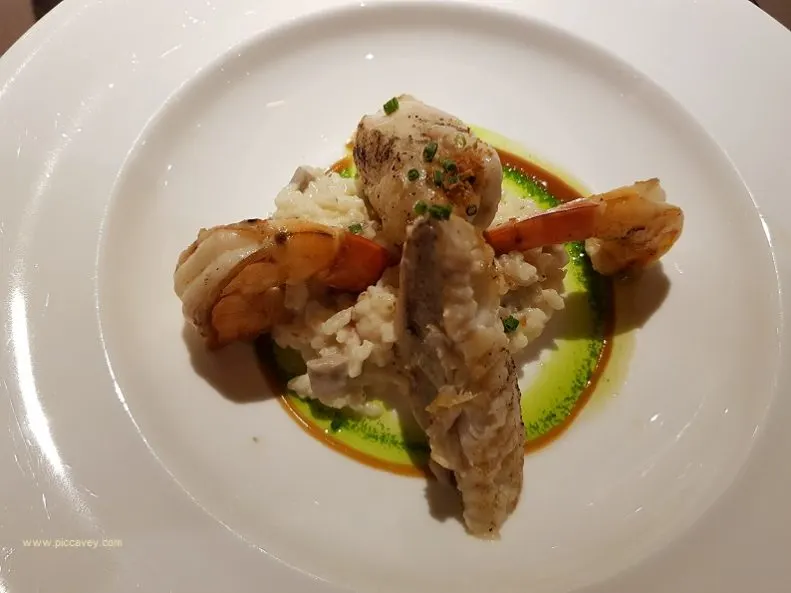 Restaurante Ciudadela
As well as the restaurant it has a lively tapas bar for casual dining. Downstairs there are private dining rooms set in ´caves´ recreating a spanish wine cellar.
After sharing some starters from the menu, I chose Roast beef for main course. My partner chose the Lobster dish (seen above) which is one of the house specials.
The choux pastry dessert with sweet rice and coffee ice cream was the winning dessert here.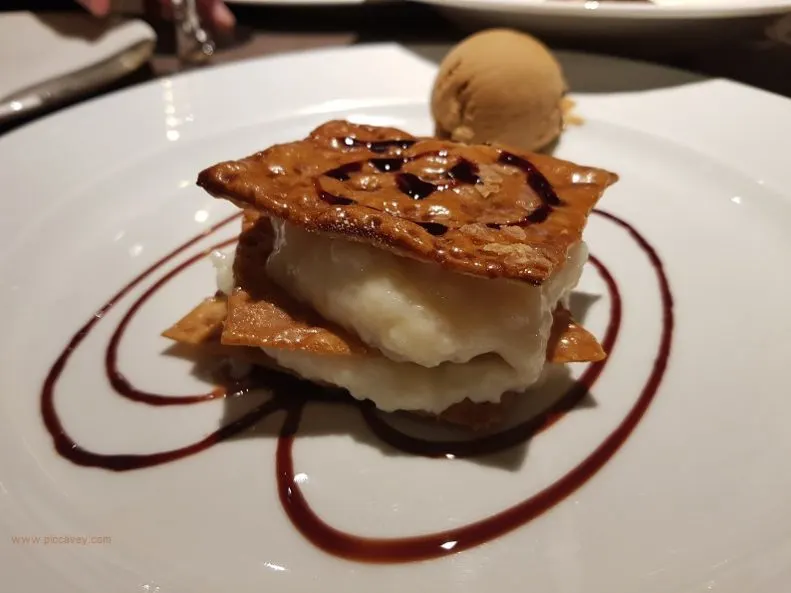 This restaurant is one of the options of the Gijon Gourmet. A tourism project to offer great gastronomy at set prices. (more on this below)
It is also listed in the Michelin Guide too.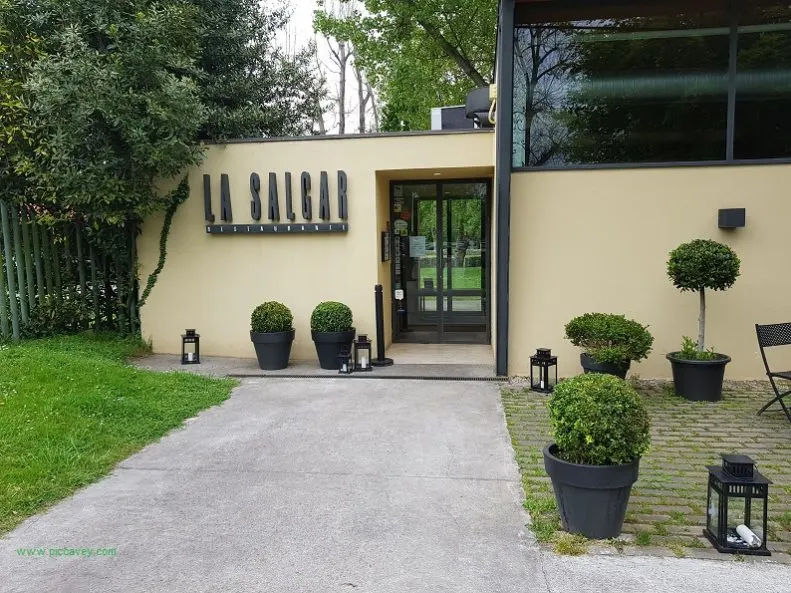 Gijon Gourmet
Gijon Gourmet is a foodie pass to eat your way around the city. Eat in Gijon for a set price. 50 euros per person (including tax) and select one of the participating restaurants from the list.
I visited Ciudadela and also the Michelin Star Restaurant El Salgar with Gijon Gourmet passes.
Get details and book your spot with Turismo de Gijon.
More info: Gijon Gourmet Menu & Details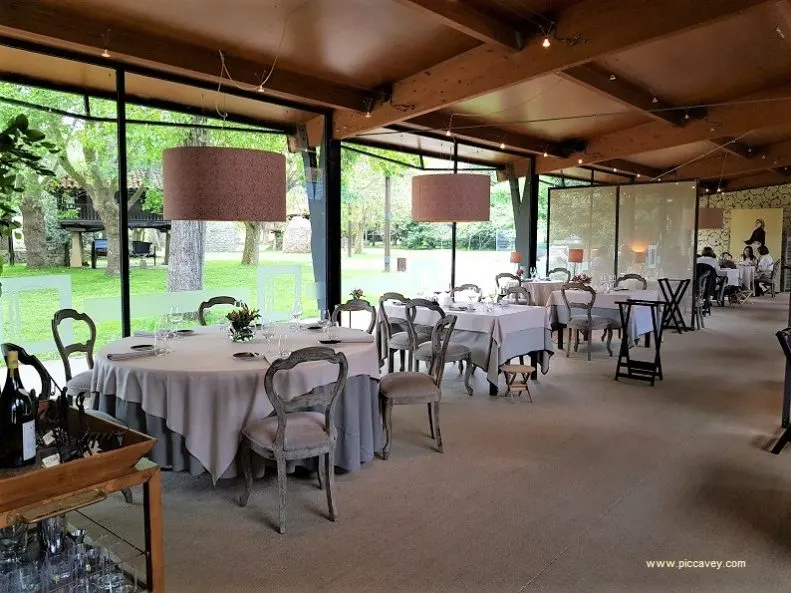 Each menu includes
Two original starters
Two carefully selected dishes
A different dessert
Wine selected and paired with the menu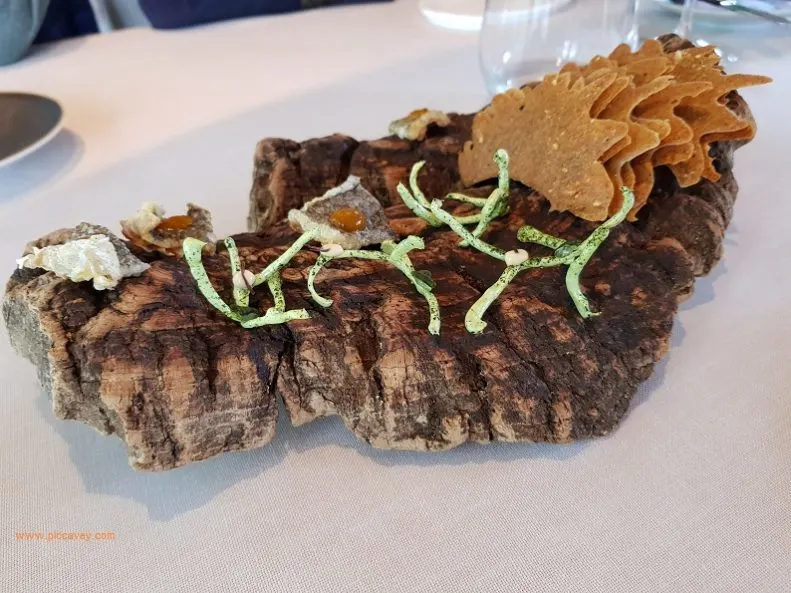 Michelin Star Restaurants
Restaurante El Salgar
It was a real treat to dine at La Salgar. Located inside the grounds of the Museum of Asturian People, the view from your table is of the typical Granary buildings (horreos). Even though you are in the city you feel that you are also in a countryside setting.
The glass building is surrounded by lush trees and greenery. It has a conservatory vibe to the restaurant.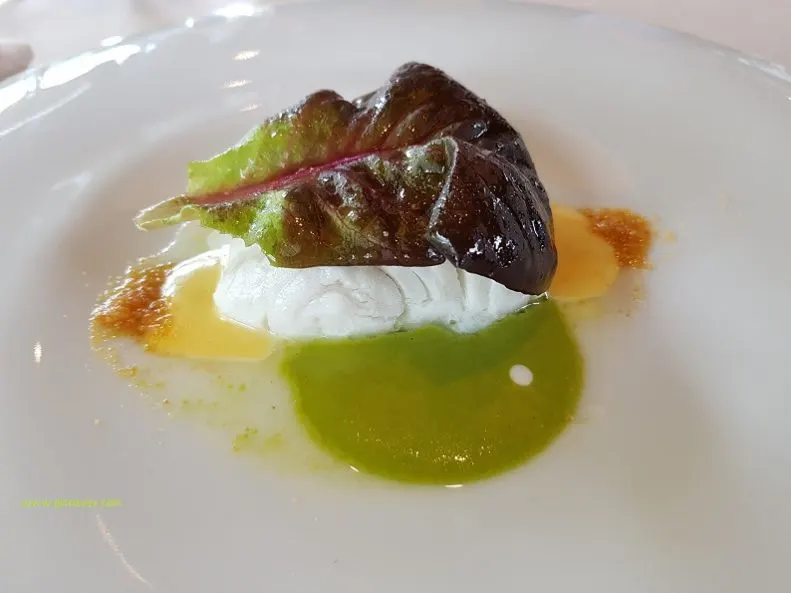 Muséu del Pueblu d'Asturies
This restaurant achieved it´s michelin star in 2013. Run by Chef Nacho Manzano and his sisters Esther, Olga Sandra. It´s an ideal place to sample local recipes and produce.
Since some of my previous Michelin Star experiences have been more foam and froth than food. I was sceptical about heading to another Michelin Star restaurant. I was also wondering what would be included in a 50 euro service.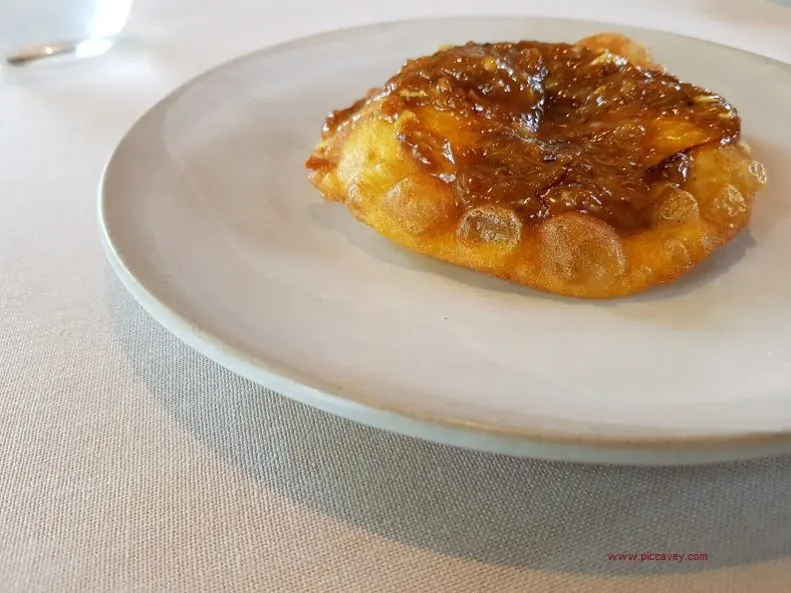 Typical Food in Gijon
It wasn´t long before I was eating my words. The service was slick yet discreet. There were good portions sizes too. Our starter, seen above, is the traditional Corn fritter, known as Torto. Topped with Cabrales cheese from Asturias and caramelised onion.
My highlight of the meal was the Rice dish, Arroz con Pitu de caleya was Free Range Chicken with slow cooked rice. Absolutely delicious. It made me want to eat this all weekend.
Dessert is always my favourite course. This creation with mango and ice cream was the perfect way to end the meal.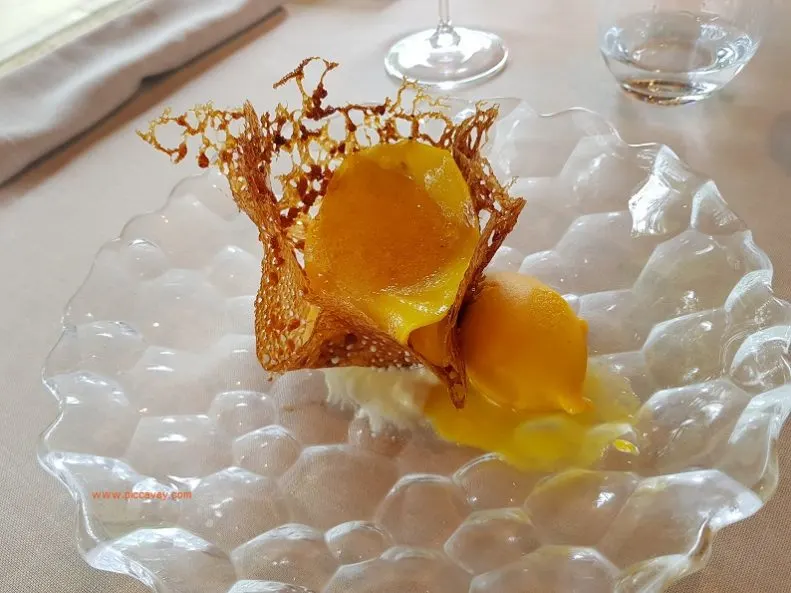 The 50 euro Gijon Gourmet set menu was such good value for money.
A great way for visitors to the city to discover local chefs and Asturian cuisine.
More details: La Salgar Gijon
Address: Paseo Dr. Fleming, 887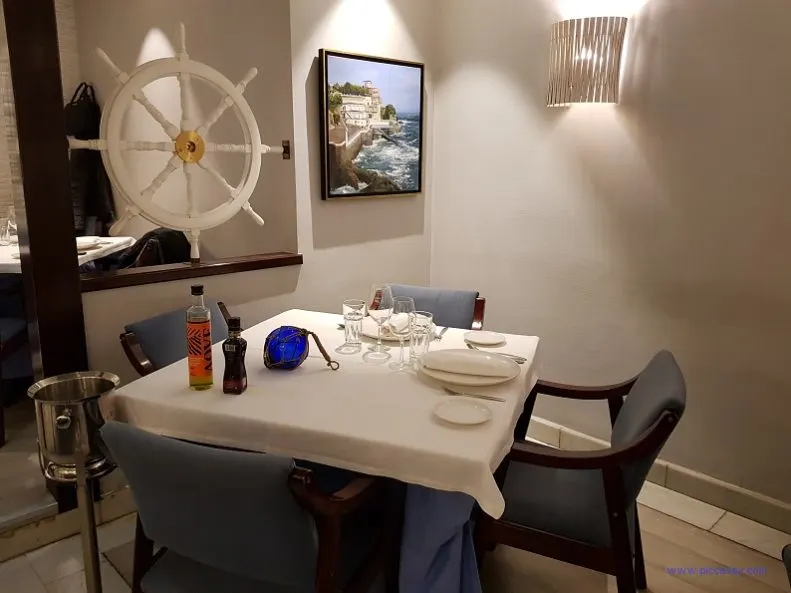 V. Crespo
This Seafood and Fish restaurant is a local favourite. The interiors have a nautical theme and a traditional ambience.
On Friday lunchtime when I visited the place was busy with local diners celebrating birthdays and kicking off the weekend in style.
I tried several dishes here which I really enjoyed.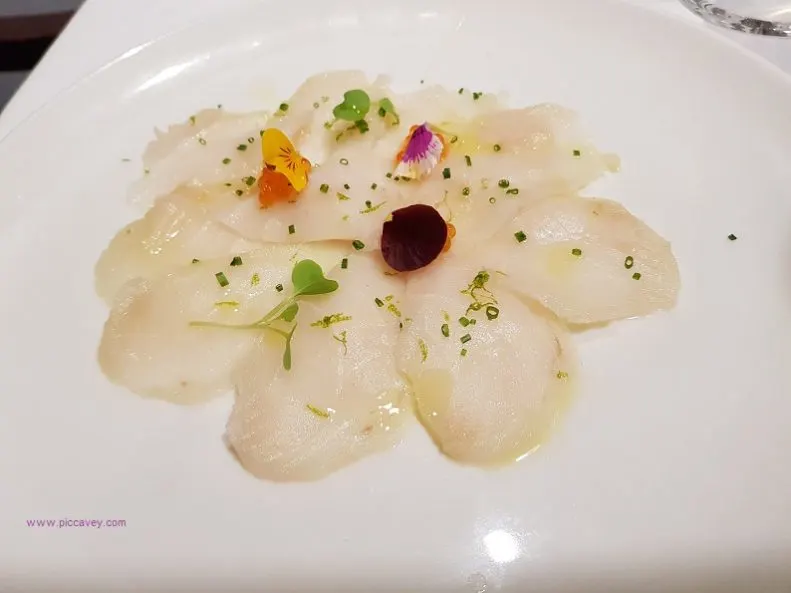 Apple filled with Micuit was so smooth and delicious. (photo below)
Also the Pez mantequilla (blue butterfish) with lime dressing (seen above) was very fresh with subtle delicate flavours. The presentation was pretty too.
This restaurant also particpates in the Gijon Gourmet programme too.
Closed on Mondays, find them at Calle Periodista Adeflor, 3 (city centre)
More details: www.restaurantevcrespo.es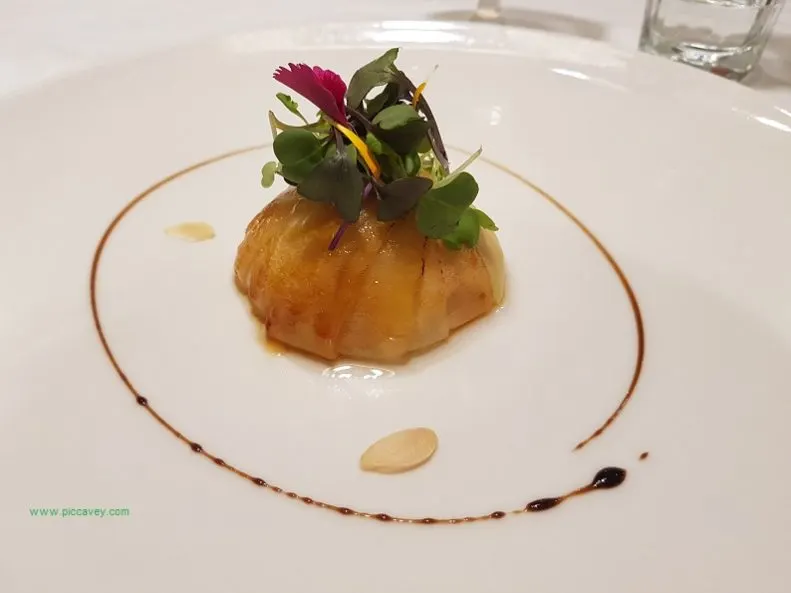 Cakes in Gijon
At one time Gijón was the city in Spain with most Cake Shops per capita. The selection of Pastelerias and Bakeries in the city is wonderful. For someone with a sweet tooth and a penchant for baking cakes this is ideal.
Gijon Goloso
On the Gijon Goloso route in the city you can buy a pass from the local tourist board to try different cakes around the city.
Gijón Goloso – 5 tickets for 7 euros
Gijón Goloso 10 tickets for 13 euros
Participating shops give you a local delicacy or small cake when you present your pre purchased card. Like a Cake Passport!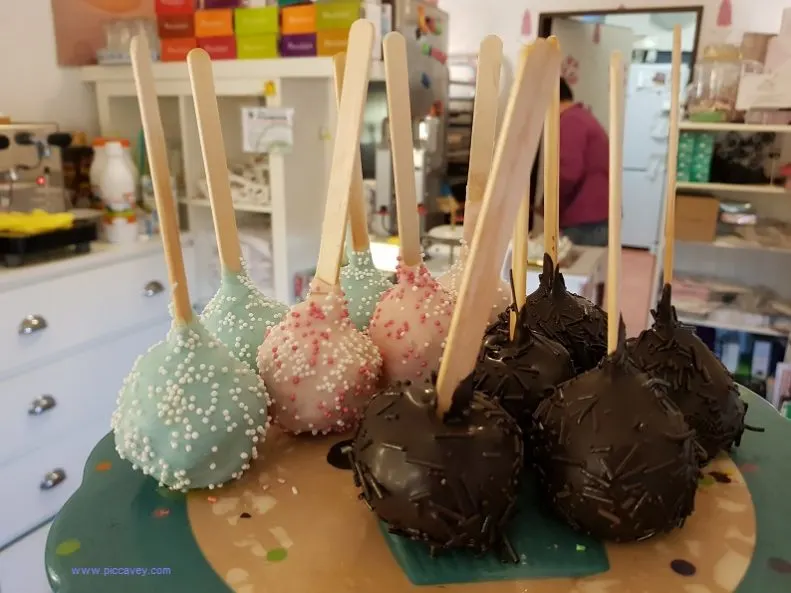 The most typical cake in Gijon is called Casadiella a delicate pastry tube filled with a walnut paste.
Find them at Danas or Biarritz on the Gijon Goloso route.
We stopped at Madalenas de Colores where they make lots of customised cakes for birthday parties and wedding favours. (photo above)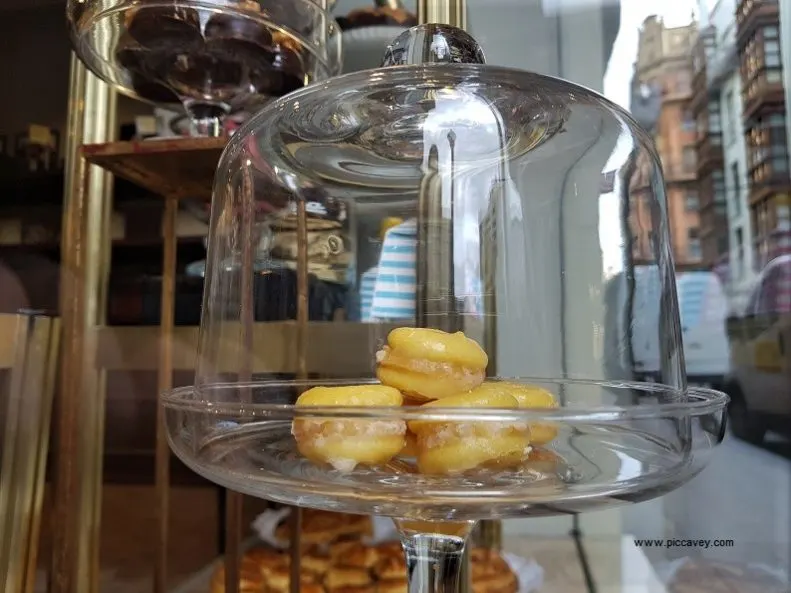 Confiteria La Playa
Another stop was at Confitería La Playa one of the most traditional shops in Gijon.
Trading since 1921 the most popular cake here is known as Princesitas. (seen above)
Small yellow circles made with almonds, sugar and egg yolk. Princesitas taste like a delicate marzipan, sold here in colourful stripey beach hut boxes.
Right in the city centre on Calle Corrida this is a great little place to buy something to take home with you too.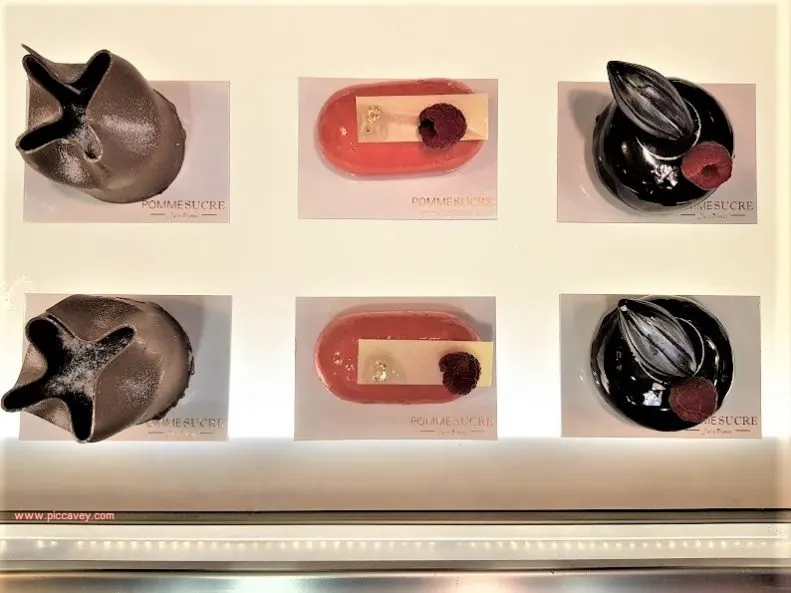 Pomme Sucre
Another stop on the Sweet Route was Pomme Sucre this modern cake shop had very smart presentation and a café towards the back of the store.
The shop on Calle Libertad, 26 was busy with locals enjoying coffee and snacks. Trading in Gijon since 2002 Julio Blanco later opened a store in the Spanish Capital Madrid.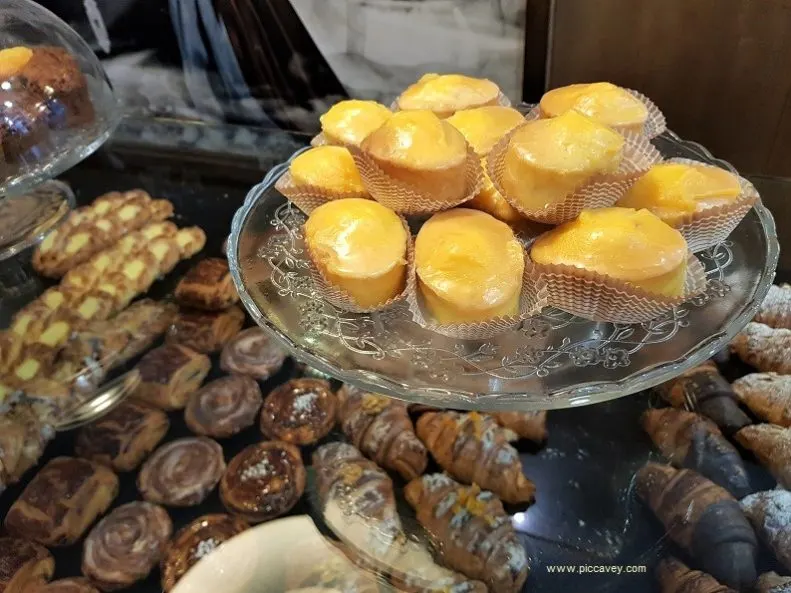 One of his most popular creations is puff pastry cake (hojaldres or milhojas). Don´t miss the pretty artisan chocolates when you enter the store. The display inside is minimalist and quite stunning.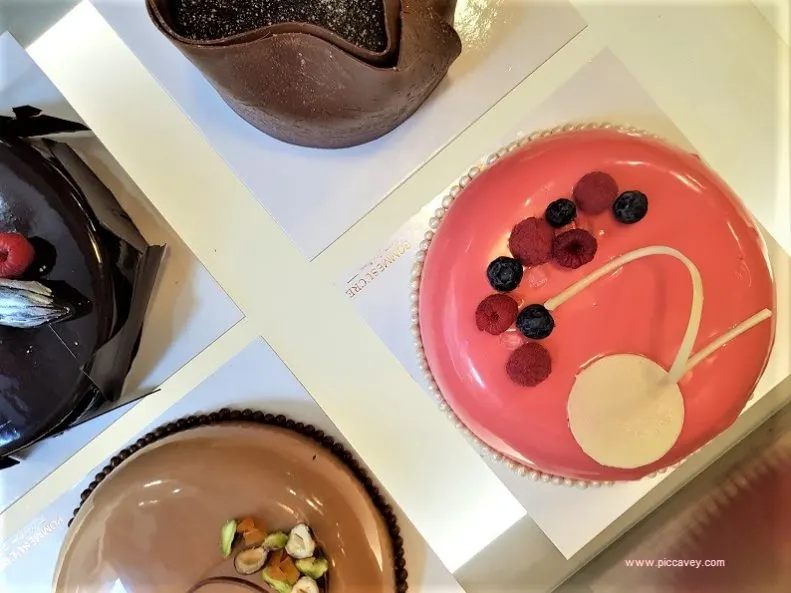 Local Foodie Gifts
While I was Gijon I enjoyed a Food Tasting at La Gijonesa.com
This delicatessen has a huge selection of gourmet products. But the cheese counter is particularly impressive. With lots of local Asturian cheeses to discover I sampled four different asturian varieties paired with local craft beer.
Did you know that there are 42 kinds of Artisan Asturian Cheese?
My favourite cheese from the tasting was Quesos los Beyos. Made in Amieva region of Asturias with pasturised cows milk and matured for a month or so. This artisan cheese stood out from the rest, I enjoyed it balanced taste.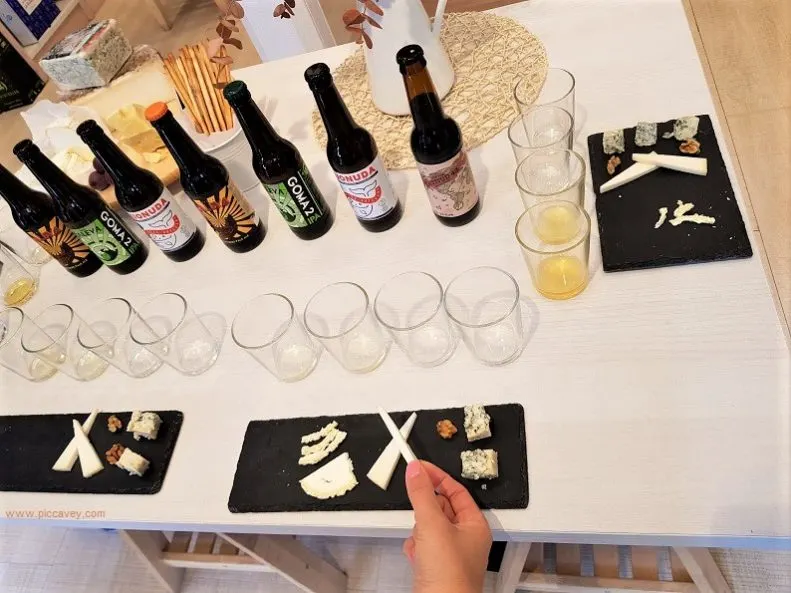 Asturian Cheese
Cabrales cheese is the most famous one in the region and one of the most well known Spanish cheeses. This pungent variety is a little strong for my palate. Cabrales is used in different recipes to give a punch of flavour and also great for sauces.
At La Gijonesa the cheese range includes artisan cheeses from Spain and also lots of International varieties too. When I had finished the Cheese tasting I choose a few products to bring home with me.
Cider infused Chocolates in pretty yellow boxes. Casadiellas pastries to take back to the office and I also bought some Cheese.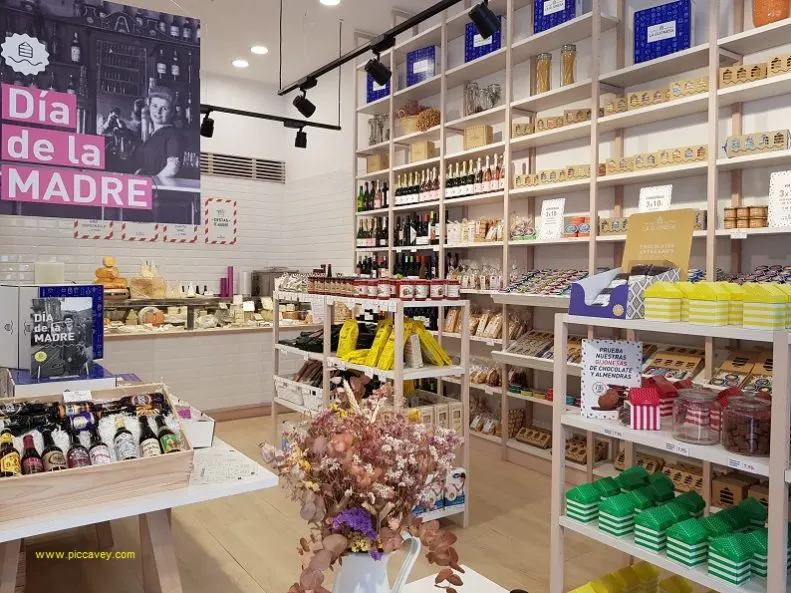 Gijon Food Market
I always like to check out local markets around Spain. Mercado del Sur was a great place to see the locals buying their groceries ahead of the weekend.
Located at the heart of the city on Plaza Seis de Agosto, this elegant structure was built in 1899.
The seafood impressed me the most. Bugre is popular in Gijon, Known in Spanish as Bogavante, these huge black lobsters are sold in the market and are alive to ensure freshness. They looked quite menacing.
Locals typically eat lobster with rice. Although it is not a cheap dish it is highly sought after in Gijon restaurants.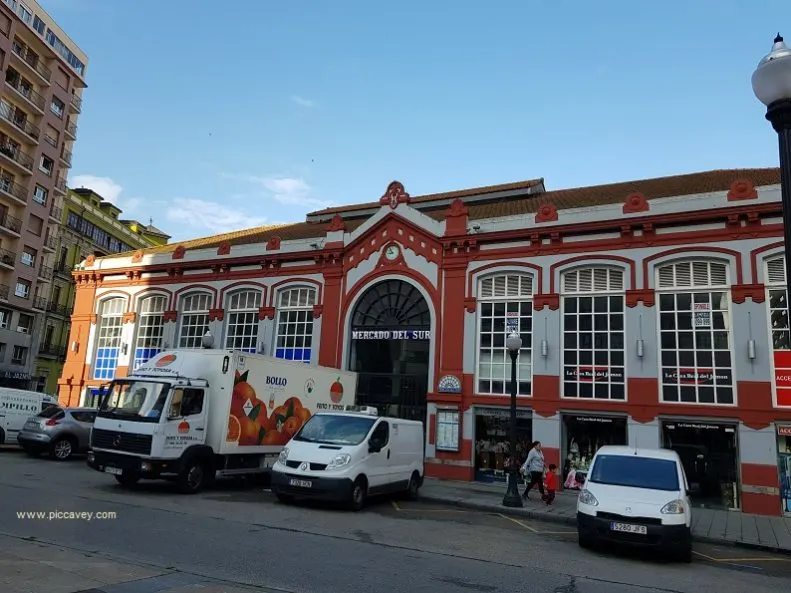 At the market there was lots of Cider, vegetables, cheese and amazing cuts of meat too.
Food in Asturias is such high quality yet prices seem reasonable.
Mercado del Sur opens Monday to Saturday 8am to 3pm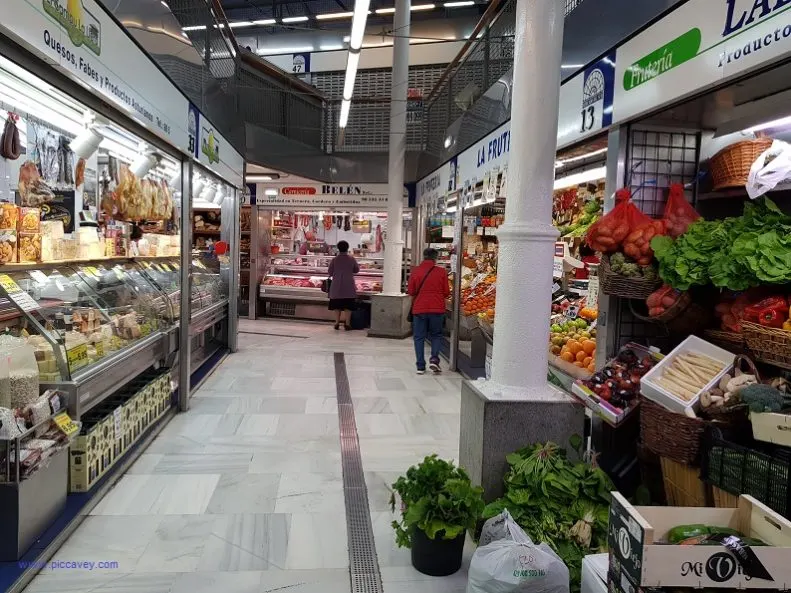 Cider Tour
No trip to Asturias is complete without sampling the local cider.
I headed over to Casa Trabanco to learn about how Asturian Cider is made and poured.
Spain produces 78 million litres of Cider per year.
It is the 5th producer in the world.
Cider exports from Asturias is one of the main industries in the region.
Asturians drink 54 litres of cider on average per year
Casa Trabanco Gijon
Casa Trabanco is located in the green belt surrounding Gijon. A short taxi ride from the city to the Apple Orchards is pretty excursion. I had pre booked a guided tour and Cider tasting.
Looking forward to an afternoon in the countryside we went along to see exactly where Spanish cider is made. This producer has been here since 1925 and is one of the more established cider producers in Spain.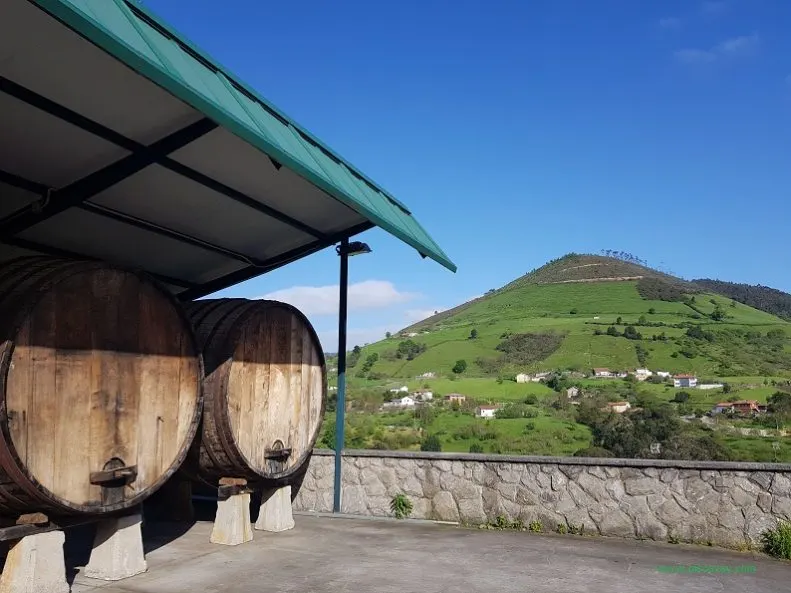 Artisan Cider Production
Although production is less labour intensive than years ago, you need to be strong to make cider. The production here is artisan and the apples are moved by people rather than machines. When you have hundreds of kilos of apple pulp in the wooden tanks to move, you need plenty of muscle.
The cider is kept in wooden barrels throughout the entire process. These ciders tend to be 4%-8% strength
Cider Apple Trees can be seen across Asturias. This one was in flower in May. Although they have plenty of these trees across the region the demand for cider is so high they have to important apples from other producers too.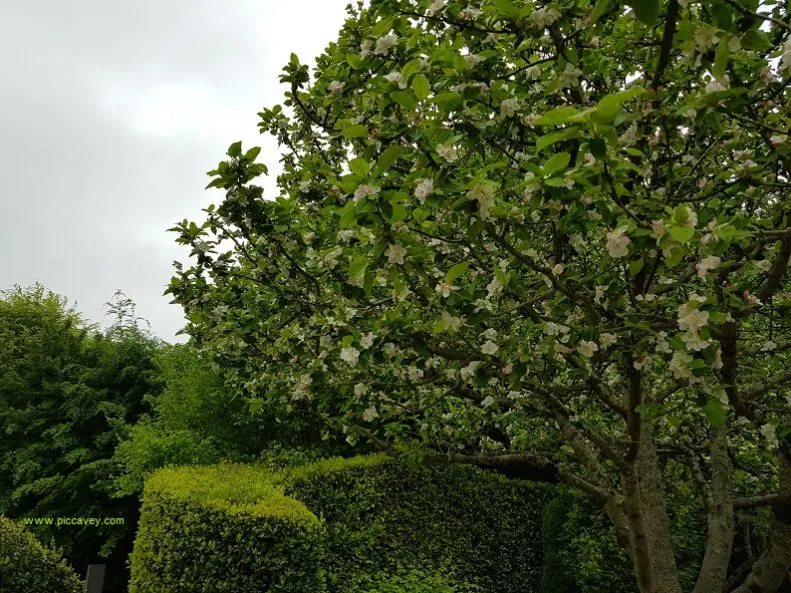 Pouring Cider
The art of pouring cider, to get the small bubbles in the cider the drink is poured from height. Called Escanciar this technique looks simple but is quite a skill. Otherwise you end up with cider all over the floor rather than in the glass.
Then the cider should be drunk quickly while the bubbles are still there, giving it a sparkling fizz.
I also tried their Sparkling Cider Poma Aurea which is made with Asturian Cider Apples but has bubbles in the cider. This kind of drink is used for celebrations such as Christmastime and mostly exported.
Spanish Cider
Cider is a huge part of Asturian culture. When you visit a Sidereria in Gijon the waiter will pour the cider for you. Its typical to order one bottle between 2 or 3 friends. Expect to get 2 glasses from a bottle each.
They do not serve Cider by the glass, you buy a bottle of cider in Asturias.
I tried my hand at cider pouring in Casa Trabanco. I must have had a good teacher as I learnt quickly.
Where to Eat in Gijon
Tasting Local Asturian Food
Natural Cider in Spain
Restaurants in Gijon Asturias
Spanish Food Markets