Cordoba Restaurants in Spain
Cordoba is such a pretty city. Having visited many times since 2006 I now take a closer look at Cordoba Restaurants and its local Food.
This time to discover Cordoba more in depth. I specifically visited lots of different restaurants, bars and cafés.
This guide covers all budgets and tastes. I hope you find it useful.
Yum

Typical Cordoba Food
Typical Cordoba Food has a clearly visible traits of Andalusi cuisine. The history of the region is reflected in the food. Saffron, almonds, spices and recipes with aubergines are common ingredients.
The most typical food served in Cordoba restaurants include dishes such as:
Flamenquín, this is a battered piece of pork or ham. It may have cheese and egg depending on the recipe.
Salmorejo is a cold tomato soup thickened with breadcrumbs.
Pastel Cordobés, a flaky pastry pie with sweet pumpkin filling
Regañás. These square shaped crispy bread biscuits are served with the bread in many restaurants and tapas bars.
Rabo de Toro Bull tail dishes. Croquettes, Stews and varied hearty dishes made from this traditional meat.
Montilla Moriles Wines from the local region are excellent. Choose a sweet one to accompany dessert.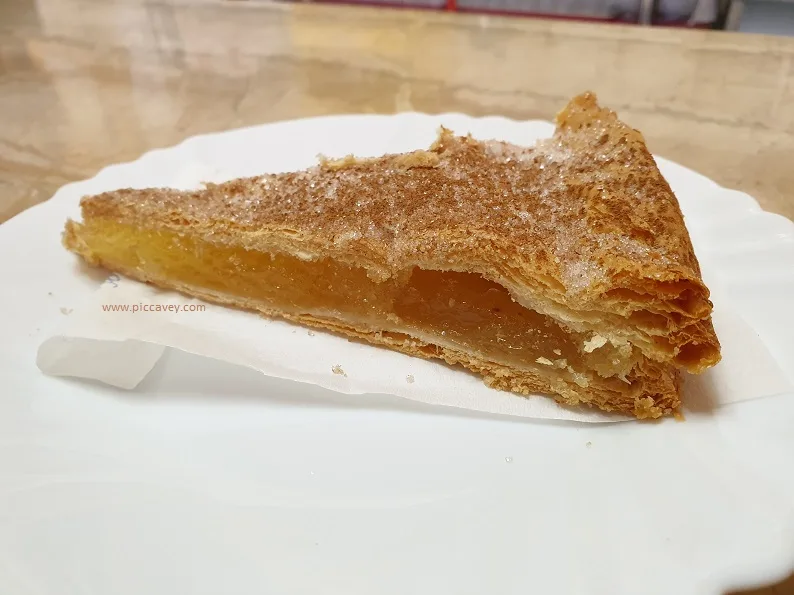 Cordoba Restaurants
Before travelling I did get some recommendations from a colleague of mine Cordoba born and bred. A few people I know who had visited recently also gave me pointers.
From researching I soon had a long list of places I to try. Three days only gives you the possibility of visiting five or six places so I didn't manage to do all the places on the list.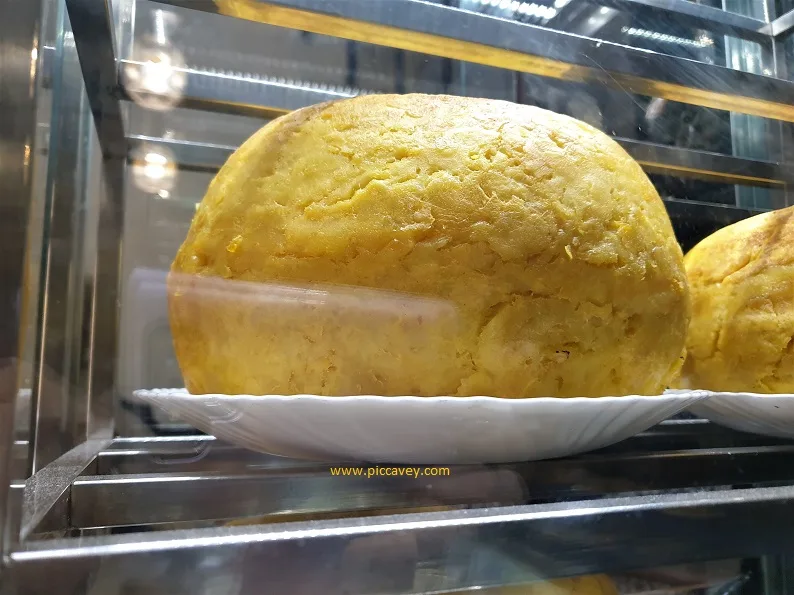 Bar Santos
This classic pick next to the Mosque is a tiny bar serving fluffy tortilla española. (Omelette with potato and onion) With standing room only this has become a must do when visiting Cordoba. Locals and visitors pop over to have a cold beer and slice of tortilla as an appetiser. Choose to stand at the busy bar inside or outside as you watch the world go by.
Open daily from 10am to midnight
Calle Magistral González Francés, 3, 14003 Córdoba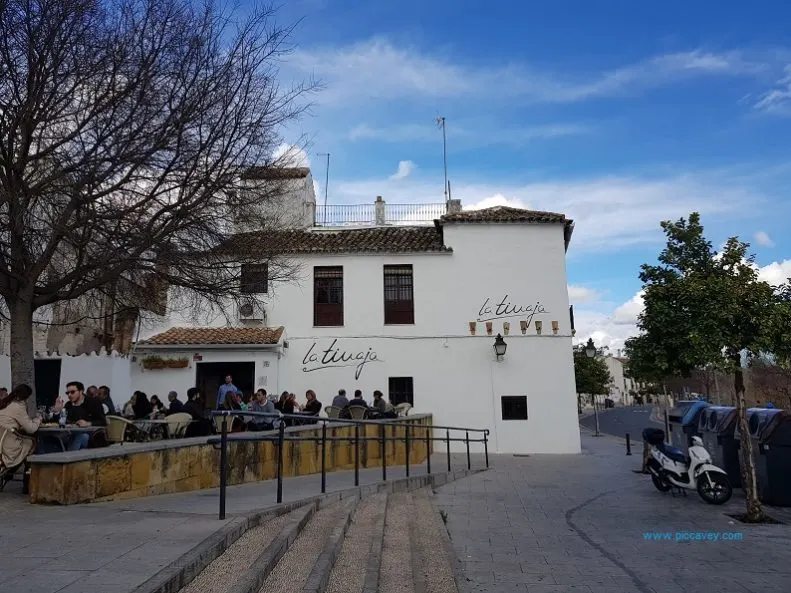 La Tinaja
Service at this Riverside Restaurant was faultless. Frequented by locals the decor inside is modern. They also have a large terrace outside to dine outdoors. I dined here in March 2018 and again in April 2019.
For starters I choose the obligatory Aubergines with Honey which is so typical in Cordoba and a personal favourite. Then I tucked into these Potato Pots with brava sauce. They were as delicious as they look.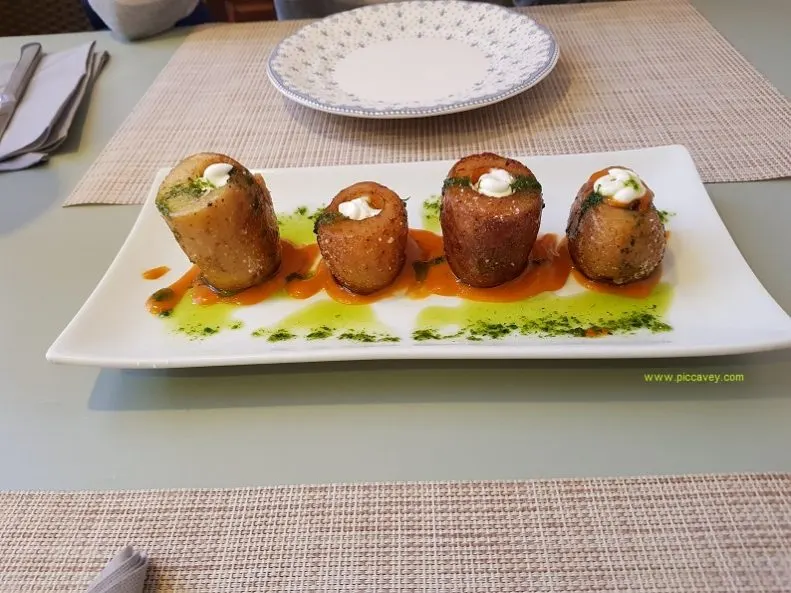 Cordoba Foodie Spots by the River
My main course was a Cod filled ravioli in coconut sauce. Although this dish was a mixture of different flavours it was delicious.
For dessert I tried the Tarta de la Abuela. The list only offered four dessert options. All were cake.
Service here was excellent and the atmosphere inside was relaxed and welcoming.
Cost around 28 euros per person for three courses.
Opens at 1.30pm everyday
Address: Paseo de la Ribera, 12, 14002 Córdoba

La Regadera
This modern restaurant is not far from the Plaza del Potro. It´s on Calle Cruz del Rastro. I wanted to try this place as it is ranked highly on Trip Advisor.
The menu is not extensive. Although the dishes we tried were very creative and made from good quality ingredients. We had a bowl of thick creamy Salmorejo with finely cut Jamon Serrano on top. This dish was shared between two of us as it was quite large serving. The main course was crispy Fried Cod fish. The batter was perfectly done and golden. The excellent quality cod steaks made it a great main course.
Dessert I chose was an odd combination. Grated Carrot in syrup with white chocolate mousse and served upon aniseed ice crystals (granizado de anis) Despite it being visually interesting I think the brownie on the other side of the table was a better option.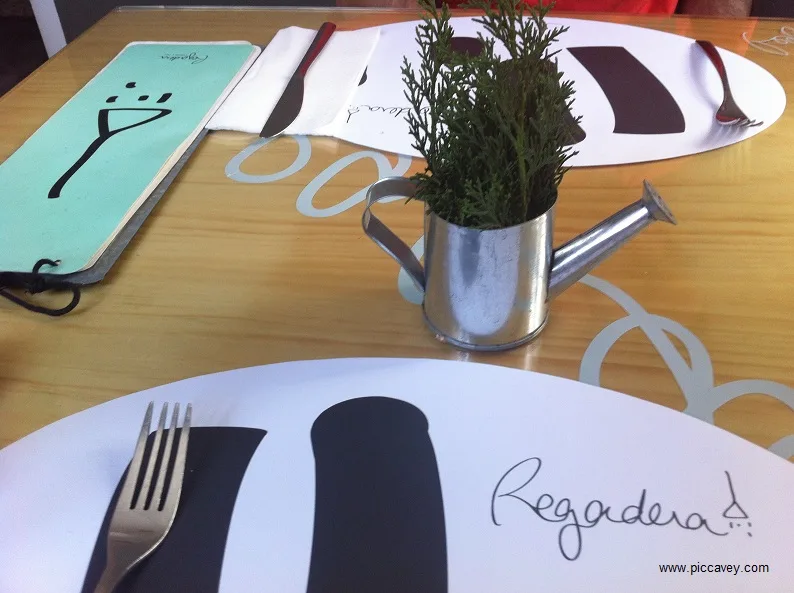 Service was attentive and very friendly. The décor fresh and modern with watering cans dotted here and there (Regadera = watering can). We could have been in Notting Hill or somewhere else in Europe. The only downside is the menu selection a little limited. If you dont intend on going consecutively, that won´t matter too much.
Book ahead of time if you can. It sometimes gets quite busy.
Opens at 1pm til 4pm and then 8pm to 11.30pm
Closed on Mondays

Address:

Ronda de Isasa, 10, 14003 Córdoba
Taberna del Rio
Called River Tavern, as its name suggests its close to the river.
This busy bar has outside space at the front and along the side, but for a quieter experience head inside to the restaurant area.
Offering delicious typical delicacies such as salmorejo and local cheeses from Cordoba province, its highly recommended. I ate here in November 2019.
They also have local wines such as Montilla Moriles which is worth trying.
Open daily from 1pm to midnight
Address: Calle Enrique Romero Torres, 7, 14002 Córdoba
Taberna Montillana
This bar in the top part of town is a favourite with the locals. We headed to Calle San Alvaro after seeing the Cristo de los Faroles in the evening. We had to try a Cordoba Flamenquin so after getting a couple of ice cold beers we ordered. Some crispy regañas were place on our table by the friendly waiter.
The flamenquin was delicious. We also ordered this wok bowl to share. I enjoyed the low key atmosphere here. The food was good. Nothing fancy , just traditional Cordoba bar food. Prices were acceptable. The wine selection is huge.
The only downside is that I can get busy as there are only a few tables for dining. (You can stay in the bar area too)
Open daily from 1pm to midnight
Address: Calle San Álvaro, 5, 14003 Córdoba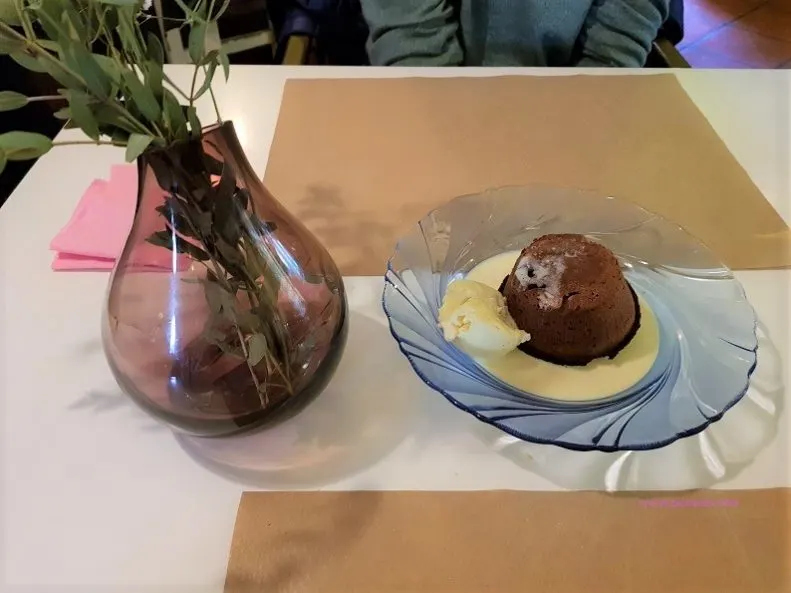 La Boca
An eccletic café and restaurant on one of the main streets of Cordoba. They offer a vegetarian daily menu but also have meat options.
Dessert shown above. I ate here in March 2018 and enjoyed the vegetarian menu. On the day I dined there it was three courses. A chilli bean stew followed by a Rucula thin crust pizza. Dessert was cheesecake. Good value for money.
Although I ate in the bar area, I was told that the restaurant is also excellent.
Open from 12 midday to midnight
Closed on Tuesdays

Address:

C/ San Fernando, 39, 14003 Córdoba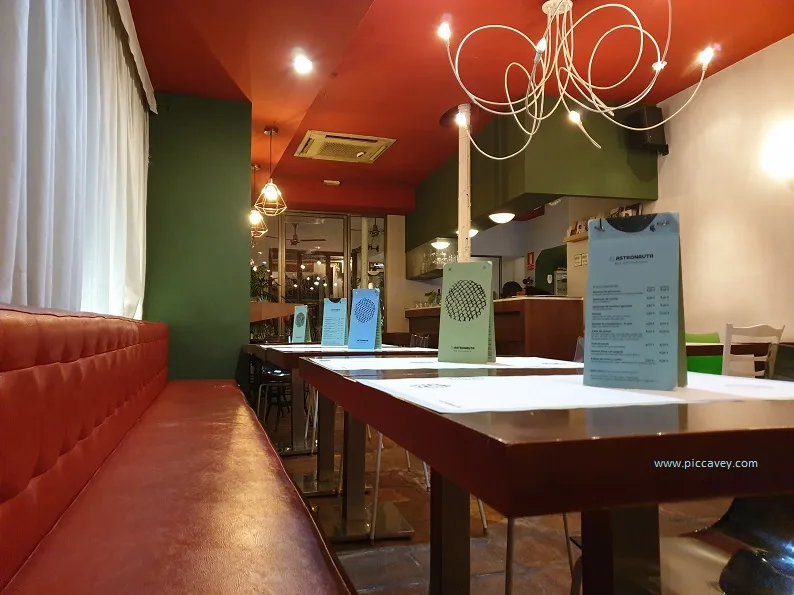 El Astronauta
This cool restaurant offers a midweek menu for 10 euros. Located just below the Roma Temple they have plenty of healthy options. There are also quite a few vegetarian dishes to choose from.
Open from 1.30pm to 5pm + 8pm to midnight
Closed on Sundays

Address:

Calle Diario de Córdoba, 18, 14002 Córdoba
Bodegas Campos
Bodega Campos is close to Plaza del Potro. This wine producer began back in 1908. They now run a successful catering company as well as the wine business. Their headquarters is a quaint Andalusian style building offering informal bar food, restaurant for weddings and celebrations as well as a shop to buy delicatessen products to take with you.
The bodega is open for Guided tours in Spanish and English.
We had lunch in the bar. Lined with photos of many Spanish celebrities and royalty. There are also vintage adverts from their company's past.
I choose gazpacho for starter and then we selected two other dishes to share. Fried aubergines and some tender beef with asparagus. The gazpacho and Salmorejo we really something. It was clear that the products they use to make their dishes are first class. The deep ruby red colour of the gazpacho was like no other. Living in Andalusia I´ve tasted a lot of gazpacho but this one was something special.
After finishing off the crispy aubergines we chose Mojito sorbet for dessert. A tangy fresh icy refresher. Perfect to cool us down before heading out again. The service was professional and polished. it´s one of the Cordoba restaurants I´d like to return to sometime.
In November 2019 I was back at Bodegas Campos with a friend who is gluten intolerant. They had a clearly labelled menu and helped us choose the best dishes. With friendly staff to guide us we had a lovely lunch.
On weekends and in springtime its better to book ahead.
Address:

Calle Lineros, 32, 14002 Córdoba

Opens 1.30pm to 4.30pm and 7pm to 11pm
Closed Sunday nights

Address:

Calle Lineros, 32, 14002 Córdoba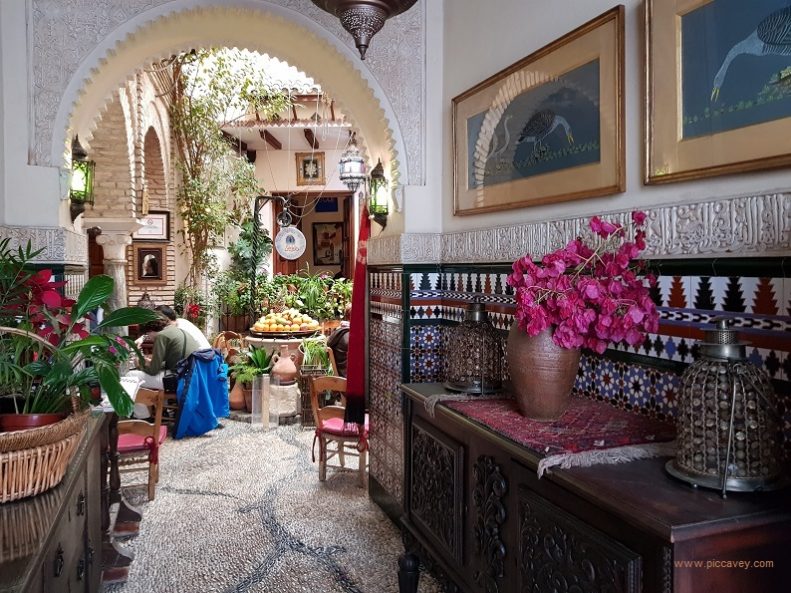 Salon de Te
This Teahouse in the Juderia is such a sweet little place. With its Andalusi style patio and endless tea list. I always have to pop along here each time I am in Cordoba.On my latest visit I enjoyed a few sweet baklava pastries and a huge pot of three flower tea.
With the fountain babbling away beside me and little birds fluttering in and out of the patio it is an oasis of calm in the centre of Cordoba. At the Salon de Té they serve some food such as cous cous, hummus or falafel although I have eaten here myself yet.
I have actually lost count of how many times I have been here now. Love the space.
Opens from 12h to 10.30pm
Address: Calle Buen Pastor, 13, 14003 Córdoba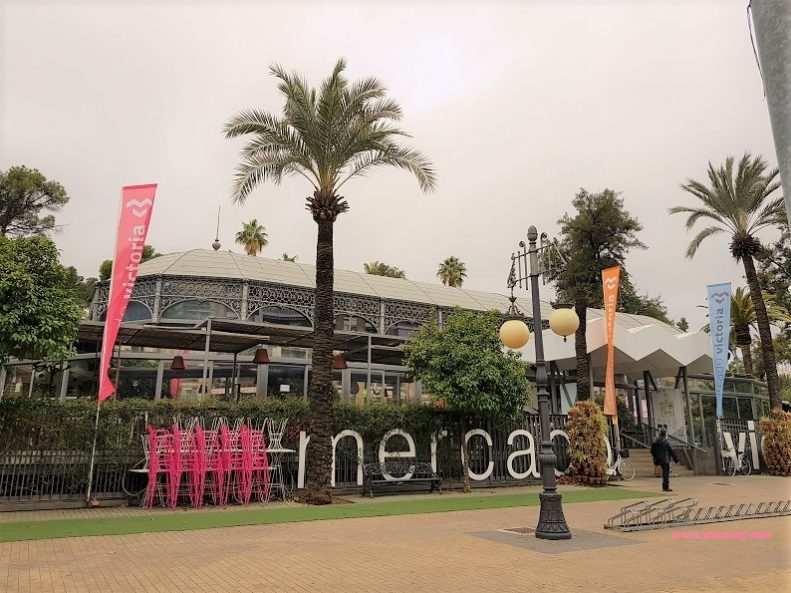 Mercado de La Victoria
This pretty iron structure is located on the Victoria Garden area of the city. A food market with plenty of seating areas inside, this is a great place for lunch or dinner. You can also take food away too.
With a huge variety of kinds of food you probably won´t know which to choose. There are Paella stands, Omelette stalls, juicing stands, tapas bars and a high end bakery too called Panea.
Inside it feels like a Victorian conservatory and must be a great place to enjoy on a summer evening.
They open daily from 10am until past midnight.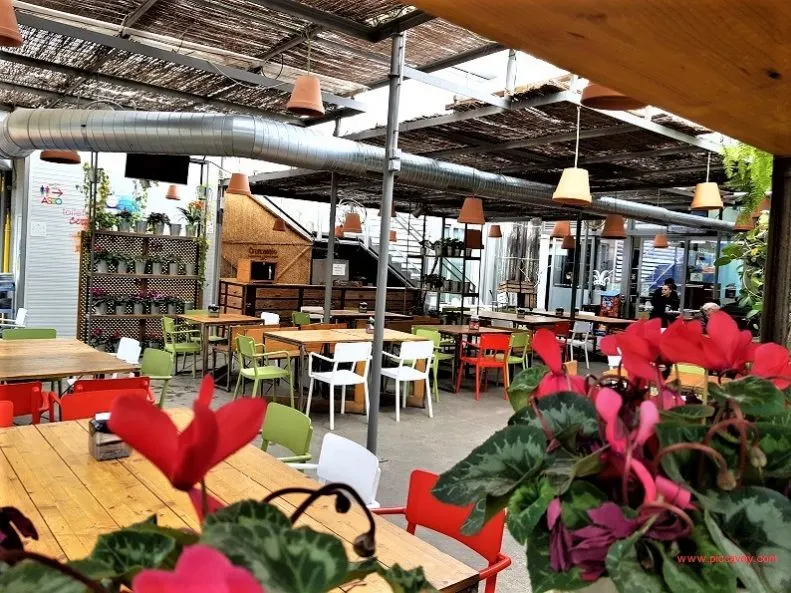 Eat in or Takeaway
You can buy prepared food here to take away. There are also butchers, grocers and other stalls so you can buy fresh produce to cook yourself.
Also the Spanish ham stall looked very enticing too.
Another place had Halaal food. One moroccan speciality on sale is Bastela (chicken filled pastry with cinnamon) and falafel. I ate there in November 2019 (photo below)
Address: Paseo de la Victoria, S/N, 14004 Córdoba
NOOR
Recently awarded two Michelin stars, Noor is the creative space for Cordoba Local chef Paco Morales.
I have eaten at NOOR twice now. The attention to detail is absolutely increible.
There are several menus to choose from, all inspired in Berber, Moorish cuisine from the legacy of Al Andalus.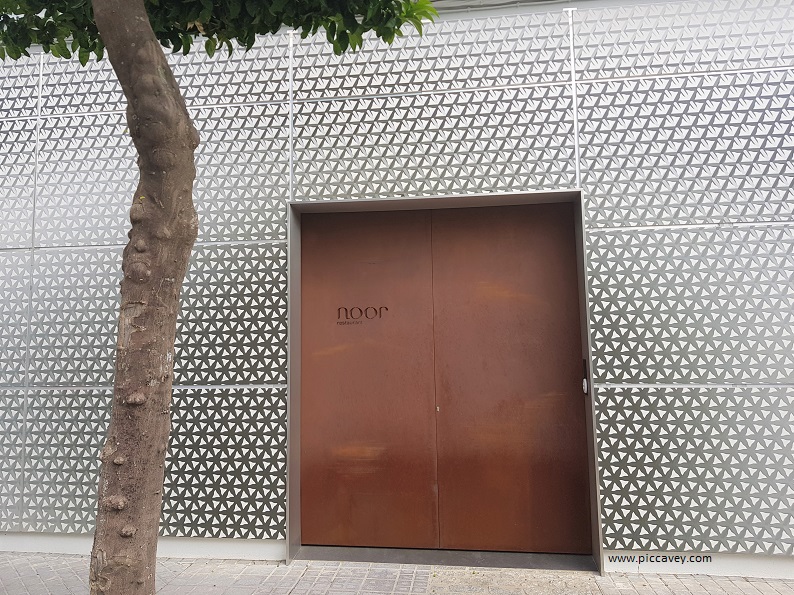 Prices start around 90 euros per person. The problem here is actually getting a reservation.
There are not many covers per service so you need to book a long time ahead to get a space on your requested date.
Open on Wednesdays, Thursdays, Friday and Saturdays
Closed Mondays, Tuesdays and Sundays.
Located outside the city centre, find Noor on

Calle Pablo Ruiz Picasso, 8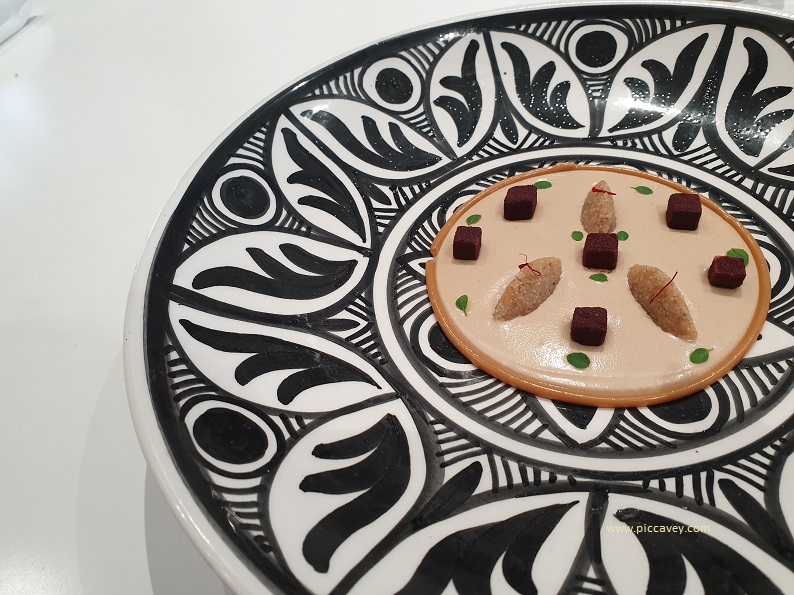 Patios de la Marquesa
This space within the streets of the Juderia offers lots of different food options under the same roof. This is great if you are a family or group with different tastes. Each person can choose what they want to eat.
From Paella, to tapas or delicious Moroccan cuisine the selection will spoil you. There are also lots of different wine bars too.
On my recent visit I had tapas and wine in the main courtyard. It was very lively and a good atmosphere. Followed by mint tea and arab pastries.
Opens Daily at 12h midday to midnight
Calle Manríquez, 4, 14003 Córdoba
Planning your Trip to Cordoba
Resources to plan ahead.
Please Note:
This post contains affiliate links, which means that if you click through and make a purchase, I will receive a small commission. All thoughts, feelings and opinions shared on this blog and in this post are my own.