Cordoba Andalucia
Cordoba Spain is a historic city in Andalusia, Southern Spain. With four UNESCO World Heritage Sites it is the first city to have such recognition, beating Rome or Paris.
Due to its location Cordoba is a good place to visit in Andaluca together with Granada and Seville. You may not know that Cordoba has been the capital of Spain twice in its long history. First with the Roman Empire, Cordoba in the 2nd century was capital of Hispania Ulterior. Then under Muslim rule in medieval times the Caliphate of Cordoba ruled most of Iberian peninusula back then.
In November 2019 I spent a long weekend in Cordoba to see the splendour of this historic Andalusian city.

Cordoba Mosque
On Saturday morning I got up super early to visit the most popular monument in Cordoba. The Cathedral Mosque.
Getting their as they opened made sure that I could get plenty of photos before the daytrippers arrived.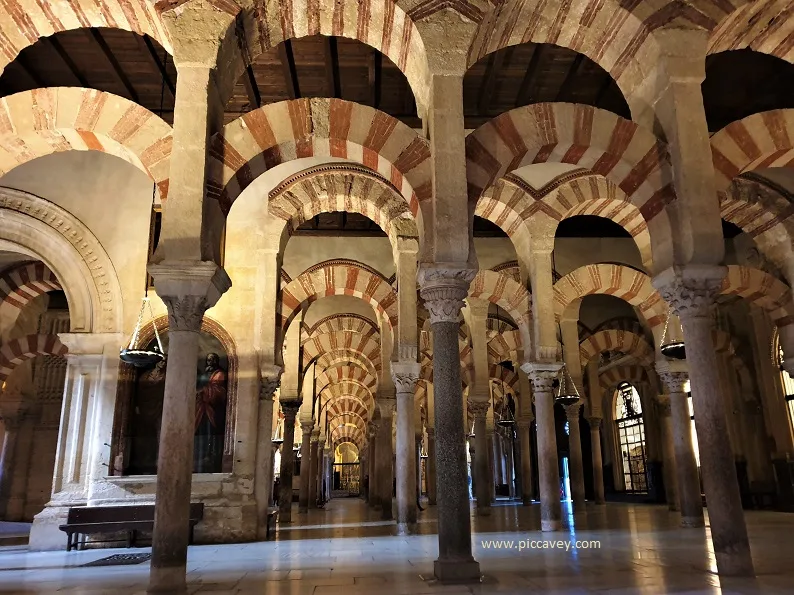 Beautiful on the inside and outside this huge building is now Cordoba´s Cathedral. Right at the heart of the Mosque is a Christian Building. It is such a unique place you really have to see it for yourself.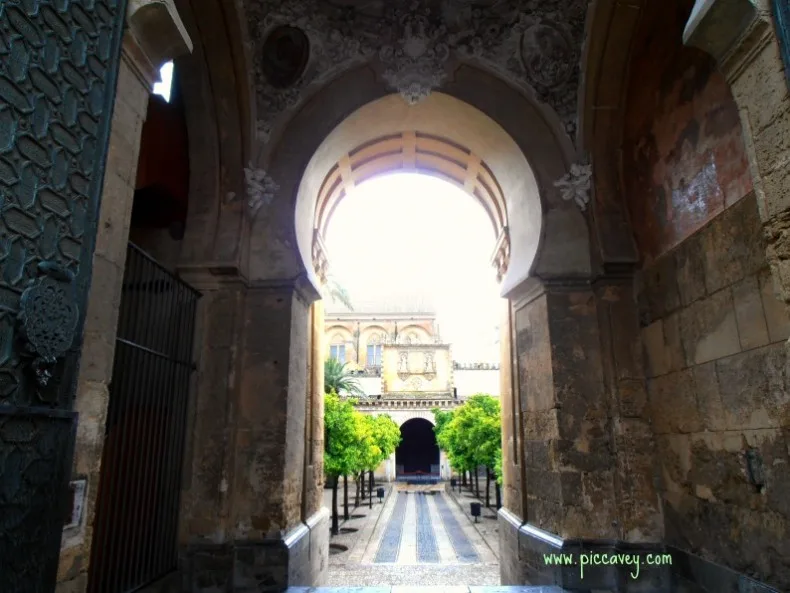 Cordoba Mezquita Tickets
Getting tickets to visit Cordoba´s Mosque is quite simple however you can book ahead online. This is particularly recommended in the months of Spring. March April and May on weekends throughout the year.
Here are some links for tours of the monument: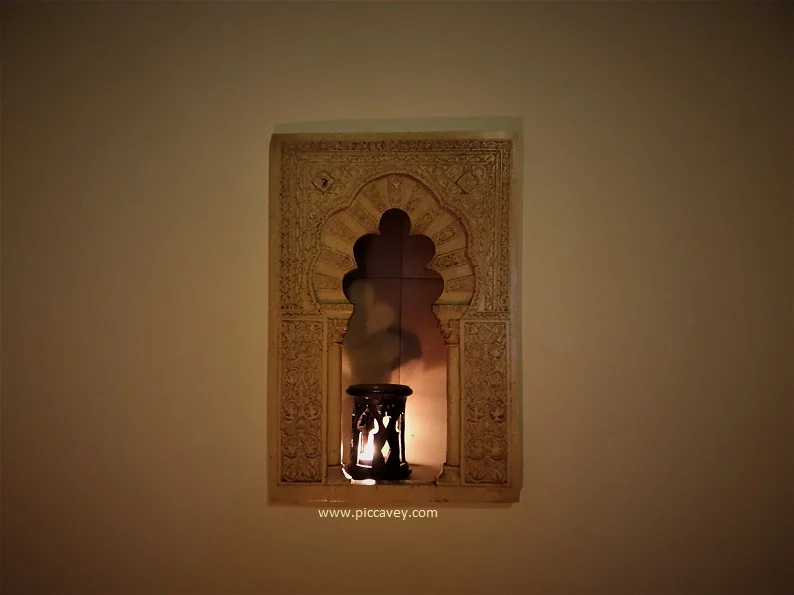 Cordoba What to See
Other notable monuments in Cordoba are the Alcazar or its stunning Patios. Wander around the Zoco to buy local crafts or soak away at the Hammam Al Andalus.
I have already written up other posts about Cordoba on previous visits
See them below:
Of all the times I have visited one of my highlights was visiting the Medina Azahara
Medina Azahara Cordoba
This site is a short drive from Cordoba (5kms). Buses leave from the roundabout opposite Hotel Eurostars Palace.
Guided by Luis Larrea, Arte en Cordoba we learnt about this splendid palatial city in ages gone by. Medina Azahara was built in 940 and had very grand interiors. The Salon Rico being the most ornate. (currently being refurbished). It was declared a UNESCO World Heritage Site in Summer 2018. Since then visitor numbers have increased quite a lot.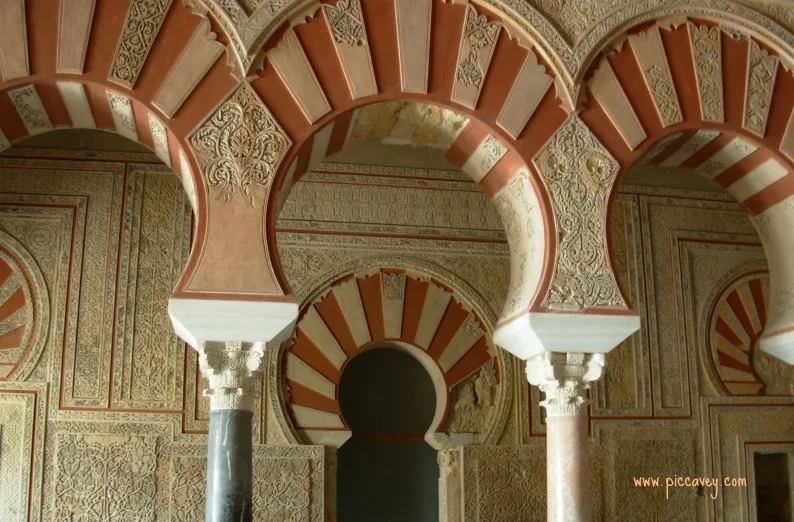 As Medina Azahara is an archaelogical site, you should wear good shoes. There are lots of uneven surfaces, a few ramps and steps too. The site is mainly outdoors and has little shade. So if you visit in Summer months bear this in mind.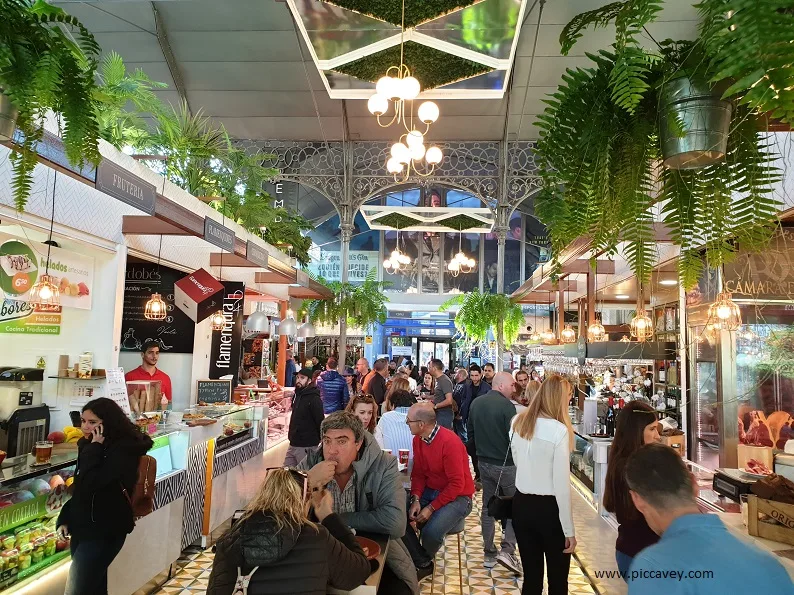 Mercado de la Victoria
After visiting Medina Azahara, driving back into Cordoba, we stopped for lunch at Mercado de la Victoria. This wrought iron building is packed with food stalls and bars of all kinds. I choose to try to Falafel and Pastela from a Moroccan Food Stall there.
Taberna del Rio
A Tapas Dinner was served at Taberna del Rio. Just down from Plaza del Potro this busy bar had excellent food and an even better wine selection. Local cheese from Zuheros, Falafel and Delicious Hummus.
La Juderia
No visit to Cordoba is complete without a wander around the streets of the Juderia. The narrow white washed streets of the Jewish quarter are so charming and maze like. Calleja de las Flores is probably the most well known spot in this historic neighbourhood.
Jewish Quarter
However there are many corners that only locals seem to find. Such as the tiniest street, Callejon del Pañuelo which is on the street Calle Pedro Jiménez (a side street behind Subway) It´s possibly the smallest square in the world tucked into a narrow alley close to the Mosque. The alley opens out into a tiny square complete with a small orange tree. There is even a fountain in one corner of this reduced space.
Our guide took us on a route around the Jewish Quarter explaining about Cordoba´s past, the main historical figures and events that created this historical city.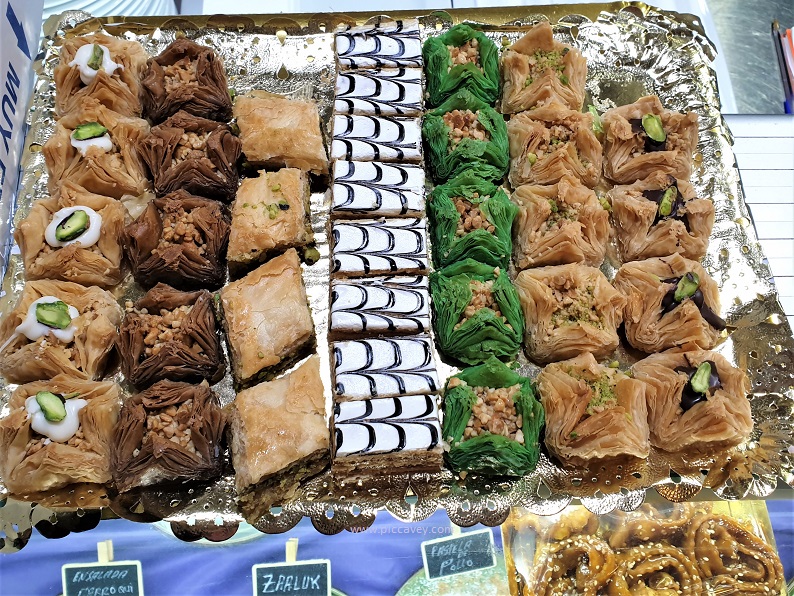 Los Patios de la Marquesa
Also in the Juderia are the Patios de la Marquesa. This space is like an indoor market with different places to eat and drink. There is a sweet arab inspired tea house inside making delicious baklava and chuparkia.
They also have a Paella stand, plenty of tapas and wine bars too. Pop in for an afternoon snack or for dinner.
Its a great option as each person may choose a different type of food.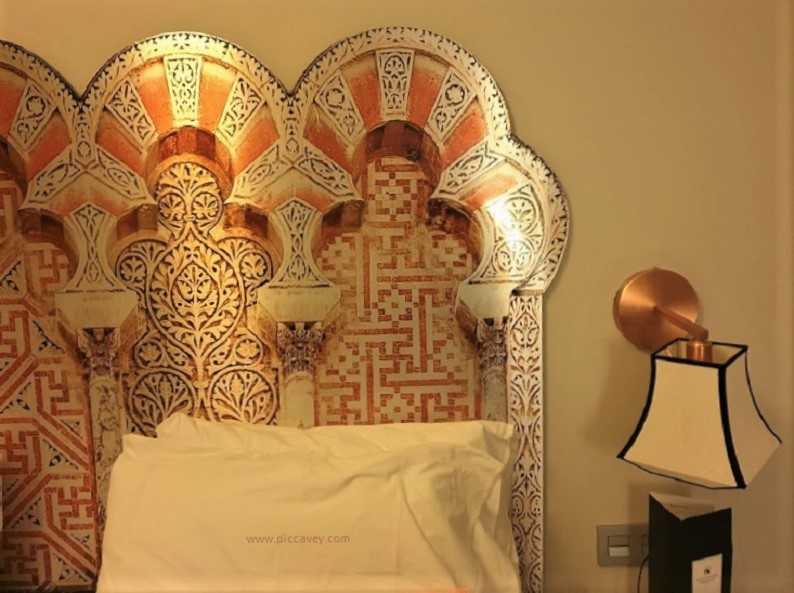 Hotel in Cordoba
For this weekend I stayed at Hotel Eurostars Conquistador. A hotel located right in front of the Mezquita. Somewhere I´d stayed a few summers back.
Breakfast is varied. The views from the room to the Mosque walls are dreamy. Seems that you can almost touch it from your bedside.
Many thanks to all the sponsors and partners that supported this event.
Ayuntamiento de Córdoba
Sadeco – Empresa Municipal Sanemientos de Córdoba
Restaurante Taberna del Río
Guía Turístico – Luis Larrea
Hammam Al Andalus Córdoba
Autocares Bravo
Mercado de la Victoria
Eventour
Patios de la Marquesa
Emacsa – Empresa Municipal de Aguas de Córdoba
Grupo La Carbonería
Aucorsa Bus Company
Rol Servicios Turísticos
Diario Córdoba
Almedinilla Turismo + Somnus
DO Aceite Oliva Priego de Córdoba
Consejo Regular Montilla Moriles
KLM Vuelos Sostenibles
Barco Ecológico La Breña
City Sightseeing
Homeexchange