This Granada calendar takes a look at the main festivities throughout the year. I am often asked When is the Best time to visit Granada. So this overview includes popular dates in the cultural agenda, foodie tips and insight into the best accommodation options according to time of year.
This perpetual Granada calendar may vary slightly year to year but generally the traditions and festivals remain the same months of the year.
Granada Calendar
When is the Best time to visit Granada Spain?
January is a cold month as its mid winter. Low season for tourism but a good time to visit to see the city as it is. Only locals are around in January, once Christmas holidays end on 7th January.
January in Granada
2nd January Dia de la Toma. A local festival in the city of Granada. This commemoration of the conquest of the kingdom of Granada in 1492. Celebrating the Catholic kings gaining control of Granada, this controversial ceremony is mid morning on the Plaza del Carmen.
1st-5th January Nativity scenes can be found around the city & province.
5th January Three Kings parade or Cabalgata de Reyes happens. The Magi arrive throwing sweets from their colourful carriages. This parade sets off from Rector Lopez Argueta and heads along Gran Via into centre of town. Times and exact route are published in local newspapers/online press the day before. Be careful of people with stepladders and umbrellas! Shops are open until late.
6th January – Spanish celebrate with a family lunch on Epiphany and its a National holiday across Spain.
Ski season at Sierra Nevada. (Resort open from November to April)
Foodie tip: Try Roscón de Reyes on 3rd-6th Jan or the hearty bean stew Olla de San Anton on 17th January
Accommodation tip: As it is low season try to get availability at the Parador de Granada. It´s usually sold out : )
Weather in January
January is the coldest month in Granada and the quietest once the Christmas break ends on the 7th January. It´s a good time to visit if you ski as the snow conditions are typically good in Sierra Nevada. Although its cold, Granada tends to have blue skies most days. The cold is dry rather than humid.
Season: Winter
Highest Temperatures 11ºC – 52ºF
Average Temperatures 6ºC – 43ºF
Lowest Temperatures 1ºC – 34ºF
Daily Hours of Sunshine 5
Rainy Days 8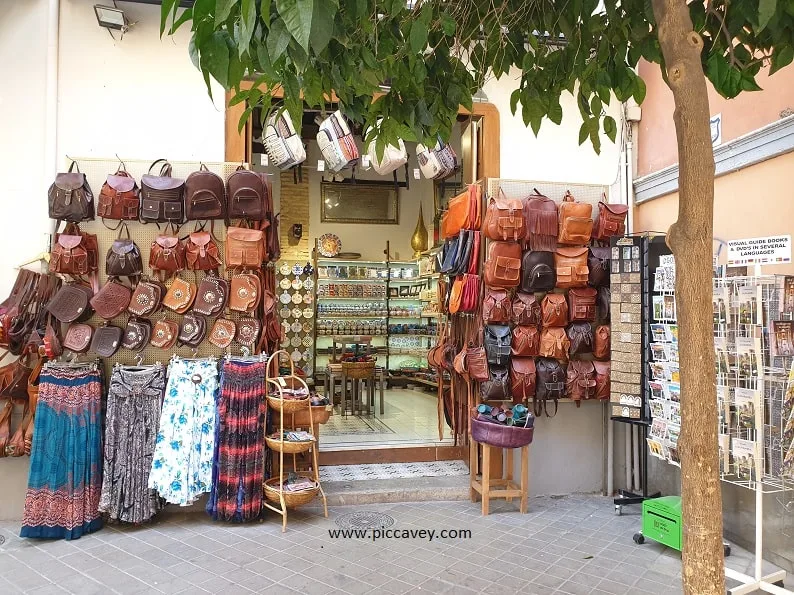 February in Granada
As winter comes to an end February is a little brighter. It is still low season for tourism in the city.
1st Sunday in February is Romería de San Cecilio in Sacromonte. A traditional procession walks up through the Albaicín to Sacromonte Abbey.
Ski season at Sierra Nevada (Resort is in November to end of April)
The 28th of February is a Regional Holiday in Andalusia. So the weekend around that date is busy with local visitors coming from the provinces. Prices for accommodation may be higher around this date.
Foodie tip: Find Cuajada de Carnaval in Cake shops in February. Made from polvorones (typical at Christmas) and layered with créme patisserie and topped with cinnamon.
Accommodation tip: If you plan a trip to Granada but want ski. The Hotel Saray is a good location at Palacio de Congresos. Easy to access by car but also close to shops and restaurants.
Weather in February
If you come to Granada in February bring warm clothes, temperatures in the mornings and evenings can be quite cold. Although warm sunshine at lunchtime can be a 10ºC fluctuation. Don´t let the blue skies fool you.
Season: Winter
Highest Temperatures 12ºC – 54ºF
Average Temperatures 7ºC – 45ºF
Lowest Temperatures 2ºC – 36ºF
Daily Hours of Sunshine 7
Rainy Days 9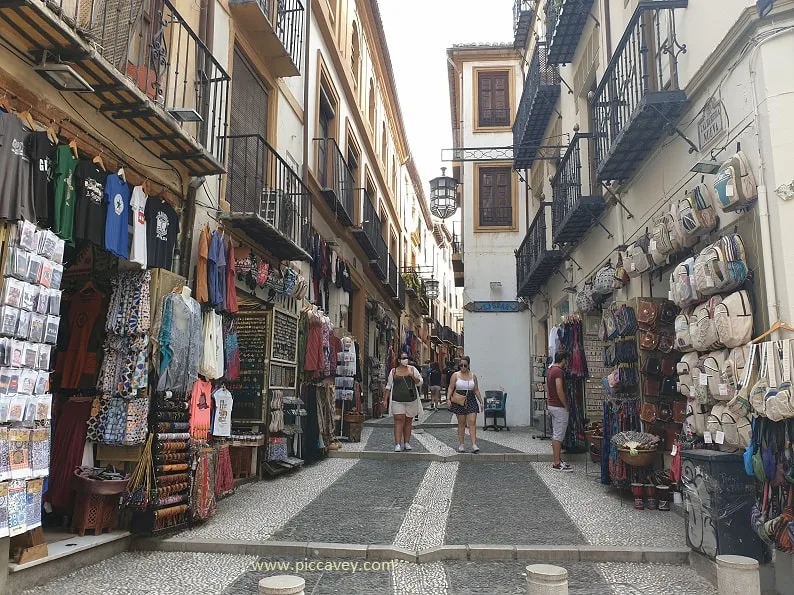 March in Granada Spain
As Spring arrives in Andalusia the tourist season kicks off again. The weather changes and orange blossom appears on trees around the city. It is also a time for festivals and cultural activities to start up.
Granada Tapas Fair is held annually in Mid March. Find out more about past editions of Granada Tapas Festival
Ski season continues at Sierra Nevada. (Resort is usually open from the end of November until Mid April)
Foodie tip: Los Italianos on Gran Via, favourite with the locals reopens Mid March. When San José comes on 19th March its their time to open up after the winter season has passed. Try the house special Cassata ice cream.
Accommodation tip: A great place to stay with views to the Alhambra is the Hotel Casa 1800. It´s on a tiny Albaicín side street. (get a taxi to Plaza Nueva and walk the last 200 metres) So really well located to lots of tapas bars and the historic centre.
Weather in March
Season: Spring
Highest Temperatures 15ºC – 59ºF
Average Temperatures 10ºC – 50ºF
Lowest Temperatures 4ºC – 39ºF
Daily Hours of Sunshine 8
Rainy Days 8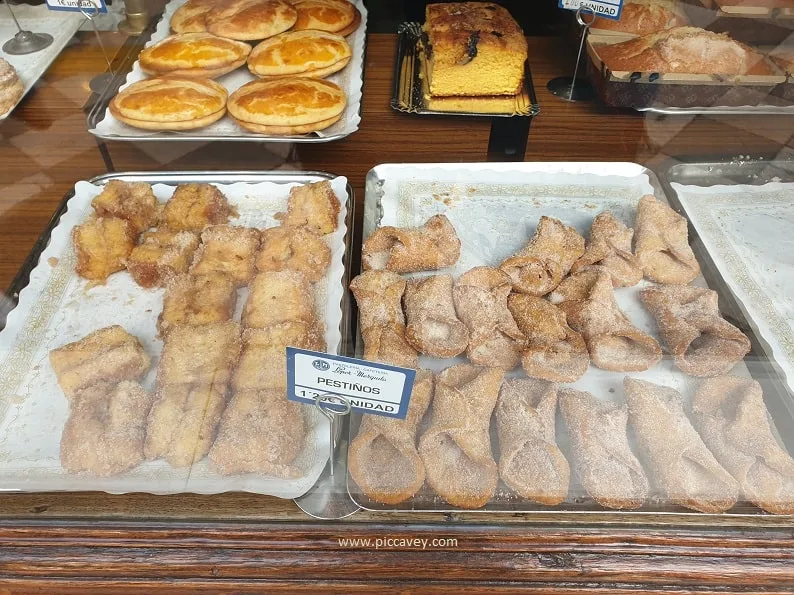 April in Granada
April is one of the busiest months to visit Granada. Easter week draws lots of Spanish tourist to the city. If you are going to travel to Granada in April, plan ahead and book guided tours and tickets before you arrive.
17th April Capitulations of Santa Fé – The celebration of Columbus signing the agreement with Queen Isabella happens in Santa Fé each year. There are Medieval Market stalls selling crafts, street food & other cultural activities over that weekend.
Easter processions and activities are significant in Andalusia. Easter in Spain falls in Mid April in 2022. Semana Santa is high season and a very busy time for travel and hospitality in the region.
Granada Beer Festival is on from 21st to 23rd April 2023. It will take place at the Recinto Ferial in La Zubia. With 150 beers to taste and lots of food trucks this 7th edition is looking to be one of the best yet. There are tasting activities and live music on at this festival.
Noche en Blanco is celebrated in April annually. In 2023 it will be on Saturday 22nd April. This cultural night takes over the city with shops and museums open til late. Lots of cultural activities dotted around Granada up to midnight. Find out more: Granada´s White Night of Culture
Foodie tip Easter treats such as Pestiños, Roscos and Buñuelos can be found in bakeries. For lent no meat allowed. Try fluffy Buñuelos de Bacalao in bars and restaurants.
Accommodation tip: As some streets get particularly crowded over Easter week, I think Hotel Vincci Albayzin is a good option at this time of year. While its well located it won´t have reduced access even on the busiest procession days of Semana Santa.
Weather in April
In April it can be changeable. You could get sun burnt or feel cold in the evenings. Layers are your friend if you visit for Easter. This year we had quite a few days of rain but also a few days of t- shirt weather too.
Season: Spring
Highest Temperatures 17°C 63°F
Average Temperatures 12°C 54°F
Lowest Temperatures 6°C 43°F
Hours of Sunshine 9
Rainy Days 12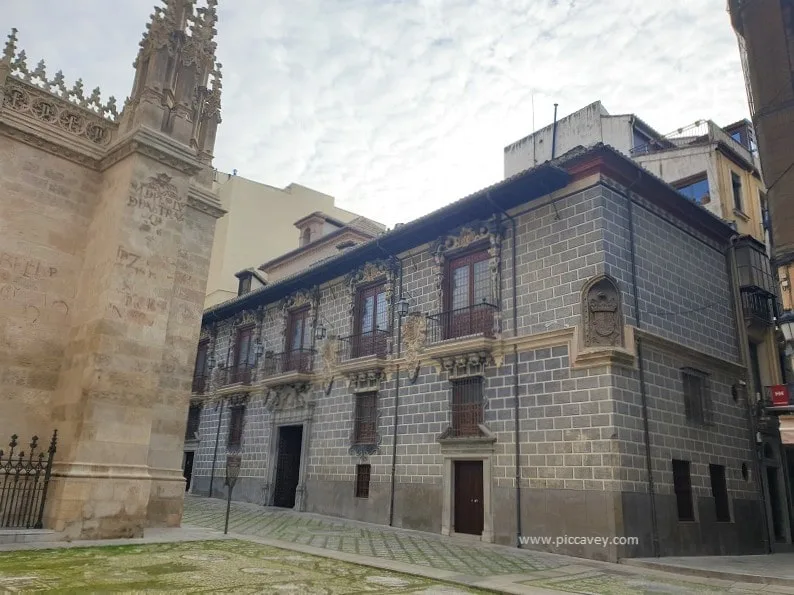 May in Granada Spain
Probably my favourite month of the year in the city. It´s not super busy but there are plenty of things happening in the city.
The 1st of May is Labour Day and most businesses and services are closed across Spain.
Cruces de Mayo festival kicks off the month. The Crosses of May are celebrated in Granada and around the province. The main day is 3rd May but the festivities take place the weekend closest to the 3rd.
Granada Shopping night usually takes place in May. This event organised by the town hall sees shops stay open one Friday night until 11pm. There are discounts, catwalk shows, DJ´s and other things going on too. Keep your eyes out for the posters in the week running up to the event. (last one was on Fri 31st May)
On the last weekend in May, Horses, Oxen and colourful Carriages leave Granada. They meander through the city on their annual pilgrimage to El Rocio in Huelva.
Foodie tip Try Fresh local Asparagus from Huétor-Tájar. These veggies are a specific variety with a purple hue to them, they are in season in April & May.
Accommodation tip: The location of the Eurostars Catedral is right opposite Granada Cathedral and next to the Food market. Opened in Sprin 2019, its a personal favourite in the city.
Weather in May
The weather is ideal for outdoor dining and walking around. While evenings are still cool, daytime temperatures are mild. It´s the month that I get back to the beach as temperatures hit 20C.
Season: Spring
Highest Temperatures 22°C 72°F
Average Temperatures 16°C 61°F
Lowest Temperatures 9°C 48°F
Hours of Sunshine 9
Rainy Days 9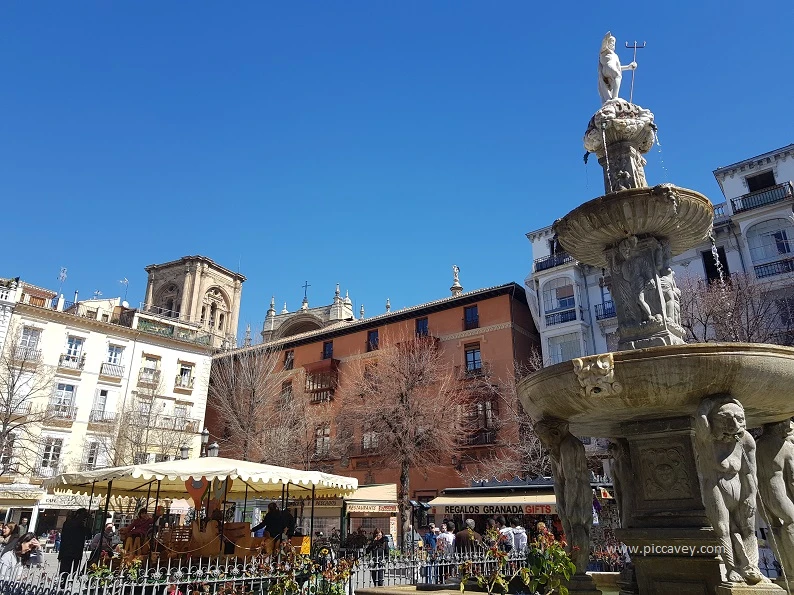 June – Granada Calendar
June is the month when summer sales begin and children finish up their schools for the summer. There are outdoor concerts and more flamenco shows on at this time of year.
19th June Fiestas of Corpus Christi – The main festival in Granada and it lasts 10 days. The main fairground and site for the Corpus is close to Granada bus station. I would recommend going at lunchtime or early afternoon rather than in the evening.
There are other celebrations such as La Tarasca which happens in the city centre on Friday morning. There are satirical cartoons displayed on the Bib Rambla square. Called Carocas its a tradition linked to this festival.
24th June On the shortest night celebrate the Fiesta del Agua in Lanjarón. A huge water fight at midnight happens on the main street of the Alpujarra town. Check the local information in Lanjarón. This summer festival is known as Fiestas de Agua y Jamón.
As summer arrives on the Costa Tropical, Motril has an Air Festival. Planes, Jets and Helicopters fly past the beaches of Playa Granada.
Foodie tip: Join me on a local food tour of Granada. Taste freshly sliced Iberian ham and excellent tapas from the best places in the city.
Accommodation tip: With a charming patio garden is bursting with colour in June, the Hospes Palacio de los Patos is situated on the main shopping street in Granada. It has spa facilities and underground parking on site.
Weather in June
Season: Summer
Highest Temperatures 27°C 81°F
Average Temperatures 20°C68°F
Lowest Temperatures 13°C 55°F
Hours of Sunshine 12
Rainy Days 5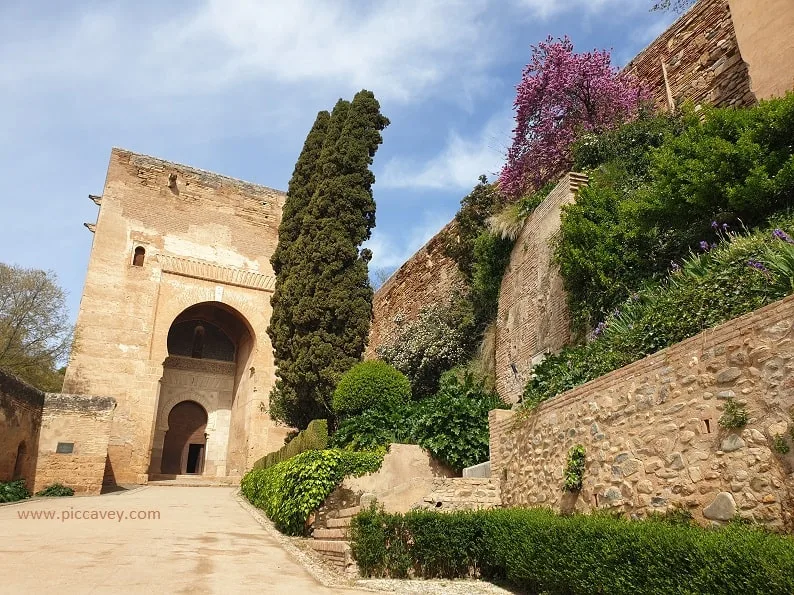 July in Granada
Weather in July
Its the hottest month, particularly the 2nd half of the month. (occasional heatwaves reach 40C)
Season: Summer
Highest Temperatures 32°C 90°F
Average Temperatures 24°C 75°F
Lowest Temperatures 16°C 61°F
Hours of Sunshine 12
Rainy Days 2
August in Granada Spain
First weekend in August in the Alpujarra village of Los Berchules. They celebrate New year eating grapes and it feels like Christmas in Summertime.
Head to the beach. It´s going to be hot! Popular spots for a daytrip are Almuñécar, Salobreña and La Herradura.
In August there are fewer locals in the city and some businesses are closed. The 15th of August is a National holiday. So the week around that date is very quiet in Granada.
Laroles Theatre Festival in the Alpujarra is on annually in August. Find out more about this open air cultural festival.
Foodie tip: Find a street vendor selling Prickly pears or Chumbos and try them. They are often on Carrera de la Virgen or next to the bridge on the Genil river.
Accommodation tip: If you visit Granada in August you need air conditioning and a pool. A few good options for a summer stay are the Eurostars Washington Irving which is located close to the Alhambra and has a small pool. Or the Catalonia Granada which opened Summer 2018. It´s a 15 min walk to the historic centre along a wide tree lined boulevard.
Weather in August
The first two weeks in August can be extremely hot. (occasional heatwaves reach 40C)
Season Summer
Highest Temperatures 32°C 90°F
Average Temperatures 24°C 75°F
Lowest Temperatures 16°C 61°F
Hours of Sunshine 11
Rainy Days 2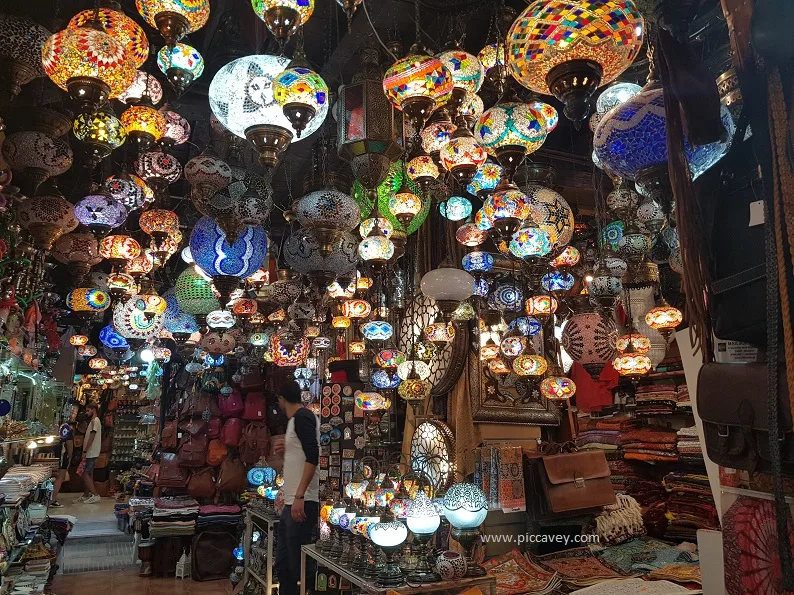 September in Granada
15th September. See the Floral offering to the Virgen de las Angustias Patron of Granada. Next to El Cortes Ingles and Fuente de las Batallas. Locals offer flowers to the patron of the city. The flowers decorate the façade of this popular church.
Mid September. The Flamenco Festival MILNOFF is celebrated around the city. In 2023 its from 13th to 16th September.
Last Sunday in September. Procession of Virgen de las Angustias through the city. Typical ´Torta de la Virgen´ pastries are sold in Puerta Real.
Last weekend of September or 30th September. Procession of San Miguel in Albaicín district up to Ermita de San Miguel. (photo below) Leaves from San Miguel Church in High part of Albaicín in the morning.
Foodie tip: Try local Seasonal Fruit such as Pomegranates or Quince.
Accommodation tip: If I didn´t live in Granada myself, I would choose to stay at the NH Collection Victoria. This hotel was of the first hotels in the city and originally opened in 1901. It is located right in the city centre, close to bus stops, taxis and a few underground car parks. The location is ideal for restaurants, shops and services. Ask for a room that looks onto Recogidas (if traffic noise is a concern).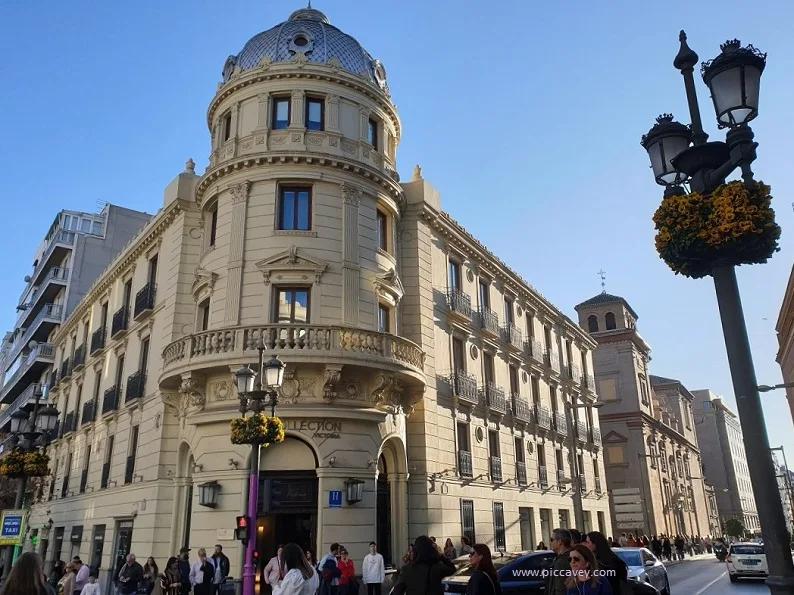 Weather in September
September is a lovely time to be in Granada. The weather is warm, in fact the first two weeks of the month almost feel like summer. Evenings are cooler but its a perfect time to visit the city.
Season Autumn
Highest Temperatures 28°C 82°F
Average Temperatures 21°C 70°F
Lowest Temperatures 14°C 57°F
Hours of Sunshine 9
Rainy Days 4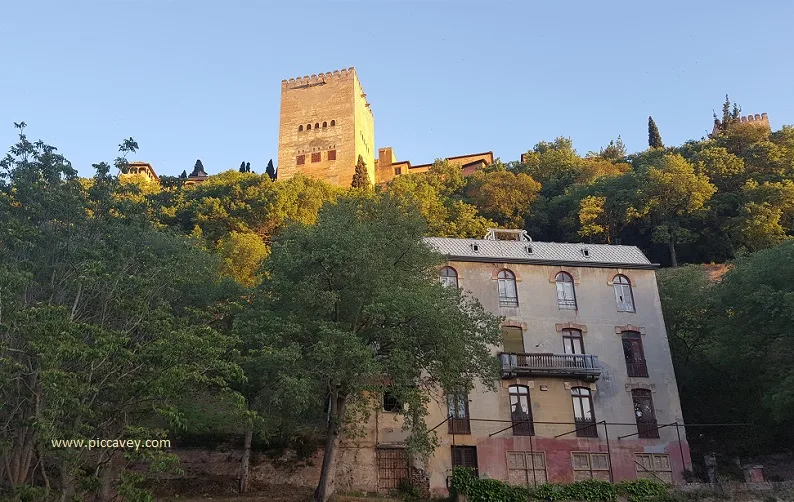 October in Granada
Mid October is the Procession of the Virgen del Rosario. Leaves from Saint Domingo Church (Realejo)
The 12th October in Spain is the Day of Hispanidad. This celebration is observed throughout Spain. A church service is held in the Royal Chapel in Granada on that day.
La Noche en Blanco Granada on 19th October is a programme of cultural events in the city lasting all night.
Foodie tip : Roasted chestnuts, find them sold by vendors in city centre streets in Autumn.
Accommodation tip: October can be an expensive month for accommodation as it is still high season in Granada. Some well located budget options are Macia Plaza , Hostal Atenas or Hotel Dauro
Weather in October
Season Autumn
Highest Temperatures 21°C 70°F
Average Temperatures 15°C 59°F
Lowest Temperatures 9°C 48°F
Hours of Sunshine 7
Rainy Days 9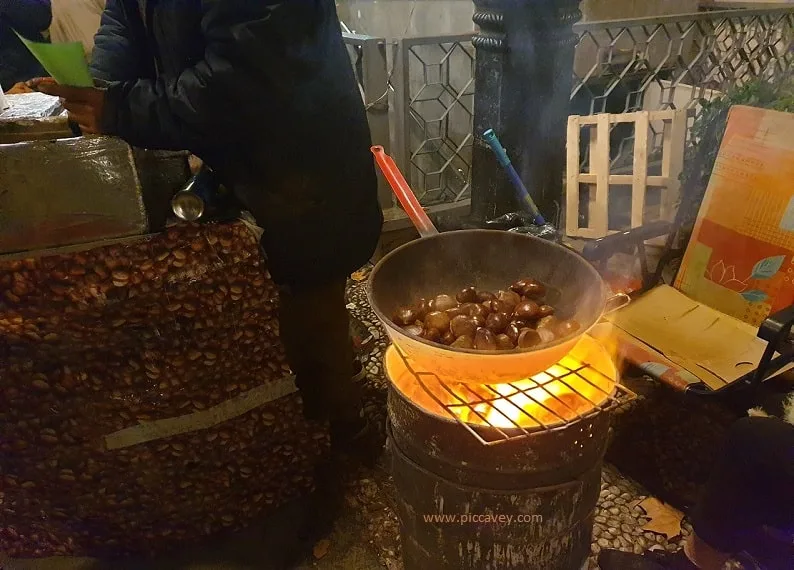 November in Granada Spain
Granada Jazz Festival happens each November in different locations. Concerts take place in Granada city, the Alpujarra and Almuñécar too.
Ski season at Sierra Nevada (Resort is open until Mid April)
Pasarela Fortuny – Granada Fashion Show is held every November showcasing local designers.
Foodie tip Try Chocolate and Churros at Café Futbol (Plaza Mariana Pineda)
Accommodation tip: Tucked away amongst the shops in the city centre Roommate Leo is a smart modern accommodation option with friendly staff.
Weather in November
Season Autumn
Highest Temperatures 15°C 59°F
Average Temperatures 10°C 50°F
Lowest Temperatures 5°C 41°F
Hours of Sunshine 6
Rainy Days 6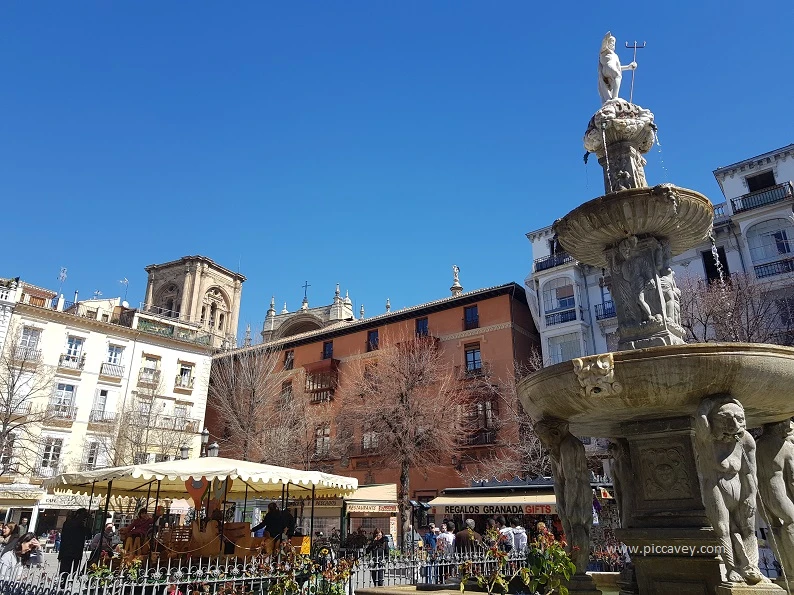 December in Granada
Christmas celebrations and lights typically start on the weekend around the 5th or 6th of December. The whole month is busy with people Christmas shopping, meeting family and celebrating the festive season.
5th December onwards Nativity scenes can be found around the city. Follow the Ruta de Belenes around the city.
26th December Church service and bell ringing at Church Virgen de las Angustias (Next to El Cortes Ingles) A service to bless the Granada against Earthquakes.
31st December New Year celebrations at Granada Town Hall from 11pm onwards.
Ski season at Sierra Nevada. If you want to stay there look up hotels in Pradollano or Monachil. They have a big party on 31st Dec for New Year in the resort.
Foodie tip Typical Marzipan figures and Almond turron sold at Christmastime.
Accommodation tip: With a spa in the basement the Marquis Isabella hotel is close to Plaza Nueva and a good option for a winter break. The onsite restaurant has great vegan and vegetarian options.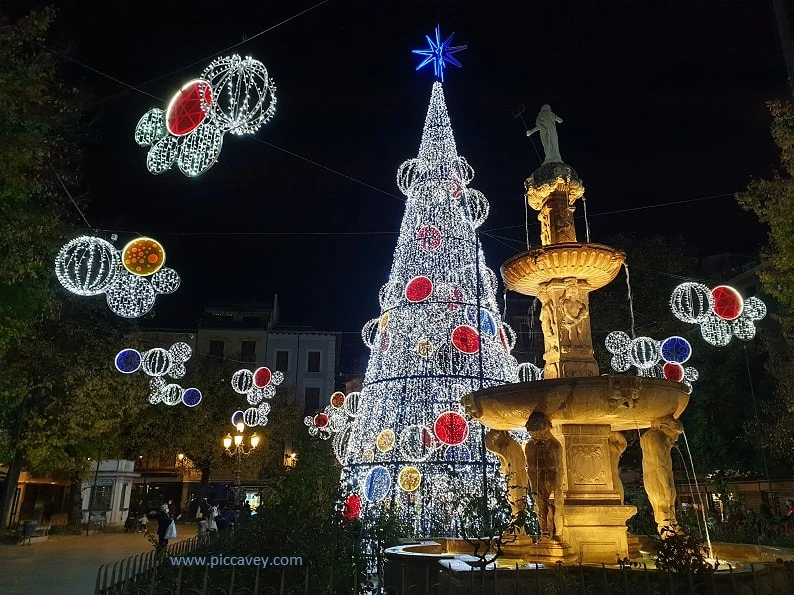 Weather in December
Season Winter
Highest Temperatures 11°C 52°F
Average Temperatures 7°C 45°F
Lowest Temperatures 2°C 36°F
Hours of Sunshine 5
Rainy Days 10
Please Note:
My website contains affiliate links, which means that if you click through and make a purchase, I will receive a small commission. All thoughts, feelings and opinions shared on this blog and in this post are my own.