The Origin of Flamenco
While the origins of Flamenco Music and dance are not entirely documented. There is a clear thread from the 18th century onwards. Although the true beginning of Flamenco is much older. The art of flamenco is made up of three parts: singing, (cante) guitar playing (toque) and dancing (baile). Singing came first, then guitar music was intertwined into the songs. Dancing was the last piece of the puzzle and greatly influenced by the Roma community.

It´s been a long discussion about the exact origins of Flamenco. It is understood that gypsies were in Spain as early as 1425. Even the Catholic Kings had specific rules for the Roma community in 1499. The most symbolic locations for flamenco are Granada, Cadiz, Jerez, Huelva. But it is not limited to Andalucia. Flamenco has strong links and tradition in Extremadura and Murcia too. Flamenco already appeared as far back at 1613 by Spanish writer Miguel de Cervantes. In Granada the Zambra is the most traditional dance which directly originated from Morisco dances seen in the 15th century.
Flamenco songs are based on a complex blend of traditional Andalusian music, Gregorian chants from Sefardic Jewish culture, as well as Arabic and African music. In 2010 Flamenco was declared UNESCO Intangible Cultural World Heritage and was a huge achievement. Especially if we consider the appalling treatment this community suffered in the late 1700`s under Zenón de Somodevilla. Looking back to the competition of Canto Jondo in 1922. Famously organised by F.G Lorca and other cultural figures in Granada. In 100 years progress was slow yet this important part of Spanish culture has now been recognised as it deserves.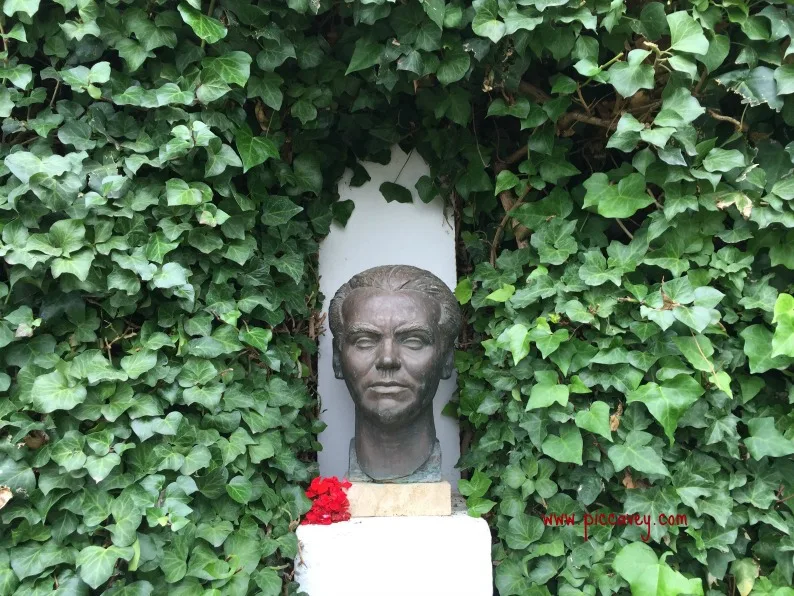 The Caves of Sacromonte
One of the most well known attractions in Granada are the Caves in the Sacromonte quarter. You can see Flamenco shows performed in some of these natural caves along the Camino de Sacromonte. Danced in this neighhbourhood since the end of the 17th century. I am sharing all the different venues and flamenco festivals in Granada that happen each year.
Here´s information about the different places to see and experience Flamenco in Granada.
In the Sacromonte there are many different caves along the winding road into the hills. The narrow road situated to the edge of the Albaicin directly opposite the Alhambra palace and the Generalife is magical part of the city. Natural caves hollowed out into the hillside and the prickly pear cacti lining the road. Some of the most well known tablaos are Los Tarantos, La Canastera and the Sacromonte Museum or the Flamenco Interpretation Centre. Sacromonte Abbey is also worth visiting as a monument in itself. Inside the Abbey grounds they do offer Flamenco evenings occasionally.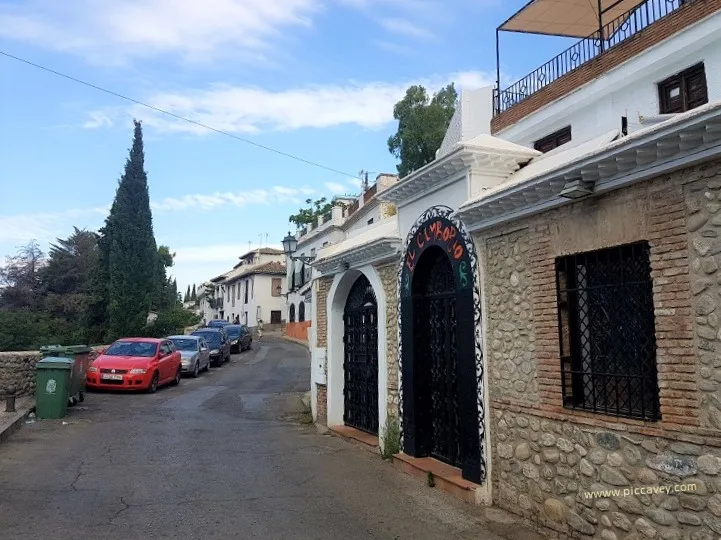 Maria La Canastera
La Canastera is one of the most authentic caves to see a flamenco performace. I think it is just the right size to feel the energy of the dancers. They have been performing here since 1953.
Flamenco caves are cool inside and the walls are usually decorated with copper bowls and local ceramics, as well as photos of previous flamenco artists in their family or famous dancers that may have performed there.
To get there take the bus C34 to Camino Sacromonte or go by taxi.
Cuevas el Rocio
Cuevas El Rocio, a large place with several different caves which has also been there since the 1950´s. Here you are guaranteed a show pretty much anytime you arrive, large groups of people are rounded up and packed into the different areas. A few years ago when Michelle Obama visited Granada this cave was where she saw Flamenco dancing.
La Chumbera
One of the most impressive venues is Auditorio La Chumbera. This is an indoor theatre with professional Flamenco dancers and groups. From September to end of June they perform most on Saturday nights at 9pm. They don´t have daily perfomances at La Chumbera, but offer programmes and festivals over the year. (Usually in July and in Autumn)
Patrimonio Flamenco is on every Saturday in Autumn and Winter at 9pm – La Chumbera
Information and tickets for La Chumbera are available at Teatro Isabel La Católica in the city centre. Ticket office at the theatre in the city is open from 11am – 2pm or from 5pm – 8pm. You can usually get tickets online at redeentradas . To get to the Chumbera you can get the C34 bus that goes to Sacromonte or a taxi. Make sure you go with plenty of time to spare as the road is narrow and can get busy in the evenings.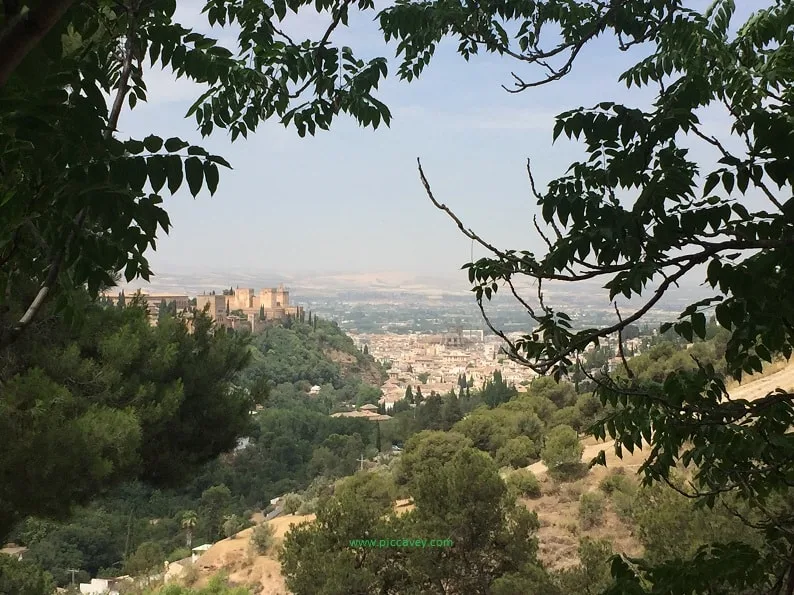 Food + Flamenco Granada
If you want to enjoy the food culture of Granada together with a flamenco show. Then you´ll love this activity:
(also available in Seville too)
Starting at 6pm everyday you get to see a few different bars or restaurants in Granada. Sample local food and wine with a friendly local guide. Tasting local dishes and learning about Granada lifestyle in the city. At the end of the evening you get to enjoy a 45 minute flamenco show as part of the activity. This is a good option if you don´t have many nights in Granada. The experience includes 4 drinks and food enough for dinner as well as a high quality flamenco perfomance in a smaller intimate venue. Make the most of your time in Granada and do two things in one evening.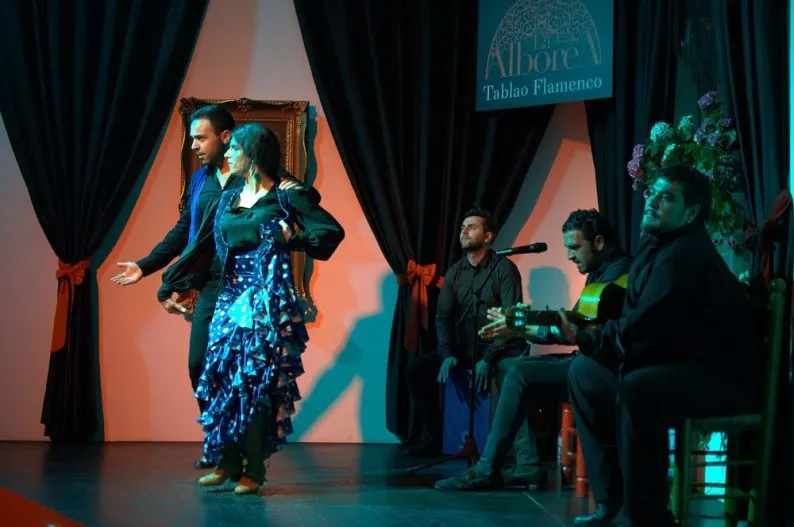 Templo del Flamenco
Close to Puerta Elvira in the lower Albaicin is the Templo del Flamenco. Set in a natural cave, they serve dinner and have Flamenco daily. See my personal account of my visit a few years ago. This location is close to Gran Via and Calle Elvira, so its very central if you have a city centre hotel. I´ve been quite a few times and have always enjoyed my night there.
Jardines de Zoraya
In the Upper Albaicin the Jardines de Zoraya is a popular flamenco venue. They have a large outdoor patio area where they serve dinner before the show. Then inside the perfomance takes place once dinner is over. You can choose if you book with or without food.
The best way to get there is by taxi (its uphill from the city centre) unless you are staying in the Albaicin itself, then maybe walking is the best option.
Book Tickets – Flamenco Granada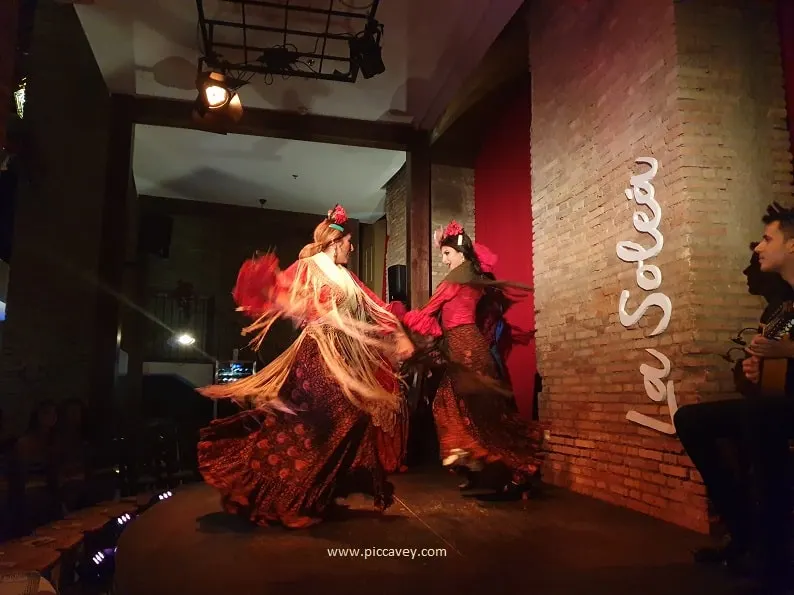 Solea – Plaza de Toros
One of the newest venues in Granada. Solea at the Plaza de Toros is an elegant setting. They serve food and have a huge bar area. Food here is excellent and it is good value for money if you consider that show and dinner are around 50 euros per person.
This place is a good option if you are coming to Granada by car as there are public parking options nearby. (It is not in the historic centre) The show itself is very professional and unveils the origins of the Zambra granadina through the perfomance.
Flamenco Granada City Centre
If you are looking to see flamenco in the city centre. These links are Flamenco venues in the main commercial area of Granada.
Alborea. Just off Calle Elvira this tablao has performances daily. It can get full so book in advance. Located on Calle Pan this venue is air conditioned and has a bar inside. The performance is around 50 minutes.
Casa del Arte Flamenco: Up a hill just off Plaza Nueva on Cuesta Gomerez. You can turn up and pay on the door but the venue isn´t that big and can get full. So I would book in advance if you know the day you want to go.
Another place that is very central is Casa Ana which is very close to Plaza Nueva. I havent seen this show myself yet.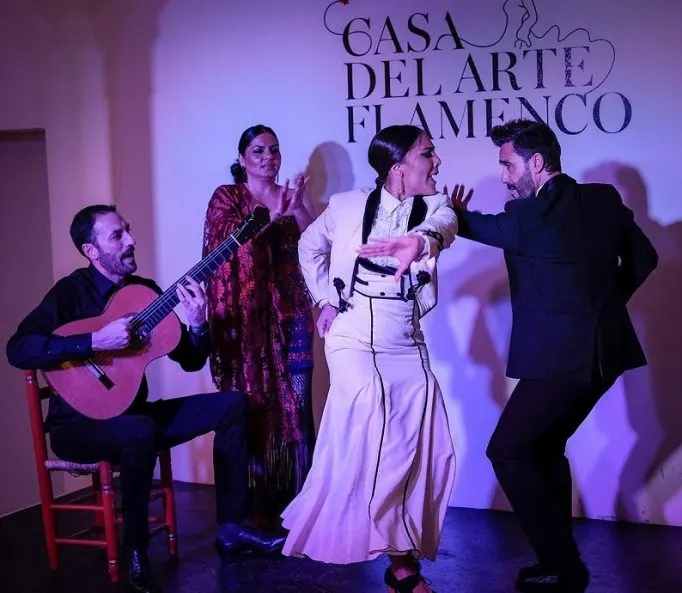 Best Flamenco in Granada
The traditional of festivals, weddings and celebrations is linked to the agricultural calendar. The grape harvest, olive harvest and other crops. So in Summer months June, July and August is typically when there is less work to do on the land. Usually you see the best flamenco performances in Granada happen over summertime when it is very hot.
So if you visit Granada in Summer months, it´s best to plan ahead and see what Flamenco festivals are on in June July and August. One of my favourites is held in Corral del Carbon. However it´s been a while since they have been on. Usually the have the evenings mid week in July/August.
This provides a cool and historic setting to watch the Flamenco performance in the open air on a summer evening. Buy tickets at the venue in ahead of the date.
Another outdoor summer festival is run by the Sacromonte Cave Museum. This year they have Flamenco at Every Wednesday in July. Get tickets at the Museo de las Cuevas or at entradium website.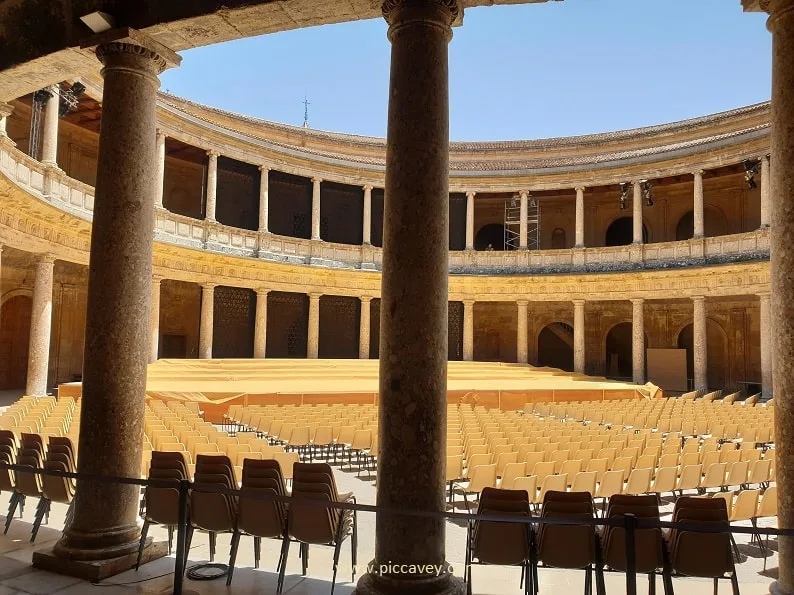 International Dance Festival at the Alhambra
Every June the Festival International of Music & Dance takes place in Granada and there is a huge offer of different music and dance styles.
MILNOFF Festival
Every September the Milnoff Festival takes place in Granada city centre. Some of the performances are in open spaces, such as city squares, others in ticketed venues. The next edition is 13th to 16th September 2023. Some of the venues are La Chumbera, Peña la Plateria or Bib Rambla Square.
Lorca & Granada at Teatro del Generalife
Also worth looking into is the Generalife outdoor theatre as often Ballet and Flamenco shows take place there in the summer. Known as Lorca + Granada each performance is based on a Lorca poem or play or collection of his works. This year the show will be on from 2nd until 26th August 2023. They perform several times a week inside the Alhambra grounds. This performance rather than traditional flamenco is Ballet Flamenco. A fusion of contemporary dance, ballet and flamenco styles. I go every year, its a summer tradition now.
In 2023 the theme is linked to Picasso. 'Picasso y la danza. Un encuentro con Lorca en Granada' for more details and tickets head to www.lorcaygranada.es or at the ticket office in Corral del Carbon.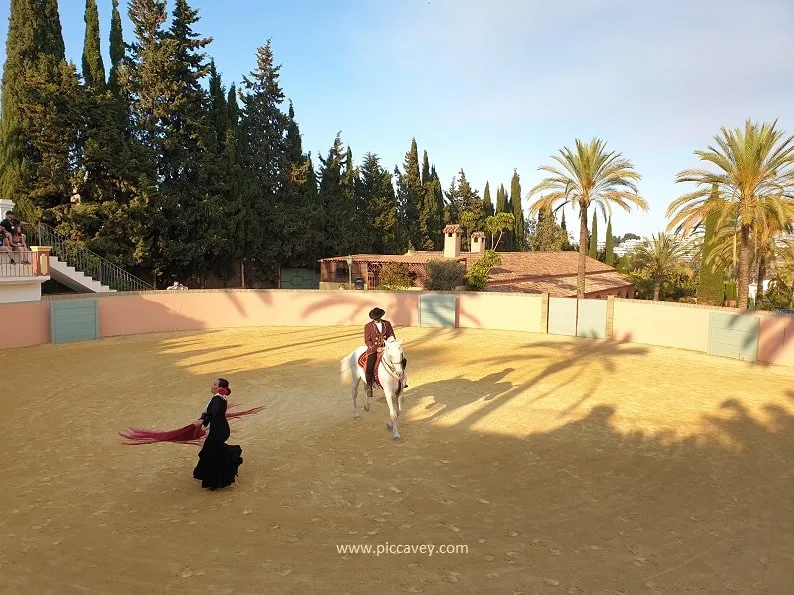 Granada Flamenco Festivals
As well as the Dance Festivals held in summer at the Alhambra palace. There are other Flamenco festivals around the province of Granada.
Flamenco on Costa Tropical
Known as La Caña Flamenca the Coast of Granada also has its own festival in August 2023. Held at different locations around the Costa Tropical. You can see Flamenco in Torrenueva, Almuñecar and Velez de Benadualla. Some of the shows are free to enter, others need tickets.
Get your Tickets at redentradas com or in tourist offices and venues along the coast.
https://www.redentradas.com/img/galeria/espectaculos/galeria_1341_I3Odx5Cg.jpg
July Flamenco in Lecrin Valley
The 16th Flamenco Festival in Valle de Lecrin will be in July. Here are the dates + venues:
Sat 8th July – Melegís with Judit, Urbano, Fausto Jiménez + Aris García. Emilio Gallardo + Ramón del Paso.
Sat 15th July – Restábal with Aroa Palomo + Nuria Castillo. Cristina Remacho + José Fernández (hijo).
Sat 22nd July in Saleres – Iván "El Centenillo" Verónica Amaral + Ramón del Paso with Elisa del Paso.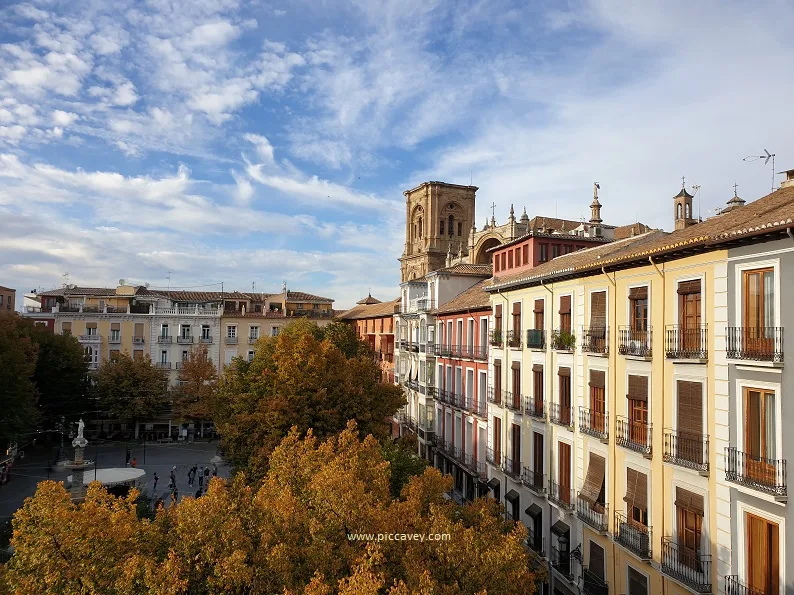 Milnoff Flamenco Festival
The 4th edition of the this annual festival will be the first week in September 2023. In 2022 Of the 16 perfomances in the festival, 60% of the activities are free. Many are held outdoors on squares around the city of Granada. (Plaza de las Pasiegas, Plaza Bib Rambla)
Milnoff 2023: 7th to 13 September 2023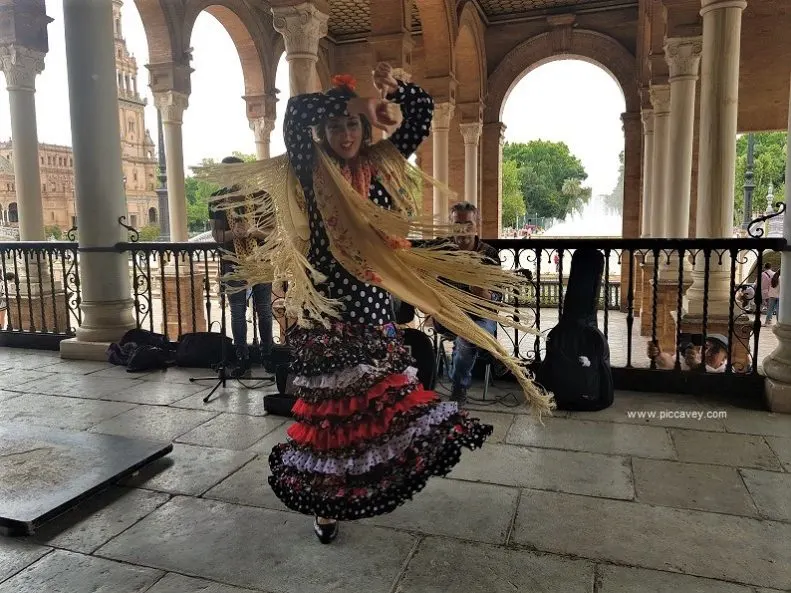 Volaera Flamenca de Loja This festival in Loja takes place at the Hotel Mirador de Loja. Performances are on Saturdays in July and on 13th and 20th August 2022. Some of the appearances will be by Estrella Morente, Antonio Reyes and La Fabi.
Festival Flamenco 'Lucero del Alba' de Salobreña August 2022
Festival Flamenco 'Villa de Otura 2 & 3 September 2022
Ogijares Festival de Cante Flamenco has its 42nd edition 9pm on Saturday 3rd September 2022 at Parque San Sebastian, Ogijares. Artists confirmed are Alba Heredia; Aurora Vargas, Mayte Martín, Pansequito, Caracolillo de Cádiz y El Polaco al cante; y Miguel Salado, José Gálvez, Paco León y Jorge Gómez al toque.
Encuentros Flamencos 'Festival de Otoño de Granada' Teatro Isabel la Catolica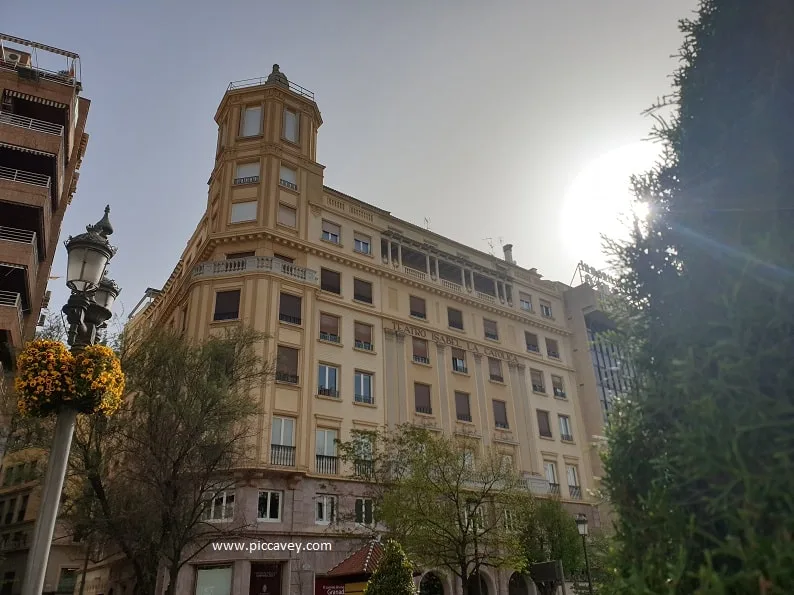 Flamenco Guitar Concerts
If you are looking specifically for Flamenco Guitar performances. The best option are:
Auditiorio Manuel de Falla which is located close to the Hotel Alhambra Palace (just below the Alhambra main entrance)
Festival Guitarra de Granada in 2022 it´s the 6th Edition. Tickets at Teatro Isabel la Catolica (mornings only 10am-2pm) granadaguitarfestival.com
Specific Dates at the FEX inside the Alhambra every/July.
Classes in Flamenco Granada
If you want to try Flamenco yourself. There is a Private class that you can book inside one of the venues. It´s during the daytime when the perfomances aren´t on. For two hours you will learn the basics of Flamenco dancing. If you already have some experience then the level will be adjusted accordingly so you can learn new moves. In this fun workshop you will get insight from one of the local performers. A memorable experience to take home with you.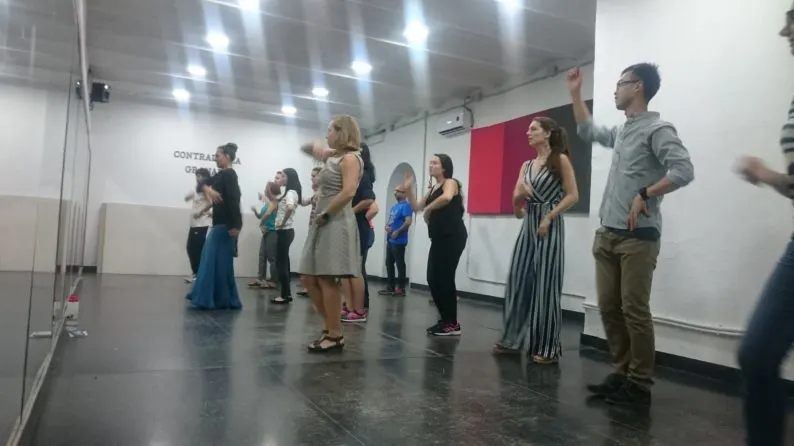 Granada Flamenco at Christmastime
Coro Rocieroand Zambombas are typical perfomances during the festive period. In Granada the best place to find these dates is at the Teatro Isabel la Catolica box office. There are usually 3-4 dates over December or at the beginning of January.
Sat 3rd December 2022 9pm Zambomba flamenca del Sacromonte – La Chumbera
Wednesday 7th December 2022 8pm Zambomba Flamenca at Teatro Isabel la Catolica (Tickets at Kiosko Manolo, Plaza Trinidad)
Saturday 10th December 2022 9pm Zambomba flamenca del Sacromonte – La Chumbera
Sat 17th December 2022 9pm Zambomba flamenca del Sacromonte – La Chumbera
Please Note: My website contains affiliate links, which means that if you click through and make a purchase,
I will receive a small commission. As an Amazon Associate I earn from qualifying purchases.
All thoughts, feelings and opinions shared on this blog and in this post are my own.