With its diverse culture, winding canals, and welcoming locals. The Netherlands is a country that even the most seasoned traveller will enjoy. The country, which is also known to some as 'the flower shop of the world,' has hundreds of interesting places to visit. From bustling cities like Amsterdam to the UNESCO-worthy 'village of windmills' known as Kinderdijk.
However, before you buy that ticket and start your Northern European adventure, it's important to keep a few practical travel tips in mind. Here is everything you need to know if you plan to travel to The Netherlands from the US:
The Best Time to Go
Thanks to its temperate maritime climate, The Netherlands makes for an ideal destination at any time of the year. Fans of mild temperatures will feel at home in this country, as it is not very hot during summer and not too cold in winter. However, when planning your trip, it is worth keeping the high precipitation and humidity in mind. The most humid month is November (with an average of 85% humidity!), while the lowest is in May.
Therefore, in late autumn, winter, and early spring, be sure to pack waterproof clothing and an umbrella with you just in case!
If you have flexibility on dates, consider visiting in January or February. This is the low tourist season and has the most budget-friendly hotel prices. There are also fewer queues at major attractions, and less crowds overall. Peak tourist season is from Mid April to the end of September.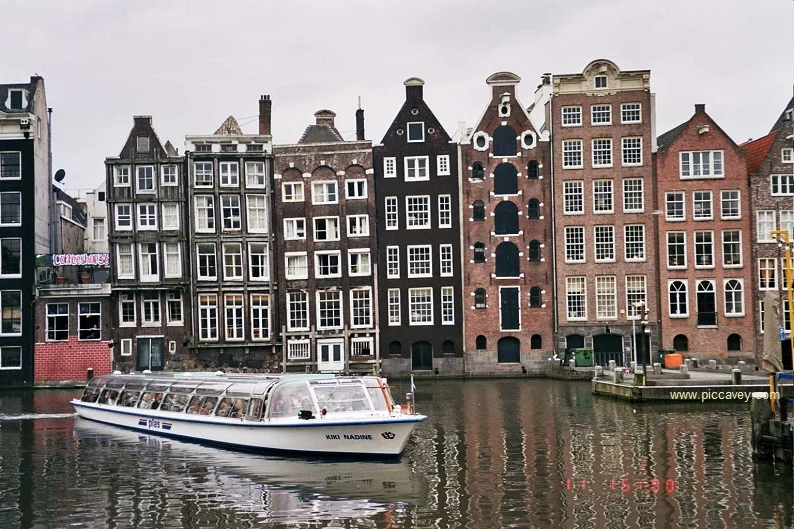 How to Get to The Netherlands
Thanks to its central European location, Amsterdam's Schiphol Airport (AMS) has made a name for itself as a global hub. The national flag carrier of The Netherlands, KLM Royal Dutch Airlines, has its 'home base' at AMS and flies to thousands of destinations worldwide.
Also major American and European airlines fly to Amsterdam, with direct flights or with simple connections. Budge travellers, this tip is for you: Three major budget airlines (Eurowings, Ryanair, and Wizz Air) fly into the German city of Cologne. You can save on your flight by travelling to Cologne, and then getting a train to Eindhoven. Not only will you save money, you'll also get to enjoy beautiful countryside views from your window!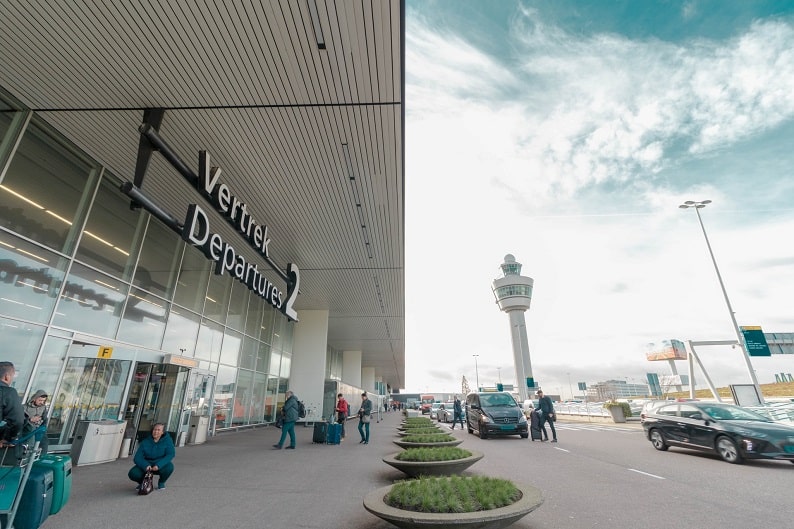 What to do in The Netherlands: A Mini Travel Guide
As mentioned, The Netherlands is rich in sights and activities for every taste. Did you know that The Netherlands has one of the most visited museums in the world? The Rijksmuseum in Amsterdam, showcases the works of local Dutch artists such as Rembrandt and Vermeer. As well as paintings by foreign artists like Goya and El Greco. In fact the museum is home to over one million pieces of art. So if you intend to visit make sure you make enough time to see it.
In addition to the Rijksmuseum, there are many other points of interest in the Dutch capital. The Van Gogh Museum, the Rembrandt House Museum (Rembrandthuis), or the NEMO Science Museum.
If you plan to spend a few days in Amsterdam and want to see all the sights, get the I Amsterdam City Card. This gives travellers free access to museums, public transport, and even includes a cruise along the canals of Amsterdam.
Celebrate Kings Day in the Netherlands
If you visit The Netherlands in April, you're in luck: the most important holiday in the whole country, Kings Day, is celebrated on April 27th. On this day, locals organize numerous events, parades, and concerts. However the most noticeable part of the festivity is the way the locals dress on this date. The Dutch dress up in orange clothing as its the national colour. So don't miss this fun and festive atmosphere at the end of April.
To immerse yourself in a real fairy tale, visit Keukenhof Park. Also known as the Royal Park and the 'Garden of Europe,' this is one of the largest flower parks in Europe. Expect to see a variety of flowers, including hyacinths, daffodils, and even Japanese Sakura. The main attraction at the Keukenhof are the 800 varieties of tulips, of which there are more than 4 million in the park. The best time to visit the Tulip Festival is Mid April.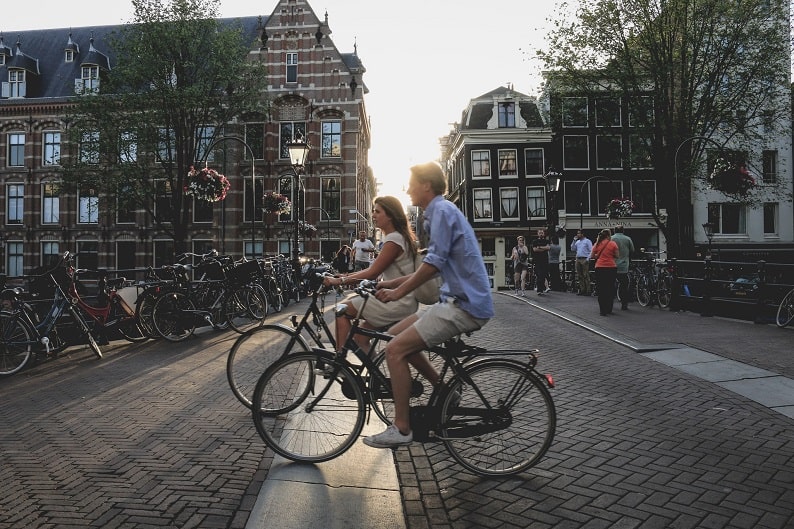 A Bicycle Will Be Your Best Friend
You won´t believe how popular bicycles are in The Netherlands until you have been there in person. Regardless of whether you are biking around the city, the surrounding area, or on a weekend getaway to another city, you will soon notice the convenient well maintained bike paths.
A bicycle will allow you to enjoy the scenery, stop in picturesque fields, or park close to a shop or restaurant without struggling to find a parking spot.
Nor will you have any problems finding a bike rental company. Many bike companies in the Netherlands offer private or group excursions. Like Yellow Bike conducts city tours of Amsterdam.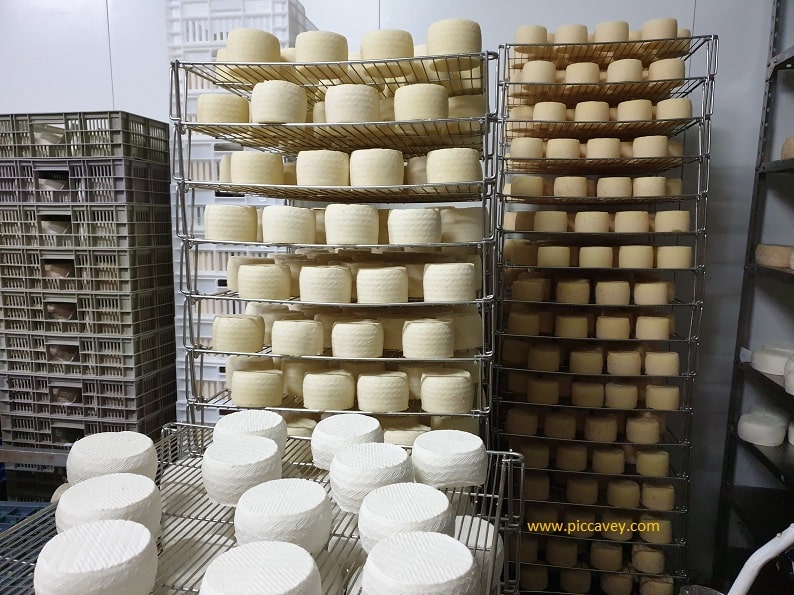 Netherlands Travel Gastronomic Influences
The national cuisine of The Netherlands differs from the 'haute cuisines' of neighbouring countries, such as France, through its simplicity and homemade taste.
You can expect typical ingredients in Dutch dishes to be seafood, meat, dairy products (including the world famous Dutch cheese!), potatoes, and other vegetables.
The main "gastronomic attraction" of The Netherlands is undoubtedly the world-famous Dutch cheese. It is sold in both specialized cheese shops as well as regular supermarkets. In some stores, you can even sample different types of cheeses and learn about the different varieties.
Another popular dish is frites, similar to French fries. This fast food is popular not only in The Netherlands, but also in bordering countries Belgium and Germany. Frites are typically sold with a variety of sauces, from ketchup and mayonnaise to cheese, chilli, or tartar.
Don´t miss the pancake like pofferjes, delicious stroopwafel which are syrup filled wafers or the tasty Bitterballen which are like a meat dumpling coating in breadcrumbs.
Netherlands Travel + Planning Tips