The first time I went to Murcia was for a colourful Spring festival. Since that trip I wanted to get back to visit some of the historic sites that I hadn´t been able to see on that first visit. Murcia is located in South East Spain, neighbouring Valencia and Almeria. It is an all year round destination due to its dry Mediterranean climate. Another bonus is that the area does not suffer with mass tourism or large crowds.
Region de Murcia
The autonomous region of Murcia has 250kms of beaches known as the Costa Cálida. Yet it is also one of the largest producers of fruit vegetables and flowers in Europe. The region is home to the largest natural saltwater lagoon in Spain. The Mar Menor.
The population of the city of Murcia was 453,524 at the last count in Jan 2020. It´s the 7th largest city in Spain.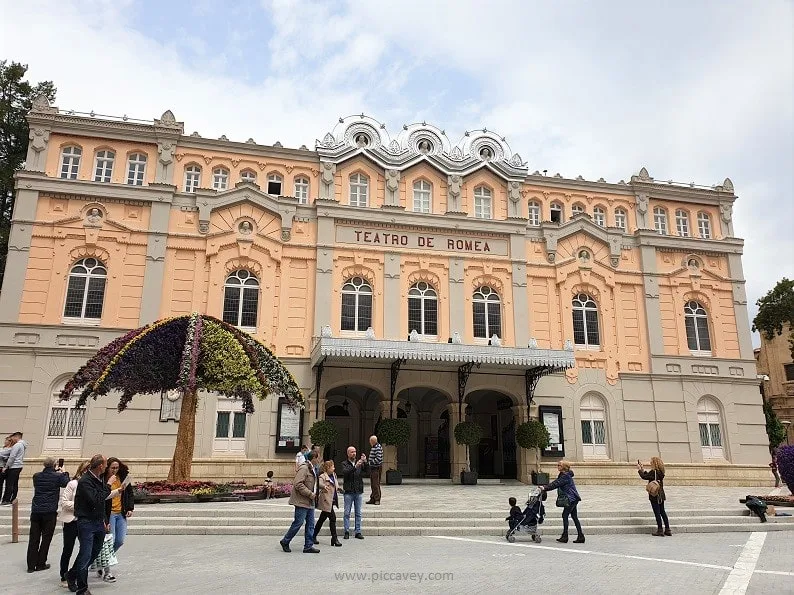 Murcia City
I stayed in Murcia, the region´s capital, for two nights. This time I chose the Hotel Occidental Murcia Siete Coronas for it´s excellent location. We arrived by car straight to the door. And it´s very close to the main square and Cathedral. The accommodation is practical, comfortable and modern.
On a my previous trip to the Sardine Festival. I was staying at the Catalonia Conde de Floridablanca. The main sights in Murcia are the Cathedral and the Casino. I´d arranged a private guided tour with one of the local tour guides. I find that this way I don´t miss anything. It is also better as they know the timetables of the monuments too.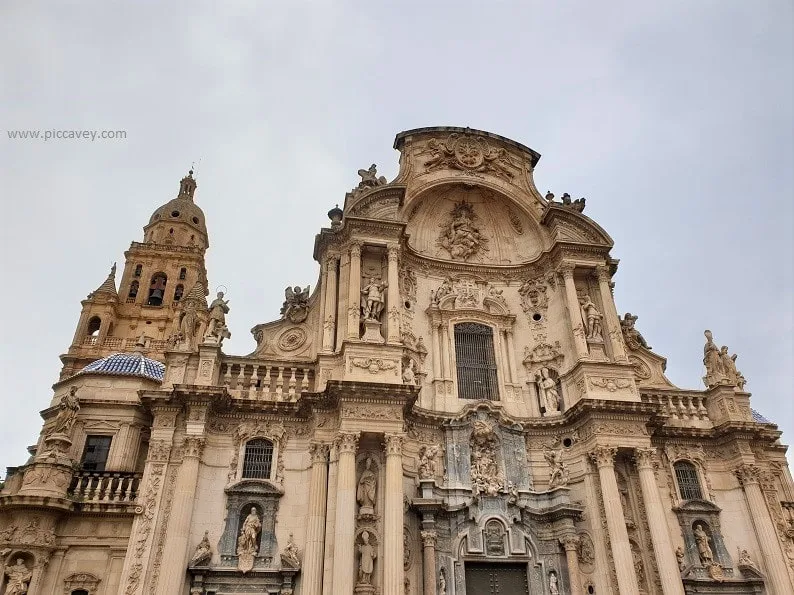 Murcia Cathedral
As with most Spanish cities, the Cathedral is the heart of the old town. Set in the Plaza de Cardenal Beluga, this detailed and impressive building has an unusual façade. Built in Baroque style on the site of the previous Mosque. Completed in 1465, its called The Cathedral of Saint Mary. Although the outside is Baroque, the inside is done in Gothic style.
Also of note are is the Velez chapel with its octagonal shaped walls. And the Cathedral´s bell tower, which is 93 metres tall. The second tallest in Spain, after the Giralda of Seville. (104 metres)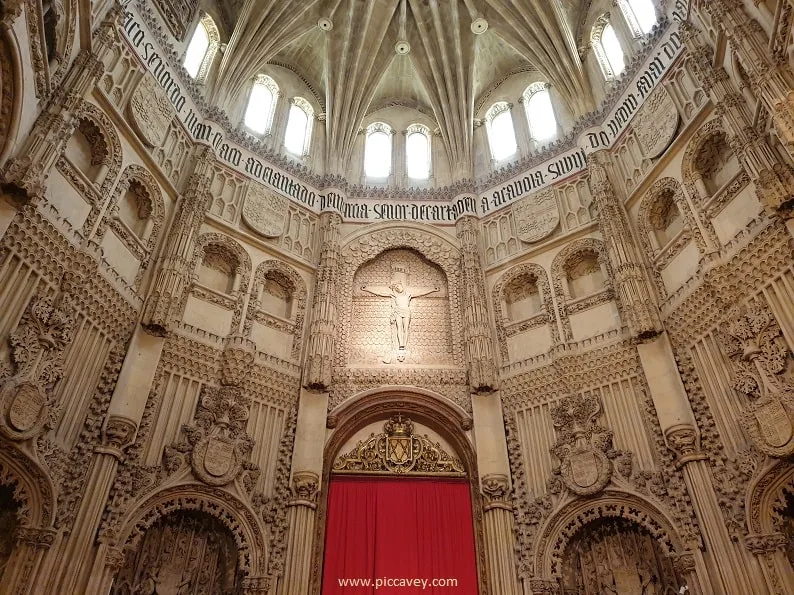 Plaza del Cardenal Belluga
Also on the square, to one side of the Cathedral, is the Archbishops palace. This Rococo style construction was completed in 1768. Serving as Headquarters for French soldiers in the Peninsular War (1808-1814). Later it was used as accommodation for Royalty in the mid 1800s. It´s an important historic monument. Both Alfonso XII of Spain and Isabel II of Spain have stayed at the Palacio Episcopal on Royal visits to Murcia.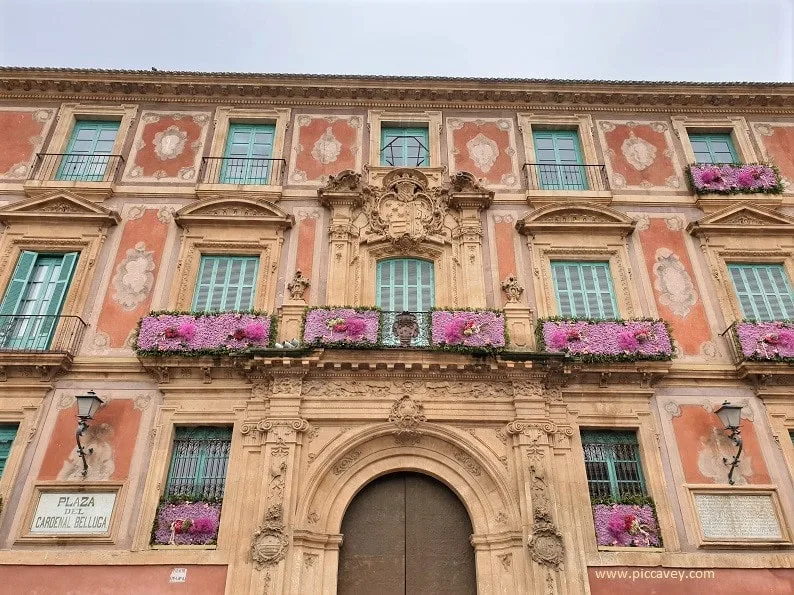 Murcia´s Royal Casino
Although the Cathedral façade is quite unique. My favourite building in Murcia was the Casino. Tucked away on one of the commercial streets in the city. Real Casino de Murcia is right in the centre of Calle Trapería. It´s so well maintained and harks back to a golden age long past.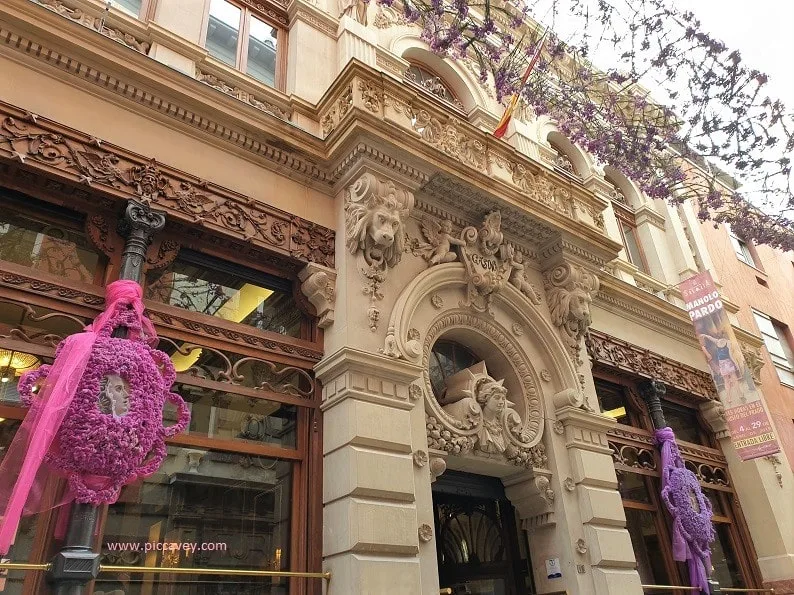 Built in 1847, this private members club, is still open for cultural activities. The ground floor is open for tourist visits. You can visit from 10.30am – 7pm daily, entrance costs 5 euros.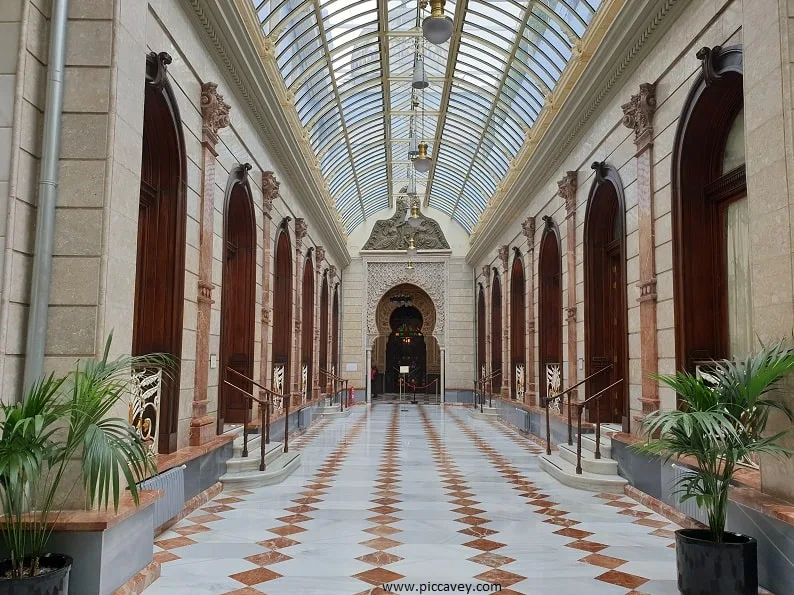 Real Casino de Murcia
Inside the building you will see the wooden library, a beautiful ballroom, the ladies parlour, the congress room, a restaurant (open to non members) as well as the Arabian style patio. The patio is decorated in 20,000 pieces of gold leaf.
The Ballroom is the grandest space within the Casino. With a parquet floor and 5 large bronze chandeliers. Made with 1800 Baccarat glass pieces from Paris.
It took on the name Royal ´Real´in Spanish, after an important restoration in the 2000´s. The King of Spain, Juan Carlos gave his approval of the work. Refurbished after the building had suffered deterioration at the end of the 1990s. Over 3 years it returned to its former glory. Conserving this important centre for culture in Murcia.

Capital Gastronomico España 2021
Each year there is a new Gastronomic Capital chosen in Spain. For the past few years I have been following these announcements closely. So far I have travelled to most of the gastro cities. In 2020 Murcia was selected as Spain´s Gastronomic Capital. However due to COVID restrictions some of the events were not possible. Good news though as the event has had an extension. So CEG Murcia will continue throughout 2021.
More information (in Spanish) Capital Española de la Gastronomia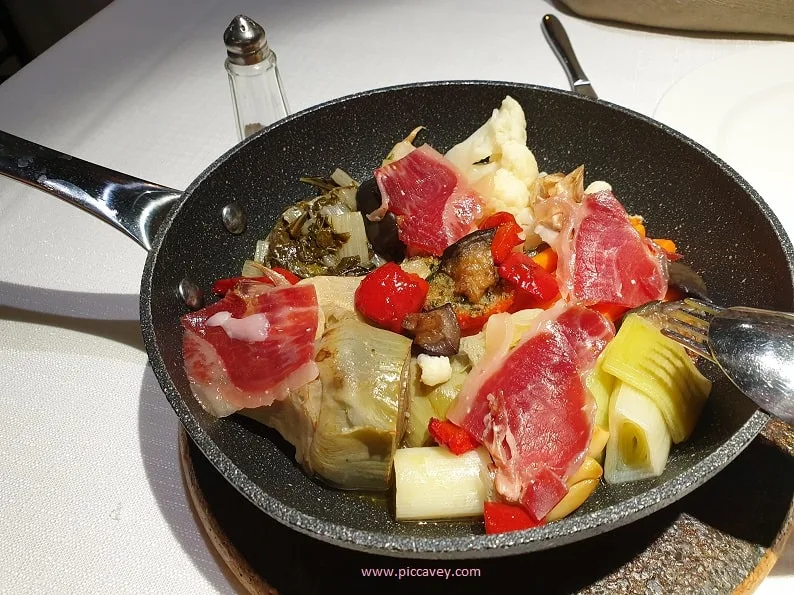 Where to Eat in Murcia
Plaza de las Flores
One of the most well known spots for Tapas bars is Plaza de las Flores in the city centre. This area has lots of small bars and open terraces to enjoy a cold beer and a variety of Spanish tapas.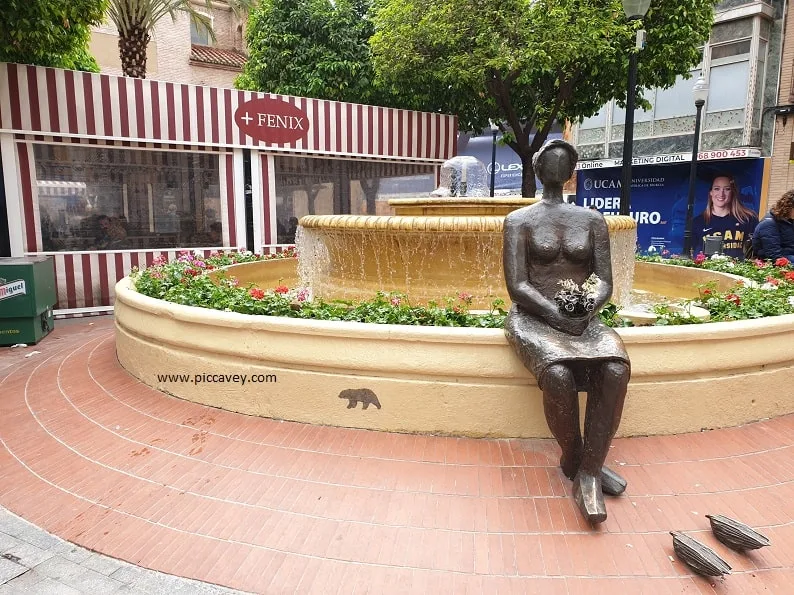 Mercado de las Veronicas
The Murcia´s food market is the Mercado de las Veronicas. As Murcia is one of the largest producers of fruit and vegetables in Spain, this busy market is packed with local produce and its all really fresh. Seasonality is important to the locals too. One of the stalls here Casa Ballesteros has been trading for over 100 years now. They are a deli stall specialising in local cheese, Spanish ham and cold cuts. There are over 100 stalls selling food here. It´s located next to the river on Plano de San Francisco.
Restaurante Hispano
Run by the Abellán brothers, Hispano has been in business since the 1970s. Located on Calle Radio Murcia they have an elegant city centre restaurant. They also have a more casual setting in the gastrobar at the front of Hispano.
Serving local Murcian dishes in a contemporary setting. The focus is on quality ingredients and local flavours. Murcia is actually quite a good place for vegetarians. As they take such pride in their local vegetable produce. There are quite a few meat free regional dishes to try when you visit. Their wine list is extensive. Not only do they offer local D.O´s such as Jumilla, Bullas or Yecla. They have an excellent bodega with plenty of Ribera del Duero Rias Baixas and Rioja wines too.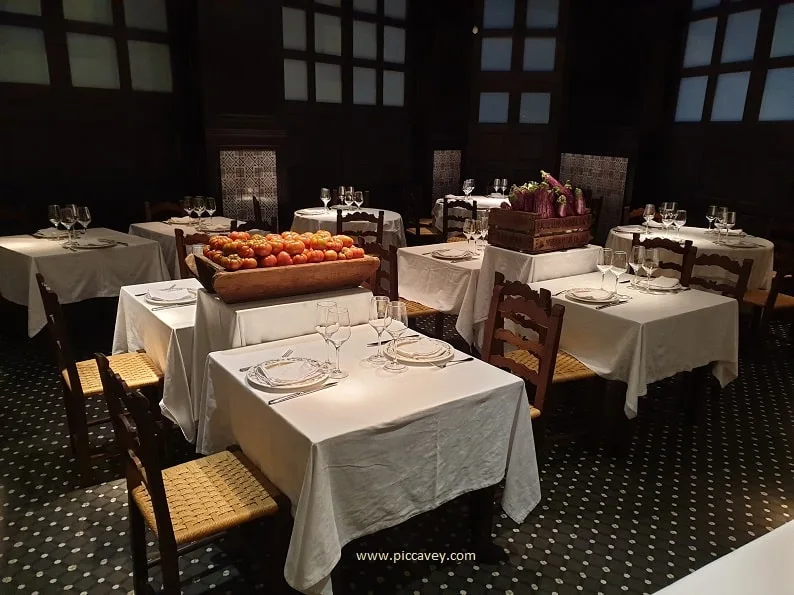 La Pequeña Taberna
Another great find in Murcia city was La Pequeña Taberna. On the Plaza San Juan, this place was close to my hotel at Occidental Siete Coronas. Serving fresh local ingredients and seasonal dishes. They have a small indoor dining room, a large outdoor space for tables and a busy bar.
With a good selection of fish and meat dishes. The menu is varied. So much to choose from. If you are booking for lunchtime you may want to order a rice dish. They are only done by prior request. Rice is another ingredient grown locally in the region. So local chefs really know how to make a good rice dish.
On offer are plenty of Murcian dishes such as Zarangollo (a salad made with egg, courgette and onion) or Pisto Murciano (similar to ratatouille).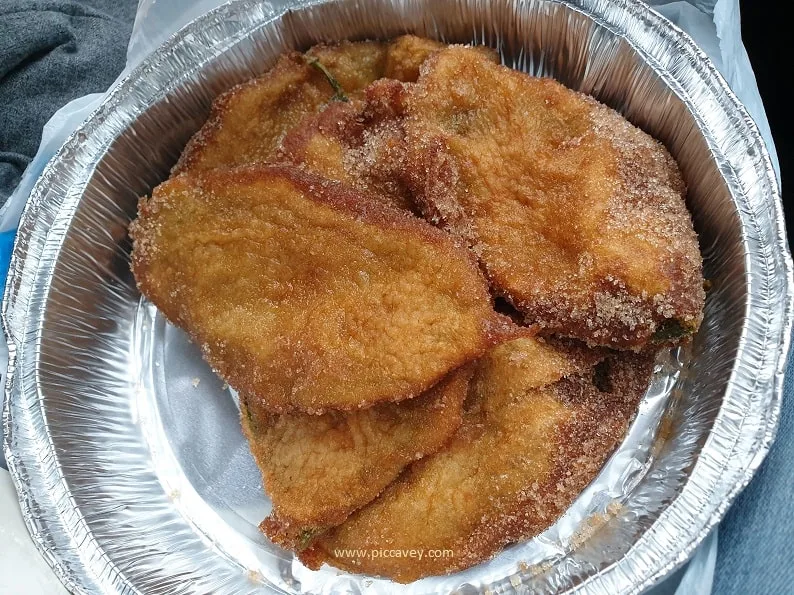 Paparajotes
One of the more curious things I came across when eating out in Murcia were Paparajotes. Found usually in early Spring these are made for local festivals. Eaten over the weeks of the Bando de la Huerta or Burial of the Sardine fiestas. The tradition is an Arab dessert although the origen of the name is unclear.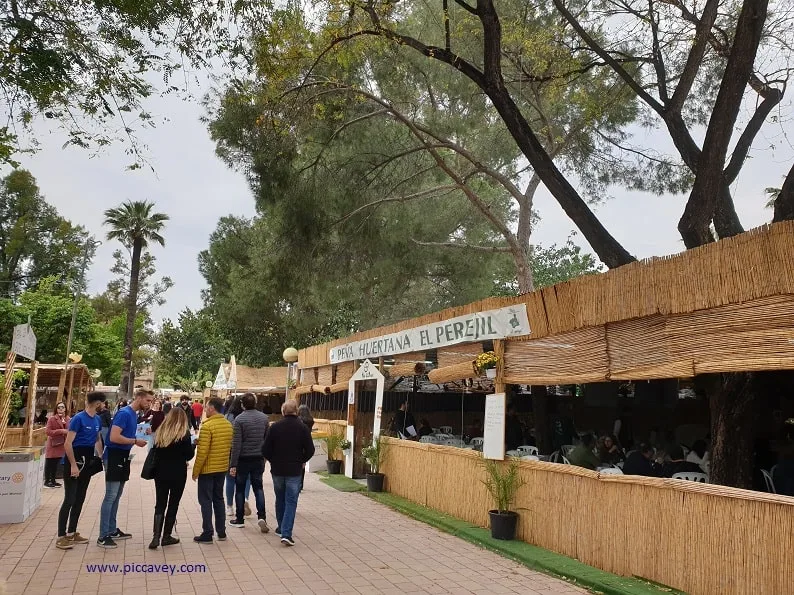 They are lemon leaves covered in batter and sugar. You don´t eat the leaf, that´s just there to give the treat some shape and a hint of citrus flavour. Paparajotes ingredients are egg, flour, milk and sugar. Here´s the Recipe for Paparajotes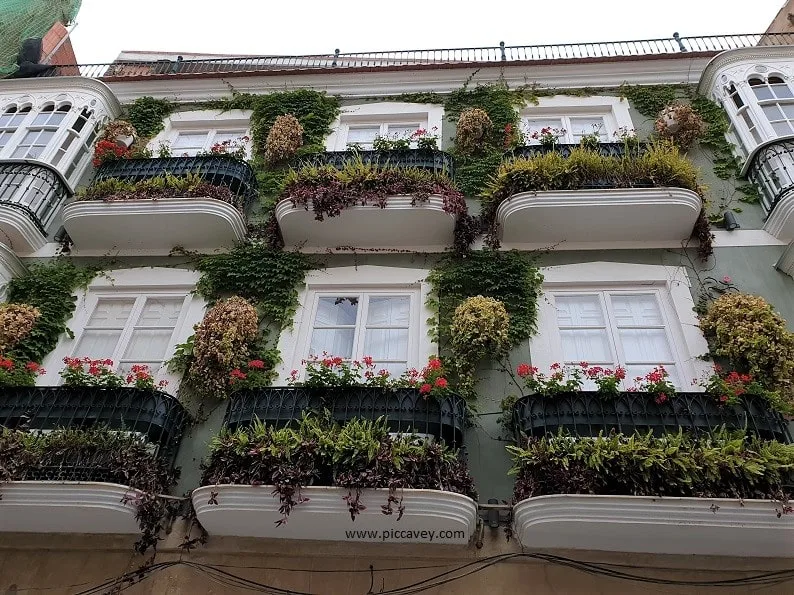 Murcia – Where to Visit
There are many places to visit in the Region of Murcia. In addition to the 250 kilometres of Murcian Coastline and the Mar Menor. Murcia has lots of wineries in the North of the region. Where they produced Jumilla Yecla and Bullas wine varieties. Families will enjoy a day seeing the animals at Terra Natura. There are other interesting towns and cities to see beyond Murcia itself. I got chance to visit two of them on my trip in Spring last year.
Cartagena
The city of Cartagena is an important Naval base and has a rich history too. Due to its location on Spain´s South Western coast, there are several sites with roman ruins in the city. In fact Cartagena´s main sight is a Roman theatre dating from 1 AD. It wasn´t discovered until 1988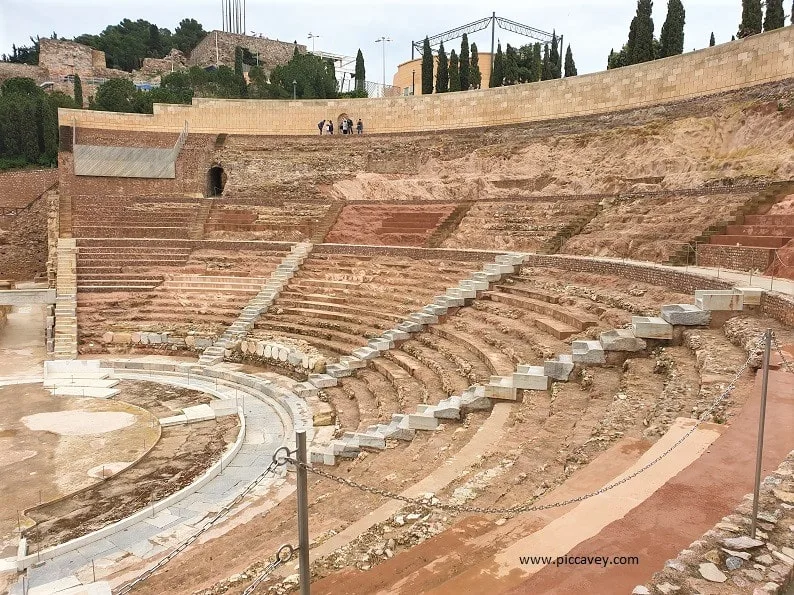 The city has quite a few museums to visit. Some of the best ones in Cartagena is the Naval Museum in the port. Or ARQUA the underwater archaeology museum.
Should you have more time in Cartagena, it´s worth buying the Tourist Pass which includes entry to the main sights around the city:
Punic wall of Cartagena
Castillo de la Concepción
Augusteum
Civil War Bunkers Museum
Panoramic Lift
House of Fortune
Fortress Fuerte de Navidad
Roman Forum
Roman theatre
Tourist Bus
Tourist Boat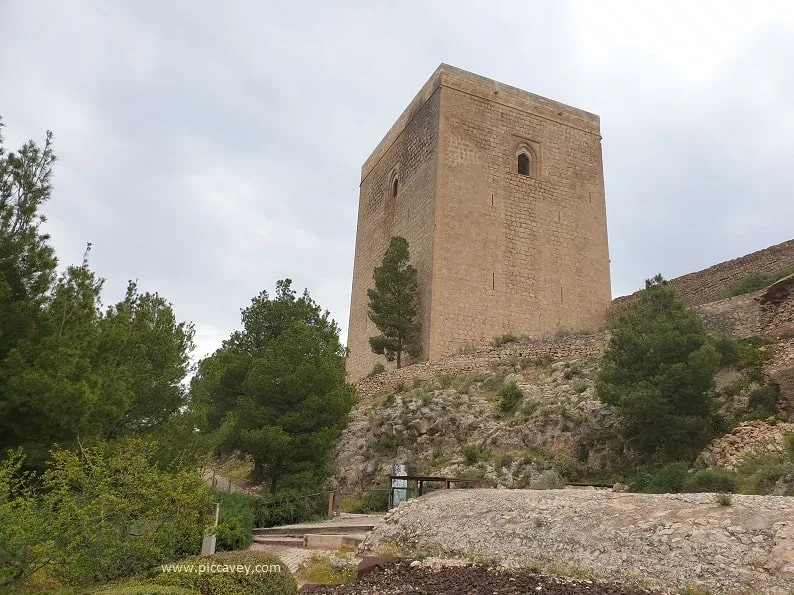 Lorca
Lorca is 36 miles South of Murcia and is known for it´s castle. Easter week is important in Lorca too. It´s unique processions are done on horseback. Find out more about these traditions at the Museum of Paso Blanco. See some of the embroidered silk garments inside on display all year round.
The 13th century castle dominates Lorca´s skyline. Also on the site is are the remains of a medieval synagogue. Murcia has an important Sephardi history too. In the 14th centuries the Jewish community in Murcia and Lorca was a notable presence. Visiting the castle and synagogue ruins is simple as the ticket is combined. There is a car park up on the hill, close to the castle/synagogue entrance.
On this same site is the Parador de Lorca. This state run accommodation also offers excellent restaurant and café service.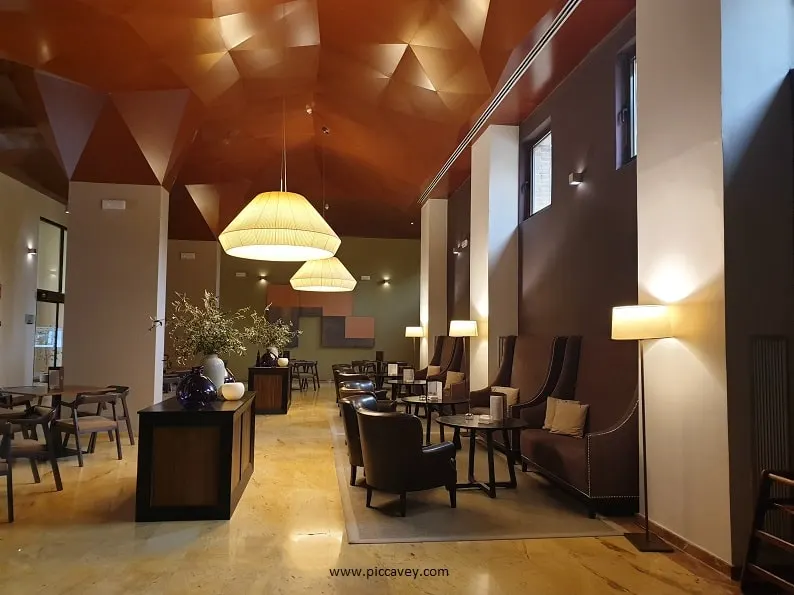 Disclosure message. This article was written in collaboration with Costa Cálida – Región de Murcia. All thoughts, feelings and opinions shared on this blog and in this post are my own.
My website contains affiliate links. Which means that if you click through and make a purchase, I will receive a small commission.