Granada Wine Region in Southern Spain
Did you know the Granada province produces 5 million bottles of wine per year?
You may surprised to learn that Granada has been an important wine region over the centuries. In fact before the Phylloxera crisis which hit Europe over the years 1832 -1840. Granada province had vast expanses of vineyards. When those grapevines suffered in the early 1800´s, other crops repopulated those fields and hillsides. Typical replacements in the are were almond and olive trees.
Further back in time in the 17th century, cereals were being grown, then those fields switched to Grapevines and Olive groves.
So it wasn´t really until the 1990´s that the wine industry was reinstated in Granada province. The first reclaimed area was around the Altiplano de Sierra Nevada. If you enjoy this article you might also enjoy a Granada Wine Tasting when come to visit yourself.
D.O Vinos de Calidad de Granada
Since 2019 Granada´s wine region is known as Denominación de Origen Vinos de Calidad de Granada. This type of certification controls the types of varieties, geography and production methods used in the local wines.
Concentrated in 4 areas, there are important differences between them. The geography and microclimate of each location varies. The seasons and harvest dates in these regions of Granada vary in temperatures, microclimate and soil types.
IGP Altiplano de Sierra Nevada Indicación Geográfica Protegida
Cumbres del Guadalfeo
Ladera del Genil
There is a fourth area called ´Contraviesa-Alpujarras´. Here in the town of Molvízar, they found the oldest wine making place in a Roman settlement. Called Lagar in Spanish it dates back to the 1st century.
Why Granada Wine is different to other Spanish Wines
So you may be wondering what is special about wines grown in Granada. Here´s a quick overview:
Vines are grown at altitude. Average 1200m2 above sea level.
This region has huge Temperature Contrasts from the Daily Maximum to Minimum (All year around)
Abundance of hours of sunshine (around 3000 per year)
Few pests and disease allowing organic and natural wines to be successfully produced.
There is also more mineralisation than other regions of Spain. Soil type is slate and clay.
Late harvest between end of August and beginning of October.
Temperature Fluctuation
Right now there are around 20 producers producing under the Denominación de Origin label. Yet in total there are over 60 producers in Granada province. The grapevines here are planted on terraces and hillsides. Another important factor is that the roots are very deep to keep them steady on the hillside. Some vine roots in the area have been known to reach a depth of 25m-50 metres.
A major difference on the taste of the wine is the huge contrast in temperature each day. The minimum and maximum temps fluctuate a lot in Granada. Creating a dramatic effect on plants. This also increases the polyphenols improving the taste and colour of the wine.
potential health benefits of wine, phenolics are considered the most important phytochemicals and have been given the greatest attention for their impact as an anti-oxidant constituent of wine, and for their ability to act as a free radical terminator and metal chelator.
Grape Varieties in Granada Wines
Authorized varieties for DOP Granada Wine:
White Varieties:
Vijiriega
Sauvignon Blanc
Chardonnay
Moscatel de Alejandría
Moscatel de Grano Menudo – Morisca
Pedro Ximénez
Baladí Verdejo
Palomino
Torrontés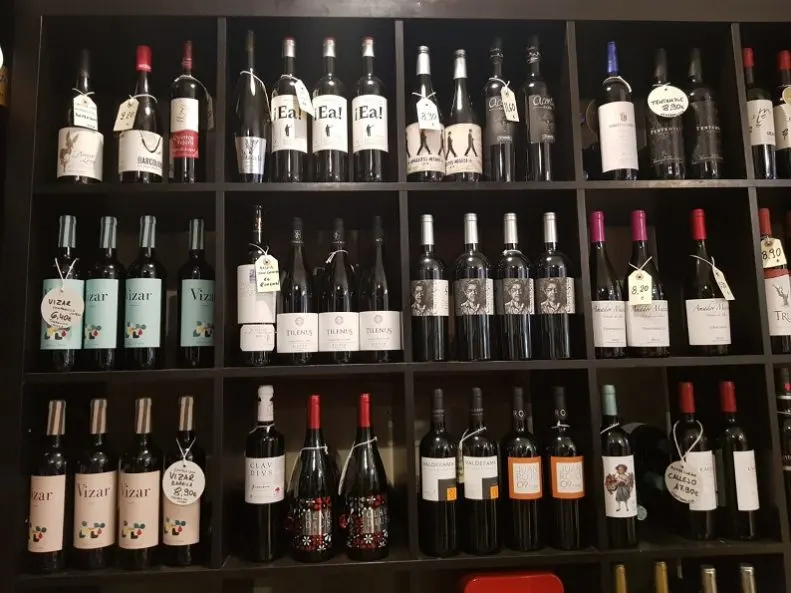 Red Varieties
Tempranillo
Garnacha
Cabernet Sauvignon
Cabernet Franc
Merlot
Syrah
Pinot Noir
Monastrell
Romé
Petit Verdot
Sparkling Wine Varieties
Vijiriega
Sauvignon Blanc
Chardonnay
Moscatel de Alejandría
Moscatel de Grano Menudo – Morisca
Torrontés.
Authorized varieties in Region of Contraviesa-Alpujarra:
White Wines: Vijiriega, Sauvignon Blanc, Chardonnay, Moscatel and Baladí Verdejo.
Red Wines: Tempranillo, Garnacha, Cabernet Sauvignon, Cabernet Franc, Merlot, Syrah, Pinot Noir, and Petit Verdot.
Sparkling wines: Vijiriega, Chardonnay and Pinot Noir.
Autochthonous Grape

Varieties of Granada Wines

Although the list of grape varieties permitted in the DOP of Granada Wines is long. It is a little problematic as many of the varieties are traditional French ones. Introduced after the phylloxera crisis. The a

utochthonous varieties in Granada province are not all there. For example

Montua Blanca and Jaen Blanca were typically found in the region and are being slowly reintroduced. Hopefully they will be incorporated back into the DOP.
Local Granada Wine Producers
So you already know that there are over 60 producer in the Granada Wine Region, however there are several that have are more distinguished and which also have a good amount of distribution. Allowing you to actually find and more importantly be able to drink the wine!Although it can be tricky to source Granada wines when you are outside the region. You can ask for them at local restaurants and find them in Supermarkets and specialist gourmet shops in most of Andalusia.Let´s take a look at some of the most well known producers in Granada:
Fontedei
Located in Deifontes, Bodegas Fontedei, they produce up to 140,000 bottles of wine annually. Their vineyards are located at over 1200m and some are in Alhama de Granada.
This month I got to taste three of their wines:
Albayda – White Wine
Zona: Alhama de Granada
Colour: Light Yellow Wine
Partially produced in French Oak Barrels (French barrels are superior to American Oak due to their artisanal nature. Increases the aromatic range of the wine but they also cost considerably more) French Oak maturing often adds a note of cinnamon flavours in the wine. The wine is left for 5 months with the yeast deposits which originally settled, increasing it´s aroma and flavour.
Grape varieties: Sauvignon Blanc 80% – Chardonnay 20%
Nose: Pineapple, Banana, Apple, Floral Notes, Complex Fragrance
Taste: Medium Acidity. Enveloping balanced white.
Alcohol: 13.5%
Lindaraja – Fontedei
Colour: Deep Red Colour, Translucent.
Grape varieties: Tempranillo + Syrah
Made with 3 months in French Oak barrels.
Nose: Vanilla, Blackcurrant, Raisin, toasted notes.
Taste: Medium Acidity. Astrigency. Complex.
Alcohol: 14%
Pairing Notes: Game, Meat. Strong Flavour profiles. Mature cheeses.
Garnata 2015 – Fontedei (*My Pick)
Colour: Intense cherry red colour.
Grape varieties: Garnacha Syrah
Limited production of under 10,000 bottles. This Reserva Red Wine is matured for 12 months in French oak barrels.
Nose: Balsamic notes, light aroma of tobacco
Taste: Mature fruits, balsamic notes, velvet texture, lasting notes.
Alcohol: 14.5%
Pairing Notes: Game, Red Meats. Stews. Mature and Blue cheeses.
RPP around 23 euros.
Fontedei Wines Made in Granada
Señorio de Nevada
Perhaps one of the most well known is the Hotel + Winery Señorio de Nevada located in Villamena, a short drive South from Granada. A great venue on the edge of Lecrin Valley for events, weddings and just having lunch : )
Señorío de Nevada have three red wines labelled Gold, Silver and Bronze. They also have a Rosé and some white wines too. I have visited many times over the years but on my most recent trip there I got to taste three wines.
Competitively priced between 9 euros – 20 euros per bottle they are one of the Granada brands with the biggest distribution. Some wines are exported internationally.
Particularly from this bodega I would recommend
The Gold label wine Señorío de Nevada Oro is made with Cabernet Sauvignon, Merlot and Garnacha. Aged for at least

11 months in French and American oak barrels.

Their White wine Vino Blanco Señorío de Nevada which is made with Viognier and Vijiriego varieties. With pineapple and stone fruit fragrance and persistant flavour when tasted.
More Granada Wine Producers
Bodegas H. Calvente
Bodegas Calvente is a local favourite, located in Jete, close to the Costa Tropical. Their most known wine is a delicious elegant wine with the family name, Calvente. Made from Alexandria Moscatel Grape. This producer also bottles four red wines, two sparkling wines called Rania, a Rosé Wine and three white wines.
Bodega Barranco Oscuro
With some of the highest grapevines in Europe, Barrano Oscuro has their vines at Cerro Las Monjas at 1368 metres above sea level. (4547ft). Especially known for their natural wines. They produce very limited numbers of each wine. Around 3000 bottles of each of the 14 of so wines.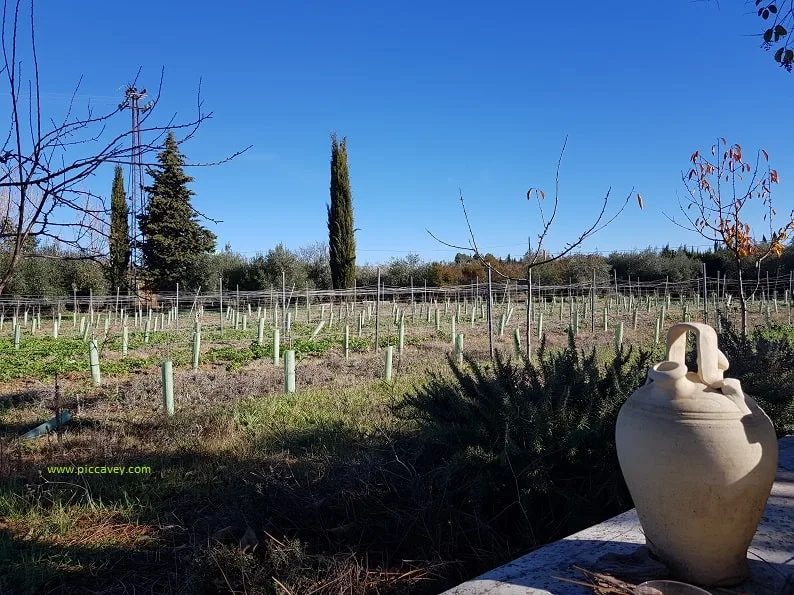 Bodegas in Granada province
There are many other bodegas in Granada province worth mentioning. Some of the ones I am most familiar with are:
Anchurón located in Darro this family run vineyard mainly produces Red wines.
Alqueria de Morayma produce around 9000 bottles per year, in the Alpujarra it´s one of the few locations where you can actually visit and stay there.
Bodegas Al Zagal in Northern Granada, this vineyard is close to Guadix in the Altiplano region. Their Red wine Rey Zagal is amongst one of their award winning wines.
Pago de Almaraes in Benalua are most known for their white wine ´Mencal´. Although they do produce Red and Rosé wines too. The bodega is open to visitors.
Bodega Aranzada are in Alhama de Granada and have a delicious dessert wine called ´Romantico Dulce´.
Bodegas Muñana can also be visited but booking is recommended. Located in Cortes y Graena in the Northern part of Granada province.
Vertijana this wine can often be found in local Granada restaurants. The bodega is in Polícar and their vines are 1200 metres above sea level.
Cuatro Vientos in Murtas have a fabulous rural style restaurant at the bodega. Set in Alpujarra countryside its a great spot for group lunch.
So there is much more to Spanish Red Wines than you thought. Although most people have heard of Rioja or even Ribera del Duero, there are so many others to discover.
You may also like to read:
Granada Wine Region – D.O Vinos de Calidad de Granada