There are plenty of Spas and Hammams in Southern Spain. Unsurprising due to the historic connection across Andalusia. The legacy of the Muslim kingdom and their daily water rituals are remain in essence to still today.
Let me introduce
Aire de Sevilla
. A recreation of a Hammam style baths, brought right up to date.
With other locations in Almeria, Barcelona, Copenhagen, London and New York. You even may have one near to you. Each location of Aire de offers their own treatments to choose from.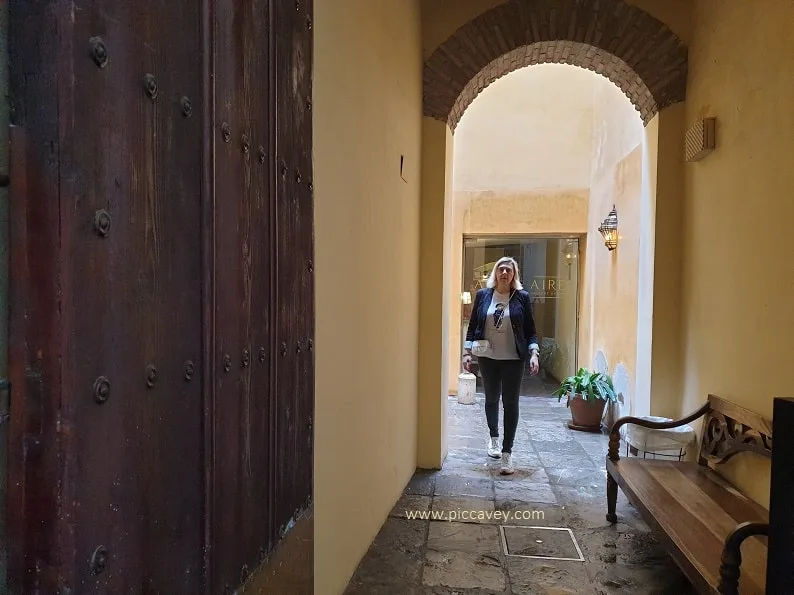 Located in a 16th palatial house, tucked away on the Calle Aire in Seville´s historic Santa Cruz quarter. This unassuming entrance doesn´t give any clue to the wonders that are on offer on the other side of the wall.
Yet the historical connection is present. On my way there, I noticed the 2nd Century Roman Columns on Calle Marmoles. 100 metres from Aire Ancient Baths. Made of Egyptian granite, these three solid pillars remind us of that the city that was Hispalis.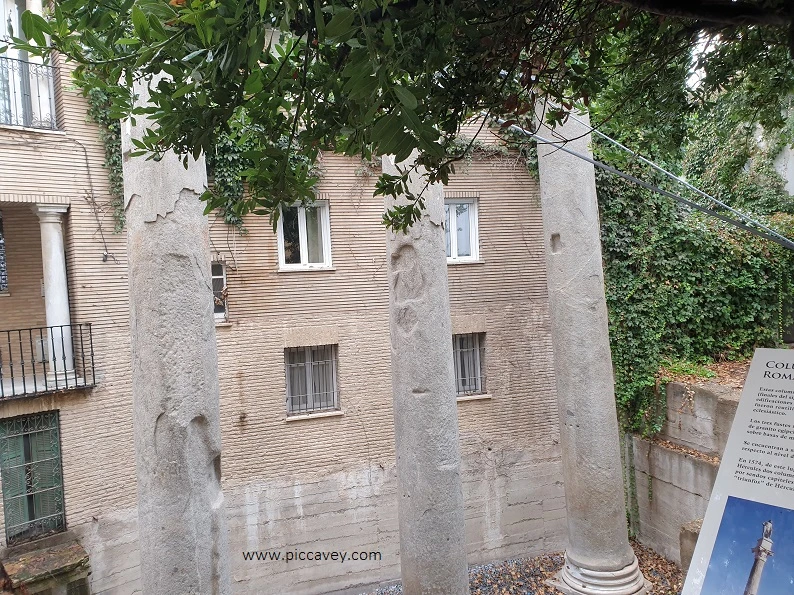 Arriving 15 minutes before my session was due to start, I wandered into Aire de Sevilla
The changing rooms and lockers are spacious and simple to use. Once inside you get a bath robe and pool socks. After leaving my belongings and bag inside the locker. I headed into the basement of the building via the narrow staircase.
When you first go into the building it is light and airy with an typical Andalusian courtyard. You could never imagine the waterworld that lies underneath. The first room has a large warm pool, with a bronze coloured mudejar lamp in the centre. To one side, the hot pool and cold pool.
Flotarium – The Salt Pool
After spending time here, I moved downstairs to the salt pool or Flotarium. This is my favourite pool at Aire de Sevilla. With calming music floating out from underwater speakers. The water contains salt so that your buoyancy increases. This pool allows you to float without even trying. I was in this pool for quite some time. At the edge of this pool was an area for salt exfoliation too. This part of the building used to be a hammam centuries ago. You can notice some of the architectural details in the ceiling. It reminded me of the old aljibes in Granada.
In contrast to the stillness of the floatarium, they also
have an area with jets and jacuzzis. Called the One Thousand Streams Bath. I remember that the Almeria Ancient Baths also had this same facility when I visited. There is also a steam room or turkish bath to enjoy as well. It really does seem to have all options covered.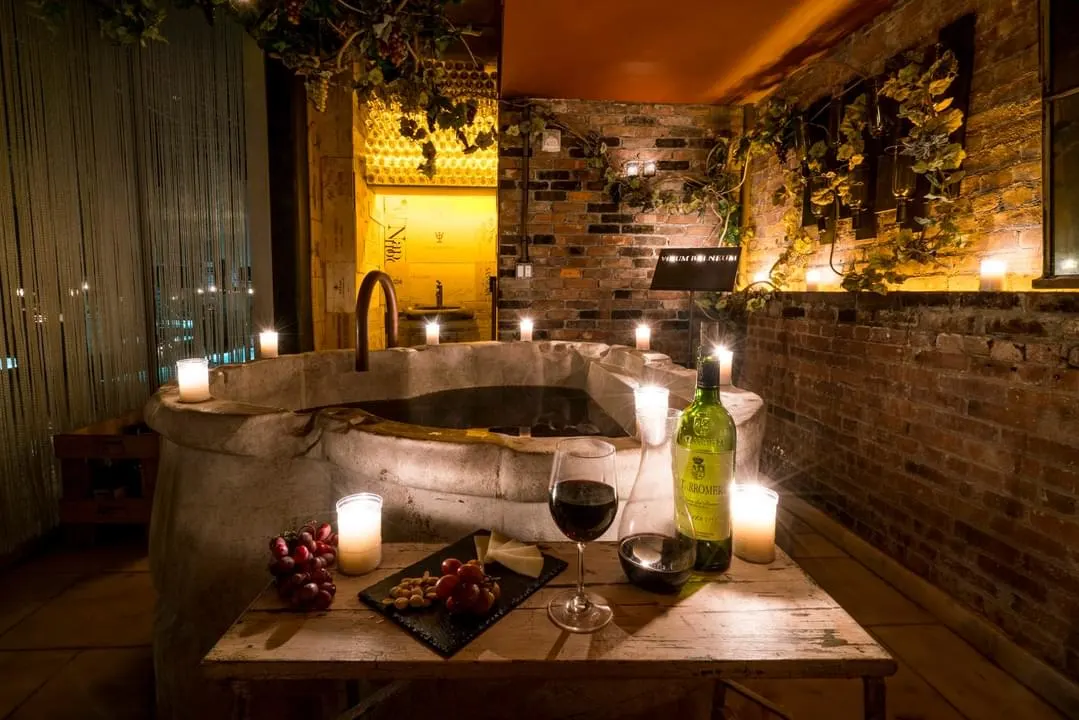 The Wine Experience
After some time enjoying the different pools and areas of the baths, I was called for the wine experience. The bath is set to one side. Hidden away from other bathers. If you are alone or go along with a partner it is tucked away behind a green wine bottle wall.
The ´bath´is actually an ancient marble well. Placed underneath a 17th wooden ceiling you really are made to feel like royalty. This experience includes a glass of red or white wine which you are served once the bath has been filled.
The wine which fills the bath is from Ribera del Duero and packed with antioxidants and polyphenols which nourish the skin. The alcohol is removed to prevent the skin from drying. Also no need to worry about good wine being wasted. This Wine Bath was created for Aire de Almeria by Bodegas Matarromera, one of the most renowned wine-makers in Spain. It is believed that this treatment eliminates impurities and leaves skin softer and more luminous.
While you are soaking in the red wine bath you are given a soothing head massage. Including an ultra-moisturising orange blossom treatment this helps condition your hair and scalp. You leave the experience totally relaxed.
Aire de Almeria
The reception at Aire de Almeria is subtly lit and already calming once you arrive. Tucked away in an old square in Almeria, this is located below the Alcazaba and in the old arab quarter of the city.
The spa is actually connected to the Hotel Plaza Vieja, you dont have to be in the hotel to enjoy the treatments and baths here. It is open to non residents.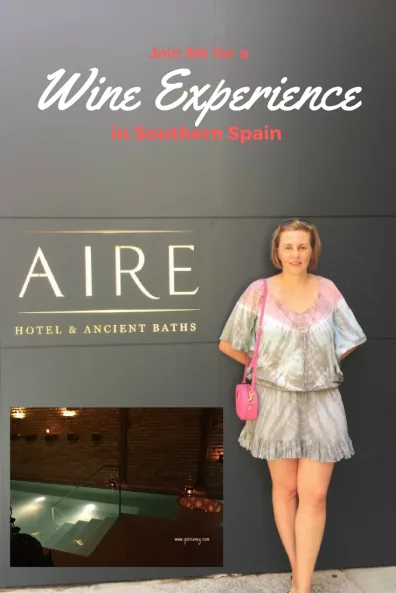 Almeria Getaway
After leaving the baths and stepping outside into the quiet square of Plaza Vieja we stopped off for a few tapas in the bar next door. Sitting watching the world go by after that fabulous experience was one of the highlights of my Summertime in Almeria.
In Late September I decided to take my parents along as I couldnt wait to share this with someone else. I treated them to the Wine Experience and they loved it as much as I did. I´m already looking forward to my next visit to Almeria to revisit Aire de Almeria. It really is a special place to unwind.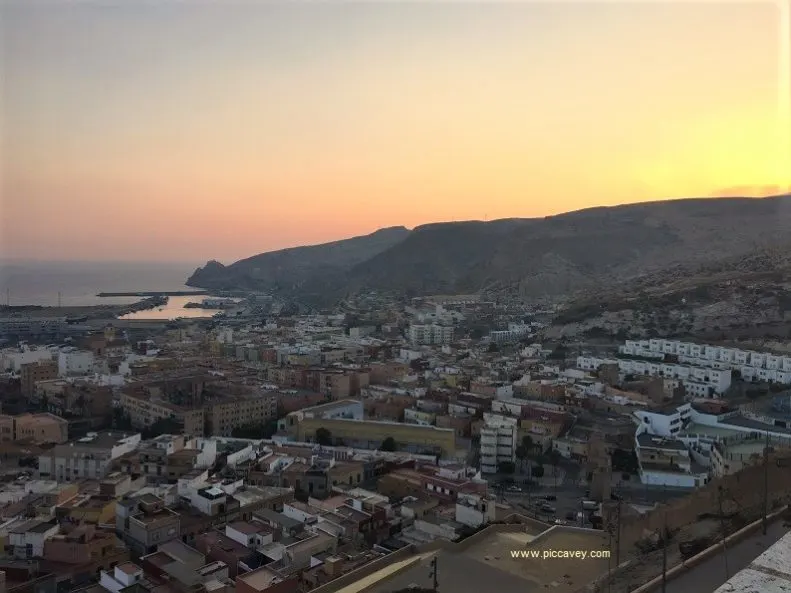 Please Note:
This post contains affiliate links, which means that if you click through and make a purchase, I will receive a small commission. All thoughts, feelings and opinions shared on this blog and in this post are my own.