Jaen Province is not usually the first stop for International travellers visiting Andalusia. Yet the food scene in this corner of Southern Spain should not be overlooked. Not only is it the World Capital of Olive Oil Production. It also has lots more local produce that local enjoy and also export to other countries.
Jaen Province
Let´s take a look at the food grown across Jaen Province:
Before we start, Did you know that the city of Jaen actually has two Michelin Star Restaurants (as I write in 2021). Bagá headed up by Chef Pedro Sanchez and Dama Juana by Juan Aceituno. Each restaurant has one Michelin star and both have long waiting lists to get a table. If you want to eat there, book well in advance as they are popular restaurants.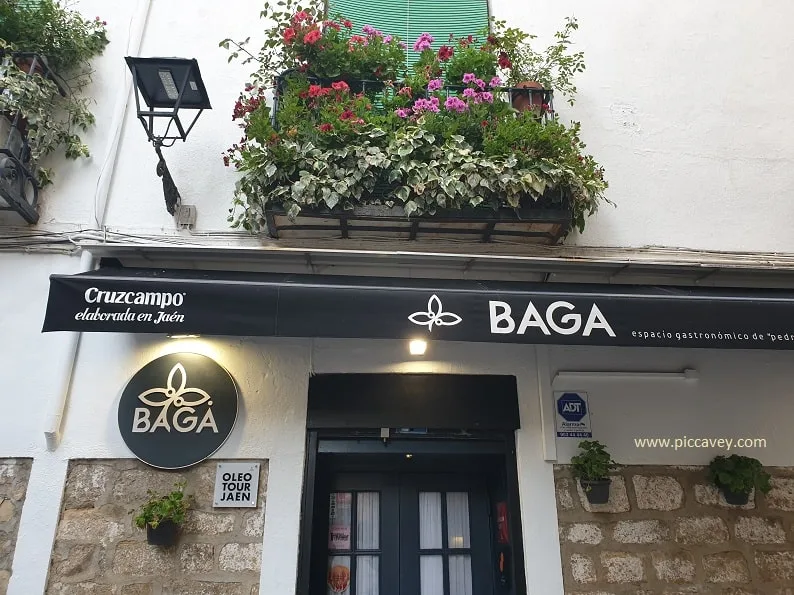 Wine from Jaen Province
Jaen is also a region with a good selection of local wines. Although you may not be familiar with Jaen wine. Even as far back as 1526 it was one of main industries in the area. In the 1800s the region had cereal, wine and olive plantations, with similar extensions of land, all three crops were practical equal. However from the around 1800 – 1880 the regions wine production declined.
Many factors changed this tradition, phylloxera in 1876 which decimated the grape vines across Spain. The Spanish civil war in the 1930s and the increase in popularity of other wine regions such as Montilla. (Cordoba). Despite all these set backs, some parts of Jaen province continued growing grapes for wine production, yet on a much smaller scale. The wine region is known as Sierra Sur de Jaén.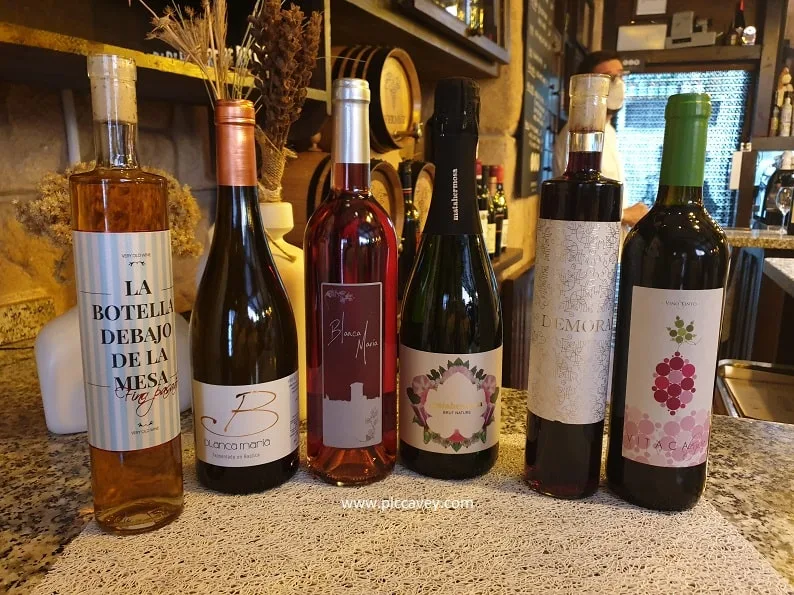 IGP Tierra Sierra Sur de Jaén
Today the province of Jaen has eight bodegas. Producing fifty different wines, red, white and rosé. When I visited in June, I saw two vineyards, Campoameno in Frailes and Marcelino Serrano in Alcala la Real.
The main grape varieties grown in Jaen are Jaén blanca, Jaén negra, Torrontés, Cabernet, Tempranillo, Graciano, Syrah, Garnacha and Chardonnay.
Marcelino Serrano is a local wine producer close to the town of Alcala la Real. Their family obsession is with the quality of their wines. Trading since 1990. Their Wines are from Cabernet-Sauvignon, Tempranillo, Graciano, Garnacha, Syrah, Pinot Noir, Merlot, Chardonnay, Garnacha blanca and Moscatel grapes. They currently bottle 11 different wines. They also make a Brut Nature sparkling wine called Blanca Maria which I really enjoyed.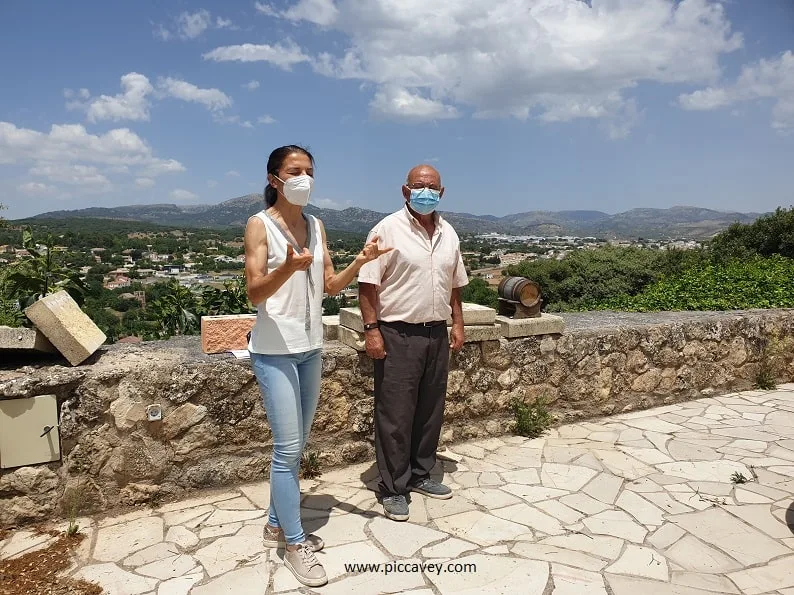 Campoameno is located in Frailes began in 2008. Currently with a stock of 500,000 bottles in their cellars, you can browse online or buy at their shop in person. I love the colourful fresh wine labels of this brand.
Their hero wine is Alto de Campoameno (Red) which won the Gold award at VinEspaña 2021 Sommelier Awards in Spain.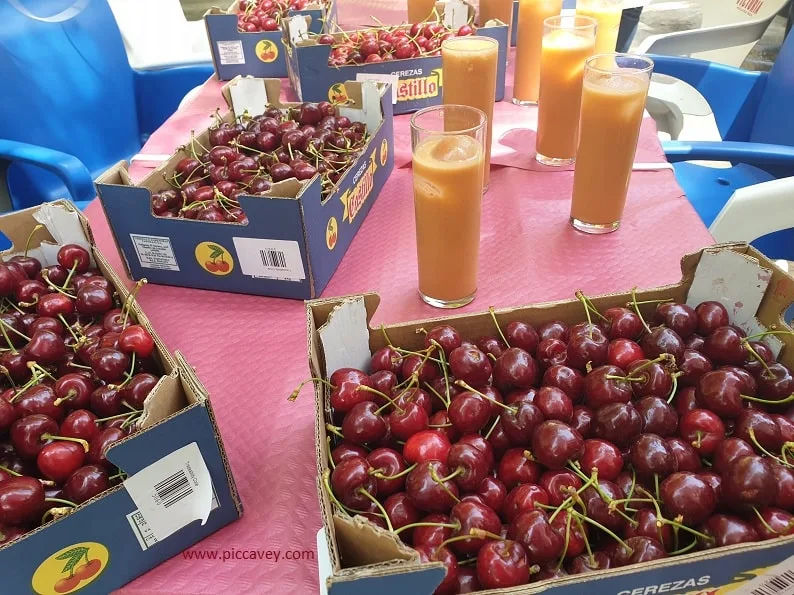 Cherries from Castillo
Jaen is also the Andalusia region that grows the most cherries. Castillo de Locubin is the main town for cherries. The warehouses and cherry trees are concentrated in this town. Burlat, Van, Summit, Lamper, Bing, Ambrunés, Lapins, Starking and Sumburst are the varieties being grown here.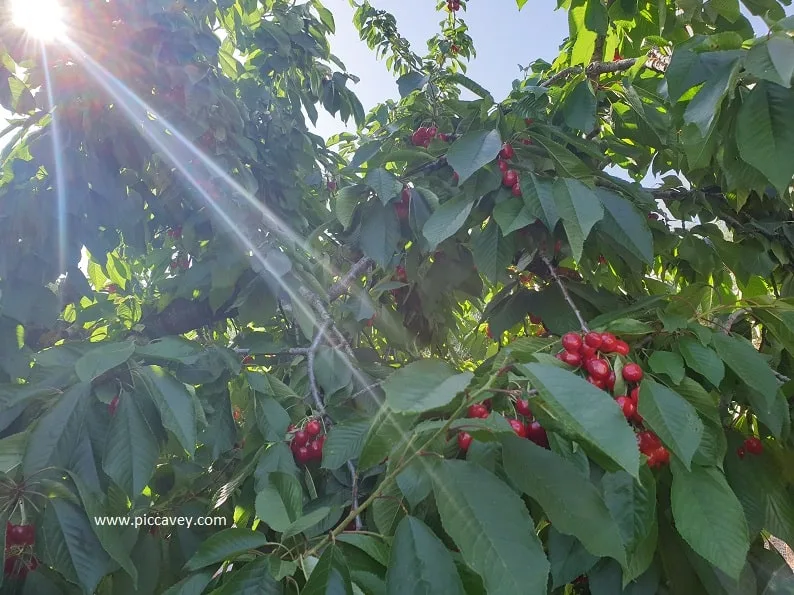 From Jaen to the World
Jaen has 1344 hectares of cherry trees, which covers an area twice the size of Gibraltar. It´s the most important region in Andalusia for cherry production. Although many are distributed across Spain. These cherries are also exported to other countries such as Italy and Germany.
While I was in Castillo de Locubin, not only did I get to eat cherries straight from the tree. I sampled a delicious Cherry gazpacho. (Chilled tomato + cherry soup). In Fact every month of June they celebrate the annual Cherry festival. Locals come together to share the best cherry liqueurs, desserts and recipes made from these delicious cherries.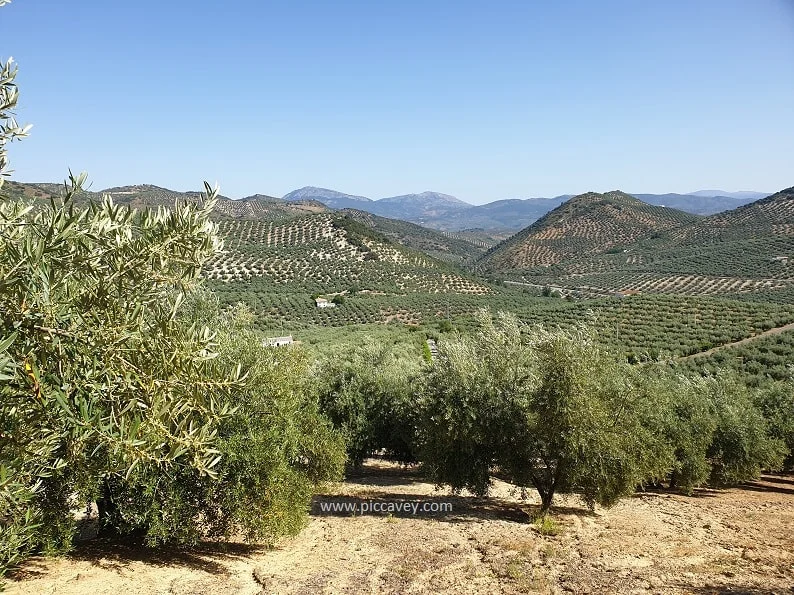 Olive Oil in Jaen Province
Jaen province is most well known for its Sea of Olive Trees. With 550 thousand hectares of olives. That´s 25% of all the Olive plantations in Spain. In fact Jaen Province produces 20% of the World´s Olive Oil. So as well as exporting enormous amounts of Olive Oil, they still have many other local producers and industries in the region too.
Almond + Pistachio Trees
Not only does the landscape include Grape Vines, Olive Trees and Cherry plantations. Jaen province also has other crops such as Almond trees and more recently pistachio trees. With 2532 hectares of Almonds in 2020 and more than 500 hectares of Pistachio trees in Jaen Province. These crops are in demand especially as consumer look for animal free foods and plant based milks.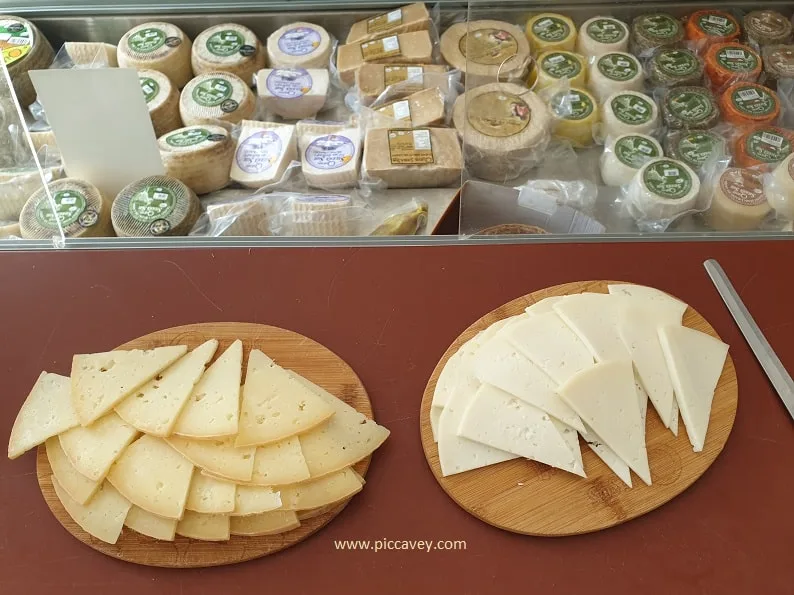 Cheese Made in Jaen
I got to visit the delightful Cheese producer called Quesería Sierra Sur. Made from goats and sheep milk, these cheeses are all delicious. Made from fresh local milk that arrives each day. These cheese have won several international awards over the years.
Although it´s a young family business that began in 1994. They were recognised with two distinctions in the World Cheese Awards in 2019. First with SUPER GOLD award for their Semi Mature Goat Cheese. As well as a Bronze for their Cured Goats Cheese.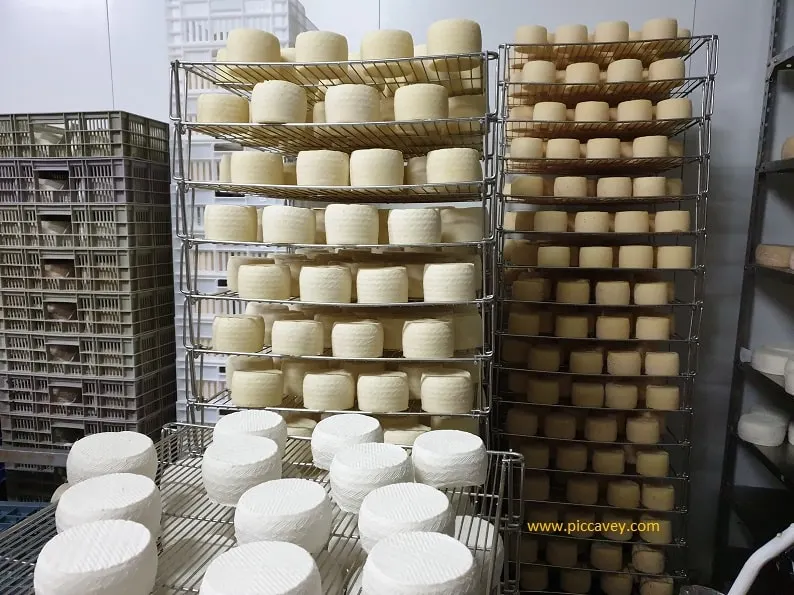 Queseria Sierra Sur
Everyday they transform 3000 litres of milk into cheese, all the processes are done by hand with their small onsite team. It was wonderful to see all that cheese lined up on the racks. Of all the cheese I tried while I was at Quesos Sierra Sur my favourite was the rosemary one. Semi curado de cabra al romero.
They distribute to different locations in Spain and even some cheese is exported to Europe. I´m lucky that I have found a local stockist in Granada so I can get my cheese fix once the wheel I am on now is finished.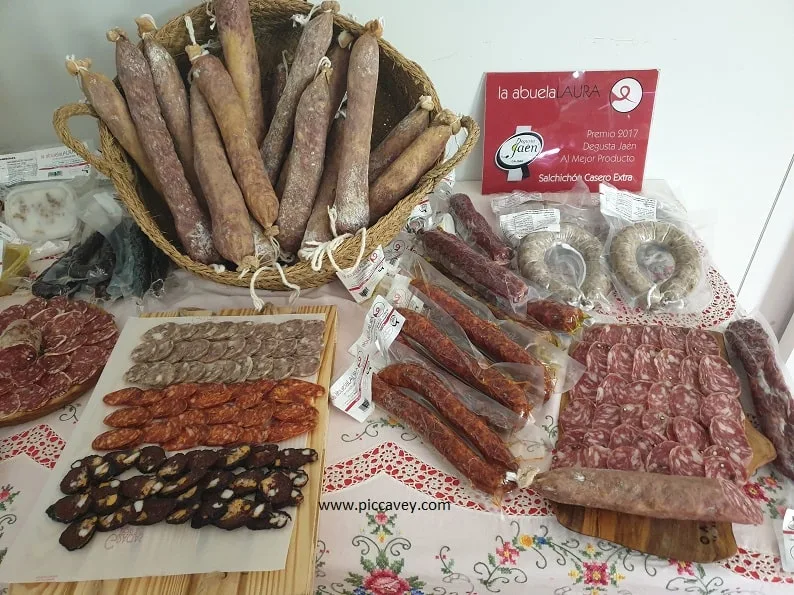 Local Salchichon + Chorizo
In Frailes Embutidos La Abuela Lara is a family business producing delicatessen products. Specialities are chorizo, black pudding and salchichon. All made following Grandma Lara´s secret recipes. Using pork from local farms, they also add red paprika made in Granada. All produced by a small team in Frailes.
Highlights were the Salchichon, just love the black peppercorns in it and the Lomo en Orza. This is pork that has been seasoned and then kept in olive oil to keep it from drying out. As well as these traditional products recently created a new offering, a fusion of Salchichon and Chorizo. "chorisalchichón"
Another local company Casa Montañes from Alcala la Real have been producing cold meats since 1918. Three generations on the family are still following the original recipes to make their house specials. Truffled Turkey, Lomo en Orza and Relleno de Carnival.
The truffled turkeywas something that wealthy families would order for weddings in the 1950´s. Cayetano Montañés kept the recipe going and generations later this product is still available now.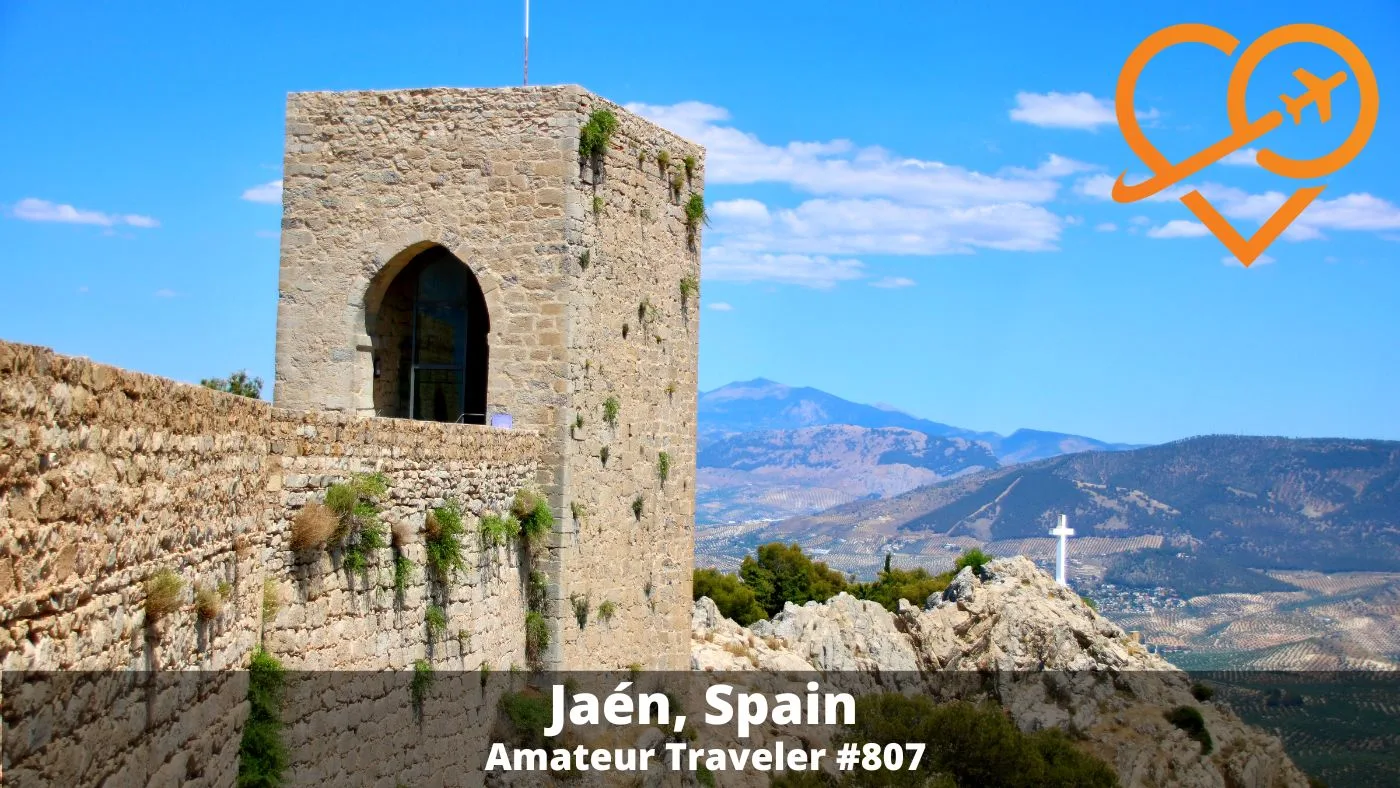 Podcast: Jaén Province
Listen to this interview about Jaen Province and the most interesting places to visit in the region.
Travel to the Jaén province of Andalucia, Spain – Amateur Traveler Episode 807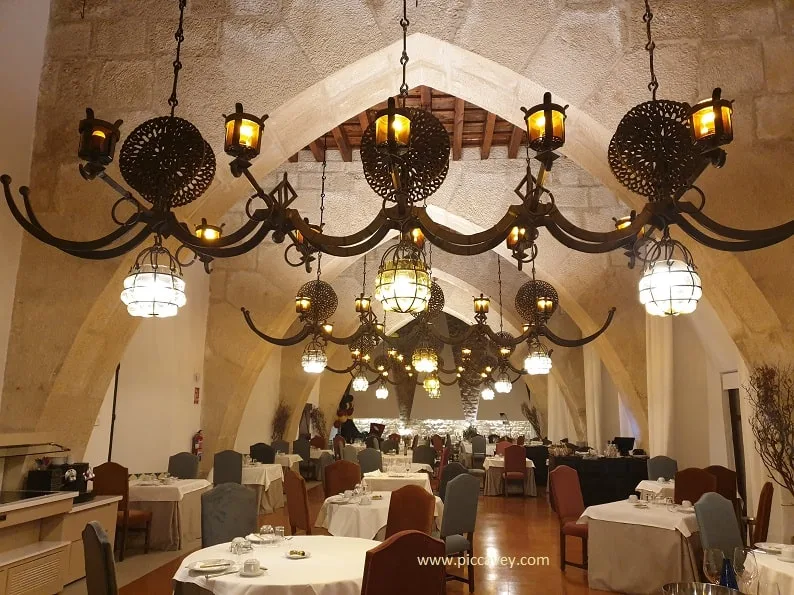 Parador de Jaen
Even though I have been to Jaen many times. I´d not managed to visit the Parador. On my last visit it had been closed for a refurb. Located in the Castillo de Santa Catalina perched high above the city. Chef Juan Mora Oriola takes care to include local produce, traditional recipes and a good selection of Jaen Wines. This place is a great option for a celebration dinner or for a treat if you stay at the Parador sometime.
The dining room is elegant and set within the historic building. Service was excellent. In June 2021 I was thrilled to see that the restaurant was fully booked. (It was on the weekend) Take note, if you want to go, please book ahead to get your reservation in.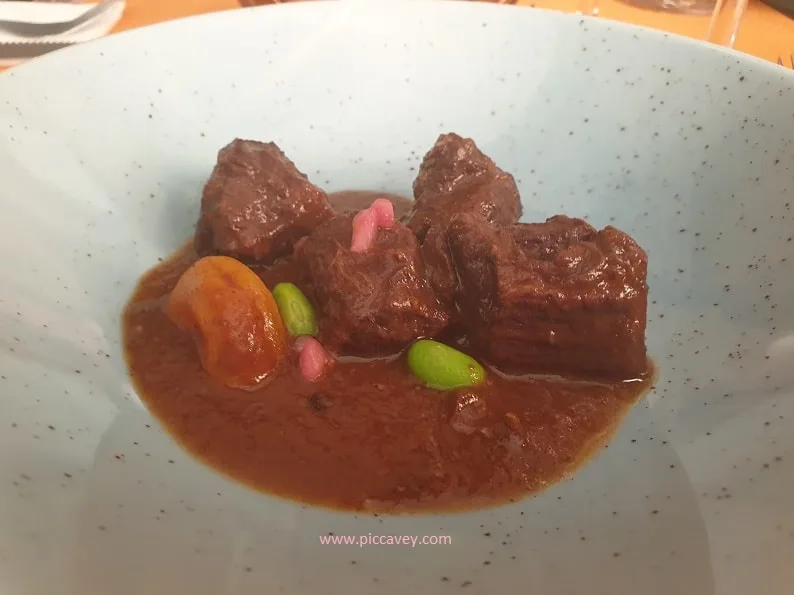 Bar Bomborombillos
On a side street in Jaen City is the Bomborombillos Bar. I enjoyed a tasting menu paired with wines from Jaen. The presentation of the dishes, attention to detail and quality was impressive. The bar itself is welcoming, cosy and unpretentious. The food, service and general experience was impeccable.
I can imagine that this is very popular with locals and would recommend booking if you want to dine here. Currently they only open on Thursday, Friday and Saturdays. Chef Alejandro Bohórquez heads up the team at this city centre location. Find them on Calle del Pintor Carmelo Palomino, 12 in Jaen.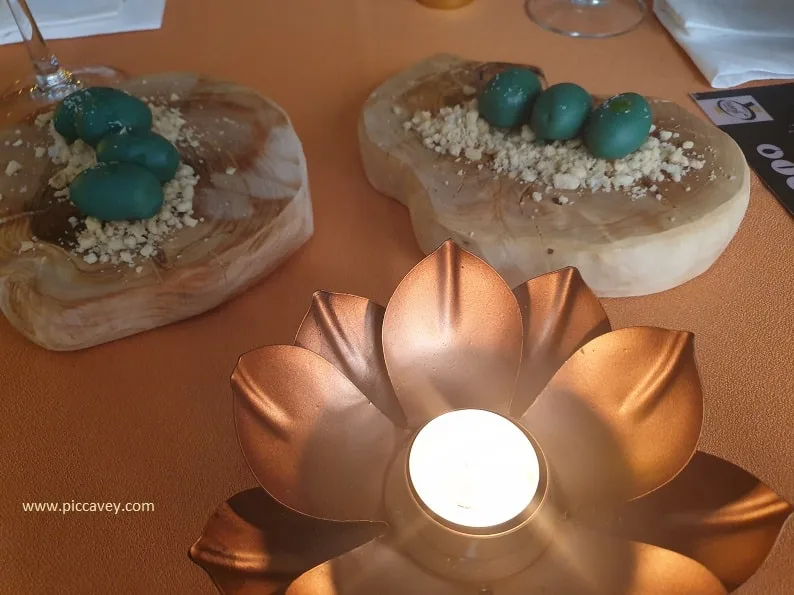 Tapas in Jaen
Jaen as well as Michelin Starred Restaurants, Fabulous Gastrobars and Dining Rooms in Castles also has a great Tapas scene. As I live in Granada all year round, where tapas abound, I can confirm that Jaen does great tapas.
The best area to head to are the streets, Calle de Bernardo López, Calle Ceron and Arco de Consuelo. This area close to Jaen Cathedral is where the most traditional tapas bars are concentrated. Here you will find places like La Manchega which opened its doors back in 1886, Gorrion which is another classic with the locals or Tasca Los Amigos.
If you stick to some of these traditional places you maybe lucky and even get to try the local bread buns called ochios. These are made with paprika so have a striking red colour to them. (terra cotta)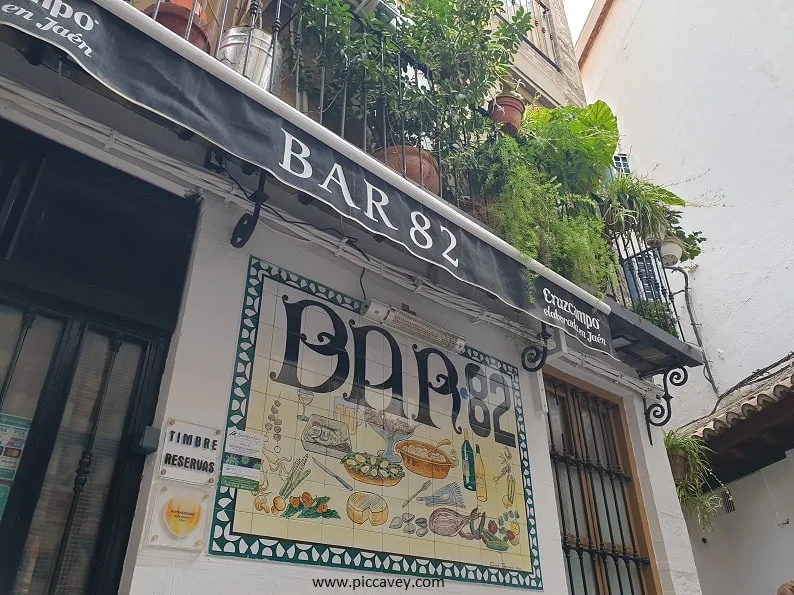 Local Craft Beer
Jaen even has its own Craft Beer label. This microbrewery produces 3000 litres per week and has amazing views of the Fortress in Alcala la Real. Brewing since 2009 they bottle a Pale Ale, Brown Ale and Brown Porter. Their latest launch is Malalmuerzo, an Indian Pale Ale. Cleary a great brew as they won Best IPA American style in February at the industry awards. CICA (International Competition of Craft Beers).
Look out for this beer when you travel to Jaen province, you will see it in some Specialist Food Stores and local bars. And I almost forgot to mention Jaen even have their own crisp factories. So you can get locally made crisps, fried in Olive oil from Jaen. Great alongside a cold beer.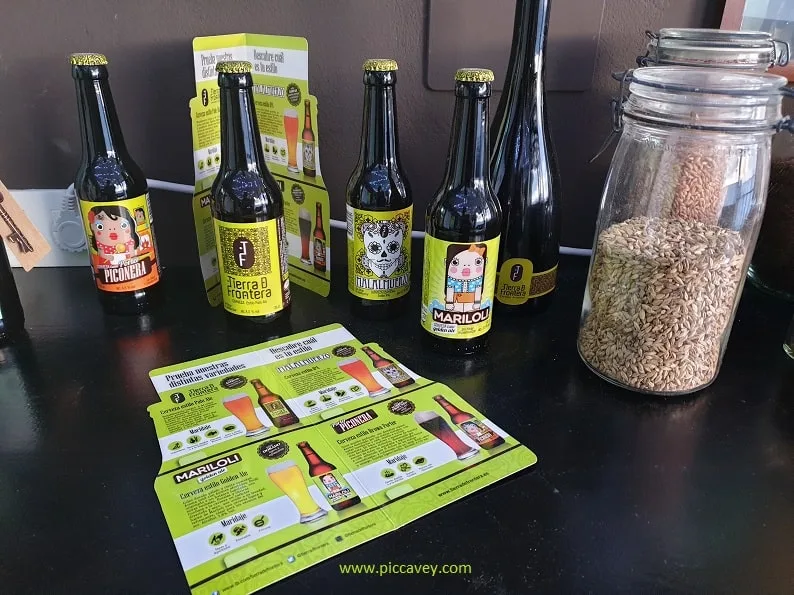 Jaen Province – A Secret Foodie Destination in Andalusia
Please Note: This post is sponsored by Degusta Jaen. In June 2021 Degusta Jaen hosted me on this press trip. Please note that this website contains affiliate links, which means that if you click through and make a purchase,I will receive a small commission. As an Amazon Associate I earn from qualifying purchases.
All thoughts, feelings and opinions shared on this blog and in this post are my own.