Granada esta de moda
Every year Granada celebrates a Shopping night in the city centre called Granada Esta de moda
From early evening until midnight DJ´s catwallk shows and live music are set up along the commercial streets around the city centre. Shops offer discounts and special deals on their Spring/Summer collections.
This year is was on Friday May 8th 2015, it was the third edition of the event. (every year it is held in May)
This event has become popular since it began in 2013 and a great excuse to enjoy shopping in Spain seeing the latest offers from Spanish and Andalusian brands. I enjoyed a tour around Granada esta de moda with 255 moda y comunicacion
El Escondite
Our route began at El Escondite. This creative space close to Puerta Real is made up of different rooms and spaces. Inside local fashion design students have set up a design showroom. This space is managed by the Granada Design & Visual Art School Estacion Diseño. The showroom will change as new exhibitions and projects are produced. Some of the upcoming designers here are Julia Rubio, Tania Romero, Rafa Nuñez, Mari Carmen Montoya and Juanfran Suárez.
I was thrilled to be taken here as I didn´t know about this new project.
Pilar Dalbat
From Puerta Real we walked along to the Pilar Dalbat Store on Calle San Isidro. (close to Hotel Carmen) This popular designer is Internationally recognised with stores in Japan and France as well as points of sale across the whole of Spain.
Her latest collection Landscape for Spring Summer 2015 was shown to us in store. I particularly liked the turquoise/aqua colours and clean lines of the garments. She also stocks Chie Mihara (Spanish made) shoes too.
Pilar Dalbat also works on Bridal wear and had some designs instore at the Granada shop.
Intimissimi
The next stop was Intimissimi on Calle Mesones. This high street store (nationwide) specialises in Underwear although they do have sportswear too. At the moment they have a Clothing reycling campaign on.
If you take along an old garment to their store they will give you a voucher off of your purchase. As well as a funky sportswear range for SS2015 they have also incoporated a mens range to their store too.
They were pretty busy on Shopping night, the shop was quite full.
Gran Café Bib Rambla
In Granada in May the temperatures are already over 25ºC so it after seeing the Intimissimi store on Calle Mesones it was time for a stop off somewhere.
We popped over to the Gran Café Bib Rambla. This is actually the oldest café in the city, its on the Bib Rambla Square. It´s been running since 1907 and its still managed by the same family too. I usually have chocolate and churros here but it was too warm for that. So I chose an ice cream milkshake. Their drinks list was quite extensive and it took me a while to choose what I was going to have. I chose well, the milkshake was perfect for the warm afternoon, I drink it as I watched the people hurry past through Bib Rambla square.
Pony rides for children
On the square for Granada esta de moda some activities had been set up for children. I really like to see the cute little ponies had been bought in by the Mascotario Granada The children were having a great time having pony rides around the square. There were at least eight ponies and they had also bought a colourful parrot along too. This company from Cenes de la Vega organise horse riding and outdoor activities for adults and children in Sierra Nevada National Park.

Teria Yabar
A short walk from Bib Rambla square we came to Teria Yabar , on Calle Puentezuelas, I must confess this was another shop that has opened recently and I hadn´t seen before. The shop window was eyecatching.
Inside the rails were packed with lots of fabulous occasion wear in bright pastel colours. Perfect outfits for weddings and special events. I have to rave about the costume jewellery. At Teria Yabar they have lots of drawers filled with chunky jewelled necklaces. The designs are unique and colourful. Some of the bags and accesores were also stunning.
This Spanish designer began in Leon but now has stores in Castellon, Alicante, Madrid, Seville and many other cities. I´m pleased we have a Granada store too.
Bottega Verde
Then our tour headed over to Bottega Verde on Calle Tablas. This cosmetic store has a large selection of natural skincare products and make up. As this is Italian brand most of its products have been made in Italy. The team their let us have an insider tip. Each Friday they offer their regular clients free make up sessions. As this event was on Friday the shop was busy with make over clients when we arrived.
We took a look at the special offers on for Granada esta de moda shopping night. I bought a Face Sun Cream with 25 SPF for the sunny days ahead for just 16 euros. This event was working out well as I tend to visit the same places over again and seeing shops I don´t normally go into was an eyeopener.
Etxart & Panno
I am no stranger to this store. Etxart & Panno on Calle Puentezuelas is always on my shopping route. I love their footwear and accesories too. This brand was created in 1988 by Barcelona designers Etxart and Panno. This Spanish brand has over 3o stores and has even managed to distribute internationally too.
Etxart & Panno had set up a sushi and champagne table for their clients for Granada esta de moda. We had great fun here, drinking, chatting with the team and looking through the latest outfits for the summer season.
They were also offering 10% discount off purchases during the Shopping night event, so it´s an incentive for shoppers to wait until Granada esta de moda to make their purchases.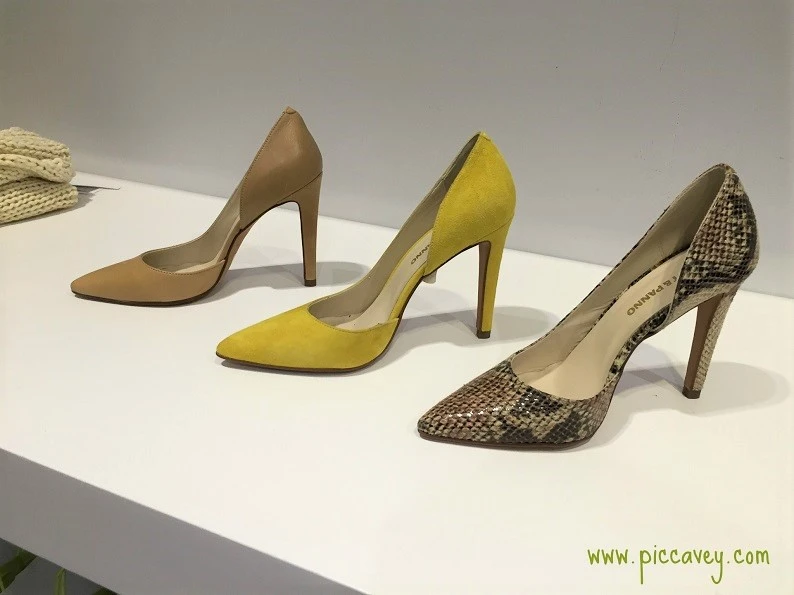 Tomate Gastrobar
After all the walking around we decided to round off the Shopping night at Tomate gastrobar. We particularly wanted to stop off here as they had the official Tapa for the event. (Yes they had even created a tapa called Granada esta de moda ; )
The special tapa created for the event was a garlicky salmorejo on soft bread with shoots and salad. Delicious.
I had a great night out at Granada´s fashion night and can´t wait until next year.
Read more> Ladies day out in Malaga