Burbu isn´t exactly typical Spanish.
Sometimes I have a craving for something a little different.
Last week I got an invitation to try out Burbu Bar at Calle Mesones 50, Granada.
This café/restaurant is on one of the most commercial streets in Granada, just below Bib Rambla Square. It is nestled in amongst shoe shops and high street stores, you could easily pass by and not notice it´s there.
Burbu Bar Granada
As you reach Burbu Bar you´ll see the takeaway bar, on street level. The plush dining area is upstairs on the 1st and 2nd floors. (btw. they do have a lift ; ) Alexandre and Vanessa at Burbu Bar describe their cuisine as:
´inspired by international cosmopolitan cities, this modern gastronomic space offers a new concept in Granada. After travelling to many countries we are bringing back some of those experiences with us, our dishes offer a culinary experience influenced by New York, L.A, Paris, Milan and Rio de Janeiro.´
Along with local blogger Gafas Amarillas we were seated at a table on the second floor. After the drinks were poured, for starter we enjoyed a delicious bowl of guacamole with nachos. Just enough kick without being overpowering. As a sharing dish for starters we also choose a sushi dish.
This was false sushi though, Sushi with no raw fish. It was filled with chicken and a cesar style sauce, great sushi I could enjoy too.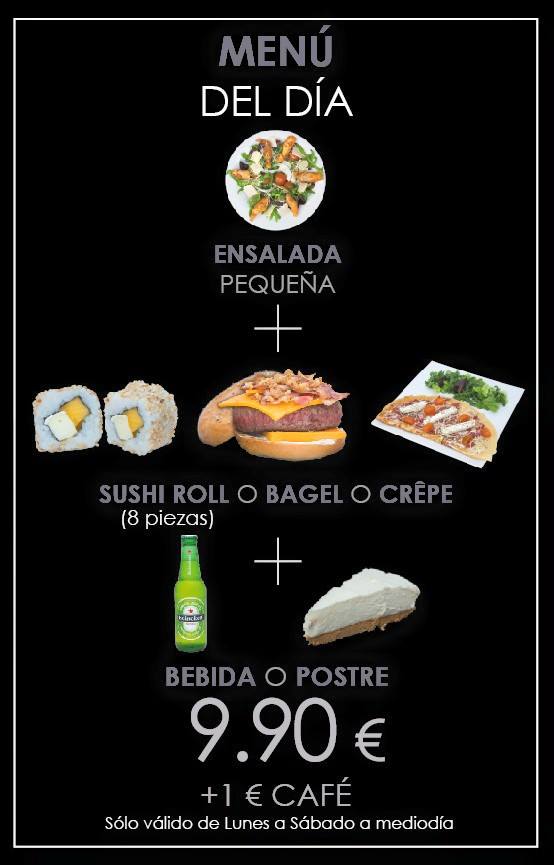 I choose the American bagel for the main course. A hamburger on a freshly made bagel (baked on the premises) with cheese and relish. I was glad that I was sharing as this was a chunky burger to tackle after the delicious starters.
Between courses I took a look at the daily menu offer (valid lunchtime Mon to Sat). For 9.90 euros this includes a Small salad, then a burger, crepe or 8 pieces of sushi and a drink or dessert. Coffee is just a euro extra.
I took a look at the food on offer at Burbu, they have 6 versions of Bagels, several gourmet salads to choose from, crêpes, sushi, and then they had a seperate snack list. (They cater for vegetarians too) On the other Snack list were Milkshakes (Oreo smoothie anyone?) different flavours of bubble tea and lots of cocktails. They also had a sweet snack option to accompany your coffee or tea mid afternoon.
After visiting twice I still haven´t managed to taste the Bubble tea, milkshakes or cocktails, but I will be going back one afternoon. As it´s located right in the middle of the shopping area, this is a perfect place to stop off and enjoy a cold drink upstairs away from the crowds.
I´m excited to hear that they plan to add new dishes soon. They have a catering service and are set up for take away too, so you can pick up food to go if you prefer to eat at home (or in your hotel ; )