When I first arrived in Spain. The market was a fascinating place for me to visit. Spain food such as fresh fish and endless varieties of olives seemed to me like a whole new world.
20 years on it was a surprise for me to rediscover these memories on a Spain Food Sherpas tour in Malaga. I didn´t think that this tour would take me down memory lane. As a 12 year old girl barely speaking a few words of Spanish. When I first visited Spain I stayed with a Catalan family in Barcelona. The Annual School exchange was my first contact with Spanish Food and culture.
The daily trip to the market was a highlight and an adventure. Seeing all the well stocked stalls in the market each morning. Such a different experience from food shopping back at home. In Malaga these memories were vividly revived of my first food market mornings.
Our tour guide, a local Malaga girl explained to our small group, all about local food culture in Malaga.
Spain Food Tour in Malaga
Starting off close to Calle Larios in the historic centre, the tour takes you around different types of local businesses and eateries. Rather than a tapas tours, the concept focuses on learning about local produce grown around the Malaga region. Regional traditions which are still followed by the local families and supporting family businesses in Malaga. Some which have been there for over 100 years.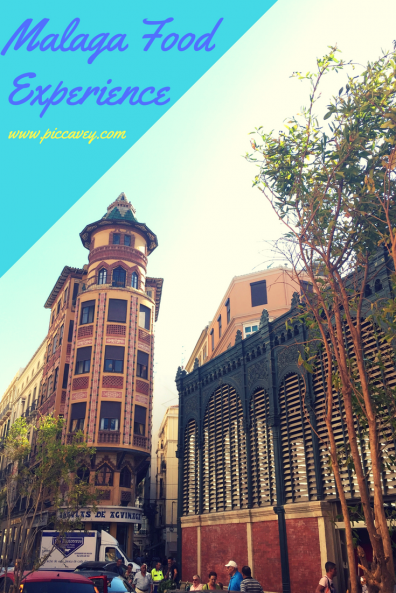 This tour is great for real foodies and culture vultures. The emphasis on seasonality and which dishes are popular when is also included in the route. So of course you probably won´t be offered summertime dishes if you take the tour in the winter season. But that is the exact beauty of this experience. You will be going about your morning in a very similar way as the local Malaga people around you.
Did you know that the locals in Malaga are called Boqueron by other Spanish people?
Boqueron means Anchovy.
That´s because the most typical food from Malaga are Crisp fresh fried Anchovies.
Authentic Local Produce
At a time when European cities all seem to have the same high street names, finding places along the route which are as authentic and traditional as some of these places in Malaga is a pure joy.
Refreshing to know that the locals here still appreciate these great places. They know that the best food is still in these establishments and the impact it actually has on local producers and their families.
Agriculture is never far away in Spain. In Malaga you can literally see the sea from where the tour departs from. So it´s easy to know where most of the fish is coming from. Local cheeses in Malaga are some of the best in Andalucia and certainly the local wines and olive oil are not to be excluded either. There are actually 18 cheeses which are recognised for their DO.
The list of locally produced food is quite extensive, raisins, local bakeries and lots of fruit too.

Traditional Family Businesses
As part of the tour I liked the fact that I got chance to buy a few things in the market and in one of the old grocers. That afternoon I was travelling back to Granada and knew I wouldnt have much in the fridge. So it was great that I could buy some local Malaga cheese and a few other items along the way.
One of my discoveries was a local wine made in Almargen, Malaga. This pinky wine called Al Fresco by Niño de la Salina Bodega. This fresh Rosé wine had me hooked all through the summertime. I found in later in a Granada delicatessen in the Albaicin so once I´d finished the bottle I got in Malaga that day I could easily get another bottle. Love the fresh design on the bottle too.
Being able to purchase a few of these locally produced foods felt like taking part of my experience. Taking a little piece of Malaga with me home as I didnt want it to end so quickly.
BOOK YOUR SPOT ON THIS MALAGA FOOD TOUR ON VIATOR