Have you heard of a charming town in Huelva province called Aracena. Located in the Sierra de Aracena in Western Andalucia, this inland location was one that I recently discovered. Exploring lesser known destinations in Spain is one of my hobbies since I moved to the country back in 1998.
There are so many #SlowTravelSpain destinations across the different regions. Even though Aracena is not on the main tourist track, the airport is far away, this town has lots to offer. Ideal for a long weekend or rural getaway but with all the services you need.
Where is Aracena?
Aracena is a town located in South West Spain. In the province of Huelva in Andalusia, Aracena is the main town in the Sierra of Aracena. It´s population is around 8,000 inhabitants, so its not a large place, yet there is plenty to visit and enjoy in this quaint town. The closest international airports are Seville and Malaga.
Situated at:
89kms from Sevilla
206 kms from Faro (Portugal)
208 kms from Cadiz
230 kms from Cordoba
294 km from Malaga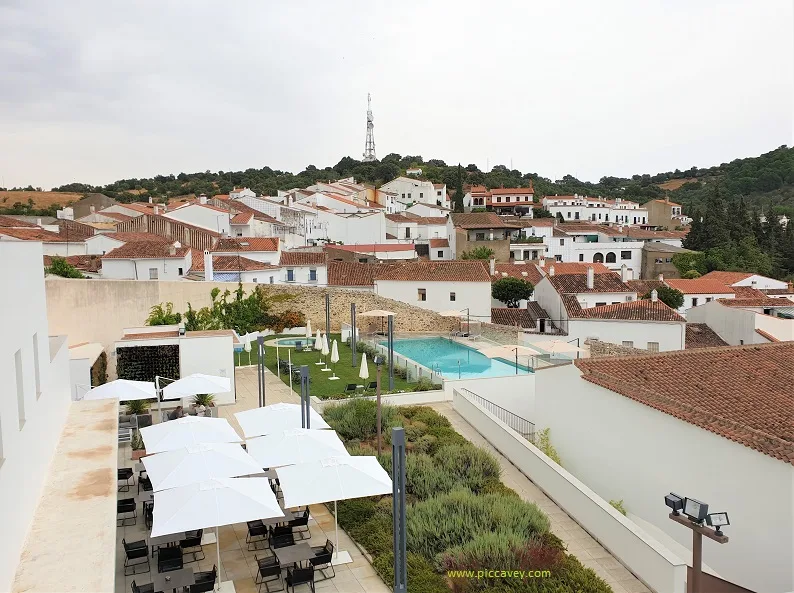 Sierra de Aracena
As well as the small towns and villages on the hillsides, the surrounding landscapes are known as Dehesa. This is a mixture of forest and farmland managed in a sustainable way. Used for pasture, goats, horses and pigs graze, also cork production, mushroom picking and other sustainable farming activities in this area. In 2002 it was recognised as UNESCO Biosphere Reserve along with land in Seville and Cordoba province too.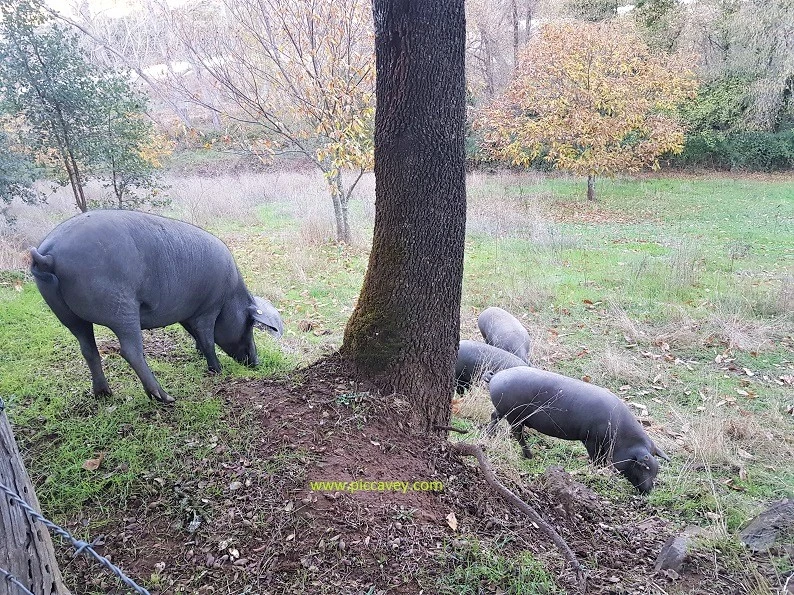 Hotel Convento Aracena
I stayed at the Hotel Convento Aracena, a boutique hotel set inside a 17th century convent. Known as the Jesus & Mary convent it was a religious building right up to the 1970´s. Now a characterful, historic hotel with 4 star rating. It has been carefully refurbished to respect the character of the building while at the same time making it welcoming and practical for its guests.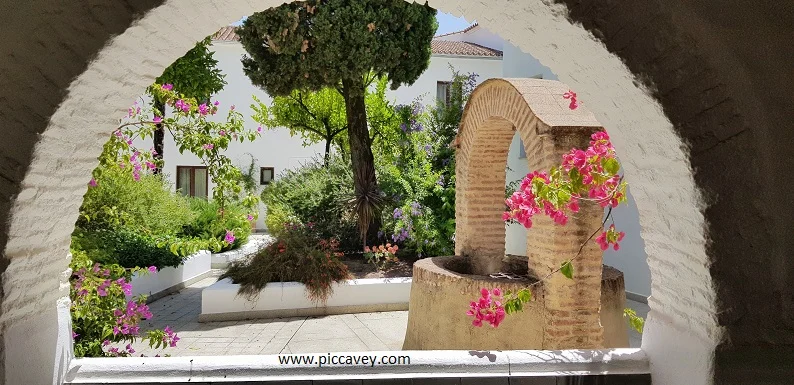 When you are inside the building there is an overall feeling of calm. The hotel has a spa area and also a large garden area, which are immaculately maintained. Outside there is a large swimming pool with countryside views. Guests have access to a private car park within the grounds. (covered and gated)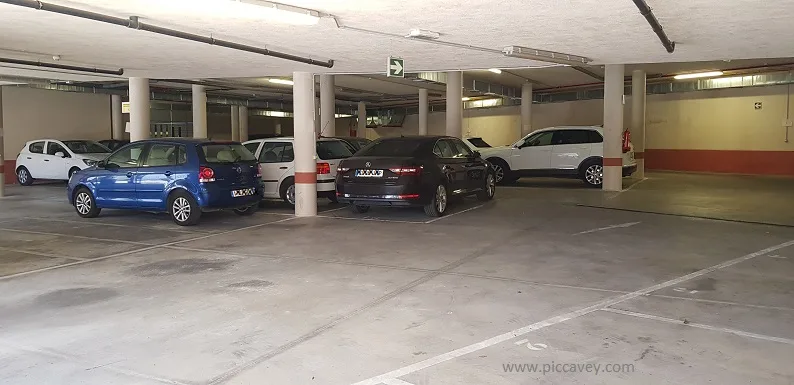 The well equipped spa area needs to be booked as a complement to your stay. It´s so worth it. You can book treatments or just opt for using the spa area without the extras.The outdoor pool is filled with saltwater and has it´s own pool bar too.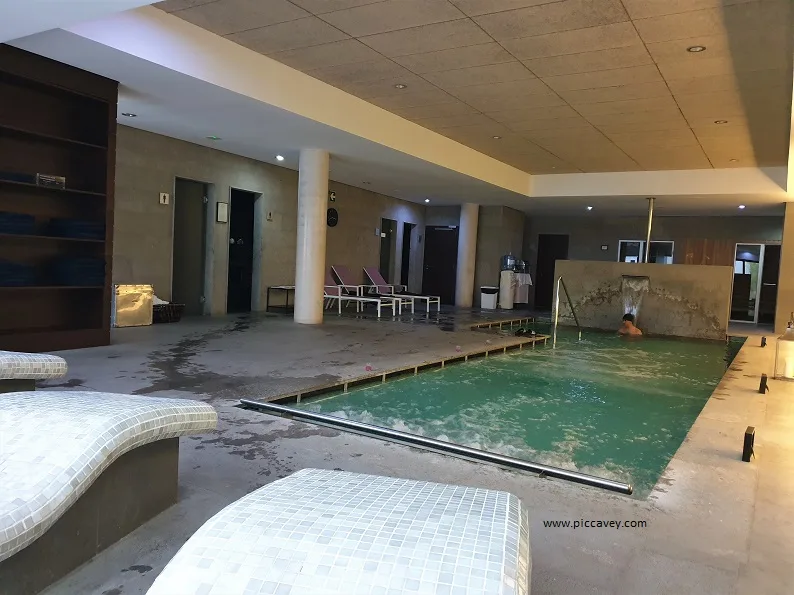 Staying in Aracena
While I was in Aracena I dined inside the hotel restaurant Huerto Nun. We stayed for breakfast on two mornings and also had dinner in the restaurant on the first evening.
Breakfast at the hotel has a good selection, with plenty of fresh fruit, pastries and different warm dishes. Acorn Fed Iberian ham from nearby Jabugo was freshly sliced at the beginning of the breakfast service.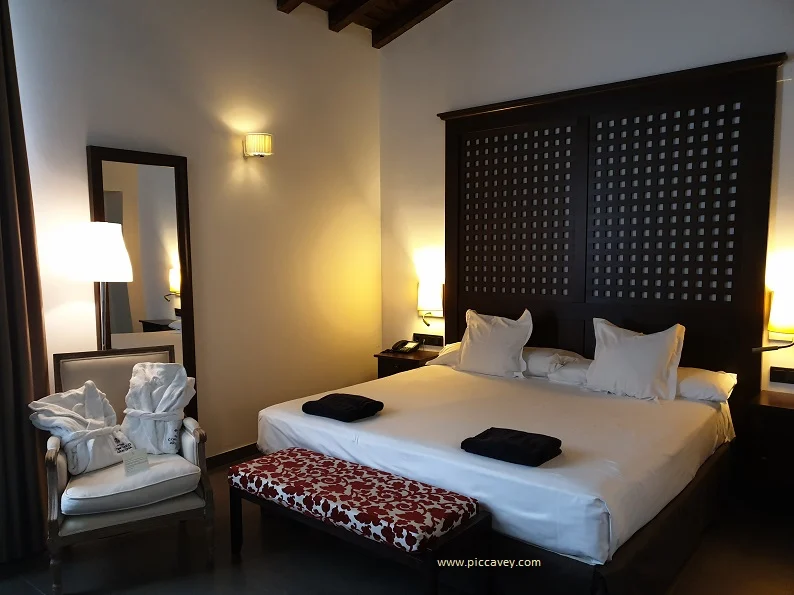 The room I stayed in is pictured above, the hotel has three different room categories. This one is Special Double Room there was enough room for suitcases and our belongings.
The bathroom was spacious and practical too. User friendly and simply but elegantly designed. Plenty of room for my massive washbag that I take with me on all my travels.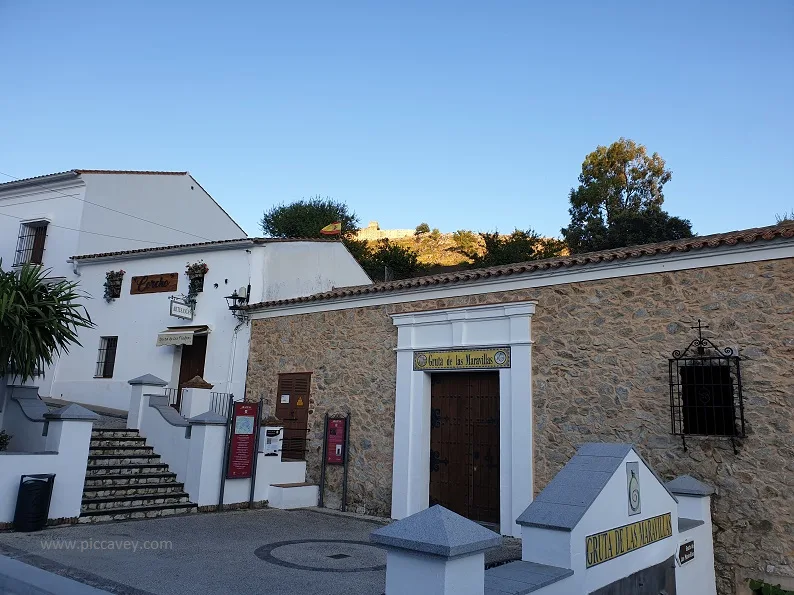 Gruta de las Maravillas
For many visitors the Cave known as La Gruta de las Maravillas is the main attraction in Aracena. I had already heard about this when I wrote up 10 Caves to explore in Andalusia however I hadn´t had the chance to visit.
Breathtaking! The cave is right in the town centre, right close to some of the locals houses. Its seems unreal as you enter the main door to the cave. Right underneath Aracena castle, forming part of that same hill. (The photo above shows cave entrance on one of the main streets)
Can you imagine having this huge cave below your home?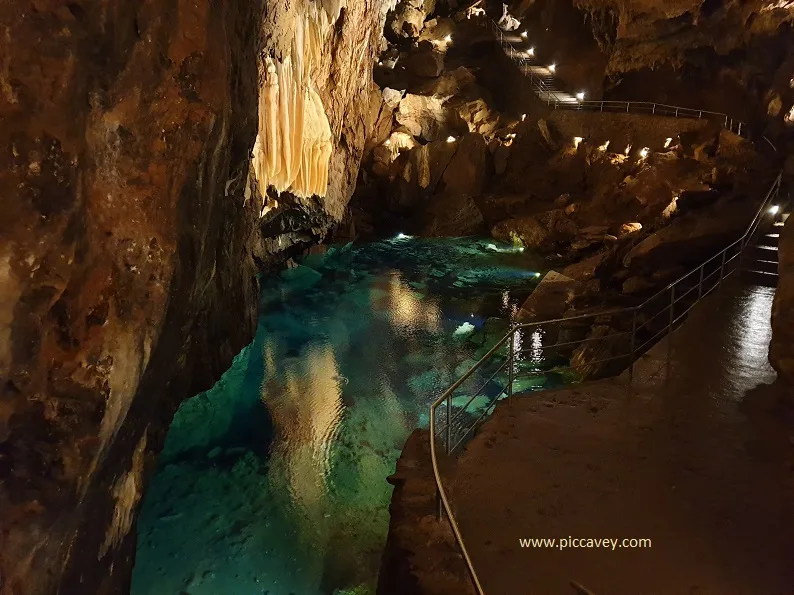 Aracena Cave
To go into the cave the steps down are gentle and easy to descend. Once inside the cave the length of the galleries is over 2 kms Although the visit is 1,400 metres. Down there temperatures are constant between 16 and 19ºC, all year round.
The colours and formations inside are exceptional. With stalagmites, stalactites, lakes and pools and many other types of karstic formations. These caves are probably the best ones to see in Spain.
The main spaces throughout the cave are the Diamond Room, the Shell Room, and the Great Lake room. There are other spaces such as the Emerald Room, God´s Glassware and the Nudist Room.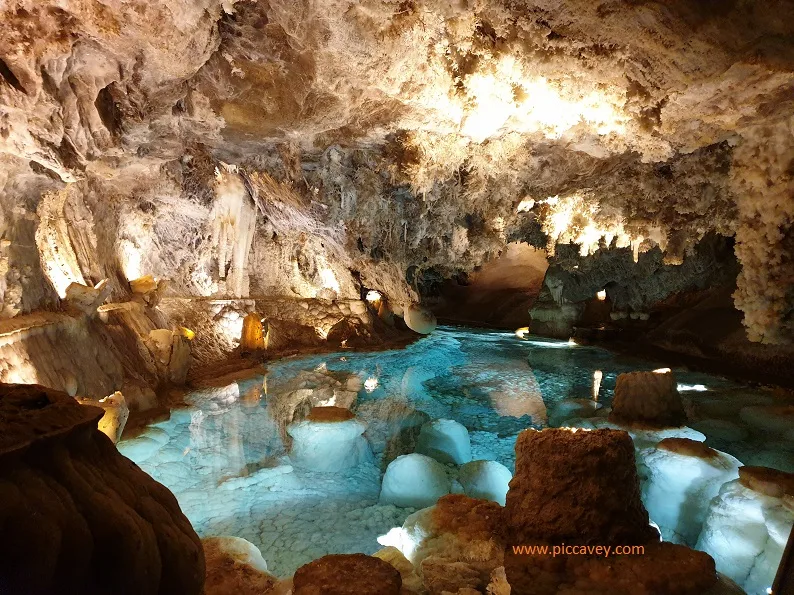 Although I have more photos of the space I prefer to let you discover this yourself when you visit. The images don´t do the space justice. The coolness of the caves interior on a summer day. The constant sound of water falling from the new formations down onto azure pools below. Or the sheer size of the galleries doesn´t comes across through a few photos.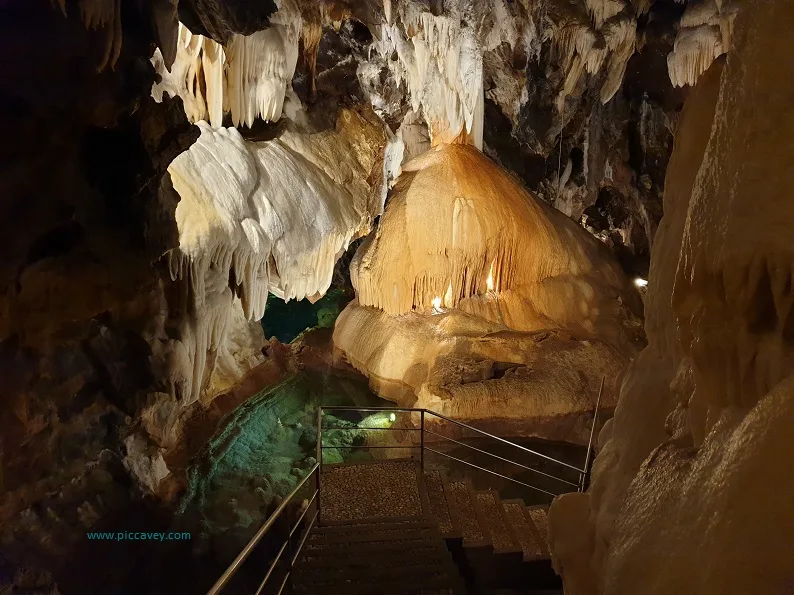 Visiting the Grotto
When you visit the cave I would recommend that you wear good footwear, some parts of the cave floor are wet and can be slippery. There are some uneven surfaces. You don´t really need to wrap up warm but on a hot day the contrast in temperature may have you reaching for a travel scarf or an extra layer.
Tall people will need to take extra care as there are two parts of the visit where you need to bend down to pass through. The guide will warn you on which parts of the visit these lower places are.
Also please note that No Photos or videos are allowed to be taken throughout the visit. As the visit is around 90 minutes the guide needs to make sure all the group stay together and keep slips, falls and trips to a minimum. This would be more difficult if the visitors were looking at their phones instead of where they are stepping.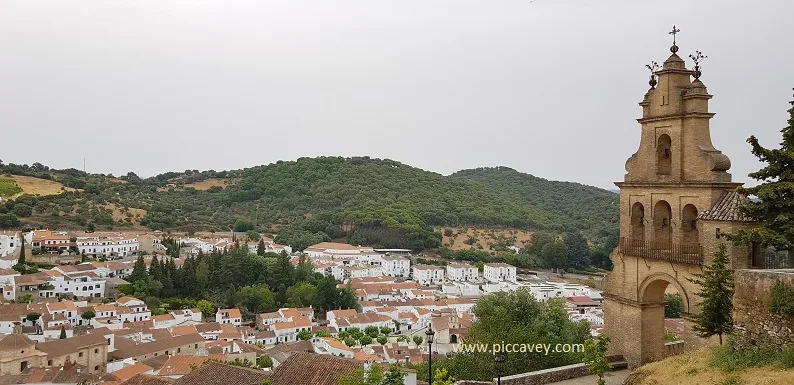 Aracena Castle
As well as the Cueva de las Maravillas, Aracena´s old town is also picturesque. Perched above the town is the castle and old church. Walking up from the main square is uphill but the slopes are not too steep. Take your time walking up and enjoy the views.
The Fortress built in the 13th Century, was
previously
a Muslim fortification occupying the site in the 10th century
. Once inside its walls you have 360º views over the town and countryside. Some walls are being restored and maintained but this didn´t affect out visit to the castle.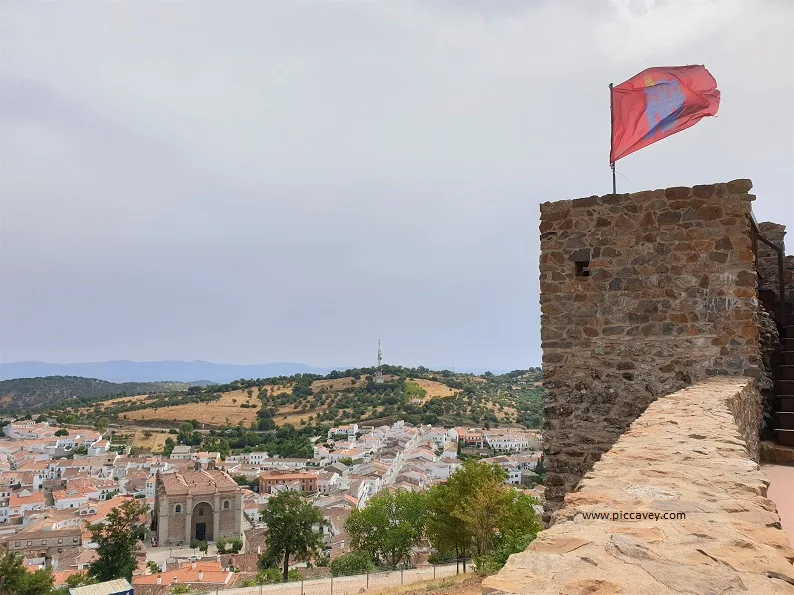 Inside you can see the huge water tank ´aljibe´ and ruins of dwellings within the castle walls. Head up to the tower and you can see a birds eye view right across the Sierra de Aracena.
Close to the castle is the Church Nuestra Sra. del Mayor Dolor. Built in Gothic – Mudéjar style dating back to 13th century. Building began in 1231 and you can see the Mudéjar tower on one side of the building. The brickwork details remind you of Seville´s Cathedral Tower.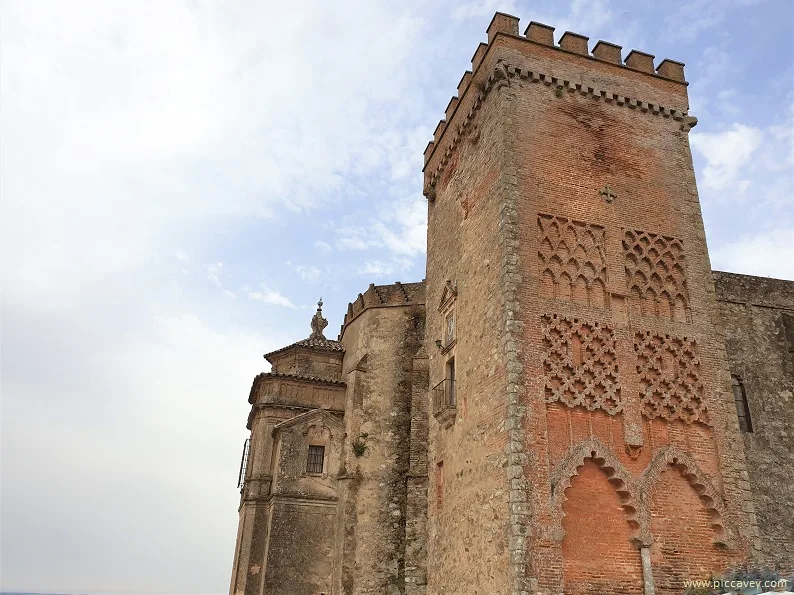 Walking to the Church & Castle
Walking up from the Tourist information centre ´Centro de Visitantes El Cabildo Viejo´ on Plaza Alta
Take the Calle Zilla (less steep) and it leads you up a gentle slope to the main archway leading into the Church and Castle area.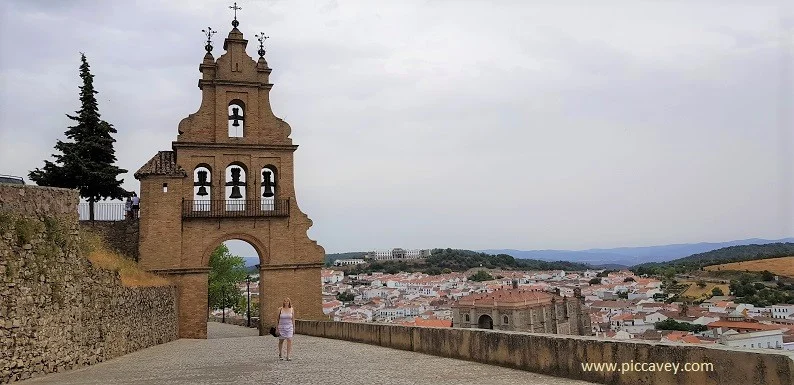 Where to Eat in Aracena
Food in Huelva province is excellent, especially as this is an agricultural and coastal province. In Sierra de Aracena, typical dishes are those with wild mushrooms, pork, wild boar, game, goats cheese, chestnuts and acorns. Other local vegetables and fruit such as quince are also found in this region.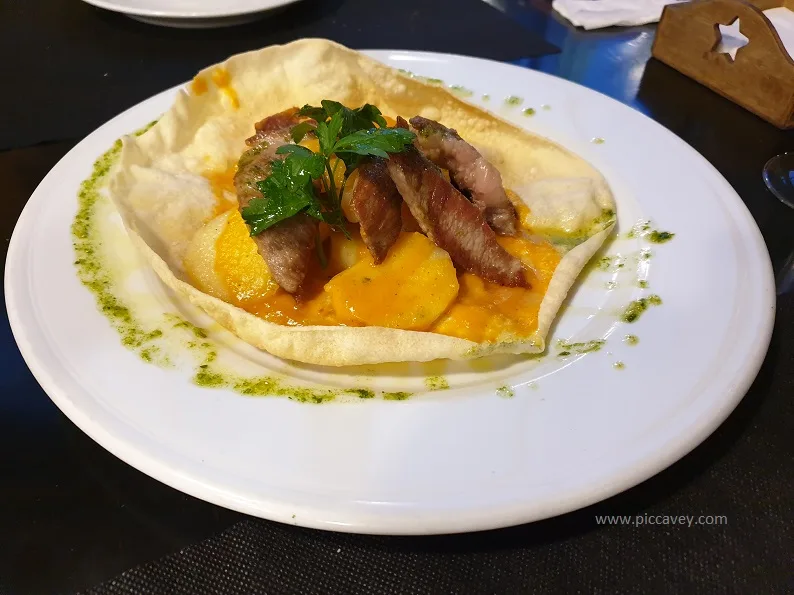 Restaurante Montecruz
Located on the main road, opposite the Cave entrance, right in the town centre. Restaurante Montecruz has won many distinctions and awards for its cuisine. Winning a competition for best gazpacho, Best tapas amongst others. (See the awards and press cuttings on the wall inside the restaurant)
I had dinner here, choosing three different tapas dishes. The iberian ham and Caña de Lomo (pork cold cuts) is made by the family who own the restaurant. You can tell its a homemade product as the taste and texture are excellent.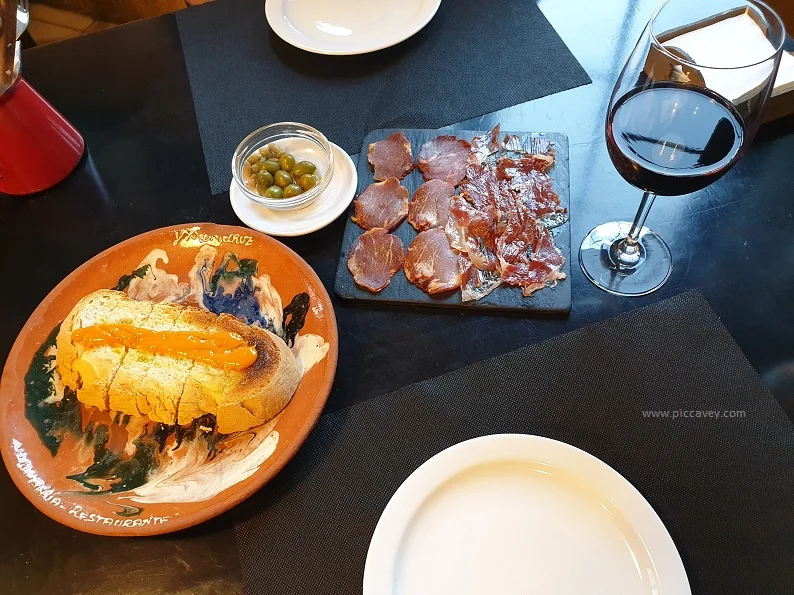 One of the tapas I tried was Red peppers stuffed with wild boar. (1st prize tapas competition Huelva province) Then a presa ibérica dish (shown above) both were exquisite.
I also made room for a dessert. Again homemade dishes are prepared here and were so worth it. I chose an old Huelva recipe: Cream of chesnuts.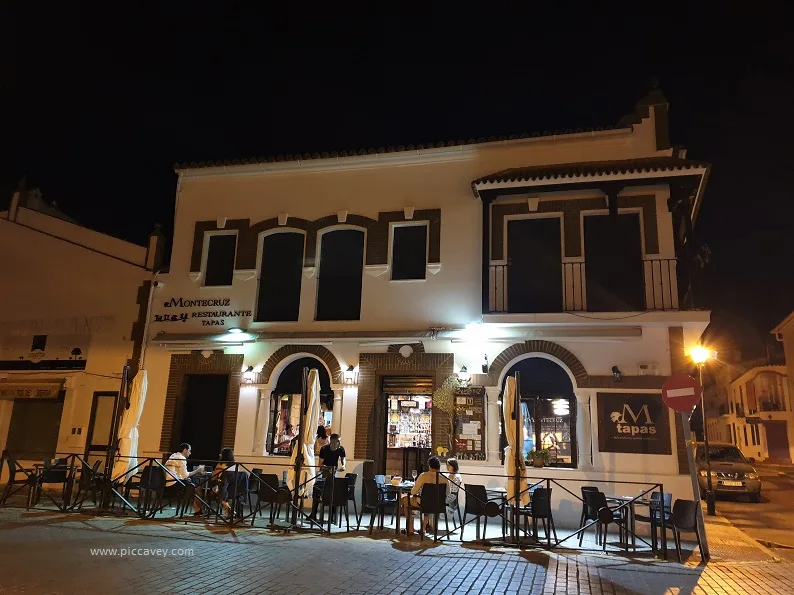 Restaurante Montecruz, Aracena
Calle San Pedro 36, Aracena
Open from 12 noon to midnight Tues to Sunday
Closed on Mondays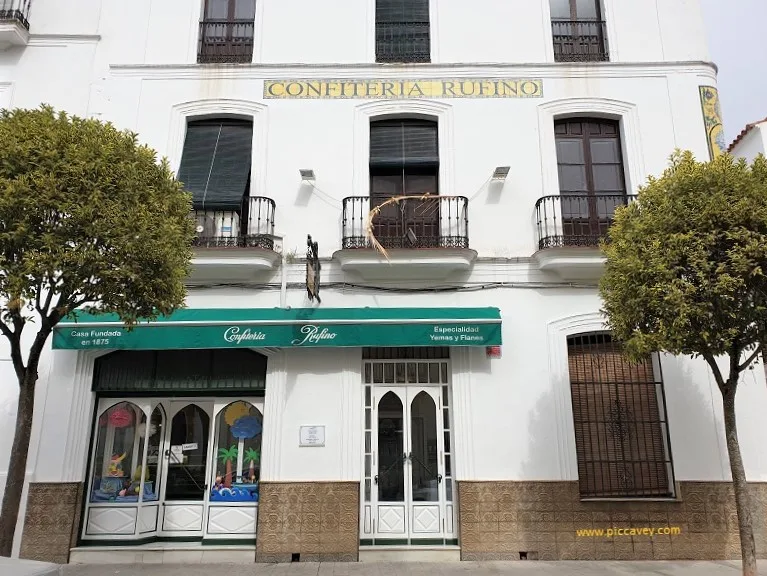 Confiteria Rufino
Whenever I travel to new places in Spain, I keep a look out for traditional cake shops and bakeries. I´m happy to see Confiteria Rufino is still in business after so long. They opened in 1875, thats 147 years ago! The vintage interiors are so delicate and elegant. It really almost feels like time travel.
I popped in to buy two cakes to take away. The decision was quite difficult everything looked so delicious.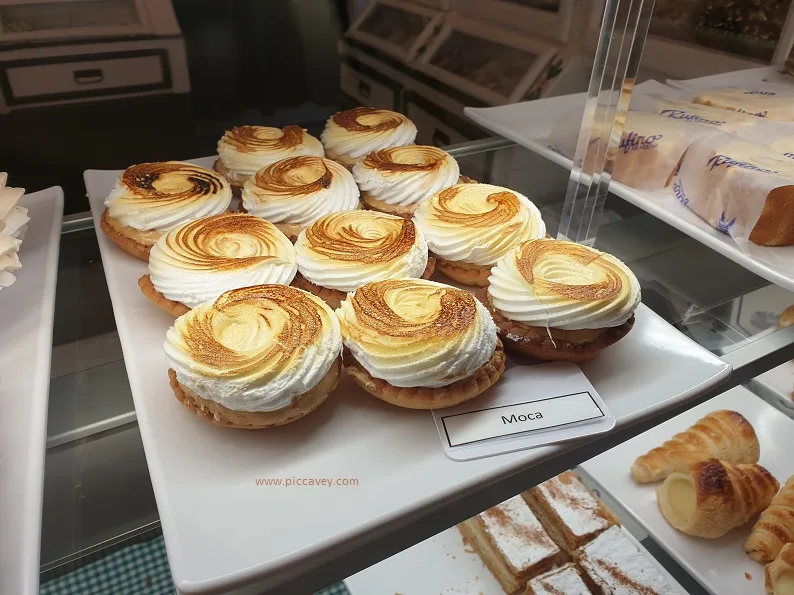 This traditional bakery in Aracena has all the local cakes and pastries on offer. They also have ice cream too. It is a shop rather than a café so best to buy your cake and eat it in the square nearby.
One of the most typical things in Aracena are Piñonates. Sold in small bags they are like churros but smaller in size and are eaten cold. Usually eaten at Eastertime, they became popular and can now be bought all year round.
Don´t miss this when you are in the area Confiteria Rufino won´t dissapoint
Calle Constitución 3, Aracena
Open everyday until 8.30pm
Huerto Nun
Located inside the Hotel Convento Aracena. Huerto Nun is a restaurant with indoor and outdoor seating. Open to non residents, this offer high end dining with lots of local favourites.
I chose a hummus selection for starters and flamenquín for the main course. Flamenquín is a typical dish in Cordoba province. Made with pork fillet, sandwiched with cheese and ham, then fried in breadcrumbs.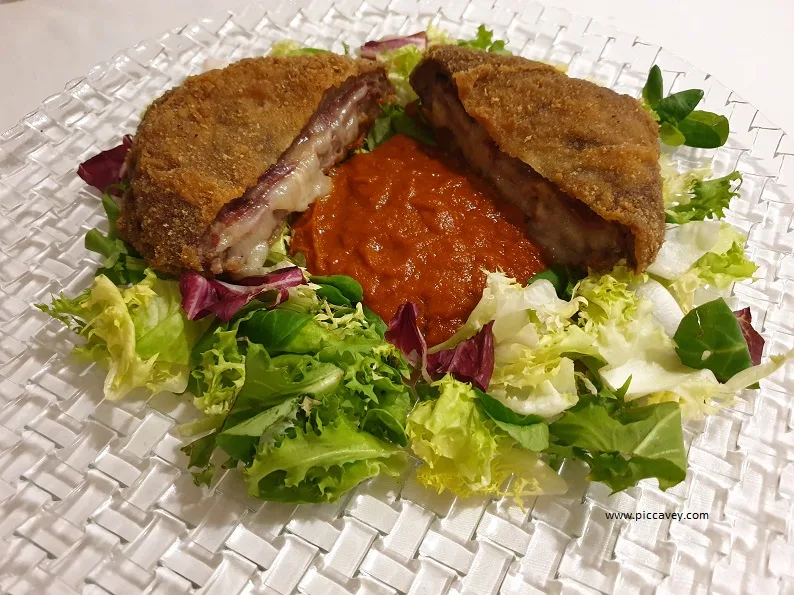 The tranquil surroundings of the convent in which the restaurant is located. The views of the castle and the belltower make it a great place for a romantic dinner. Service could have been a little quicker. Yet the attention to detail and delicate presentation of the food made it worthwhile.
I also tried a white wine from Condado de Huelva which was floral and delicious. Made with Zalema grape variety. The bottle of UZ wine from Bodegas Iglesias was the perfect tipple for a summer evening.
Address: Calle Jesús María, 19, Aracena
Opening times: Always open
Museo del Jamón
The Ham Museum in Aracena has guided tours in English and Spanish. (Book ahead to ensure availability). With lots of information about ham production and traditions. The Museo del Jamón also an exhbition with hams from other countries around the world. (France, Italy etc)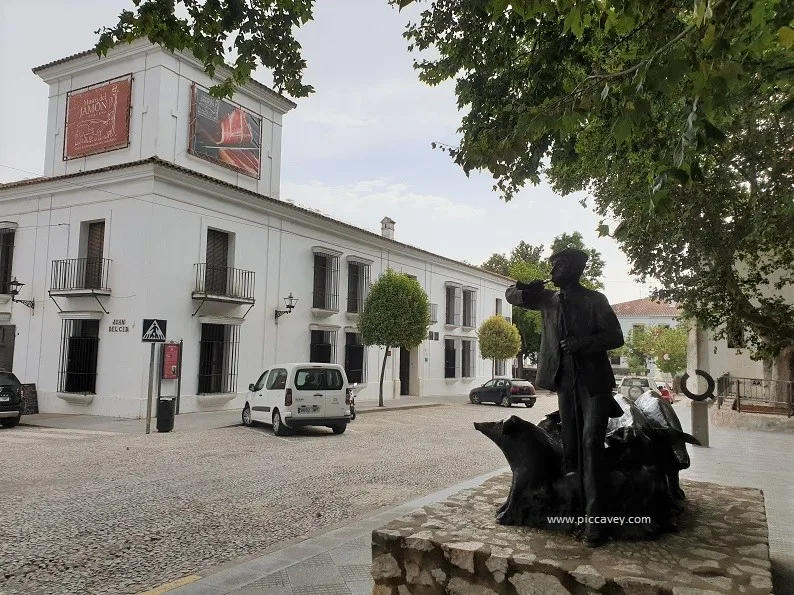 What to See in Sierra de Aracena
Although Aracena itself has plenty to see. The surrounding area, Sierra de Aracena has also some interesting day trips too. Here are some of the visits I did while I was in the area.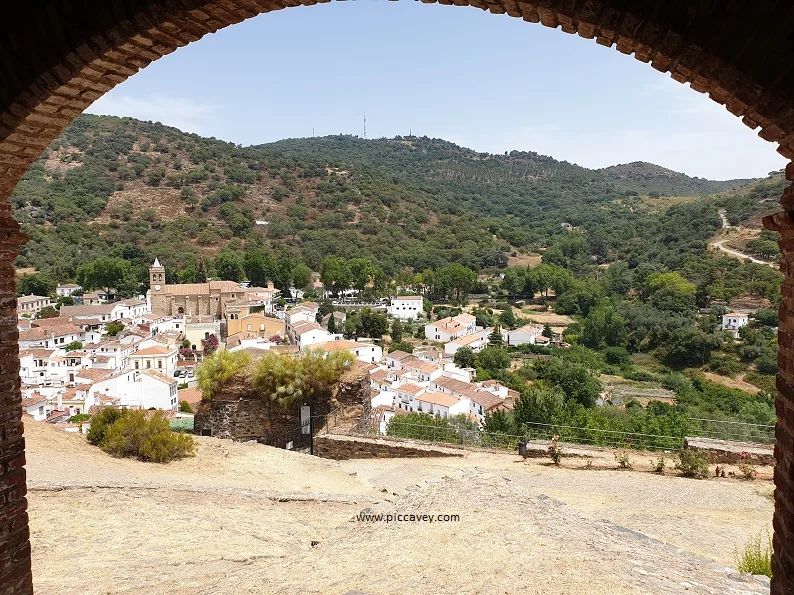 Almonaster la Real
A 40 minute drive through countryside from Aracena. Almonaster la Real is one of the prettiest villages in Spain (Los Pueblos Mas Bonitos de España). With its impressive 10th century mosque above the town. Its quaint whitewashed streets is a delightful place to spend an afternoon.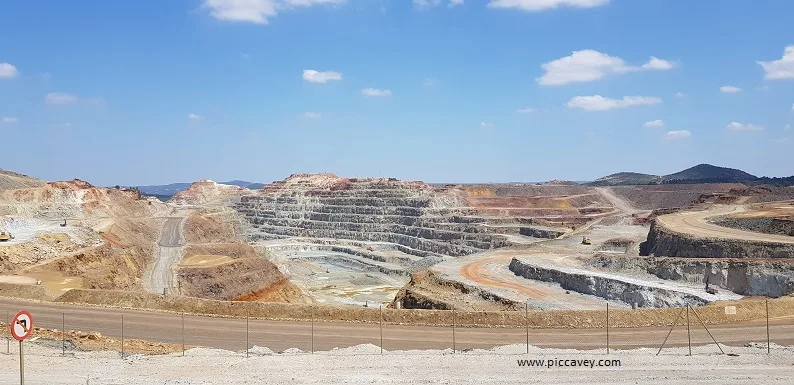 Minas de Riotinto
Half an hour away from Aracena are the Riotinto mines. Here you can visit part of the area on a train and see the dramatic colours in the rock. The sheer size of the site is breath taking.
In this area is the English quarter where the British miners had their homes. You can see these homes built in English style close to the mines.
There are different ways to visit the Parque Minero depending on how long you have. The train ride is particularly recommendable.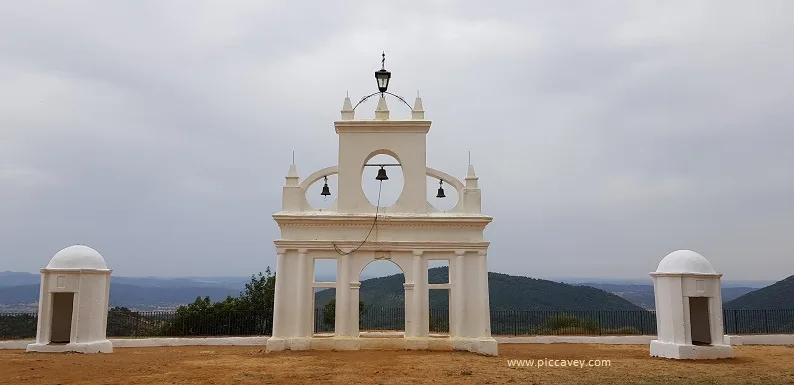 Alajar, Aroche and Beyond
Sierra de Aracena has some great views, woodland and quaint little villages. It´s a perfect location for hikers and mountain bikers. We saw eagles and halcons around as we drove around the area.
The photo above is from Alajar at the Peña de Arias Montano. Just a short drive from Aracena. From this vantage point there are impressive views across the Sierra de Aracena. On this site is a 16th century Hermitage and it´s a spiritual location of pilgrimage for many.
Daytrips from Seville
Disclaimer: Please note that I was hosted by Hotel Convento Aracena on a complimentary stay in 2019. However, all the opinions in this article are my own and I would not recommend anything that I wouldn't have enjoyed myself doing or think it was a great place to visit.
This post contains affiliate links, which means that if you click through and make a purchase, I will receive a small commission. All thoughts, feelings and opinions shared on this blog and in this post are my own.