Recently I took a winter break to Bologna Italy. As you may know as a reader of this blog historic cities, architecture and food are my main reasons to travel anywhere.
So to travel to the place that´s known as the home of Spaghetti Bolognese and Emilia-Romagna cheese was my ideal escape.
Where is Bologna?
Bologna is an inland city in Northern Italy, in the Emilia-Romagna region. It´s 220 kilometres South of the Italian Capital Milan and 100 kilometres North from Florence. It´s connected by train from most major cities and also has its own International airport.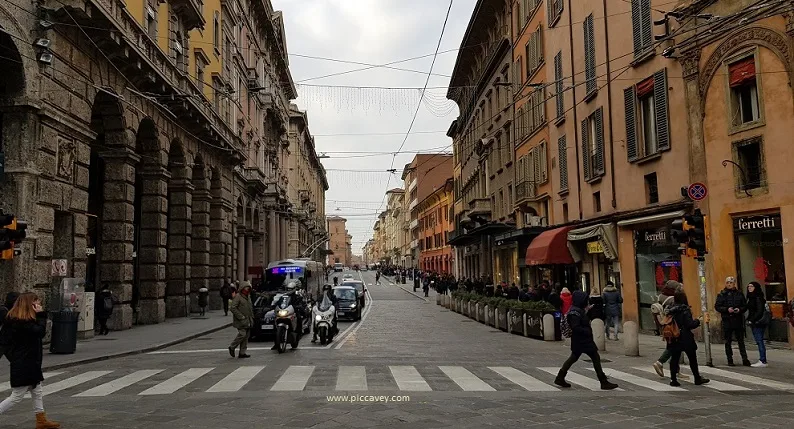 Highlights of Bologna Italy
Bologna has been a major city for many centuries. It currently has a population over 1 million.
It´s most famous monuments are its towers, porticoes and churches. However Bologna´s University is also an important historical site in the city. Founded in 1088, it is considered to be the Oldest University in the World. (in continous operation). Initally specializing in Roman Law and Medicine. The student population is abundant still today.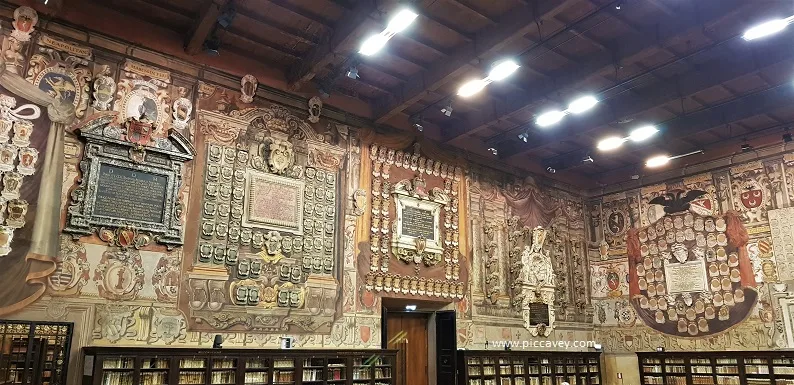 Archiginnasio of Bologna
On my trip to Bologna I visited the Sala Rusconi inside the Archiginnasio of Bologna. (shown above) In 1563 and the years following this was the main builiding of Bologna university. It is so impressive inside with six thousand coats of arms decorating all the walls.
The 17th century Anatomical theatre is also at this location, a stunning wooden interior lecture room shaped like an amphitheatre.
Although I didnt take a tour as I was in Bologna for 3 days, a guided tour is a good option for those who have less time in the city to get the main sights covered.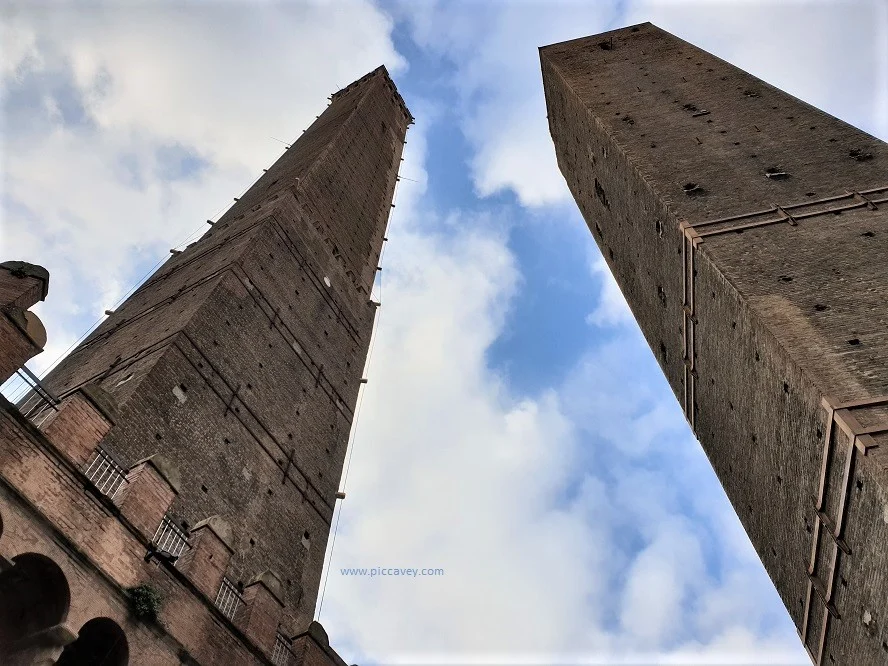 Italian Architecture
The city streets took their current layout from Roman times. Most of the historic centre is pedestrianised, making it perfect for sightseeing. As I mentioned in the introduction, Bologna is most known for its towers and porticoes. Bologna once had 180 watchtowers in the city, although only 20 now remain from medieval times.
The most famous ones are known as the Due Torri (Two Towers). With their own individual names of Asinelli and Garisenda. They are actually leaning inwards. You can´t actually go up these towers due to safety reasons. The Due Torri are actually in the main commercial district of Bologna, so after seeing the towers we spent a while shopping in the area.
If you want to get a good view of Bologna´s skyline you can visit the Asinelli Tower.
You can book online this tour which includes a Food tasting as well as the Asinelli tower visit.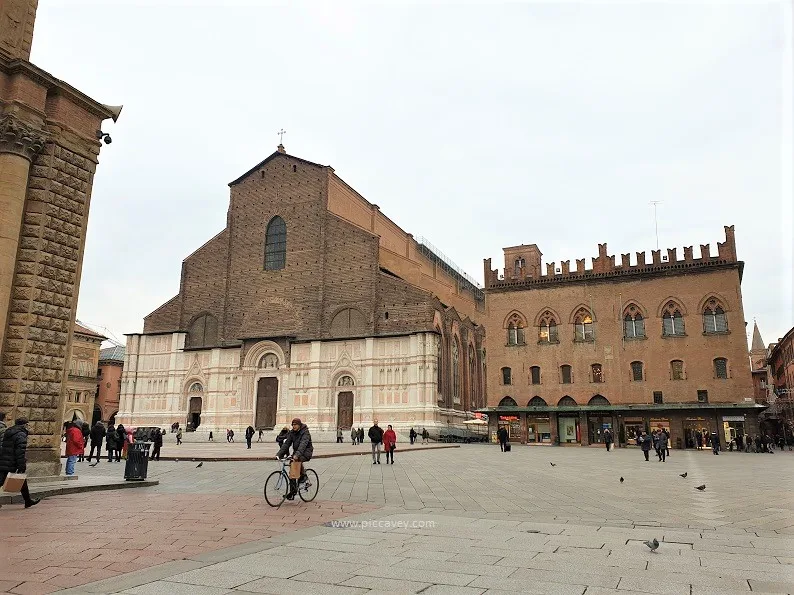 Piazza Maggiore Bologna
The main square in Bologna is Piazza Maggiore. On this square dating back to the 13th century are significant buildings such as the Town Hall or the Basilica of Saint Petronius. The Basilica´s façade has remained unfinished since being built in 1390, it´s dedicated to the patron of Bologna St Petronius, a former bishop of Bologna. (d.455)
On the other side of the square are the banchi arcades (porticoes) leading into the market area. However the place I liked most on this square was the Sala Borsa.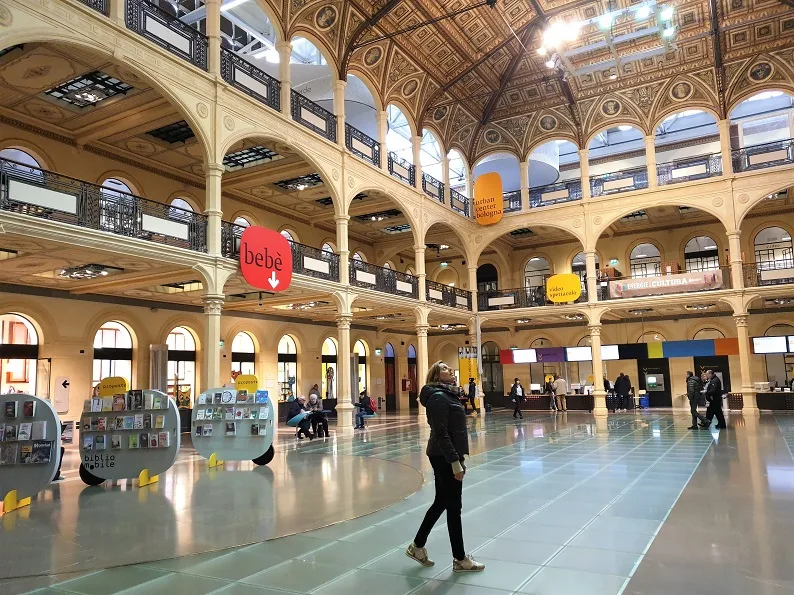 Sala Borsa
The Sala Borsa is now Bologna´s municipal library. Set inside a building which used to be the Stock Exchange, it´s interior is stunning. Open to the public, its free to go in. Don´t miss the ancient ruins underneath you set below the glass floor.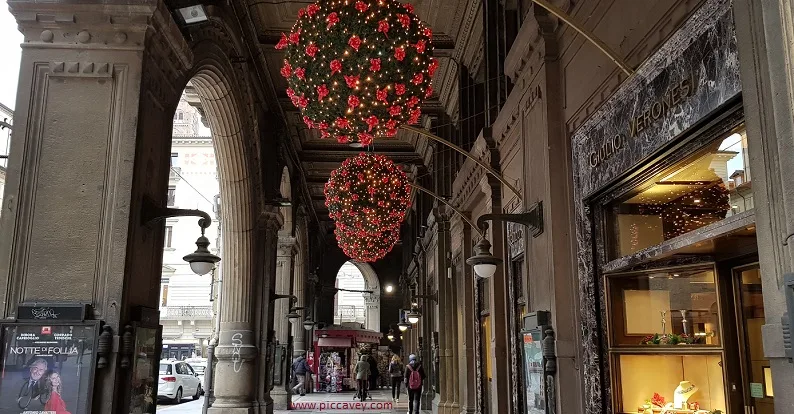 Bologna´s Porticoes
The most iconic architectural element in the city are the covered walkways. There are actually 28 miles of porticoes in Bologna. (that´s 45 kms). The porticoes are a UNESCO World Heritage site in their own right.
This architectural style began due to a demand for extra space in Bologna as the city grew quickly. Bologna in the 13th century was a similar size to Paris. Being able to extend buildings on the 1st floor but not occupy the pavement was a smart way to make more room for the growing population.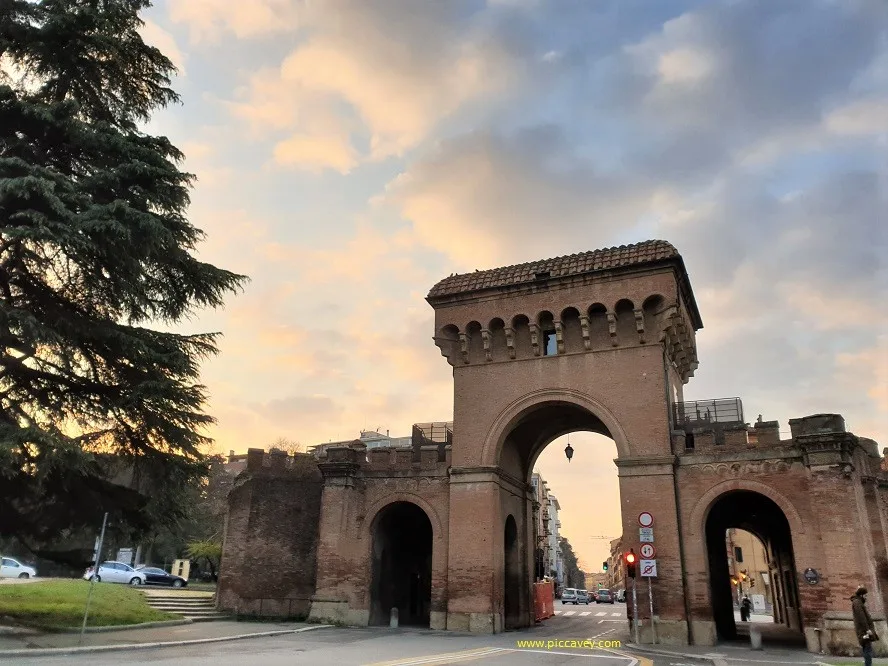 Portico di San Luca
The longest one is the Portico di San Luca which starts at Porta Saragozza. (photo above) It leads from the city up to a hilltop church called the Sanctuary of the Madonna di San Luca. This was built in 17th and 18th centuries as a piligrimage route up to the sanctuary on the hill.
This walkway is divided up into 15 sections, with over 600 archways and is almost 4kms long. In May on Asencion day (21st May 2020) the image of San Luca is brought down from the sanctuary and kept in the city for 1 week. This has been celebrated every year since 1433. Then a week later a procession up the hill takes it back to the sancturary, where it remains for another year.
You can also take the tourist train up to the Sanctuary to enjoy the views if you don´t have time to walk up yourself.
Piazza Santo Stefano
Other Porticoes in Bologna can be found on either side of Via Santo Stefano. These date from the late middle ages and Renaissance periods. I already described the ones surrounding parts of the Piazza Maggiore. There are also more modern ones found on the Via dell'Indipendenza at the heart of the shopping district.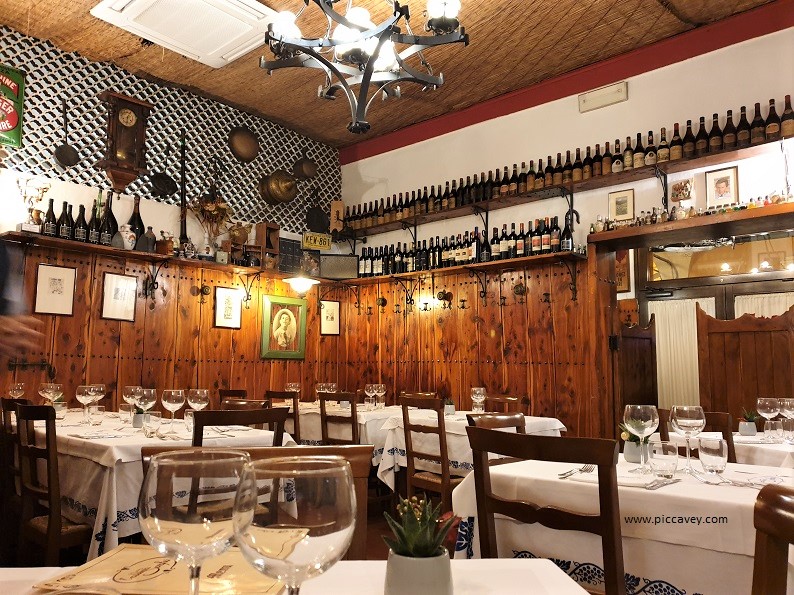 Eating Out in Bologna
One of the main highlights for me in Bologna was all the delicious food. Some of the places that I tried are suggested below. It´s also great for me to keep track of the places myself.
My blog serves me as a travel journal years later : )
Trattoria Serghei
And one of the most typical places I tried was Trattoria Serghei. (seen above) This family run business on Via Piella, 12 is small and booking is required. (it gets full up very quickly)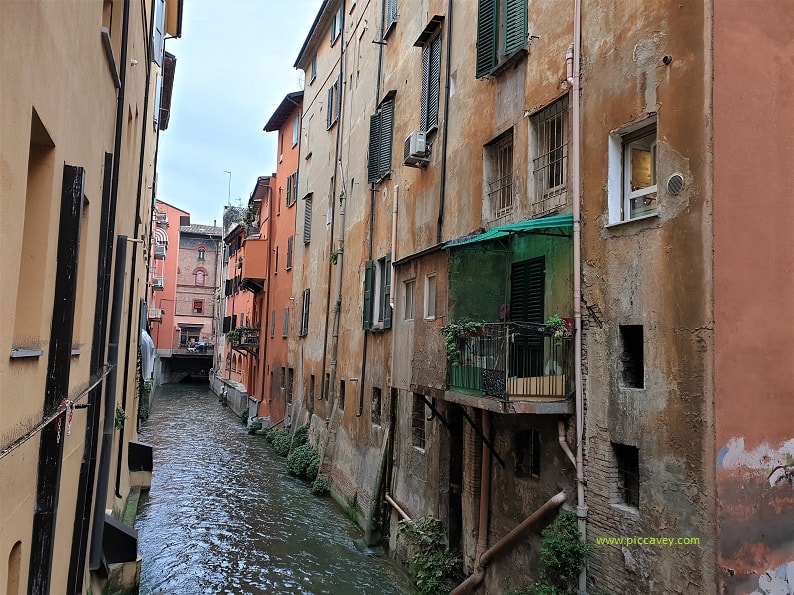 Canale di Reno
It´s right next to the only Canal in Bologna, Canale di Reno.
Another place which locals love is Trattoria Tony on Via Augusto Righi. I didn´t manage to get a table on this trip but I know that its a great authentic place to try. You need to book ahead (as with Trattoria Serghei)
What to Eat in Bologna
As I already mentioned, the home of what we call Spaghetti Bolognese is Bologna. They call it Ragù alla Bolognese. Here´s the official recipe approved by the city of Bologna. You maybe wondering what makes it so special. Hard to describe in words but the sauce sticks beautifully to the pasta. The meat is good quality, the sauce has no acidity. You can see on my photo above that its all together, rather than the sauce and the pasta separating.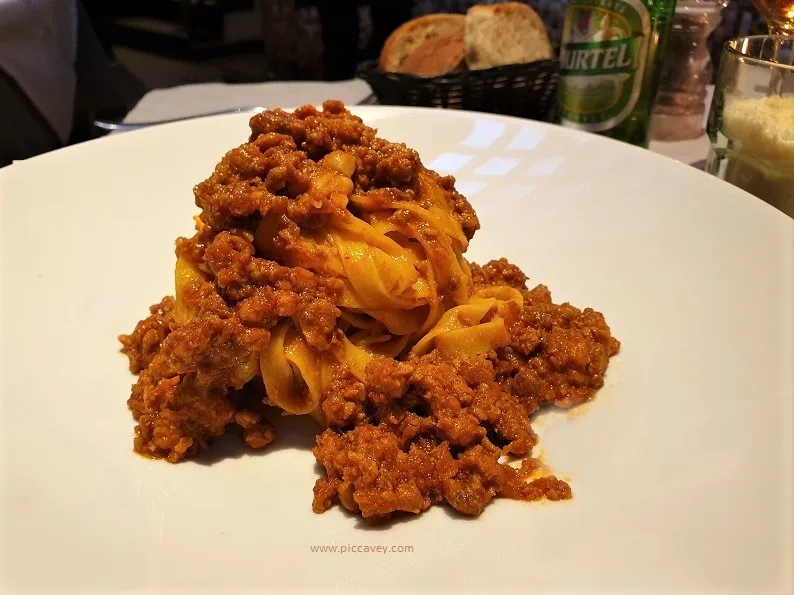 This dish was served at Buca San Petronio on Via de' Musei, 4 who have been trading since 1946.
Another recommedable place to try Ragu when you are in Bologna is Cantina Bentivoglio on Via Mascarella 4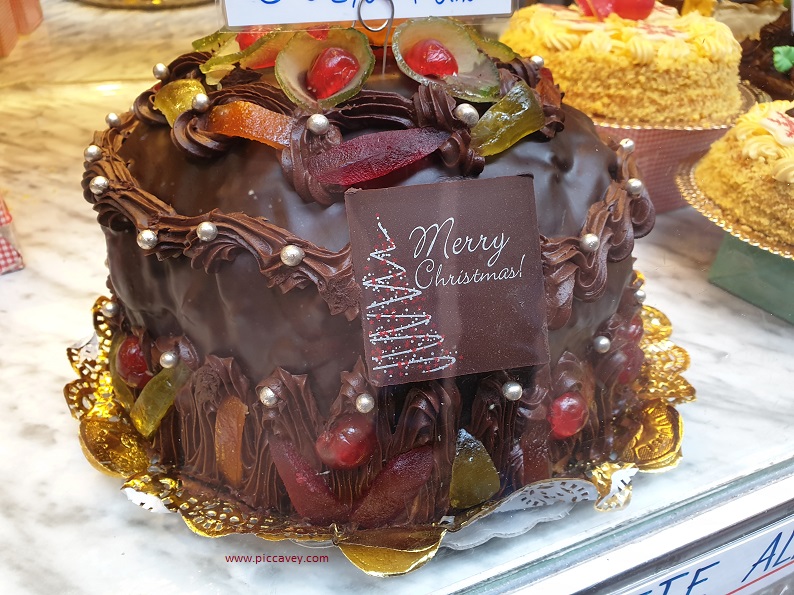 FICO Food Market and Farm
You may also like to book this foodie tour with Eataly World: FICO Tour in Bologna. Fico is a huge park dedicated to Italian food. A combination of a farm and a market FICO showcases the best of Italian food. You can learn about how some of the dishes are made by local artisans and producers.
The most typical foods in the Bologna area are the Emilio Romagna cheese and cold meat, Mortadella di Bologna. (like a salami or sausage) Lasagne is typical of this area too, as is green pasta. Tortellini in broth is also a popular local dish.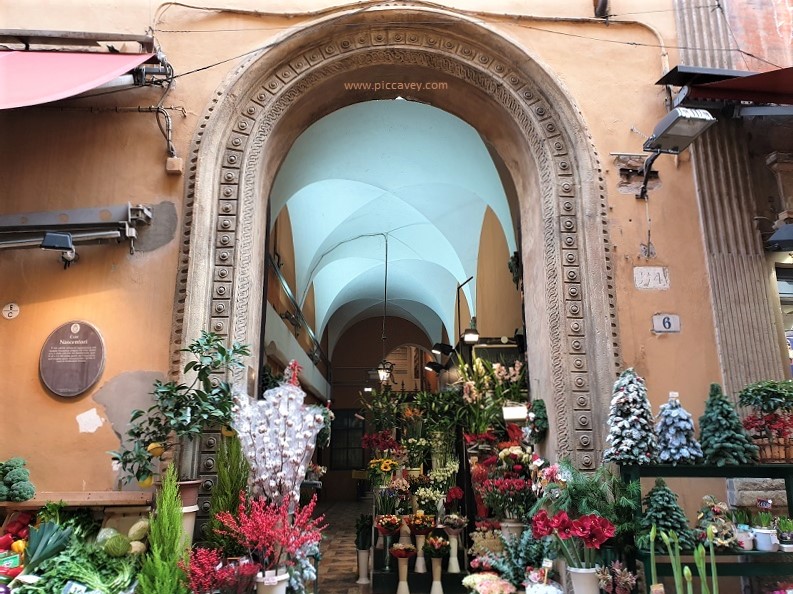 Quadrilatero
The streets off Piazza Maggiore such as Via Clavature and Via Drapperie are jam packed with bakeries, delicatessen shops and all types of delicious food. In streets that once housed the medieval market in the 12th century. Modern shops are packed into these narrow alleys, with their products displayed in colourful windows or even on stalls outside the entrance.
This area of Bologna is foodie heaven. As well as all the delicatessen shops and bakeries there are a few bars around here. Where you could enjoy Apericena (italian pre dinner snacks) if you can´t wait until dinner.
Since visiting Bologna, I followed up with a Autumn trip to Lombardy in Northern Italy where I learnt even more about Italian food and wine.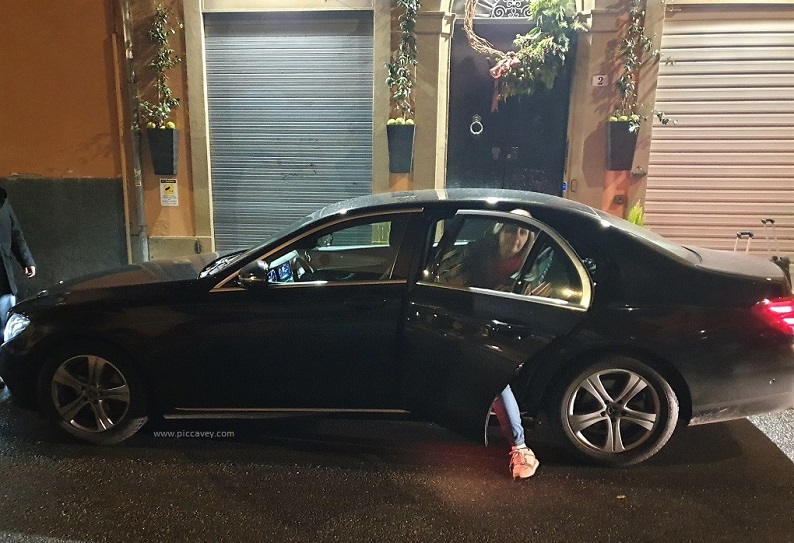 Bologna Airport
Airport Transfer
When I arrvied to Bologna airport from Malaga. It was already dark as it was in wintertime. After the travel I just wanted to arrive. So I pre-booked at car with Taxi 2 airport. Our driver Giacomo was very helpful, loading the luggage and greeting us at arrivals.
He spoke good english and already had the exact address of our Apartment in Bologna. The drive is around 10 kilometres but it took us around 20 minutes as there was quite a bit of traffic at the time we arrived into the city.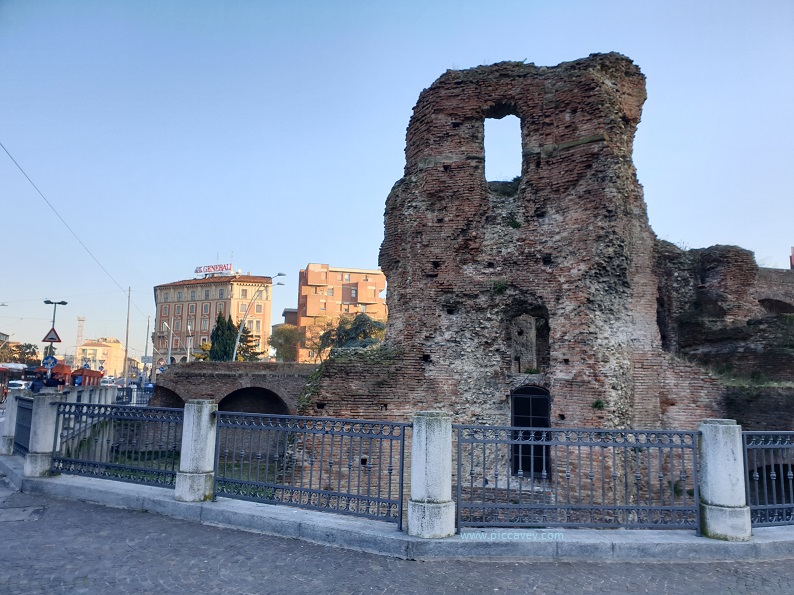 Bologna Train Station
The main train station was a short walk from the city centre. Bologna Centrale.
A 1 kilometre walk from my accomodation 0.7 miles in more or less a straight line. This makes it perfect to take day trips to other locations connected by train from Bologna.
Actually after spending 3 days in Bologna I moved onto visit Florence and Milan. I travelled to both cities by train and enjoyed the wifi and high speed connections on their premium Frecciarossa train service.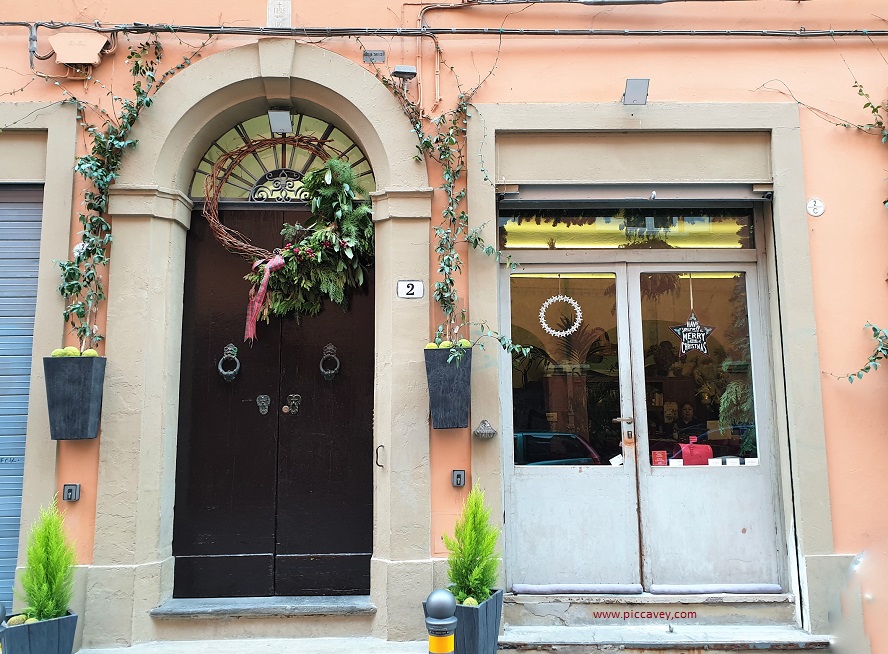 Where to Stay
In Bologna I stayed at L'8 Boutique Apartments which is in the city itself and just 600 metres from the main sights. The apartment is located in a building shared with other neighbours so it makes it feel as though you are actually part of the city.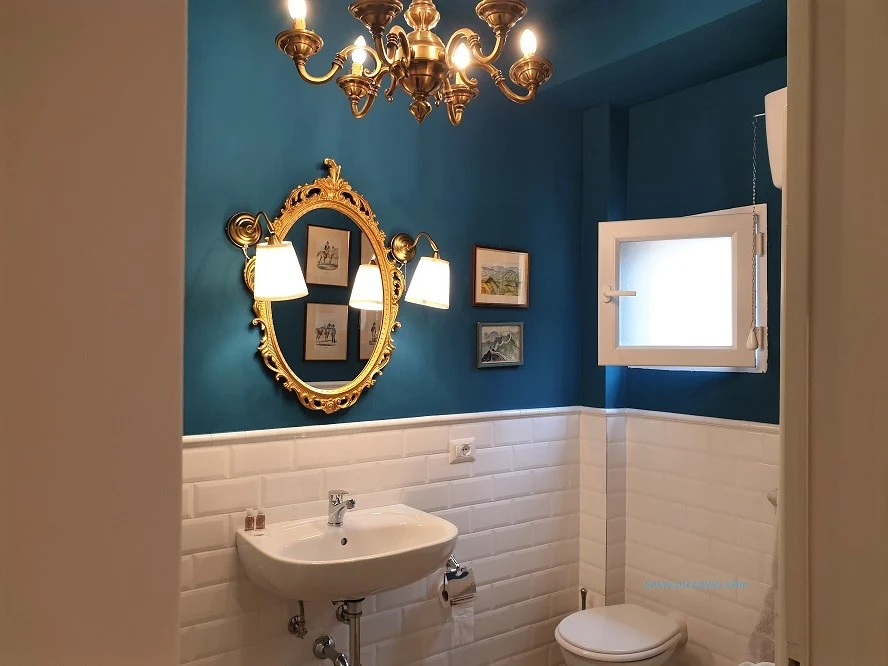 L´8 Boutique Apartment Bologna
The accomodation was comfortable and the hosts were very friendly and provided lots of useful information. A guide of places to see in Bologna and where to eat was printed out for me on arrival.
They also were available in the office next door (on the ground floor) in business hours too. They arranged dinner reservations for me when I´d not been able to get a table on the first night.
As you can see from the photos the interiors are nicely decorated and practical.
The only downside was that the apartment was a 2nd floor without a lift. It is OK when you are installed but with the suitcases on arrival it was a little taxing.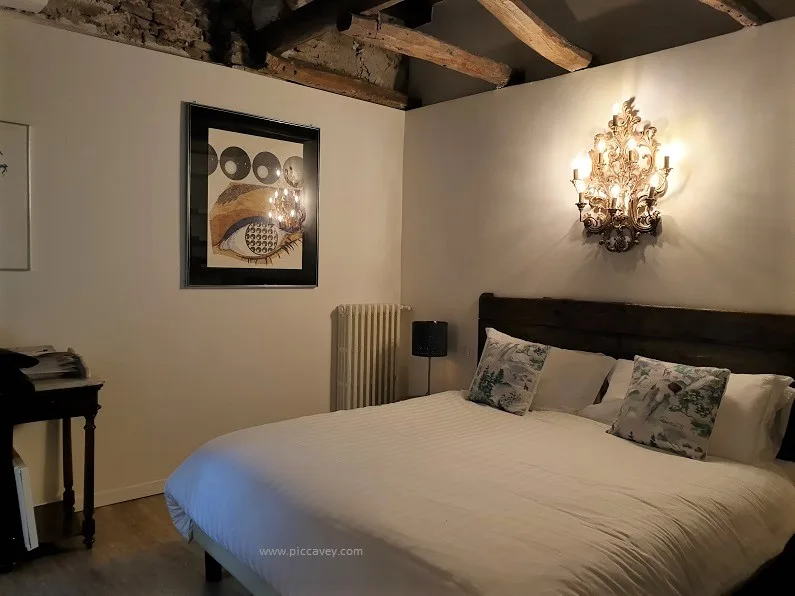 Disclaimer: I was hosted by L'8 Boutique Apartments for the purpose of creating this review. However all opinions remain my own.
Travel Resources to Plan Your Italian Escape
Here are a few resources to help you travel to Italy:
Please Note: This post contains affiliate links, which means that if you click through and make a purchase, I will receive a small commission. All thoughts, feelings and opinions shared on this blog and in this post are my own.