The Costa del Sol has been inhabited for over 2800 years. Although the tourism boom didnt begin until 1959, this area of coastline has evolved over those 50 years.
This coastline in Southern Spain is popular with European holidaymakers all year round but does get pretty busy in July and August.
Lets take a look at the main towns and resorts along the Costa del Sol.
A Guide to the Costa del Sol
Nerja
Nerja is a firm favourite with many and has been for decades. With its selection of beaches and whitewashed old town, this is particularly popular with British and Nordic visitors. Playa de Burriana is probably the most well known beach, just a kilometre from the main town.
The most lively part of town is Plaza Tutti frutti where the nightlife congregates. For a quieter area head to Carabeo which is more residential.
Enjoy delicious ice cream in the main part of town at La Gelateria da Piero. Find it on Calle Castilla Pérez 64, they open daily from 11am.
Balcon de Europa
However the most well known spots in Nerja are the Balcon de Europa and the Caves of Nerja. The Balcon de Europa is a lookout over the sea, located in the centre of town. On one side you have the Playa del Salon Beach and on the other side you can see a small beach called Playa de Calahonda.
King Alfonso XII who visited this viewpoint in 1885. He admired the stunning view and since then a statue of the king looking out stands at the end of the walkway. The name Balcon de Europa was actually already used at this time. It´s called the Europe Balcony due to the vast horizon that lies in front of this vantage point.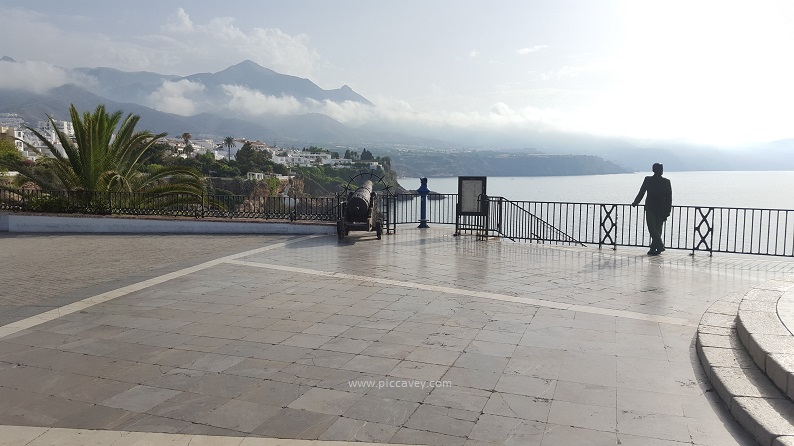 Burriana beach and Playazo are slightly further from the centre of town, but because of this are larger stretches of sand. Don´t miss the typical chringuitos on Burriana Beach. José Cruz or Merendero Moreno are two of the most traditional ones.
Cuevas de Nerja
One of the most popular activities in Nerja is visiting the caves. You can go by car as the caves are towards Maro and a short drive. There is also a tourist train from the main square that takes you to the cave entrance too.
There are lots of steps inside so wear good shoes although the accesibility is quite easy for most visitors.
Expect to spend 2 hours on the visit.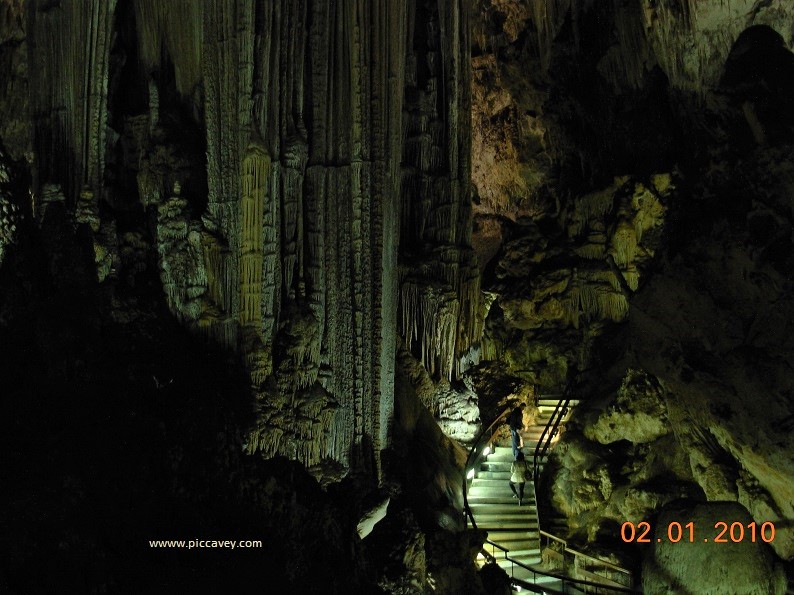 Where to Stay Nerja
For the best location and an upscale stay the Hotel Balcon de Europa is the best option.
Ideally located between Carabeo and Burriana beach the Parador de Nerja is a good option for beach lovers who want a comfortable stay.
HC Burriana Playa are well located apartments practically on Burriana Beach.
For a budget option the Easy Nerja Guesthouse is located in the main town, close to Balcon de Europa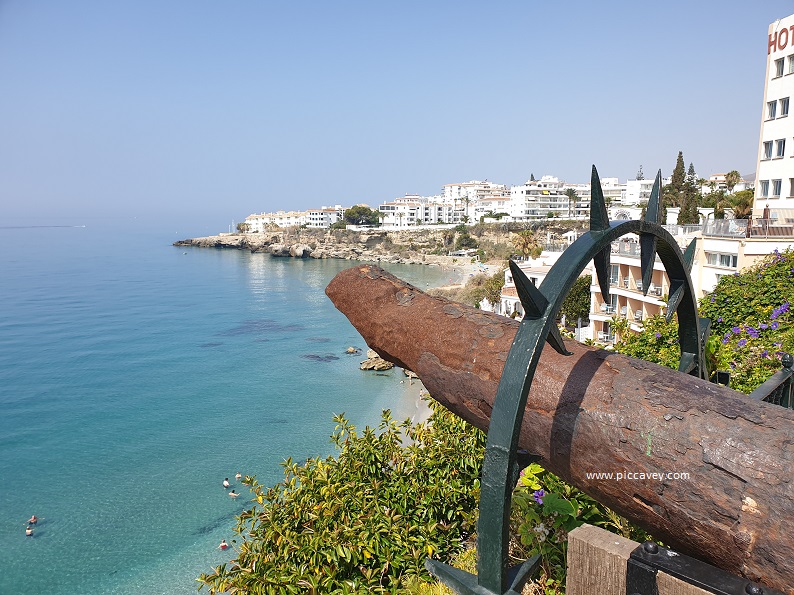 Frigiliana
Located inland from Nerja, Frigiliana is a white washed Andalusian town with sea views. This is a good option for those looking to stay away from the busy costa. The town is quaint yet it has plenty of cafés and restaurants with views of the coast below. When staying in Frigiliana wear comfy shoes and head up to explore the typical corners of the old town.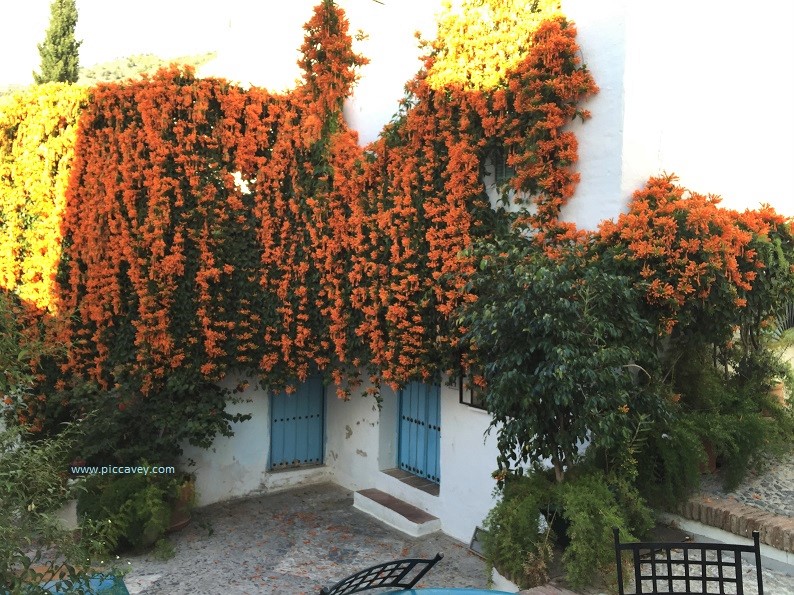 Wandering around Frigiliana is one of the highlights, there are so many squares covered in plantpots and flowers. Many of the houses are white with doors and windows painted in turquoise and blue tones. It´s such a charming meditteranean setting.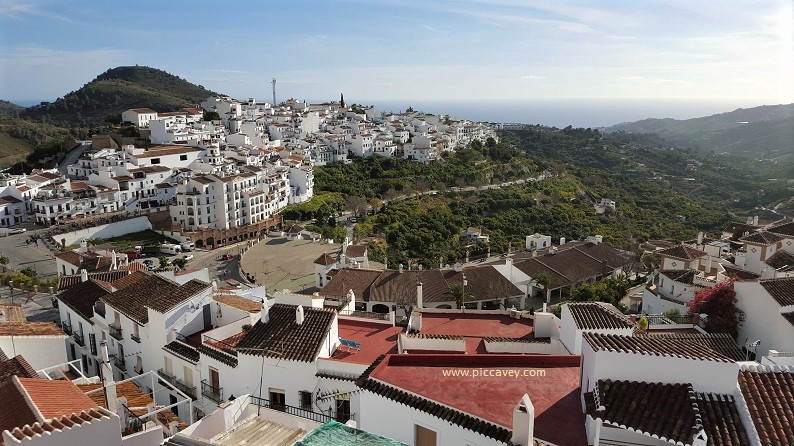 Cueva del Tesoro
Between Frigiliana and Malaga, at Cala del Moral, there is another cave to visit. Not as well known as the Nerja Caves, La Cueva del Tesoro is a great little outing for those wanting to escape the sunshine for a few hours.
These caves were created underwater in deep sea many ages back. When you visit look close to the cave walls to notice the wave shape marks in the rock.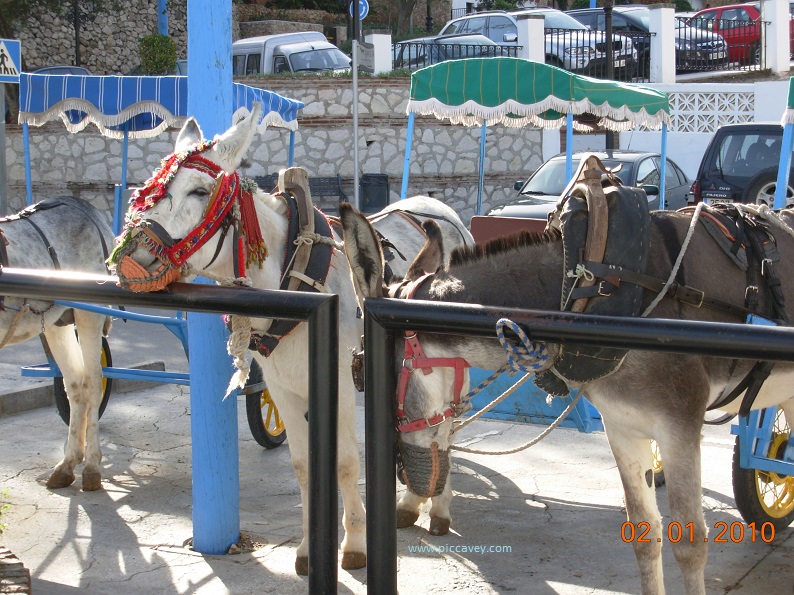 Mijas
Split into two area, Mijas Costa and La Cala de Mijas occupy the coastline. The village and old town is Mijas Pueblo up the hill, a little inland.
Famous for it´s donkeys, this town seems to retain it´s charm even after all these years of being a popular tourist hotspot.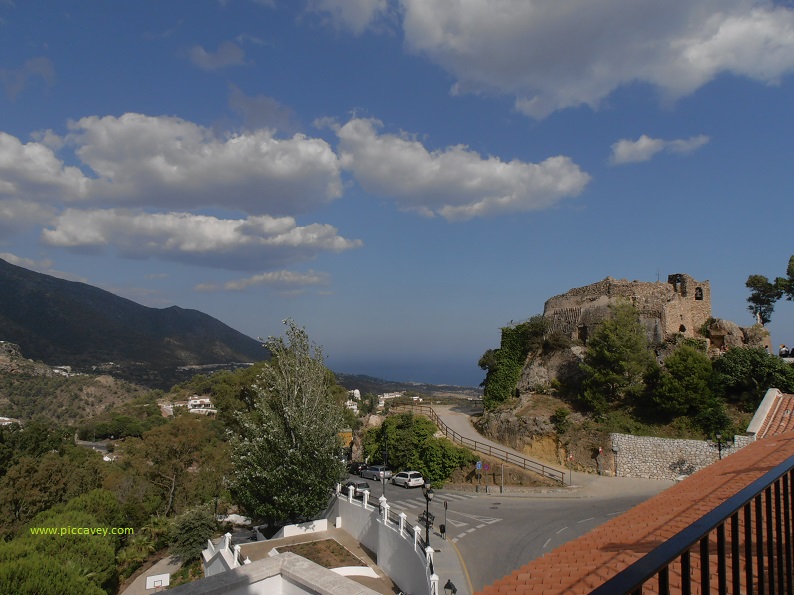 One of the shops that I particularly remember in Mijas is the Mayan Monkey Chocolate. (on Plaza Virgen de la Peña) Open everyday from 10.30am they make their own chocolates but also serve home made ice cream through the summer season.
Families with children will find Aqualand Mijas a good option particularly on hotter days. For older children the inflatable water park will be a distraction on the beach. Located at Mijas Costa seafront.
Of course you can enjoy a donkey ride or try Tuk Tuk Spain. A different way to see Mijas and avoid so much walking.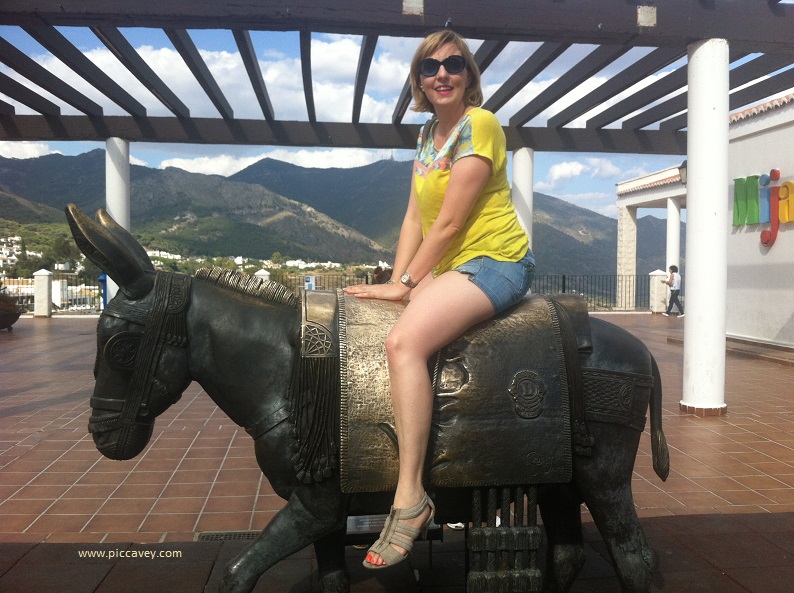 Fuengirola
Fuengirola is more popular with Spanish tourists than other areas along the Costa del Sol. Connected by the excellent Cercanias trainline, this is a town with lots of services and shops.
You can take the cercanias train from Malaga city centre or Malaga airport direct to Fuengirola. Ticket machines are very easy to use and operate in English. Credit cards and cash is accepted.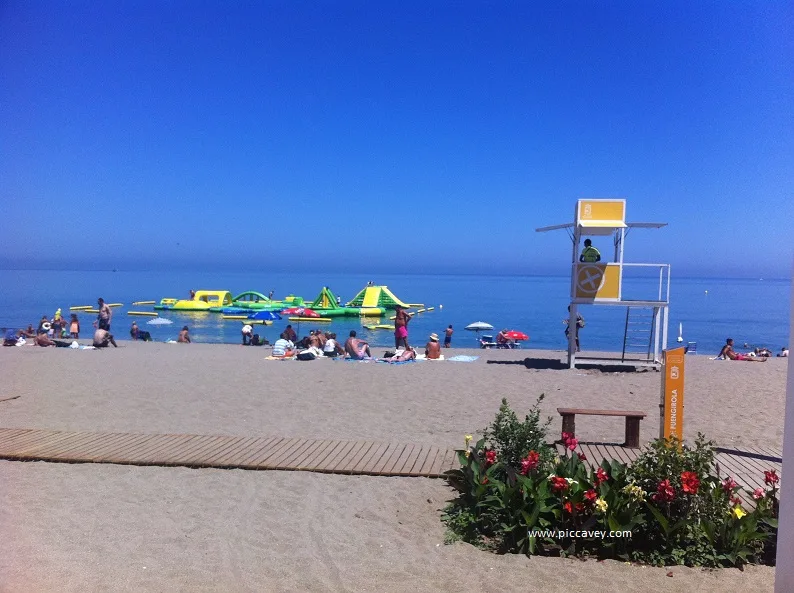 Family Activities on Costa del Sol
Los Boliches is a residential area next to Fuengirola, but this area also has a great beach too.
Shown above is the Costa Water Park (main promenade in Fuengirola) this is a good option for children with lots of energy. It is a safe option and its monitored by lifeguards.
In Fuengirola one of the most popular attractions for families is Bioparc Fuengirola
With animals such as monkeys, Komodo dragons, gorillas, snakes and tigers, this unique attraction has over 200 species to see.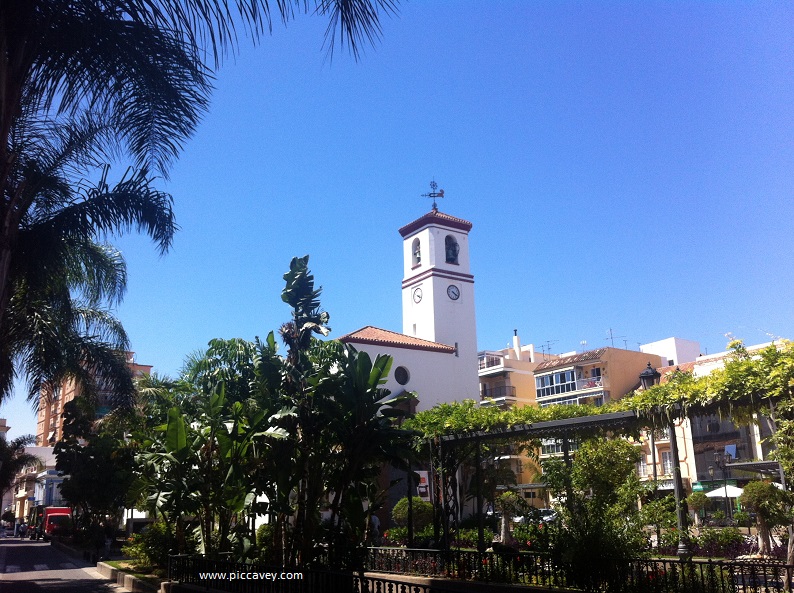 Shopping in Fuengirola is a good idea too with the huge Miramar shopping centre, it makes a good shelter on very hot days for window shopping.
The area around Plaza Constitucion also has some shops too.
There are plenty of good options to enjoy tapas in Fuengirola. The selection at Charolais is one of my personal picks.

Marbella
Known for its party lifestyle and golden mile of high end hotels, Marbella is much more than Puerto Banus. The old town is a pretty hilltop location, with white washed houses and pink bouganvilleas around quaint squares.
Places to eat in Marbella old town, I like Casa Anis, such a warm atmosphere inside. For Michelin star cusine, head to Skina. (booking required)
For a trendy crowd check out ZoZoi on the Altimirano square.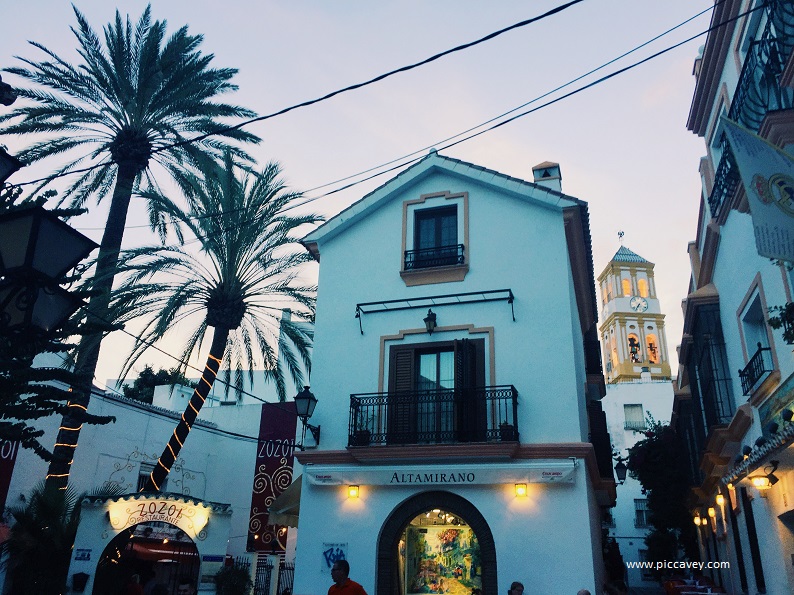 There are other areas of Marbella stretching along the coastline, Elviria, Nueva Marbella, Cabopino… It is highly recommended to have a car if you are staying in the area so that you can move around the different parts of the coast.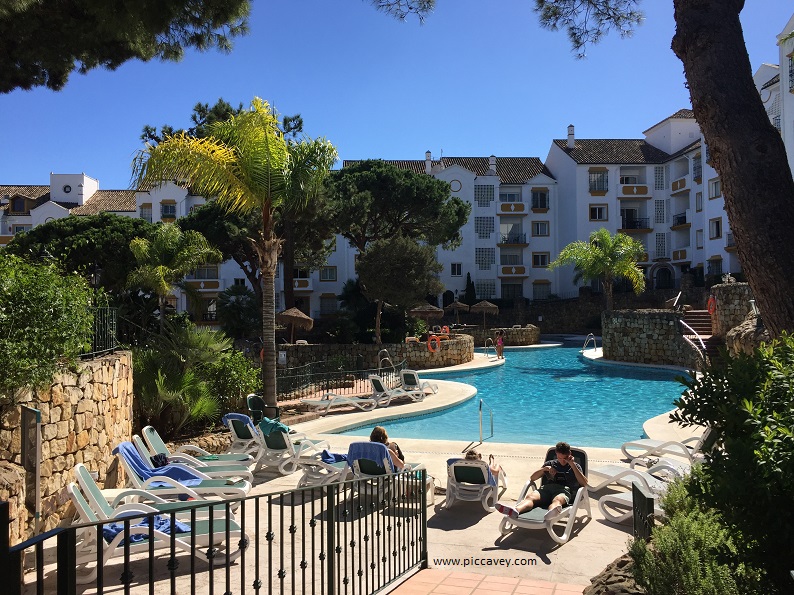 Where to Stay Marbella
My pick for families is the Ona Alanda Club it´s located away from the throng but such a comfortable and welcoming place. Staff were very friendly here and spoke good english. (photo above)
One of the most well known places to stay in Marbella is Los Monteros
Opened in 1962, VIP guests spending their holiday here have been Queen Ingrid of Denmark, Michael Jackson, Julio Iglesias, Sean Connery, Antonio Banderas and Melanie Griffiths. Located just 500 metres from the shore, this property is surrounded in lush vegetation and is an ideal retreat. (Poolside photo below)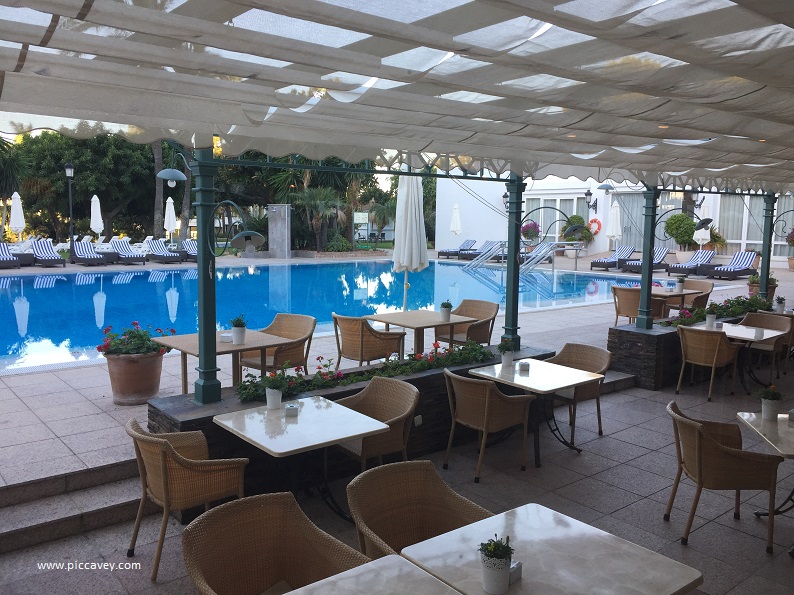 San Pedro
San Pedro de Alcántara is the next town from Marbella and has a population of over 26,000.
If you stay in San Pedro, a good day out is a drive up the mountain road to Ronda. It takes around 40 minutes and makes the perfect escape from the beaches.
In October San Pedro celebrates it´s annual fair and it´s the last one of the Andalucia festival season.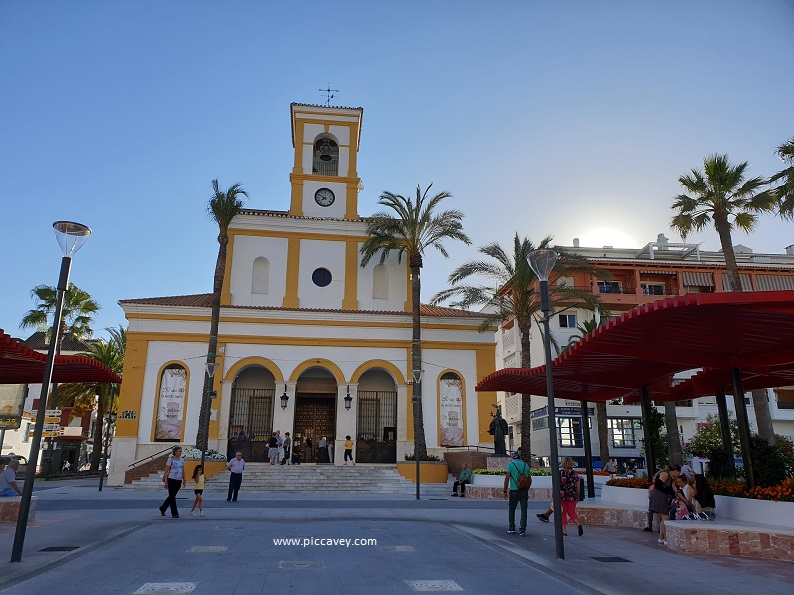 San Pedro de Alcantara is also home to the oldest chiringuito in Spain. Nuevo Reino was opened in 1957. It began with all the actores and movie stars coming to Marbella at that time. The stand where the water and catering was put up was referred to as the chiringuito.
Located on the beach front (Urb. Castiglione Playa) of San Pedro, you can´t book a table, you just need to turn up. (best option is to get there early, 1.30pm at lunchtime in summer months)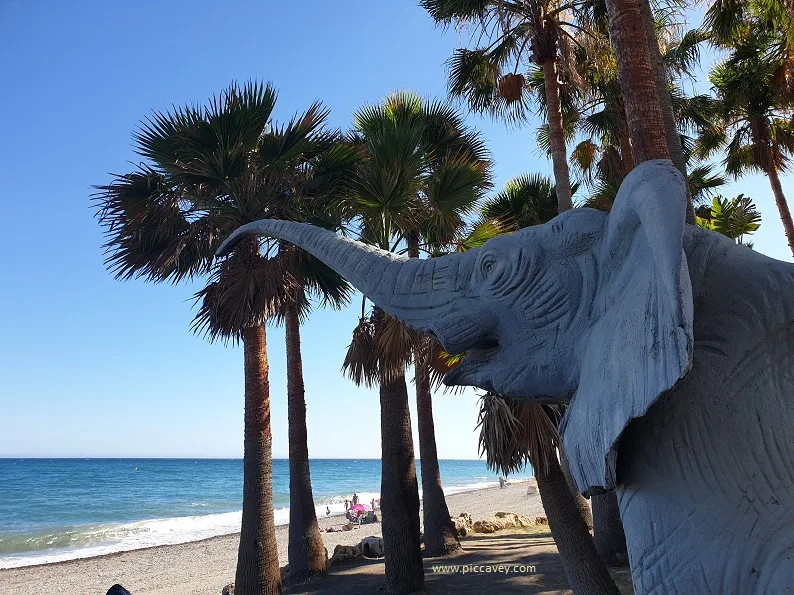 Torremolinos
The first town to be developed as a tourism destination in the 1950´s Torremolinos is one of the most established resorts. Located close to AGP Malaga Airport you will find lots of different options for accomodation and things to do here.
Transport connections are good as Torremolinos is also linked by cercanias trainline from Malaga city and Malaga Airport.
Two of the most well known and reputable hotel resorts in Torremolinos are:
The most popular beach in Torremolinos is Playa de la Carihuela. There is also a Water park which children will love called Aqualand Torremolinos. (open from May until October)
Benalmadena
Benalmadena´s most lively spot is Puerto Marina. However there are many other areas of the town such as Benalmadena pueblo which retains its Spanish charm. Benalmadena has plenty to see and do.
Such as the Cable Car ride, visiting the Butterfly park or seeing the amazing Colomares Castle.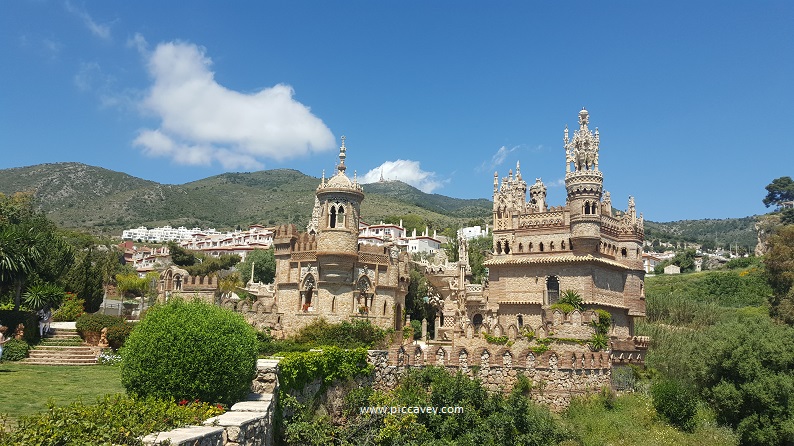 Castillo de Colomares
Tucked away on a road leading out of the old town, the Castillo de Colomares is a curious monument. Created to recognise the discoveries of Christopher Columbus this was built in the 1980´s. Although it is called a Castle, its really an outdoor visit.
Set in a large outdoor space of 1,500 meters
Address: Finca la Carraca, Ctra. Costa del Sol, s/n, 29639
Closed on Mondays and Tuesdays
Opening times Wednesday to Sunday
10am to 1.30pm
5pm to 9pm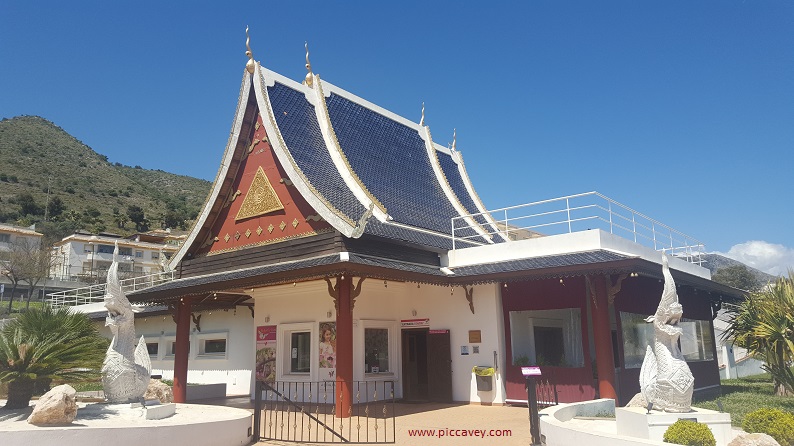 Butterfly Park
Apart from the hotel pool and beaches, other attractions in Benalmadena are the Mariposario de Benalmadena, (photo above) which is a great activity especially if you have children. Expect to spend 2 hours here.
Close to this attraction is the Buddhist Stupa. From this point you also have an impressive view of the coastline.
Tivoli World and Selwo Marina are also good choices for families.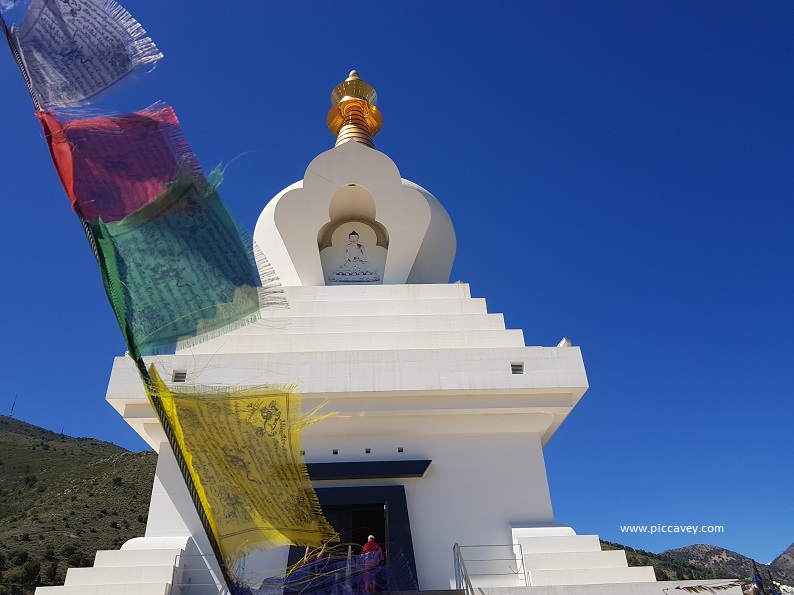 Where to Stay Benalmadena
Best choice for families is the Sunset Beach Club Apartment accomodation with plenty of swimming pools and entertainment to keep everyone in the holiday mood.
For Couples the Hotel Pueblo is a welcoming boutique hotel at the heart of the Old town. With a few bars in the square opposite its a good option to be in a quieter environment for the evenings. (photo below)
On the seafront the Estival Torrequebrada is a large hotel with some restaurants in walking distance. This is a good mid range option for all types of stays.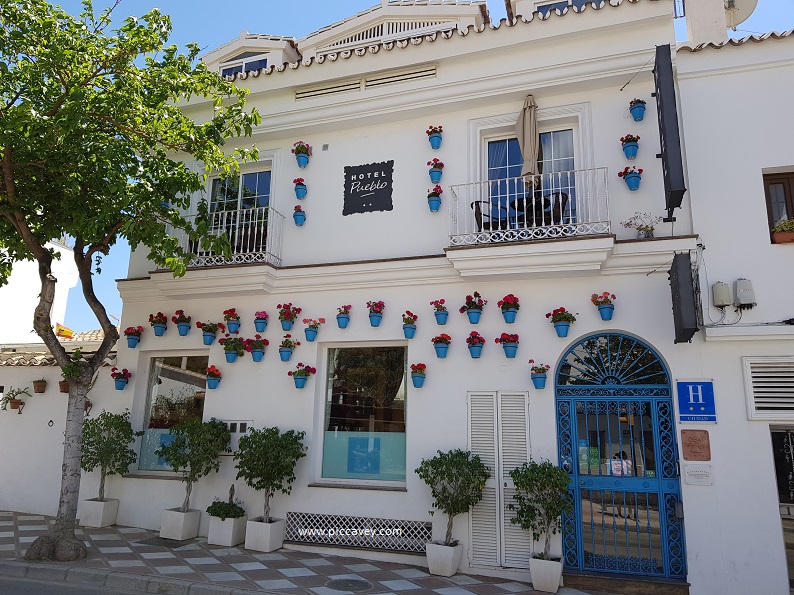 Malaga
The city of Malaga is also part of the Costa del Sol. Even though it is an important Spanish city it still has it´s beaches within walking distance from the centre of town. It also has a good offer of cultural options such as museums and monuments. The Centre Pompidou and Picasso Museum are must see places for art lovers.
Food in Malaga is excellent too. I recently learnt all about local Wine production at the Malaga Wine Museum
In fact Malaga deserves a whole article itself as there is so much to say.
More details here: Must See Malaga guide
Where to Stay in Malaga
Opened in 2017 the Gran Hotel Miramar is located on the edge of Malaga city and in a prime beachfront location. With 5* GL service this is the ideal luxury break from it all.
Probably the best location for a stay in Malaga, the Hotel Molina Lario is just off the Alameda and close to Calle Larios. I have stayed here four or five times now. It´s my go to home from home when I travel to Malaga. The rooftop bar with views of the cathedral is one of my personal highlights.
For a great budget option the Ibis Malaga is situated a short walk from the Plaza Constitucion in the centre of Malaga. Book room only and pop over to Casa Aranda to have toast and coffee or Chocolate con churros in the morning. (thank me later ; )
Costa del Sol – Andalucia Spain
Please Note: This post contains affiliate links, which means that if you click through and make a purchase, I will receive a small commission.
All thoughts, feelings and opinions shared on this blog and in this post are my own.