Where is Huelva?
Huelva is a lesser known corner of Spain. One of the 8 Andalusian provinces, located on the western tip of the country. Bordering with Portugal the best get to Huelva from abroad would be to fly into Seville or Faro airport and drive across to Huelva.
As this region is not as well known as Seville or even Cadiz, this undiscovered part of Spain may just be the tonic you are looking for. With great food, beautiful unspoilt beaches and lots of sunshine it´s worth a visit.
I travelled west last week to find out more about the delicious food produced in this corner of Spain.
Spanish Strawberries
Huelva is famous for producing strawberries. The fruit season begins in December and lasts until June. These beauties are Organic Strawberries at the Flor de Doñana producer. I picked this box of fresh strawberries in Mid December. The weather was cool but sunny and bright.
Organic Andalusian Strawberries
At this producers as well as Strawberries they also grow Raspberries, Blackberries and Blueberries. In the UK their Organic berries are stocked by Waitrose and Sainsburys when they are in season. So if you see the Flor de Doñana brand you now know exactly where there are from.
I tried Sabrina and Rabida strawberry varieties that day. Both were absolutely delicious. Such a treat to enjoy fresh strawberries in December. Find them on social media as: @flordonanabio
Jabugo Ham
Another world famous food produced in Huelva is Iberian ham. Cinco Jotas is one of the most prestigious producers of Spanish ham. Located in Jabugo, a small town nestled in the Sierra de Aracena. The surrounding land is a forest of Holm Oaks loaded with acorns and Cork tree. This is the perfect terrain for the pigs to graze in.
Iberian Ham from Huelva
Each pig on the Cinco Jotas Estate has the equivalent of two football pitches of space to roam in. To ensure they have enough acorns for each pig. This exquisite food is packed with omega 3 which of course is in the ham. Making it a healthy way to indulge. Eating 40 grams of Iberian Bellota Ham is actually a good thing.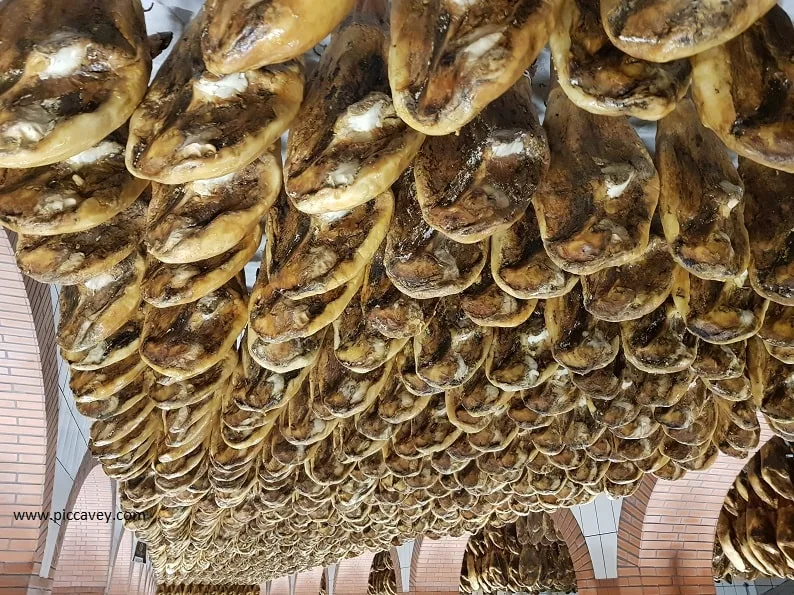 Cinco Jotas Tour
Visiting Cinco Jotas is certainly ham heaven. The Bodega is of course well stocked with ham. The tour explains the entire process from the pig breed, how they are reared and how their team select, carve and hang the hams.
Nothing is left to chance throughout the five years of each ham. Each stage is meticulously cared for and controlled.
At the end of the tour I tried Acorn Fed Jamón Iberico paired with Fino Osbourne Sherry. As you can see on the plate below there are three cuts of ham. (left) Punta, (centre) Maza y Babilla. (right of the plate)
These words refer to the different ares on the leg of the ham.
UNESCO Biosphere Reserve
The Dehesa de Sierra Morena where these Iberian pigs graze was declared a Biosphere Reserve by UNESCO in 2002. This really is sustainable farming at its best. Chestnut trees in the forests around the Sierra of Aracena and Picos de Aroche. Large expanses of the Holm Oaks providing all those acorns
The agricultural use respects the eco system and the area thrives along with the ham industry. Both work together hand in hand conserving the areas biodiversity.
Local Seafood
Another great example of such practices is Doñana. At Veta la Palma, a fish farm located on the edge of Doñana Natural Park in Seville province also respect the river and marshland.
Doñana is UNESCO World Heritage site and most known for the great diversity of bird species. An area covered in lagoons, marshland and mobile dunes. This is home to five threatened bird species. Also it is one of the most important heronries in the country.
Of course seafood in this region such as Gamba Roja and Sea bass are managed in a sustainable environment. In fact last year Huelva was the Spanish capital of Gastronomy.
Isla Mayor, Seville
Finca Veta La Palma have a limited production to maintain high standards and excellent quality. This sustainable fishing method respects the natural area in Doñana park and ensures that their project will last for generations.
Not only do they produce shrimp and fish they also have an innovative project in Marine Plancton
Tasting this at lunchtime was quite an experience. It can be used in concentrated form in dishes such as risottos for example.
Marine Plancton
However I tried it in a shrimp fritter, known as Tortilla de Camarones which is typical in the region.
The presentation of the dish at Sambers restaurant was quite exquisite
At just 3.50 euros it´s worth asking for, it brings a lot of colour to the table. A real conversation piece.
El Aldea del Rocio
No visit to Huelva is complete without a visit to El Rocio. Seen in this photo above El Aldea del Rocio is a white village where many pilgrims comes to once per year to visit the Virgen del Rocio. Dressed in Flamenco attire and often in carriages pulled by horses and mules, this colourful festival is quite colourful.
In December of course things were much quieter but we still saw some horses in the aldea of course. This area is agricultural and their ties with the equestrian life here are strong.
We stopped off for lunch at this beautiful waterside restaurant.
Eating at El Rocio
On the menu were the typical fresh prawns from region, Grey Goose fillets and a delicious plate of Sea Bass.
The building was covered in plantpots and topped with a thatched roof. In Spanish this is known as a Choza.
Rest. Aires de Doñana was a stunning setting too. The table was outside (in December) in the winter sunshine with views across the water.
We had binoculars to spot the Flamingos, ducks and other waterfowl on the Doñana park.
Such a relaxing setting. it was difficult to actually leave the table.
Exploring Huelva
Other things I have left for another trip is the Columbus Route in Huelva city. This area also has Iberian Lynx which are an endangered species, you can go to spot them in the landscape with local experts.
Birdwatchers will of course love this region and sunworshippers too. The province of Huelva has some fabulous beaches such as Mazagon and Punta Umbría.
So I have to return to Huelva sometime soon. Thanks to Tasty Andalucia for coordinating this delicious Andalusia road trip.