If you're thinking of visiting Scotland, the first things that come to mind are probably windswept hills, majestic stags, whisky filled pubs and the Hogwarts Express crossing the Glenfinnan Viaduct (if Harry Potter is your fandom of choice). Glasgow should also be up there on your to do list.
Scotland has so much more to offer than the highlands and Whisky. For a short and sweet city break head to Scotland's biggest city- Glasgow, for 48 hours of culture, history and of course some of the best food and drink around.
Living as we are in these Covid times I've tried to stick to activities that will help keep you socially distanced, but be sure to check local
restrictions.
Did you know that Glasgow means "Dear Green Place" in Gaelic?
Glasgow Hotels
First things first, you are going to need a place to lay your head. For a weekend getaway, I recommend staying in the city centre. It's a short taxi or bus ride away from Glasgow Airport. It is well served by all forms of public transport and like the name suggests, will put you smack bang in the
middle of things. Budget travelers will love the deals available from spots like Premier Inn or the soon-to-open Yotel on Westergate. If you want somewhere a bit fancier give Citizen M or Hotel Indigo a try.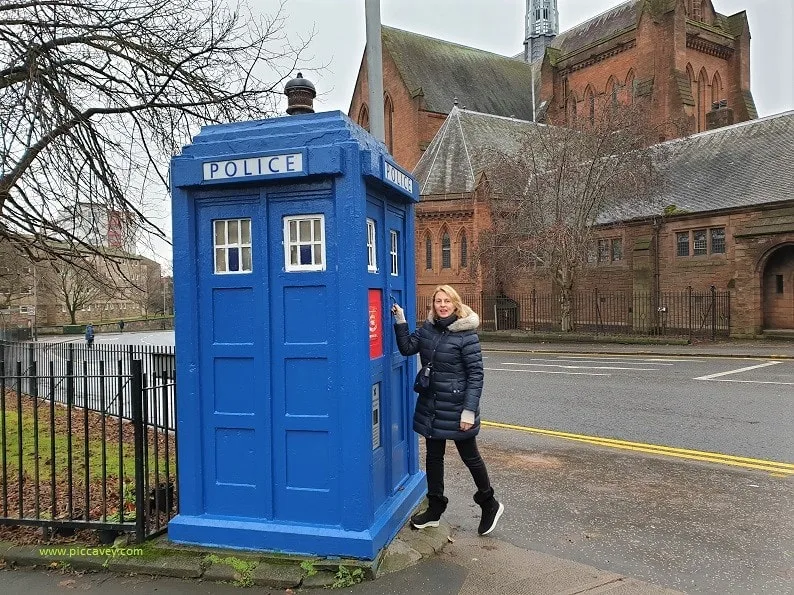 Weekend in Glasgow
So you've arrived, dropped your bags at your hotel, what now? A spot of coffee is probably in order to get you ready for the days exertions. Glasgow's been known for its heavy drinking culture, but in recent years, the booze has been replaced with the bean. With no shortage of small batch coffee roasters in the city, you won't have to go far to go to find a cup of the brown stuff that will put Starbucks to shame. Keep an eye out for independent shops such as Dear Green, The Good Coffee Cartel or Faodail Roastery for an exceptional brew.
Shop on Buchanan Street
As you're already in the city centre, check out Glasgow's famed Style Mile. Buchanan Street is home to some of the best shopping opportunities in Europe. Ideal for people watching and even better for window shopping, you can take in luxury brands, buskers and some of the most amazing architecture in the city.
Head to Princes Square for shopping and food options if the weather gets grim. You will also want to take a walk through the Argyll Arcade; home to Glasgow´s Jewellery quarter and some of the most expensive watches around. My personal highlight was seeing the security guards in top hats!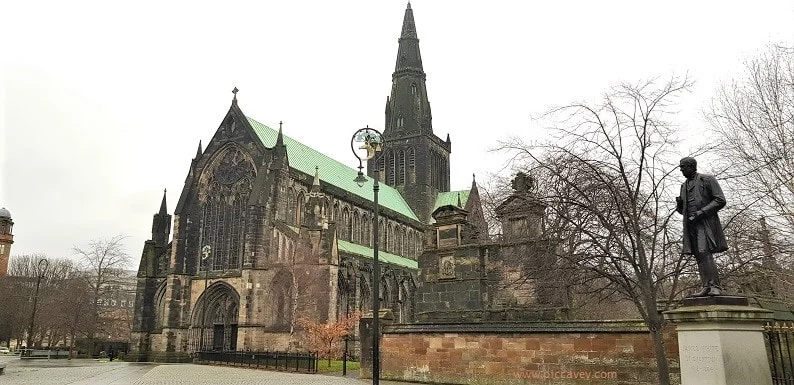 Glasgow Cathedral
Next on the list is to head to the East End of Glasgow. A number of buses will take you there but it's not far to walk either. If you are a history buff, the Necropolis is a must see. Covering 36 acres and overlooking Glasgow Cathedral, it is a Gothic dream of a Victorian cemetery. With tombs, crypts and some incredibly lavish monuments to Glaswegians past, you could easily spend the whole day here.
Opposite the Cathedral I spotted one of the old Police boxes, made famous by the Sci Fi Series Doctor Who. There are only 8 left in Glasgow now although originally there were 300 of them.

Murals in Glasgow
Next on the list is the city Centre Mural Trail (Download the map here), this will guide you back into the city centre by way of 29 (and counting) stunning murals. Taking you to some of Glasgow's lesser known areas, it is a visual feast for the eyes that celebrates contemporary Glasgow artists and things that make Glasgow the unique place it is.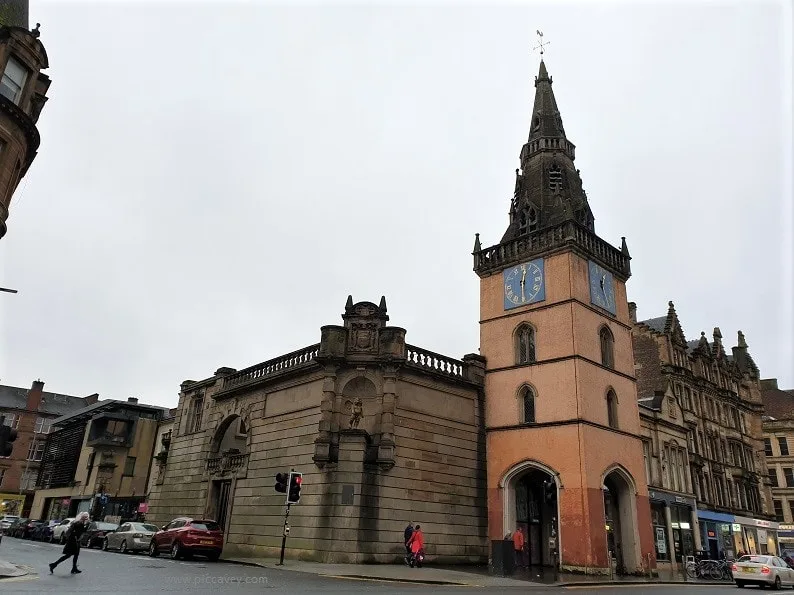 Glasgows Pub Scene
Back in the city centre, it's time to find a spot to get some quality food and drink. For a quirky and cozy meal with large helpings, head to The Butterfly and Pig on Bath Street, or for a no fuss budget bite choose BRGR on Royal Exchange Square. An option that will fill your belly without making a dent in your wallet.
Remember that hard drinking reputation? Well this is the perfect time to (responsibly) experience the Glasgow bar scene. Whether cocktails or craft brews are your tipple of choice, you will be spoilt for choice. No trip to Glasgow would be complete without a glass of Tennants. Brewed just a stone's throw from the Necropolis, it is the lager of choice for most Scots. If you want to keep yourself feeling fresh for day 2 of your Glasgow getaway then give Tennent´s Light a try. Low in alcohol and calories you'll be able to keep up with the most seasoned of Glasgow drinkers.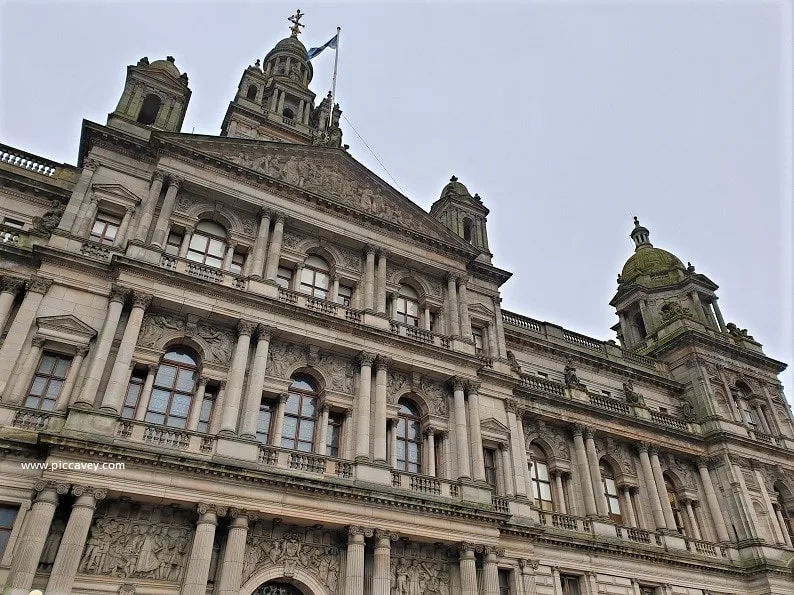 48h in Glasgow
To discover the green spaces the city has to offer. Head west to the other side of Glasgow on foot or by taking the famed Glasgow underground to Hillhead. Scotlands only underground system is over 120 years old and impossible to get lost on. Glasgow is known as The Dear Green Place thanks to its abundance of parks.
The Botanic Gardens and Kelvingrove Park surround the West End. These lush spaces will make you forget you're in a city. Kibble Palace in the Botanics is a must see and the perfect way to warm up with a brisk walk on a chilly day.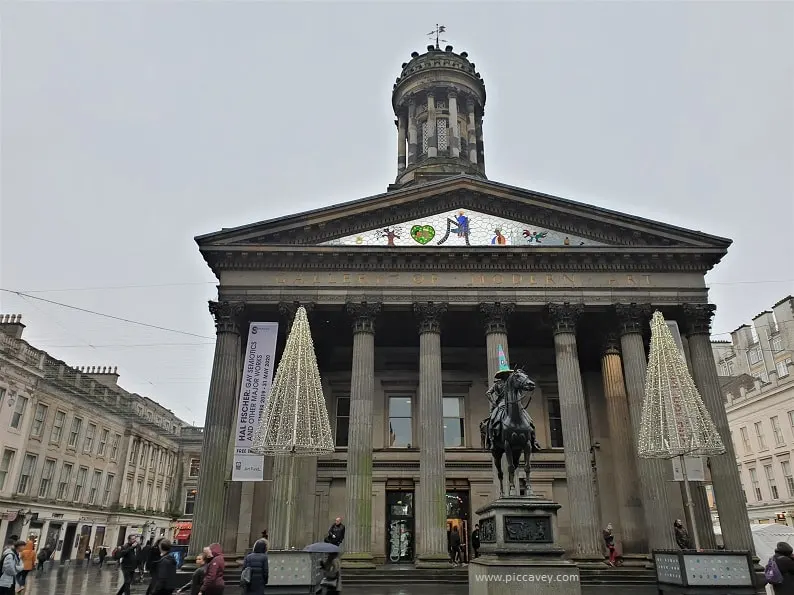 Glasgow Museums
To shoehorn in even more culture, visit Kelvingrove Art Gallery; home to Salvador Dali's, St John on the Cross, a stormtrooper suit, Sir Roger the elephant and so, so much more. This museum is not to be missed. P.S. You currently need to plan your visit in advance. Tickets are free but must be booked here.
Glasgow Gallery of Modern Art is also a well known attraction on Royal Exchange Sqaure. Free to go in you will need to book ahead. Known as GoMA this grand building in which the museum is housed was originally built as a house for Tobacco importer William Cunninghame. Inside there are pieces by Andy Warhol and David Hockney.
Outside the statue of The Duke of Wellington is one of the iconic scenes of Glasgow. The traffic cone now is a permanent placement, showing the local Glaswegian character and their attitude to authority. ; ) Notice that depending on what time of year or whats happening locally the cone will be different colours.
With your time in Glasgow drawing to a close, take a last stroll through Finnieston to rub shoulders with the citys hip young things before heading back to the airport.
Please Note:
My website contains affiliate links, which means that if you click through and make a purchase,
I will receive a small commission. All thoughts, feelings and opinions shared on this blog and in this post are my own.