The Andalusian province of Jaen is known for its Castles and Olive Oil. It is also a wonderful space to connect with nature as it has a vast amount of nature reserves and parks.
In June I spent a day in the City of Jaen visiting the main monuments and museums.
The City of Jaen, Spain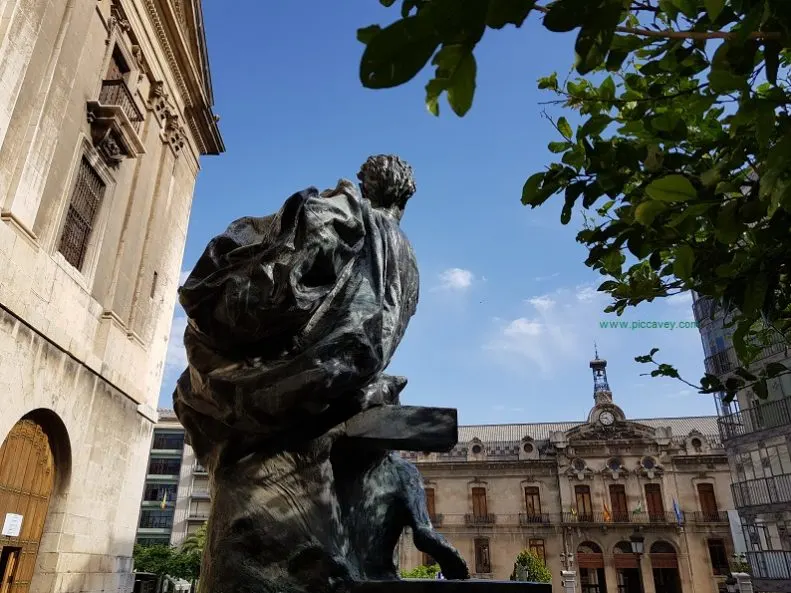 Jaen Cathedral
As I am collecting UNESCO World Heritage Sites in Spain, Jaén Cathedral had been on my ´to do list´for ages. This Cathedral aspires to be included on the UNESCO Word Heritage programme.
This grand building located in the historic centre is a great example of Renaissance style. Built by Andrés de Vandelvira (seen in the photo above) in 1550-1575. What makes this special is its design. This architecture has been the inspiration for many South American Convents and Cathedrals.
There are similarities in floor plans and designs of Mexican and Colombian Cathedrals. Such as Mérida, Guadalajara, Guajaca, Puebla, Lima, Bogotá, Sucre and Cuzco.
The symmetry and proportions of this building receive recognition from architects and experts.
Even the locals know that their cathedral is an harmonic structure and have this saying about the towers.
Las torres de Jaén

se ven de lejos y parecen bien

y vistas de cerca también.
Taking more than 150 years to build. When you visit you will notice how tricky it is to photograph. Getting both towers into one photo is a challenge.
The scale is immense, the building is 100 metres long and the towers are a lofty 68 metres tall. As you go inside, you really appreciate the sheer size of this building.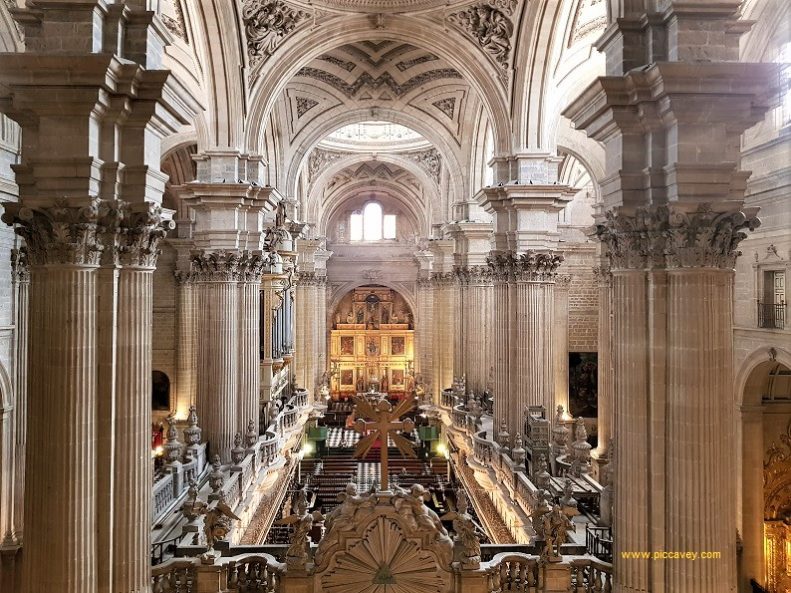 Viewing Galleries
Columns and ceiling are all hand carved stonework (rather than plasterwork). This gives all the carvings great definition. Notice the sharpness of the details. Visible even as you head up higher onto the viewing galleries above the central nave.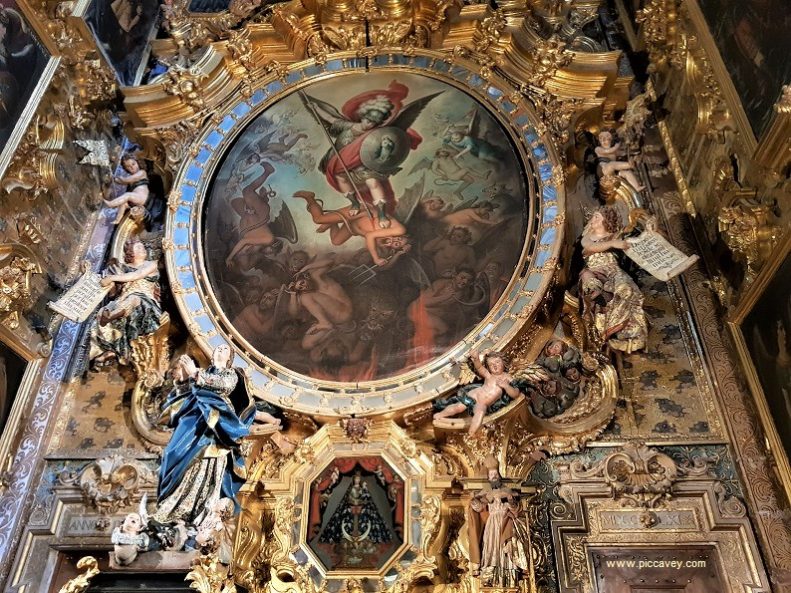 Capilla de los Arcangeles
Around the main nave of the Cathedral, set along the sides are small chapels. Seventeen in total. This one caught my eye. The Chapel of Archangels is in Baroque style. Adorned with this 18th century altarpiece and golden details.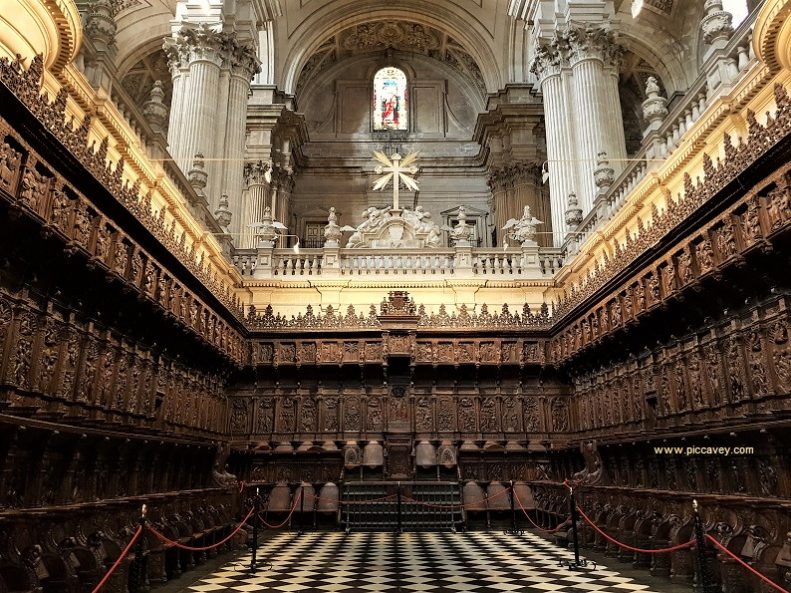 The choir stalls inside Jaen Cathedral are quite impressive.
One of the largest choirs in Spain. Finished in 1736 and the benches are carved from walnut wood.
Veil of Veronica
The Cathedral also has an impressive vestuary with double columns and an important relic known as the Veil of Veronica. Thought to originate from Siena and dated 14th century.
It is usually kept in a shrine next to the high altar. However you can see this in a side chapel every Friday from 11.30 a.m. to 1 p.m.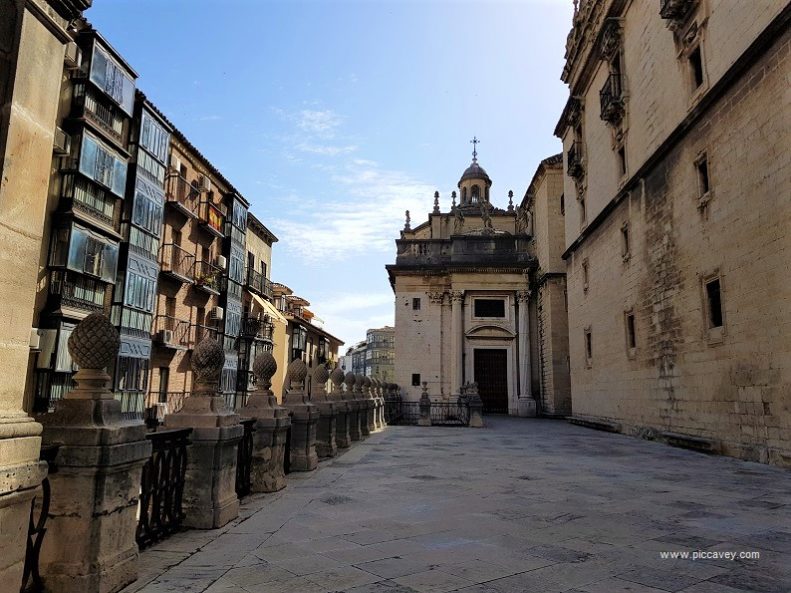 Largest Hammam in Spain
The largest Arab baths in Spain was only discovered in 1913.
Located beneath the Palace of Villardompardo it has a surface area of 450 square metres.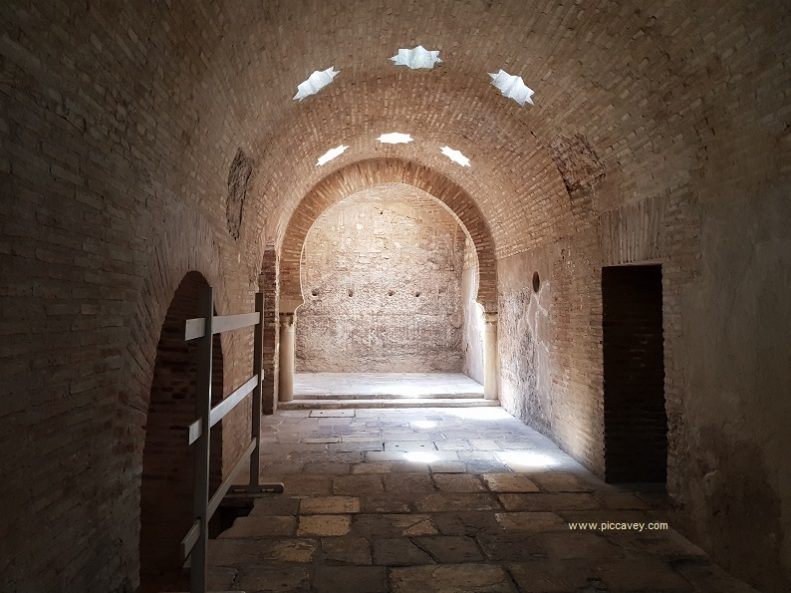 Dating back to the 11th century this bathhouse was an important social hub for the community. Used as a hammam until the late 15th century, it became a tannery (leather workshop) until the 16th century.
Then this site was used to build the mansion of Villardompardo. Hiding the bathhouse from view for four centuries.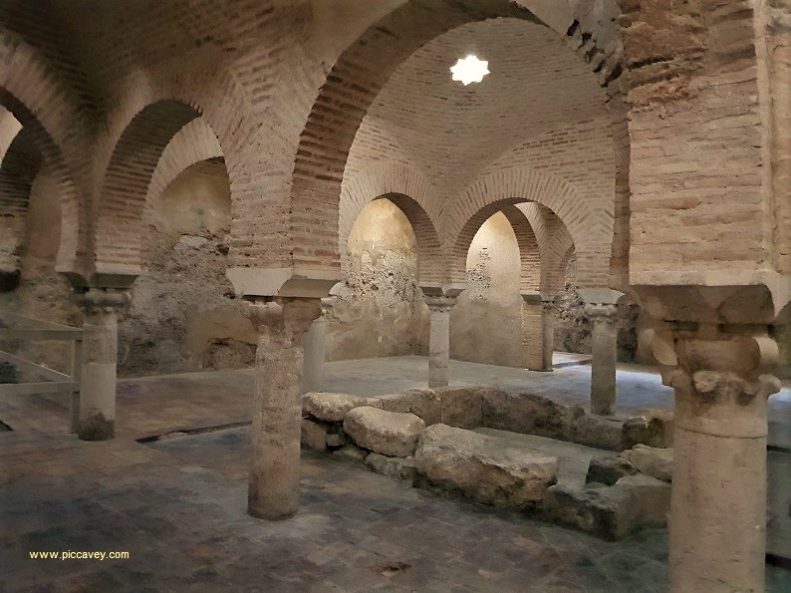 Centro Cultural Baños Arabes
The baths are on the basement level of the Palacio de Villardompardo. But don´t miss the other areas of this cultural centre.
On the upper floors there are two museums and an amazing view of the entire city.
Address: Plaza Sta. Luisa de Marillac, (off Calle Martinez Molina) 23004 Jaén
Admission is Free
Open 9am to 9pm Tuesday to Saturday
(closed Mondays) Sundays 9am to 2pm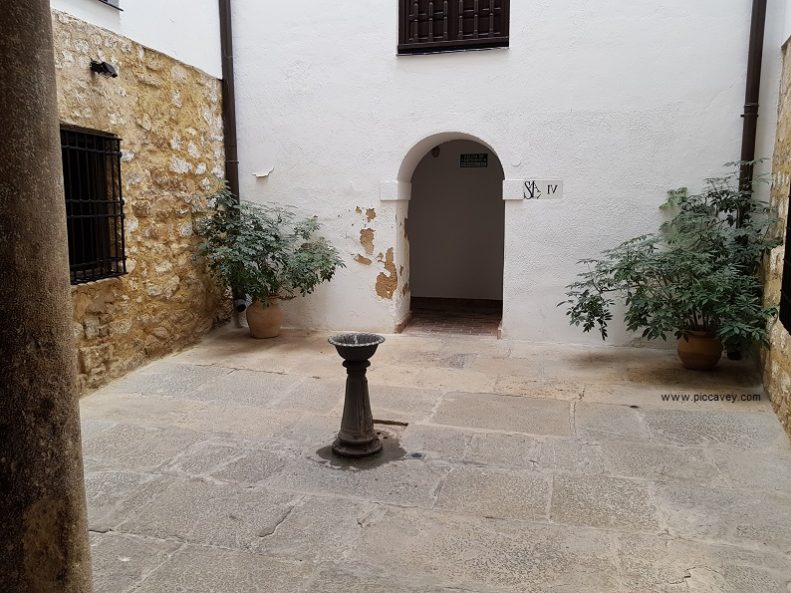 Museum of Arts and Popular Customs
Set upon three floors of the building, this Museum is about the customs of Jaen province. Exhibited here are Traditional dresses, agricultural implements and other interesting objects. Glimpse into local society and history through these everyday items.
Manuel Moral International Museum of Naive Art
With 600 works of art here, some are Spanish and other International pieces. This unique museum is the best place in Spain to see this art style. With 250 Spanish artists and 150 International Naive artists represented here.
Even visitors who don´t always appreciate art will find a piece to enjoy in this colourful exhibition.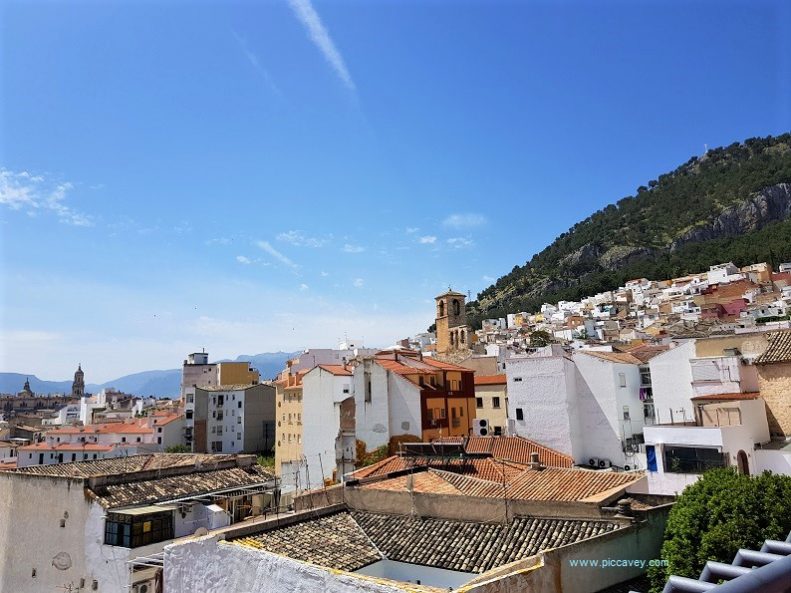 On the top floor of the building is a small café area and this fabulous panoramic view across the city of Jaen.
From here you can see the Church of St John & St Peter the Cathedral in the distance. Also spot the Cross of Santa Catalina (right side) on the hill.
A great place to end the visit and have a cool drink looking out over the city.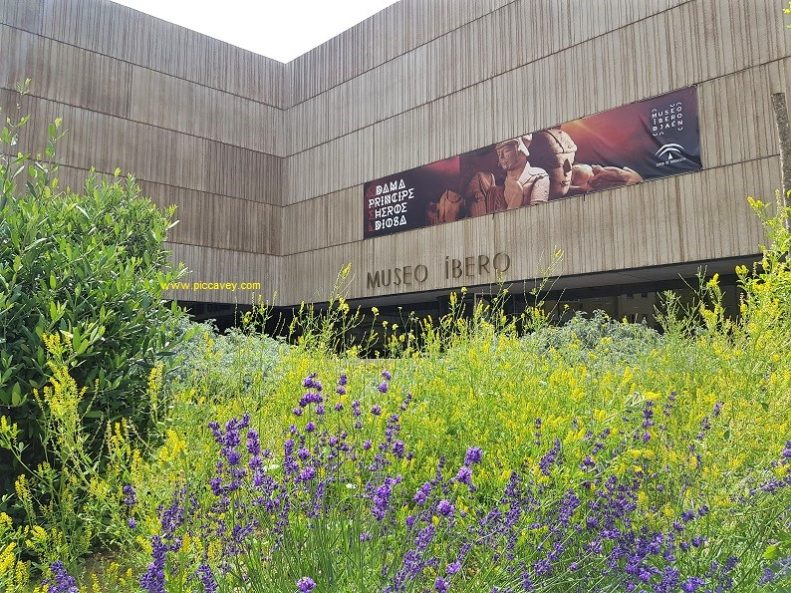 Museo Ibero
Recently opened the Ibero Museum is home to archaeological finds from Jaén region.
With collections from Iberian settlements from the local area.
Sites such as Cerrillo Blanco (Porcuna), Cástulo (Linares) or Cerro del Pajarillo (Huelma) have finds here
. This museum focuses on the Iberos from 5th century onwards.
This archaelogical exhbition has over 3000 pieces on display. Organised into eight areas.
The displays are Iberian Culture, Towns, Sanctuaries, Necropolis, Social Evolution, Administration, Religion, Roman influence and Second Punic War (218 to 201 BC).
If you visit, don´t miss the
3rd Century BC Vacceai dagger
that is believed to be linked to one of Hannibal´s soldiers.
Address: Paseo de la Estación, 41, 23008 Jaén
Admission is free
Open 9am to 3pm (closed Mondays)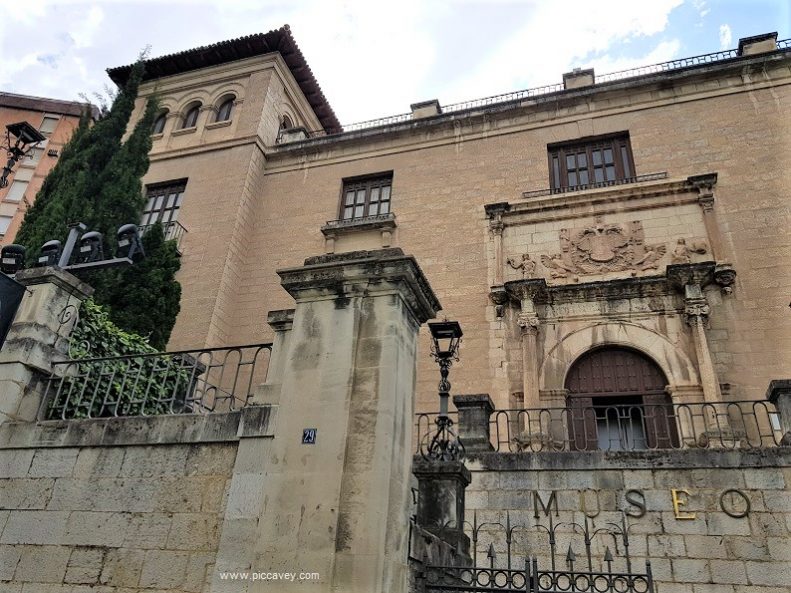 Museo de Jaen
The Provincial Museum of Jaén has a Fine Art collection inside. Some archaelogical exhibits preivously on display here have moved to the Ibero Museum. (it´s a little further on down the road)
With 9 rooms of paintings from the 13th century up to present day. Many of the artists are from Jaen. This Museum also holds temporary exhbitions too
Address: Paseo de la Estación, 29, 23008 Jaén
Admission is free
Open 9am to 8pm Tuesday to Saturday & Sundays 9am to 3pm
(closed Mondays)
Plaza del Posito
This square caught my attention. With an old cross in the centre and a historic fountain set to one side. It´s called Granary Square as the public granary stood on this site (built in 1547 and up until 1921). The original door of the granary can be seen inside the Museo de Jaen .
This square was the entrance into the city, many cities had a similar cross at the gate to the city. It would have been the place for public punishments and beheadings in medieval times.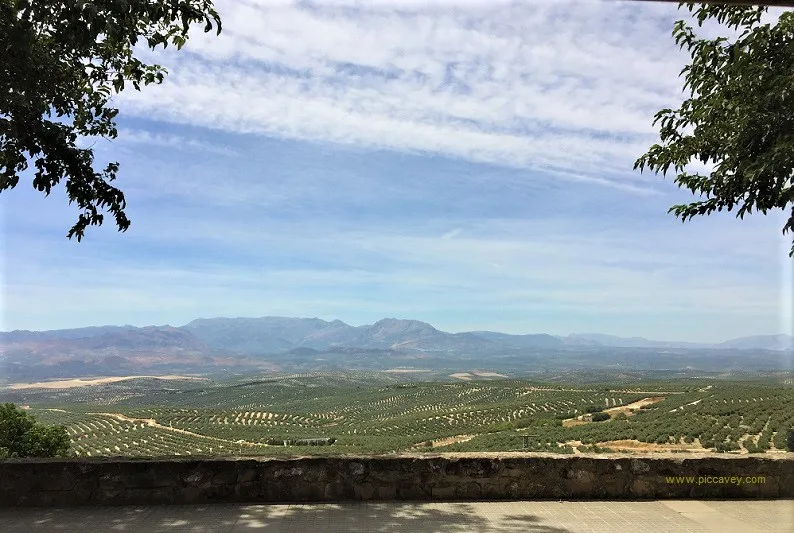 Worlds Best Olive Oil
In Jaen you dont get very far before you spot an olive tree. There are 66 million olive trees in Jaen province. So they have plenty of good quality oil in the area. They actually produce a 10th of the Worlds Olive Oil in Jaen province.
I got a bottle of Castillo de Canena which has won awards over the last few years. From the prestigious Flos Olei to other national recognitions. Andalusia has some of the Best Olive Oils in the World according to 2018 World Olive Awards. (5 out of the top 10 are from Andalusia)
So when you visit Jaen make sure to get a few bottles of liquid gold to take with you.
On this visit I didn´t get to visit the Castle of Santa Catalina or the Parador de Jaén which are on the hill above the city.
I´m leaving that for my next visit.
Podcast: Jaén Province
Listen to this interview about Jaen Province and the most interesting places to visit in the region.
Travel to the Jaén province of Andalucia, Spain – Amateur Traveler Episode 807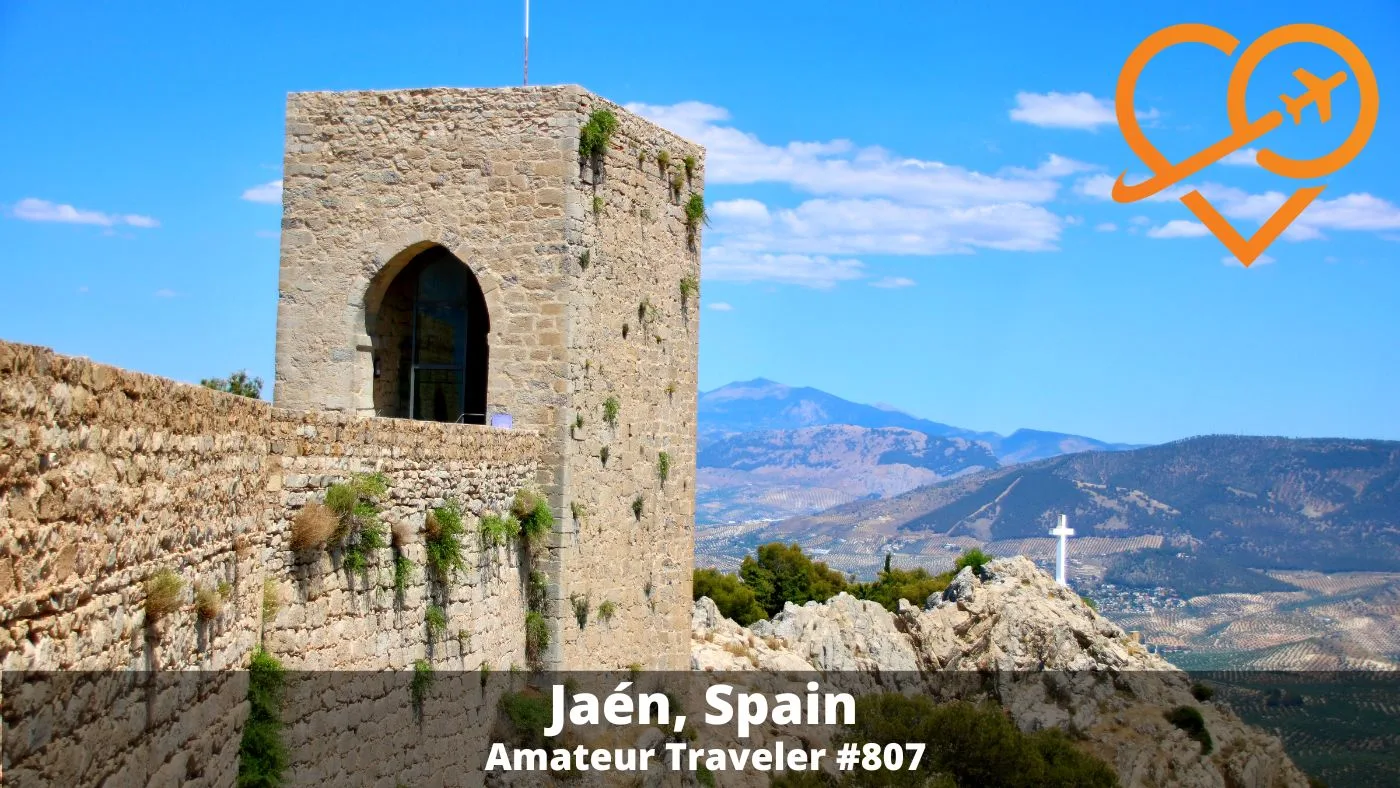 Jaén – Other Places of Interest
In Jaen province so far I have visited Jaén, Alcala La Real, Linares, Ubeda and Baeza
Last summer I spent a few weekends in Alcala La Real enjoying their summer festival
Discover more: