MICCAI Cultural & Gastronomic Activities
Special Programme for MICCAI conference attendees in Granada. Scheduled from Friday 14th September to Sunday 23rd September 2018
Alhambra Palace Guided Tour – MICCAI
Twilight Tour Nasrid Palaces – MICCAI
Enjoy a guided visit of the UNESCO World Heritage Site of the Alhambra Palace.
The Alhambra Palace is one of the most visited monuments in Spain. The 13th century Nasrid Palaces and the Lions Courtyard are magical locations to explore.Granada´s Alhambra Palace is a fortified complex of palatial buildings and towers. The earliest dating from the 10th century and the most recent from the early 19th century.
The Jewel in the Crown is the Nasrid Palace which was the seat of the Kingdom of Al Andalus. It is the best example of Islamic architecture in Europe today.
Another highlight is the Generalife. Stunning gardens which served as the summer palace for the rulers in Medieval Granada.
Travel back in time when you visit the Alhambra with an English speaking tour guide in the early evening.
Wednesday 19th September 2018
Note. Tickets for this visit are no longer available to purchase
(Deadline was 11pm CET Thursday 13th Sept 2018)
To check availabilty for other guided tours of the Alhambra please see: Get Alhambra Tickets – How to Visit the Palace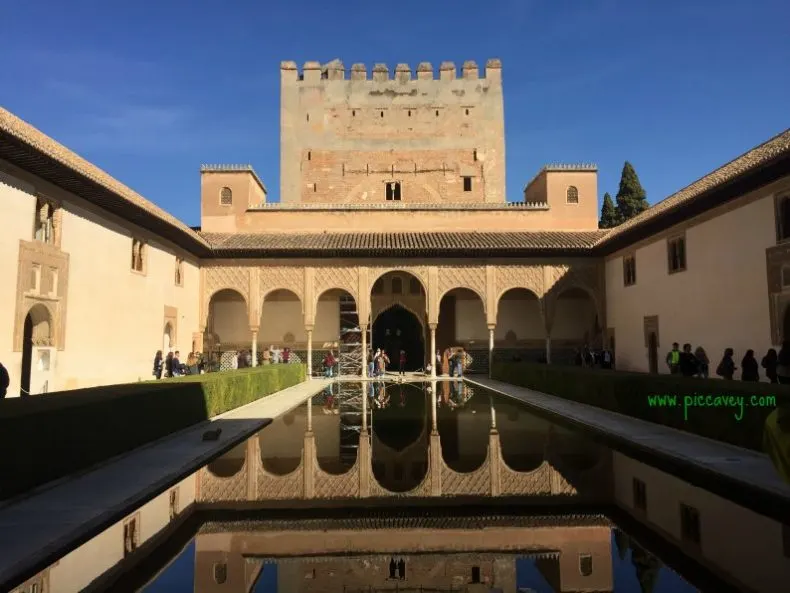 Private visit for MICCAI Groups to Alhambra Palace
This activity is organized exclusively for MICCAI attendees.
Guided Tour of the Alhambra Palace (English Language)
Recommendation: Wear comfortable shoes.
Meeting Point: Main Entrance of the Alhambra Palace. Next to Metal Map on the Wall (close to Ticket office)
Guided tour and visit to Granada Historic Cathedral and Royal Chapel of the Catholic Kings.
Thursday September 20th 2018 at 4pm
Groups 6 – 30 people
Duration: 2 hours
Meeting Point: Plaza del Carmen, Main door of Granada town Hall (Ayuntamiento) (off Calle Reyes Catolicos)
Description: Granada Cathedral was built as a symbol of power in the 16th century. In the Renaissance style this grand building also has the Royal Chapel the final resting place of Ferdinand and Isabella. Understand the dramatic change that happened in Granada in the 15th-16th century as the Christian Kings changed the course of Granada´s history after centuries of Muslim rule.

Essential Granada Tour – MICCAI conference
Guided tour and visit to of Granadas Old town
Thursday 20th September 2018 at 7pm. Please be on time
Groups 6 – 30 people
Duration: 2 hours
Meeting Point: Plaza del Carmen, Main door of Granada town Hall (Ayuntamiento) (off Calle Reyes Catolicos)
Price: 18 euros per person.
Discover the legendary and spectacular nature of this city with a walk through its essential places. The must see spots which visitor can afford to
miss.
The historical centre, offers us the chance to appreciate the contrasts of this City, where we can find the magnificent Cathedral, the following the conquest, and charming tiny streets.
This walk is therefore a journey back to the time when the monuments, squares, alleyways and corners that express the cultural
essence of Granada were created, with the blend of styles and the influence of religions in town planning, society and the economy.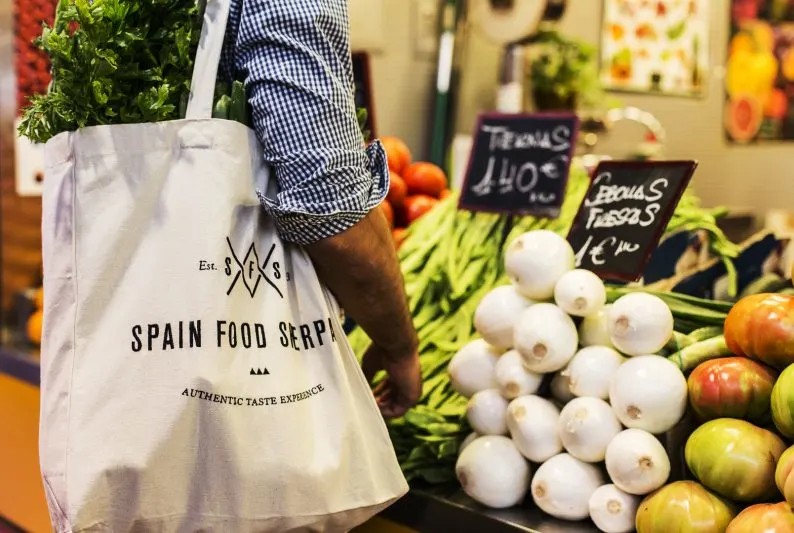 A Taste of Granada Food Tour
MICCAI exclusive
Description: Learn about the Local Produce grown in Granada province. Taste Zero mile food and delicacies prepared by talented local chefs. See how the locals buy their food in independent family run businesses.
Explore the foodie side of Granada on this walking tour of the city.
Description: A walking food tour in Granada showcasing local food. 7 stops along the way eating small dishes.
Small groups. Limited to 10 people per tour.
Language: English (Spanish & French available by request)
Availability: Monday, Tuesday, Wednesday, Thursday, Friday & Saturday at 11am or 6pm
Meeting Point: Box Office Kiosk outside the Theatre Isabel La Católica (Close to Puerta Real, Granada)
Duration: About 3 hours
__________________________________________________________
Granada Photo Tour
Description: Capture your time in Granada with a professional photographer. This unique tour explores the typical corners of the Albaicin quarter. The old moorish part of the city which looks across the Alhambra Palace and Sierra Nevada Mountains. Listed as a UNESCO World Heritage site this white washed neighbourhood makes the perfect setting for unique photos to take home with you.
Walking tour is downhill and guided by English speaking pro photographer.
48 original photos (for digital online use) are sent to you 3 days after the experience.
This activity can be done individually, for a couple or as a family.
Availability: On request (pre booking required to ensure availability)
Duration: About 2 and half hours
Meeting Point: Hotel lobby (Pick up at your accomodation)
To see more photos from previous shoots see: Albaicin Walk & Pro Photo Experience
__________________________________________________________________________________________________________________
Unwind in the Arab Baths
Description: Float back in history and discovery the ritual of the hammam baths in Granada. Bathe in contrasting pools and enjoy some hot mint tea just as they would have done all those years ago. The session includes 90 minutes of bathing and a 15 minute massage with aromatic oils typical at the time of Al Andalus (jasmine, rose, lavender, orange blossom, pomegranate)
90 minute session in contrasting pools
Includes 15 minute massage with aromatic oils
You will need to bring a swimsuit (no pool shoes are required)
Location: Granada City Centre (full indications will be provided on booking)
Available every day throughout the MICCAI Conference.
______________________________________________________________
Flamenco Show Tickets (city centre)
An authentic Flamenco performance in the centre of Granada. The name of the venue is taken from the typical Andalusian dance celebrated at gypsy weddings. Guitar music and handclapping make this style distintive. This 60 minute show is available at 7.00pm and 8.45pm Everyday.
Located close to Plaza Nueva, right in the city centre this air conditioned space is a great venue to see local Flamenco dancers perform.
The artists performing are professionals, great Spanish guitar players, singers and breathtaking dancers.
Many of these artists of from the famous flamenco families in the Sacromonte of Granada.
Each night they share their passion for the art of Flamenco with you.
______________________________________________________________

Wine Tasting Evening
Taste 4 local wines produced in the Granada region. Each wine is carefully paired with a small dish of food from local producers. You have the chance to purchase some of the drinks and food which you have sample at the end of the tasting.
This activity is in English language.
Some of the local wines are hard to come across outside Andalusia to enjoy the opportunity to taste some of the best wineries in the region all in one place.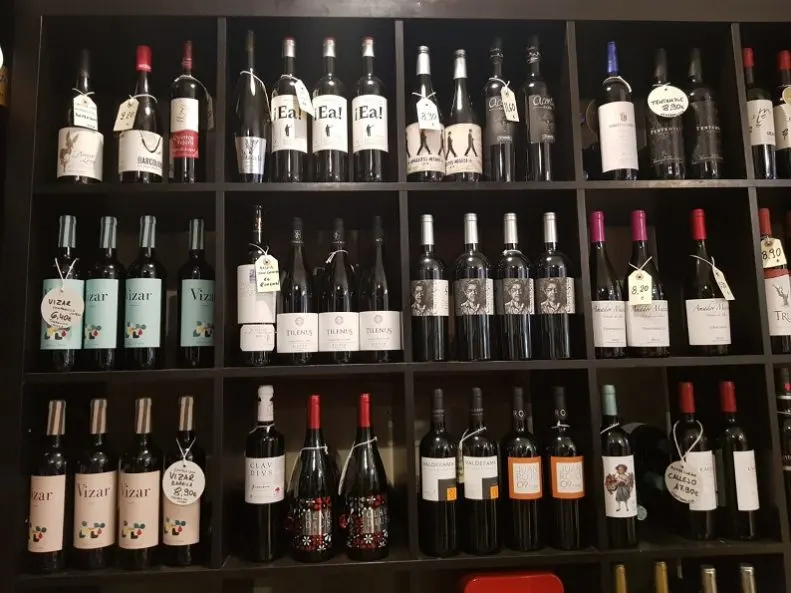 Granada Wine Tasting
Everyday at 7.00pm (not available on Sunday or Local Holidays)
Tasting of 4 Wines – Locally produced Wines in the Granada province.
All drinks are paired with a small plate of local food.
To finish the evening taste a local biscuit or cake with a sweet wine
Tasting Notes and Activity lead by a local Sumiller in English
Location: Close to Paseo del Salon – Carrera de la Virgen in Granada city (full indications will be provided on booking)
Maximum group Size – 15 guests
___________________________________________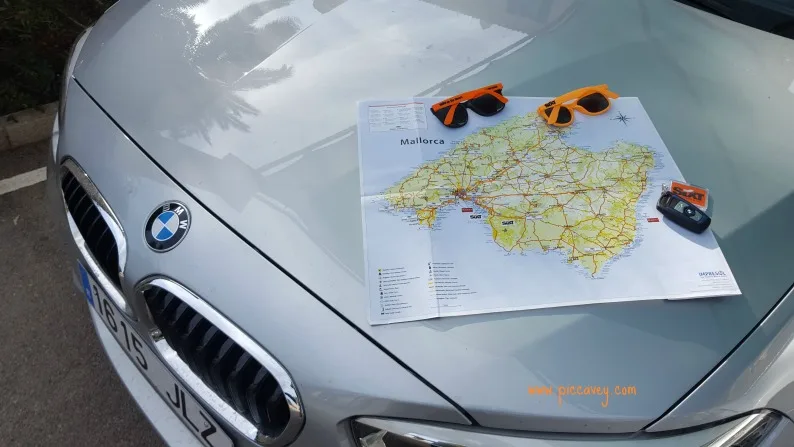 MICCAI Car Hire from Malaga or Granada
The official rental partner for MICCAI 2018 is SIXT.
The team at Sixt will arrange a Hire Car for your time in Spain.
This reputable company has well located pick up points at the main transport hubs in Andalusia and Spain.
Choose the best Sixt office for your schedule whether it be Malaga, Granada or Madrid, they have delegations in airports and Train Stations.
Book with the official partner Sixt España to obtain MICCAI discount.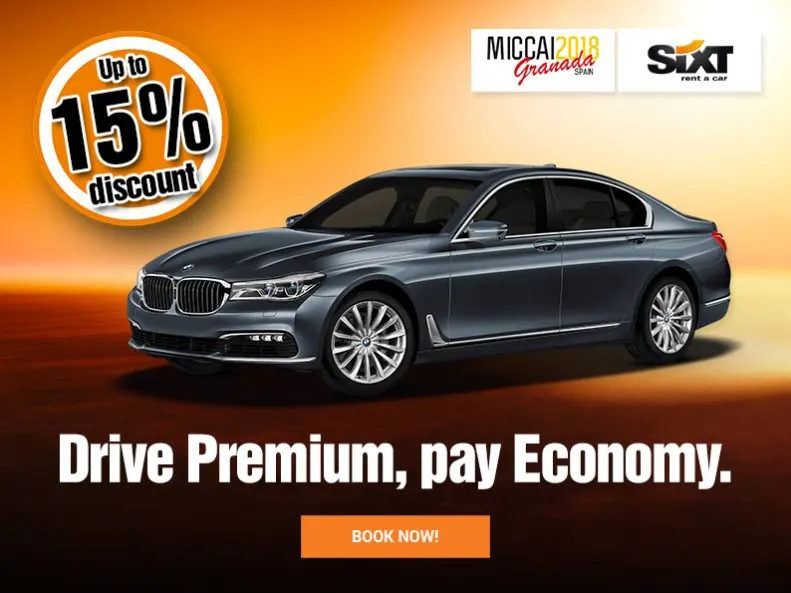 Questions?
Please feel free to email should you have any questions regarding these MICCAI activities.
Do ask if there is something you would like to do that is offered here and we will do our best to arrange it for you.