Jerez, Spain and the surrounding area is a fabulous region to explore by car. In fact the only practical way of visiting this part of Andalusia is on a road trip.
The geography of this region is broken up by the coastline. Cadiz city is almost an island surrounded by water. Founded in 1100 B.C it is the oldest city in Europe. Hilltop towns of Arcos de la Frontera and Medina Sidonia contrast with larger cities. they feel remote and magical. Untouched by time. Having a car will make it easy to navigate around these charming parts of Andalusia.
There are buses to Vejer de la Frontera but then can be infrequent and slow depending on the route.
Discovering Jerez Spain
Mixing the charm of harbour towns like Chipiona or el Puerto de Santa Maria. Seeing the imposing architecture of Sanlúcar de Barrameda or Arcos de la Frontera. Combined with the heady fragrance on the streets of the Sherry Capital Jerez. There are also plenty of opportunities for a beach morning too.
This Cadiz Road trip includes places that I have visited. The notes from my own experience in these locations.
Jerez de la Frontera
Choosing Jerez as a base due to its charm and ideal location. Jerez de la Frontera is well known for its annual fair. The Feria del Caballo held in early May. Probably the most colourful and traditional in Andalusia.
It is also the sherry capital of the world. A good reason to stay here. Enjoy a few bodega visits and have the car safely parked up. So you can sample fino, amontillado, oloroso and the sweetest Pedro Ximenez sherries.
Hiring a Car in Jerez Spain
Arranging Car Hire in Jerez can be done with pick up at Jerez Airport. Discover Cars cover Seville Cadiz and Jerez. So depending on your arrival airport find the pick up point most convenient to you.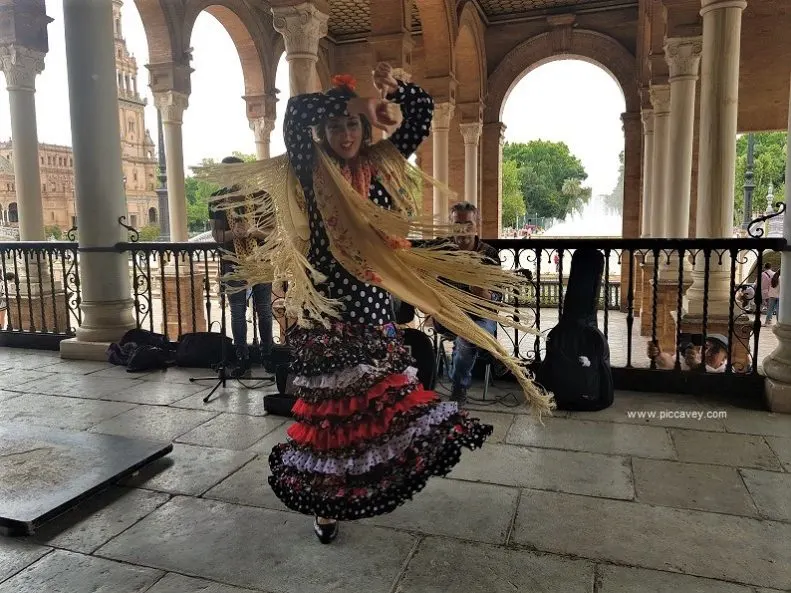 What to see in Jerez Spain
As well as enjoying the Sherry culture and great gastronomy of the city. You can take in a Flamenco Show, Jerez is one of the most important cities on the Flamenco circuit. Annually in March the city holds its Flamenco festival. Worth checking out if you are planning on visiting that time of year.

Together with Seville Cadiz and Granada, the origins of Flamenco are not 100% clear. These four locations are key in the evolution of this dance form. Recognised as UNESCO Intangible Cultural Heritage of Humanity.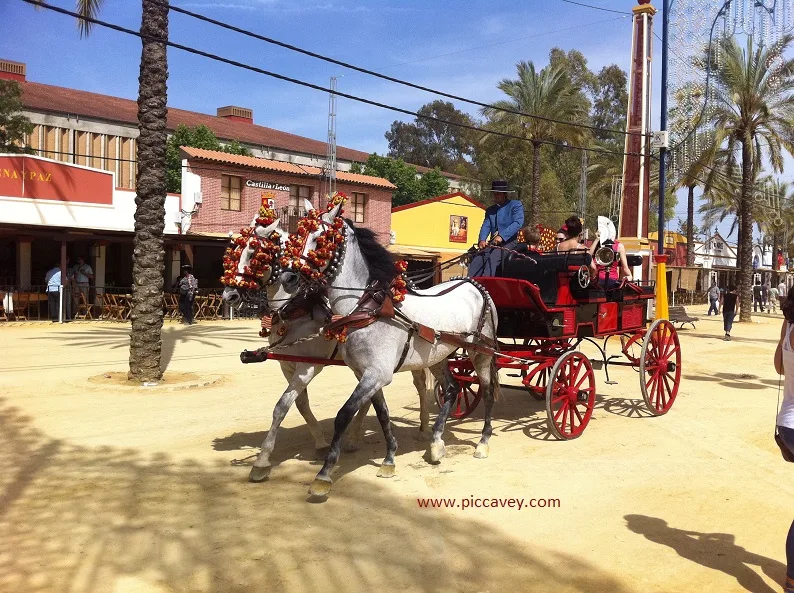 Horse Show in Jerez Spain
See a Spanish Horse Show at the Royal Andalusian School of Equestrian Art. The performance is usually at 12.00 midday. You can pre book online, but it is best to check which days the have a show on.
More details at: Real Escuela Andaluza Arte Ecuestre, Jerez Spain
The Spring fair in Jerez is at the beginning of May. Even though its early in the season temperatures can be high in this corner of Andalusia.
Less traditional but equally important is the Motocycle Grand Prix held each year in Jerez Spain
Things to do in Jerez Spain
Visit the impressive 17th century Jerez Cathedral. (seen above)
The Food market in the city centre is bustling with locals on weekday mornings. Don´t miss the seafood stalls when you visit.
For tapas and local food eat out on Plaza Asuncion or Plaza Yerba. This part of town is busy with Tabancos (typical wine bars) and tapas places.
Jerez is one of those places that tourism doesn´t seem to affect. As most people just head over to visit the sherry producers in the morning. This make it a great place to stay as it is so authentic.
Daytrips from Jerez de la Frontera
A short drive from Jerez can take you to many different locations. The Coastline of Cadiz is known as Costa de la Luz but a lesser known area is called Costa Ballena. This area includes Rota, Costa Ballena and Chipiona.
It makes a good daytrip especially if you enjoy beach walks or sunbathing.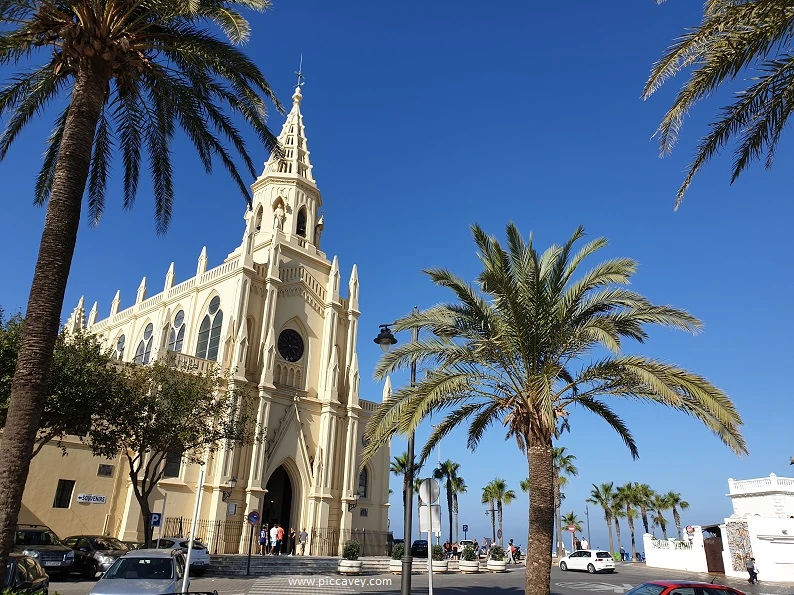 Costa Ballena
Costa Ballena is an area of coastline linking two towns. Rota and Chipiona. Rota is well known for the American Military base there. This part of the Cadiz coast is popular with Spanish visitors from Easter to September. Yet not so frequented by international visitors.
In Chipiona you can see the tallest lighthouse in Spain. It is a fishing town with a marina and a long stretch of beach. It has a real Andalusian feel and is not at all touristy. When I stayed in Chipiona I chose Hotel Monterrey Costa for its seafront location. (some rooms have sea views) and its fabulous gastronomic offer. Staff were really friendly too.
There are a few nice beach bars actually on the sand which make great places for evening drinks. AWA Beach Club has a great gastronomic offer and is located close to the lighthouse.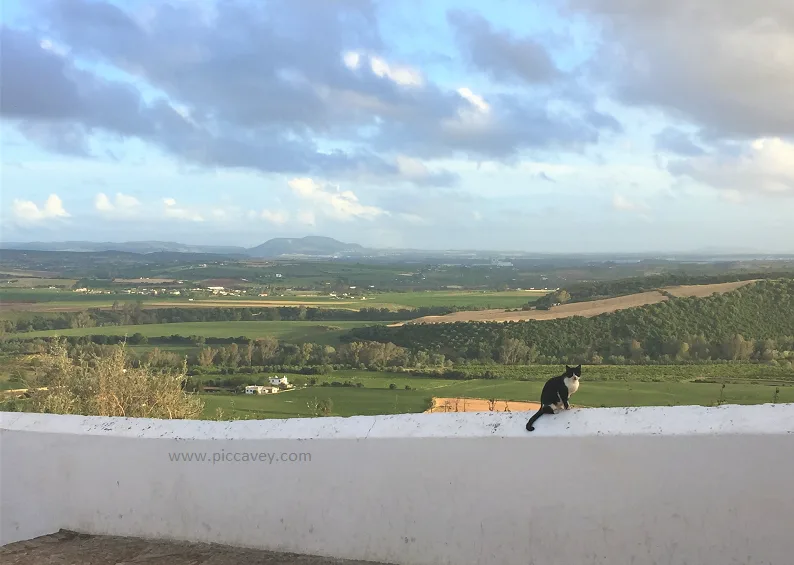 White Villages of Cadiz
The White Villages or Pueblos Blancos are mainly in Cadiz province. (but not exclusive to the region)
Some of the most well known ones are the following:
Algodonales
Arcos de la Frontera
Bornos
Grazalema
Olvera
Setenil de las Bodegas
Ubrique
Zahara de la Sierra
Usually hilltop locations with an old castle or fortress and whitewashed houses. These locations retain their Andalusian charm and have stunning views across the landscapes.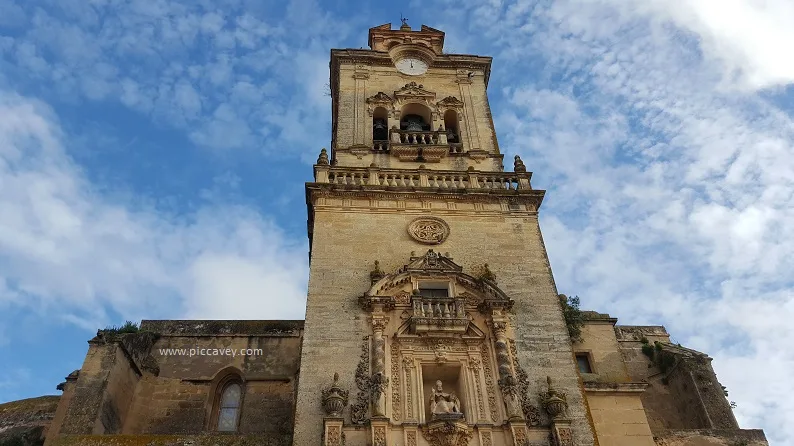 Arcos de la Frontera
Arcos de la Frontera is a charming hilltop town with views over the countryside. It has lots of grand architecture and narrow whitewashed alleys. Before I get into what there is to see.
It´s important that you know that driving around the old town is tricky. Cobbled streets, narrow alleys and even steps along some streets. If you go to Arcos it is better to park in the new part of town and take the bus or taxi up into the old town.
Notable monuments in Arcos de la Frontera are the Castillo de los Duques, the old city wall and palatial homes. The churches of la Basílica de Santa María and la Iglesia de San Pedro are impressive. You can also pop in to buy Cakes and biscuits made in one of the many convents in the historic quarter.
One of the best hotel options is the Parador de Arcos which does have limited parking out the front of the hotel. It is also located in the main square of the town.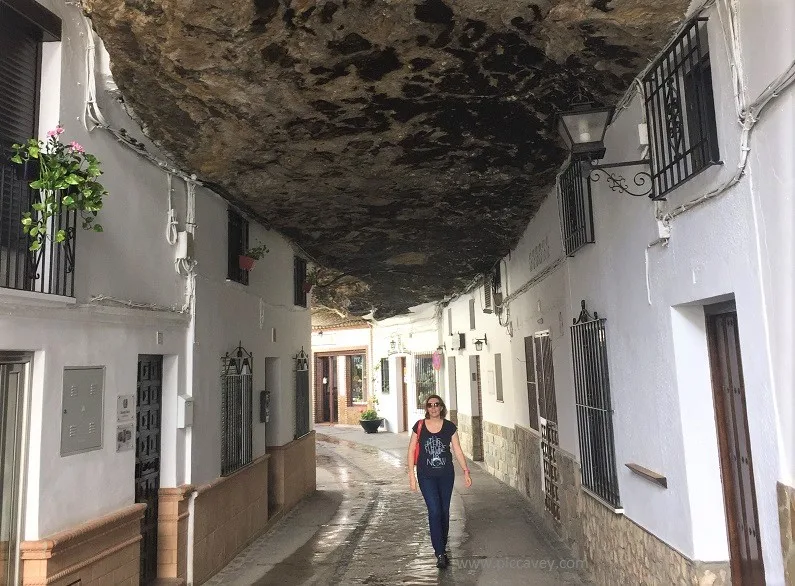 Setenil de las Bodegas
This curious town is located in the middle of the Cadiz countryside. On the road from Ronda to Arcos de la Frontera you come to Setenil de las Bodegas. A town with a rock which seems to cover the houses like a lid or a shelter.
Find Caves turned into bars restaurants or even apartments in Setenil de las Bodegas
This small town is a nice stop off on your road trip if you travel onwards to Ronda or Granada.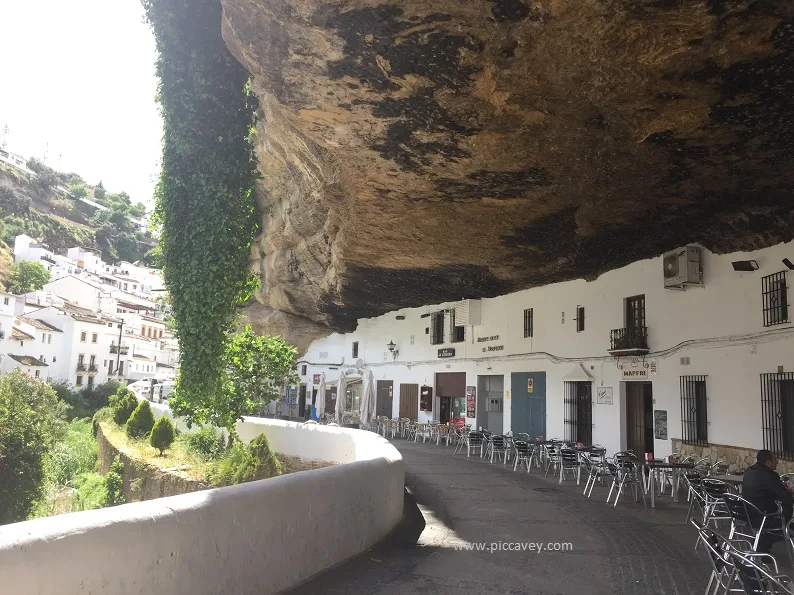 Sanlúcar de Barrameda
Possibly the most famous thing about Sanlúcar are the horse races that take place on the beaches. These typical races have been going for almost 200 years. Held in summertime on the Playa de las Piletas. The races are in the first and last week of August. They draw huge crowds to see the horses charge across the 2km long beach.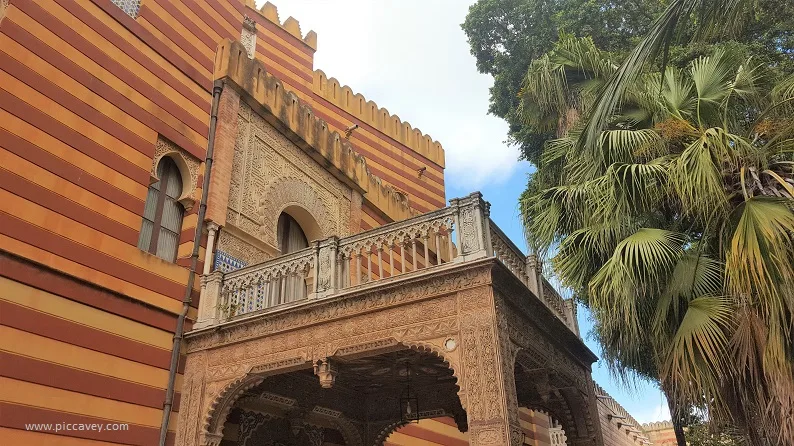 Palacio de los Infantes de Orleans & Bourbon
Sanlúcar really caught my imagination, it has a faded glory. With grand palatial homes such as their current town hall. (seen above) Built in 1852 the gardens are also beautiful. Incredible that it is now the city´s administration hub.
The city has many other historic buildings from a golden age long past. Another example is the Palacio de los Duques de Medina Sidonia.
I notice this architectural detail on the way up the hill, Cuesta de Belen. Built in the 15th century in the main commercial area for traders. Like a medieval shopping centre! These are the details that fascinated me when I visited Sanlúcar.

Sherry Triangle
Sanlucar de Barrameda is also well known for sherry wines and its historic vineyards too. Barbadillo and Zuleta being the most well known ones.
Delgado Zuleta is the oldest in the sherry triangle. (Sanlucar de Barrameda, El Puerto de Santa Maria & Jerez Spain). Zuleta has been making Manzanilla since 1718. Although documents can only be traced to 1744. (Address: Avenida de Rocío Jurado, 11540 Sanlúcar de Barrameda)
Bodega Barbadillo is home to the Sherry Museum. Founded in 1820, guided tours in English are done at 11am. It costs 6 euros per person and includes a sample of 4 different sherries.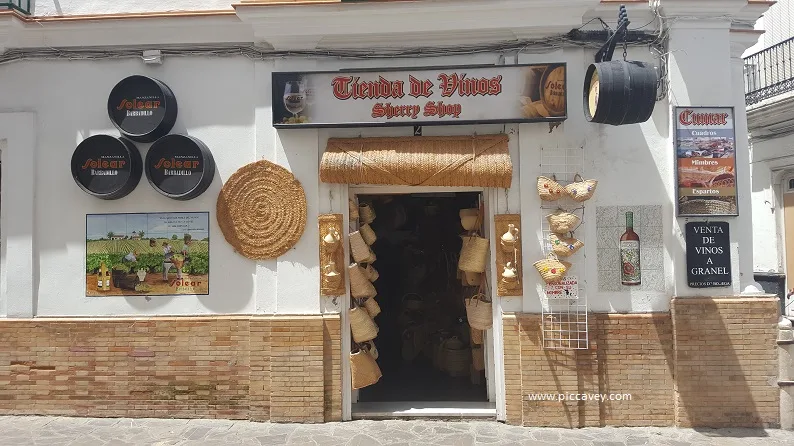 Where to Eat in Sanlúcar
One of the most traditional places in Sanlúcar de Barrameda is Barbiana on Calle Isaac Peral. Serving seafood and typical dishes from the coast.
But the oldest bar in Sanlúcar is Bodega La Cigarrera. On Plaza Madre de Dios it has a typical Andalusian patio. It´s been in business since 1758 so its packed with charm and character.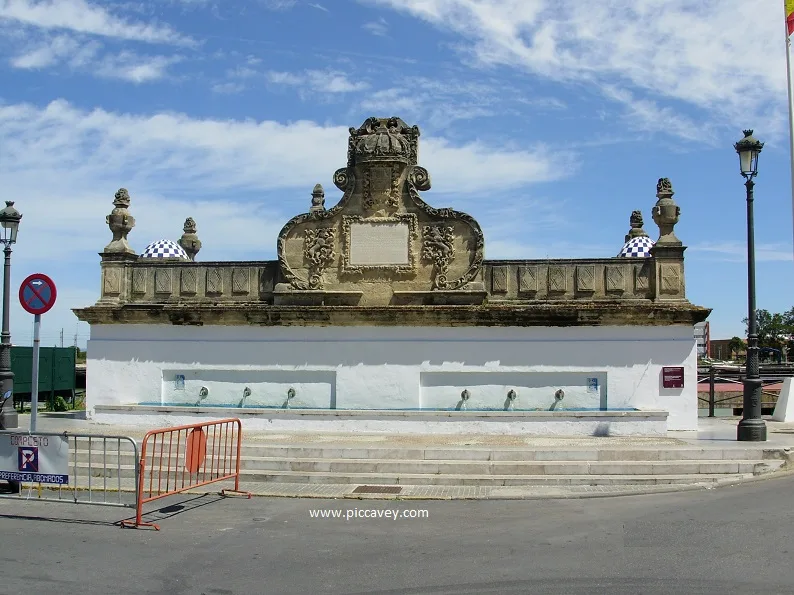 El Puerto de Santa Maria
El Puerto de Santa Maria is most well known as being the place from which Christopher Columbus set sail. This fountain was the place where water was filled up to take aboard the ships heading to America.
Important bodegas in El Puerto are Bodegas Caballero and Bodegas Osborne. Both offer guided tours and tasting activities.
As well as having lots of Sherry producers in El Puerto it also has some great beaches. The most popular are Vistahermosa, Val de lagrana and Playa de La Puntilla.
Photo Credit: Da Massimo
Tejas Ice Cream
As El Puerto de Santa Maria is based on the coast, it has fabulous fish and great sherry too. Something that maybe not so obvious are tejas. This sweet cracker made with almonds is a typical dessert in the town. You can even find ice cream made with them at Da Massimo.
For me the most memorable building in El Puerto is the Castle of San Marcos. A fortress built in 1364 on the site of an Old Mosque.
Cadiz
Capital of the province and an important port. As well as being the oldest city in Spain & Europe… basically Cadiz has it all. Beaches, historic monuments, great tapas bars and the friendliest people you could ever wish to meet.
When I stayed in Cadiz I was in the old town at Hotel Argantonio. I like to be close to the cathedral and historic sites. Allowing me to wander through the most characterful parts of the city. Of course being in the historic streets it usually means tight spaces for cars. Not much parking and one way streets.
Parking in Historic Cities
If you choose to stay in an old quarter check with your accommodation. Get detailed information about parking arrangements ahead of time. Many hotels may not have parking out front because of their historic setting.
Cadiz was the Capital city of Spain for 3 years from 1810
Where to Eat in Cadiz
Head for Tapas on Calle Virgen de la Palma. A street which practically connects the beach to the historic center.
Freiduria Las Flores is an institution in Cadiz. Located at Plaza las Flores they fry fresh fish from the days catch. This typical bar is a must when you are in town. I remember asking one of the waiters for Ensaladilla Rusa. He told me it wasn´t the best choice in a fish restaurant and recommended I chose again. See… Cadiz people.. so lovely.
Casa Manteca is also one of the most traditional bars in the city. (Calle Corralón de los Carros, 66)
What to See in Cadiz
Don´t miss the Torre Tavira to enjoy fabulous views over the port and city. The camera oscura gives a special perspective. As you look down on the city from a 17th century watchtower. You can see people move around, its like google maps in real life.
Taking the public Catamaran service across the bay is fun too. The route goes from El Puerto de Santa Maria to Cadiz (or vice versa).
Walking through the port is also an eyeopener. You can look at some of military ships. Cruise liners and fishing trawlers are also lined up along the harbour walls.
The Beaches within Cadiz itself are called Playa de la Victoria and Playa La Caleta. They do get very busy from Mid July to End of August but the rest of the year make great places to stroll or sunbathe.
If you want to see Flamenco in Cadiz the best spot is the Peña Flamenca La Perla.
Spanish Sunsets
Stroll along the Alameda Apodaca, a seafront avenue in Cadiz. This part of town old watchtowers along the coast and the walkway is covered in lush greenery. Don´t miss the huge ficus trees. As well as panoramic sea views, its a great place to enjoy sunsets.
Cadiz Road Trip – White Villages & Jerez Spain
NOTE: This post contains affiliate links, which means that if you click through and make a purchase, I will receive a small commission.
All thoughts, feelings and opinions shared on this blog and in this post about Jerez Spain are my own.