Photo via 453169 en Pixabay
The absolute contrast to cultural travel abroad with museum tour and sightseeing is party-tourism. Heading off to another country on purely to have fun and let loose in a sunny destination. Enjoying club life is one best pastimes in Ibiza.
Ibiza party Island
Parties and DJ sets last on resorts all day and night, so it is easy to lose the sense of time and reality with all the impetuous fun.
Life of The Clubs
The life of the island revolves twists around club life. Nightclubs on Ibiza take up more space that the administrative and municipal buildings.
Loud, lively music of all genres is heard here literally from each corner. Parties are organized directly in the streets. Main tourist season runs from May til October, but even in winter months, there are still some foreigners on Ibiza.
The opening of club season takes place at the end of May in the club 'Es Parades' and last until the beginning of September. In certain areas of the island summer season is dominated by party-goers. The main resorts are more about clubbing than typical rest and relaxation type holidays.
Long Queues
The busiest month is August when the seasons peaks. This is when the island can feel chaotic for visitors, perhaps taxis are hard to find, or hotel rooms are fully booked.
Besides the August prices are much higher as demand grows in those 30 days of the calendar. Queues in clubs trail for quite a few metres.
If you are interested in finding out more about the island of Ibiza outside of the club. Then explore at the end of June or at the beginning of September.
Ibiza Club Hacks
The majority of night clubs open around midnight and close mid morning. Officially admission into a club and the sales of alcoholic drinks are only permitted only to over 18 year olds. This rule is strictly applied. Ticket can cost from 30 to 60 euros. Cocktails costs from 10 euros and water or beer – around 6 euros but can be up to 18 euros for water depending on the venue.
Don't expect 50 euros to last for very long. If you book a ticket beforehand or get a flyer before you can get discount. Like money off or a free drink.
Its strictly forbidden to take drink into the club your drink.
Check dress code before you go, sometimes extravagant outfits attract attention and you could even get in free of charge in some clubs.
Dance Floors on the beach
Musical bars (the entrance here is free, drinking is cheaper yet the music is the same) or musical beaches have large scale dance floors right on the beach front. Some feel that they are a cleaner alternative than a dark club.
Perhaps the best area is Playa den Bossa, just 5 minutes drive from the city of Ibiza and entirely surrounded by bars and cafes.
The tropical bar Bora-Bora at Sant Josep de Talaia is really popular. The prices here not so cheap. There is a separate part of the club for visitors «dirty dances» so not for the shy party goers.
The Tahiti Bar is worth visiting, its main attraction is a huge sprinkling hose in the centre which is poured onto the crowd even once in a while.
Best Ibiza Sunsets
The most famous locations for Sunsets in Ibiza are in San Antonio. One of the best venues in San Antonio is O Beach is a hotel, beach club and venue all rolled into one.
If you stay at the hotel, the experience of the club and nightlife is included in the package.
Party and Repeat
Many of the night clubs have their own resident DJ (Steve Aoki, Pete Tong etc.) who play at the same club every week. As well as that they have headline Disc jockeys on other days of the week.
It is always best to buy the ticket before visiting any of these clubs. You can buy them through official ticket vendors or Ibiza Spotlight throughout the town. Be warned that they do sell out often. Purchasing them on the door is generally costlier and can be more bother.
Each and every club is renowned for a particular night, and it is best to inquire while you are there because this changes season to season.
Here are a few of the stand out ones
Pacha
The best clubhouse in Ibiza. A club which will cost you 20 euro for a drink, but don't worry, as it is only 6 euro for a shot. Entry to this particular club is 30 euros but can be more on weekends or special PA's. With capacity for around 3000 people the open terrace is a must see.
You may even be lucky and hear DJ Piti on the decks.
Amnesia
The space at Amnesia is huge. It can easily hold 6,000 people! Security and getting into these clubs is easy despite the number of people heading there each night.
Privilege
The biggest club in the world (and on Ibiza) which can easily hold 10,000 people.
While 4 drinks here set you back 75 euros it will be worth it to enjoy this spacious party place.
Located in San Rafael it closes at 6am. It even has a pool in the centre of the club.
Beautiful Boat Party
Despite the fact that getting out of bed after a night out is a challenge, you should be determined to make the most of your time in Ibiza. Why not try the "Beautiful People Ibiza Boat Party."
Leaving from San Antonio harbour or Playa den Bossa its a complete activity, and not a bad price for all that´s included.
For 80 euros, you get free bar for 8 hours, self-serve buffet meal treats, a visit to beautiful Formentera beach, banana boat ride, and jet ski rides.
Ocean Beach Pool Party
Ocean Beach is a newbie on the Ibiza scene as it only opened 5 years ago. Owned by Wayne Lineker (brother to Footballer Gary) it has a large swimming pool, great music, sea views and sunshine, its quickly becoming a favourite on the island.
However be prepared for the higher priced drinks. Expect to pay around 70 euro for a container your chosen cocktail.
For this exclusive beach vibe atmosphere best make the most of it while you are there. You only live once.
Sankeys
The first club which is open in all seasons in Ibiza, a night club that has three rooms with a terrace. Best-known for its 'underground' house music and recreating Manchester scene. This is a club for 1500 party goers.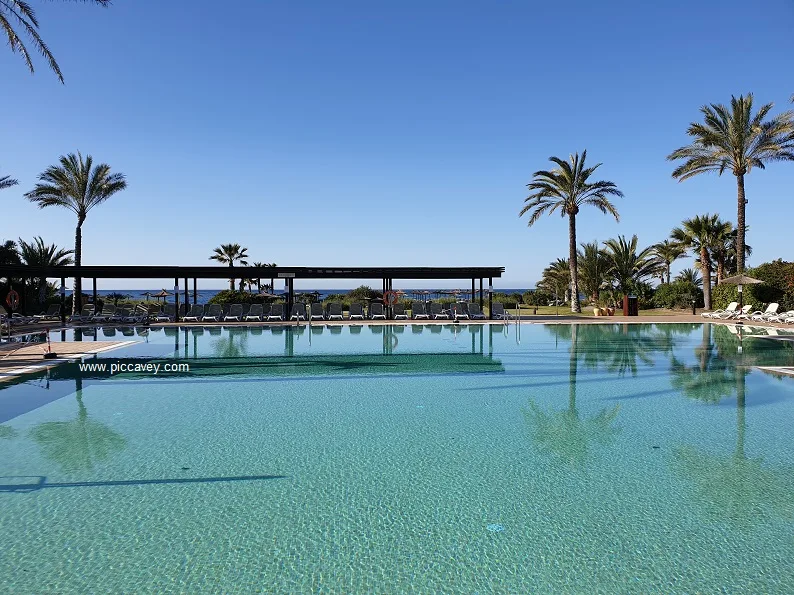 Ibiza Club Scene
Ibiza lives up to its name season after season. You will experience plenty of party time, sunshine and despite the fact that you spend hard earned cash, you will certainly be gaining plenty of carefree memories, and that is the thing that only matters!
Please Note: This post contains affiliate links, which means that if you click through and make a purchase, I will receive a small commission.
All thoughts, feelings and opinions shared on this blog and in this post are my own.