In October I spent a weekend in Salamanca, known for its Plaza Mayor, University and stunning city centre. As always the Restaurants in Salamanca where a destination for me.
Food in this part of Spain is well known for its meaty dishes and good wines. Here´s my guide to Restaurants in Salamanca and a quick overview of local food to taste when you visit Salamanca.

OroViejo – Restaurants in Salamanca
Located between Calle Compañía and Casa de las Conchas. OroViejo is central and perfect for a special meal. With two different atmospheres, the dining room and the gastrobar area. It also has outdoor seting with views. The building where Oroviejo is based was home to Juan Meléndez Valdés (Spanish poet) in the 17th century. Such a characterful settinh with 1 metre thick walls and a well thats 14 metres deep.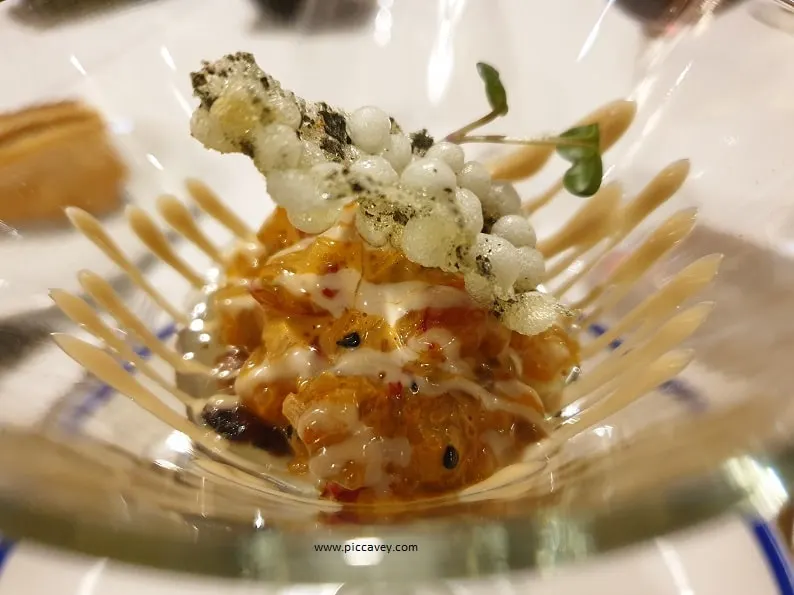 I was at OroViejo at Sunday for lunch. I enjoyed a tasting menu which is one of the best ways to discover Chef Hector Carabias creations.
Steak tartar with Beluga caviar
Baked Pork cheek in firewood oven
Beetroot soup with pheasant and wild mushroom foam
Baked bone marrow with lobster tartar and kombu seaweed cracker (shown above)
Duck foie risotto topped with autumn truffle
Local Valmuza Beef (matured for 68-90 days) with roasted red peppers
Sweet & Sour Strawberries with vanilla mascarpone (photo at top)
Viñas del Cambrico – Rufete Red & White Wines.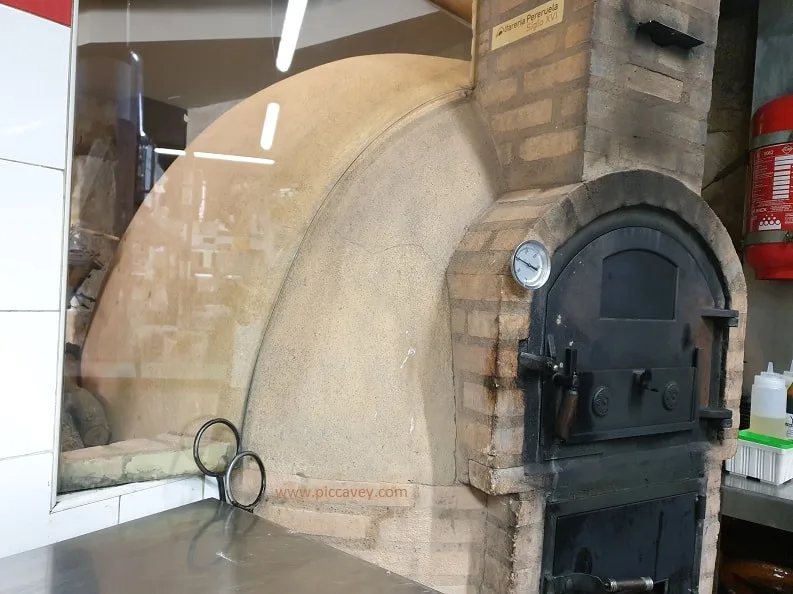 From this creative taster menu, I absolutely loved the Risotto. For me the star dish was the Beetroot soup, it was absolutely delicious. This taster menu was like having the highlights of Autumn on your plate.
However if you are a meat lover I would suggest ordering a la carte. So you really enjoy the cut of your choice done in their traditional firewood oven.
Viñas del Cambrico
The local white wine produced by Viñas del Cambrico called Rufete was certainly something to write about. The grape variety ´Rufete´ has been recovered and replanted in the Sierra of Salamanca wine region since 2006. They grow these organically at 700 metres altitude in granite soil. The white retails at around 18 euros a bottle.
Restaurante OroViejo

Plaza de San Benito, 5, Salamanca

Tel.

923 21 54 92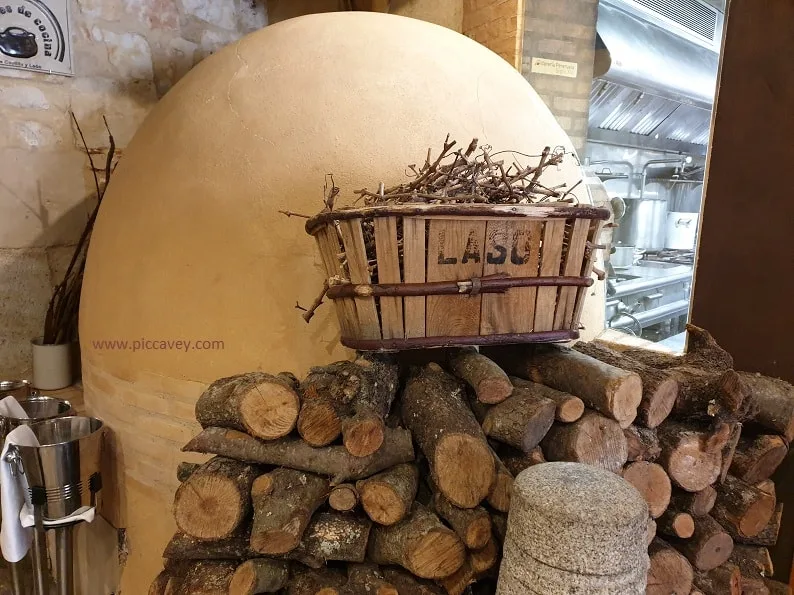 Las Tapas de Gonzalo
The Tapas of Gonzalo is located at Plaza Mayor, 23. One of the Restaurants in Salamanca thats been going for year. This traditional business has been sympathetically updated. Deceiving from its external appearance, it looks much smaller than it really is. Choose to sit outside on the square while you sip while and watch the world go by.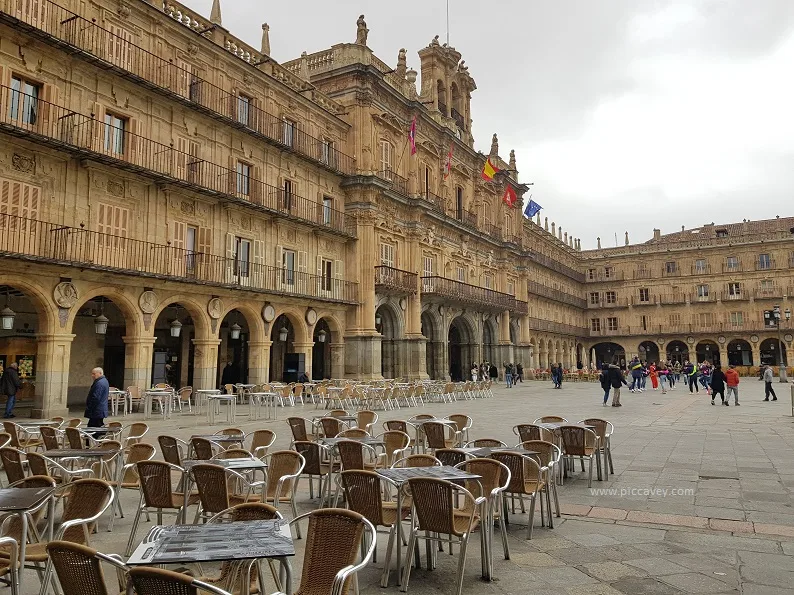 There is also a vibrant bar area on the ground floor or the upstairs part which offers in a more intimate setting. From the upstairs seating you also get good views across the square.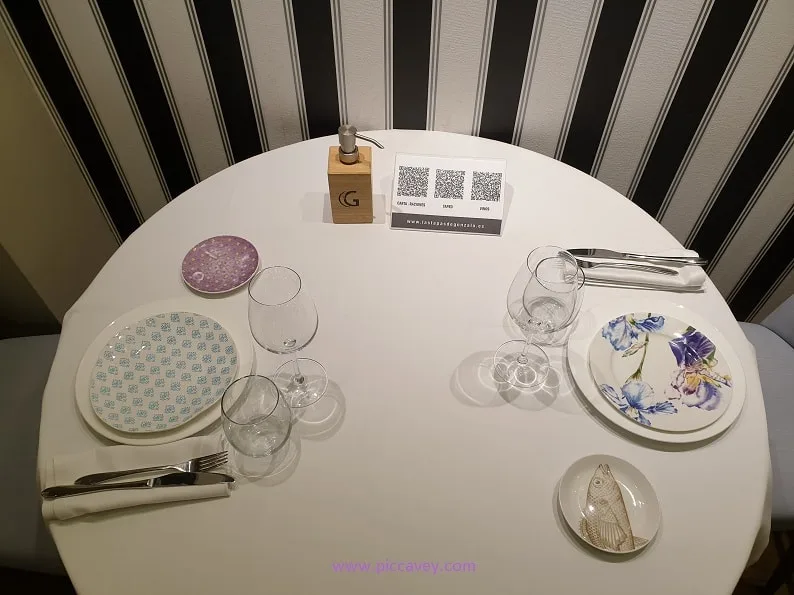 Each day Chef Marcos del Valle refreshes the tapas options before service. They have plenty of other dishes on their extensive menu. Sharing plates, main courses, desserts etc. Don´t think its just a tapas bar from the name. Its a full blown quality restaurant.
Tapas on the Plaza Mayor
My personal highlights here were the patatas bravas and artichokes with local ham. Usually patatas bravas can be a little too spicy for my liking. The ones here were delicious and had nicely balanced sauce. Artichokes are fiddly to prepare so I like to order them when I am out. The vegetable with slightly aniseed flavours fried and served with excellent Guijuelo ham is a simple dish. Just two main ingredients but extremely tasty. That´s the delight of this kind of kitchen, the ingredients and local produce really shine.
The star of the show was dessert. The torrija, a spongey, light consistency served with ice cream. Honestly I never ate anything so good. Half of the table were divided and about to order another one each. Yes, they were that good.
Las Tapas de Gonzalo
Plaza Mayor, 23, Salamanca
Tel.: 923 271 353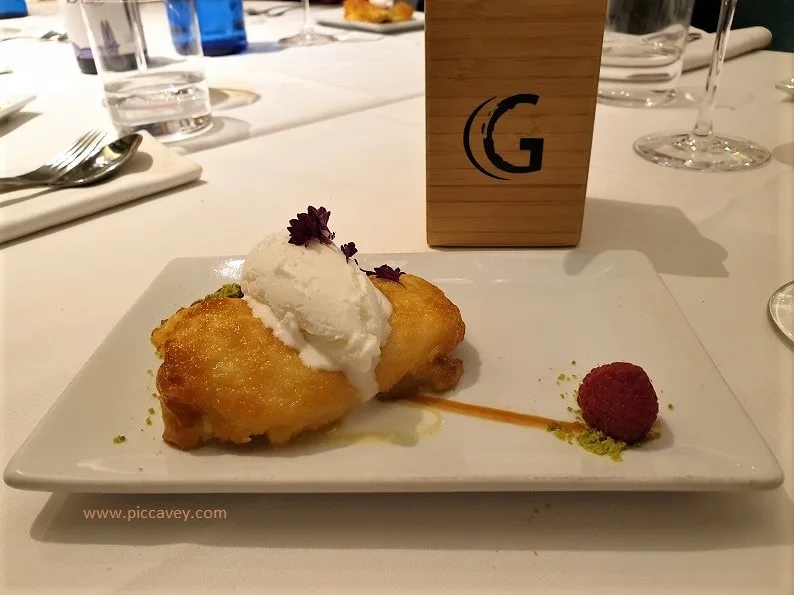 Casa de la Tierra
In a lunchtime stop at Casa de la Tierra we found about about the local wines. This is the Innovation Centre for Salamanca Gastronomy is run by the local Chamber of Commerce. Within the framework of the #SalamancaParaComersela we enjoyed a tasting session of local wines and produce. Discovering some of traditional dishes from the Salamanca region and about the local wine varieties.
Casa de la Tierra- Centro de Innovación Gastronómica (CIG)
Plaza Sexmeros, 2
Tel.: 923 21 17 97
Salamanca Wine Varieties
D.O.P Arribes del Duero
Demonmiacion de Origen Protegido Sierra de Salamanca
DOP Sierra de Francia
The local wines that are produced in this region belong to three small and not so well known regions. Arribes del Duero, Sierra de Salamanca and Sierra de Francia. On a map this is the space between Salamanca and the Portuguese border more or less.
I tried different wines from Arribes and Sierra de Salamanca during my weekend. Two days wasn´t enough to do an extensive tasting but they have some great wines coming through although the number of bottles and distribution is limited. These are small producers offering high quality and specific lesser known grape varieties. The Malvasia white wine from Abadengo (seen below) was also pretty good for a starter or welcome drink.
Most Restaurants in Salamanca offer a selection of local wines on their wine list and at the bar. So you can ask them for recommendations when you are there.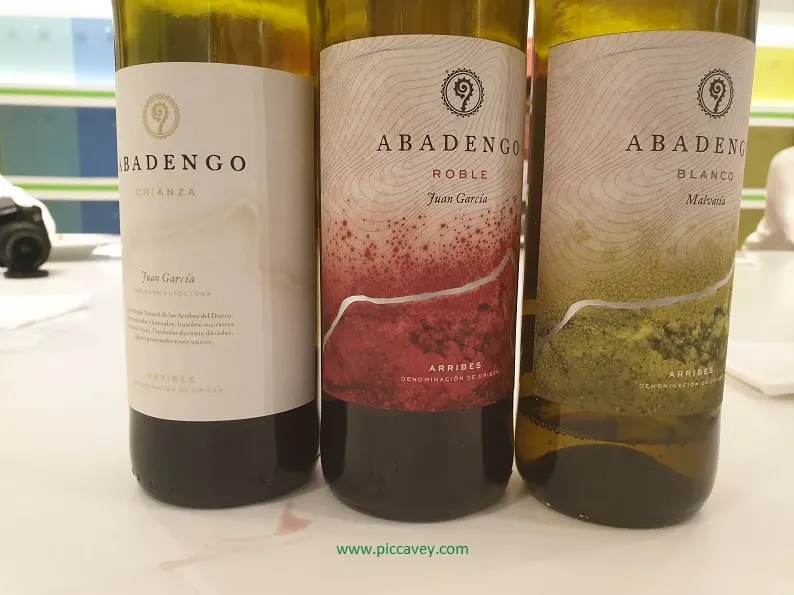 Typical Salamanca Dishes
As Salamanca has an extreme climate it is either very hot or very cold. (similar to Granada and Madrid) The food follows that pattern too. In Summertime lots of cold soups and light dishes but winter recipes are heavy and consistent meals.
Local delights such as the Guijuelo Ham or cold cuts abound. Guijuelo ham is considered by many Spaniards to be the best Spanish ham available. Pigs graze on acorns in the Salamanca countryside in acres of pasture. (rivalling Jamón de Jabugo of course) So many of the traditional dishes are using these ingredients.
Chanfaina
Chanfaina is a rice dish that´s typical in Salamanca. Made with rice, onion, cumin, garlic, black pepper, paprika and lambs blood or tripe. Again this is a filling dish so recommended at lunchtime rather than at night.
Farinato
Farinato is a good example of the use of meat products in their local cuisine. Similar to chorizo in flavour but its made with lard and flour. Known as poor mans chorizo it has a very specific flavour and its very filling. Sometimes they serve it with fried eggs. When I tried it it was served as a small tapa and was a smoky flavour like paprika (pimentón)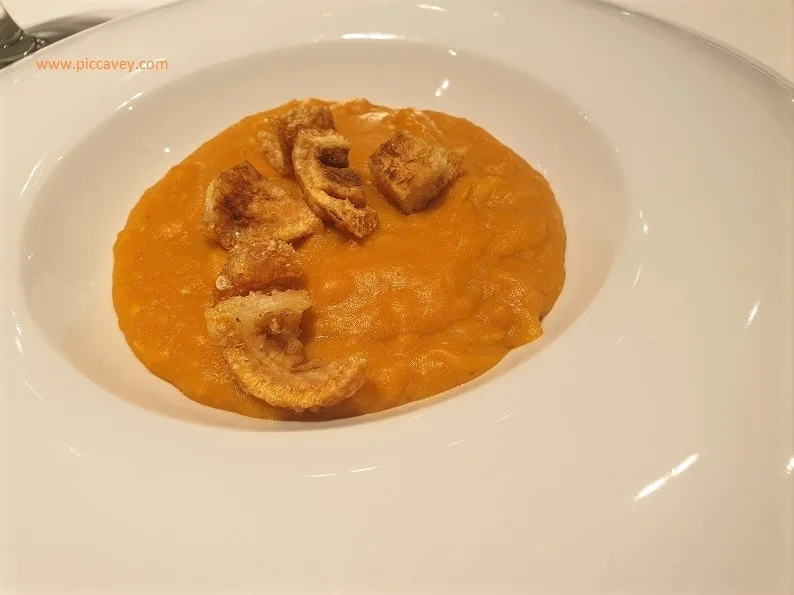 Patatas Revolconas
Slow cooked potatoes and garlic. Cooked with lots of paprika and then pork scratchings to top off the dish. Great for those cold blustery days in Salamanca to ward off the cold. This dish seems to be served in every bar and restaurant in Salamanca. It´s a very popular choice with locals. They are called Patatas Revolconas but you will also see the other version known as Patatas meneadas. Revolconas means rolled, potatoes that have been rolled around.
Hornazo de Salmanca
Another of the most well known recipes in Salamanca is called Hornazo. This is a meat pastry made with pork, chorizo, lard and eggs. It is traditional especially at Eastertime. Locals eat this on Easter Monday and it´s been typical as far back as the 16th century.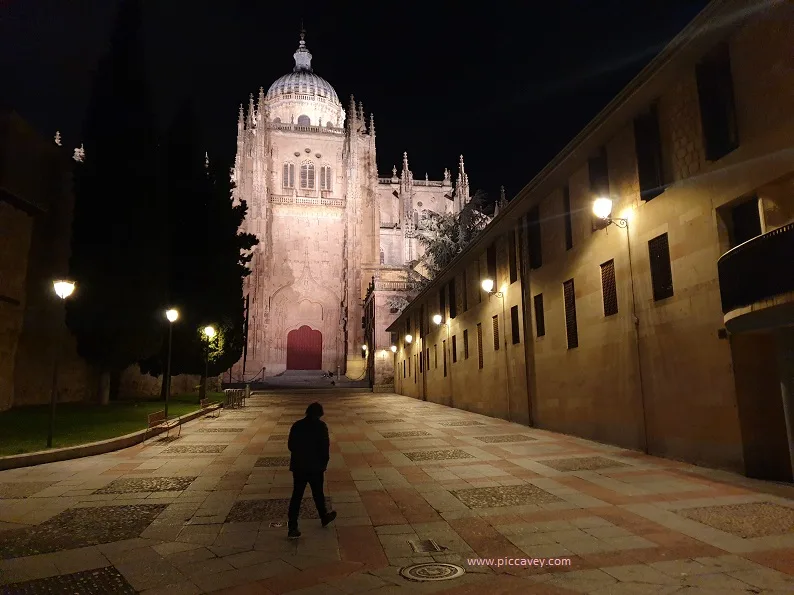 Restaurante Lis
With this stunning view of the Cathedral from our table. Dinner at Restaurante Lis was a fun evening. This small restaurant has 40 covers when at capacity. Using traditional recipes they add modern touches to their food. One of their best selling dishes is monkfish and prawn pastry with ratatouille.
C/ Patio Chico, 18
Tel.: 923 216 260
#SalamancaParaComersela
Restaurante Isidoro
Restaurante Isidro is one of those restaurants where locals go to celebrate their birthday or a family meal. With amazing desserts (you must leave space for that) and traditional favourites. This business has been open for years. Slightly off the tourist centre if you eat here you won´t be disappointed. Remember that portions are very generous. Order to share or dont eat for days before you go. : )
Calle Pozo Amarillo, 23, 37001 Salamanca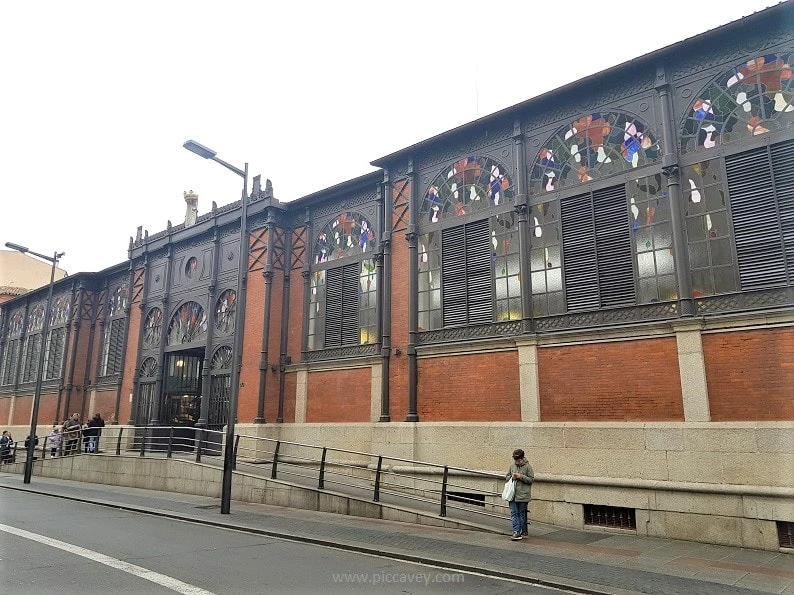 Salamanca Market
Just on the edge of Plaza Mayor is the general Food Market in Salamanca. It´s the oldest market in the city with 108 years of history. With around 50 stalls there are lots of local products such as cheeses, ham, wine and other gastronomic treats from the region.
As it is so central to the historic centre, it´s worth popping in.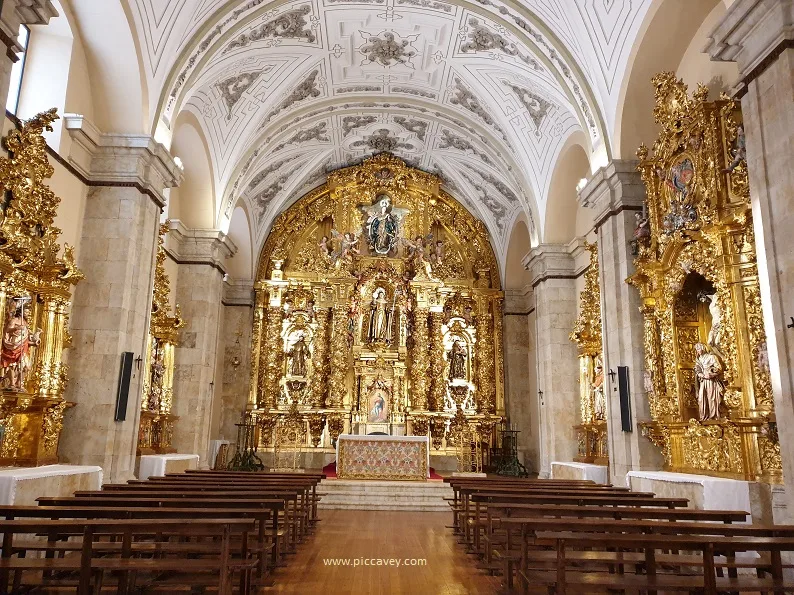 Dulces Conventuales
Salamanca is a city that has lots of convents and churches. Don´t miss the opportunity to but biscuits and cakes made by the nuns to ancient traditional recipes. Depending on the season and the convent the choices vary. Each one has their house special.
You may see a sign that says DULCES CONVENTUALES or VENDEMOS DULCES as you visit one of the churches or convents around the city.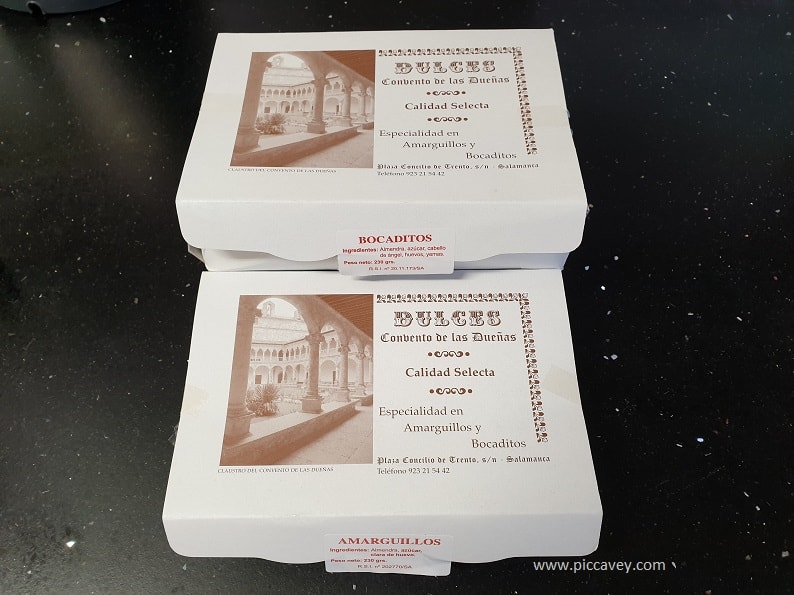 Best options are:
Las Claras or Convento de Santa Clara – Founded in 1238 its on Calle Lucero 2
Convento de las Dueñas –

Plaza del Concilio de Trento – I tried amarguillos and bocaditos from here they were both delicious. Wished I had bougth more.

San Esteban Convent-

Plaza del Concilio de Trento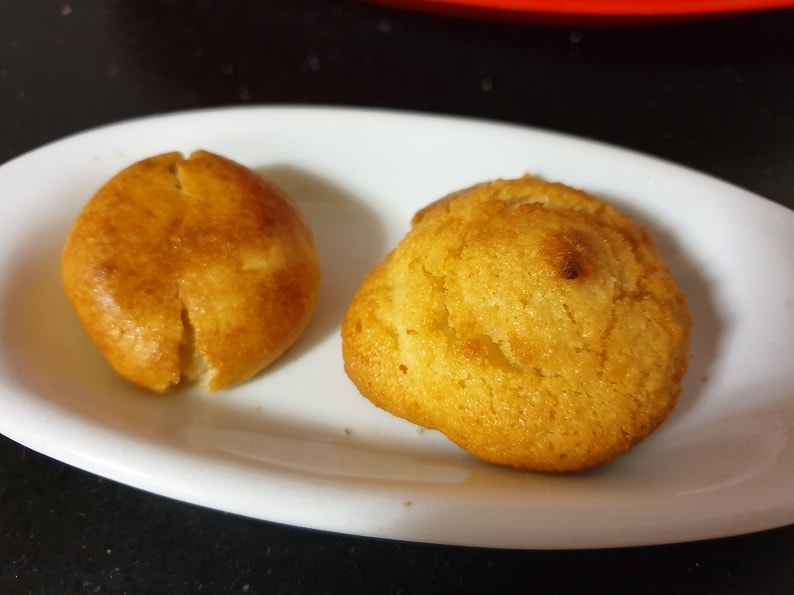 Restaurants in Salamanca Spain


Travel Resources to Plan Your Visit
Here´s some additional information so you can plan your Salamanca Escape:

Disclaimer: Please note that I have visited Salamanca on a promotional trip. I have experienced all the activities I wrote about in this post complimentary. However, all opinions in this article are my own. I would not recommend restaurants in Salamanca that I havent tried myself or think it was a great place to visit.
This post contains affiliate links, which means that if you click through and make a purchase, I will receive a small commission. All thoughts, feelings and opinions shared on this blog and in this post are my own.