Recently I spent a few days exploring the stunning city of Salamanca. Although I was there in February 2020 I didn´t get to explore the city properly. This return visit over a weekend in October 2020 allowed me to visit all the main sights and get a better feel for the city.
The food in Salamanca was impressive too. I will write that up in a separate article on where to eat and the most typical dishes in Salamanca. This is my guide to plan a weekend break in the Golden City.
Where is Salamanca?
Salamanca is a city in Western Spain. Part of Castilla y Leon and provincial capital of Salamanca. Its population is 330,000 inhabitants. So a similar size and atmosphere as Granada. Both are monumental as well as important university cities.
Salamanca is a 2 hour drive from Madrid, 215 kilometres away. That´s 132 miles. You can take the train from Madrid to Salamanca too. Best air connections are also via Madrid Barajas as Salamanca´s local airport has limited national routes.
Salamanca is one of the cities on the Via de la Plata, an old trading route linking Extremadura to Astorga (Leon).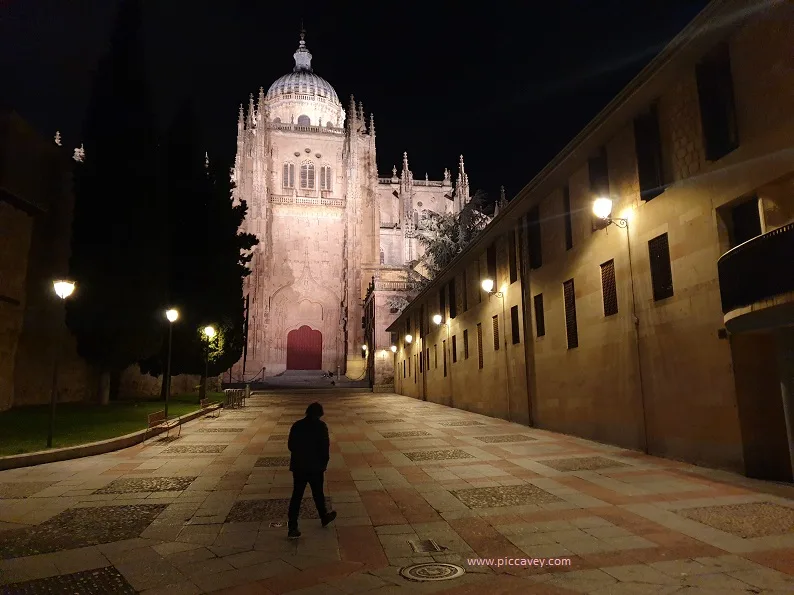 What to See in Salamanca
Salamanca is a good destination for a weekend break. Not only does it have wonderful monuments to visit, the gastronomy is pretty impressive too. The old town of Salamanca was listed as a UNESCO World Heritage Site in 1988. It is referred to as the Golden City as the colour of the local stonework is a yellow tone. Known as Piedra Franca of Villamayor. The city is ideal for a long weekend as you can walk to all the important sights. Temperatures here are cold in winter and hot in summer so I´d advise an Autumn or Spring visit if possible.
Plaza Mayor Salamanca
Probably the most well known feature of Salamanca is it´s Plaza Mayor. Rivalling Valladolid and Madrid´s main squares, although it´s not the largest in Spain, in my opinion it´s certainly the most spectacular. Built in the mid 1700´s it´s surface area is 6,400 m² and its the commercial and historic hub of the city. Its very photogenic, in the day and even at nightime. A city break in Salamanca is perfect to Create a memorable photo book after your visit.
The thing that differentiates this square from other Spanish porticoed squares are the stone medallions. There are 23 of these medallions that are empty. The others have notable figures from Spanish history such Spanish kings and nobleman and even the Duke of Wellington .
Here is the full list below: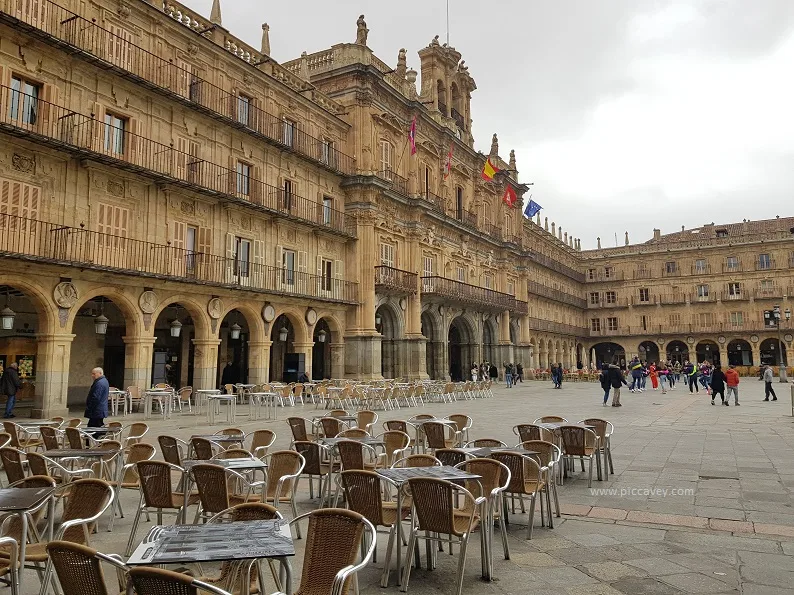 List of Medallions at Plaza Mayor de Salamanca
Alberto de Churriguera – Baroque Architect (Plaza Mayor + Salamanca Cathedral)
Alfonso XI – King of Castile, León and Galicia
Alonso de Aguilar – Bandit & Pirate
Alonso de Aragon – Archbishop of Zaragoza + Valencia + Lieutenant General of Aragon
Antonio de Leyva – Duke of Terranova & Prince of Ascoli
Alonso de Guzmán – 7th Duke of Medina Sidonia
Antonio de Nebrija – Influential Spanish humanist
Bernardo del Carpio – Legendary Figure
Rey Charles II
King Charles III
Rey Charles V
Christopher Colombus – Explorer
Diego López de Haro – Spanish Nobleman
Duke of Wellington – Arthur Wellesley
El Cid – Rodrigo Díaz de Vivar – Spanish Knight
Pelayo García Correa – Military
Rey Henry II
King Henry III
Rey Henry IV
Francisco de Vitoria – Roman Catholic Theologian
King Phillip II
Rey Phillip III
King Phillip IV
Rey Phillip V
Fernán González – 1st Count of Castile
King Fernando III
King Fernando VI
Francisco Vázquez Coronado – Spanish conquistador
Fernando Álvarez de Toledo – Grand Duke of Alba
Francisco Franco – Removed in 2017 to comply with the Historical Memory Law
Fray Luis de León – Spanish Poet & Augustinian friar
Francisco Pizarro – Spanish conquistador
García Fernández – Count of Castile + Alava
Gonzalo Fernández de Córdoba – Spanish General + Statesman
Isabel de Farnesio – Queen consort of Spain
Hernán Cortes – Spanish Conquistador
Joanna of Castile – Queen of Castile + Aragon
Rey Juan I
King Juan II
Rey Juan Carlos I
Queen Sofia consort of Spain
Juan Maldonado y Ordóñez de Villaquirán – Spanish Conquistador
J Pacheco – 1st Duke of Escalona
Julián Sánchez "El Charro" – Military Leader
King Luis I
Manuel de Godoy – Prince of the Peace
Miguel de Cervantes Saavedra – Spanish Writer

Miguel de Unamuno – Spanish Writer + Rector of Salamanca University

King Peter of Castile – Known as Peter the Cruel
Catholic Monarchs – Queen Isabella I of Castile + King Ferdinand II
R Caballero y Llanes – Spanish politician
Rodrigo Dávalos – Spanish Nobleman
R Ponce de León – Duke of Cadiz + Military Leader
Rodrigo Telléz Girón – Spanish Nobleman
San Juan de Sahagún – Spanish Augustinian friar
Sancho Dávila – Spanish politician.
Santa Teresa de Ávila – Spanish Noblewoman
Tomás Bretón – Spanish Composer
In the words of Miguel de Unamuno (Spanish Novelist + Philosopher)
It´s cuadrilateral, Irregular but surprisingly harmonius
On the square you´ll find the Tourist Information office in one corner of the square. There are lots of cafés and bars in the porticoes of the square. If you want to enjoy Tapas or a glass of wine on the Square head to Las Tapas de Gonzalo. They have over 30 tapas to choose from everyday.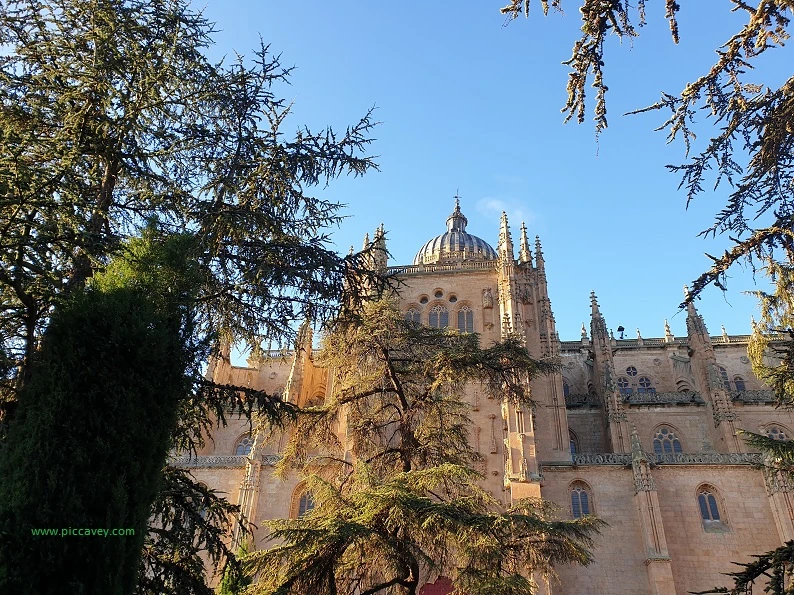 Salamanca Cathedral
Salamanca Cathedral is one of Six Spanish Cities that has two Cathedrals. The Old Cathedral and the New. Rather than two totally separate building the old building and the new are attached and moulded into one. It was thought that the old cathedral was too dark and had low ceilings. They wanted to improve it and expand it. The main architectural style is Gothic but with newer Baroque additions like the bell tower.
The New Cathedral is much larger and grander that the original one would have been. It is visible from most vantage points around the city.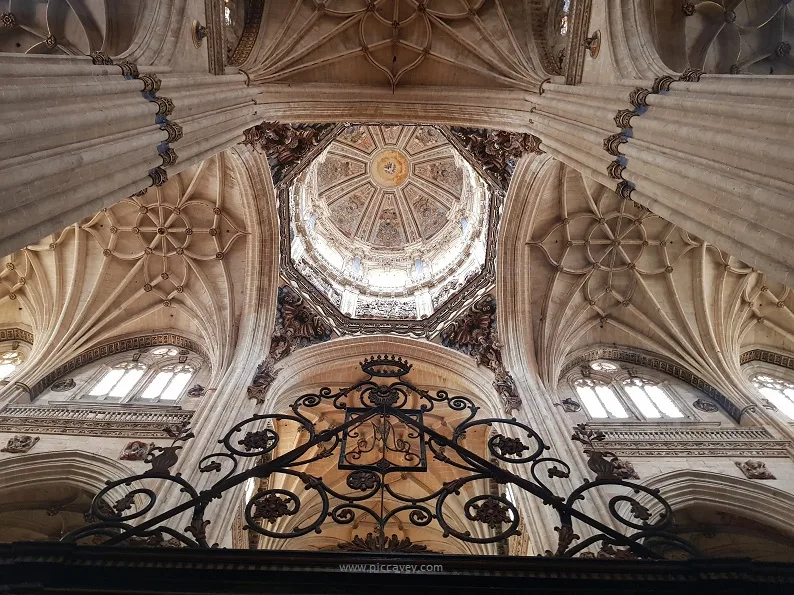 Inside Salamanca Cathedral
You can visit the New Cathedral inside, just pay the ticket at the main entrance. But please note that there is a separate guided tour to go up the towers of the Old Cathedral. This starts at the entrance on Plaza Juan XXIII . Really I think it is worth taking the time to visit all of it. The views from the top are impressive over the city. You can even visit at night time too.
But the Cathedral interior is no less impressive. Just look at this Choir stand built in 1730s (below) All that intricately carved wood.
Ieronimus
If you go up to visit the Old Cathedral towers. I´d recommend wrapping up warm, when I visited it was cold and windy. 30 metres from the floor, its not recommendable for those who suffer with vertigo or fear of heights. Wear comfortable shoes to climb the stairs up the towers.
Saying there are plenty of stops along the way as you move upwards. The views of the old cathedral towers and of the city below make the visit well worth it. It takes around two hours for the visit which is done as a guided tour.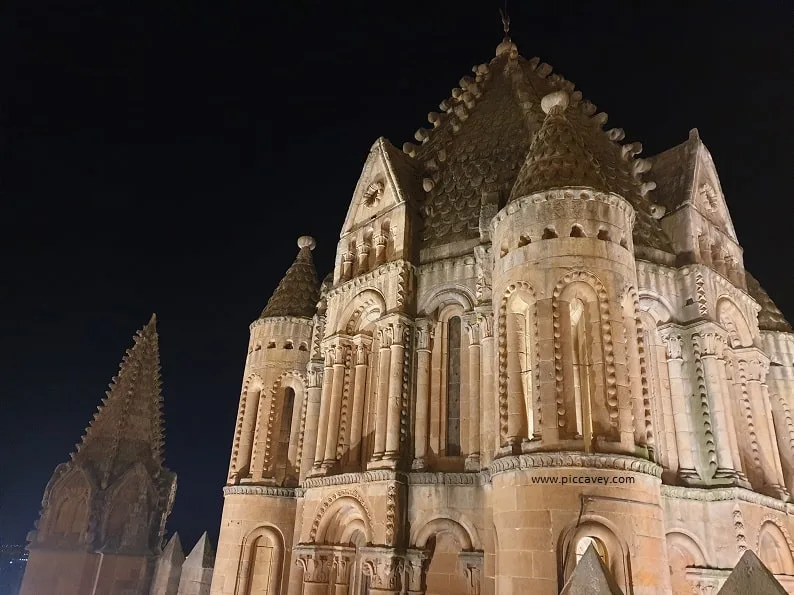 The Astronaut
Most people who visit Salamanca will tell you about the Frog on the University façade and the Astronaut on the entrance of the Cathedral. Although these anecdotes are interesting there are so many other sights to see in Salamanca.
I´ll come to the University frog in a minute, but first lets look at the astronaut. In the 1990´s this main door was deteriorated and needed restauration. The lower part of these stone sculptures were quite damaged and were restored. As normal in these kinds of historical restorations, they leave clues so it is clear that the work is new and not the original.
If you look carefully at the photo below you can find a Stork, a bull and an Iberian lynx. These are all modern additions but done in the same style. From a distance you can´t tell that it´s new. The astronaut (his boots are on this photo, top left) was added as in reference to the 1993 exhibition. Called the Age of Man which covered Space exploration. Its a nod to the time of the restoration.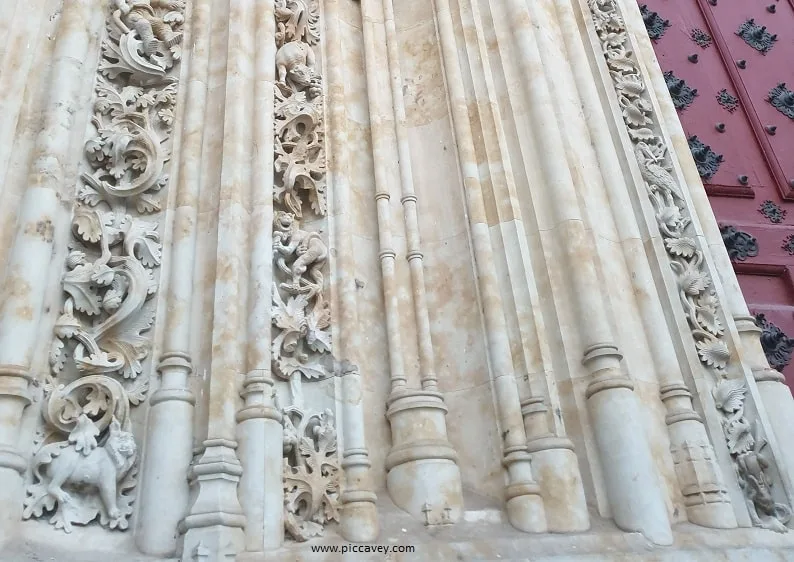 Salamanca University
For me one of the things I most wanted to visit in Salamanca was the University. It´s one of the oldest existing universities in continuous operation in the world. Actually in 3rd place after Bologna oldest and Oxford 2nd oldest. The oldest university in Spain and in the Hispanic world it was founded back in 1218.
It´s impressive library unsurprisingly is the oldest university library in Spain. With a grand wooden interior it is closed to visitors but you can see the inside from a viewpoint at the entrance.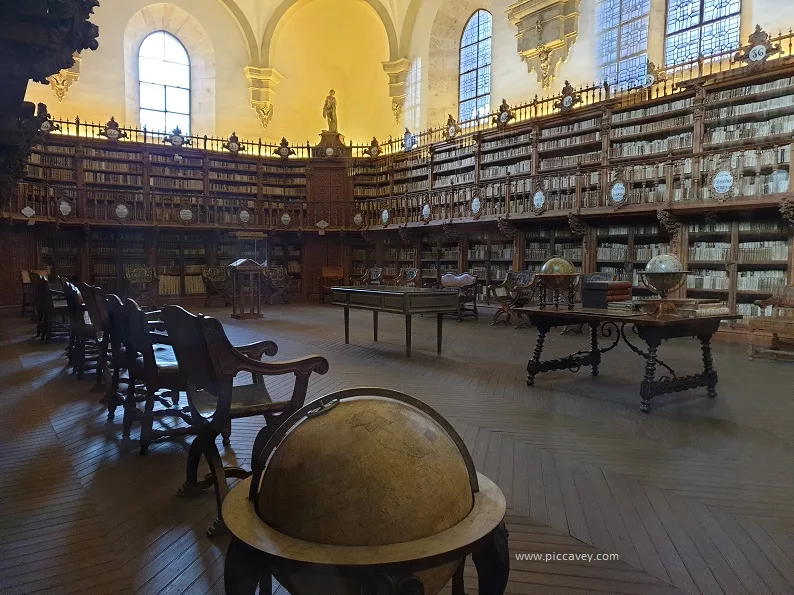 The Frog
The entrance of Salamanca University has such a detailed façade. Done in Plateresque style it imitates the detailed filigree work of a silversmith. It´s though to be one of the best examples of this style. Popular in 15th and 16th centuries the are several examples of this style in Salamanca.
The detailed designs and carvings on the façade are arranged in three sections. Clearly visible in the central medallion are the Catholic Kings Isabel and Ferdinand. Yet the figure most people are looking to see is the frog. Really the figure is a toad rather than a frog. It was added as a warning to students entering into the university. To avoid sinful activities and lust. See the toad on top of a skull on the right column, a third of the way up the photo. Local legend says that if you spot it you will do well in your studies.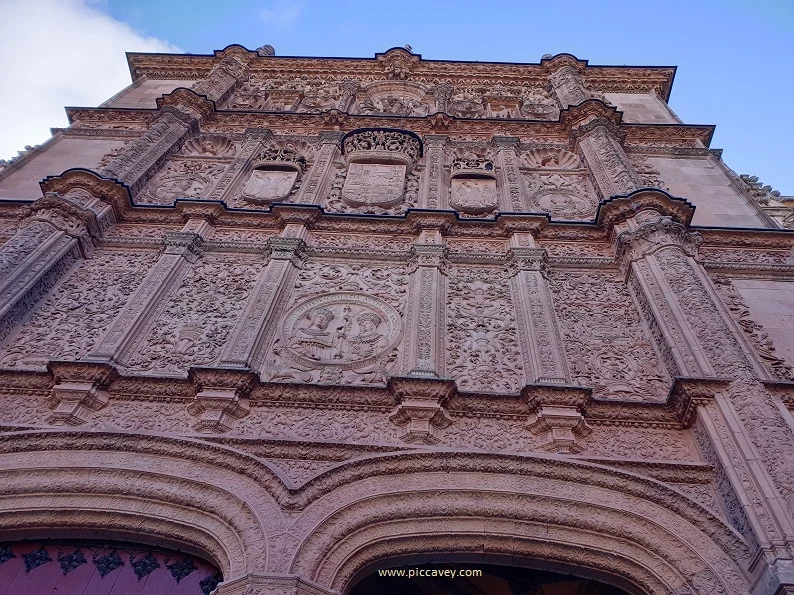 Spanish Language learning
Due to the prestigious University in Salamanca the city has become an important centre for Spanish courses. Every year over 5000 foreign students are lucky enough to study in this charming city. Can you imagine having Salamanca University as your faculty. Incredible. The student coffee place is directly opposite the Cathedral. It used to be an old stable building for horses.
As well as official University courses there are also many immersion programmes for visitors. Perfect for those wanting to learn Spanish in intensive courses for weeks or months. In fact it is the cheapest university in Spain for International students. With reasonable enrollment and accommodation fees.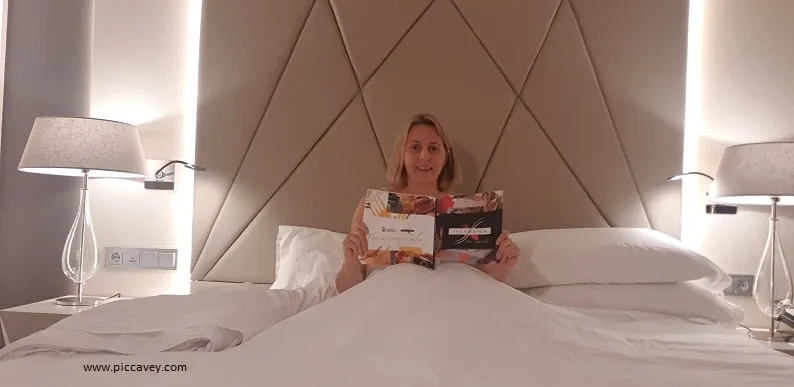 NH Palacio de Castellanos
For the two nights I stayed in Salamanca, I was at the NH Collection Palacio de Castellanos. The location was ideal, just 300 metres walk from Salamanca Cathedral and close to restaurants and the main historic centre.
My room had a small balcony with views across to the San Esteban Convent and the square in front of it. I do travel a lot and have seen lots of hotel rooms in the past 10 years particularly. It´s a difficult balance between practically, feeling comfortable and not having too much clutter in rooms. This hotel room was so homely and welcoming.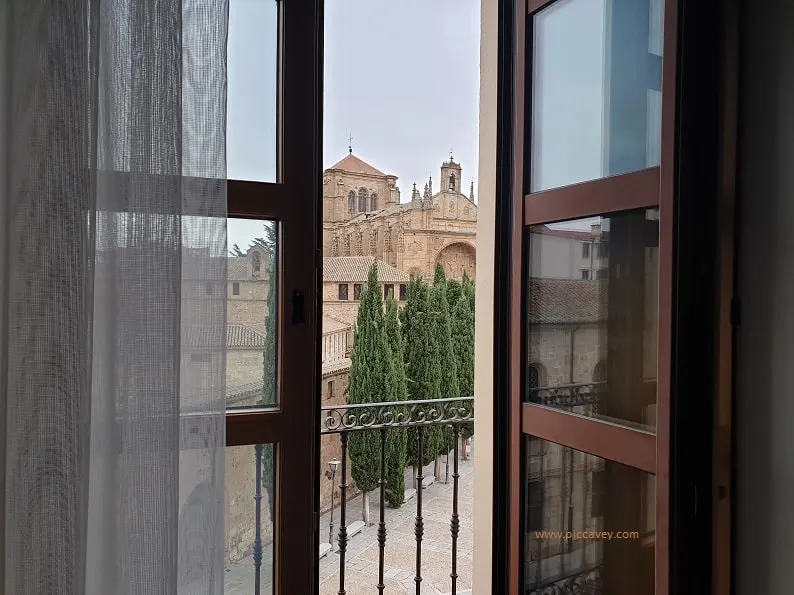 Staying in Salamanca
Breakfast was varied with plenty of fresh fruit, pastries and warm dishes such as eggs and bacon. All by request (due to COVID rules) but certainly not limited at all. The only difference really is that you have to tell the staff what time you would like breakfast. They control the amount of guests in the dining room at any time. Staff were really friendly and I couldn´t find any fault with this hotel.
Perhaps the only thing to consider would be to plan your parking ahead of travel if you want to go by car. As with any historic town parking spaces are small and limited. So you are best to plan ahead.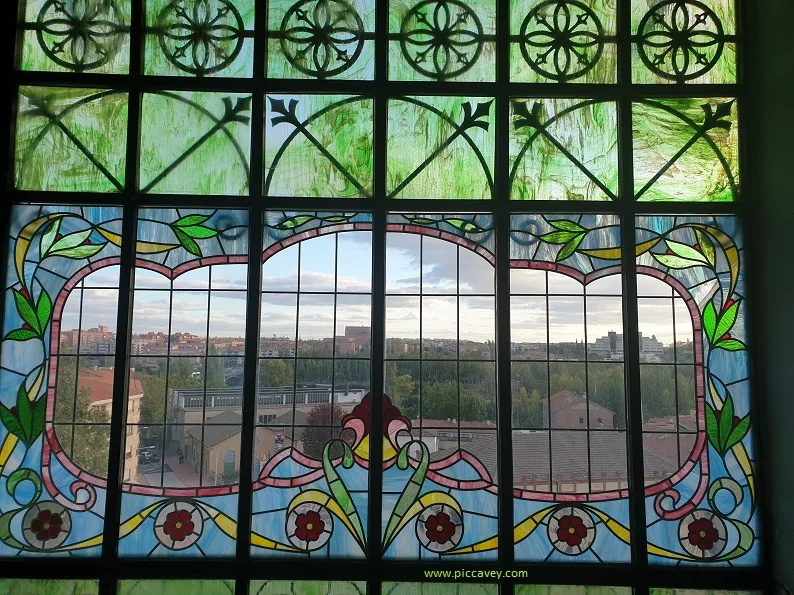 Casa Lis – Art Deco Museum
The Museo Art Nouveau Art Decó is a stunning building itself. With beautiful stained glass windows throughout. Inside the exhibits are wide ranging from jewellery collections, antique dolls and toys and glassware. In fact the doll and toy collection is one of the most complete I think I have ever seen. The entire collection inside the Musem has 2500 pieces.
If you are interested in Art Deco, antiques or dolls expect to spend two hours inside the museum. This collection is a fusion of two important Salamanca locals. The private collection of exhibits belonged to a local Antiquarian called Andrade. Whereas the building belonged to another family called De Lis.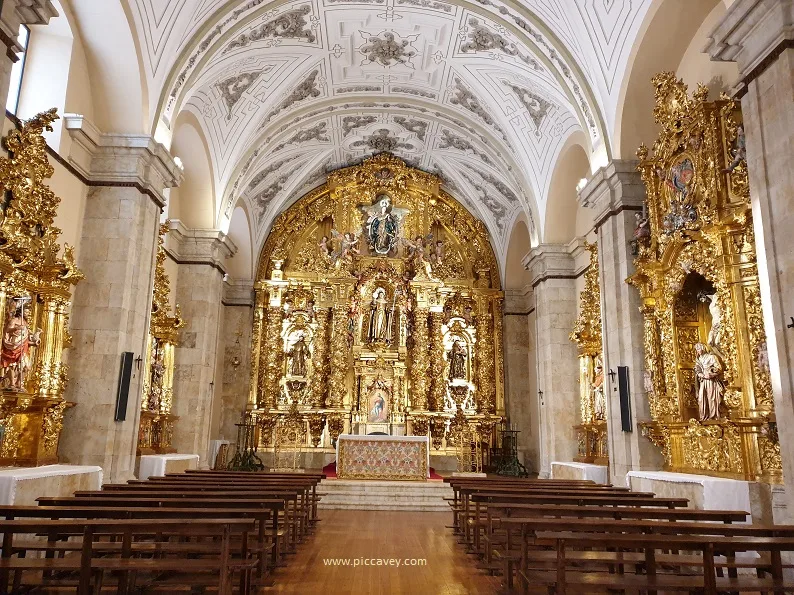 City of Convents
Salamanca has lots of convents. Many still working today. Not only is this a good excuse to see some stunning baroque architecture and tranquil cloisters. It is also the perfect place to stock up on the convent biscuits and cakes. Many of these sweets are made with few ingredients like eggs, sugar and almonds to ancient traditional recipes. Still made by the nuns today you can find them across Spain. I buy them in Granada especially at Easter and Christmastime.
Each convent will have their own speciality and they tend to change according to the seasons. I didn´t manage to visit all the convents in Salamanca while I was there. But I did try : )
Convento de San Esteban
This building was the one I could see from my hotel balcony. This Dominican church and convent was the place where Christopher Colombus came. He was here to ask for support before agreeing with the Catholic Kings to set sail. The building is from 1524 although the Dominicans were at this century 3 centuries before then.
The façade is in Plateresque style and dominates the square. Also notable is the carved stone staircase inside built in 1553.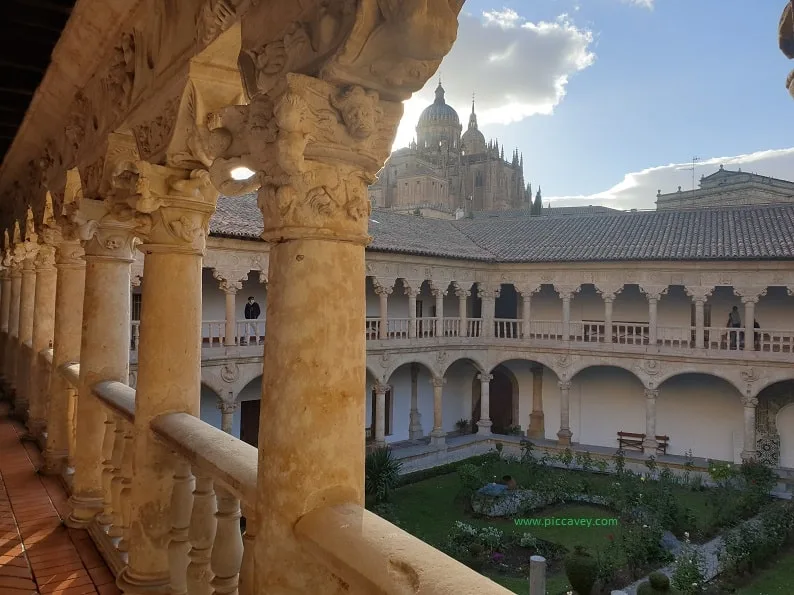 Convento de las Dueñas – Founded in 1419 inside there is a cloister garden that has a special tranquillity to it. When you sit here its hard to believe that you are right in the heart of the city.
Convento de Santa Clara – This has been here since the 12th century although the current building is a little later. Here I bought two kinds of biscuits made with almonds and sweet pumpkin filling. They were absolutely delicious and I regretted not buying more.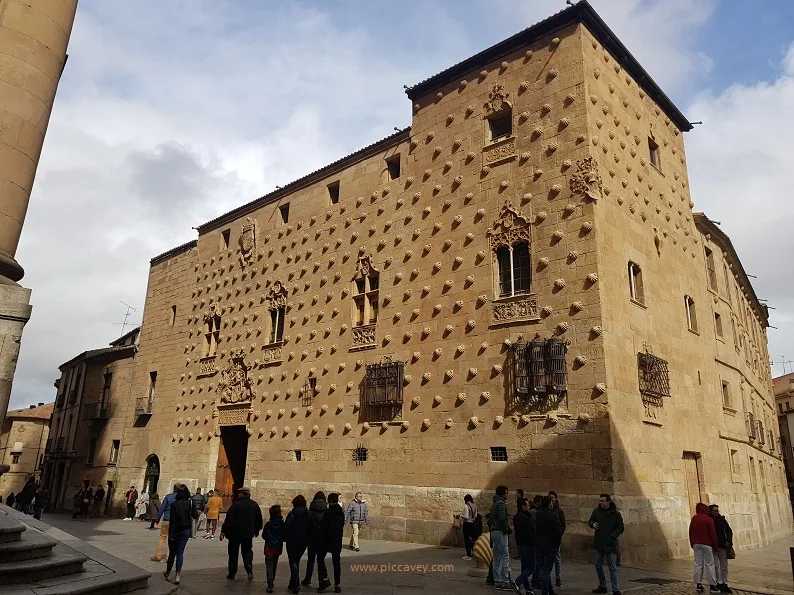 Casa de las Conchas
The house of the shells is a public library right in the centre of Salamanca. Built in 1517 its façade is covered with over 300 shells. The owner of the property back in the 16th century was knight of the order of Santiago de Compostela So that symbol of the shell was chosen for his home.
If you go inside, the view from the inner courtyard is stunning. See the Clerecy Towers framed in the buildings outline.
Towers of the Clerecía
Directly opposite the Casa de las Conchas is Scala Coeli. The Clerecía Building was built as the Royal College of the Company of Jesus. Somewhere between a church and a religious college.
You can go right up to the top of the towers and get a great view across the city. The building now belongs to Salamanca University but is open for public visits.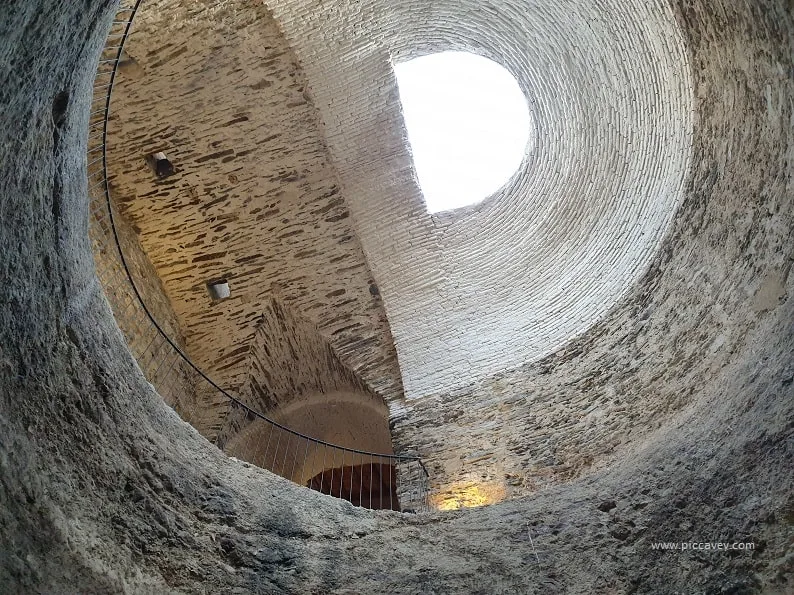 Pozo de Nieve
The last visit I made on my Salamanca weekend was to the Pozo de Nieve. Literally translated as the Snow Well, it is a curious construction from the 18th century where Ice would be stored before we had fridges or freezers. Part of the convent of San Andres, the locals would stock up on snow and ice from the nearby Sierra de Béjar mountains during winter months.
This meant that from late spring and throughout the summer they could cool food and drinks down with their ice supplies.
Other sights that maybe of interest in Salamanca are the Cueva de Salamanca which was closed when I visited early October. Also the view from the Roman bridge on the other side of the Tormes river is pretty special, although I didnt get chance to go.
Travel Resources to Plan Your Visit
Here are a few resources to help you plan your Salamanca City Break:

Disclaimer: Please note that I have visited Salamanca on a promotional trip and I have experienced all the activities I wrote about in this post complimentary. However, all the opinions in this article are my own and I would not recommend anything that I wouldn't have enjoyed myself doing or think it was a great place to visit.
This post contains affiliate links, which means that if you click through and make a purchase, I will receive a small commission. All thoughts, feelings and opinions shared on this blog and in this post are my own.