At this time of your in the UK, USA or other European countries Christmas light switch on is a big event. Often celebrated with a local celebrity to push the button. In Spain and Western Europe the Nativity Scene is the main feature in homes and shop windows.
Christmas trees are used but not the main tradition.
Here´s a look at the Nativity in Spain and across the Mediterranean, delving into the origins behind these Christmas scenes.
Nativity in Spain

The Origin of Nativity
Bethlehem is home to everything related to Nativity. As the oldest place of worship in Christianity, the Church of the Nativity is the natural beginning of the Christmas story.
This church was first built in 325 and is traditionally understood to be the birthplace of Jesus. This site has been a UNESCO World Heritage Site since 2012.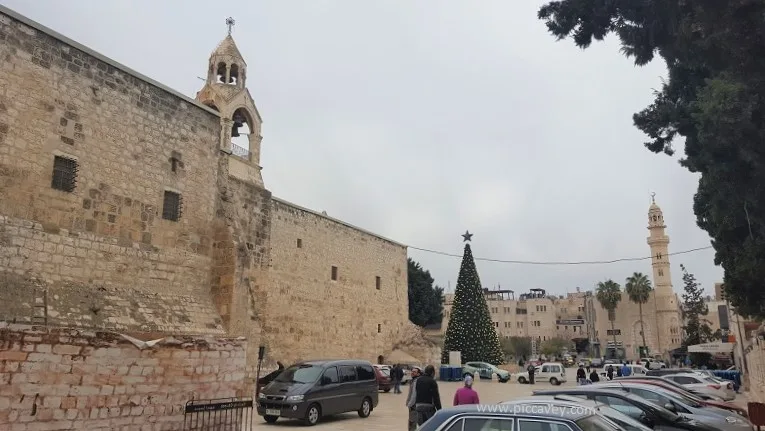 Church of the Nativity
I visited the Church of the Nativity Bethlehem in December 2016. As you can see in the photo below I am at the 14 pointed silver star. The exact place marked as the birthplace of Jesus. Inscribed in Latin, it reads: Here Jesus Christ was born to the Virgin Mary
This area of the church is called the Grotto of Nativity, an underground space is accessed by steps from the churches altar.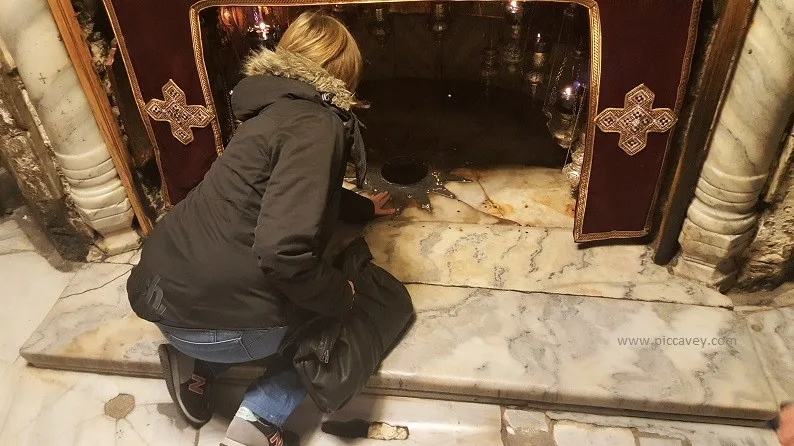 Tradition of Nativity Scenes
The first Nativity Scenes to be recognised are from 1223 in Central Italy. Just North East of Rome in the hilltop town of Greccio , Saint Francis of Assisi chose this location to re enact the nativity story. After visiting the Holy Land in 1221, he wanted to bring Bethlehem to share with others who couldn´t make the long pilgrimage.
Even today each Christmas, the town of Greccio re enacts the Christmas story with a live Nativity scene.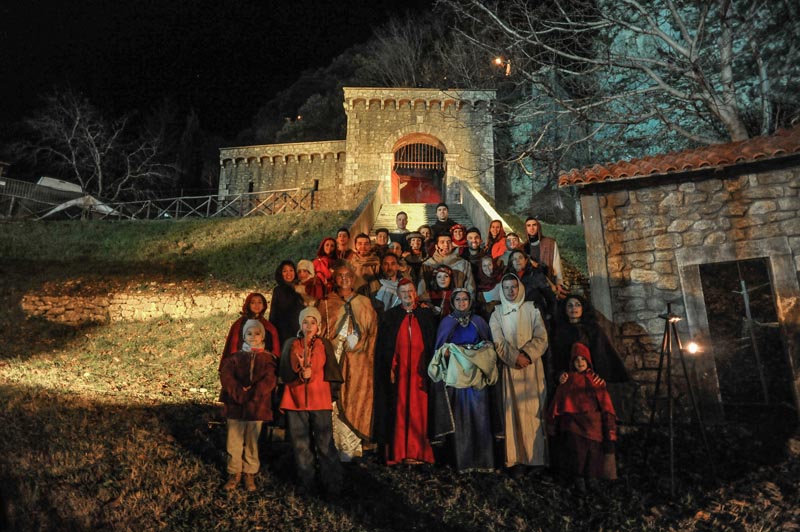 Oldest Nativity in Italy
This tradition spread across Italy over the 13th century but later was replaced by static nativity scenes around the 14th century. The oldest Nativity in Italy is located in Florence inside the beautiful Cattedrale di Santa Maria del Fiore. Dating back to the end of the 13th century
However the oldest Nativity figures were sculpted by Arnolfo di Cambio in 1291. Now they are in Rome at the Basilica of Santa Maria Maggiore, inside the basilica's museum.
I visited Florence last year but didn´t manage to spot this Nativity scene, perhaps they only have it on display over the festive season. If you do visit make sure you book tickets online for Florence Cathedral as queues for the visit and the bell tower can be a little overwhelming.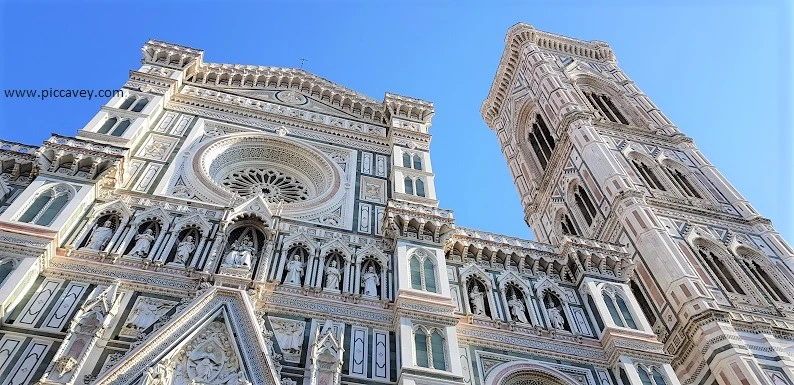 The World´s Oldest Nativity Scene
In Germany nativity traditions are also important in local culture. Usually German nativity scenes are made from wood. The oldest nativity scene is located in a Bavarian monastery in the village of Flussen. It´s manger is from the mid 13th century. Also in Germany, Cologne has a traditional Nativity Scene Tour every December.
You may also enjoy this article with ideas of Places to Spend Christmas in Europe
Nativity in Spain
Although the first static nativity scenes are from the 13th century. It wasn´t until much later that nativity scenes where made with loose individual figures. Like the ones we recognise today.
This kind were introduced to Spain from Italy in 1759 by Queen Maria Amalia of Saxony Married to King Charles of Spain, she moved from Italy to the Royal Palace in Madrid. María Amalia had a Nativity in Spain compromised of 7,000 pieces. Shipped over from Naples, this was the first ´Belen´ in the country and it created the tradition in Spain.
Did you know the Spanish word for Bethelehem is Belen? Which is also their name for a Nativity Scene.
Other important traditions across Spain are Christmas Markets. At these festive stalls you can purchase new figures for your Nativity scene each year. In Barcelona Fira de Nadal outside the Cathedral is the most well known one.
Yet there is also another Christmas market outside Sagrada Familia which is equally atmospheric although less crowded.
Nativity Scene Museum
The Museo de Belenes is an entire building focused on Nativity in Spain. In the town of Mollina, Malaga province. This large modern museum is open all year round but gets particularly busy in December and January.
To get there, drive along the A-92 to Mollina. Take exit 138. This is located between Estepa and Antequera. The Museum is visible from the motorway and very easy to get to from there. Follow the signposts after the motorway exit.

Museo de Belenes
The museum is open every day. You will need at least an hour to see the exhibitions inside. Maybe a little longer.
Monday to Friday 10am to 2.00pm. Then 4.00pm to 7.30pm
Saturday, Sundays and Bank Holidays 10am to 7.30pm
Address: Polígono Casería del Rey, Autovía A-92, Salida nº 138, 29532 Mollina, Málaga
More information: Museo de Belenes Mollina
Ruta de Belenes in Granada
Every year in Granada there are many different Nativity Scenes to visit. This year there are 24 on the official route, yet around the city there are many more to see. There is actually an official competition run by the local town hall. With a first prize of 5000 euros for the best scene. This tradition in Spanish Ruta de Belenes.
Here´s a list of the ones you can see this year.
2022 Belenes in Granada
Cofradía Padre Jesús Despojado Calle San Matias, 11 From noon til 2pm and 6pm to 9pm
Church Nuestra Señora de los Dolores, Calle Fernando de los Ríos from 10am to 12.30 and 5pm to 7pm
Nuestra Señora de la Paz, Carril de San Cecilio (Albayzín) from 11am to 1.30pm and 5pm to 7pm
Federación de la Asociación de Casetas Calle Reyes Católicos (next to Cortefiel) open from 11.30am to 1.30pm and 5pm to 9pmç
San Miguel Arcangel Calle Primavera, 27 (Zaidin) from 10am to 1pm and 6pm to 8.30pm
MADOC Plaza San Juan de la Cruz/San Matias from 10.30am to 2pm and 4.30pm to 8pm
El Desván Magico Plaza de las Infantas (next to Colegio Caja Granada) from 9am to 9pm
Calzados Panuchi Carril del Picón 4 Shop window display
Hermandad del Santo Via Crucis Calle San Juan de los Reyes, 81. only Saturdays and Sundays from 12 to 2pm
Cofradía Jesús del Perdón + María Santísima de la Aurora, Plaza de San Miguel Bajo. (Albayzín) Sundays from 11am to 2pm
Hermandad de Nuestro Padre Jesús Nazareno + María Santísima de la Merced Plaza San Juan de la Cruz, San Matias from 11.30am to 1.30pm and 5.30pm to 8pm Saturdays and Sundays. Monday to Friday 11.30am to 1.30pm.
San Bernando Monastery. Carrera del Carro, 45 Tuesday to Friday Noon to 2pm. Saturdays Sundays Noon to 2pm and 5pm to 7pm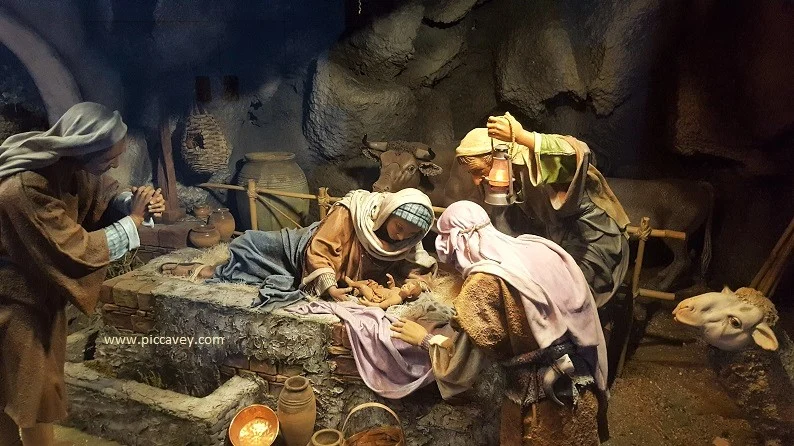 Spanish Nativity Traditions
Sometimes alongside the Nativity Scene traditional sweets are on sale, made in the local Convents. For many it´s a main source of income for the year.
In Granada some of the most well-known ones are:
Casa de los Pisa close to Plaza Nueva at C/Convalencía Open from 10am to 2pm & 5pm-8pm daily (closed 24th, 31st Dec & 5th Jan) (Also known as Archivo Museo de San Juan de Dios)
Convent of the Carmelitas Descalzas at Plaza San Juan de la Cruz (just off Pavaneras) are open from 11am to 1.30pm then from 5pm to 8pm. (Closed 24th, 25th, 31st December and 1, 5th and 6th of January 2023)
Iglesia Santos Justo y Pastor have a Playmobile style nativity scene. (photo at top of article) They open at 12 noon til 2pm and then 5pm to 9pm. Until 6th January.
Sale of Christmas Bakes at the Nativity Scene seen below on Calle San Anton 38. Cristo de Santo Agustin. 6pm to 8.30pm daily. (24th and 31st December morning timetable only. (11am to 1.30pm)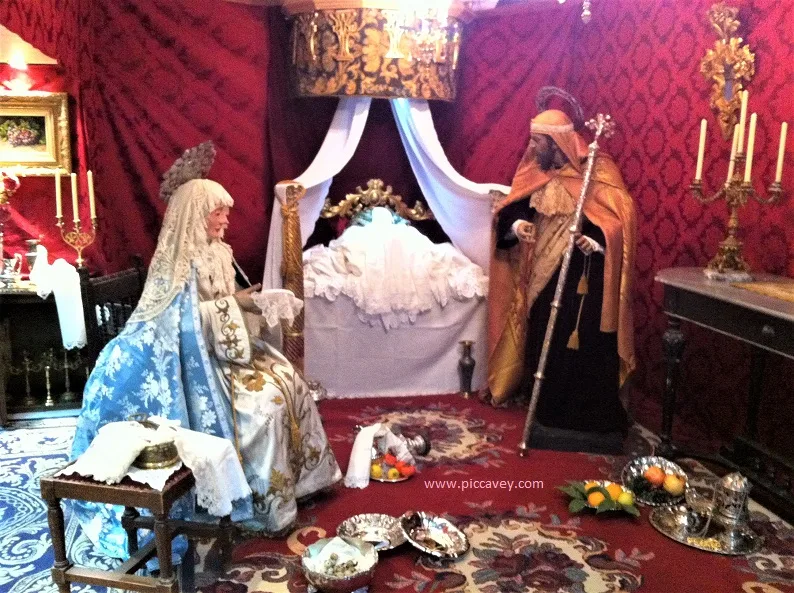 Nativity Scenes in Andalusia
Granada province
Huetor Tajar The nativity scene at the large square is on Plaza Gregorio Pelaez is open from 11am to 2pm and 4pm-8pm. Until 8th January 2023. This large representation includes different towns and villages from around Granada province within the nativity scene. Each year they add four or five new locations.
Alhama de Granada Over the past 14 years the 400 square metre nativity scene in Alhama de Granada has been a local tradition. With over 2500 figures, you can see it in the Convento de San Diego on Calle Cruz 3. It´s open from 5pm to 8pm everyday until 15th January 2023.
Trevelez usually set up a Nativity scene each year themed on local Alpujarra traditions. It is at Calle Carcel next to the Hermitage of San Antonio. It´s open from 11am-10pm everyday.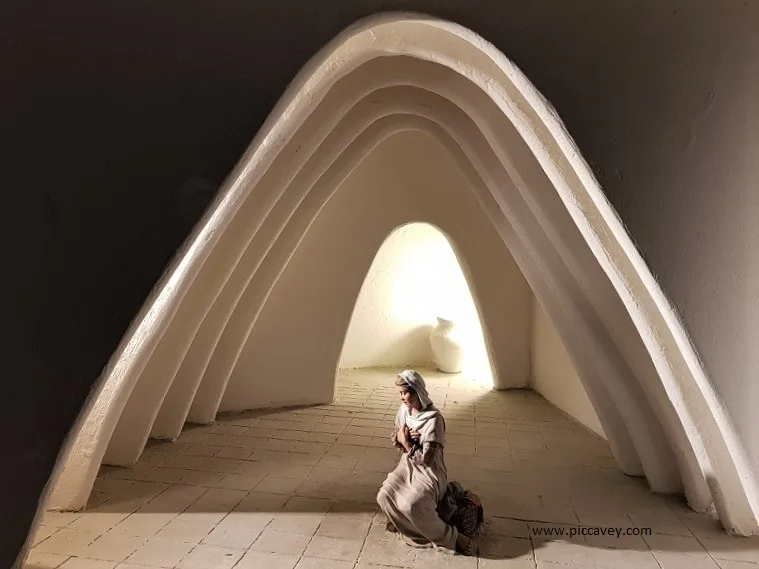 Other places to see Nativity in Spain
Almeria On the main street, the Rambla they set up 70 stalls for the city´s Christmas market. It´s open 10am until 11pm. The Official Nativity scene is on Plaza Vieja until 6th January.
Malaga Find out more about the Annual Ruta Belenes in Malaga from the Tourist Office. This year over 80 scenes have been set up in Malaga.
Cordoba – More details on this website Belenes in Cordoba
Seville have an online guide to the Nativity scenes this year Guía de Belenes de Sevilla