When you think of Granada you may not immediately think about Skiing or Snowboarding. In Sierra Nevada Spain, the highest point on the Iberian Peninsula, the ski resort is a great option to enjoy winter sports, close to the city of Granada.
Sierra Nevada Ski Resort is a short drive from the Alhambra Palace, 38 kms (23 miles) so it makes an attractive option for a city break combining culture, gastronomy and Snow! The resort was established in 1964 and each year improves its facilities with something new.
How to get to Sierra Nevada ski resort?
From Granada Airport GRX to the Sierra Nevada ski resort it´s about a 45 minute drive. Currently Flights into Granada airport connect London, Madrid and Barcelona.
You can also fly into Malaga airport. AGP On arrival, take a bus (Alsa.com) to Granada or to Sierra Nevada. Alternatively, you can rent a car to drive to Granada to drive the 150 km route. (This should take around 90 minutes)
Please note that snow chains or (snow tyres) maybe required on the A-395 if heavy snowfall affects the road to access the resort. Sierra Nevada Spain has an official website with more detailed information. Cetursa.es For traffic information you can also check the DGT website (in Spanish) which is the national traffic organization in Spain.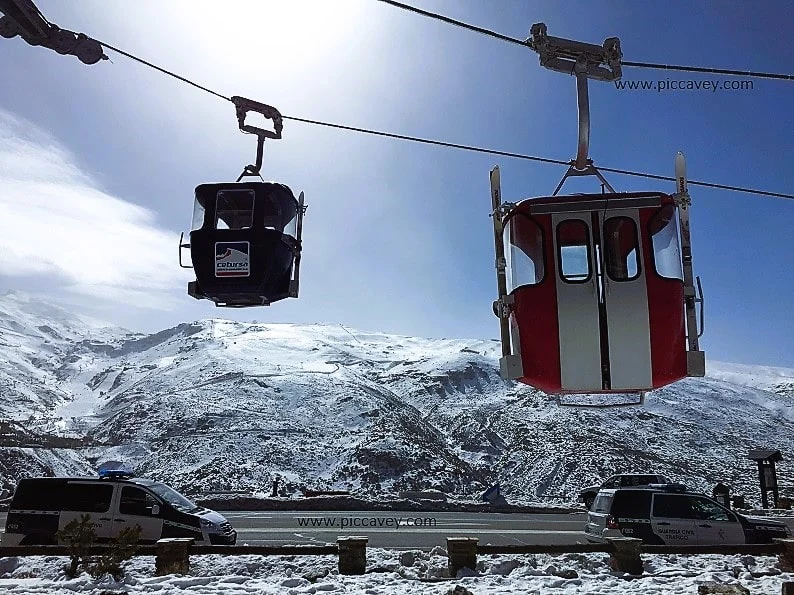 Bus to Sierra Nevada Spain
From Granada bus station, there are buses that go up to the ski resort daily. Tickets cost 5 euros one way and 9 euros for a return ticket. You can book online at Alsa.com.
The bus timetable going up to the resort is
Monday to Friday 8am 10am and 5pm
Saturday 8am 10am 3pm and 5pm
Sunday or Holidays 8am 10am 3pm and 5pm
The timetable from the Sierra Nevada back to Granada is below. To get the bus back the stop is opposite the large underground car park in the centre of the resort.
Monday to Friday: 9am 4pm and 6pm
Saturday: 9am 1pm 4pm and 6pm
Sunday or Holidays: 9am 1pm 4pm and 6pm
Bus from Malaga to Sierra Nevada
From Malaga, bus station buses run to Sierra Nevada once per day. This service is run by Alsa Tickets cost 16 euros one way and 32 euros for a return ticket.
The bus leaves Malaga at 7am daily to the resort.
From the Ski resort back to Malaga the bus leaves Monday to Sundays at 4pm & 6.30pm
Check updated times at Malaga Bus Station or at Alsa.com
110 kms of Slopes
Not only does the resort have piste for skiing, there are also good facilities for snowboarding too. With 110 kilometres of slopes, they are set up for different levels of skiers.
An Adult day pass costs around 48 euros per person in December 2022 (price varies slightly according to date). If you pre book or have a pass for more than 2 days there are offers available.
131 slopes in total
19 green slopes. Beginners.
41 Blue Runs. Easy.
50 Red Runs. Difficult.
7 black runs – Advanced.
21 ski lifts
You can rent equipment at the ski station or book ahead online. There are also lockers to rent if you want to leave your own equipment there overnight.
Ski and Snowboard Lessons in Granada
There are lots of ski monitors who can help you to learn to ski or brush up if you haven´t skied in a while. Choose to take private ski lessons or as part of a group.
Activities for Non Skiers
If you just want to visit the mountains without skiing, there are options such as this Sierra Nevada Daytrip with Guided Tour from Granada. At the resort there are also activities for Non Skiers. For example there is a fun park called Mirlo Blanco which has sledges, slides and is great for children (over 6 years old).
You can also get a pass to for the cable car to see the activity on the slopes without actually skiing.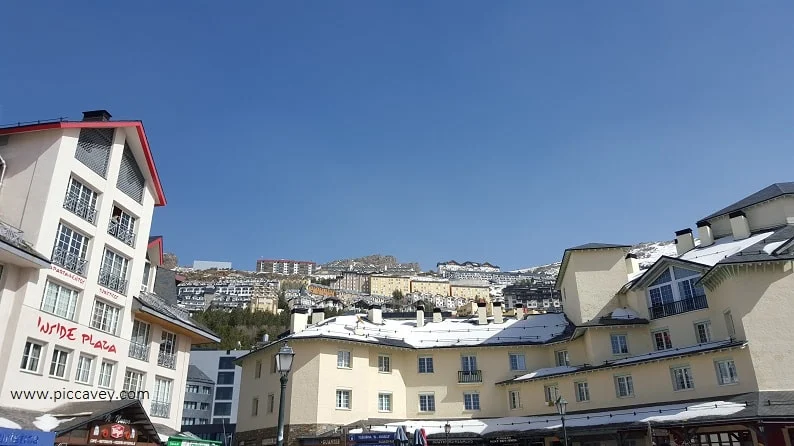 Where to Stay – Sierra Nevada Spain
In the resort there are quite a few hotels to choose from. Staying in the resort is for those who are keen skiers as you will optimise you time. The ski station can get busy on weekends and over the Christmas holidays (from 20th December until 10th January). Parking is not easy to find on busy days if you arrive mid morning.
7 surprising facts about Sierra Nevada
Here are some other interesting details about this ski resort.
The Mulhacen peak is 3478 metres high (That´s about 11,410 ft.) and is the highest point of continental Spain.
There are 80 animal species and 66 plant species native to the Sierra Nevada National Park.
Sierra Nevada has been part of ¨La Vuelta a España¨ many times with the final stage of the race ending here.
At 1200 metres it has the largest difference in gradient in any resort in Spain.
You can enjoy Nightskiing at Pradollano Ski Resort. (Thursday, Friday and Saturday)
The Super parque Sulayr has a 165 metre Half Pipe for freestylers and snowboarders.
It is the most Southern ski resort in Europe. Enjoy lots of sunshine while you ski in Spain!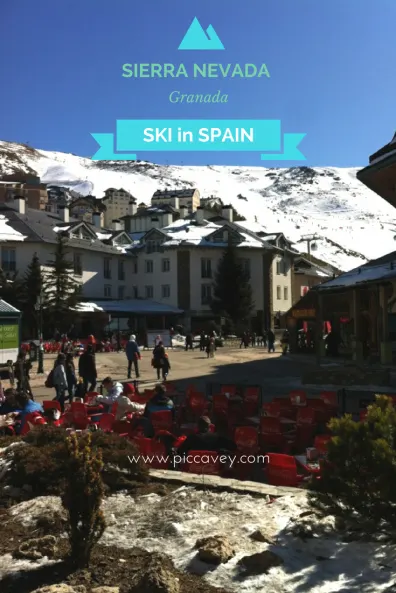 As well as interesting facts about Sierra Nevada Spain. There are also some legends about the mountains. Here´s one of them:
The Legend of the Devils Broom
Once upon a time, there was a remote castle in the Alpujarra. A wealthy man lived there with his daughter whom he guarded as if she was a precious treasure. Upon reaching her 20th birthday, she was promised in marriage to a man in the village. He had equal riches and power as her own father. However, he was rough and cruel. He didn't know that she was already in love with a local shepherd. When the shepherd heard of her father's agreement, he decided to run away with her. Even though he feared the cruel man may kill them.
As night fell, the shepherd set out to meet up with his lover. Along the way to her house, a man who said he was the devil offered his help. Giving him a magic broom. He said that this broom would brush away the snow magically. He took the broom and they both fled to the Sierra Nevada Mountains up to the Pico Alcazaba. The magic broom brushed away the snow aiding their path to their hiding place. But when they had almost reached the top, the movement of the broom caused movement in the deep snow. This created a powerful avalanche and they were buried amongst the deep snow.
The broom remained there up near the top of the Pico Alcazaba. Some say that it continues to cause avalanches even today.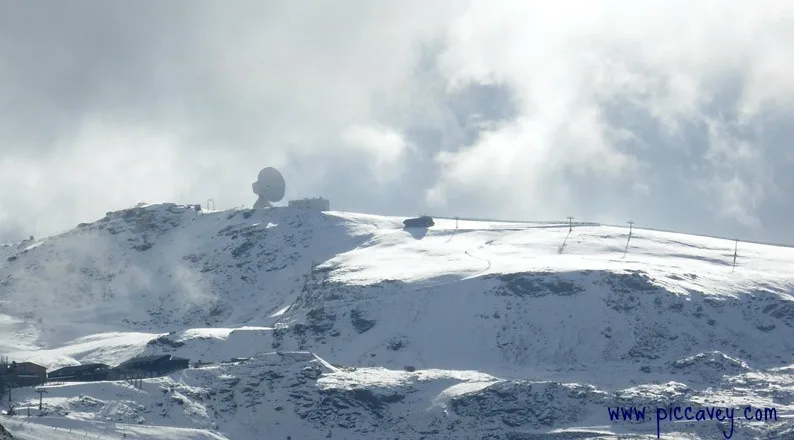 Please Note:This post contains affiliate links, which means that if you click through and make a purchase, I will receive a small commission. All thoughts, feelings and opinions shared on this blog and in this post are my own.